At some point in their school career, most college students face problems with one or more academic subjects. Parents find it necessary to invest in private lessons when their children score low grades.
In the age of the internet, smartphones, and tablets, most students can find solutions to their low-grade problems with the help of a one-on-one trainer on online tutoring platforms.
Why do they exist?
Low grades are not the only reason why one may require additional classes. Other reasons, such as prolonged illness, test prep, or relocation, can cause you to lag in your studies. Parents can hire online tutoring services for their children in any subject area for a limited time.
Private tutoring online can eliminate long and expensive daily travel since you can get your lessons from anywhere through an online medium. It provides many interactive learning opportunities that can help in your learning process.
Besides, comprehensive online tutoring services are often cheaper, if not free! However, one must also be aware of the fact that low prices can be a sign of poorly qualified tutoring help.
In our comparison, the eight best online tutoring services have been presented with a detailed analysis of their pros and cons. You can find even more information about all these companies in our reviews made by real experts.
Why Should You Consider Our Expert Opinion?
Personal coaching lessons are often about rebuilding your self-confidence and finding a good learning rhythm. Free tutoring is not recommended because it is tailored to the 'broad masses' and is worth it only for general academic subjects. It includes extensive research and requires flexibility.
Many on-demand tutoring websites offer paid one-on-one learning services that can get you targeted help in any subject, like with math problems or writing improvement.
Some programs offer excellent learning tools for exam prep, while others provide you with experienced school teachers. Comparing is always worthwhile because it's about finding cheap offers for the best quality online tutoring service that can save you time as well.
Our expert review of the best online tutoring services will look at the different concepts of some reputable websites and what they have to offer.
We will discuss an overview of essential criteria relevant to searching for the best online tutors that were carefully researched and tabulated against the selection criteria.
If you are unsure what type of experienced tutor you are looking for, read the following part of this review thoroughly. This guide and other important tips will help you to define your need for online one-on-one sessions.
How We Select and Evaluate Online Tutoring Services
Since online tutoring services prove to be an extremely convenient solution to academic problems, it is important to understand their concepts before building any hopes. To choose the best online tutoring sites, the evaluation was limited to the five most important criteria:
Qualifications standards;
Variety in the curriculum;
Cost of hiring online teachers;
Useful tools to help high school students and adult learners;
Ease of using the website platform of the tutoring business.
These online tutoring sites were evaluated for the quality of service, trust ratings, tutor teaching certificate achievements, and pricing of the lesson plans. In these online tutoring reviews, the quality of the service was weighted above all at 60 percent.
Choosing Best Tutoring Websites: What Should You Pay Attention to
Qualifications standards of teachers
The best online tutoring services offer their customers highly qualified tutors, teaching assistants, and coaches. Each trainer must go through a strict selection procedure to verify that they hold a certified qualification (either a bachelor's degree or master's diploma) from a university or similar institution.
Curriculum
Online tutoring sites offer a different curriculum. However, many general subjects are common among all of the top tutoring services. The top tutoring websites will provide a large pool of subjects to cater to the needs of every student. There should be teachers available for special test preparations such as GRE, MCAT, SAT, etc.
Pricing
When comparing the best tutoring companies, the quality of services is tested, as well as the cost. Customers are usually charged with an hourly, weekly, or monthly plan.
Most online services provide an option to pay per minute, where you pay only for the services you use. You can save quite some money if you opt for bigger plans or four hours or more of training.
Learning tools
An online teacher will connect with you via live chat or video chat using Skype or other inbuilt video call features with screen sharing. A good online tutoring platform should provide its students with great learning tools to organize their schedule, time, lessons, and recordings of videos. The objective here is to learn better and faster.
Platform
A tutoring website platform is no good if it is too complicated to use in the first place. It must be user-friendly and should provide easy navigation to access different features. Students must be able to connect to virtual lessons effortlessly.
Online Support
Many high school students may encounter problems or have questions about the learning process. Good tutoring websites will contain a detailed FAQ/Help section to eliminate arising troubles.
We aim to increase the reader's trust and loyalty and get the reader acquainted with different online tutoring services. Our test review shows you which of them offers the best online tutoring services and quality performance at affordable prices.
Our team of experts has reviewed each website and various customer opinions on the internet. So, which free online tutoring is best? Based on these criteria, we have reviewed the following online tutoring websites:
Varsity Tutors – Best Tutor Selection Process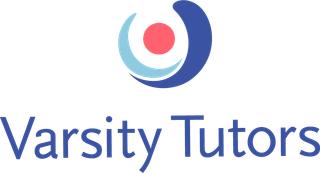 Large curriculum set for middle school and up to grad students level;
Excellent selection of tutors;
Great learning tools.
A little pricey for the private sessions.
Review
Varsity is one of the good and most popular tutoring websites available nowadays. Only a fraction of the prospective tutors who apply at Varsity Tutors are selected after going through a vetting screening process.
Varsity does not impetuously approve a trainer based on their degrees. In fact, they require teachers to have great teaching experience, excellence in communications, superior skills in particular subjects, and a friendly personality.
There are over 350+ subjects in which you can get online help. Their vast curriculum includes basic business, science, math, history, computers, economics, and foreign language subjects. Varsity Tutors also provide such a service for various SAT, GRE, GMAT, MCAT, etc., test preparations.
Even though this is one of the best online tutoring websites, Varsity Tutors is not very transparent with their pricing, and there is no information mentioned on their website either.
The average plans include 9 hours, 15 hours, 30, and 50 hours which cost around $45 per hour. Students are covered with a 'No risk 100% trainer satisfaction' guarantee.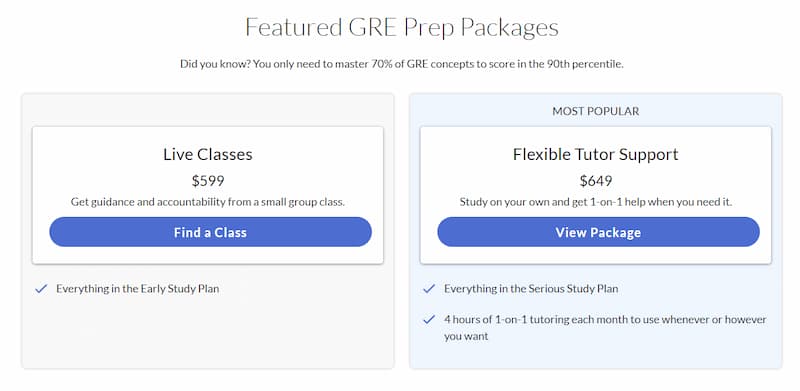 Students can easily communicate with their teachers online using highly effective learning tools. Using practice tests and flashcards, Varsity makes online coaching entertaining. Using their mobile app, you can track your performance, access help content, chat with a tutor, etc.
Wyzant – Best for Private One-On-One Lessons

Highly flexible pricing;
Large curriculum;
Detailed Help section.
Moderate qualifications standards.
Review
At Wyzant, every trainer is required to pass a subject proficiency quiz. A written qualification is not necessary if the trainer is approved through a quiz. The quiz score and qualification details are clearly visible to every student on the tutor's profile.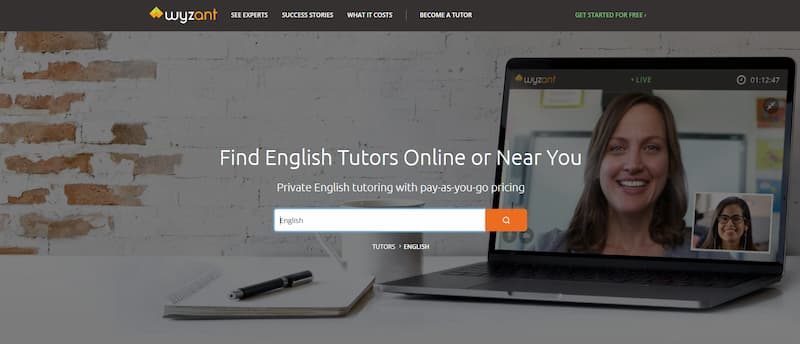 Wyzant provides an extensive curriculum for students who want coaching in math, science, arts, history, music, business, computers, languages, and help with elementary education.
Wyzant offers a large pool of test preparation lessons for the ACT, CBEST, CFA, GMAT, GRE, IELTS, ISEE, LSAT, MCAT, SAT, SOL, SSAT, STAAR, TAKS, TEAS, TOEFL, etc.
Unlike other companies, Wyzant offers a highly flexible pricing structure. There are no upfront costs to pay, and you pay what your instructor will charge for lessons. The student also pays a 9% service fee for every lesson.
Wyzant lesson suit is an easy-to-use app that allows you to record your sessions and provides many interactive features and video chat. The best thing about Wyzant is their detailed Help section that answers most of the questions by students.
Overall, Wyzant is the best website for online tutoring available online nowadays.
The Classroom Door - Best Online Tutoring for Everyone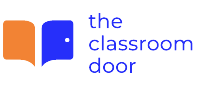 Highly qualified teachers;
Avariety of learning tools;
Excellent interface.
Not expensive services, starting at $15/hr.
Review

No matter which type of online tutoring requirements you have, The Classroom Door promises to provide only a fully certified tutor. However, it does not have a diverse pool of tutors when compared to other best tutor websites.

The Classroom Door offers a wide range of subjects covering various mathematics, science, business, language, and humanities in its curriculum. You can also find online classes for different grade levels, from elementary schools to universities.

There is no fixed subscription or monthly plans, which is a good sign of sincerity in service. The Classroom Door charges a transparent fee that every tutor sets themselves to create a diverse marketplace.

This platform offers excellent learning tools, including digital classrooms, video tutorials, a robust chat feature that filters profanity, virtual whiteboards, and a recording of your coaching sessions.

The website interface is easy to use, providing a structured platform for the convenience of both students and parents. You have all the options to get help, give feedback, record videos, etc.
Lingoda – Best Language Online Tutoring Programs

Standardized test prep for language exams;
Teaching style tailored to different learning styles;
Virtual classroom.
Review

You may study English, German, Spanish, and French at the Lingoda online school. Every language can be learned by people of any skill level. There are offices for the school all over the world.

At Lingoda, students have the option of studying alone, in small groups, or one-on-one with a tutor (on average, 5 people, all having approximately the same level of proficiency). Every student receives the highest amount of attention. You can work out a class schedule with an instructor if your timetable is busy.

From the very first class, our native-speaking instructors will assist you with developing your language skills. Utilizing interactive learning tools and innovative teaching techniques, complete immersion in a foreign-language setting.

Since Lingoda courses are based on the CEFR method, you will obtain a certificate at the conclusion of each module attesting to your language proficiency. Due to the fact that these certifications are accepted all around the world, you can work and study abroad.

Although Lingoda provides qualitative tutoring services, it does not offer great online learning tools other than a virtual classroom. The website interface is straightforward to use and comes without any clutter. There is an instant chat feature to talk to your online tutor.
Chegg – Get Online Homework Help

Easy-to-use learning tools;
Availability of teachers;
Detailed help section.
Expensive pay per minute.
Review
It is not easy to get approved as a trainer at Chegg since their eligibility criteria are quite strict. All the teachers are highly qualified professionals from some of the top-rated universities.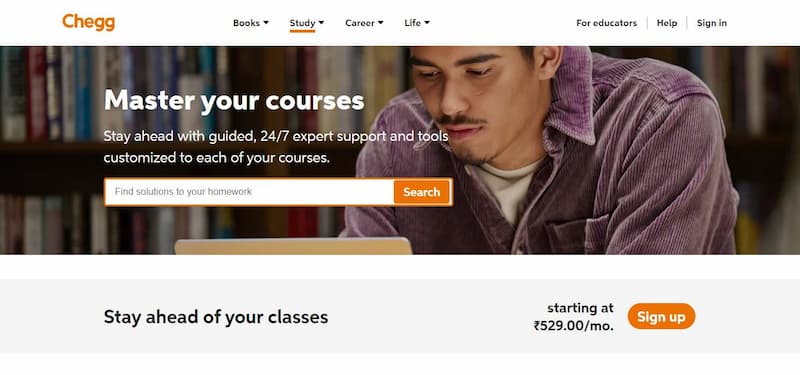 The curriculum at Chegg is extensive, covering all the subjects in engineering, math, science, humanities, etc. Are you looking for SAT, GMAT, or GRE preparations? Chegg will find you a suitable teacher.
Chegg offers different pricing plans to serve the needs of each customer. You can choose a weekly ($48/week – 120 mins), monthly ($96/month – 240 mins), or pay as-you-go for 75 cents/min.
For the convenience of students, Chegg offers an easy-to-use virtual whiteboard called 'Live lesson suite', which you can try for free. Other learning tools include file sharing and a powerful chat with audio and video features, including conference calls.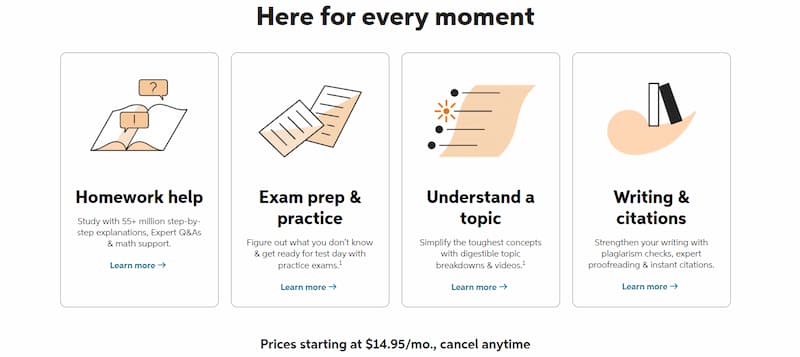 Chegg hosts a user-friendly site on both mobile and desktop platforms. You can also download the Chegg Study App from the App Store and Google Play.
Preply – Best Online Tutoring Services

Highly qualified teachers;
Useful online platform;
Insufficient info in the help section.
Review

The website allows for the teaching of more than just languages; students may locate tutors for a wide range of subjects, including economics, philosophy, psychology, business management, and analytics. The platform's primary concentration is on foreign language learning, though.

Pricing for online lessons has been made flexible. You may pick how much you want to sell your expertise or buy someone else's by comparing the pricing on the website.

The learning tools include an up-to-date learning suite with both video and live chat features. Preply is also available on mobile and tablet devices.

Unfortunately, unlike other online tutoring websites, Preply has a not-so-developed FAQ or Help section. Their live chat support feature, however, definitely adds an advantage over its peers.
Princeton Review – Old and Trustful Company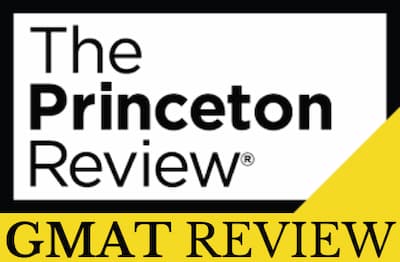 Reduced prices of online tutoring and homework help for the U.S. military;
Passes for federal and state curriculums;
Good SAT, PSAT, ACT prep, which is provided at The Princeton Review;
Experienced tutors.
Pretty expensive;
Available only for Canadian and US students.
Review
Princeton Review was founded back in 1998 when most of its present users were born. It is one of the oldest top online tutoring companies out there. Back then, they were ahead of their time, as there were not so many companies that provided tutoring services online.
Nowadays, they have over three thousand tutors from all over the United States and even work with famous colleges, universities, libraries, and even the US military.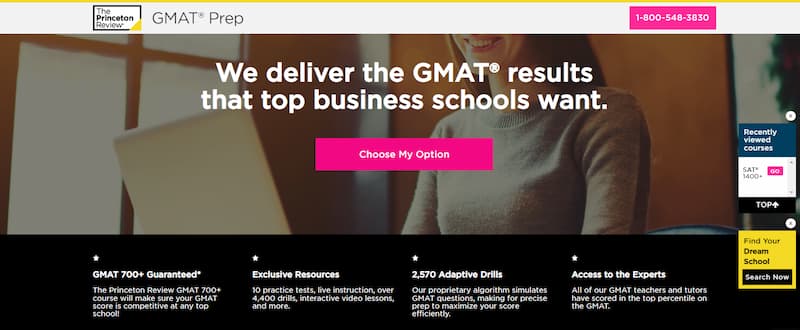 At PrincetonReview.com, you can find the best tutoring programs and tutors specialized in various subjects like Maths, Science, English, Social Studies, AP Support, SAT/Test Prep, Foreign Languages, and Business.
All of these subjects are split into more detailed courses so that you can find the exact preparation for yourself or your child.
This company is open and transparent with its pricing. You'll have to pay from $25 to $80 per hour for a private tutor for online learning – from $25 to $50 per hour and SAT and test prep – from $45 to $100 per hour. They also have centers available for $150-$200 per month.
Learner.com - Best for Online Math Tutoring

Sessions are recorded with 2-way feedback each time the student and tutor meet;
Satisfaction guarantee, the first session free;
The best one-on-one tutoring in the industry.
Currently, only supports math and test prep areas of focus;
The price is on the higher side (commensurate with quality).
Review
Learner.com is the best tutoring service, matching students from diverse backgrounds with a quality tutor who is the right match for their unique learning style. Learner boasts a satisfaction guarantee with their online tutoring programs and offers the first session for free.
Learner tutors undergo a rigorous vetting process, ensuring a high level of subject matter expertise and passion, and experience in teaching and engaging students virtually. Many of the tutors have advanced degrees and more than 10 years of experience working with students.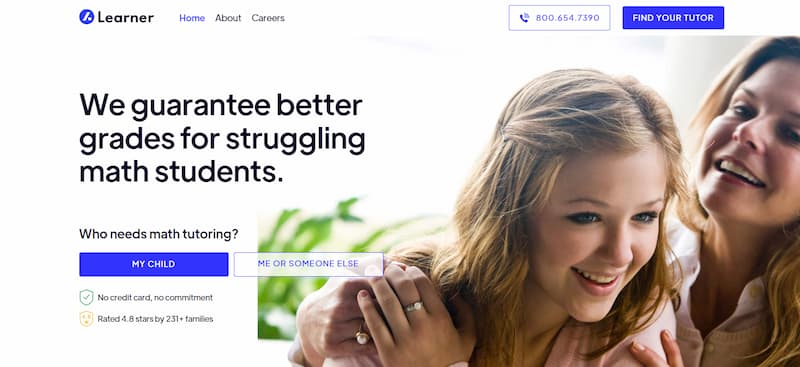 To get started, you fill out a questionnaire providing nuanced information about the student's unique needs and learning objectives. From there, Learner's Academic Coach will meet with you to discuss these in more detail, creating a clear picture of what type of learning will best support the student.
The Academic Coach will connect the student with their tutor and schedule the first complimentary session.
All lessons happen on Learner's secure platform. Sessions are recorded, and feedback is given about the student and the tutor every time they meet.
Parents can go back and watch sessions after, and there is an extremely high standard of quality the tutors have to meet to make sure they're delivering the right value.
Rates are very agreeable for the quality, starting at $40/hour. Right now, Learner focuses on all areas of Mathematics from elementary school through the post-grad level – covering topics like Algebra 1, Geometry, Trigonometry, Algebra 2, Pre-calc, Calc (AB/BC), Statistics, and others.
They also offer test-prep services for the most common college entrance exams. With it, your test scores will skyrocket.