Amazing Talker is a popular app that gives students and users a platform to learn languages with native speakers. It came on the radar a few years ago and had been gaining a good position.
But before choosing to pay for its services, you need to read some Amazing Talker reviews to know previous clients' experiences and determine if it's a good match for you. In this article, we give you our review and tell you what this app has to offer.

Why should you take into account our peer AmazingTalker.com review?
With so many reviews online, it is hard to know which ones are reliable. Why should you trust our reviews? Because to create our AmazingTalker review and all other reviews, for that matter, we use criteria that guide us in our evaluation of the services. Here we tell you the aspects we use to build our reviews.
Quality of the services. The best indicator of the quality of services is the result students get from the lessons.
The legitimacy of the company. The company's background and previous clients' experiences are the way we determine if the service is a scam if it is legit.
Tutor's profile. We don't recommend a service if they don't offer tutors the right profile to give lessons.
Most popular kinds of lessons
There are several ways to receive lessons from tutors. We recommend you get familiarized with your options so you can choose the most convenient for you.
Online group lessons:
These are group classes done on online platforms. These are versatile, but it is hard to get lessons tailored to your profile.
Online one-on-one lessons:
These give students the chance to clear all their questions from the comfort of their homes. They are considered the most effective type of lesson.
On-person lessons:
These lessons are classes done in physical locations. They can be private classes or group classes.

Advantages of hiring an online tutor
There are many reasons to take online lessons instead of in-person tutoring. Here we tell you the most important:
You will receive tutoring from people all around the world.
Online tutoring platforms give students the chance to schedule their lessons.
You can take your classes from home.
It helps save time and money.
Overview of Amazing Talker
We told you our criteria and how we proceed to do the best assessment possible. Here we will give you our Amazing Talker review, so you know what you will find when exploring this platform.
What is AmazingTalker?
This is a company that offers a platform where students who are interested in learning languages can connect with teachers that are native speakers or that master the language as native. They have some prestige and offer a comfortable workflow for both students and tutors. Also, they offer students a wide range of languages to learn.

How does AmazingTalker work?
Many people don't know how does Amazing Talker work. One of the best aspects of AmazingTalker is the way it works because it gives students almost full control. All teachers registered on the platform must record a presentation video and fill a profile. Students have access to these profiles and are free to choose what they consider the best fit for them.
Also, students are given a timetable with a schedule for classes. With this timetable, they can put together a class calendar that fits their convenience. After that, it is only a matter of meeting with the tutor at the agreed schedule and learning.
All classes are private and tailored according to the students' profile and academic level. AmazingTalker uses Zoom to conduct classes. This is great because Zoom is a wonderful platform with many tools to make the learning process much more fluent and dynamic.
Is Amazing Talker good?
According to various AmazingTalker.com reviews, NO. AmazingTalker does not have guarantee policies. On their website and in many advertisements, they claim to have a 100% effectiveness guarantee. But there is no real contract or clause that establishes the limits of this guarantee, so there is no money return if the learning turns out to be non-effective. Is Amazing Talker legit? We will answer this question below.

Are AmazingTalker online lessons effective?
The process that AmazingTalker uses to carry on its online classes might be effective. Thanks mainly to two reasons: one, the scheduling method they have, and two, the platform they use.
Their scheduling method consists of asking the tutors to confirm their available hours and introduce them to a timetable. From this timetable, students choose the schedule that fits them better. This process ensures that every meeting is pre-arranged and avoids misunderstandings.
As for the platform, AmazingTalker uses Zoom, an online platform for meetings. This app is really versatile and has great tools like a whiteboard and the possibility of sharing the screen. Zoom is a dynamic platform that facilitates the learning process and provides almost every tool needed.
Is AmazingTalker legit, or is it a scam?
According to AmazingTalker reviews and opinions from previous clients, it is safe to say that they are a legitimate company. It is registered, so it is not a scam that will vanish after collecting the first payment.
Still, there are complaints from former teachers that say that the platform starts charging high fees and taxes without previous notice. So, if your interest is in working for them, you will have to be attentive to these things.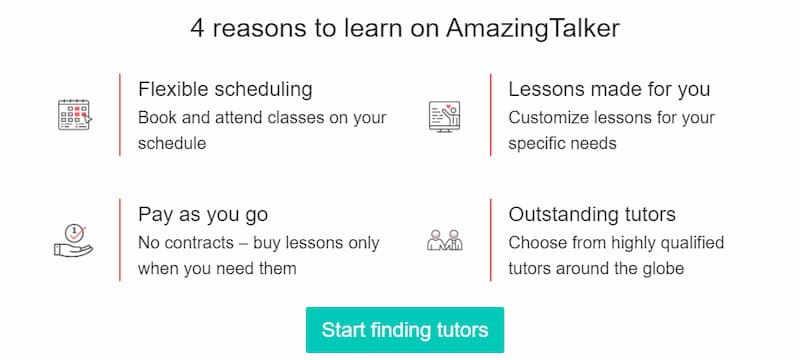 Does AmazingTalker have the best online tutors out there?
No, it does not. Most teachers and tutors that work with AmazingTalker are not well prepared and do not have qualifications as native speakers of the language they teach. Many clients said that their learning process was ineffective and that they unsuccessfully learned the language they wanted to.
Still, the company requires no certifications whatsoever of their tutors' training as teachers or experts on the languages. So, it is not responsible for saying that they have the best tutors that you can find.
AmazingTalker vs italki
And comparing Amazing Talker vs italki, we would say that italki is a much better option for anyone looking for a top language-learning provider. If you check italki teacher reviews on our website, you would be sure too.
And when we compare Preply vs Amazing Talker, we would still have the same opinion. Preply would win for sure in all instances.
Story of AmazingTalker
AmazingTalker was established around 5 years ago, in June 2016. It was founded by Abner Chao, an entrepreneur who is the current CEO of the company. It is not a company with much experience. It is actually very young and with a little background.

But it has found a way to position itself and create a platform with over 600 teachers. You can find what people think about their teachers below in the AmazingTalker.com reviews.
Services at AmazingTalker.com
AmazingTalker only offers one service: language lessons for students around the world. They have average teachers, a wide range of languages, a great platform, and created an interactive workflow that seems attractive for students.
Quality of the Lessons and Tutors
The best way to measure the quality of services like AmazingTalker offers is through the client's experiences. According to Amazing Talker reviews from previous clients, the learning process is ineffective, and the quality of the teaching is bad.
There is an aspect that raises concerns: The preparation of AmazingTalker's tutors can vary a lot.
Some teachers are not prepared and have no academic education that makes them not fit to teach languages. Some have informal formation, and many have learned how to teach through past experiences and have no real credentials that certify their knowledge.
So, even though the quality of the service is bad in general lines, there is still a big chance of receiving poor education from under-prepared tutors.
Pricing of the Lessons
The pricing of lessons in AmazingTalker depends on the tutor. In general, lines, an hour of a class can cost between 11 USD and 30 USD. Teachers with great credentials, a lot of experience teaching in the platform, and a master's level in the language are more expensive. Teachers with less expertise and less background are the most affordable.
Some teachers offer a 30-minute free trial to give students a chance to see if they have good chemistry. If the client feels good with the teacher, they can reserve some classes. If not, the students are free to choose another teacher.

If you also need a math tutor for your kid or yourself, check our list of the best math tutoring online. We compiled the top tutors there.
Amazing Talker Customer Service
There are mixed opinions about customer service quality in AmazingTalker. Some clients affirm that it's pretty average and that people in charge of addressing the issues denounce on the website are polite, pleasant, and helpful.
But many other Amazing Talker student reviews complain about long waiting times. Often, the answer to questions is an automated response, and that some of the staff can't even speak English properly. How can they be one of the best English learning sites when their customer support does not say it.

So, overall they have below-average customer service. And if you want to be sure that you always get assistance while learning a new language, check Wyzant and see that it is the best option yourself. Is Wyzant a good company? Please read our review to find out.
Website Usability
The user experience that AmazingTalker's website offers is not satisfactory. It is not that easy to navigate and has no clear instructions to follow. Also, teachers' profiles are public, so students searching for a tutor can freely explore their options.
Pros
Has many languages available to learn.
The platform is easy to use.
Some languages have lower fees than others.
As we found by reading Amazing Talker's opinions of former customers, many clients have effective learning experiences.
Offers online and offline teaching services.
Students can choose the teacher they want to work with.
Cons
Several Amazing Talker reviews point out that the support service is prolonged.
In Amazing Talker teacher reviews, we found many former teachers complain that the platform is a scam.
There are accusations that the platform increases its prices without prior notice.
A part of the staff doesn't even speak English.
Schedules for classes are limited.
Age ranges for clients are also limited.