It's tough to find trustworthy IT and DevOps training websites because there are so many out there. Several edTech platforms claim they offer great training but need to be more reliable.
The industry is changing significantly, and most platforms must keep their courses up-to-date. This makes it hard to know whether a training program is good because the online training industry isn't regulated like traditional schools.
To help you in this difficult task, I will provide a detailed and thorough review of the popular online training platform, KodeKloud. The EdTech platform gained popularity due to its comprehensive courses in IT, especially in the growing field of DevOps.
It takes work to review an online platform. Especially the one that provides training for IT that requires extensive practical experience. When choosing an online training platform like KodeKloud, assessing its quality and value can be difficult.
Various factors need to be considered. These include quality of service, available features, website functionality, value for money, feedback, reviews, and guarantees offered by the platform.
In this KodeKloud review, I will comprehensively cover these determinants.
KodeKloud Features
KodeKloud is an online training platform. It focuses on helping IT and DevOps professionals enhance their skills and knowledge. The platform provides a variety of courses and tools to help learners succeed.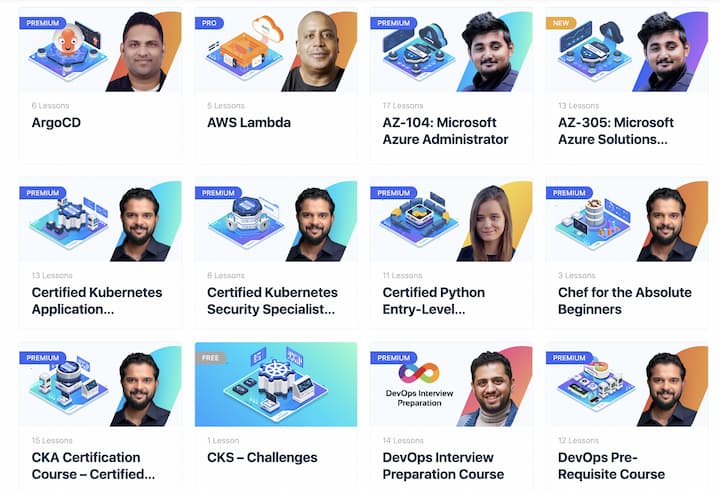 Notable features include an up-to-date course catalog and hands-on learning through practical labs. It also offers the ability to learn at your own pace. They have specialized courses for certification preparation and a supportive community.
Now, let's take a closer look at some of the features I found most helpful using KodeKloud.
Interested in learning more about Bionic Turtle? Check out our in-depth BionicTurtle review.
Comprehensive Courses Catalog and Learning Paths
KodeKloud's extensive and up-to-date catalog of courses on IT and DevOps caught my attention. They cover a wide range of topics, catering to both beginners and advanced learners. Are you looking to acquire new skills or aiming to obtain certifications? KodeKloud has courses tailored to your needs and interests.
The courses are designed by experts in the field and are regularly updated to keep up with the latest industry trends and developments. This ensures learners can access the most relevant and current information to enhance their skills and knowledge.

Not only this, but they also have comprehensive learning paths. Learning paths are designed to help learners get skills and knowledge in a structured and organized way.
Hands-on-Learning & In-Browser Labs
KodeKloud's emphasis on hands-on learning through practical labs and exercises is one of its most remarkable features. This approach allows me to build a strong foundation of knowledge. I can now use this knowledge to solve complex problems and tackle real-world challenges.
KodeKloud provides in-browser labs. These labs allow learners to practice their skills and apply their knowledge in a simulated environment. This is possible without setting up a local development environment.
What's amazing is that it's without the risk of causing damage to their systems.
Supportive Community For Learners
What sets KodeKloud apart is its supportive community which has been a great help to me whenever I needed guidance. It has helped me connect with others who share similar interests.
The community comprises other students and instructors. They are always available to provide answers to my queries and offer feedback and guidance.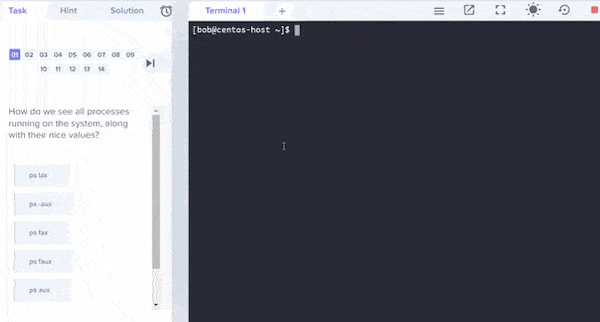 I've had the chance to take part in discussions and share ideas. I was also able to collaborate with others to solve problems and complete projects.
Mobile Friendly
Learning with KodeKloud is more convenient as it is accessible on mobile devices. This allows learners to access courses and practice labs anytime, anywhere. With this feature, I made the most of my free time and kept up with the lectures, learning, and other commitments.
Feedback and Progress Tracking
As a learner on KodeKloud, you can track your progress and receive feedback on your performance. This allows you to identify improvement areas and adjust your learning approach.
The dashboard is easy to use and gives a complete overview of your learning progress.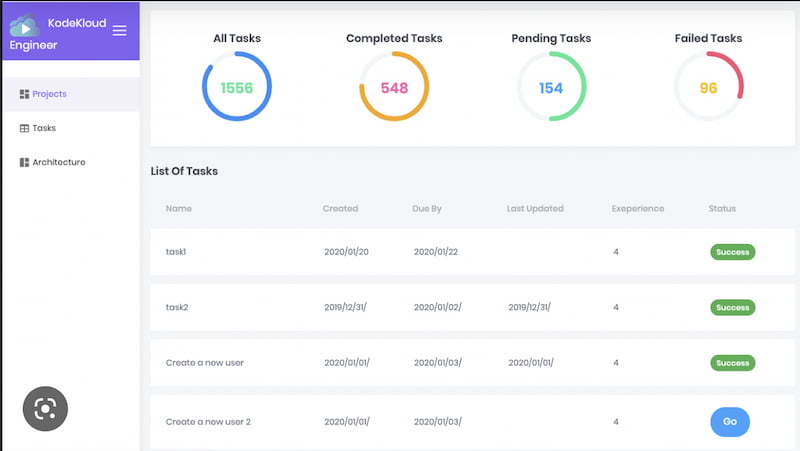 It's a helpful feature that supports growth and development in IT and DevOps.
KodeKloud Engineer Pro vs Standard
As a professional in the IT and DevOps industry, I found KodeKloud Engineer Pro to be an excellent option. It provides premium access to advanced courses, practical labs, and certification preparation resources.
I deepened my knowledge and stayed up-to-date with industry trends. It also had Personalized mentorship, career guidance, and networking opportunities with other professionals.
KodeKloud Playgrounds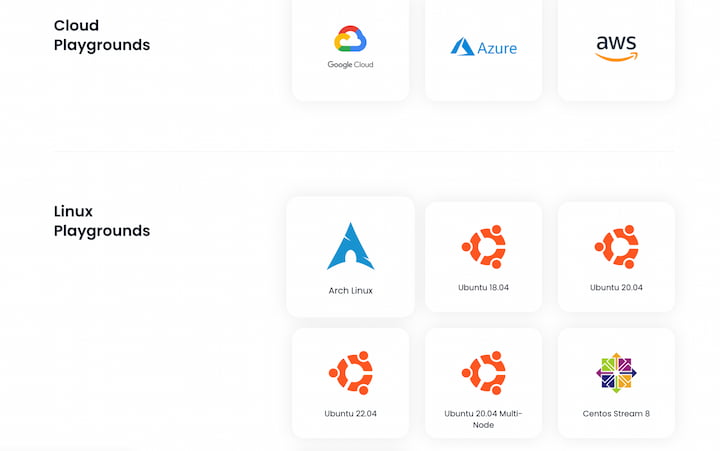 The show's star was the KodeKloud Playgrounds. It's an online tool that allows you to experiment with different IT and DevOps technologies in a safe and secure environment.
It's a cloud-based feature that offers pre-configured environments. Here you can test your knowledge without fearing damaging any real systems. KodeKloud Playgrounds supports many technologies, including Kubernetes, Docker, Ansible, and more.
You can check more about playgrounds below.
KodeKloud Pricing
So, KodeKloud offers a variety of features that are perfect. Suppose you are someone like me who likes hands-on learning and comprehensive study material. But is it worth what they charge?
One thing that I appreciate about their pricing is the flexibility. They have packages that are designed to cater to different categories of learners. Let's see the available KodeKloud.com prices.
Monthly Subscription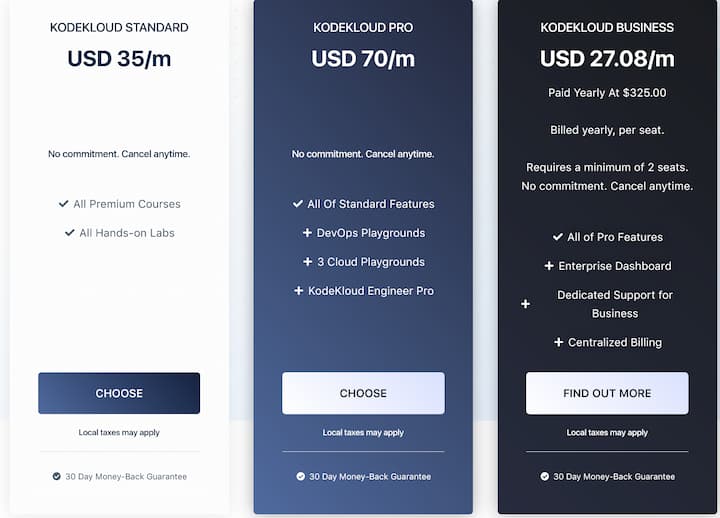 Annual Subscription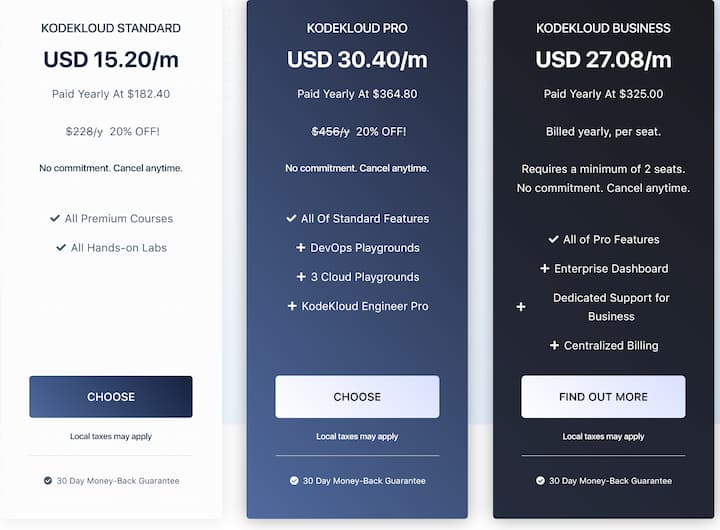 Payment Options
KodeKloud has multiple payment options, including different credit cards ((Visa, MasterCard, American Express, and Discover). However, it would be great if they also introduced options such as Apple Pay.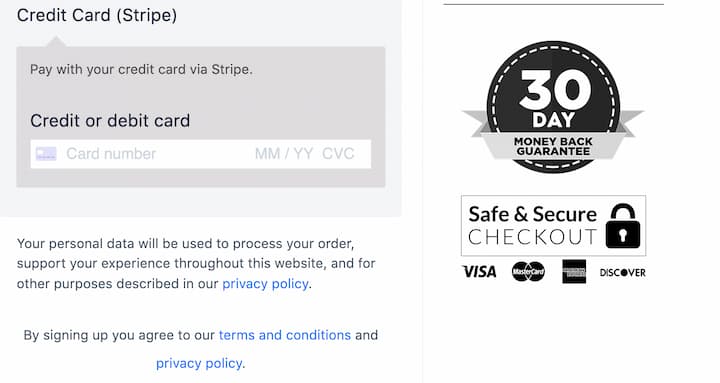 KodeKloud Coupon and Promo Code
I signed up at KodeKloud last year during their amazing Black Friday Sale. KodeKloud usually has amazing discounts, which they share through their emails. You can subscribe to get them in your inbox.
Contemplating whether to invest in a Skillshare membership? Our analysis can help you decide if Skillshare is worth it.
KodeKloud Quality Overview
You know all about the features and pricing at KodeKloud. Now is the right time to discuss the quality of courses on the platform.
KodeKloud is a highly reputable online learning platform that provides quality technical training and certification courses for various IT-related disciplines.
The platform offers a range of learning resources, including interactive labs, practical exercises, quizzes, and video lectures, to cater to different learning styles and levels of expertise.
It has a team of highly experienced instructors who are subject matter experts and provide clear and concise explanations of complex concepts. In my personal experience, the customer support at KodeKloud was excellent. They have a responsive support team available to answer any questions or issues.
Overall, KodeKloud is a top-notch online learning platform that offers quality technical training and certification courses, making it an excellent choice for anyone looking to advance their skills and career in the IT industry.
Guarantees
Now, you must be wondering about guarantees that the platform might be offering. The good news is that KodeKloud offers a pass guarantee for most of its certification courses. If you complete a certification course but fail to pass the certification exam, the platform reimburses the cost of the exam.
It's important to note that you need to meet the criteria they set to qualify for this. They also offer a 7-day money-back guarantee for all the paid courses.
What Makes KodeKloud Different from Other Platforms
Here are some features that make KodeKloud stand out from the rest of the platforms, and also the reason why I chose it to learn DevOps:
Emphasis on practical hands-on training: Unlike other platforms offering theoretical knowledge, KodeKloud focuses on practical hands-on training in real-world scenarios.
Interactive platform: KodeKloud provides an interactive platform that allows users to practice their skills in a simulated environment.
Real-world scenarios: KodeKloud provides real-world scenarios for users to practice their skills.
Here is an overview of KodeKloud and other popular EdTech platforms specializing in skills in IT.
KodeKloud vs Alternatives
Platform
Price
Instructors
Prominent Feature
Level
KodeKloud

Starts from $7/Month and offers 7-day free trial

Expert  and industry renowned Instructors

Hands-on Learning

with real world scenarios and in-browser labs

Suitable for all levels

Linux Foundation
prices ranging from $99 to $2,995,
Expert instructors but they have expertise in Linux
The quality of the courses is high but these are courses based on Linux technologies only
Mostly targets towards people with interest or ground-level knowledge in Linux
Udemy

Courses ranging from $9.99 to $199.99 and premium subscriptions at $19.99/month

A wide range of topics and courses

The quality and content of the course depends on each individual instructor or platform

Suitable for all levels

Educative.io

Subscription plans ranging from $19/month to $60/month

Taught by industry experts in computer science

Focus on computer science fundamentals but pricier than other platforms

Suitable for all levels
Value for Money
In my opinion and experience, KodeKloud provides you with the best value for money if you want to learn IT skills, especially DevOps. For the charges, I got access to some fantastic resources, hands-on labs, and support from the KodeKloud team and community.
The learning paths are very useful as they provide a structured journey if you need more clarification. Not only this, I enjoyed the detailed video lectures, mock exams for certifications, and expert advice on a plethora of different topics.
Reputation and Student Feedback
KodeKloud has a team of experts available 24/7 to answer questions and provide support when needed. The KodeKloud team has extensive experience, so they have much knowledge and expertise to help you with any questions or worries.
At the same time, you learn about software development, cloud computing, DevOps, and similar subjects.
I read reviews from other people who use KodeKloud, and they had really good things to say.
Discussion on Reddit

Reviews on Trustpilot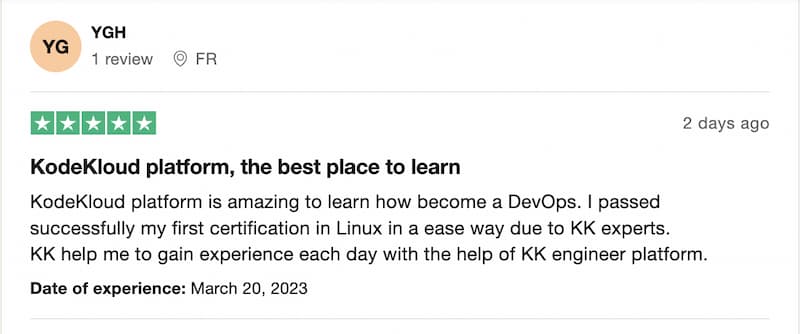 Review on g2

Pros
Comprehensive and reliable training library that provides up-to-date information on the latest technologies.
Access to a wide range of hands-on lab exercises to help learners gain practical experience.
Integrated learning paths that allow learners to develop end-to-end skills from a single platform.
Integrated learning paths that allow learners to develop end-to-end skills from a single platform.
Cons
The focus on technical skills may not be suitable for those seeking a more theoretical or academic approach to learning.
The pace of some courses may be too fast for learners who prefer a slower or more self-paced approach.
The Recap
After thoroughly evaluating KodeKloud, I highly recommend this platform to anyone interested in software development, cloud computing, DevOps, and related fields. There are not so many KodeKloud alternatives or websites like KodeKloud that can match the offer.
FAQs
Is KodeKloud worth it?
Yes, KodeKloud is worth it. KodeKloud is a reliable and comprehensive platform that provides up-to-date training and hands-on lab exercises on various technologies.
Are KodeKloud courses good?
Yes, KodeKloud courses are good. KodeKloud offers high-quality training courses on various technologies. It includes software development, cloud computing, DevOps, and related fields developed by industry experts.
Is KodeKloud safe?
Yes, KodeKloud is safe. KodeKloud takes the security and privacy of its users very seriously and has implemented various measures to ensure the safety of its platform.
Is KodeKloud engineer good?
Yes, KodeKloud Engineer is considered a highly valuable certification for software development, cloud computing, and DevOps professionals.
Is KodeKloud good for beginners?
Whether KodeKloud is suitable for beginners depends on their prior knowledge and experience. It is better to have a basic understanding to best use KodeKloud.
What is the difference between KodeKloud and KodeKloud Pro?
KodeKloud Pro has advanced courses, a paid subscription, immersive learning, and personalized support.