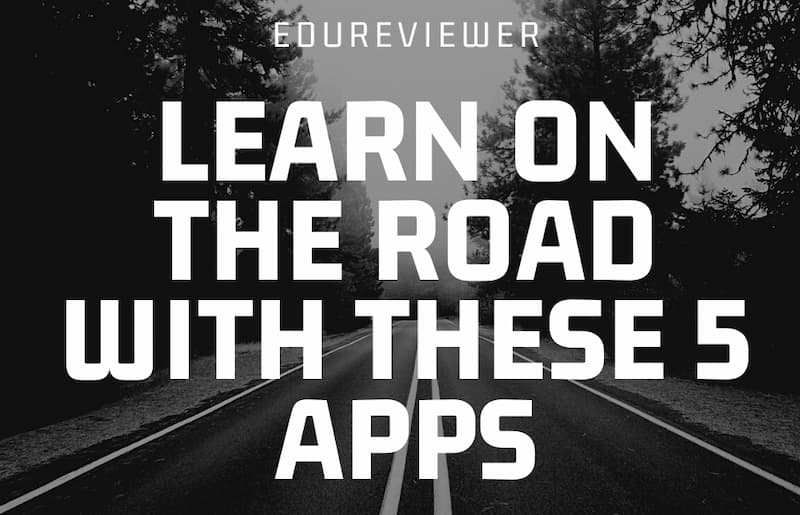 Learning a language doesn't need to be a chore. Wouldn't it be great if you could combine something you already do on a regular basis with learning?
Luckily, with the right language app, you can make the most of your time behind the wheel and have fun while doing it.
However, even the safest and most experienced drivers can become distracted by using their phones while behind the wheel.
But there are plenty of reputable language apps you can use hands-free to keep your eyes on the road without disrupting the flow of your day. Which language-learning app should you use? Memrise vs Mondly – check our review to know that!
From voice recognition technology to interactive audio lessons, this review will provide a comprehensive, tried, and tested overview of language learning apps, so you can decide which one is right for you. Learn a new language on your phone withh such services as Mosanligua and Duolingo. You can even switch between languages while on-the-go.
Whether you're a busy professional who needs an easy way to learn a language or an avid traveler hoping to pick up a few phrases before your next trip, the following apps are the best you can use to help you learn a language whilst driving.
Best Apps for Learning While Driving
The best app to learn a language while driving is one that keeps you focused, engaged, and entertained while you are behind the wheel.
These apps can come in the form of interactive quizzes, audiobooks, podcasts, and even language lessons.
Take a look at this summary, it is similar to our list of the best apps to learn Spanish, but then continue reading for a reliable, in-depth analysis of some of the best language apps to use while driving.
| | | | | | | | |
| --- | --- | --- | --- | --- | --- | --- | --- |
| App | Price | Free Trial | Improves grammar | Conversational language | Multiple activities | Languages | Interactive and organized |
| MosaLingua | $9.49 – $59.90 | Yes | Yes | Yes | Yes | 8 | 7/10 |
| Language Pod 101 | $7.99 – $46.99 | Yes | Yes | Yes | Yes | 34 | 8/10 |
| Rocket Languages | $99.95 – $449.85 | Yes | Yes | Yes | Yes | 14 | 8/10 |
| Mondly | $9.99 – $89 | Yes | Yes | Yes | Yes | 41 | 9/10 |
MosaLingua

Audiobooks to download;
Audio dictionary;
30 native tutors.
Only 8 languages to learn.
MosaLingua is an innovative word and phrase-learning app that helps you learn your target language through audio flashcards.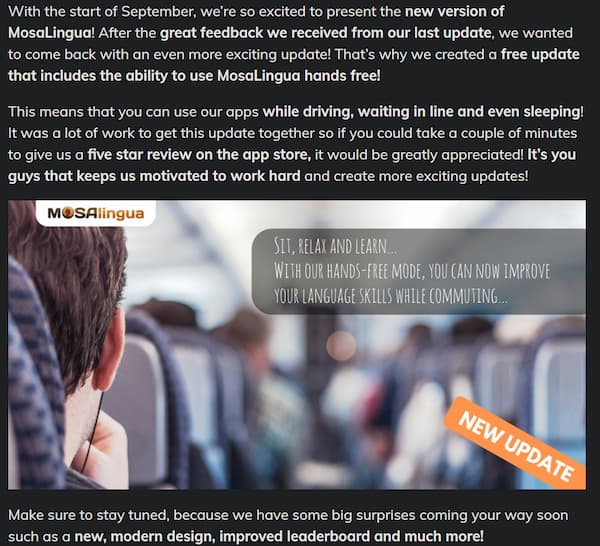 Over 10 million learners have downloaded the hands-free app and scored it a 4.4-star rating on Google Play, so you know it's doing something right.
And while it isn't anything too spectacular- the user interface isn't that attractive (but I was too busy driving to look at it). Still, it does the job.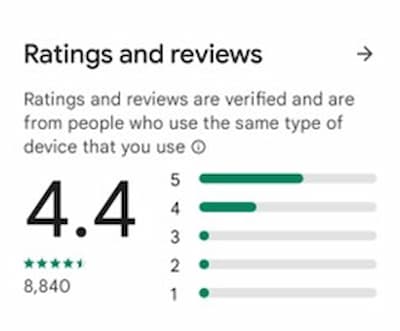 Its learning features are well-structured with a step-by-step focus. This works great because it allows you to concentrate on the most important points without getting overwhelmed.
With MosaLingua, you can learn any language, from Spanish to French to German and many more. But, there are only eight languages available.
The audio quality of the lessons is a highlight. Having these categories makes the process much more engaging.
While using the app, the audio flashcards give you a word or phrase (whichever you choose to learn), and you pronounce it. This is a great feature to have while driving because it's all audio based.
In particular, the app is great for beginners learning for a specific reason, as it lets you choose the topic you want to learn.
For example, I chose "Travel", and it gives you flashcards of common words associated with traveling. By being able to create my own customized topics, I found it easier to learn the words and phrases.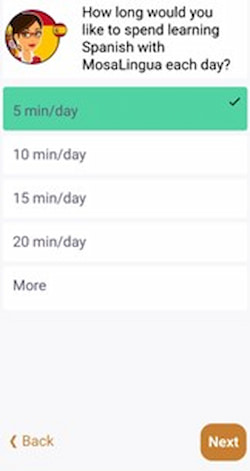 Obviously, the paid version gives you more material, but if you're wanting the basics, its free version is still usable, although limited.
It's ok if you're going for the free version, but if you want more in-depth tuition, you're better off learning more advanced topics with other learning techniques.
MosaLingua gives the option to download the app for free on android and iPhone.
And if you want a more comprehensive learning experience, they do offer a free trial, which is $9.49 a month after that, or $59.90 for a yearly subscription.
As for MosaLingua's standing within the language learning community, most people seem to like the no-frills learning, though some review comments mention bugs.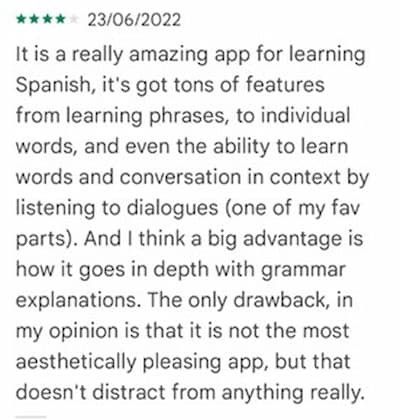 LanguagePod101

34 languages;
Filler words (to make sentences more natural);
Personal native tutors (with the plus subscription).
You have to pay to download the flashcards to the app (available on PC only).
LanguagePod101 is an amazing app to use while driving that provides comprehensive lessons and courses for 34 languages, which is quite an extensive collection.
It offers a variety of tools, such as text and audio lessons, flashcards, and quizzes. The quizzes are useful, but they probably won't benefit non-beginners because they are quite easy to complete.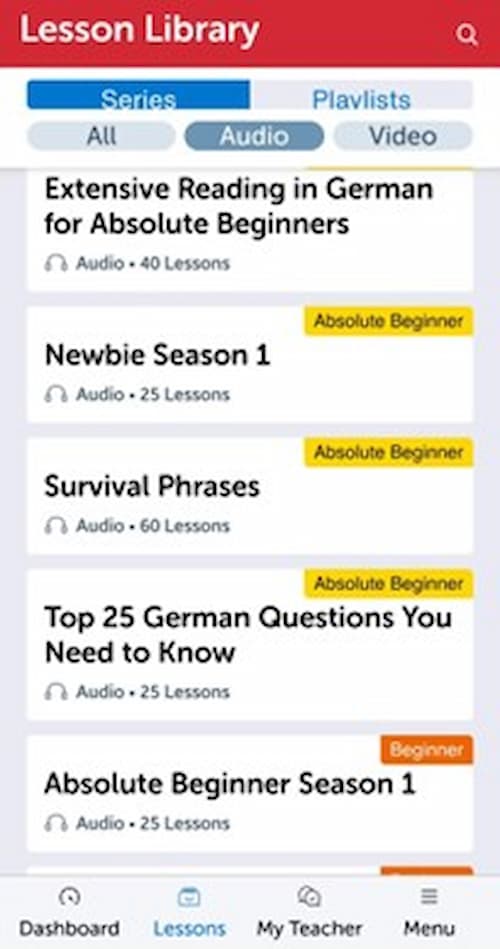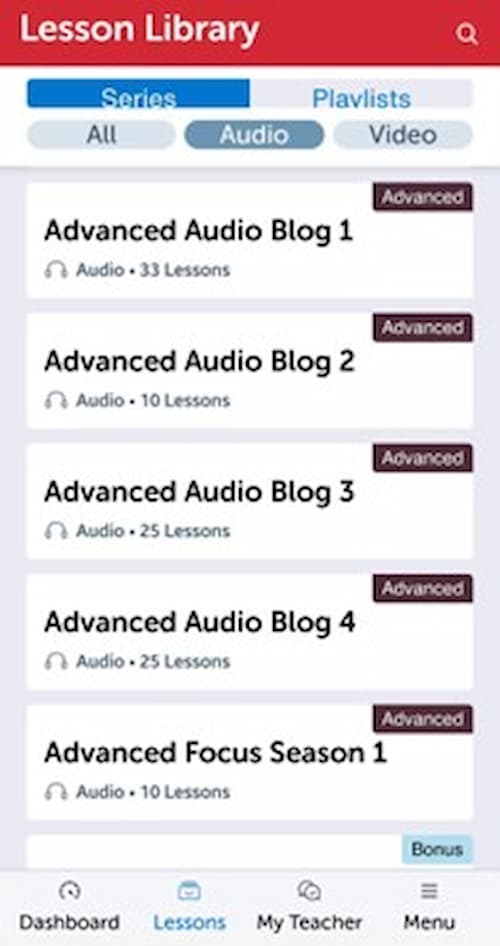 LanguagePod101 lets you learn on the website and the app, so you can easily sync your progress.
As far as course material, those on a basic subscription can learn 100 words, while those on a premium or premium plus subscription can learn over 2000.
So, it's quite a leap up between subscriptions, which makes the premium subscription more than worth the price.
In my experience, their audio lessons are very personable, which helps with understanding the language, and makes learning that much more engaging.
Each lesson program is broken down into manageable chunks and focuses on topics such as grammar, pronunciation, and vocabulary.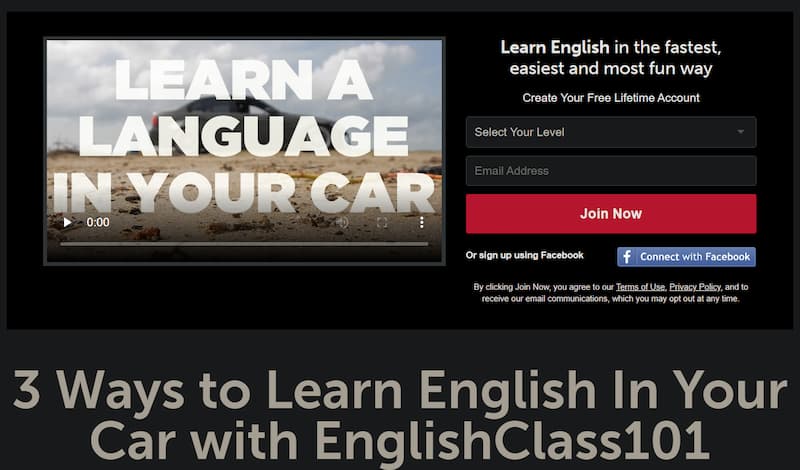 Even better, the accompanying transcripts allow you to read and understand the material as you listen, so you can use the app at home too. As a result, it is easy to review and re-review the material whenever necessary.
The flashcards that LanguagePod101 provides are great for reviewing the material that you've learned in the audio lessons.
Each card contains a word and its definition, making it easy to remember the meanings of words. LanguagePod101's quizzes are another plus.
They're divided into different levels, making it easy to track your progress as you learn.
Overall, the topics of learning are very extensive, from phrases you'd need to know for ordering in a restaurant to the culture of the language you're studying. Since LanguagePod101 offers a lot, you're more likely to stick with them.
They have three subscription levels:


$7.99 for basic;


$24.99 for premium;


$46.99 for premium plus, which includes a personal tutor.


The thing to look out for there is that this price is per language. So if you want to learn more than one language, you'd be paying double the price.
Despite this, LanguagePod101 scores a 4.5-star rating due to its customer reviews on Google Play, with many of them applauding the material but unimpressed with the interface.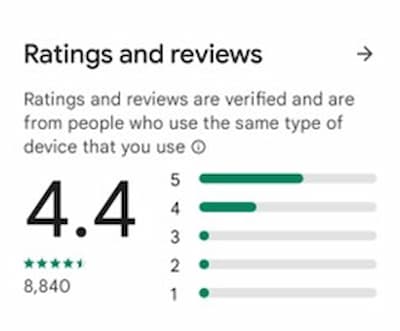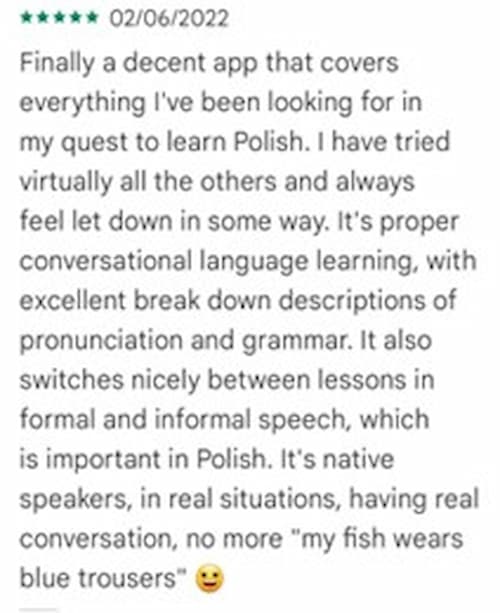 Rocket Languages

Downloadable course materials through the app;
Lifetime access (with a fee);
Native-speaking tutors.
Not much focus on grammar;
Access to material comes at a rather high expense.
Rocket Languages app is easy to use and provides an array of tools that make it a great way to learn a language. The app is available for both iOS and Android devices and is free to download.
It scored a 4.4-star rating on Google Play (although some customers noted having a difficult experience with audio glitches), so I expected a lot and wasn't disappointed.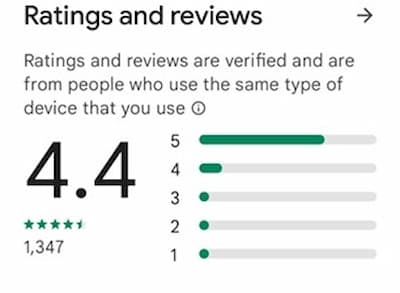 Through using the app, I received a complete overview of the language I was learning (there are 14 to choose from), as well as an introduction to the culture associated with the language.
It also offers comprehensive audio lessons on grammar, pronunciation, and vocabulary. A great thing about this app is the interactive games and activities that make learning fun and engaging.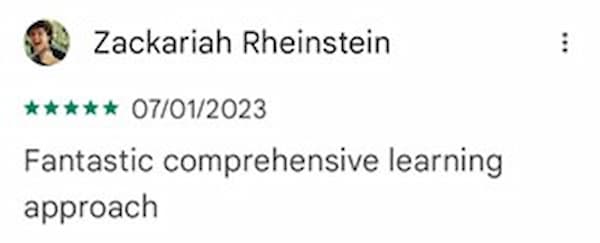 I was able to create a personalized study plan and set goals to help me stay on track. The app also allowed me to track my progress and take tests to measure my understanding of the language.
Plus, I had access to a variety of resources, such as flashcards, quizzes, and audio recordings, to help boost my knowledge.
Unlike other language learning apps that have subscriptions for the app itself, Rocket Languages has subscription costs based on language. For example:


Korean: A one-time payment of $99.95 or $19.00 per month (levels 1, 2, and 3)


Spanish: A one-time payment of $449.85 (levels 1, 2, and 3) or $75.00 per month (levels 1 and 2)


They also offer a free trial based on how much material you learn rather than, say, a 7-day trial.
So compared to other apps, Rocket Languages offers a range of subscription plans that give you access to additional features, depending on whether you want them or not.

Having this option makes the lessons easier to stick to because you actually pay as you level up, so it keeps you invested.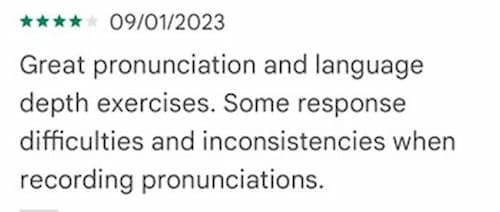 Overall, Rocket Languages has detailed class content, interactive activities, and a range of features.
And although there isn't enough material to learn a language completely, the app is still a great tool to help master a decent chunk of one, rather than just learning words or phrases.
Plus, the subscription plans provided access to additional features that made the learning experience even better. But, of course, this came at a price.
And although they don't offer that many languages, their course structure is really easy to follow, making it perfect for beginners.
Mondly

Oxford-based exam assessment;
More sophisticated than average software;
Real voice teachings.
Not much focus on grammar.
Mondly has an impressive 41 languages on their catalog. The first thing I noticed was their intuitive teaching methods, which definitely helped to make learning easier while driving.
It uses the latest in AI and speech recognition technology and a chatbot that helps make things efficient and fun. Instead of just repeating words and phrases.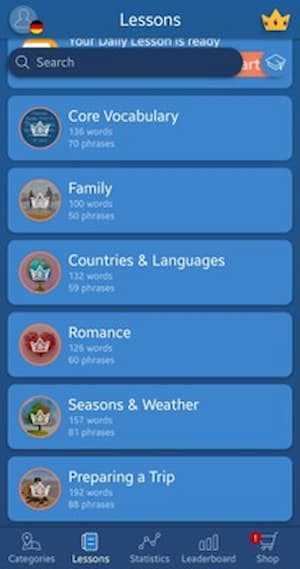 I also found the practice of pronunciation and the real-time feedback helpful when using the app. The lessons are designed to keep you motivated, with rewards earned for completing each lesson.
Mondly also has a virtual coach who is available to provide guidance and support throughout the learning process.
The app also offers a range of exercises designed to test and improve your knowledge of the language. These exercises include multiple-choice questions, fill-in-the-blanks, and sentence completion.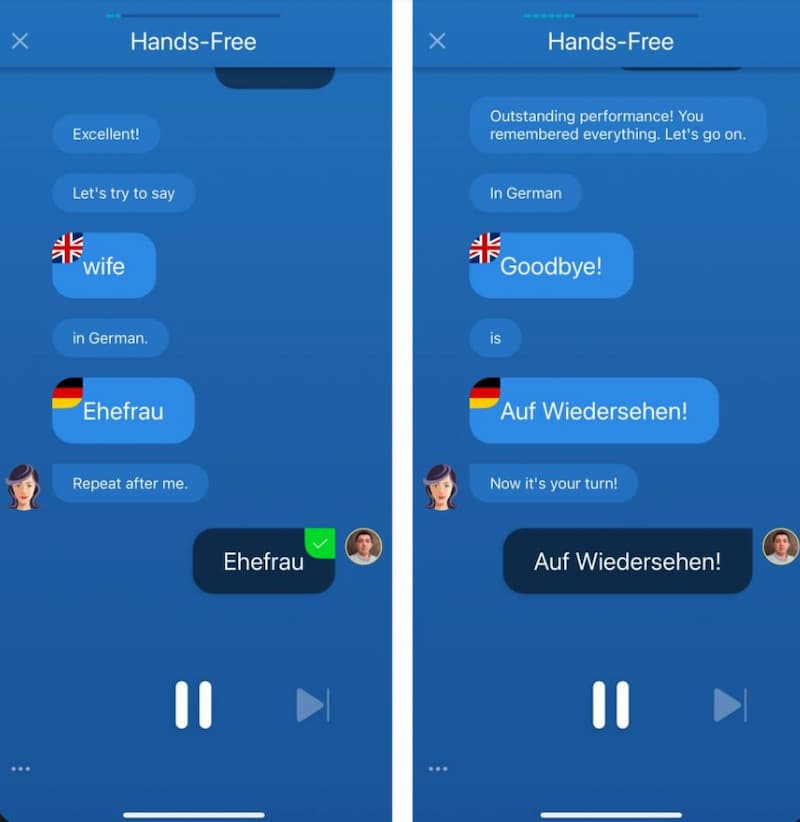 Even better is that the voice recognition software tracks your pronunciation, so you can practice speaking skills to learn the language while driving to work!
Mondly centers its teaching around games and advanced technology, so the app would be perfect for the modern user. Another fantastic feature is the app tutorial.
With this, you're given a glimpse of what's to come in terms of course material, examination technique, lesson structure, and study outcomes. This made the experience feel much more personable.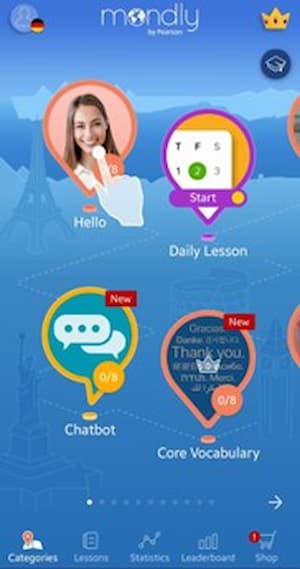 I think the app is great for beginners but not so much for advanced learners. This is because you can't select the difficulty level of the learning material.
You're essentially given what you get. And it is quite entry-level based. But there is the option to choose what you want to study, as well as what method, so that's a plus.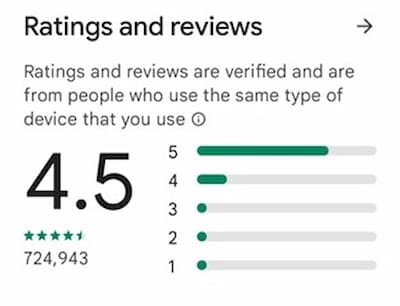 Again, Mondly comes out on top in terms of learner motivation. Their weekly and monthly tests and quizzes really help you to stay engaged the whole time.
As for customer reviews, they score a 4. 5 rating on Google Play, although there is some feedback about a glitchy interface.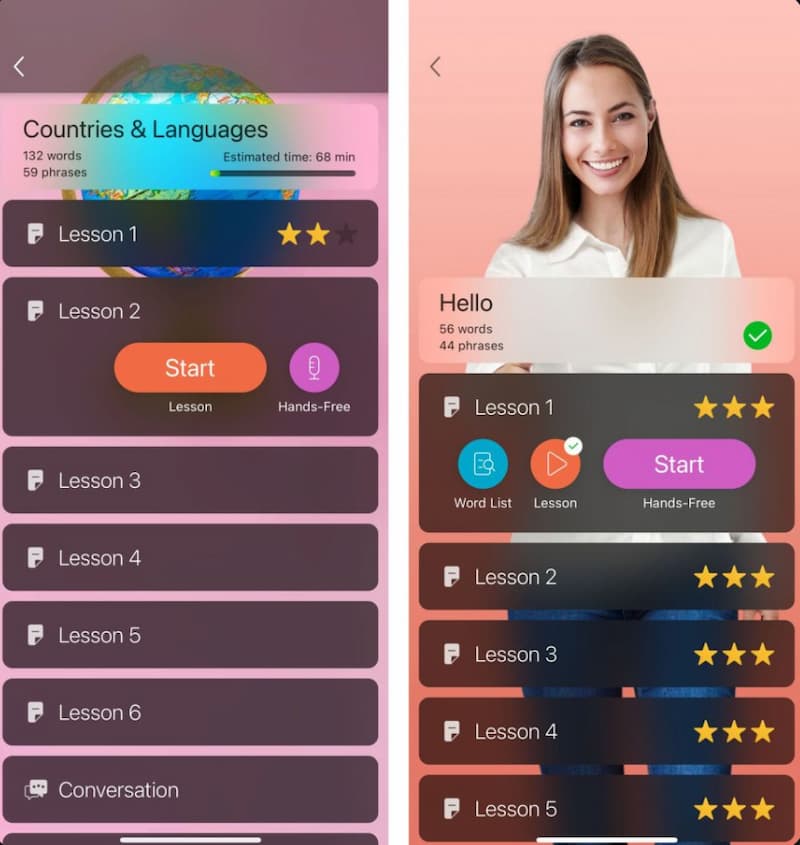 In terms of their value, overall, Mondly is worth it if you're a beginner and really want to learn while driving.
Their pricing is relatively affordable for what it offers, too. For example:


Monthly for $9.99 and choose one language for an additional $47.99;


Annually for $47.99 and get access to 33 out of their 41 languages;


Lifetime access to all 41 languages for $89.


Rosetta Stone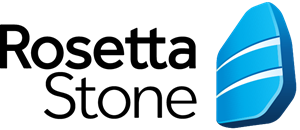 Pronunciation checker;
Downloadable materials;
Reliable learning platform.
When it comes to learning a new language, Rosetta Stone is the best at online learning, making them the go-to app.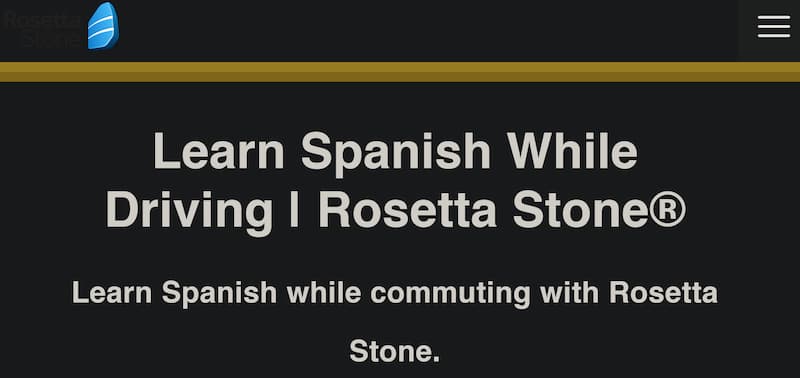 Over the years, this platform has earned a reputation as the leading language-learning program, and its mobile app has only made it more accessible.
Their app offers users the same comprehensive language-learning experience as the full program, with details of all the features that make it so effective.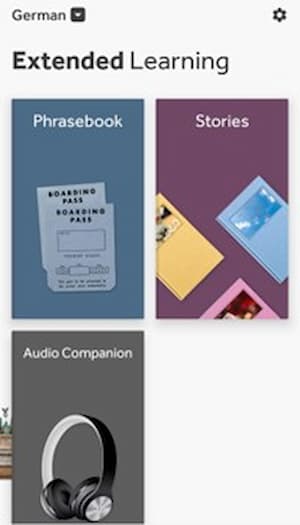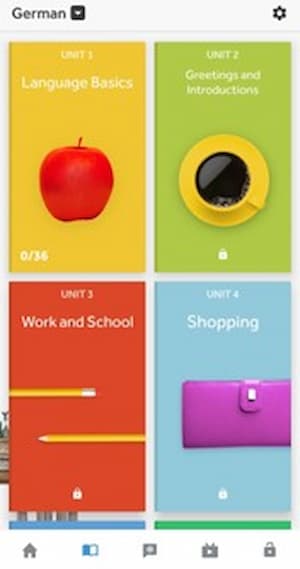 The app is probably the most innovative on this list, with a unique auditory approach to learning a language in your car.
There are courses in 24 languages, allowing you to learn the basics, or delve into advanced topics.
As I used the app, I noticed how the lessons are divided into smaller sections, covering everything from pronunciation to grammar, and even cultural insights.
Although some customer feedback has noted their images are culturally irrelevant.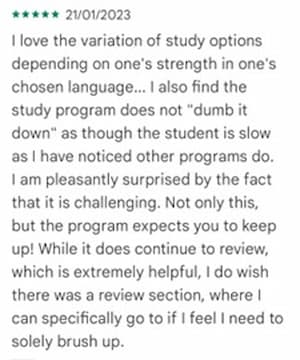 To learn a language whilst driving, Rosetta Stone has an interactive pronunciation coach, which allows you to practice your pronunciation of words and phrases.
The app also offers Live Tutoring, which links you with
top native-speaking tutors
for personalized instruction.
Learning progress can also be accessed, allowing you to monitor your progress and adjust your learning plan as necessary.
Rosetta Stone scores a 4.4 rating in the Apple Store, and it's clear from customer feedback that the app is backed by a strong support system. There's also access to tutorials and FAQs to answer any questions you may have.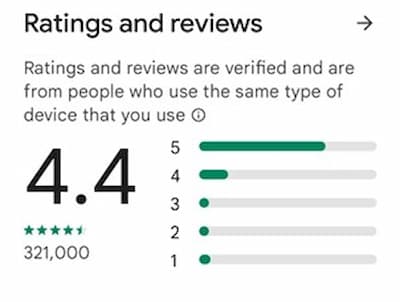 In terms of cost, with Rosetta Stone, you're paying for the brand itself, as well as its course material.
The platform boasts almost 500 million customers, so despite the lack of a free version, it must be doing something right.
There are three subscription options available:


3-month subscription: $12 for one language;


12-month subscription: $8 or $96 annually for one language;


Lifetime subscription: $179 on off payment for all 24 languages.


How to Use These Apps While Driving Safely
The convenience of learning a new language in your own time and at your own pace makes these apps highly desirable. But how can you use these apps while driving safely?
The first thing you should do is familiarize yourself with the app's functionality before you begin driving. Make sure you know how to access the various exercises and lessons available and how to switch between them quickly and easily. This way, you won't have to fiddle with the app while you're driving.
Another important safety tip is to keep the volume of the app low. This will allow you to concentrate on the road, and you won't be distracted by the audio. If you need to increase the volume, simply pull over and adjust the settings before continuing.
Finally, it's important to remember that language-learning apps should not take the place of safe driving. Even if you are using the app to improve your language skills, make sure to always remain focused on the road ahead. This means that if you feel yourself getting distracted, you should pull over and take a break.
While exploring the best app to learn language driving, you might be wondering about other language learning resources. For a more specific platform review, you might want to check out my article about FluentU.com and decide if Fluentu is good for your needs.
FAQ
Can you learn a language while driving?
Absolutely! Thanks to modern technology and special learn a language in car app options, you can take language classes while driving. All you need is your phone or tablet, which allows you to listen while you drive.
Can Babbel be used while driving?
With the launch of the new Babbel app, you can now learn a language while driving! The app is designed to help you learn in the most convenient way possible. Plus, this learn a language while driving app is available on both Android and iPhone devices so that you can access it wherever you go.
Can you use Duolingo while driving?
Yes, you can use the Duolingo app to learn a language in your car. A lot of their core lessons are audio-based, making them the best language learning app while driving.
Can you use Rosetta Stone while driving?
Rosetta Stone has an app for IOS and Android users, so they can continue their language-learning journey while driving. It's one of the most popular learning apps on the market, ranking #46 in the Apple Store's education category.