Let's tackle some of the questions I had before trying it out. The main question was: "Is Mondly any good?" I know many negative reviews for beginners, and I don't think most of them quite get it.
So, let me take you through what Mondly truly encompasses and set the record straight with this Mondly language app review. There are two criteria I use to determine the most suitable language-learning apps and the best tutoring companies out there.
First, does it have the language you want to study? And does it offer a well-scaffolded and challenging learning experience?
Let's put an end to the confusion of reading incorrect Mondly.com reviews. This Mondly languages review is based solely on important criteria every language app must meet.
Johann Wolfgang von Goethe once said, "Those who know nothing of foreign languages know nothing of their own." After going through the review, I'm sure you can answer all your troubling questions regarding this Language learning app. Mondly is the majority language app.
Do I have your attention? Trust me; you haven't seen this before. I've carefully examined the quality of service Mondly provides for its users and the features available on its website and app. Not just that, also in this review, you will find the prices of Mondly's services and the value of what you are paying for.
There is more! What this language-learning app says about itself is not enough to base this review on; the sweet part is the result of the research conducted by students using this platform. Find out more about what Mondly can do for you in this review and in our list of the best apps to learn Spanish while driving.
What is Mondly?
Have you heard about Mondly before, or this is your first time? Mondly is one of the language learning platforms that offers many language lessons in virtual and augmented reality. Mondly learning platform includes an app and website, offering free and paid courses in 41 languages.
Mondly is probably the best option for serious language learners; all its courses can be accessed in one subscription for a low price. It's a good study tool for improving basic words and concepts you learned elsewhere.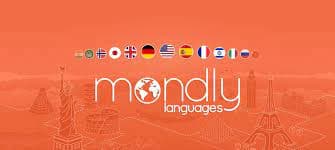 Considering this, how do you think it works? Well, you'll be glad to know it is quite simple and easy to use. Mondly can be assessed on any device; you can learn any language you want on your android, iOS, tablet, or desktop through the website or app.
Like any other language learning platform, you can start using Mondly by downloading the app or website. You can try out the free or paid version. Once you log in, you will arrive at the main dashboard, which looks like a map. There, you will see different icons that represent different topics.
Are you curious about what this language learning app has to offer? Or are you wondering what its best features are? Let me give you a little taste of what to expect. On Mondly, you will learn useful vocabulary and phrases in your target language.
The material you learn consists of words and phrases you will use in real-world situations. Mondly will teach you things like "What are your favourite hobbies?" and "I need to reschedule my appointment." There are a lot of helpful sentences you will learn that can be used in different contexts.
Mondly Features: What Can You Get Using It?
Mondly is one of the major language learning apps available today; it is usually considered an option when someone wants to learn a new language.
Federico Fellini states, "A different language is a different vision of life." This review will provide you with an overview of the main features of Mondly for readers that want to try it out. So, let's take a closer look.
Learning a new language can be a little bit confusing. That's why Mondly mixes things up! Mondly's model combines daily lessons with innovative features such as augmented reality lessons, virtual reality, and a chatbot. You're introduced to new vocabulary and phrases through "game-like" exercises.
At the end of the lesson, you will be able to remember the new words and phrases you learned in that session. The beauty of Mondly is in the combination. So as not to get bored, Mondly ensure that you won't be using the same method every time. I'll go into more detail about each of these below.
Mondly VR is a language learning app in virtual reality. This extra VR app lets you get vocabulary lessons from a virtual teacher and communicate with her through the chatbot and speech recognition tool. You can experience the most advanced way to learn different languages anywhere.
According to the Mondly VR review, this app will help improve your pronunciation and speaking ability. The virtual characters will let you see how fun learning can be.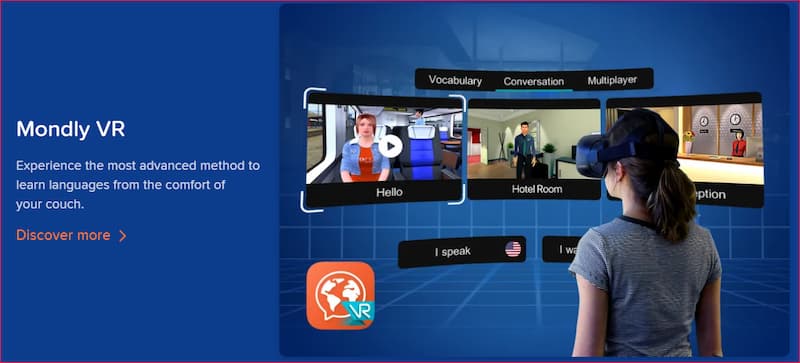 Next on the list is the Mondly AR; this is an augmented reality teacher you can have around wherever you go. This teacher uses virtual objects like animals, musical instruments, etc., as a teaching tool. It will engage you in a conversation and give feedback using the chatbot technology.
Another Mondly feature is the chatbot conversations. After you finish the lessons on each topic, you can complete a chatbot conversation that helps you practice using your new vocabulary in a full conversation.
This is another premium feature available on the app. This language learning tool is designed to emulate a conversation; it will give you a chance to practice the language you're learning. You can communicate with the bot by responding to it, and it will correct your replies if needed. This will help you practice your new vocabulary in a full conversation. If you find it difficult to respond to the chatbot, you can look at a suggested response.
You will not come across a language learning app without a kids' version. Mondly is not limited to adult use; there is also a kid's version. A learning pathway will guide your kids and siblings through themed landscapes and pictures relating to the topics. Mondly kids will help your younger ones to learn a language with beautiful illustrations and cool sounds that will keep them entertained.
Apart from what you can personally benefit from Mondly, there is more this learning platform can offer your business. With the introduction of MondlyWorks, you can improve how your company communicates and relates internally and externally with partners, clients, and customers.
Consider what this could mean for you, your family, and your business. Mondly is a one-fit-all language-learning app properly designed to fit every aspect of your life. Trust me; this app is the best for you.
Prices: What are You Paying to Learn?
Like other competing apps, Mondly has a reasonable price, and its service is quality enough to justify the price. You can opt for a monthly subscription if you use it for a short period. But if you plan to use it for a while, I recommend you go for the annual plan. The lifetime subscription is the cheapest option available, as you can find in any Mondly lifetime subscription review.
According to Nicholas Sparks, frugality has its own cost, which sometimes lasts forever. Would you rather spend once on a quality product or pay a lower price often on a low-quality product? One of the beauties of Mondly is the price. Mondly price is cheap and attractive. Its subscription costs $9.99 per month, or you can pay an annual subscription of $47.99 for one language.
If you check any Mondly lifetime subscription review, it was made known that with $479.99, you can have access to all languages for a year. You can also buy a lifetime subscription for $89.99 and have access to all 41 languages available on the app. Also, in this review, you will find the price you can get from other similar service providers.
| | | | | | |
| --- | --- | --- | --- | --- | --- |
| | Mondly | FluentU | Duolingo | Babbel | Memrise |
| Monthly | $9.99 | $30 | $12.99 | $6.95 to $12.95 | $8.49 |
| Annual | $47.99 | $240 | $83.88 | $83.40 | $90 |
| Lifetime | $89.99 | $500 | $160 | $130 | $139.99 |
Do you doubt the quality of the Mondly app? Well, I was sceptical initially as well. Like me, you can start with the free mode and get into exploration mode. I know you want to ask, "is Mondly app free?"
The answer is No! But the free trial gives you access to all premium features, but only for seven days. You can also enjoy daily free lessons without the need to enter your credit card details on the payment page. But when you compare Mondly free vs premium, we advise you to go for the paid subscription as the free has a limited offer.
To get started with the paid subscription, you have many payment options available. You can choose either of the following:
Bank cards;
PayPal;
Neteller;
Bank transfer;
Skrill wallet;
WebMoney.
Premium subscribers can access cool discounts if there are multiple learners in their friends or family. If you add one additional account, it costs $15.99/month (27% off); for three additional accounts, you will pay $27.99/month (37% off), or 5+ accounts for $35.99/month (48% off).
In addition to this, there are also coupon codes, discount deals, and promo offers for Mondly available throughout the year. With the help of these promo codes, you will be able to enjoy extremely cost-effective deals.
Quality: Is Mondly Worth it?
Is it worth it? I know this is the question you want to answer. Alan Musk once said, "Any product that needs a manual to work is broken." With the Mondly AR and Business app, and other offers available on the app, I think the answer is "Yes, it's worth it". The premium subscription is the place to start as a beginner; the app features justify the cost regardless of how you want to use it.
If you're starting from scratch with a new language, Mondly is an excellent option for you. It will help you build a base vocabulary and understanding, and they're our users' choice for paid and free language-learning software.
Any guarantees? That was the question I kept asking before I finally gave the platform a chance. That prompted me to ask you, what assurance do you need other than the testimonies of millions that have benefited from this language learning app?
Without exaggerating, there are a lot of features that will help you stay motivated and come back to learning. These include the daily lesson.
You have access to a lot of variation in the material you learn with the daily lesson. You will miss the chance for a weekly and then a monthly quiz if you miss one of the daily lessons.
As part of your well-designed and interactive illustration, you have the opportunity to view your statistics. It will also show the number of days you have studied, the words and phrases you've learned, and your total progress on the platform.
The quality of the audio is also great. Mondly uses real voice actors to record the audio, so your listening comprehension practice is not  with a computer-generated voice; it's with real speakers
Mondly's language lessons range from basic vocabulary to job-specific courses. Mondly subscription could be beneficial for someone working in the tourism industry.
This feature has been an excellent one that sets Mondly apart from other apps. Some other factors include:
Low price point;
Virtual reality & augmented reality apps;
Useful vocabulary;
Short and fast lessons;
Gamified learning.
In this Mondly language app review, discuss further why this app differs from any other language learning app or website.
When you compare Mondly with other language learning apps like Flentu, Babbel, Duolingo, and Rossetta stone, you will realize they are similar with few differences.
Is Mondly better than Duolingo?
When you look at the comparison between Mondly and Duolingo, you might wonder if these similar apps differ. The difference between the two language learning apps is the learning progression.
Duolingo takes on a structured and more linear path, while Mondly gives you control over the order of topics you cover. And also the AR and VR components of Mondly. These can also be seen as an edge Mondly has over Duolingo.
When you compare Mondly to Babbel, the difference can easily be seen. However, the similarities can not be ignored. Mondly also has a lot in common with Babbel. The two offer a sense of freedom in users' learning paths. Mondly offers 41 languages, while Babbel only provides options of 14 languages, mostly European.
That's not all; here is another comparison. With some similarities, Memrise is another app that has competed with Mondly; it is also regarded as one of the language learning apps.
However, some features keep Mondly ahead. This language-learning app allows you to learn in your native tongue. This is a feature lacking on Memrise, which can make learning more challenging for beginners.
Someone learning a new language is better off sticking with Mondly to build that foundation. They both have similarities too. Although the grammar lessons in Memrise aren't that helpful, the grammar tables in Mondly are a lot better Learn more in our detailed Mondly and Memrise comparison.
Among all language learning apps, only a handful come close to what Mondly has to offer. The last app on the list is FluentU. When you look at the quality of service, price, and ease of use, the two apps are very similar.
However, there are some differences. FluentU will help you improve your reading and listening skills, while Mondly will greatly improve your reading, writing, and speaking skills.
Mondly
FluentU
Duolingo
Babbel
Memrise
Monthly Price
$9.99
$30
$12.99
$12.95
$8.49
Quality
Speaking, Writing, Reading

Listening, Reading
Speaking, Listening, Reading, Writing
Speaking, Listening, Reading, Writing
Speaking, Listening, Reading
Content
41 Languages
10 languages
 38

Languages

14 Languages
22

Languages

Level
Beginner, Intermediate,

Advanced

Beginner, Intermediate,

Advanced

Beginner
Beginner, Intermediate
Beginner, Intermediate
Value for Money: Is it Worth the Price?
Looking at the features available on Mondly, it is perfectly worth the price. We all know that learning a new language can be a bit stressful and difficult at first.
That's why Mondly's model combines daily lessons tailored for you with various topics and levels involved in learning a new language. This is adjoined with creative features such as augmented reality lessons, virtual reality, and a chatbot.
Honestly, given the incredibly limited number of features and comparing the prices to other language learning programs, I would say the app is the best place to learn any language, provided that it is available on the platform.
Now that you've paid for a subscription, are you curious about what you will get for the money you pay? Let me take you through the highly structured Mondly program.
Each lesson comprises a dozen interactive drills, exercises, quick-hit, and exercises covering major listening, reading, writing, and speaking mediums. These lessons are short and quick; it will only take you 5 to 20 minutes to complete each lesson.
Matching images to phrases.
Listening to words and phrases in your preferred language and then repeating them.
Translating sentences between different languages.
Listening to a question and selecting the right multiple-choice answer.
Completing mock conversations by selecting the correct response.
Spelling words and phrases.
Furthermore, you need to know that what stands a language learning app out is more than how much you can get it. The best way to examine an educational platform is its value.
What does it have to offer? Do users find it helpful? These questions are considered before this Mondly app review is put together.
Mondly can help you speak a new language faster than any other app. Judging by its user-friendly interface, key features, and fair price, I can easily say this is suitable for use at any level.
Being worried about what this app can offer you is understandable. Let's dig deeper into what you can benefit from this language learning site without wasting much of your time. Mondly has a lot to offer its learners.
It offers a sense of freedom in your learning path, given that Mondly takes a different approach to language learning; you can learn your target language according to your L1 since your mother tongue is present on the app.
You can also take the words you learn from the platform and examine their manifestation in a realistic setting. Also, you can add any word you learn in the vocabulary list so that you can go back and review them any time you want.

In addition to what this app has to offer, it is important to look at why you need to learn a new language. The questions are quite simple. How do you think a language learning app can help you? Do you want to improve your academics? Or do you need to improve your business career?
We all know that every global company needs employees proficient in different languages. MondlyWORKS is purposely built to help businesses that want to get their employees trained in various languages or individuals that want to stand ahead of other colleagues.
Your job might require dealing with a foreigner, or your business might take you to a country that speaks a different language from yours. MondlyWorks is the go-to app that will set you up in a short time.
What Do People Say About Mondly?
Most people have difficulty finding an app suitable for learning a specific language. Despite what your native language and what language you are planning to learn may be, Mondly has one of the widest language choices you can choose from. You might not be convinced yet, but this review will help you know if Mondly is a good language app or not.
Mondly has been recognized by top technology companies such as Apple Inc. and Google. It has also received many awards and accolades from many technology organizations. It received the "Best New App" award from Apple Inc. in 2016 and 2017; it was awarded the "App of the Year" for Europe, the Middle East & Africa by Facebook. In late 2021, Mondly won the Chairman's Award at the WITSA Global ICT Excellence Award.
According to Ken Blanchard, Feedback is the breakfast of champions. You might also want to consider what other people say about this app, especially the users. This Mondly premium review is based upon many factors; one of which is what other users say about this app.
So far, there has been good comment on this app with few customers not satisfied with the service offered by the platform.
In this review, I have provided you with some evidence of feedback gotten from some users.
According to Mark Mostow,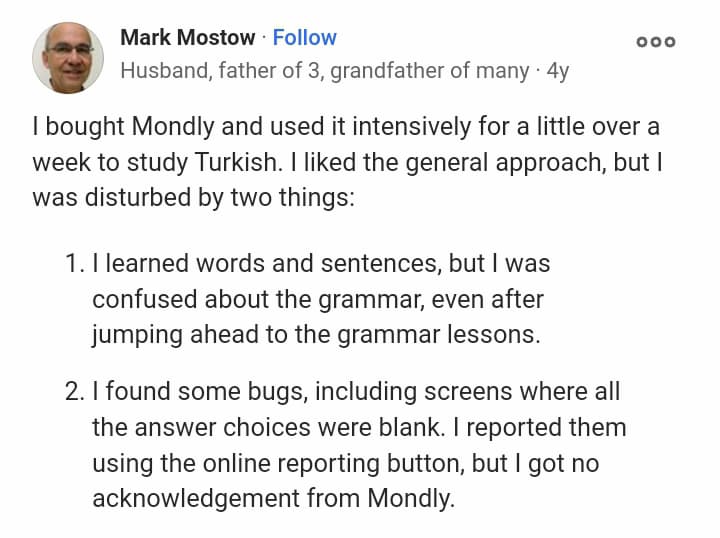 Here are another user's thoughts about the app.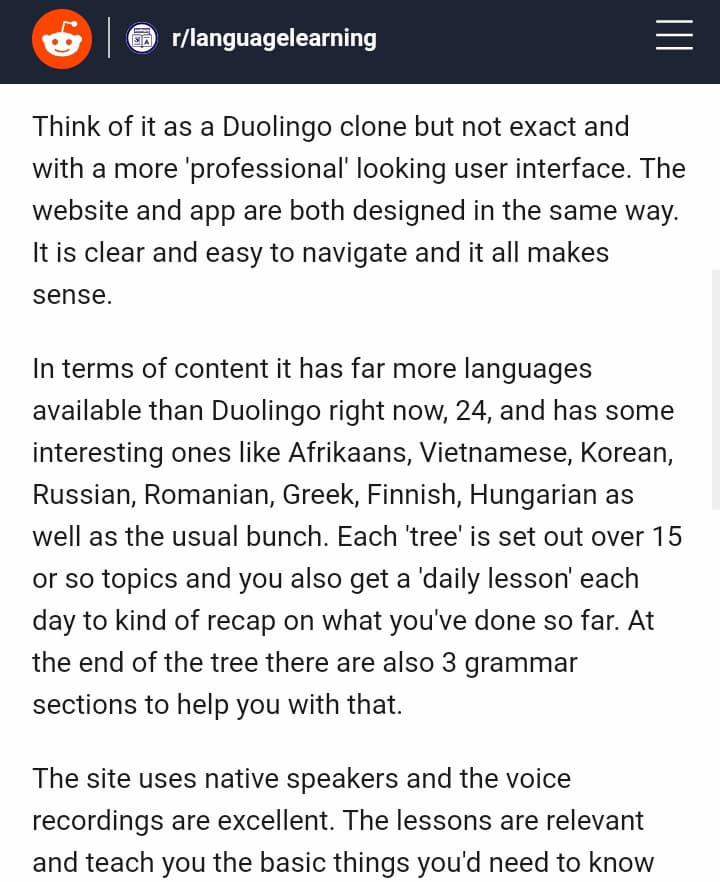 Another satisfied customer also shared what's like to choose this app over others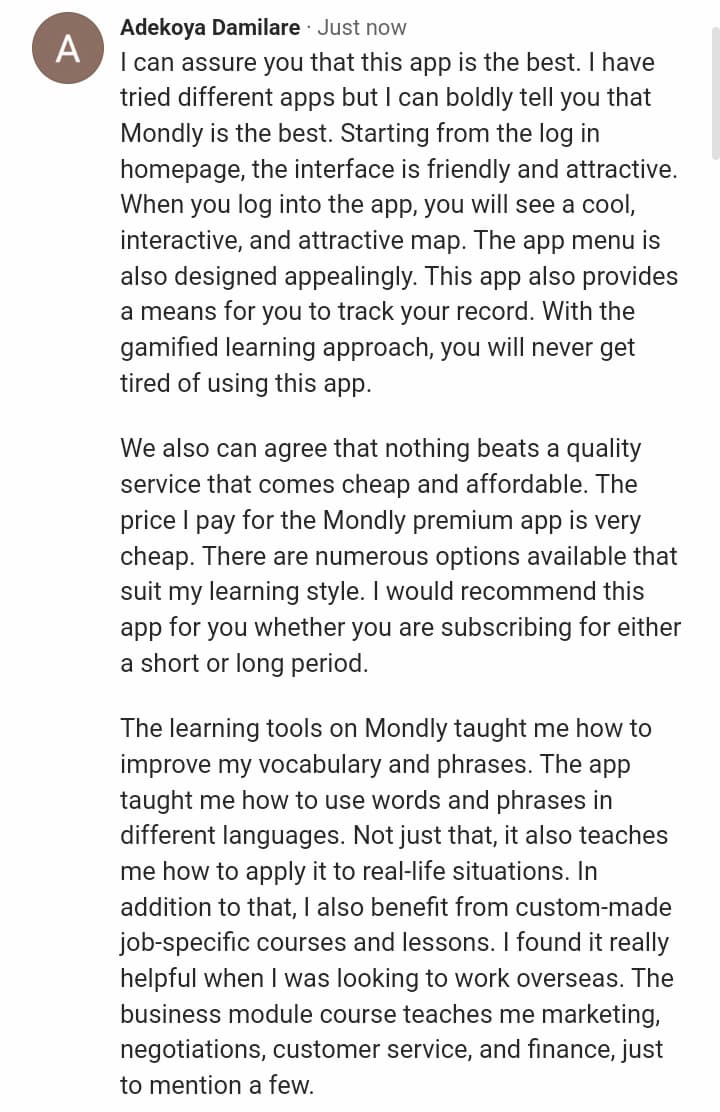 Pros
Mondly language learning app provides its users with plenty of language options.
The platform is equipped with innovative features to keep its users interested and motivated.
Mondly is equipped with tools to teach and improve your vocabulary and phrases.
Motivational attributes to keep users engaged.
Comprehensive statistics to examine time spent on the app.
The price you will pay for the Mondly premium app is cheap.
Mondly came up with a beautiful idea that has helped improve the language learning experience using a gaming and fun approach.
You can track your place and compare your performance against all other users worldwide and any of your friends on the Mondly app.
You can track your record directly from the navigation bar at any time.
Cons
There are limited offers users can get from the free version.
Subscribing to Mondly's monthly plan only gives you a chance to learn a language for 30 days.
Grammar lessons are lacking for languages that need them.
Users can't slow the audio in listening exercises except on iOS devices.
The speech recognition system is not up to standard.
Differentiation between levels on the platform is lacking. The app is more suitable for beginners than advanced learners.