Introduction
The internet is one of the biggest innovations of the 21st century. The increased proliferation of smartphones and internet-enabled devices has offered people increased access to different online services, including online language education.
Like other internet-based services, online language education is cheaper, flexible, and convenient. One of the most common forms of online language education is the use of language exchange apps or tutoring platforms.
Language exchange apps are designed to help you find people who speak the same language worldwide. Then, you can go ahead to have conversations with these people. These apps are a simple and interesting way to meet native speakers and practice your language with them.
There are several language exchange apps on the internet. Each of them promises something unique. However, not all of them can live up to this promise.
HelloTalk App is one of the most popular language exchange apps on the internet. But is HelloTalk good? Is it one of the best apps for learning Spanish? This piece will look at all the essential details of this platform.
This HelloTalk app review will take a critical look at the platform's features, quality, value for money, feedback, pros & cons, etc.
Let's begin!
What is HelloTalk?
In simple terms, HelloTalk is an app that helps you practice your language-speaking skills. It connects fluent speakers of a language with beginners and vice versa.
This way, it's possible for people to quickly and effectively build their communication skills. Check our list of the best tutoring platforms to improve reading skills.
HelloTalk was founded by Zackery Ngai in 2012. Today, it's one of the most popular language exchange apps worldwide. This platform is currently accessible in over 200 countries with more than 25 million users.
It also supports more than 150 languages, including English, Spanish, French, Hindi, Chinese, Italian, etc.

While this app seamlessly connects language speakers in different parts of the world, it contains no lessons, quizzes, and exercises. Therefore, there's no room for additional learning.
The main goal of this app is to connect people to native speakers and get first-hand knowledge about any language. You'll only get to learn by engaging with other users.
How Does It Work?
The way HelloTalk works is quite simple. The first thing to do is register for an account on the platform's official website. You can sign up in a few easy steps.
You may also decide to visit the app store of your device and install the HelloTalk App. The registration process can also be completed from this app.
After the registration, fill in your essential details, including a profile picture, gender, country, native language, learning language, and current language level. Then, go ahead to submit these details. When you are done, you've successfully created an account.
The registration process is simple and would barely take 2 minutes.
After creating the profile, you may decide to go ahead to complete other details or start looking for partners immediately. The process of searching for language partners is fairly easy too.
Who Is HelloTalk Best For?
There are clear indications that HelloTalk is a relatively easy app to use. It's designed for people who don't mind speaking to strangers to learn a new language.
If you're comfortable chatting with strangers in a relaxed, informal setting, you'll enjoy using this platform. Many people enjoy the flexibility of this platform because it allows them to have long conversations on any topic.
You'll find that other platforms in the same category have stricter usage rules.
However, you have to be realistic with your expectations when using this app. There's also a risk of divulging too much personal information.
You need to note that there's no way of determining or identifying who you are truly speaking to. The app will only indicate the name, age, gender, and location of the person.
Therefore, it's up to you to protect yourself from attacks by hackers.
Many users have been able to establish similarities between the way HelloTalk functions and a dating app. The only difference between both is the purpose of being on the platform and its additional language features.
Like most apps, HelloTalk allows you to communicate and interact freely with someone in another part of the world.
The Best Features
Without any doubt, HelloTalk is one of the most effective at what it does. However, many may still wonder – is HelloTalk a good app? Well, the answer is pretty straightforward – it is. This app stands out from the competition with some unique features.
So, what's the unique selling point of HelloTalk? Well, this language exchange platform is popularly used in several countries worldwide. This means users will get access to several options when contacting language partners.
There are also more language options here than you'll find on most competing platforms. You can also search for language partners based on several criteria. These parameters include; age, gender, city, target language, city, country, and distance.
What's more? HelloTalk has its faults that are referred to as "Moments." It's just like the feed section on most popular social media platforms. Here, you'll find several posts on topics related to language learning. Users are allowed to post quotes, videos, travel notes, updates, cultural characteristics, etc.
HelloTalk App Features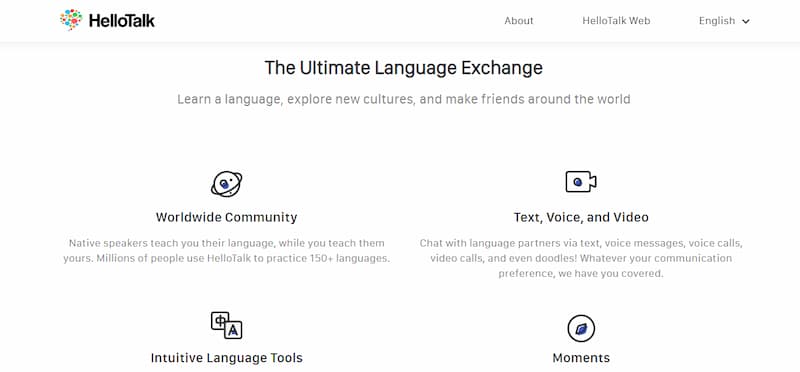 The major features of the HelloTalk App include;
Extensive Search Function
The main aim of HelloTalk is to bring you closer to people who speak your target language in different parts of the world. Yes, it lets you connect to anyone in any part of the world in a few easy steps.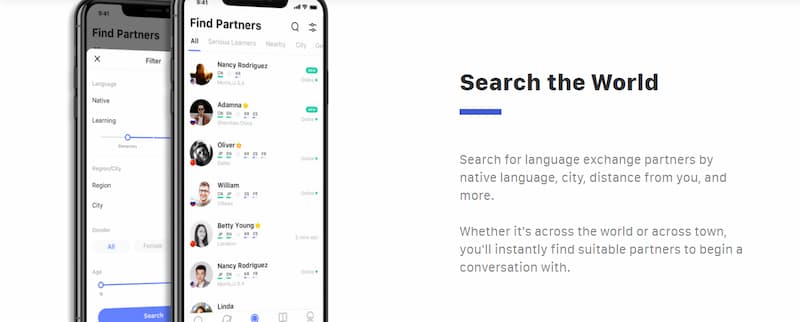 When you sign up on HelloTalk, you'll be asked to input your native language and the target language that you intend to learn. If you're using a free account, you'll only be allowed to pick one target language.
However, premium users will be able to pick up to 3 target languages.
As soon as you have set your native and target languages, you may go ahead to start searching for partners to communicate with. You may decide to speak with someone who is close to you or someone who is currently staying in another country.
The app will provide you with basic information such as a person's gender or language proficiency. If you are interested in speaking with a particular type of people, you can set your search filter to focus on them.
When you identify a suitable language partner, you can initiate a chat with them. Regular users of HelloTalk are allowed to initiate a chat with eight new people per day. However, premium members may speak to up to about twenty-five new people per day.
Chatting and Translation Services
Like other top alternatives in the same category, HelloTalk has a messenger function. This messenger app allows users to chat and interact with different users on the platform.
Using this messenger, it's possible to share messages, emojis, and your GPS location with your language exchange partner. Yes, you'll be able to chat in different target languages simultaneously. You won't need to go to settings to change your target language.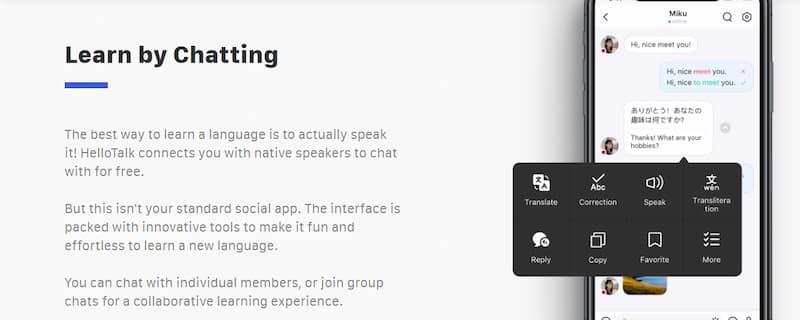 However, this messenger allows users to do more than just chat with others. It offers translation services too. They include;
Auto Translate
This is an interesting feature that many users find useful. This messenger allows you to instantly translate any message that is sent to you by your language partners. It's so simple.
All you have to do is to click the message bubble that appears when chatting with your language partner. The auto-translate feature works when sending and receiving messages from your language partner.
Transliteration
The auto-translate feature isn't the only interesting part of this platform. There's also a feature known as Transliteration. Using it, members of this platform can translate other alphabets that aren't English, e.g., Arabic, Japanese, and Chinese.
What's more? This feature is easy to use and can be accessed by simply holding down the message of your language partner that you wish to work on.
Narration
HelloTalk takes things a step further with its narration feature.
Unlike other apps in the same category that only let you translate written text into text, HelloTalk does better by letting you translate written text into speech. It's labeled as the "speak" feature in the app. Users are allowed to adjust the speed of the narrations in the app's settings.
Check our list of the best learning apps for the Spanish language here.
Corrections
The great things about this platform don't end there. This platform is also an ideal choice for those who intend to work on their writing skills.
Using the correction feature, it's possible to offer input on a person's writing skills. No doubt, this is one of the most useful features of this application.
Media Sharing
It's easy to think that HelloTalk is designed for just chatting and talking between strangers. However, this application also allows users to share media files.
Yes, it's possible to share media files such as pictures, videos, videos, or voice snippets. This allows users to interact personally in numerous ways.
In addition, there's a doodle feature. This feature allows users to create hand-written or finger-drawn images. This feature is quite useful for playing games and exploring some form of creativity with your language exchange partner.
It can also be a great way to interact with special characters, such as Arabic.
When combined, you can use the media-sharing feature and doodle function to share cultural differences with your language exchange partner.
It's usually nice to share more than just spoken words with this person. The possibilities for using both features are endless because you can share virtually anything that comes to mind.
For instance, if you don't know how to say the word dog, you can simply share an image or draw it with your finger.
Send-A-Gift
The send-a-gift feature allows users to send gifts to their language exchange partners.
While this feature doesn't particularly contribute to your language learning in any way, it can be a great way to bond with the person. You'll be asked to pay real money to send virtual stickers.
Moments
This is the HelloTalk feature that makes it resemble a social media platform. Here, users are allowed to share several things, including mood, pictures, short videos, poems, etc.
Many users post their moments in their target language, while you'll still find a good number of people that do so in their native language.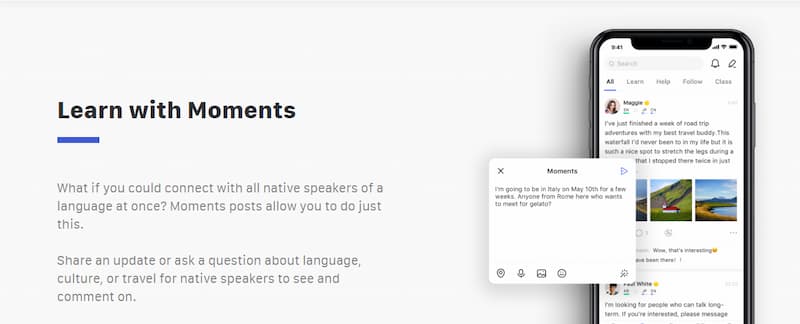 Like a social media app, other users are allowed to interact and engage with your posts. You'll be allowed to offer corrections on another person's post, and others will be allowed to do the same for you.
This extra form of interaction will allow you to learn titbits from other people. You could even find people that would end up being your language exchange partners.
HelloWords and HelloLanguage
Regarding personal development and training, HelloTalk offers users only little support. This support is in the form of HelloWords and HelloLanguage.
When you sign up for both features, you'll receive a welcome message that will be written in the target language. Depending on your level of proficiency, you may find it difficult to go through this welcome message.
HelloWords will give you access to five free words per day. These words may range from basic to advanced words in your target language. HelloLanguage will give you access to five free lessons per day.
These lessons will be organized in the form of a dialogue. Many users may not find these additional features too useful.
To get more out of HelloWords and HelloLanguage, you'll need to subscribe to these features separately. This payment will be different from the HelloTalk subscription price. Online reviews show that not many people care for this feature.
Online Tutoring
The online tutoring feature on HelloTalk is a way for the platform to give back to its users.
However, it's split into two basic options – a crash course that costs $29 or one-on-one sessions. You can book a one-on-one trial session for $10.
Also, you need to note that one-on-one classes will only kick-off when the classes are filled with up to 20 people.
Pricing
Now, you've learned all the interesting features of HelloTalk. So, you may ask yourself – does HelloTalk cost money?
Well, it does. While you'll be allowed to use many of the app's features for free, you'll need a premium subscription to gain unlimited access and exclusive features.
The free version allows you to find, chat and speak with as many as eight new language exchange partners daily. This free version also supports a single target language. Non-premium users are only allowed to use the translation tool 10 times per day.
Furthermore, free users will have to deal with annoying ads that pop up as they navigate the platform.
Premium users, on the other hand, get access to all the features that free users do. However, they can choose up to 3 target languages. They are also allowed to interact with twenty-five new language exchange partners every day.
What's more? Premium access will eliminate all those annoying ads that interrupt you when using the app.
Furthermore, Premium users will be able to do advanced searches using special filters. For instance, they may be able to search for someone according to their gender or search for other users within the same town or region.
The HelloTalk VIP Price is $4.99 per day, $6.99 per month, and $45.99 per year. Users can also book a lifetime subscription fee of $175.
Quality
When you take a look at the features of the HelloTalk app, it's quite clear that a lot of work has been put into developing this website.
Yes, the platform boasts many impressive features that you won't find elsewhere. Its messenger tool is quite effective. And the Moments section breathes some life into the platform.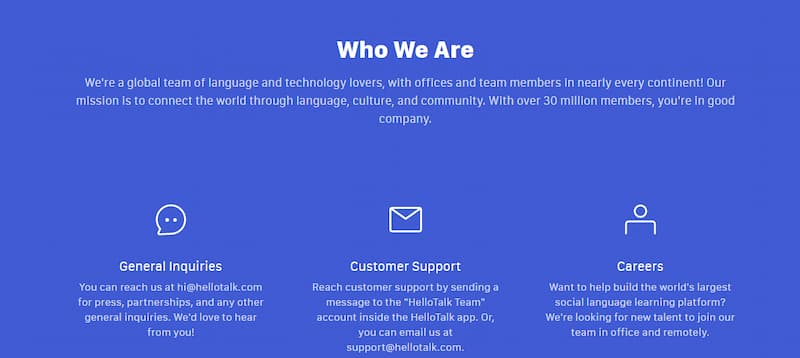 This platform has gotten quite popular because users are allowed to do almost anything on it. It's a well-designed resource that many will find useful.
It's a great way to learn languages faster because you will get to practice with someone who knows more than you and rub minds with beginners too. Get ready for lengthy conversations with strangers – as if you were in the same room.
The only downside to this platform is that there have been reports of certain users who have chosen to use this application as a dating app.
These people usually go ahead to send inappropriate messages to language exchange partners of the opposite sex. In a way, this has made the language exchange platform unsuitable for certain people.
There's also the issue with the AI-generated translations. The chat translation services of this app are powered by AI-generated translators.
As a result, the results may seem robotic at times. This type of translation can be problematic and lead to some level of confusion.
While HelloTalk has done its best to ensure that people who speak different languages can communicate with each other, AI-generated translation will not cut it.
How Is HelloTalk Better than Itakli?
HelloTalk and iTalki are online platforms that allow people from different parts of the world to learn different target languages. While there are numerous similarities between both platforms, they also have clear differences.
The goal of italki is to pair students with language teachers around the world for an optimal experience. It offers tutors for language learning.
HelloTalk, on the other hand, pairs people speaking different languages together, allowing them to interact and decide how best they want to learn from each other.
| | |
| --- | --- |
| HelloTalk | italki |
| Speaker-speaker connection is established. | Student-teacher connection is established. |
| Perfect for those who want to learn through interaction and socialization. | Perfect for those who want to learn a new target language through direct tutelage. |
| Users can practice at any time. | Users' learning is restricted to pre-determined schedules. |
| The moments feature allows users to interact with others through posts. | The community feature allows users to learn through additional questions and exercises. |
Value for Money
Overall, HelloTalk is a language exchange platform that offers users real value for money. To start with, the app is relatively cheap to use.
You'll get access to most of the features as a free user. Premium access also doesn't mean that you have to break the bank. For the HelloTalk price, you'll get additional access to some of the app's best features.
Well, many users will describe the experience on this platform to be quite valuable. Language skills are a big thing in our society today. But getting better at a foreign language goes beyond learning a few words and sentences. You need to be able to practice the target language regularly.
This way, you'll learn everything there is to know about it. HelloTalk offers you access to polish your language skills by connecting you to speakers around the world. There's no better way to learn than that.
Student Feedback & Reputation

For those wondering if; is HelloTalk legit, here are some of the HelloTalk app reviews from past users of the platform.
JaiM_13 – App Store
It was an intriguing experience using this language exchange platform to polish my Spanish. I had been learning Spanish for many years, but I could not gauge my progress because I had no one to communicate with in the language. HelloTalk changed all that, and today I can confidently speak it as a second language.
Hans_Freia – App Store
I enjoyed using every single aspect of this online language app. The registration was pretty simple, and it was easy to locate other speakers too. I could hardly stop myself from visiting this app every day to speak to someone new. I still use it to date.
LucianoF232 – App Store
I was planning my visit to France and had been practicing the language for some time. However, I was still not confident enough to speak it fluently. HelloTalk helped me practice in time for my trip, and I was talking almost like a native.
Also, below you can find pros and cons of HelloTalk and websites like this app.
Pros
App has an extensive search function.
There's an easy-to-use messenger app.
It allows users to practice without feeling embarrassed.
The app is accessible in about 150 countries.
It allows you to find language partners around the world and near you.
It allows users to develop a bond with language partners.
Cons
There are inpatient and somewhat distant language exchange partners.
Shares personal info by default.
Expensive additional services.
Wrap Up
Finally, we've come to the end of this HelloTalk review. So, is HelloTalk safe? Without any doubt, this platform is safe and easy to use. Yes, it allows users to hone their language skills by pairing them with speakers worldwide.