edX Review
The pandemic and resulting lockdown gave prominence to remote online learning platforms. Although free online college courses have always been available, it wasn't until then that people appreciated the usefulness of massive open online courses.
Although people are free to go about their businesses, the affordability, and flexibility tied to the online learning platform are a joy to many.
Many websites simulate a classroom experience and even promise certification and degrees. However, there are so many of them that you may be overwhelmed by all the options. The reputable ones include Udemy, EdX, etc.
This is why we have put together an edX course review to make your selection easy. You can check out our Udemy review to know if you should choose it for learning your desired skill.
edX is arguably one of the best websites for online courses if you are interested in university-level online courses. The company is affiliated with several top universities and companies like Harvard, Microsoft, Berkeley, etc. But is it worth your time?
In our edX review, we will use various criteria to evaluate the quality of course materials and the website. They include quality, features, prices, website usability, privacy, value for money, guarantees, student feedback, etc.
Continue reading out the edX review to know if edX is worth it or not.
What is edX?
One of the most popular questions we came across often was, is edX legit? edX was founded in May 2012 by scientists from Harvard and MIT as an online learning-based, course-holding platform where students can learn various new skills.
The massive open online course provider hosts various university-level courses in various disciplines, including some at no charge.

edX also runs open edX, open-source software that higher institutions can use if they want to make similar offerings. That should answer the question of how does edx work and what the open edX is.
How does it work?
edX courses consist of weekly learning sequences. Each sequence comprises short videos and interactive exercises that students can use to practice different concepts from the video lectures.
Apart from explanatory videos, there is an online discussion forum where students can post questions amongst themselves.
edX offers various MicroMaster and MicroBachelor's programs. Users can also choose to enroll in either timed or self-paced classes, and they can audit or pursue honor certificates for free.
Is edX a scam?
No, it is not. The MOOC provider has recorded more than 110 million enrollments and issued 1.4 million verified course certificates since it started. It currently offers more than 3600 courses, and there are 15k instructors and more than 160 partners.
The popular subjects covered are computer science, language, data science, humanities, engineering, business, and management.
edX Courses
As we mentioned earlier, edX has more than 3600 courses that students can enroll in. To make it easy to know which one you want, you can explore the top courses and search by popularity, programs, schools and partner, degrees, and trending.
Popular Subjects Degrees Programs
Subject
Degree
Program
Data Science
Master of information and data science from the University of North Carolina
X-series program
Computer Science
Master of business administration from the University of North Carolina
Professional certificate
Math
Certificate in business analytics by Harvard University
MicroBachelor's program
Architecture
Artificial intelligence certificate by Columbia University
MicroBachelor's program
Education and Teacher training

Law

Master's program
Medicine
Food and Nutrition
Engineering
Business and Management
edX has a custom dashboard for each course. On the page, you will find the payment option, estimated week to completion, and the nature of the class.
Also, you will find details about the program, what you'll learn, the syllabus, information about the instructors, ways to enroll, and FAQs.
All this information is peculiar to each course. So you can be sure of what to expect before starting the class.
You can also check out the edX Spanish course review since programs are available in various languages.
If you're torn between Edureka or Coursera, our comparison review breaks down the pros and cons of each platform.
Who Will Find This Platform Helpful?
edX is for primary and advanced learning. So, there is normal edX for everyone and then edX for business and business for professionals and corporations.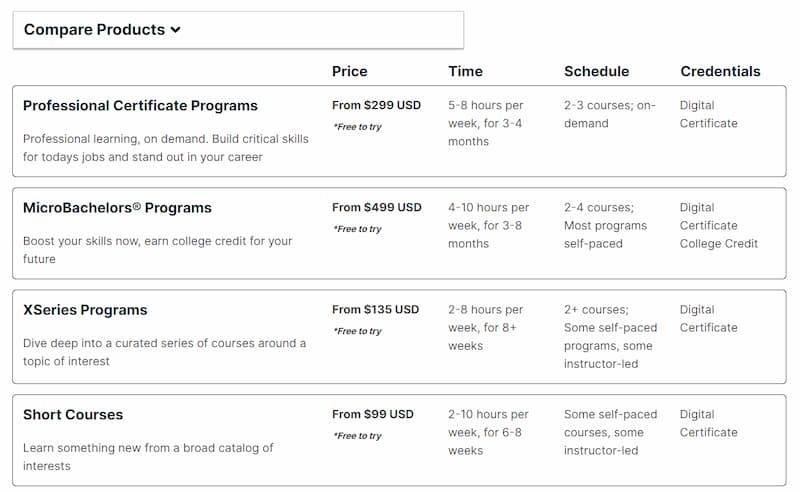 MicroBachelor's program for undergraduate education
You can use the edX app to boost your skills and earn a college degree, as the MicroBachelor's program is designed for adult learners that want to improve their careers. The program was created by top universities and influenced by fortune 100 companies.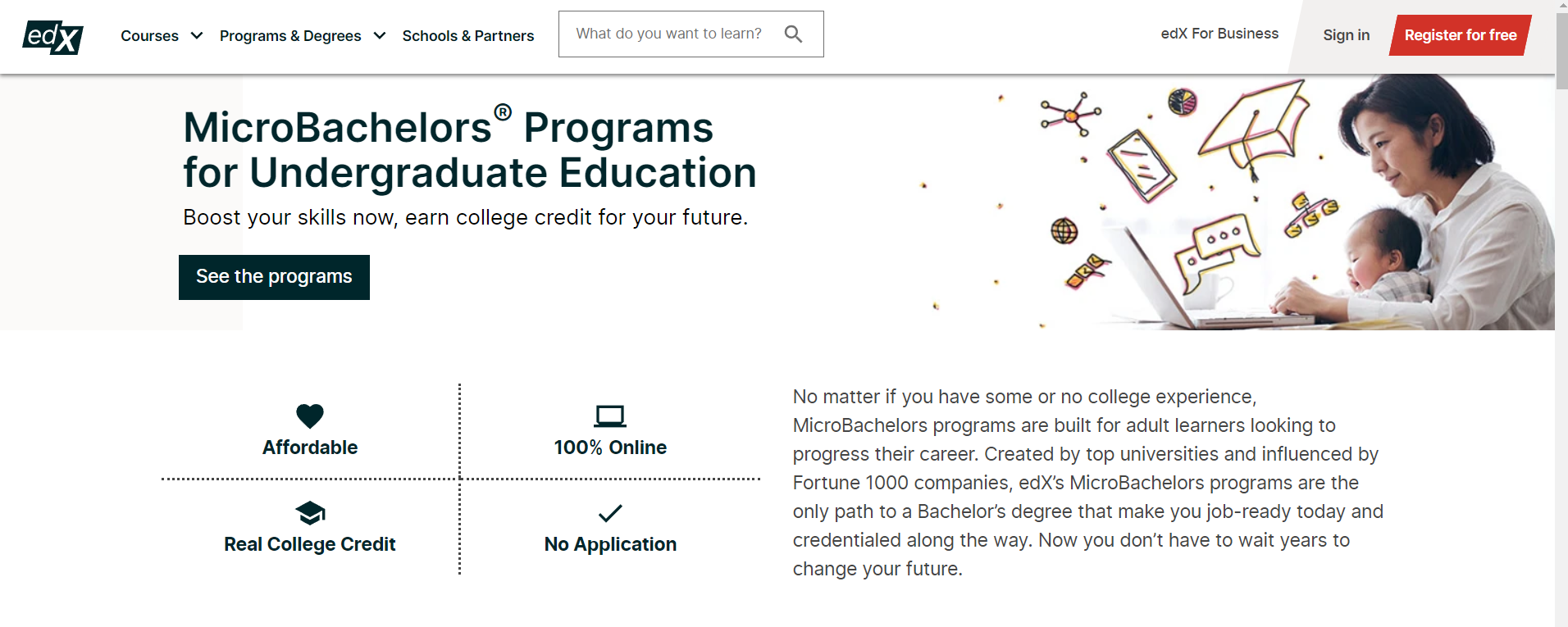 Hence, it is a good place to start preparing for your future.
The MicroBachelor's program is a combination of college classes, customized and grouped to meet the real-world needs of employers. It costs $166, and you can learn at your pace.
Also, you will earn a certificate to show your achievement, and the program comes with real, transferable college credit from one of edX's university credit partners.
Bachelor's degree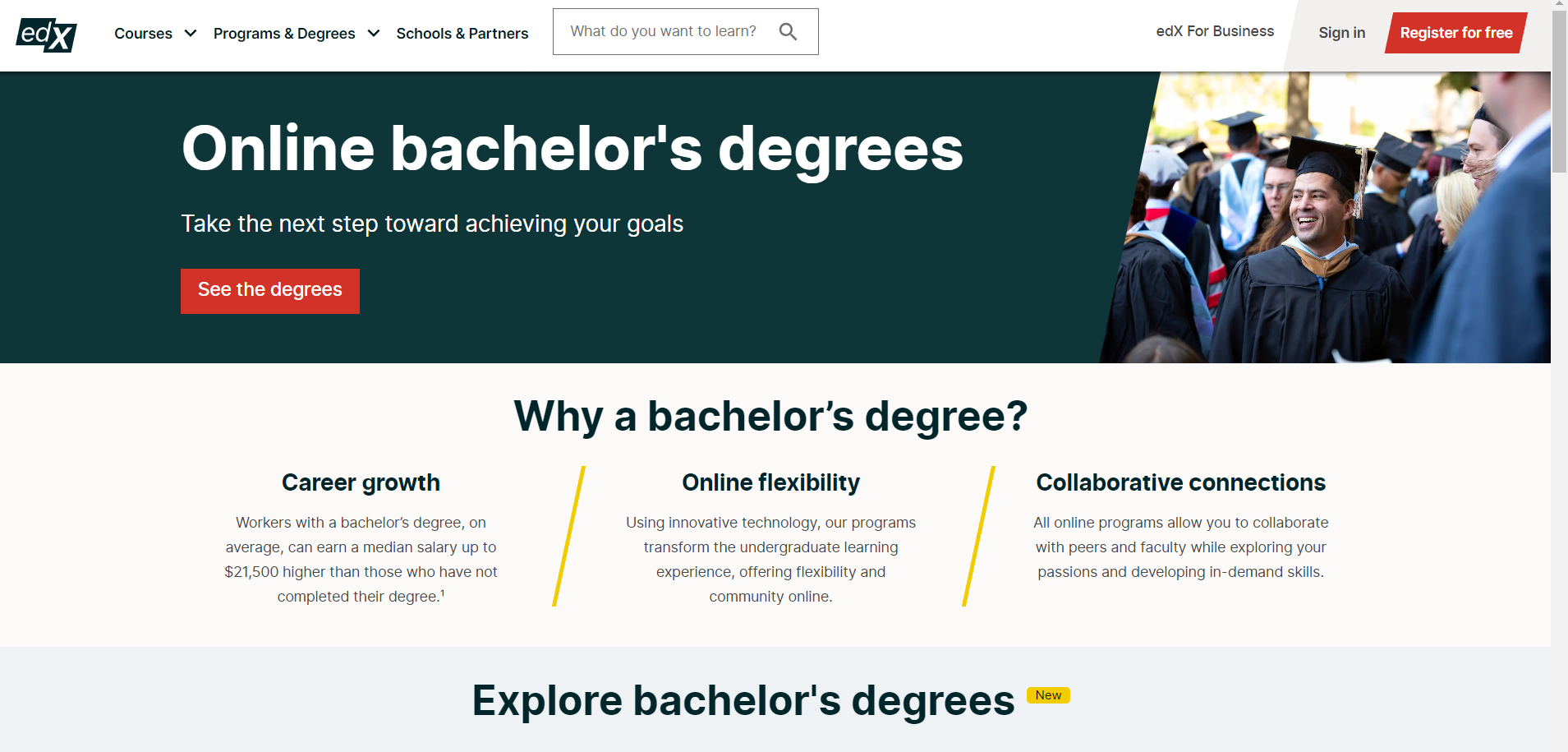 A bachelor's degree is a prerequisite to most jobs. However, the one offered by edX comes with the perk of online flexibility and collaborative connections.
Instead of learning within the four walls of a classroom, you can earn a bachelor's degree at your own pace and collaborate with your peers.
edX offers Bachelor's degrees in business, computer and data science, and health and social services. So, whether you have a college degree or not, you can earn an online degree from home.
All the programs are fully accredited and will be delivered by university faculty. Also, you will have access to support from an academic advisor, admissions counselor, and career services.
MicroMaster's program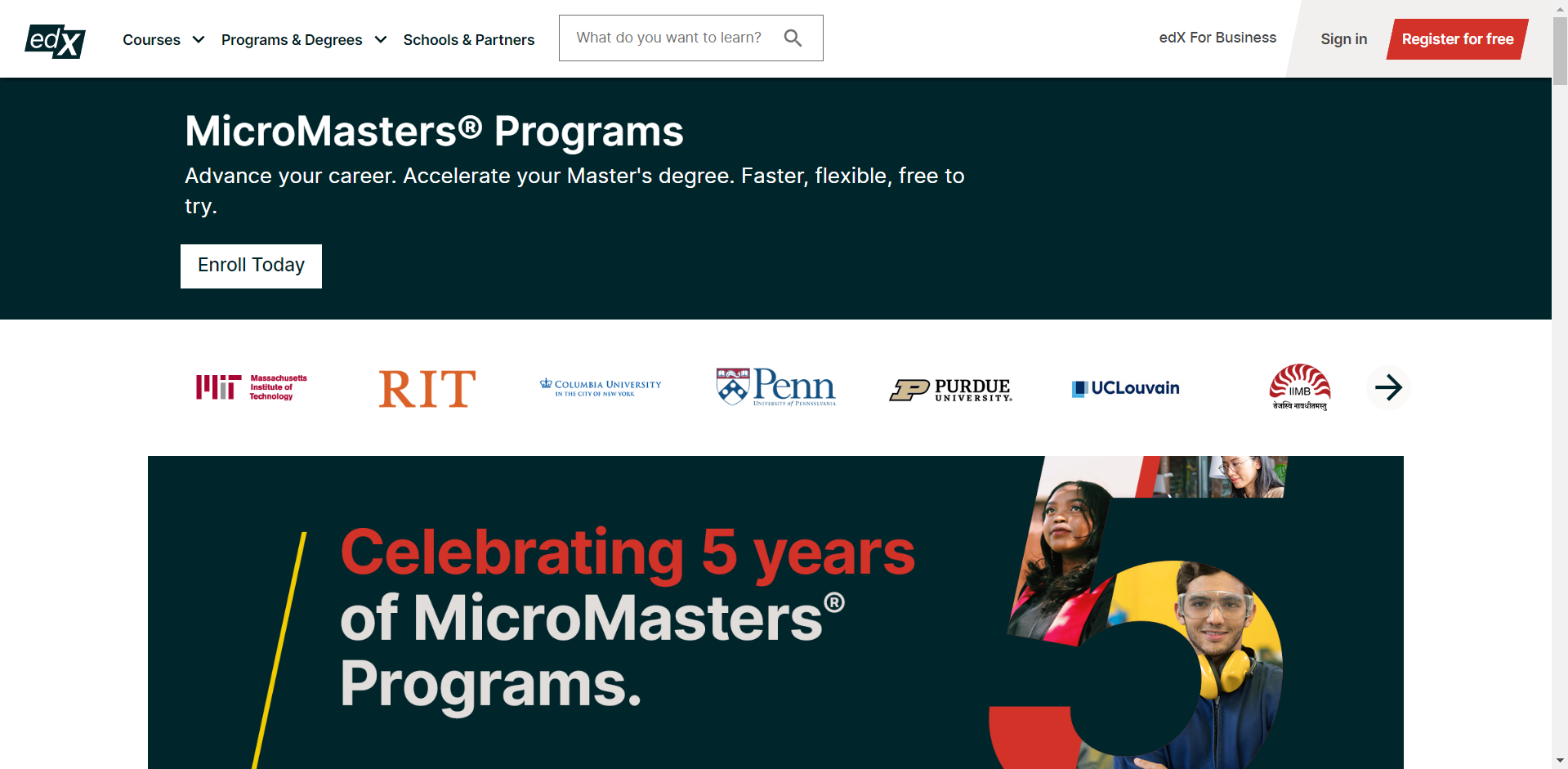 Are edX the micromasters program is worth it? edX offers a micromaster's program – a series of graduate-level courses from top universities that you can use to advance your career.
Since the program is from a top university, it is recognized by employers. You can even apply to the university offering the academic credit, for the program certificate, and if you are accepted, pursue a less expensive and accelerated master's degree.
Master's degree
You can use edX if you want to build your expertise and earn a master's degree from one of the world's top colleges and universities.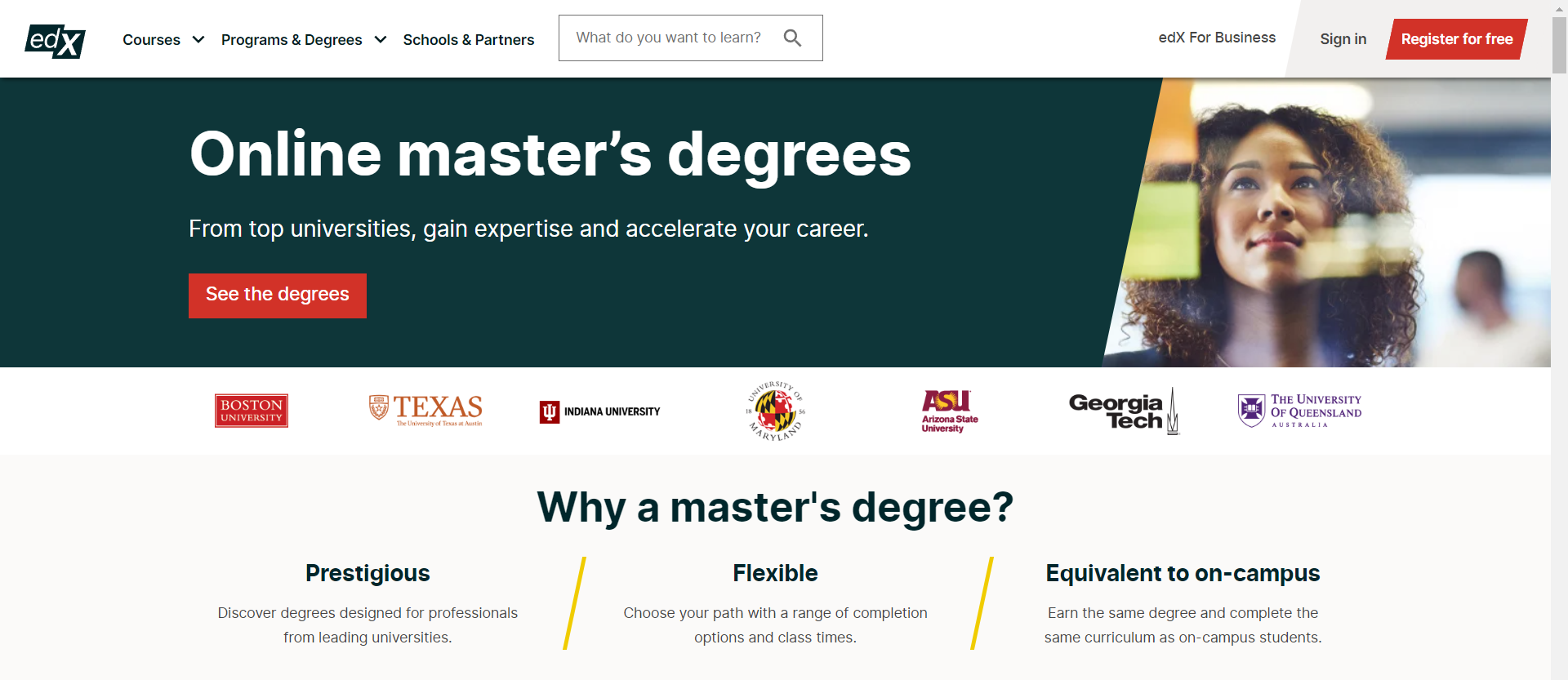 The platform offers various programs across different professional fields and specializations, with multiple support levels and completion options.
The master's degree varies in length, as some can be completed in less than a year, and some take more than 2 years.
At the end of your session, you will earn the same credentials and diploma offered on campus. The only difference between them is the modality.
Professional certificate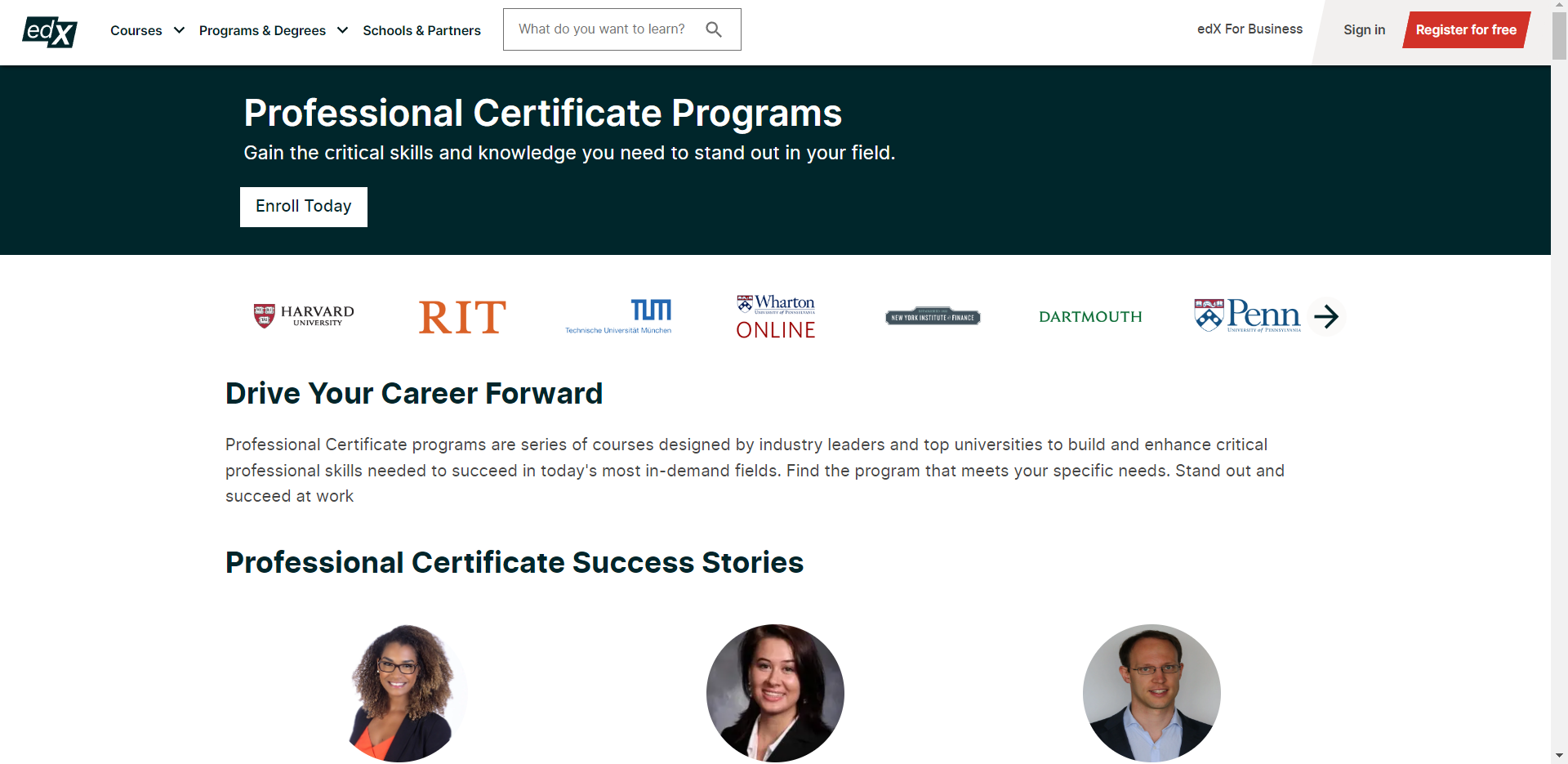 Do you already have all the educational qualifications you need but lack critical skills and knowledge? edX, thanks to its affiliation with many top corporations and universities, offers professional certification you can use to advance your career.
It includes courses and varieties of in-demand subjects designed by industry leaders. As it is with others, you can learn at your pace on your phone, computer, or tablet.
Executive Education
Business leaders or people looking to develop themselves in the area of business can apply for the edX executive and professional education courses. The program is designed with a data-driven focus to help business leaders address organizational issues and make effective decisions that can facilitate change.
edX has success advisors that will offer technical and administrative support, and who are also subject matters that can offer academic support.
The Executive Education courses cover:
AI and Digital Transformation;
Business Management and Strategy;
Data Science and Analysis;
Education;
Finance, investment, and Real Estate;
Fintech and Blockchain;
Healthcare and Wellbeing;
HR and Talent Management;
Information Technology and Cybersecurity;
Leadership and Interpersonal Skills;
Marketing, Sales, and Design;
Politics, Economics, and Law;
Project Management, Operations and Supply Chain;
Sustainability.
X-Series Program
The X-series program allows you to explore a specific subject in-depth. It consists of a group of courses created by world-renowned top universities and experts to provide a deep understanding of in-demand skills.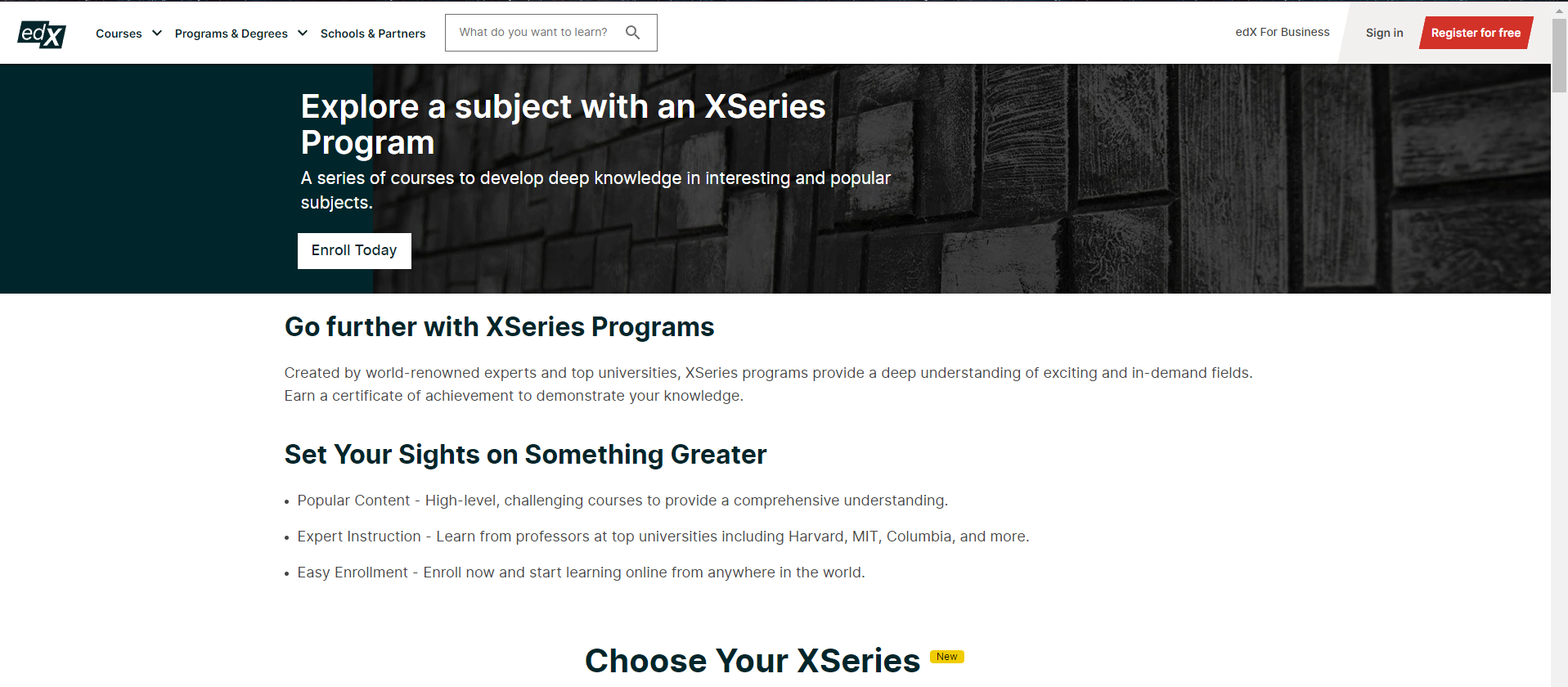 You can learn from professors at Harvard, Columbia, MIT, and more from anywhere in the world and earn a certificate to demonstrate your knowledge.
Interested in whether Bionic Turtle is good for your financial risk management studies? We've thoroughly reviewed the platform and its offerings.
How to Pick the Right Course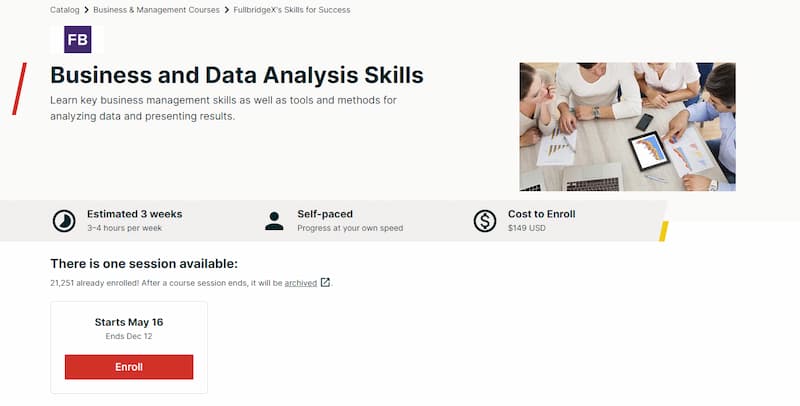 Use Search and Filter
edX has a filter feature in the search bar that you can use to narrow down your search and quickly find the course you want. You can filter by subject, partner, program, level, availability, and language.
The level ranges between the introductory course, intermediate, and advanced, and the availability ranges between available now, upcoming, and archived. edX offers courses in over 20 languages.
Check the Course Syllabus
The syllabus gives a breakdown of all the course materials, various topics you will cover during the course and an overview of the entire program. So, you can check through each lecture to know if it is what you want or not.
Audit the Course
edX has two learning options – free or paid. The free option is also known as course audit, which allows you to learn for free. However, you won't have access to graded assignments and won't earn a verified certificate.
But by checking for free, you can determine if the course is for you and pay for full access later.
Check Testimonials
One of the best ways to get value on anything is to check what past users have to say about it.
In this case, edX has a 'learner testimonial' at the end of every 'about the course' section where past students give their feedback on their experience with the course.
Check the instructors 
Each instructor on edX has a dedicated profile section you can visit to check their area of expertise and experience.
This feature will help you understand the instructor's strengths and area of specialization.
Check Schools and Partners 
edX partners with various academic institutions, government bodies, non-profit institutions, and organizations around the world. All the courses are also created by some of these partnered institutions.
So, if it is important to study with a particular partner or school, browse through all the online courses and select your preferred institution.
If you want a course offered by Harvard University, simply check out Harvard edX review by previous students.
Pricing of the Courses and Programs
How much does an edX course cost? edX offers various courses, each with different pricing. Nonetheless, most range between $50-$300. But, if you want to pursue a full Master's degree, you may have to pay between $10,000 to $25,000.
Pricing Models for Online Courses
edX has two primary pricing models – the verified and unverified classes. Unverified classes are free courses you can take at any time without paying any price. However, verified classes are the ones that cost between $50-$300.
Now, you see, university degree and program prices vary from normal course prices. Although it depends on what you want, most courses and programs are quite expensive.
MicroBachelor's Program Costs $500-$1,500;
MicroMaster's degree: this is equivalent to 25-50% of a Master's degree. Therefore, it costs $699-$1,500;
A Master's degree costs $10,000-$25,000;
Professional certificate programs cost $150-$1,000;
Global freshman academy: approximately $200 a credit.
We understand that pricing is a delicate subject and is where most people draw the line. However, to stay objective, we know that edX must strike a balance between keeping students happy and making revenue.
Serving All Budgets
One of the things we noticed is that the price structure is designed to accommodate everyone regardless of financial status.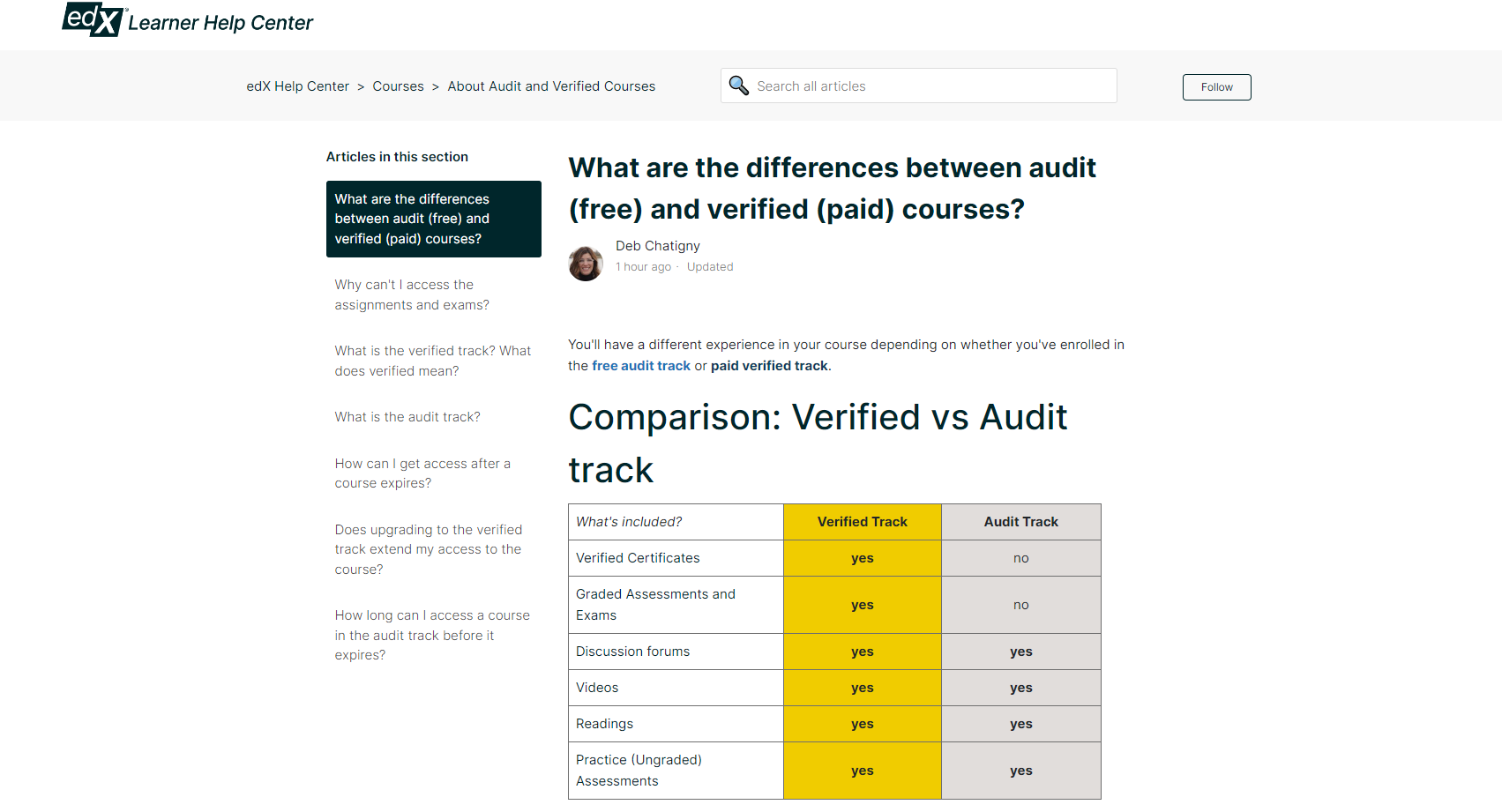 For example, you could complain that programs that cost $10,000 are too expensive. If yes, you can simply ignore them and attend cheaper classes.
The fees for a full verified track course that earns you a certificate range between $50 and $300. Therefore, you can search for a course you like and enroll in the class.
In contrast, Bachelor's, Master's, Professional, Executive Education, and Boot Camps cost more than a few hundred dollars. Why? Because the company is offering university-level courses with proper accreditation.
Put differently, these are not individual courses by individual experts. Instead, the courses are tied to top organizations, universities, and governmental bodies. We think this justifies the price.
More importantly, you can always take the unverified programs if you only want the knowledge and not the certification.
EdX refund program
You can receive a refund for a course you previously enrolled in if you discover what you expected is not what you got.
The refund is only applicable 14 days after the purchase date or 14 days after starting the course, whichever comes later. A refund is not applicable after you have earned a certificate.
When you ask for a refund within the stipulated window, your funds will be immediately sent back to the PayPal account or credit card you paid with and back to your account within 10 days, depending on your credit card company's processes and location.
Professional bundle courses: you can unenroll for a refund or change to another session of the course. However, the unenroll option becomes unavailable once the refund eligibility period has passed. The eligibility period is 14 days after joining the course or up to 6 months after payment, whichever comes first.
Professional education: you can request a refund up to 2 days after starting professional education lectures.
What payment options are available?
edX accepts PayPal and credit/debit card payments for course registration. The company accepts debit and credit card payments from Visa, Mastercard, Discover, and American Express.
Unlike some other EdX alternatives like Udemy, edX does not accept other payment methods apart from the ones we have listed above – which we feel is very restricting.
True, almost all countries use PayPal for payment. However, most individuals will have to navigate specific restrictions just to make payments.
edX Courses Quality
Who will help you on this platform? edX is a partner with various organizations around the world. They include non-profit institutions, non-governmental and governmental organizations, multinational corporations, and academic institutions, including libel art colleges, universities, and polytechnics.
As a result, for each program you enroll in, you will learn from professionals and professors from associated partners.
edX scholarship
One of the things that set edX apart from other online learning platforms is its scholarship and financial assistance program. This program is different from the audit feature that allows you to enroll in a program without paying, although you won't earn a certificate in the end.
The financial assistance program will help qualifying learners earn verified credentials after successfully completing programs.
edX scholarship fund offers up to a 90% discount on verified courses. There are also many types of scholarships by various partners, so you will need to refer to individual-named scholarships to review the criteria for selection.
Even if you don't qualify for the scholarship, you can still apply for other various EdX programs for financial aid and assistance.
If your scholarship application is successful, you must use your coupon code within 30 days of receiving the approval to avoid losing the scholarship.
edX support
edX has a dedicated support page that you can use to find answers to questions surrounding courses, payment and refunds, account basics, credit, programs, and professional certificates here.
There is also a frequently asked questions section for general questions.
Are the tutors qualified?
edX tutors are certified professionals that are qualified to teach. Most of them are affiliated with universities, polytechnics, governmental or non-governmental organizations, and corporations.
Therefore, they know what they are doing.


Unlike some online learning websites, not just anyone can be a tutor on edX. You cannot just sign up, create a course, and start teaching students on the popular edX courses.
Instead, you must be a part of the institution that is offering the course.
For example, The Architecture Imagination is offered by HarvardX. The instructors are Erika Naginski (Professor of Architectural History, Harvard University) K. Michael Hays (Professor of Architectural Theory, Harvard University), and Lisa Haber (Instructor in Architecture, Harvard University.)
Each tutor has a dedicated profile page that you can visit to read about their area of specialization and achievements. One thing though, they don't have reviews from past students.
Any guarantees?
Refund: you can ask for a refund if it is not more than 14 days since you bought or started the course. For program bundled courses, you can be refunded for up to 14 days after joining the course. But for professional education, the refund is only valid up to 2 days after starting the course.
Shareable certificate: edX issues verified certificates at the end of a program, provided you paid for it. If you choose to audit a course, you won't earn a certificate.
How Is It Different from Other Platforms?
People sometimes ask, which is better edX or Coursera? edX is an excellent representation of a university – a remote one where you can enroll in credit-eligible programs, high school programs verified track courses, x-series programs, verified courses, and professional development classes. edX will issue a verified certificate of completion from these courses.
More importantly, the programs are handled by professors from top-tier universities and high-level instructors.
Under a partnership with colleges and universities, you can take credit-eligible courses toward a degree. On the downside, it does not have robust discussion boards and social communities where users can interact.
How is it better than Udemy?
| | | |
| --- | --- | --- |
| | Udemy | edX |
| Refund policy | 30-days | 14-days |
| Payment options   | A mobile app, international cards, buy now pay later, cash payments and bank transfer, PayPal, Udemy credit, Boleto Bancario, and Pix. | PayPal, Debit, and Credit cards. |
| Certificate | Unaccredited | Accredited and verified |
| Forums and community | Yes | No |
| Who can be a tutor? | Anyone | Only professionals associated with a partner. |
| Access to materials | Lifetime | Limited and unlimited |
Check our complete analysis of edX vs Udemy for even more interesting details.
Is edX Worth It?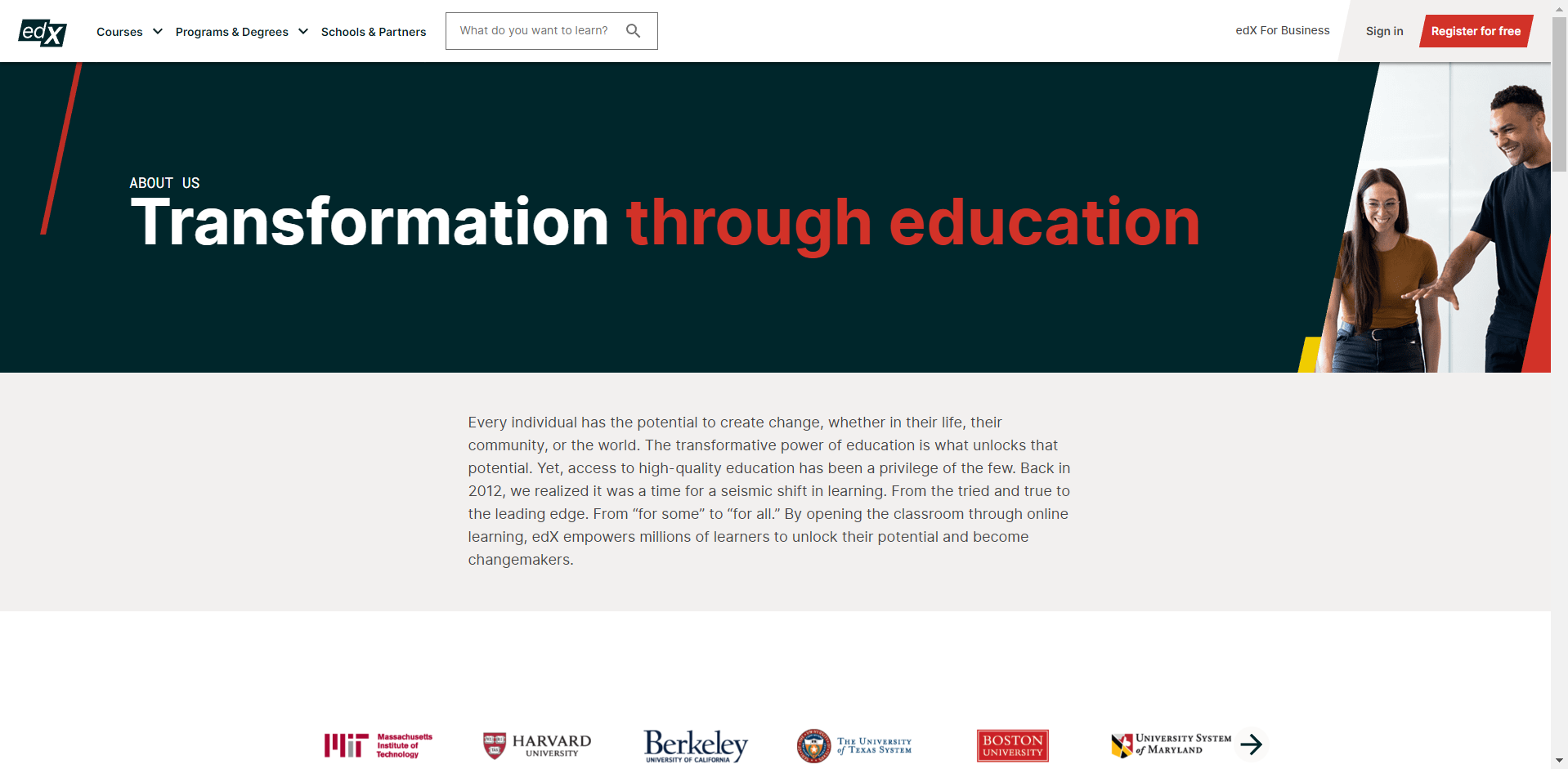 Is it worth the price? edX Inc started as a nonprofit organization to increase access to quality education for everyone. And it achieved just that from 2012 to 2021. But even at that status, students still needed to pay a price, although small, to learn.
The cost of enrolling in a program ranges from $50-$200, and there is an option to participate in an unverified class.
The only difference is that you won't earn a certificate. For a more professional program, students need to pay higher. In the end, you will learn valuable new skills, strengthen your knowledge, and earn a certification.
In November 2016, edX completed the sale of its global website business to 2U, Inc. As a result, it became a profit-making organization, which contradicts the reputation it built and is why many users are skeptical about how long edX can hold on to its pricing standards.
For now, edX is still worth the price since you can either access course materials for free or pay to earn a verified certificate at the end of a program.
What do you get for the money paid?
Unlimited or limited access to course material depending on the track;
Teachers from world-class institutions and universities;
EdX support;
Shareable certificate at the end of the program;
Graded assignments and exams;
Video transcripts.
How valuable are their courses?
While putting this EdX review together, we came across the question, are edX courses accredited a lot? Yes, many edX courses are accredited.
The programs are valuable and designed to pass knowledge to students and professionals at their pace. All the courses are segmented into learning sequences, interactive learning exercises, etc.
There are also tutorial videos that explain concepts so that participants can enjoy the same experiences they would if they were on a physical campus.
At the end of the course, you will either earn a certificate of successful completion or credits – both of which are very crucial. But more importantly, you will improve your skills and knowledge by taking self paced courses on edX.
Is it helpful for your career?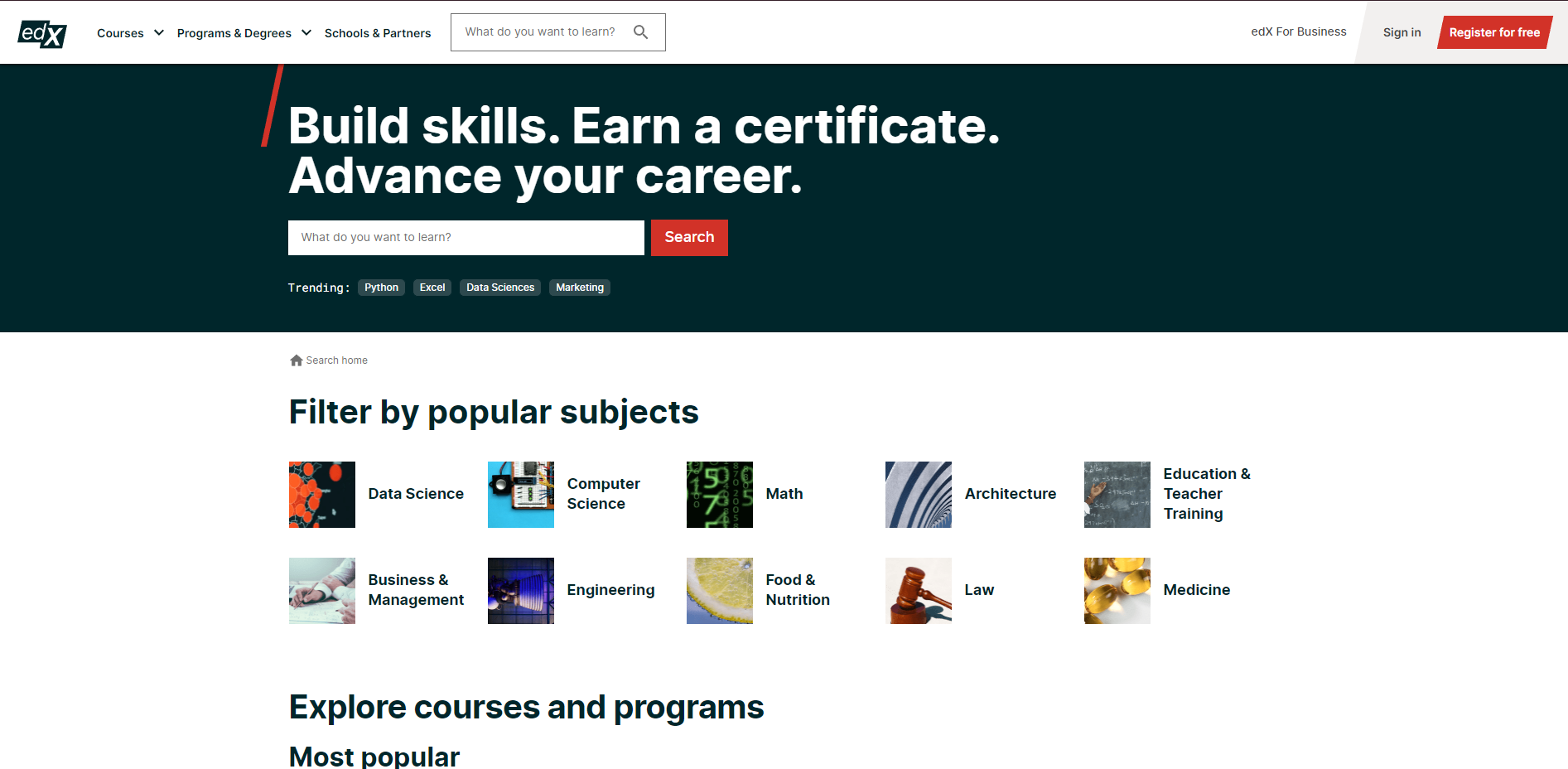 Are most edX courses and certificates accredited? Yes, they are. You can add your edX certificate to your CV and your LinkedIn profile for future employers. Because of its affiliation with top institutions, top organizations and employers recognize the certificate.
More than the certificate, it proves your passion in a field of study and that you can be self-driven to set goals to earn a new skill and achieve it. What you'll learn from any program will significantly improve your skill and performance.
Student Feedback and Reputation
Here are a few edX classes reviews by past students we found online:
BrookeEn – Trustpilot 
This is currently my course on edX. The course content is good, and it comes with quizzes at the end of each section that encourages me to learn.
Although some edX reviews complain about the deadline, it keeps me motivated for professional writing and is a good thing.
Plus, I did not pay for a verified certificate on either course, yet I have access to a lot of information to build full experience and help me in the future.
Hans F. – Sitejabber 
All 5 courses I have enrolled in on Edx have reasonable lengths and are very informative. However, I suffered a bit with communication, as support never replied to my email questions.
Secret Shopper Bristol – Trustpilot 
The only complaint I have with Edx courses is the multiple-choice drop-down boxes. It did not work, and I could not complete my exam in time. Apart from this, the whole course material is great and comes with a lot of information.
Dylan – Sitejabber 
I enrolled in the CS50 course, and I honestly feel smarter and happy with my progress.
Nick Brendholdt Rasmussen – Trustpilot 
I didn't want the course because it wasn't my level, so I got my money back after 3 weeks.
SigJ – Trustpilot 
I did many courses and a program on EdX, and I was overall happy with it. Lately, I had a technical issue with the MicroMaster's program and had to contact the support team. They replied the next day with a solution. A satisfying service and the content was great.
Ahtesham N – g2.com
The best thing about edX is that the user has the power to customize the things in the projects if the user knows how to add CSS styling. Most edX authoring components are supported by HTML.
The thing I dislike is the edX authoring components are much more complex for the front-end users to use, as it has so many standards to follow if you want smooth results.
Zain Hussein – Trustpilot 
This is probably one of the best things online education has brought to my life. I'm an admitted nerd who is a bit too obsessed with learning stuff in niche courses.
The ease with which I can find a course about almost every topic and become proficient in it in a matter of weeks is invaluable.
UM – g2.com
You can find courses for all different interests, presented by some of the best in the field. Even highly ranked Universities offer their courses, most often for free.
In addition, the certificates can easily be downloaded or integrated into various platforms such as LinkedIn, which makes it super easy to include them in every resume.
Most courses are offered in English, and communicating with other learners can be very helpful. The forums offer the opportunity to exchange questions and tips with the other students and people taking the same course.
Maybe a reminder for the classes would be good to stay on top of things and help create a good routine, especially while working.
Kirsten Hollister – Trustpilot 
I have taken 4 courses with edX and have been very satisfied with them all. This one was the toughest, but I also felt like I learned the most with it. You do need to be able to commit the time to do them if you want to do them well.
I like the fact that you can try the course and pay if you want to upgrade to a certificate. Just make sure you do it before any tests are due, as you won't be able to take the assignments if you haven't paid.
Pros
Ease of access to an online Master's degree.
Top-profile professors.
The certification is accredited for official use as they have partnerships with top organizations and institutions.
Accredited certificate.
Free introductory video.
14-day refund policy.
Free and paid course structure.
Scholarships and financial assistance.
Self-paced alongside instructor-paced courses.
Customer support and dedicated FAQs.
Cons
Lack of payment options variety.
The topics are limited.
No chance to pick a tutor.
No reviews or star ratings on instructor profiles.
Conclusion
From our edX institute review, we know that it has a smooth interface that contains all the necessary features you need to make your navigation short and simple. You can explore different programs and degrees, and the course description page contains all the information you need about the program.
The company offers a wide array of online learning platform options and programs you can choose from for free or at an affordable price.
However, insufficient support, the inability of students to assess their tutors, and the lack of structure are a few things they can improve.
If our reviews on edX courses have revealed anything, it is that it is a fantastic online learning platform to pursue a verification certification or advance your skills.
Thanks to partnerships with top institutions, only the best and most qualified tutors deliver lectures. You can also expect a learning atmosphere similar to a physical classroom.