Linux Foundation Overview
Are you interested in Linux? Or do you wish to learn more about it? The first thing you need to do is look for a trustworthy and reliable online resource to teach you everything about it. However, taking a step to learn Linux is only one step of the way. The real challenge comes in fully understanding the materials.
When learning Linux, you may find it difficult to grasp and keep up with. Even materials designed to help developers may be complex and bulky. You may need some outside help to boost your understanding. This is where Linux Foundation comes in. This foundation is a great option for you to learn and understand how the operating system works.
The Linux Foundation has grown popular over the years as a one-stop-shop for all types of training courses, workshops, and projects for young people. The goal of this organization is to help tech-savvy people get familiar with Linux. They also intend to promote and support the Linux community worldwide. But what makes it so special? You'll find out in this Linux Foundation review
In this piece, we will learn how the Linux Foundation works, its history, the courses, and certifications it offers, pricing, student feedback, etc. This Linux Foundation review will break down all the essential information into sections. Each section will contain a detailed breakdown of everything you intend to know.
What Is Linux Foundation?
Before we get on with this Linux Foundation training review, let's take a quick look at some basic information about the company.
The foundation exists as a group or organization of the world's top developers. It also includes an ecosystem that supports technological development and innovative practices. Founded in 2000, this company has constantly strived for new heights. They provide tools, training, and events to help open-source projects.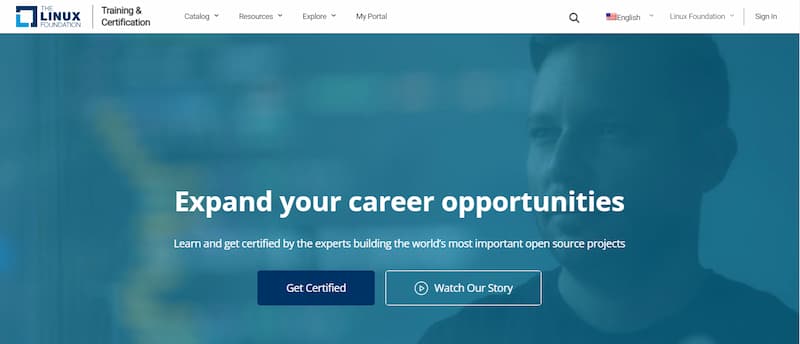 The Foundation was founded as a non-profit technology facilitator and signified a merger between the Free Standards Group and Open Source Development Labs. Their goal was to support the growth and commercial adoption of Linux worldwide. It also hosts and promotes the adoption of open-source software projects. They play a prominent role in increasing the worldwide recognition of Linux.
How Does It Work?
Developers set up the foundation to standardize and spread more word about their innovative technology. As they gradually raised more awareness about Linux, it became clear that many developers were interested but unable to operate the unfamiliar system. Therefore, they created a system that let old and more experienced developers teach their tricks to newbies.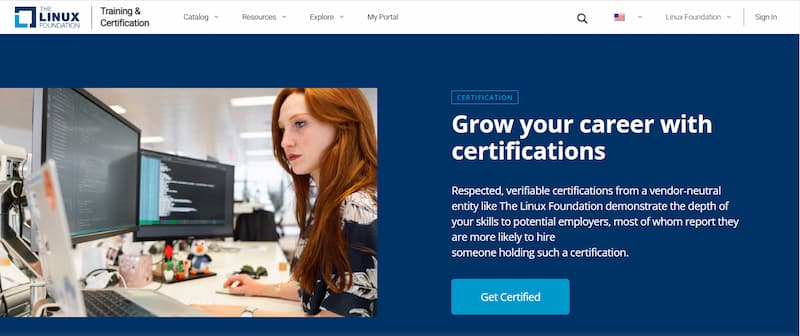 At the Linux Foundation, there is a core mission to train the next generation to become Open Source professionals. Yes, they have a core interest to make sure that the knowledge about the operating system is passed down to the younger generations. This organization is popular amongst the world's top developers and companies that build open-source systems. To effectively spread the knowledge about the operation system, they have a network of developers who master the best industry practices and teach them to students and young adults.
Their lessons are broken down into separate courses to aid students' assimilation. Aside from training young adults on digital technology, they are currently taking on some of the technological problems of the 21st century. They are an impressive innovator with many prospective solutions to look forward to.
Is Linux Foundation Training Good?
Without any doubt, the Linux Foundation is a legit organization for training young people and spreading the word about the innovative tech provider. All of their actions are carried out within the stipulations of the law. After establishing the company about 22 years ago, it was registered and has since been considered a legitimate venture.
Short Story of The LinuxFoundation.com
The Linux Foundation has been operating for 22 years, operating out of San Francisco, California, USA. Since its inception, it has been able to gain more than 1,000 corporate members. Its members are from different parts of the technological world, including hardware, telecommunications, software, and networking. Asides from the standardization of the use of Linux worldwide, the Foundation is also responsible for the payment of top developers, the provision of a collaborative forum for Linux companies, and the protection of the brand name.
Linux has also devoted a reasonable share of its resources to creating open-source technology or systems. Some of the most notable technologies that Linux developed include; Free OS, Hyperledger, Encryption, Node.Js, Cloud Native computation, automated grade Linux, cloud-native analysis, and open network automation platform.
As a whole, the foundation has been involved in different initiatives over the years. In March 2009, the foundation announced that it would be taking over ownership of Linux.com from its previous owners – SourceForge, Inc. They relaunched this website and began to use it as a central source for spreading Linux updates. You'll also find a directory of Linux software and hardware.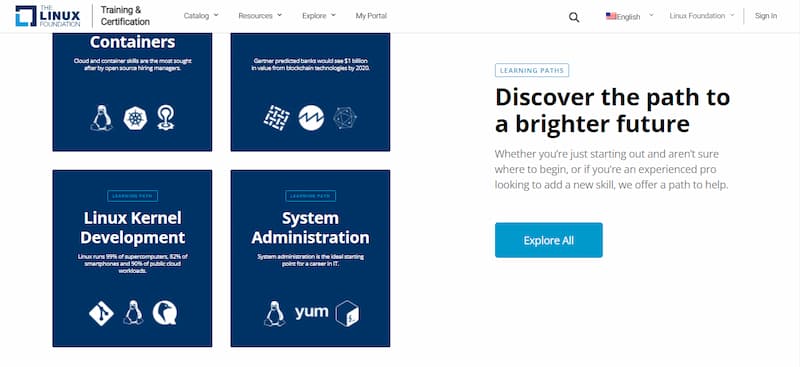 That's not all. Amidst all of the tension and bad news flying around during the covid-19 pandemic of 2020, the foundation set up Public Health (Linux Foundation Public Health). This program was dedicated to advancing and supporting the trace of the virus along with Google and Apple. The Linux Foundation Public Health has focused its efforts on public health applications in today's world.
Furthermore, they also set up the Linux Foundation Climate Finance Foundation (LFCF) to support widespread investment in AI open-source analytics to fight climate change. The LFCF currently plans to set up an initiative that will utilize open-source analytics to drive financial investment against climate change. Other big brands such as Microsoft, Allianz, and S&P Globazon are part of the founding members of this initiative.
The Linux Foundation also offers a training program for aspiring developers or Linux enthusiasts. The details of this training are compiled by the top developers of the Linux communities. This training participants enjoy vendor-neutral service and direct access to the community.
Courses and Certifications
The next stage in this Linux Foundation DevOps Bootcamp review is to review the courses and certifications offered on the website closely. This platform provides a lot of talk about in this section.
Yes, the Linux Foundation is one of the most reliable open-source training platforms. It has a total of 21 certifications and 102 courses for Linux enthusiasts.
These courses are broken into separate categories:
Cloud & containers, AI/Machine learning
Networking
Blockchain
Systems engineering
Open-source best practice
Linux kernel development
DevOps & site reliability
IoT embedded development
System administration.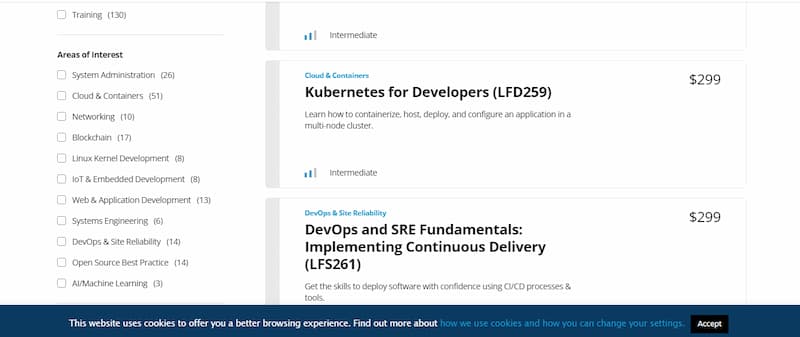 To start with, the system administration category has 26 separate courses in it. Generally, these sources teach you about the systems in an open-source project. You'll also learn some of the essential skills of a Systems Engineer. While you'll mostly find courses designed for beginners, there's also something for system engineers of all categories. The prices of courses in this category range from as low as $299 to as high as $3250.
Some of the popular names in system administration include:
Linux Certified Foundation IT Associate (LFCA) + Kubernetes and Cloud-Native (KCNA) Exam Bundle
Linux Networking and Administration (LFS211)
Essentials of Linux System Administration (LFS201)
Introduction to Open Source Development, Git and Linux (LFD201)
Linux Security Fundamentals (LFS216)
Essentials of Linux System Administration (LFS201) + LFCS Exam Bundle
Next, we have the cloud & containers category. Here, we have 51 separate courses. These courses place a lot of focus on teaching Kubernetes development.
However, others could teach you how to set up security on the platform. You'll find a majority of the courses in this category are designed for beginners and intermediate learners. The prices of these resources range between $299 and $3250.
Examples of cloud & containers courses include:
Kubernetes for Developers (LFD259)
Kubernetes Fundamentals (LFS258)
DevOps and SRE Fundamentals: Implementing Continuous Delivery
Kubernetes for Developers (LFD259) + CKAD Exam Bundle
Certified Kubernetes Administrator (CKA) + Certified Kubernetes Security Specialist (CKS) Exam bundle
Linux FoundationCertified IT Associate (LFCA) + Kubernetes and Cloud-Native Associate (KCNA) Exam Bundle
Cloud Native Logging With Fluentd (LFS242)
Container Fundamentals (LFS253), Monitoring systems and services with Prometheus
In this category, there are only ten courses. Each of these courses is designed to look at networking through Linux technology. The lessons here are designed to help beginners, intermediate and advanced developers learn how to integrate with the Linux framework.
Here, you'll find classes such as:
Linux Networking and Administration
DevOps for Network Engineers, ONAP Fundamentals (LFS263)
OPNFV Fundamentals (LFS264)
Open Source and The 5G Transition (LSF111x)
Business Considerations for Edge Computing (LFS113x)
Introduction to ONAP: Complete Network Automation (LFS163x)
NFV Acceleration: An Introduction to OPNFV (LSF164x)
Going further, we have the blockchain category. This category of courses focuses on teaching young developers how to manage the framework of a blockchain. You will also learn how to set up blockchain-based applications and processes. Courses in this category range between $299 and $630.
Popular examples in this category include:
Hyperledger Fabric Administration (LFS272), Hyperledger Fabric for Developers (LFD272)
Hyperledger Fabric Administration (LFS272) + CHFA Exam Bundle
Hyperledger Fabric for Developers (LFD272) + CHFD Exam Bundle
Certified Hyperledger Fabric Developer (CHFD)
Certified Hyperledger Fabric Administrator (CHFA), and so on.
Also, we have Linux Kernel Development. In this category, there are a total of 8 courses. Each of these courses focuses on using Linux to design web applications. The courses in this category can be described as high-cost because they are offered at $3250.
Some of the courses to look out for in this category include:
Developing Banking Applications For Linux (LFD401)
Linux Kernel Internals and Development (LFD420)
Developing Linux Device Drivers (LFD430)
Developing Embedded Linux Device Drivers (LFD435)
Linux Kernel Debugging and Security (LFD440)
Embedded Linux Development (LFD450)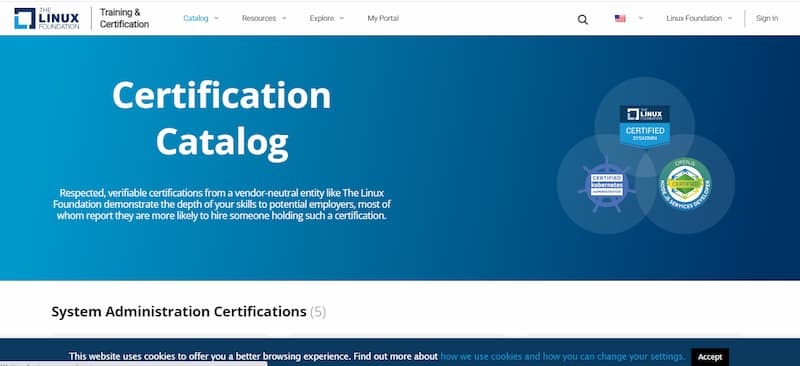 In the IoT & Embedded Development category, we have eight separate courses for young developers. They also offer in-depth details and information about the Linux Kernel. You'll find many high-cost procedures here too.
Examples of studies in this category include:
Building a RISC-V CPU Core (LFD111x)
Embedded Linux Development Platform With Yocto Project (LFD460)
Developing Embedded Linux Device Drivers (LFD435)
Linux Kernel Debugging Security (LFD440)
Another interesting category of courses to look at on the platform is the Web & App Development section. Here, young developers will be taught how to develop web apps and traditional apps. There are no advanced courses in the category, and you'll only find content for beginners and intermediate developers.
Some popular methods that belong to this category are:
js Application Development (LFW211)
js Application Development (LFW211) + JSNSD Exam Bundle
OpenJS Node.js Services Developer (JSNSD)
OpenJs Node.js Application Developer (JSNAD)
Developing Applications For Linux (LFD401)
Node.js Services Development (LFW211)
Going further, there is the Systems Engineering category. You'll find six courses here. When you sign up for any class in this category, you will discover the best techniques to be a systems engineer. It will also teach you to integrate multiple complex systems into the Linux framework. The pricing of the courses ranges from $299 to $3250.
Examples of studies in this category include:
Linux FoundationCertified Engineer (LFCE)
Linux Networking and Administration (LFS211)
Linux Networking and Administration (LFS211) + LFCE Exam Bundle
Linux FoundationCertified Engineer (LFCE)
Open Source Virtualisation (LFS462)
Linux for system engineers (LFS311)
If you are looking for lessons on DevOps & Site Reliability, this is the best category. There are a total of 14 courses in this category. Each of them focuses on a different aspect of DevOps. You'll also find outclasses all cat types, beginners, and intermediate developers. The pricing of the systems here ranges between $299 and $1500.
Some of the popular names in this category include:
DevOps and SRE Fundamentals: Implementing Continuous Delivery (LFS261)
CI/CD With Jenkins X (LFS268)
Online Practitioner Certification Workshop + FOCP Exam Bundle
DevOps Bootcamp
Instructor-Led Practitioner Certification Workshop + FOCP Exam Bundle
Interestingly, the next category is the Open Source Best Practice. Just like the category before it, there are 14 courses here. These classes will teach you all the fundamentals and rudiments of Open Source. These courses are specially designed for beginners and will add their Open Source development.
Examples of studies in this category include:
A Beginner's Guide to Open Source Software Development (LFD102)
Open Source Licensing Basics For Software Developers (LFC191)
Inclusive Speaker Orientation (LFC101)
Secure Software Development: Requirements, Design and Reuse (LFD104x)
Secure Software Development: Implementation (LFD105x)
Finally, the last category of courses in the Linux Foundation Review is the AI/Machine Learning Category. This is the smallest category on the platform. All the techniques in this category are also meant for beginners. They include:
Open Source and the 5G Transition (LFS111x)
Business Considerations for 5G with Edge
IoT and AI (LFS110x)
Ethics in AI
Data Science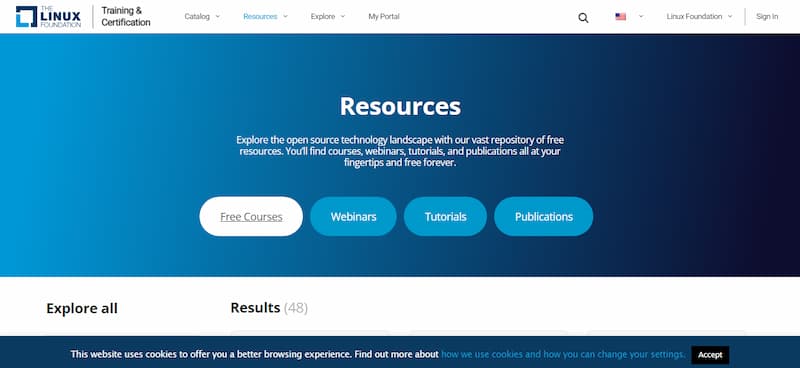 Asides from the courses mentioned above, there are more than 20 certifications on this platform. Some of the popular certifications on the Linux Foundation include:
OpenJS Node.
Linux FoundationCertified System Administrator
Linux FoundationCertified Engineer
FinOps Certified Practitioner
Certified Kubernetes Administrator
It's important to remember that the Linux Foundation isn't an accredited educational institution. However, the foundation holds a lot of pedigree that makes its certification more reputable than many other online platforms. An employer will be more excited to come across a Linux certification in a CV than other unrecognized training platforms.
Without any doubt, any developer interested in Open Source development would find the information on the Linux Foundation appealing. But who is it most useful for? These courses and training can be used by enterprise teams, entry-level IT students, aspiring cloud engineers, and professionals who want to further their education.
Training Pricing
There are no packages or subscription plans on Linux Foundation. If you intend to be a part of any course on the platform, you must pay for it. Students will also be required to pay for any of their certifications too. The pricing on the platform ranges from free to around $3,200. When using the Linux Foundation, it's important to note that only credit card payments are accepted.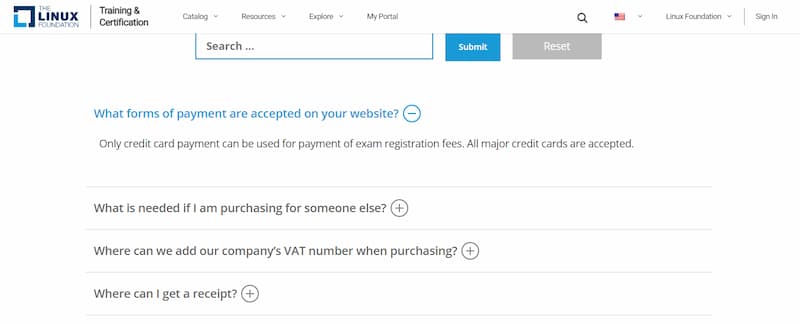 Quality of Courses
Now, let's look at the quality of courses found on the Linux Foundation. Without any doubt, all the classes posted on the Linux Foundation website are designed with the highest quality and compiled by professionals. Every part of the course is explained in full detail and is designed to focus only on the vital aspects of the system.
It's quite clear that learners place a lot of trust in the quality of courses found on the website. This is because all the systems are worth their price valuations. The quality of each class is similar to the next, and you can expect to meet similar properties and features in all of them.
Regardless of your level of proficiency in any class, you would find it easy to progress to the next level. However, note that not all the individual systems and sections will be completely up-to-date. You see, technological changes occur quickly. As a result, the content of the methods could do with more frequent updates.
They have a long list of courses on their platform, but you'll never find repetitions or redundant systems. The amount of content in each class is detailed enough to help learners and students pick up valuable points. You would hardly come across any irrelevant procedures or fillers. You'll find courses related to Linux and Linux-related tech. They may focus on web development, blockchain, Linux kernel development, etc.
The learning experience on Linux Foundation is unique, and you can hardly find these courses anywhere else. One of the most interesting categories on the platform is dedicated to Open Source Best Practices. Most developers would have a great time going through the lessons here.
Student Feedback and Online Reputation
The next stage of the Linux Foundation cloud engineer Bootcamp review is to look at what others are saying about the organization.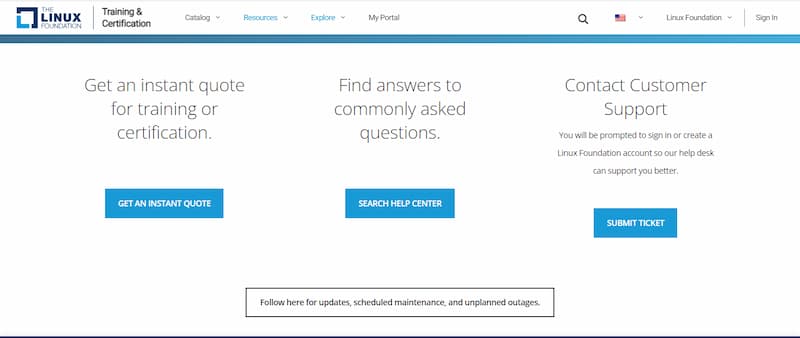 Customer support is treated seriously on Linux Foundation. As a result, they have prepared several channels for learners and students to get their complaints across to expert developers. If you need help with anything, visit the support page. You'll find an FAQ section with most of the inquiries you may have.
However, you may also decide to contact customer support directly. They would respond to your request quickly and give you an effective solution to take care of the problem.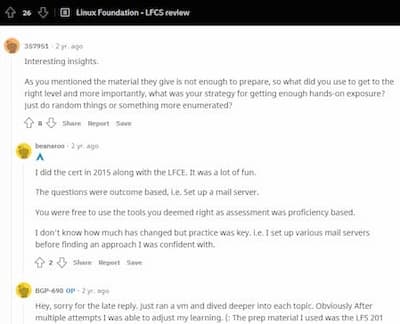 There are also a lot of positive online reviews for the Foundation. Several students have benefitted from the detailed courses and practice exam questions in their studies.
Website Usability
In today's world, mobile compatibility is a big deal. Yes, your website has to be able to fit properly onto the screen of your mobile device without messing up its visual features. Due to access to innovative technology, the foundation is compatible with various mobile devices and smartphones.
Pros
All courses are updated for free.
They treat influential open-source projects.
They have a responsive customer support team.
Learners and students will get expert-level certifications.
Each of the lessons is taught by expert and professional instructors.
Cons
It focuses solely on Linux systems and technology, ignoring other useful techniques.
The free courses are not detailed enough and only offer basic knowledge of complex concepts.
Conclusion
Finally, we've gotten to the end of the Linux Foundation Bootcamp review. In this review, we have looked at the entire organization. Without any doubt, we have learned about the importance and innovative nature of the Foundation.
We have also known how they have made it a duty to teach open source practice to young developers. There's even a review on LinuxFoundation courses that carefully explains what the classes and their different categories are all about.