Overview
Language apps are for learning how to write and speak new languages without formal education. As it is, with all types of online and other language learning apps, you can attend class from anywhere and slowly master any foreign language that you put your heart into mastering.
However, one of the drawbacks of this approach is that it can be challenging to distinguish all the elements of good from the bad since there are lots of them.
MosaLingua is a well-known language app. Its success is due to its simple yet effective approach to language learning.
In this MosaLingua review, we will cover all the information you need to help you decide if this platform is right to help you learn or improve your language skills.
Our independent Mosalingua Spanish review will examine MosaLingua's quality, features, prices, website usability, value for money, student feedback, and guarantee.
We will also look at its learning plans and show you how it works and how to get the best from the tutoring platforms.
What is MosaLingua?
MosaLingua is a language learning method for PC and Mac, Android, iPhone, and iPad smartphones. It consists of a team of 30 people who work from different parts of the world to teach languages.

MosaLingua offers eight basic language lessons. They include French, Spanish, Italian, German, Portuguese, Ukrainian, Chinese, and with English subtitles. You can find the best apps to learn Spanish on our blog.
Additionally complex grammar, five other minor courses cover more specific aspects of a language. They include Spanish for business, MosaLigua English for business, medical English, TOEFL vocabulary, and TOEIC vocabulary. For the best TOEFL prep, check our list of companies here.
MosaLingua has been around for 11 years. Within these periods, it has registered more than 11 million users.
Although it does not have a free version like other language apps like Memrise and Duolingo, it is acclaimed to offer contents that are worth the price.
Every tutoring service has differences. Find out in our review SpanishPod101 reviews.
How Does it Work?
MosaLingua is an all-in-one tool for learning efficiently. It allows users to choose their learning material based on needs and has more than 6,000 words and expressions students can use. The name "MosaLingua" is an umbrella name for a group of applications and online courses.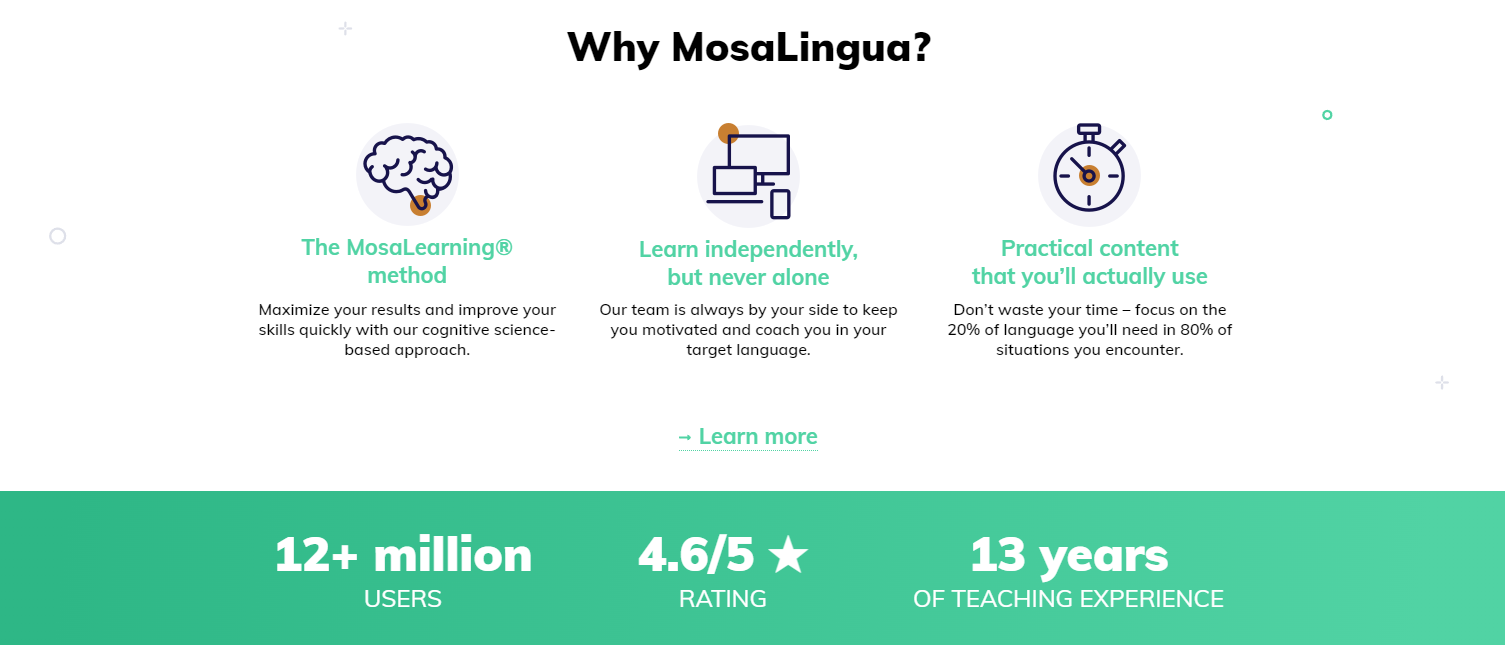 MosaLingua has web and application versions. All eight offered languages are available in different applications.
Therefore, the MosaLingua Spanish app is not the same as the MosaLingua English app. MosaLingua's cost also varies for all languages. In contrast, the web version provides a centralized hub where you can access all courses, regardless of the language.
On the registration page, you will choose the language you want the site to display and the language you wish to learn.
Now, here is a fun piece – you can choose to learn more than one language at once. After selecting the language, you will supply your credit card information before proceeding to the login page.
MosaLingua does not have a free version. Unlike similar platforms like Memrise, you must add your PayPal or credit card information before accessing the website.
However, it will not charge you for the services until after 15 days. Therefore, although the platform is not entirely free, you can enjoy a free trial for 15 days.
Listen and repeat: MosaLingua uses flashcards, videos, and audio to teach students. After learning a word or phrase, you will record yourself repeating it after the teacher. Each recording features the instructors and not a computer. As a result, hearing the instructors speak is clear.
Memorization: Flashcards aid memorization and retention. Students can repeat words as long as they want until they memorize them using flashcards.
Writing: you will write letters or click on words or phrases to spell them.
Evaluation: the evaluation stage involves rating yourself on a scale of 1-4 to know your performance.
Dialogues: MosaLingua uses dialogues with and without subtitles to teach students.
The Amount of Content is Impressive
MossLingua offers a vast library of audio, video and music content. There's no need to go online and seek out the language of the Spanish music. MosaLingua also curates curated articles on the platform.
This collection of online resource resources contains news, magazines and blogs; music & cinema; art / cultural – health & daylife. You can practice with many types of materials depending on your desired goal or your level.
First, instructors at MosaLingua participate actively in blogs and social networks.
The Best MosaLingua Features
MosaLingua offers various courses and training programs for different needs and levels. They include MosaLingua premium web and mobile, MosaSeries, MosaSpeak English, MosaSpeak for other languages, and MosaTraining.
The language provider uses a unique MOSALearning® Method that is based on various psychology and cognitive science to teach concepts. They include the spaced repetition system, metacognition, active recall, the Pareto principle, and learner motivation and psychology.
All of these features proved vital points in our overall scoring of MosaLingua. Let us examine each in-depth below.
6 MosaLearning Methods For Language Learning
Everyone can process different languages. You will be pleased by the MosaLingua website which enables you to learn languages in a streamlined, visual way.
MosaLingua has also adapted various strategies to its users. Learn MosaLearning Methods to help with the development of your language memory.
The Spaced Repetition System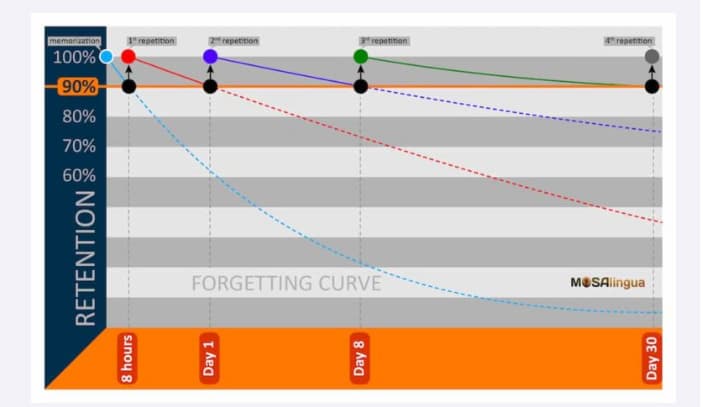 Spaced repetition is a common concept in language learning as it is used by various programs. The reasoning behind the system is that the more you review a concept, the more complex grammar is for example sentences the more likely you will remember it later.
However, a counterintuitive approach is to try to learn the same word like 20 times right before you need to apply it because you will forget everything about the concept a few days later.
To commit to the information, you must space out your review sessions so that it sticks to your long-term memory. Since students are not the same, the system gives different review times and schedules.
Therefore, if you learn a word for the first time, you can review it 5 minutes later, then 8 hours later, 7 days later, a month later, etc. This process will help you retain information and increase the time it will take to forget the information.
Active Recall
For learning anything, you need the ability to recall the information in an easy way. Therefore, the more information is extracted from our minds the more information can be memorized.
Here are the flashcards for the MozLingu. You'll have to work harder to learn, and it will help you retain your existing knowledge.
Active recall is a system of flashcards designed to help students extract information from their memory. Instead of using multiple-choice questions, flashcards are the ultimate fun and interesting guessing approach.
Interestingly, the guess is a process of drawing information from within your auditory and visual memory alone.
Let us dwell on flashcards since most language learning apps are built on them. Flashcards are small note cards used for improving memorization through practiced information retrieval.
The cards are two-sided, with the prompt on one side and the information about the prompt on the other side.
For example, if the card shows "Señorita" on one side, an English speaker enrolled in a Spanish class will need to recall or guess the first word written after "miss."
Metacognition
Metacognition is designed to aid active recall by prompting you to evaluate your learning. Before revealing the answer on the flashcard, you need to check your memorization on a scale of 1 to 4.
Using the example above, after guessing the word "miss," you will evaluate your memorization on a scale of 1-4.
The Pareto Principle
This principle explains that you only need 20% of an action to achieve 80% results. Therefore, instead of learning every word, a student only needs to concentrate on frequently used words. MosaLingua introduces phrases to students gradually using simple structures.
After memorizing the simple phrases, the brain can extract models and adapt them to situations. This approach will help students express themselves without learning all the grammar rules and exceptions.
The Pareto principle saves time and energy by showing you the words you need and not words you will not use and likely forget.
Learner Motivation and Psychology
Psychology is the most vital part of learning. It is often the difference between students who complete the course and those that abandon it midway. The reason could be differences in retention, learning approach, etc.
Therefore, MosaLingua uses various approaches to facilitate self-learning. For example, it offers free learning help through email for a personalized approach for each student.
Everyone on the support team is also a language teacher and can render assistance. More importantly, the format is simple and will not overwhelm students.
Flashcards as a Unique Point
While other apps use Flash Cards, it's the easiest one to choose from to play with the card. There are thousands available in the built-in database. If there are any questions or suggestions that apply to you please click Explore.
The cards can be searched by theme or tier, or by placing a keyword. Mosa Learning® uses its language method for creating flash card sets. It warns you that the time needed to stop will reduce the memory usage.
Let us continue our discussion of flashcards down below. One of the best features of MosaLingua is its flashcard decks.
Although it is a common feature of flashcard apps and most language apps, MosaLingua allows students to remove flashcards they don't want to learn a language with.
If you are not interested in a word in your deck, you can remove it, and the system won't display it in your spaced repetition review. There is also an option to add it back to your deck, even after removal.
MosaLingua has a directory of thousands of flashcards. Therefore, students can add flashcards to their deck anytime, using the 'explore tab' or the 'select flashcard' function.
They can select relevant flashcards by browsing by topic, level, or keyword. Each flashcard contains a recording of a native speaker saying the phrase or word.
If you can't find the word you need, you can create your flashcard and add it to the deck. The system will prompt you to review a word immediately after learning it to reduce the chance of forgetting it.
You can also learn new words and phrases in between reviews so that you don't spend too much time on the process.
Who Will Find This Platform Helpful?
Beginners, intermediate, and advanced language learners will find MosaLingua helpful, provided they want to learn any of the languages offered.
All eight courses covered have different skill levels that range from A1 to C1 on the Common European Framework of Reference for Languages. As long as your language is here, you can use MosaLingua.
How to pick the right tutor? The best approach is to choose a tutor based on your level and how your initial conversation goes.
Since there are multiple tutors of a particular language, you don't need to restrict your selection to only one. Try trial sessions with the tutors of chosen language to know if the option is best for you.
Pricing
Students can pay through the app or the web. How much does MosaLingua cost?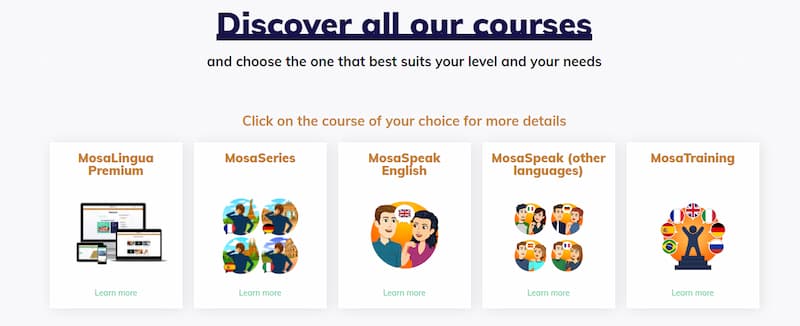 MosaLingua App: $9.49 per month / $57.99 per year;
MosaLingua Web: $59.99/year.
The MosaLingua payment plan is a little confusing, and we should point it out. The web service is only available on an annual subscription, and the cost is more than the yearly subscription cost on the app.
What's more confusing is that both subscriptions allow users to switch between desktop and mobile versions. Since most users will choose the MosaLingua app subscription since it is cheaper, there is no need to confuse anyone with its web subscription plan.
Apart from the paid course plan, other training packages exist, and MosaLingua fluency bundle users can buy. They include:
MosaSeries ($9.98/month or $58.80 for a 6-month subscription)
The MosaSeries is an addictive story, divided into 24 episodes to help students develop listening comprehension, broaden their vocabulary and improve grammar. It is available in English, Italian, German, French, and Spanish.
MosaSpeak English ($147.00 for masterclass PLUS and $199.00 for Masterclass COACHING package)
This training program has 10 modules to help students improve their English pronunciation and help them express themselves fluently and confidently.
MosaSpeak other languages ($99)
This training program does the same thing MosaSpeak English does, except that it is only available in Spanish, French, Italian, and German.
MosaTraining ($130 for the premium page, $180 for PREMIUM + MOSAWEB package, and $330 for DELUXE+MOSAWEB package)
This all-inclusive training provides steps students can take to master any language. The course is ideal for complete beginners to low intermediate learners.
What Payment Options Are Available?
MosaLingua only accepts credit/debit/prepaid cards and PayPal payments. The acceptable card includes Visa, Mastercard, Amex, and Discover.
Needless to say, you can't pay cash through the bank. If you don't have a card, you can fund a PayPal account and make a deposit.
Is Any Promo Code Available?
MosaLingua offers various promo codes, rewards, and referral programs. Users can win between $10-$100 for each invited friend that subscribes
With our promo code, you can get a free trial for the first 15 days. Instead of paying $50 in advance, just click this link and it will automatically apply.
Quality
Who will help you on this platform?  The courses on MosaLingua are self-paced, and users can choose from five different programs.
A typical MosaLingua Spanish lesson includes flashcards, pronunciation, recording, and repetition. MosaLingua has a community of active teachers that students can chat with.
The team also consists of 30 language lovers from 15 nationalities that work remotely in more than 10 different cities.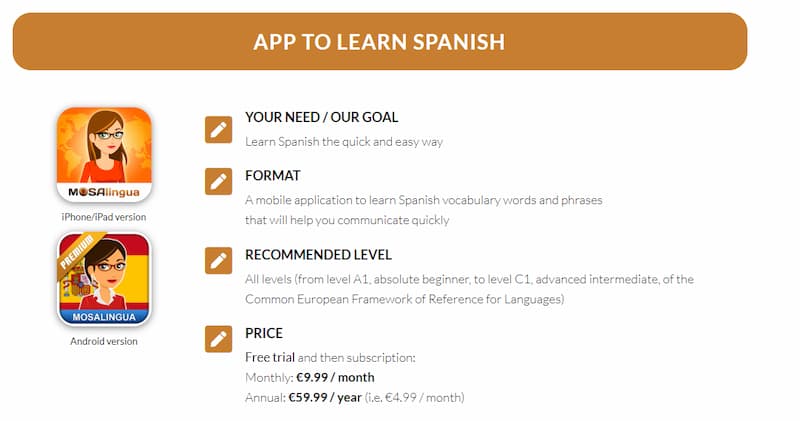 Each instructor creates video presentations that students can watch and learn from.
Apart from this, they are part of an active community and double as support. Plus, there is a dedicated blog where you can find tips, resources, and learning techniques to improve your skills.
Any Guarantee?
MosaLingua offers a 30-day refund if you are not satisfied with their services. All you need to do is fill out a form and send it to them. The guarantee makes the platform risk-free for a month.
Apart from this, you can enjoy a free trial for 15 days without payment.
Difference From Other Apps
MosaLingua vs. Glossika: MosaLingua gives a clear direction and guide. It is also cheaper. However, Glossika offers more languages.
MosaLingua vs. Memrise: the content on Memrise is limited to beginners alone. Although the price is similar, MosaLingua is suitable for advanced language learners.
MosaLingua vs. Rosetta Stone: MosaLingua is cheaper and better for trying a new language.
MosaLingua vs. Babbel: Both apps have a similar price structure. However, Babbel focuses more on writing and grammar and does not offer as many popular languages.
MosaLingua vs. Duolingo: Duolingo has a defined curriculum and a course structure. However, MosaLingua is cheaper.
Value for Money: Is It Worth the Price?
Is MosaLingua free? No. MosaLingua costs $4.99 per month. However, this is perhaps the cheapest among other popular language apps. For that price, it grants access to up to eight major languages.
There is also a community, and you can enjoy a 15-day free trial and a 30-day money-back guarantee. Yes, it is worth the price.
What do you get for the money paid?
MosaLingua does a great job of explaining how their method works. Although it lacks a visible learning structure, students have access to flashcards, videos, audio, and exercises. Participants can also earn certificates at the end of certain milestones.
How valuable is it?
MosaLingua offers a lot of quality content that will only help you to learn your target language. The process of downloading the application is easy, and the web version is also easy to use.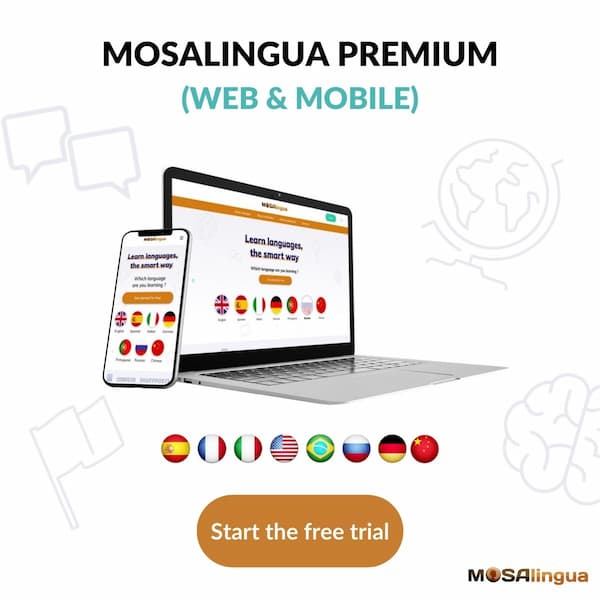 MosaLingua provides videos and audio of native speakers you can listen to and pronounce. Not only this, but you can record yourself and compare your pronunciation to the speakers.
It uses flashcards to aid memorization, and there are various self-evaluation tests.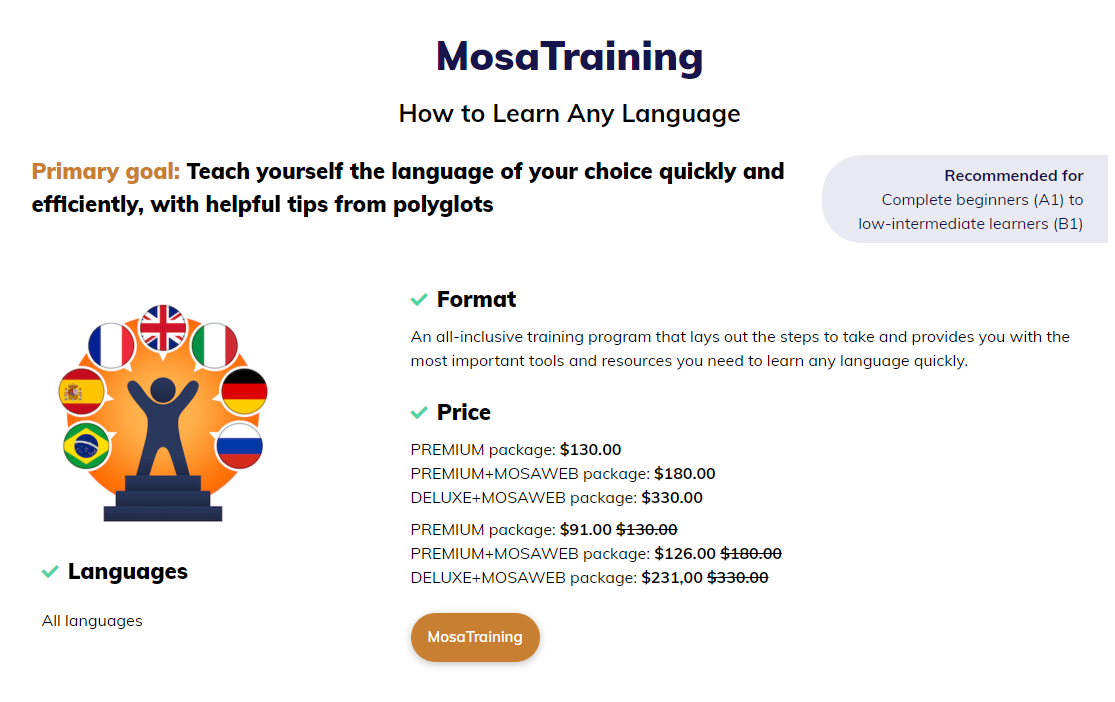 In all, MosaLingua is valuable for beginners who want to learn a new offered language and intermediates or advanced learners who want to brush up on their skills.
Is it helpful for your career?
MosaLingua gives users a personalized MosaLingua certificate when they reach certain milestones. These certificates can prove valuable for jobs like interpreters and translators that require proof of a language level.
Student Feedback and Reputation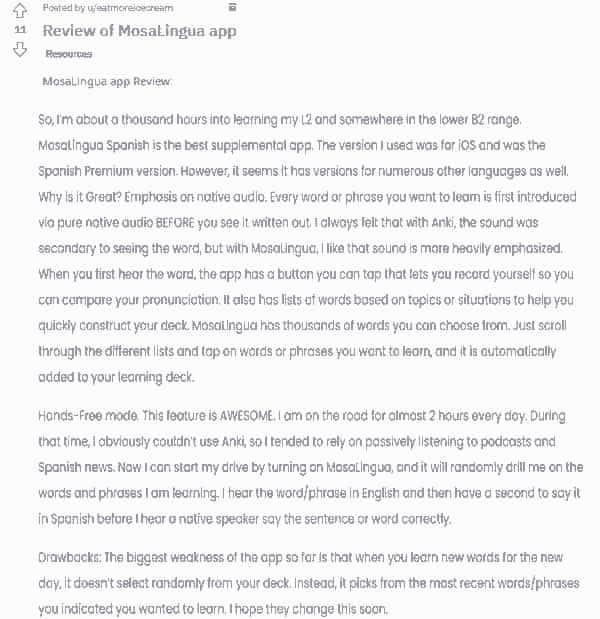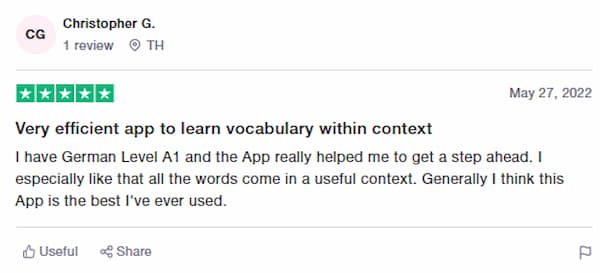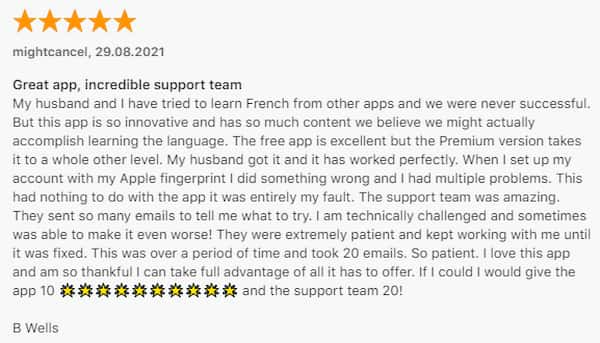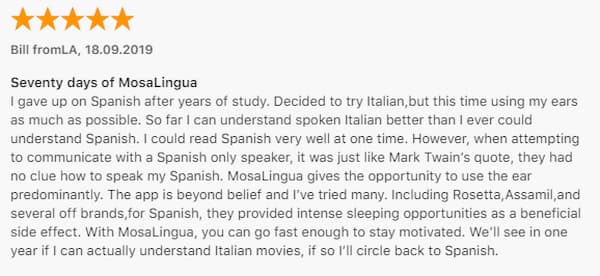 Pros
The teachings include listening, grammar, vocabulary, speaking, reading, and writing.
It has an extensive collection of music, videos, and audiobooks.
An active community of teachers.
Customizable flashcards.
Specialized spaced repetition system.
Free trial and money-back guarantee.
Non-spammy reminders.
Incredible customer service.
Bonus materials at the end of each review session.
Cons
The platform has an outdated appearance, and the navigation is not intuitive.
It lacks a visible learning structure, and there is no navigation tutorial.
You must pay for additional resources.
Confusing subscription options.
The teaching schedule lacks flexibility.
Conclusion
MosaLingua offers 8 of the world's most popular languages at $4.99. It uses videos of native language speakers, audio, music, flashcards, spaced repetitions, and advanced recalls, among many other tools, to teach language enthusiasts.
The app is also suitable for all categories of people and allows risk-free enrollment.
All 30 tutors on MosaLingua are experts. The teaching methods include memorization, writing, evaluation, listening, repetition, and helpful dialogues.
MosaLingua has a robust support system. This includes a community of teachers, customer service, and dedicated emails sent to each student in response to their queries.