There are many reasons you may be interested in learning a new language or brushing up on your dormant skills. Whether you are looking to travel to a new location for business or leisure or just want to be fluent in another language, the steps you take are critical to your learning process. You can choose to learn a new language on any platform that offers online language lessons.
To ensure you get the best learning experience, it is necessary to read reviews comparing your preferred language learning platforms, such as this Mosalingua vs. Duolingo review.
Both learning sites have impressive features that make their users swear by them, and after spending a similar amount of time on each one, I can share some features that you can consider before making a decision.
Although I have reviewed both sites individually, this Duolingo vs. Mosalingua review would highlight the differences you wish to see between both platforms.
Here is a quick verdict before the main review.
Duolingo offers free language learning courses, while Mosalingua's courses are paid.
The learning approach used in Duolingo is more fun and gamified than the MosaLearning approach developed by Mosalingua, which focuses on memorization.
Albeit expensive, Mosalingua offers a more advanced and in-depth learning structure that would get you to an intermediate level.
You get better training for communication skills, including reading, listening, writing, and speaking, with MosaLearning compared to Duolingo.
Key Features of Platforms for Learners/Students
After my introduction to the two language learning platforms I will be comparing in this review, it is necessary to discuss the key features of each platform; see this as an overview of sorts.
Both platforms function differently, bringing different features, learning tools, and structures to play to meet a similar goal; helping people learn a new language from a beginner level.
To make it easier for you to decide whether to go for Mosalingua or Duolingo in your quest to learn a new language or two, I will review each platform's features that make it better than the other.
To get a comprehensive overview of language learning tools, consider a Memrise and Mosalingua comparison, which can highlight their features, strengths, and areas for improvement.
You should know that both platforms offer products for mobile users, but the app offered by Duolingo is more comprehensive than that of Mosalingua, as you will learn in this review.
Here is a brief overview of the features I will be detailing for you in the upcoming sections:
Available languages;
Learning structure;
Additional features.
Mosalingua: Why is it Better than Duolingo?
Mosalingua has gained popularity as a learning app because of the MosaLearning method it incorporates into its learning structure, a combination of six effective learning methods, some of which I am a big fan of.
The learning app offers basic courses in eight languages; Chinese, English, French, German, Italian, Portuguese, Russian, and Spanish. Learners looking for more advanced courses tailored toward specific industries can try these five; English for Business, Spanish for Business, Medical English, TOEFL vocabulary, and TOEIC vocabulary.

To pick Duolingo or Mosalingua, you can also consider what service you want. Mosalingua offers its languages in specialized apps, meaning that users must download individual apps for whatever language they wish to learn. However, learners who opt for the desktop version can enjoy an all-in-one centralized platform that offers all languages, allowing them to learn multiple languages simultaneously.
Each course is divided into levels, offering flashcards, audiobooks, dialogues, videos, and music to help reinforce your learning; you can track your progress and speed using generated learning statistics.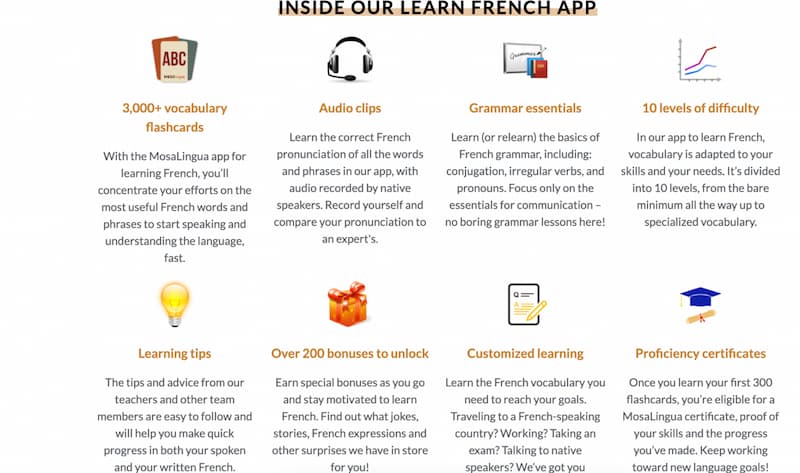 Duolingo: Why is it Better than Mosalingua?
Duolingo stands out in the pool of language learning apps. The first feature of this platform is that it is entirely free for learners; you can create a free account and get the full Duolingo experience.
There are up to 38 languages available to those who opt to use this platform, from popular languages like Spanish, French, and English to less common ones like Swahili, Czech, and Gaelic. The platform also offers the only organized resources to learn popular made-up languages like High Valyrian from Game of Thrones, Klingon from Star Trek, and Esperanto, a popular auxiliary language used globally.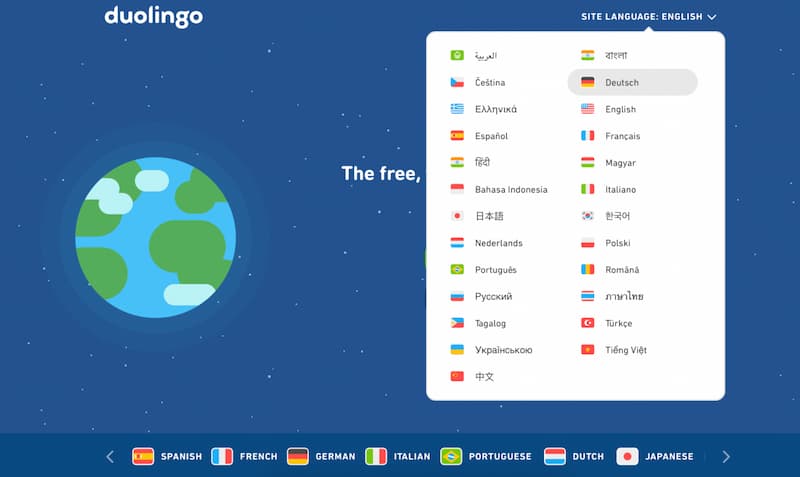 The learning path for any language you decide to learn follows a similar structure, going over common words and phrases in the Duolingo language tree with categories like food, animals, food, and family.
Whether you opt for the free Duolingo version or make a minimum payment, you can enjoy stories that increase in difficulty level, audio lessons, personalized grammatical tips, and podcasts (in some languages).

When considering Duolingo vs Mosalingua as a tutor, you would be happy to know that a "Duolingo for Schools" feature allows you to track your students' improvements from your account once you enable it.
Check our list of the best private tutoring companies online.
Pricing Comparison
Pricing is a major factor you must consider when picking one language learning platform. Some people are unable to spare money to learn a language online, and those who can prefer affordable options that still meet their needs.
You should know that the two popular language learning platforms up for comparison today offer different pricing models, with one being more affordable than the other.
Based on your budget, I will now go into a pricing review to help you consider Duolingo vs Mosalingua for teachers and individual users.
Mosalingua

MosaSpeak
MosaTraining
MosaLingua Premium
Mosalingua is ideal for beginner to intermediate level learners looking to learn a new language easily.
Unlike some other language learning online services that allow users to create free accounts and test out some features before making a financial commitment, Mosalingua means business, requiring learners to submit their credit card information during the registration process
Four courses with different language learning tools are available on the Mosalingua platform for English speakers with different pricing models.
I will list them below for easy understanding:


MosaLingua Premium: Learners can enjoy a free trial on this primary offer. The pricing differs by platform; a yearly subscription of $59.90 for the all-in-one web version, or you can opt for the Mosalingua app and pay $9.49 monthly or $57.90 yearly.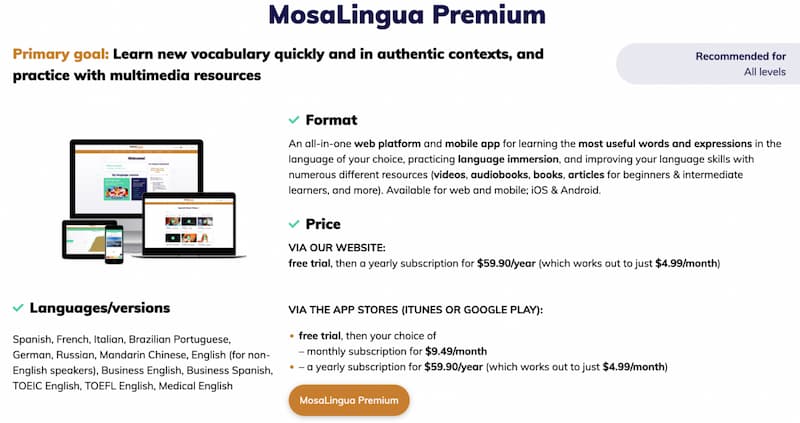 MosaSeries: This is an addictive story learning format that tells the "Man With No Name" story in 24 episodes. It is perfect for improving your listening skills and grammar and is available in Spanish, Italian, German, French, and English. Learners get a 15-day trial, then a subscription of $9.98 monthly or $58.80 biannually.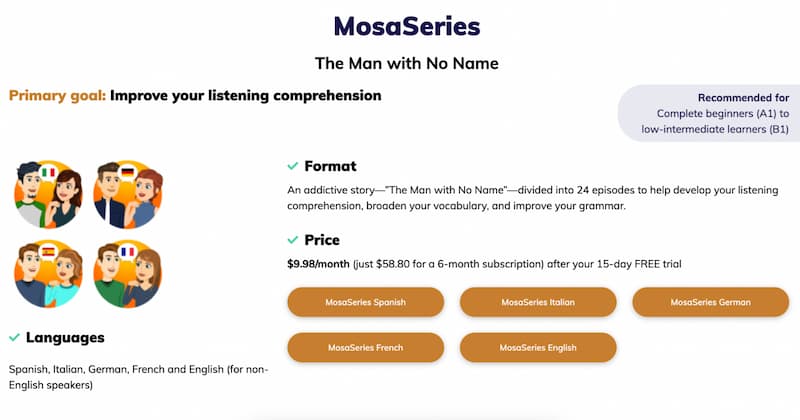 MosaSpeak: This course invites you to "Speak With Confidence" to improve your speaking skills (confidence, accent, and fluency). It is offered in 10 modules for French, Spanish, German, and Italian at $99.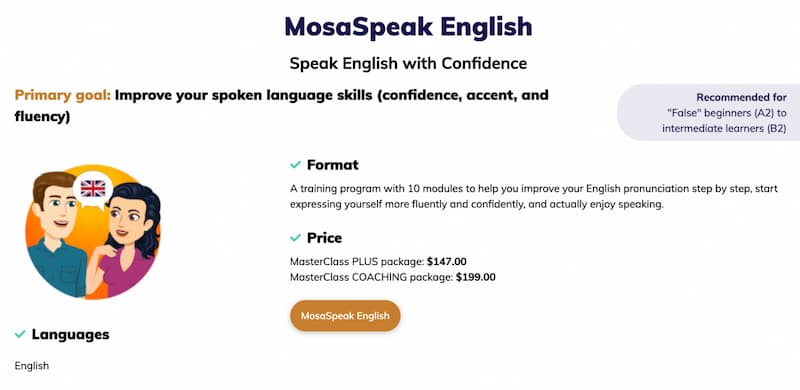 MosaTraining: You can get all-inclusive training with all the required tools and resources to progress on your journey. It is available in three packages; $130 for PREMIUM, $180 for PREMIUM+MOSAWEB, and $330 for DELUXE+MOSAWEB.


Comparing the pricing for Duolingo and Mosalingua, you can tell which is more accessible based on your pocket.
Duolingo
The Duolingo learning platform remains popular among users for many reasons; however, a major reason is its pricing. You can register a free account on Duolingo and pick your learning tracks without paying a dime. That's right!
The language platform truly provides solutions to those looking to learn new languages for whatever reason. It excites me to point out that you can select multiple learning tracks (languages) and go through the available learning content while getting the full Duolingo experience.
This is not to say that Duolingo is entirely free. As the website advertises, you can get five additional features when you pay for the services:
Unlimited hearts
Practice mistakes
Mastery Quizzes
Unlimited test outs
Zero ads
Comparing Mosalingua and Duolingo, the pricing here is affordable. It covers the whole program, so your payments do not depend on how many languages you wish to learn or your expertise level.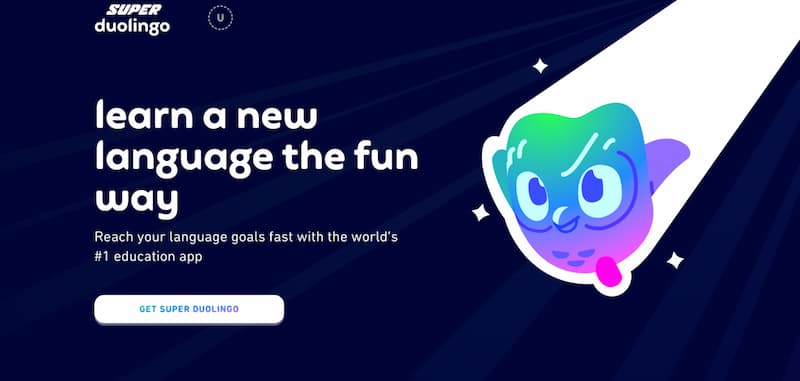 If you decide to upgrade to Duolingo Super (formerly Duolingo Plus), you get up to 14 days of a free trial, after which you will be billed $6.99 monthly or $83.88 yearly (12 months). The ads on the freemium Duolingo version can be very frustrating, which is why the ad-free appeal of Duolingo Super is a major selling point.
Quality of Learning and Value for Money
It is not enough to pick a language learning platform based on pricing and reputation. The courses on both Duolingo and Mosalingua are paid for, so discussing what packages each brand offers is pertinent.
Is Mosalingua better than Duolingo? I will cover the value of each platform and its learning quality, going beyond the words and phrases taught in the available courses and focusing more on the learning structure.
Mosalingua
To cover the features that best describe the quality of learning available on Moaslingua, it would be best to go over the MosaLearning method I mentioned earlier in this review. You get lots of features, including speech recognition technology.
This language learning platform is pricey compared to Duolingo, so it is necessary to ensure you get value for the money spent.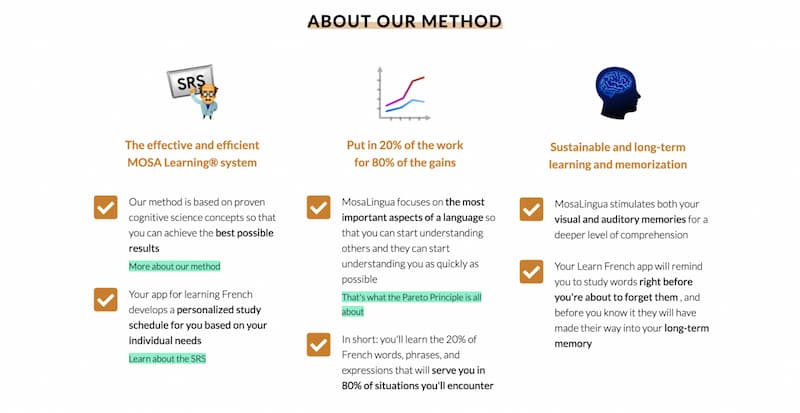 The Motivating Optimized System for Adaptive Learning (MosaLearning) is a scientifically researched learning structure created by Mosalingua to optimize memory in the learning process.
It covers five learning approaches that are not always available in the best language learning apps:
The spaced repetition system helps learners review a concept multiple times and aid memorization.
Active recall, which utilizes flashcards to call forth memorized information in a fun and engaging manner.
Metacognition prompts learners to evaluate their progress based on memorization on a scale of 1 to 4.
The Pareto Principle aids students in memorizing and understanding phrases without learning bogus grammatical rules.
Learner Motivation and Psychology to facilitate self-learning among users.
Duolingo

Learning is the focus of Duolingo, and the platform offers its users value for their money using impressive approaches.
Check out the main features of the language courses Duolingo offers, which helps the platform stand out in the battle of language apps.
Well-structured Lessons
An impressive user interface is not all Duolingo offers. One of the first things that stood out to me was the flow of the lessons; irrespective of the levels I got to, reading, listening, speaking, and writing was tested simultaneously with a placement test to determine your expertise level.
Highly Engaging Features
Duolingo keeps its users engaged, and the exciting features available on the language learning platform bear testament to this.
Aside from the regular-paced lessons, short stories cover proper conversations in your target language to help improve your reading and listening skills.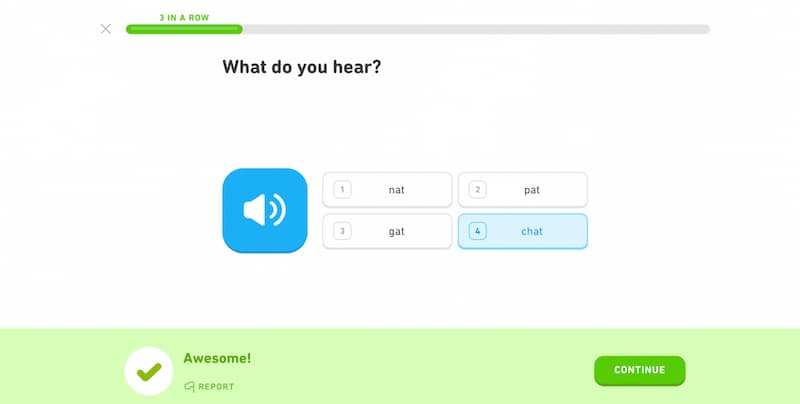 The stories start from basic conversations and increase in difficulty depending on your level of comprehension.
You can also look forward to podcasts that improve your listening and speaking skills; however, these are only available in English, French, and Spanish.
Fun Learning Styles
One area Duolingo performs easily without missing a heartbeat is adding fun to its learning module to keep learners motivated and eager to participate in the lessons.
This can be seen in the leagues designed to engage players and get them to compete with one another.

You can earn Streaks for meeting your daily learning requirements, Crowns for completing a topic, and virtual points called Lingots for extra activities like progressing to the next level or maintaining lengthy streaks.
The Duolingo leaderboard is another way to motivate you to keep learning, challenging you to maintain your position as you compete with 50 users weekly.
Main Disadvantages of the Platforms
Finding a language learning app that offers all the features you want without a few let-downs here and it is impossible.
In this review section, I have provided some cons of using Mosalingua and Duolingo for free. These should aid your decision-making when determining which option is best for you.
Mosalingua
Outdated Design: If you are a visual person looking for a language learning platform that keeps you intrigued with visuals and animations like Duolingo, then Mosalingua is not for you. The platform is outdated and has poor navigation features.
Not ideal for advanced learners: Mosalingua offers learning tools and resources that cater to beginner and intermediate-level learners. If you have surpassed these levels, you are better off spending your money elsewhere.
Limited Languages: This may be my biggest problem with this platform. Users can access generated courses for only eight languages; three of these eight have limited resources.
Duolingo
Repetitive lessons: This flaw can be easily fixed, making it extremely annoying. There is no need to review the same information in multiple courses in the Duolingo tree.
Focused on beginners: Duolingo focuses on learning content that teaches learners commonly used words and phrases via flashcards and other learning tools. These are not enough to surpass the intermediary level of any language, so you may only get basic skills.
Frustrating ads: The pop-up ads on the casino app are pesky and annoying, distracting you from the task ahead. Thankfully, players can avoid this by subscribing to the Duolingo Super version, which promises ad-free use.
Overly gamified learning approach: Although the gaming function of this learning platform is fun and engaging, it can be a bit too much, adding unnecessary fluff to the material.
Overall Comparison Table
Having gone over the main offerings of both language learning platforms in this comprehensive Duolingo vs Mosalingua review, I have provided a more concise table to help you determine which platform is better for your learning.
Platform
Pros
Cons
Pricing
Duolingo
●       100% free learning

●       Multiple languages covered.

●       Simultaneously learn multiple languages.

●       Great user experience

●       Repetitive lessons

●       Learning structure is too gamified

Free learning or $6.99 monthly for added benefits.
Mosalingua
●       There is a free trial

●       It offers useful words and phrases

●       You can learn multiple languages at a time.

●       Poor user interface

●       Native apps for each course.

●       Additional resources are not free.

●       Limited languages.

Pricing differs by course;

●       MosaLingua Premium: $59.90 yearly (web) or $9.49 monthly/$57.90 yearly (app).

●       MosaSeries: 15-day trial, then $9.98 monthly or $58.80 biannually.

●       $99 for MosaSpeak

●       MosaTraining: $130 for PREMIUM, $180 for PREMIUM+MOSAWEB, and $330 for DELUXE+MOSAW.
FAQs
Is Mosalingua better than Duolingo?
Following my in-depth review of Duolingo and Mosalingua, I strongly believe Mosalingua offers better tools and features for a well-structured learning process. Of course, Duolingo's free courses are well worth the freemium package.
Still, if you have some money to invest in learning a new language or are seeking something beyond the beginner level, then Mosalingua is the better option.
Is Mosalingua cheaper than Duolingo?
The entire learning package for Duolingo is free, and the Duolingo Super package, which is unnecessary in my opinion, is still cheaper than Mosalingua's basic plan. The cost to use Mosalingua is worth it, as its learning approach and features surpass what Duolingo offers.
Can you become fluent with Mosalingua?
Yes, I firmly believe so. Using the Mosalearning method, you get training to improve your communication skills in reading, writing, speaking, and listening. There is a strong foundation with the available courses; you can progress further with the more expensive courses that offer in-depth training.