It's time to take a linguistic journey! You've found the correct site if you're looking for the best software to help you learn a new language. This article compares and contrasts two of the most well-known options, Memrise and MosaLingua. In light of the fact that each app has its own set of perks, let's get started with the ultimate showdown!!
But wait a minute! It will interest you that we have in-depth and well-detailed reviews on these language learning platforms. Whether you want to compare Memrise vs. Babbel vs. Mosalingua, we have you covered.
Quick Verdict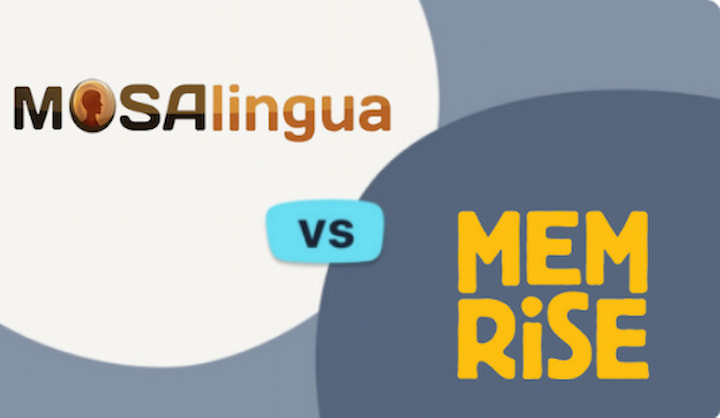 Which app is the ideal choice between MosaLingua or Memrise? Chill out, and let us summarize which platform is better for what before we get into the nitty-gritty.
Memrise is your best friend if you're serious about using modern memory methods to learn a new language. With this cutting-edge method, you'll learn new vocabulary and phrases quicker than you can say "polyglot." Prepare to wow your pals with your newfound linguistic prowess.
However, MosaLingua has you covered if you are a vocabulary virtuoso trying to increase your word stock. This flashcard-based software is perfect if you want to learn a new language. You'll soon be able to dominate any conversation.
A Few Features of Both Platforms
An excellent environment to study a new language may make a difference. Here, we'll compare and contrast MosaLingua vs Memrise based on their features and benefits to students and language learners. Let's not waste more time determining the characteristics you need most.
1. Interactive Learning Experience:
Memrise and MosaLingua are similar in providing exciting and interactive ways to study a language. Memrise is a tool for memorizing text by combining audio, visuals, and other memory techniques. Regular tests are a great way to monitor your learning and retention progress.
On the other hand, MosaLingua gives you access to thousands of flashcards that have spaced repetition so that you may concentrate on learning new vocabulary and reviewing previously learned content.
2. Comprehensive Language Courses:
Memrise provides comprehensive language training in 23 distinct tongues. You may find a course in whatever language you choose, from Spanish to Korean, German to Arabic.
In addition to its multilingual capabilities, MosaLingua also offers 8 language-specific applications. Therefore, both systems can accommodate students at any stage of their education.
3. Community and Social Learning:
Memrise's Groups feature is fantastic for meeting other people interested in learning a language. Making new acquaintances is a great way to hone your communication and listening abilities.
While MosaLingua is best for independent study, its active user base may be an excellent resource for questions, tips, and inspiration.
4. Native Speaker Pronunciation:
Listening to how native speakers pronounce words is an essential step in perfecting your speech. To help you perfect your pronunciation, Memrise provides both audio lessons and practice drills.
Learning a language with a genuine accent is much easier because of MosaLingua's focus on pronunciation and the inclusion of audio recordings from native speakers.
Mosalingua: Why Is it Better Than Memrise?

Interactive education.
Extensive database of flashcards.
Spaced repetition method.
Focus on authentic, native-speaker pronunciation.
Audio recordings from native speakers.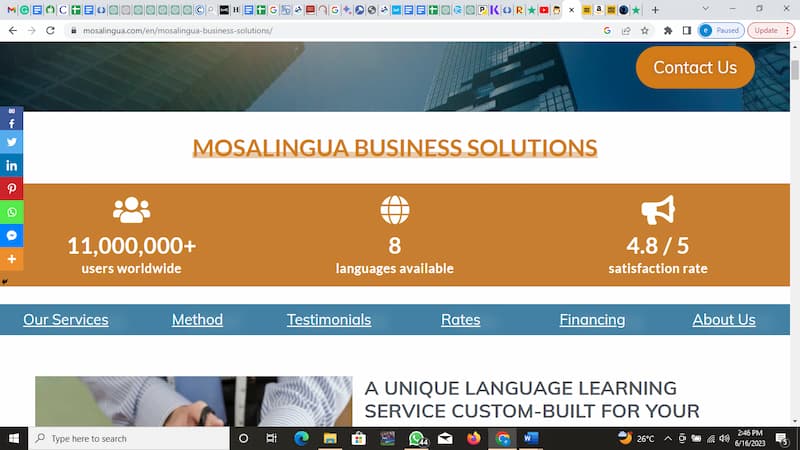 Mosalingua stands apart from the competition in various ways, making it a better option than Memrise for language students. To begin, Mosalingua is a quantum leap forward in interactive education. It has an extensive database of flashcards and a spaced repetition method, so you can use it to learn new words and review old ones. It's like always having an approachable and well-versed language teacher in your pocket.
While Memrise's Groups provide a social learning option, Mosalingua's active user population is a treasure trove of questions, suggestions, and ideas. Plus, the platform is perfect for independent study, allowing you to focus and progress at your own pace.
Finally, Mosalingua stands out because of its focus on authentic, native-speaker pronunciation. By including audio recordings from native speakers, you can fine-tune your speech and develop a genuine accent. Memrise does provide audio lessons, but Mosalingua's dedicated focus on pronunciation takes the cake.
Memrise: Why Is it Better Than Mosalingua?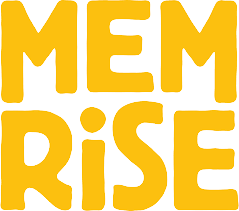 Native Speakers.
You Set the Lesson Duration.
Variety of Courses.
It helps you sound natural.
Learn English, Spanish, Korean, German, or Arabic.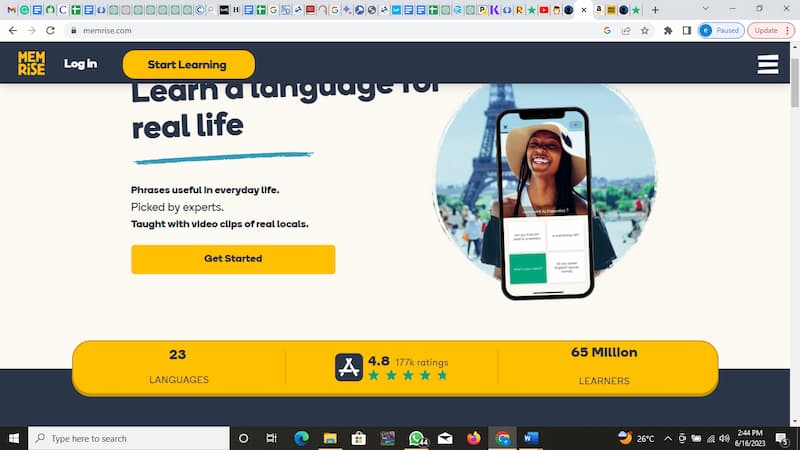 Memrise learning is fun. Its revolutionary audio, visual, and memory approaches make learning vocabulary easy. Regular tests let you track your progress. MosaLingua uses flashcards with spaced repetition, which is good for memorizing vocabulary but not as involved as Memrise.
Memrise also excels in language lessons. 23 languages are accessible, so you may select the one that fits you best. If you want to study Spanish, Korean, German, or Arabic, Memrise is the place to go. MosaLingua offers language-specific applications, although Memrise supports more languages.
Let's discuss the societal side of things now. You may find other language learners and form study groups on Memrise. Making new friends who share your interest in education is a terrific way to improve your speaking and listening abilities. MosaLingua, on the other hand, is best for those who like to study independently.
However, the community of users is still helpful for questions, advice, and motivation.
Finally, Memrise helps you sound natural. Listening to native speakers improves pronunciation. Memrise offers audio lectures and practice exercises for difficult phonemes. MosaLingua focuses on pronunciation, although Memrise includes more native-speaker audio recordings.
Is Mosalingua better than Memrise?
No, not for actual conversation, in-depth training, active community engagement, or native-like language skills. Memrise provides a comfortable and practical learning environment for language learners.
Pricing Comparison
Finding the appropriate resource may make a considerable difference while studying a foreign language. However, it is essential to consider the value of each purchase. Let's examine how these two language-learning programs stack up in cost.
Mosalingua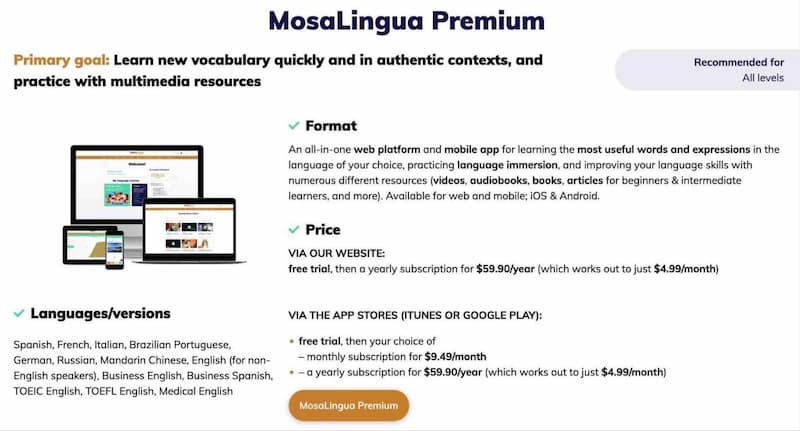 The price structures of Mosalingua are simple and adaptable. You may get right in with a free trial, an excellent opportunity to test the waters of language study. There are then two potential next steps.
If you sign up for an annual membership on their website, you'll pay only $59.90 or $4.99 monthly.
If you would instead use app stores, you may subscribe monthly for $9.49 or annually for $59.90, which works out to $4.99 per month.
The annual membership seems to be the best value for individuals planning to study a language for an extended period.
Memrise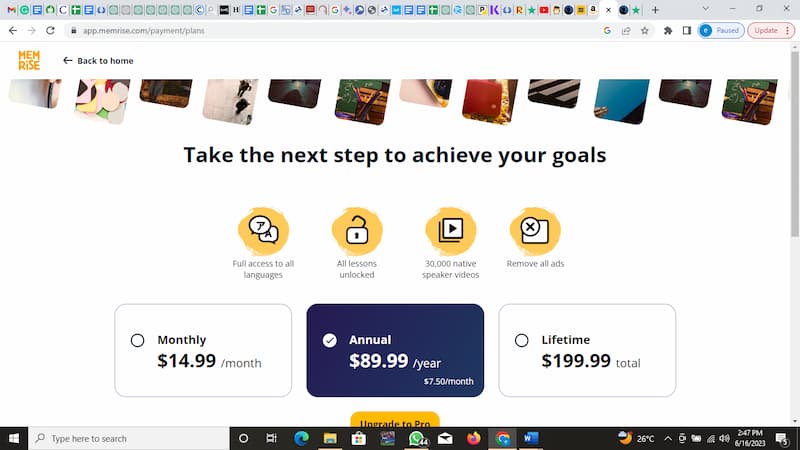 Memrise also provides a paid premium edition with further capabilities and a free version. There are three subscription tiers available for their premium offering.
A monthly subscription will set you back $14.99,
An annual one will cost you $89.99,
A lifetime membership will set you back $199.99.
Monthly plans are great for people who need or want some leeway in spending, but yearly and lifetime memberships are often more cost-effective for foreign severe language students.
Verdict on This Part
Whether Mosalingua or Memrise is more cost-effective for you depends on your specific needs and preferences as a language learner. The annual membership to Mosalingua costs $59.90, or around $4.99 monthly. Long-term language students often choose this path because of the available materials.
Memrise, on the other hand, has a yearly plan that costs $89.99, or around $7.50 each month. If you're looking for a complete language learning experience reasonably priced, Memrise's annual plan is a good choice, albeit more costly than Mosalingua's.
In addition, for people serious about learning many languages or prefer one-time payments to subscriptions, Memrise provides a lifetime membership for $199.99. Keep in mind that there is currently no lifetime membership option for Mosalingua.
Quality of Learning [Value for Money]
Value for money and the quality of instruction are two major concerns when choosing a language to study. Here we'll compare the language-learning services Mosalingua and Memrise provide, looking at how practical their lessons are and how much value they provide.
Effective teaching techniques, exciting material, and an affordable price are all necessary for successful language learning. The objective is to choose a resource that offers valuable language instruction and makes the investment profitable.
Mosalingua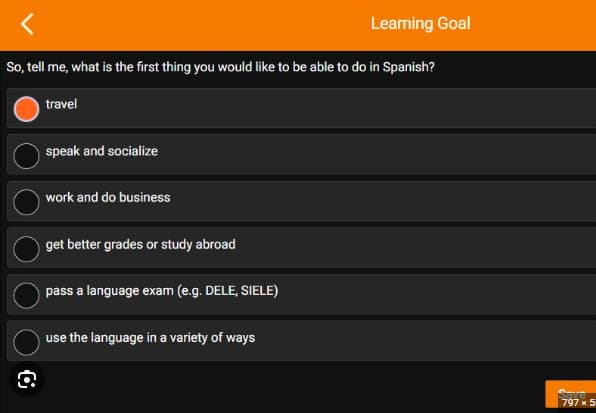 Let's start learning Mosalingua right now. This software has gained a reputation for being useful and practical for language study. Mosalingua provides a systematic course of study that emphasizes foundational grammar and vocabulary. The courses are structured around memory-boosting strategies like spaced repetition and active recall.
You may enhance your pronunciation and listening skills with the app's native-speaker audio recordings. Mosalingua's price and all-encompassing method of teaching a new language make it a fantastic deal.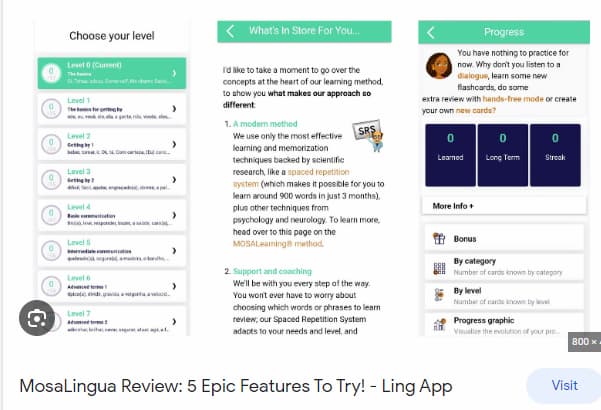 Mosalingua's approach to language learning emphasizes repetition, listening, and interaction with authentic material. Lessons are chunked into more digestible pieces to improve retention.
Memrise
Memrise stands out from the crowd since its language classes are fun and engaging. Memrise is an app that uses mnemonic techniques and visual clues to aid memory retention. The courses include a dynamic and engaging presentation integrating multimedia elements such as music and video.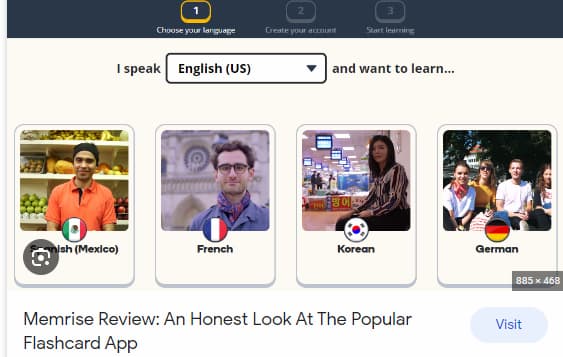 Thanks to the platform's user-generated content, you could have heard about it from several places. There are various Memrise subscription options, so you can choose one that suits your study habits and budget. Memrise employs game mechanics to make learning fun and engaging for its users. The platform uses mnemonic devices, multimedia content, and interactive quizzes to make the learning experience enjoyable and memorable.
Verdict on Quality
Mosalingua's focus on foundational vocabulary and phrases and its straightforward, approachable interface have earned it many accolades. It stresses the need to study techniques like rereading and practicing recall. Listening to recordings made by native speakers and following a structured curriculum together provide a complete education. Mosalingua is of great value since it allows for a systematic but low-cost method of learning a new language.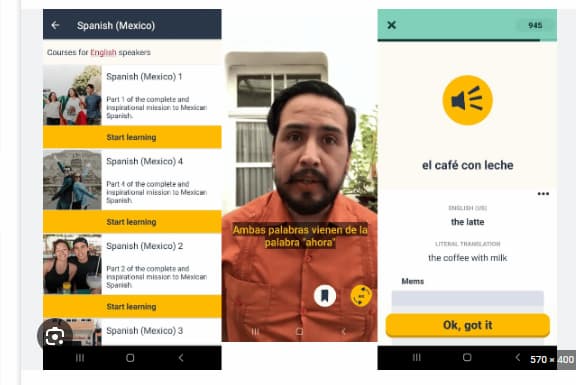 Memrise, on the other hand, stands out because of the innovative way it combines gaming with education. To assist you in remembering what you've read, it employs mnemonic devices from a broad range of user-generated content.
The platform's interactive tools have the potential to make learning more engaging and enjoyable. Customers of Memrise may choose a subscription plan that works with their schedule and price range.
Which platform is ideal for you depends on how you learn best and how much you will pay. If you want a practical and systematic approach emphasizing essential terminology, Mosalingua might be a good option.
On the other hand, if you're interested in gamified and interactive lessons that use a wide variety of user-generated content, Memrise may be the better choice.
Disadvantages of the Platforms
Let's dive deeply into the imperfect world of Mosalingua and Memrise. These platforms offer many benefits and advantages but have certain downsides.
Remember that no ideal language-learning platform exists, but knowing its limitations will help you choose the best one for your needs.
Mosalingua
There are benefits to using this platform, but there are also some cons. The lack of support for more languages is a significant drawback. Mosalingua may not meet your needs if you want to learn a language that is not widely taught. It's like going to a buffet when there are only two items; it won't fill you up.
The absence of user interaction is another drawback of Mosalingua. You may practice your vocabulary and grammar; however, the program lacks interesting tasks. It's essential that language learning be enjoyable. Mosalingua falls short on this front, unfortunately.
Memrise
It has a creative name and a lot of different classes, but it also has certain drawbacks. The great dependence on user-generated material is a significant negative. User contributions have the potential to provide value, but they also run the risk of introducing inconsistencies and incorrect information. It's like trying to get an education in arithmetic from a group of people who aren't quite there yet.
The learning potential of the free edition of Memrise is also limited. Essential features and more advanced training are only available to paying customers. It's like going to a theme park and just being able to ride the kiddy attractions, which is very disappointing.
Useful Comparison of the Apps
Feature
Mosalingua
Memrise
Interactive Learning Experience

Thousands of flashcards for vocabulary study and review, with spaced repetition.
Focusing on grammar and vocabulary, this course provides a well-rounded foundation for language study.
There is a deliberate approach to lesson design that promotes understanding and long-term retention.

It uses state-of-the-art memory techniques to help you pick up new words and phrases quickly.
Uses many learning modalities simultaneously, including video, audio, and mnemonic devices.
Regular assessments are a great way to monitor learning and retention.

Extensive Language Courses

Provides a primary platform in addition to 8 language-specific apps.
Appropriate for students of all academic levels.
Includes a well-organized curriculum that stresses the importance of learning basic grammar and vocabulary.

Offers in-depth instruction in 23 different tongues.
Spanish, Korean, German, and even Arabic are just some of the languages you may choose from.
Supports students of varying ages and skill levels.

Community and Social Learning

A thriving community of users provides answers, suggestions, and ideas.
The best choice for alone study, with social features built right in.
Suitable for learners who learn best when left alone to focus at their own pace.

It provides a way for language students to form study groups.
Taking part in group activities improves both speaking and hearing abilities.
Making new acquaintances with similar academic interests is a great way to boost language skills.

Native Speaker Pronunciation

Native speaker pronunciation recordings included.
The emphasis here is listening to native speakers to pick up their accents.
Delivers a complete linguistic immersion into the target language.

Pronunciation courses and exercises are available in audio format.
Learn the language with an authentic accent by listening to recordings made by native speakers.
It helps people become more articulate speakers by emphasizing correct pronunciation.
FAQ
Is Memrise better than Mosalingua?
To put it another way, that's like asking whether pizza or sushi is better. It's all up to your preference. While Mosalingua covers many subjects, Memrise takes a more game-like approach with user-generated material. The key to learning a new language is to identify the best approach for you.
Can you become fluent with Memrise?
The road to fluency is long and arduous. Memrise, with its vast vocabulary and engaging courses, is an excellent tool for laying a firm foundation. But remember that mastery of a language involves time, effort, and exposure to natural speech to achieve fluency.
What's better than Mosalingua?
In other words, Mosalingua is akin to a relaxing coffee shop where you can devote yourself to learning a new language. But if you want a little more kick to your language learning, you may check out language exchanges and online teachers or even move to a new country. It's all about discovering what works best for your palate!