To have a quick overview of Preply, please check a short video on Youtube below:
There are many variants of online tutoring: certified courses offered by world-famous universities, databases of lectures by specialists from different fields, custom writing services that help users master their essay writing skills, and online tutoring websites for those who want to get solid knowledge on a subject.
Unfortunately, not all of them provide services of proper quality. Users should still be aware of scams and irresponsible attitudes of teachers or management.
There are different parameters to consider when choosing a service, while user experience, pricing, security, and reliability remain universal.

What is our Preply assessment based on?
Different options to choose from. When a client has several options to choose from, things are simplified.
First, you do not have to compromise, and second, competition is very beneficial for your budget. You can always choose a price within your budget and a service that suits your needs.
If you hesitate, chat with customer support to make the final decision.
Pricing. A good agency should not be cheap, but it should not charge exorbitant prices! We have selected companies, which are affordable to most people.
Don't shy away from appealing prices, thinking that high-quality products should always be expensive.
Not in this case. Good service providers understand that clients are more likely to come back if their expectations have been met for good money.
Security of payments. Nowadays, the service of your choice must offer some secure payment options.
Therefore, we have eliminated any fishy websites that do not pay enough attention to customers' credit card data security.
By choosing one of the reviewed services, you can be sure that your money is safe, and that you will pay only for the completed job.
Guarantees. There are not a lot of agencies that offer guarantees for the services rendered. Thus, any company must have some protection for its customers.
For example, they might render additional services at no extra charge and much more. No matter how complicated the tasks are, professional online companies should always do their best to deliver high-quality products/services.
And even if they fail to do that on the first try, you will be eligible to give them another shot or find another company professional enough to finish the required job.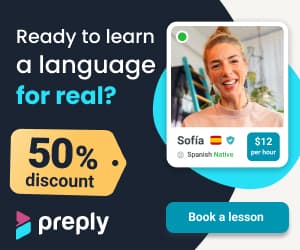 Data protection. We understand that the last thing you want is someone to find out about your ordering from a professional education or writing service because some people might be full of prejudice towards such kind of help.
When you want experts to help you out, you have reasonable grounds to do that, and no one has a right to judge you.
For this purpose, we selected only those services that grant total anonymity to you as a customer, so you don't have to worry that your sensitive data may leak somewhere.
Preply Overview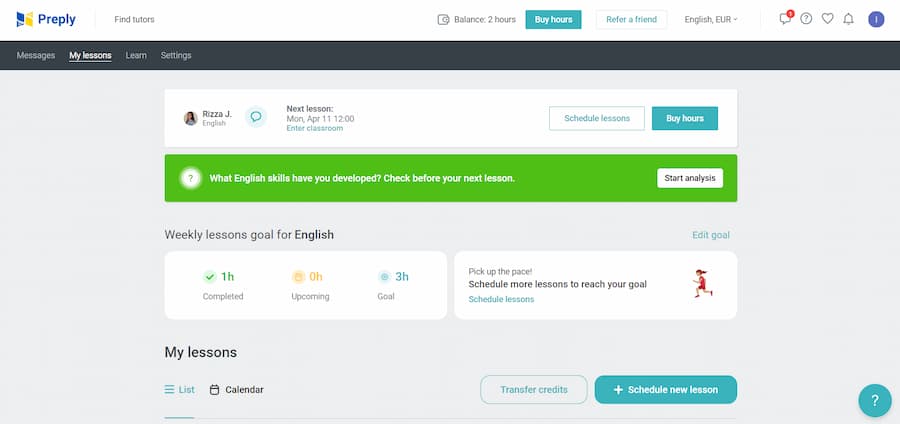 In this peer Preply review, you'll find out more about this online platform for learning foreign languages.
We scrutinized most of the Preply reviews and are striving to provide an objective estimation of every service, analyzing some of the most important aspects:
Quality of Services;
Pricing Policy;
Payment Options and Procedures;
Customer Support;
Website Usability;
Security;
User Experience.
If these criteria matter to you equally much, you can be sure to make your conclusions based on this Preply review. You can also check our comparison between Preply vs italki if you are interested in language learning.
Preply Story
Preply Inc is a platform where tutors can connect with students. It works as a marketplace: you find a teacher, schedule a lesson, and meet in the Preply Space.
This is an online language center, where you will find many tutors from different countries, native speakers, and experienced teachers.
It is a global community that will also help get some cultural insights, and tips, share personal experiences, etc. Is Preply legit? Is it safe? YES, it is.
If you are interested in the comparison of Preply and Cambly, check it out here.
Preply.com Pricing
Every tutor sets their own hourly rate based on their experience, proficiency, and the languages they teach, and their rate is determined by the feedback. Users buy lessons in packages. Currently, users can choose 5, 10, 15, and 20 hours.
The information about prices on bulk lessons, however, is not specified. On the other hand, it is convenient for you can test before committing to long-time cooperation.
Prices for tutoring services are quite different, so try to check several options on Wyzant.com to make the right decision. Is Wyzant legit? Find more details on our Wyzant review.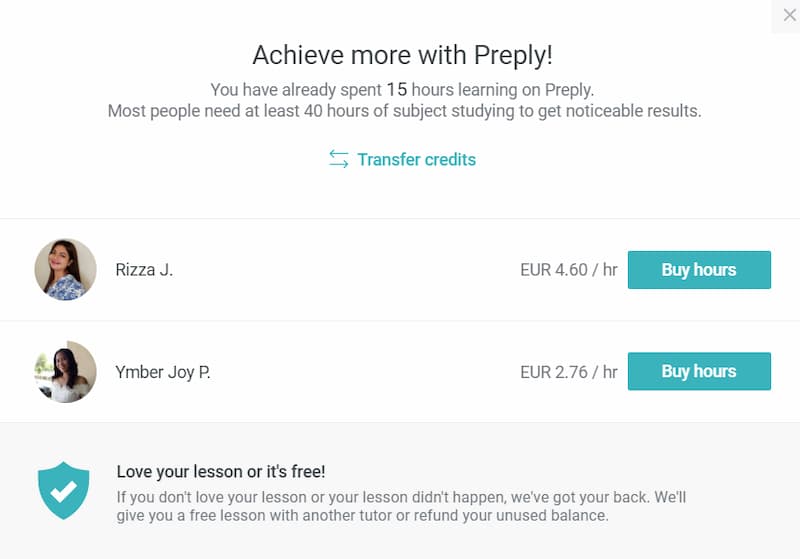 Preply Payment
Our Preply review found that there are five payment options: PayPal, MasterCard, Visa, Discover, and American Express. Just choose what works better for you.
While we review Preply, we have to mention their options for tutors, they have different options for money withdrawal: Skrill, Payoneer, and PayPal.

A teacher gets paid only after a student's confirmation. If a lesson was rescheduled or didn't take place for some reason, you reserve the money for the next payment.
After the first trial lesson, the money is released from the user's account only if you confirm that you are satisfied with this lesson.
Otherwise, you get a 100% refund. Users pay for the hourly rate of a selected English tutor, so the funds and times aren't transferable. Check the best websites to learn English here.
Preply Quality
According to the website's policies, every tutor's profile is checked manually by the support team before the verification. Their representative checks the background of a newly arrived tutor, their qualification, and profile completeness.
In other words, the final decision is made based on the information this person fills in after googling "Preply become a tutor."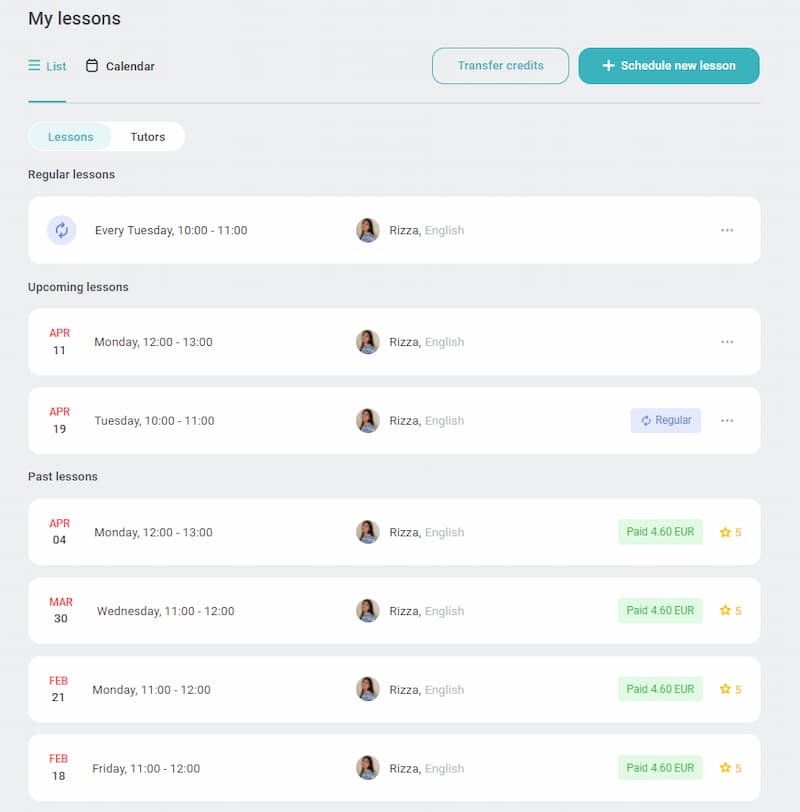 Meanwhile, the team reserves the right to reject the application without explaining the reasons for such a decision. There are no tests that would standardize the application process and prove a person's proficiency in a specific area.
Looking for top math tutoring services? Check the best online math tutors list and ratings on our website.
There are many Preply student reviews, where users determine the quality of the services as excellent. Tutor ratings are formed based on the feedback and Preply tutor reviews.
Each new tutor gets a corresponding tag on their profile. People who try to bypass some rules and whose behavior doesn't comply with the announced rules and policies are permanently fined or removed from the platform.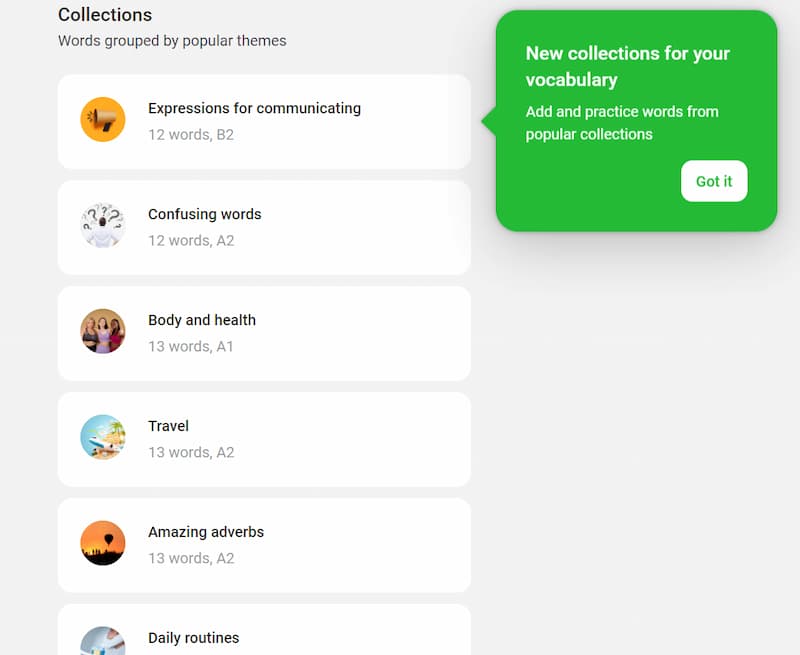 Is Preply a safe website?
The system blocks all personal information besides the tutor's name and country to provide contacts outside Preply — a smart move for the service, a restriction for users, and a good way to prevent Preply scams.
So, is Preply a scam? No, it is not.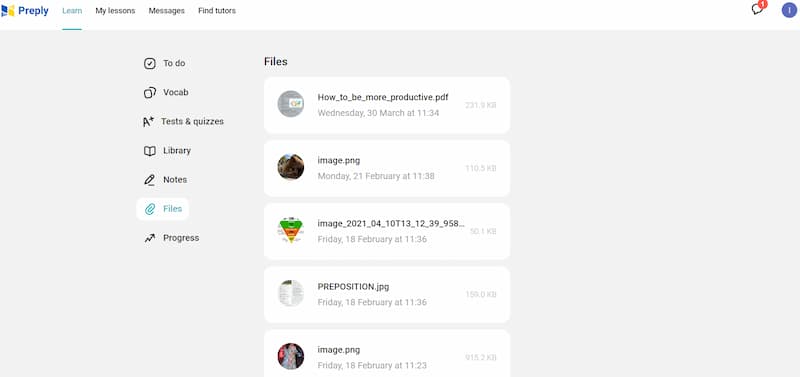 Not sure about how good the tutors you hire are? Check Varsity Tutors' ratings on our website. There are professional tutors for hire available.
Preply.com Customer Service
Live chat window pop-ups as soon as you open the site and start looking for a tutor displaying some basic tips and steps to use the platform.
A click on a chat opens the Help Center with numerous FAQs. Answers there are helpful if you need to figure out some general questions.
You can start a conversation with a support team member, who usually replies in up to five minutes (but only during business hours) — 6 am – 11 pm on weekdays and 8 am – 6 pm on weekends.
You'll need to leave a message and an email to get a response at any other time.
Preply.com Website Usability
The website has a pleasant, intuitive interface. It is not a state-of-the-art or award-winning solution, but it is minimalistic, with color and font variations, and is easy to understand.
Preply features all the necessary filters for choosing a perfect tutor: spoken languages, hourly rate, origin, available days and hours, and displays them by relevance, reviews, etc.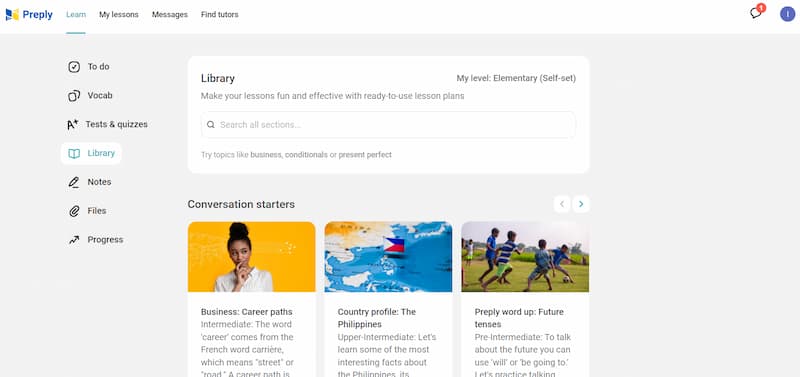 One of the best things about this company is its search system in general.
Before choosing a tutor, you specify several parameters, including your proficiency level, the purpose of learning, origin, etc. The search is available without logging in.

The Preply.com website design has changed during its existence. Comparing their design from each year since 2011, the biggest changes were made in 2013, and 2015, and the last one in 2018, which you can see now.
Preply works perfectly; we've found no errors whatsoever.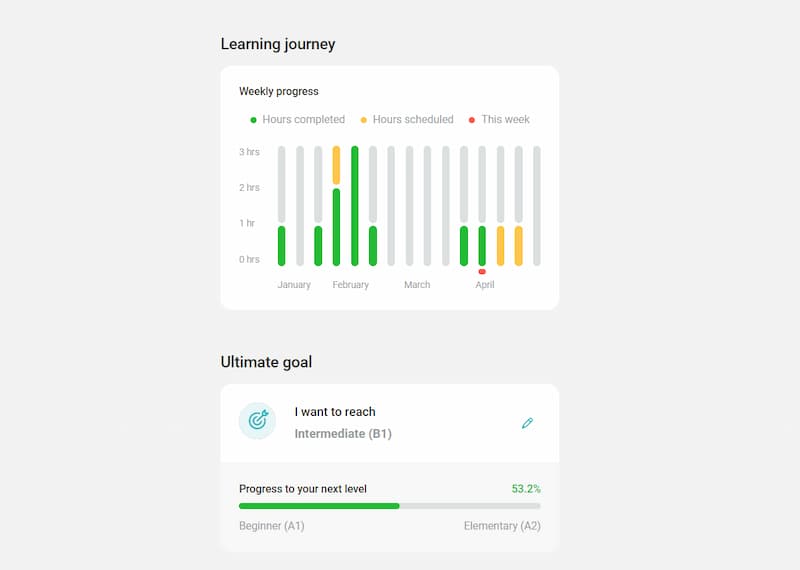 Also, remember to check pros and cons of Preply and websites like Preply as well.
Pros
Low hourly rate of English tutors (even for native speakers).
Preply uses Skype, which makes the connection between users from different countries easy.
Trial lessons with a money-back guarantee are available.
Tutor rating is based on students' reviews, so you can be sure they are good at teaching and not passing tests only.
Personal information is secure and not displayed to either student or tutor.
User-friendly interface with advanced search options.
Cons
You won't find quick help on subjects other than languages (we found this point in one of the Preply Canada reviews).
Not all teachers are credentialed as their backgrounds aren't properly checked.
Users aren't able to transfer time or money for other lessons or tutors.
There is a good chance you may need to spend some time looking for a tutor with the required qualification.
Package lessons don't always make sense when it comes to accuracy and flexibility.
The commission is reportedly high; as you cannot contact a teacher elsewhere, you pay more for Preply's services than actual education.