Choosing the right online tutoring platform can be a daunting task. In our comprehensive Preply review, we delve into the platform, a popular choice among learners, to assess its services, features, and overall value.
Our goal is to help you make an informed decision about whether Preply is the best fit for your learning needs.
To have a quick overview of Preply, please check a short video on Youtube below:
There are many variants of online tutoring: certified courses offered by world-famous universities, databases of lectures by specialists from different fields, custom writing services that help users master their essay writing skills, and online tutoring websites for those who want to get solid knowledge on a subject.
Unfortunately, not all of them provide services of proper quality. Users should still be aware of scams and irresponsible attitudes of teachers or management.
There are different parameters to consider when choosing a service, while user experience, pricing, security, and reliability remain universal.
Why Consider Our Preply Review
Before choosing online tutoring sites, it's crucial to get an impartial view of its offerings. Our Preply review provides you with an objective analysis of the platform.
When evaluating tutoring services, we consider several criteria:
Quality
Features
Prices
Preply Website Usability
Value for Money
Students' Feedback
Guarantees (money-back guarantee, privacy, etc.)
Our Preply review methodology is comprehensive and based on thorough research. We examine the platform's services from multiple perspectives, including both a user's point of view and an overall market positioning perspective.
Additionally, we make use of numerous sources, including firsthand user experiences shared on other platforms such as Youtube and Reddit.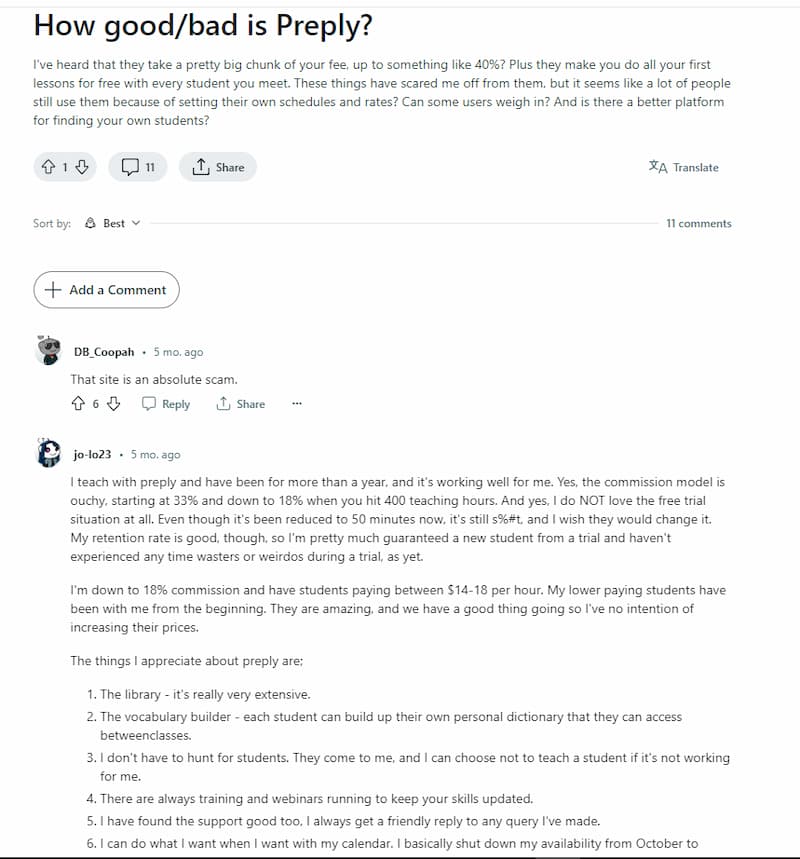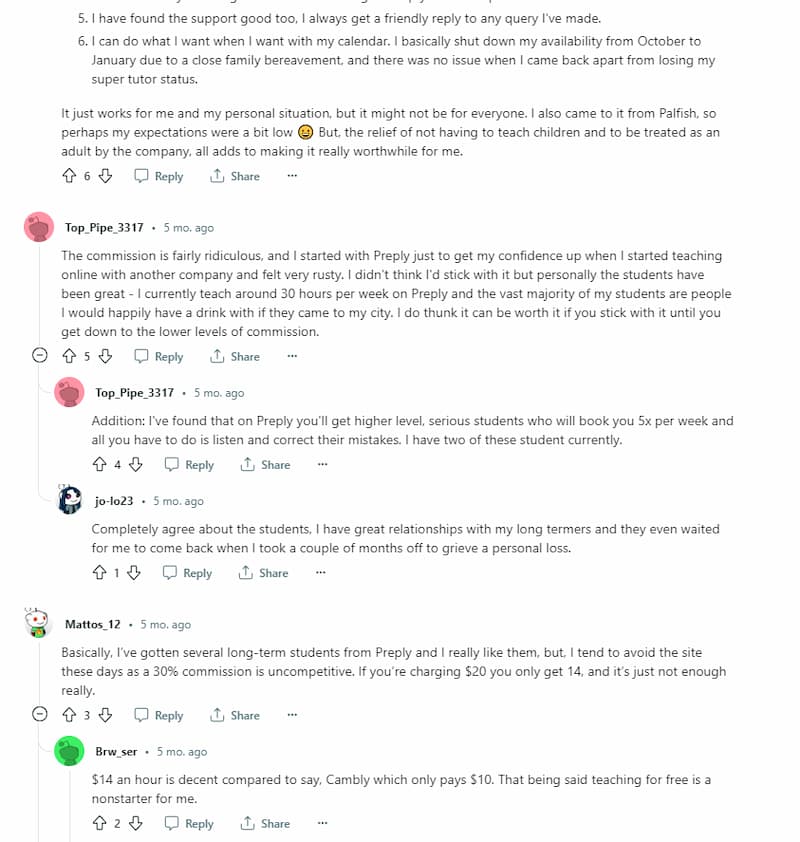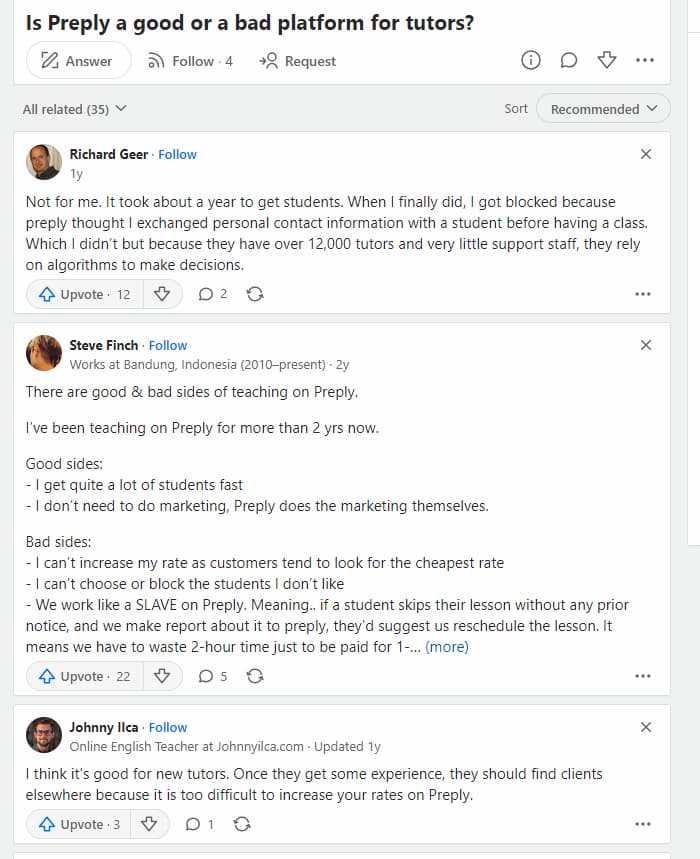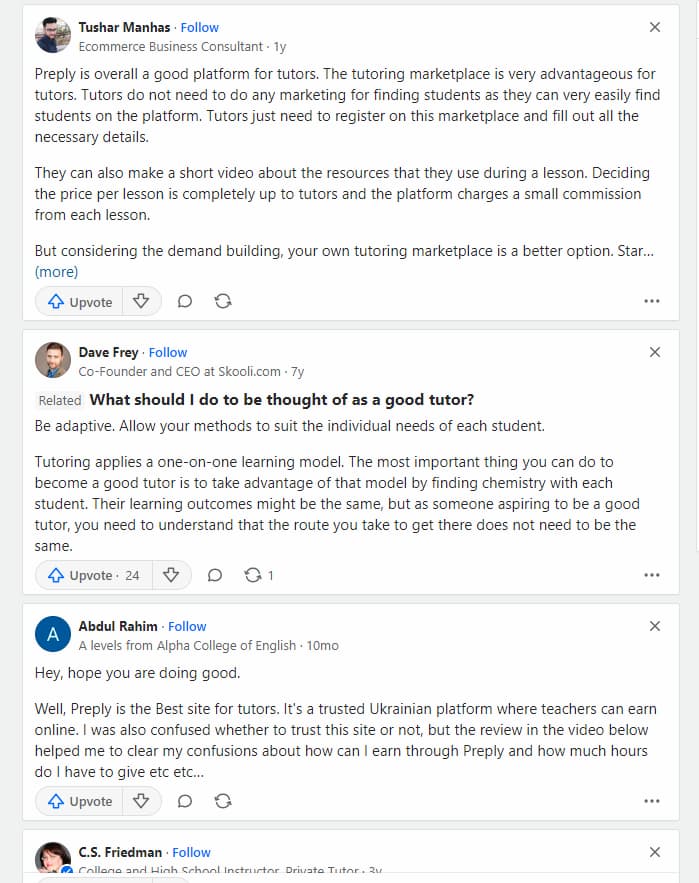 We were able to review Preply, tested the platform ourselves, and found the Preply tutor selection process to be seamless and user-friendly. The wide variety of Preply tutors available was impressive, and the ability to view an online tutor introduction video before booking helped in making informed decisions.
These firsthand experiences and observations enrich our Preply review, providing you with an in-depth understanding of what you can expect from Preply. You can also check our comparison between Preply vs italki if you are interested in language learning.
Preply Features that Stand Out
Preply is not just another tutoring platform. It is an ecosystem designed with the needs of the learners at its core, offering features that not only facilitate education but also make it a rewarding journey. Let's explore how the platform achieves this.

Who Will Find Preply Helpful?
Preply is designed to accommodate the learning needs of a broad spectrum of users.
Here's who can benefit from it:
Academic Students: From elementary math to college-level physics, Preply offers academic support across subjects. If you're grappling with tough concepts or homework, most tutors on Preply can guide you through them.
Language Learners: Whether you're a beginner learning Spanish for your next holiday or an advanced English learner aiming to ace the IELTS, Preply has got you covered. With online tutors from over 185 countries, you have the luxury of picking native speakers to gain perfect language skills and speak confidently.
Hobby Learners: Preply is a haven for hobby learners. You can learn to strum a guitar, master the art of painting, or even unravel the mysteries of astrology. If it's a skill, there's a good chance you can learn it on Preply.
What are the Main Features of Preply?
Preply stands out from the crowd thanks to a suite of thoughtful features. If you are interested in the comparison of Preply and Cambly, check it out here.
Personalized Learning
With Preply, you get one-on-one attention from your online language tutor, ensuring a personalized learning experience tailored to your needs and pace.
Trial Lesson
Before you commit to a full course, you can book a trial lesson with different Preply teachers. This way, you can find the perfect match for your learning style. If not, then choose a different tutor.
Tutor Ranking
Every language tutor on Preply is ranked based on Preply reviews from the students, making it easier for you to choose a reliable and great tutor.
Interactive Virtual Classroom
Preply's online virtual classroom supports video calls, chat, and a virtual whiteboard, creating an engaging learning environment.
Flexible Schedule
You have the freedom to set your online language lessons when it's convenient for you, so it's up to your own schedule.
From my experience, the blend of personalized learning and flexibility, coupled with the platform's user-friendliness, makes Preply a strong contender in the e-learning space.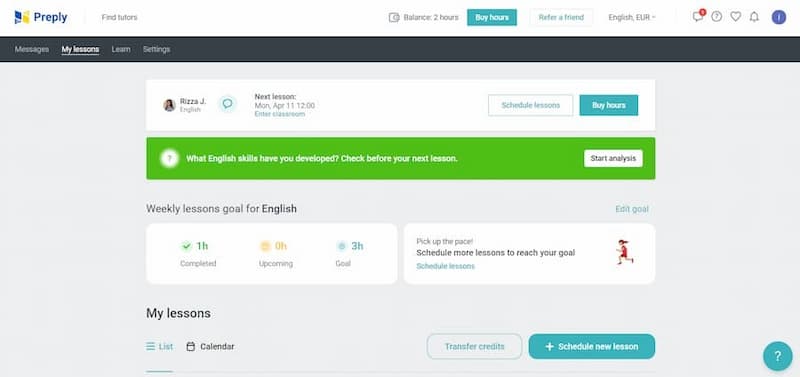 But the true value of Preply lies not just in its features but also in the experiences it enables. In the following sections, we'll delve deeper into how these features translate into real-world benefits for students.
So, read on to see how Preply can redefine your learning journey.
Preply Prices
One of the first things users typically want to know about a service is the cost, and rightfully so. When it comes to Preply, the cost of online language lessons varies widely as it is set by the individual tutors. This flexibility allows tutors from different countries with varying levels of expertise to set a price that is appropriate for them.
As a result, prices can range from as low as $5 per hour to $60 per hour or even more for highly specialized or sought-after tutors.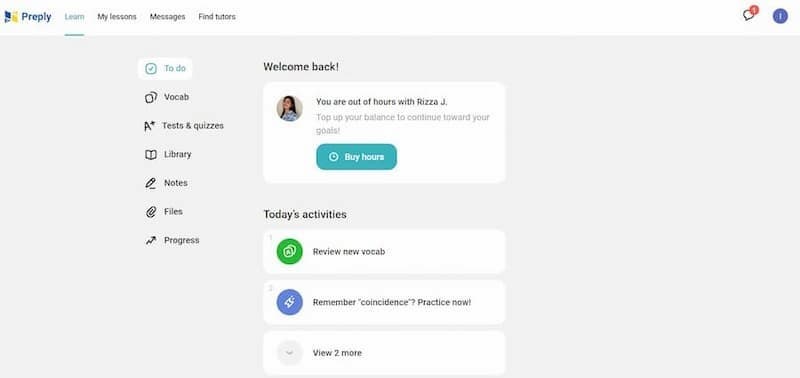 While this approach offers great flexibility, it also means you need to do a bit of research to find a tutor who fits both your educational needs and your budget.
However, Preply's filtering system can help simplify this process, allowing you to sort tutors based on price, specialization, nationality, and more.

In terms of payment options, Preply offers several for convenience. Users can make payments using major credit or debit cards, such as Visa, Mastercard, and American Express. Additionally, they also accept payments through PayPal.
All payments are processed through Preply's secure system, ensuring the safety and security of your financial information.
| | |
| --- | --- |
| Payment Method | Additional Information |
| Credit Card | Offers an easy, quick payment process and is widely accepted. |
| Debit Card | Directly linked to your bank account for hassle-free transactions. |
| PayPal | Provides an extra layer of security, shielding your card details. |
| Google Pay | A convenient option for Android users, enabling fast, simple payments. |
| Apple Pay | Ideal for Apple device users, offering secure and private transactions. |

So, while the costs on Preply can vary, the platform's flexibility allows you to find high-quality tutoring within your budget, and its secure payment options ensure you can pay with ease and confidence.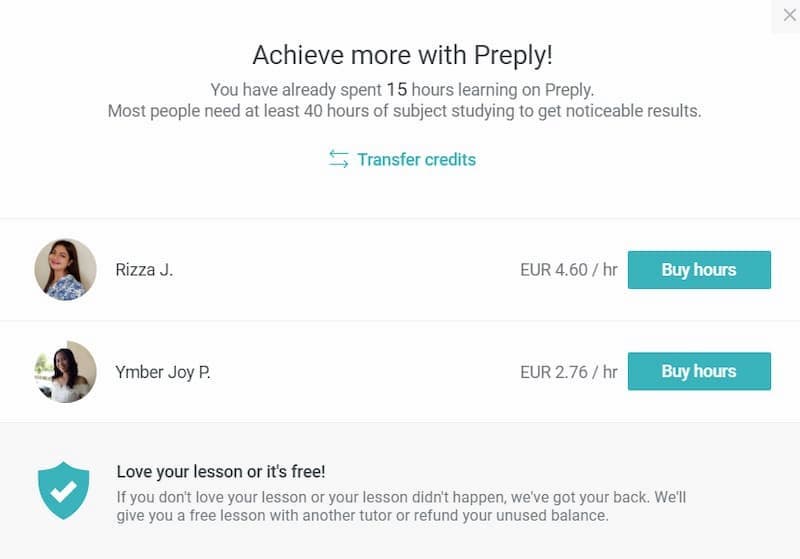 Quality of the Tutors
Quality is a crucial element to consider when selecting an online tutoring platform, and Preply does not disappoint in this regard.
On Preply, the tutors range from certified educators and experienced professionals to passionate hobbyists. With a community of over 40,000 tutors from around the world, you can find an expert in nearly any subject you wish to learn.
The platform allows you to review each tutor's profile, where they list their qualifications, experience, and Preply student reviews, which helps to ensure that you are receiving quality instruction.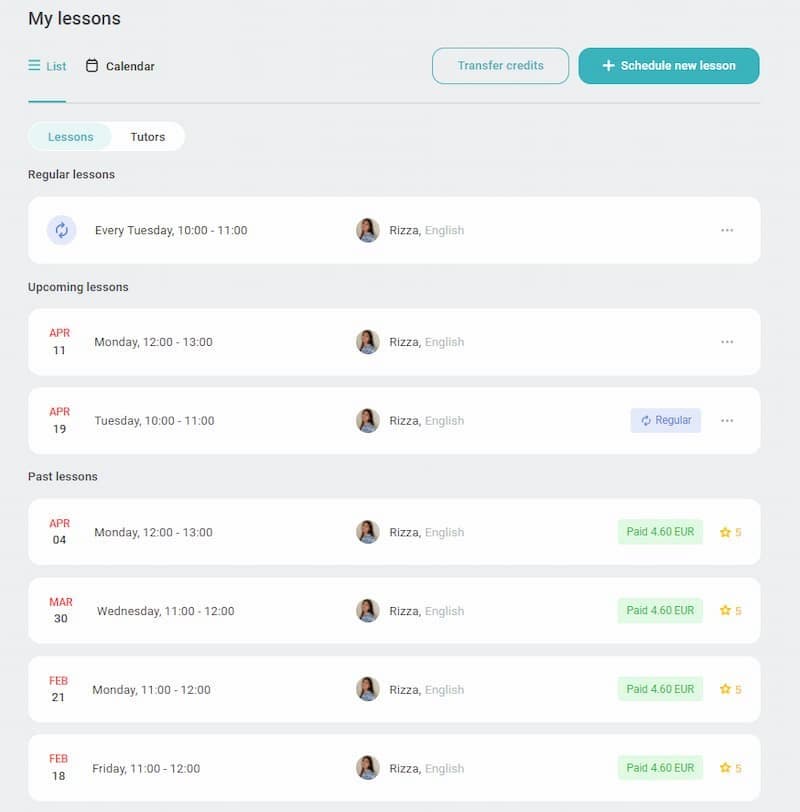 In terms of guarantees, Preply offers a 'First Lesson Guarantee'. If you're not satisfied with one lesson for any reason, Preply will refund your payment or offer you a chance to take a single lesson with another tutor, free of charge.
When it comes to selecting an online tutoring platform, it's important to consider factors such as pricing, the qualifications of the tutors, and overall value for money. Let's compare Preply with Lingoda, VarsityTutors, and Wyzant on these criteria:
| | | | |
| --- | --- | --- | --- |
| Platform | Price Range (hourly) | Tutor Qualifications | Value |
| Preply | $5 – $60 | Tutors range from certified language teachers, professionals in their field, to passionate hobbyists. All tutors are verified by Preply. | High value for the cost due to the wide variety of tutors and price ranges. Offers a 'First Lesson Guarantee'. A native speaker as your language teacher. |
| Lingoda | $10 – $50 | Tutors are certified and have a high level of professional experience. | Good value for money. However, it's generally more expensive due to its focus on language learning with a certified language tutor and a native speaker, of course. |
| VarsityTutors | $25 – $75 | Tutors are mostly certified educators with a strong academic background. | High-quality tutoring but it could be expensive depending on the subject and the tutor's expertise. |
| Wyzant | $30 – $60 | Tutors include certified language teachers, college professors, and professionals. | Offers high-quality tutoring, but prices can be on the higher side. |
From the comparison, it's clear that while each platform offers high-quality tutoring, Preply stands out for its value. With its wide range of tutors with various price points and the 'First Lesson Guarantee', Preply offers a quality education at a cost that can fit various budget ranges.
Prices for tutoring services are quite different, so try to check several options on Wyzant.com to make the right decision. Is Wyzant legit? Find more details on our Wyzant review.
Effectiveness of Learning
One of the most pressing concerns for anyone investing in an online tutoring platform is whether they're getting their money's worth. In the case of Preply, the answer is a resounding yes. Check the best websites to learn English here.
Is Preply worth it?
The value derived from Preply is tied to its personalized approach to learning. The platform enables a one-on-one tutoring experience, where tutors tailor their teaching style and materials to your specific needs and goals. This customization can enhance the learning process and lead to better outcomes.
Additionally, Preply offers a trial lesson. This feature allows you to test out a few tutors before committing, ensuring that you're making an informed decision about who will guide your learning journey.
What do you get for the money paid?
Your investment in Preply buys more than just an hour of a tutor's time. It buys a learning experience that's been personalized to your needs, goals, and pace. Alongside your Preply lessons, you gain access to an interactive online Preply classroom, the ability to message your new tutor any time, and a learning plan tailored to you.
How valuable is it?
Preply's value extends beyond the features it offers. Giving you access to a vast network of tutors across a wide range of subjects creates a learning environment where you can progress at your own pace, with instruction tailored to your specific learning style.
Looking for top math tutoring services? Check the best online math tutors list and ratings on our website.
This personalized attention and flexibility can accelerate learning and make it more enjoyable, providing value that far exceeds the monetary cost.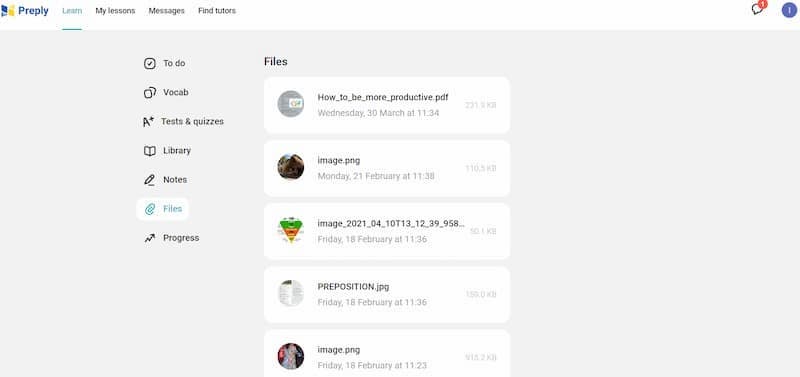 Is it helpful for getting ready for a test like the SAT?
Absolutely. Preply is an excellent resource for students preparing for standardized tests like the SAT. With a host of tutors specializing in SAT preparation, the platform can provide targeted, high-quality instruction to help you excel.
From tackling complex math problems to mastering the nuances of the reading comprehension section, a Preply tutor can guide you every step of the way, making it an invaluable tool in your test prep arsenal.
The Most Popular Tutoring Options on Preply
The beauty of Preply lies in its wide array of tutoring options. But amidst this variety, certain categories have proven particularly popular among users. Let's delve into these top choices and see what makes them stand out.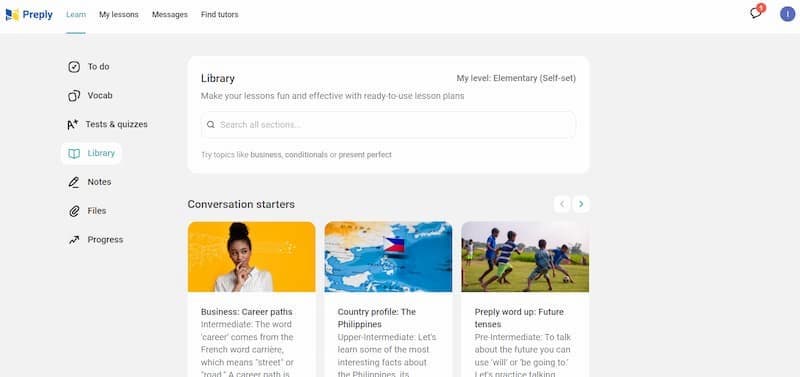 Language Learning
Unsurprisingly, learning languages is one of the most popular options on Preply. The platform boasts a large and diverse roster of language tutors for over 50 different languages. Whether it's English, Spanish, French, Mandarin, or even a less commonly taught target language, learners have plenty of choices for language learning.
Users praise the diversity and quality of language tutors, particularly the ability to learn from native speakers.
We're impressed by the sheer range of languages available and the opportunity for learners to be matched with native speakers. This enriches the learning experience by incorporating cultural nuances and authentic pronunciations.

Academic Tutoring
Whether you're a high school student needing help with algebra or a college student struggling with statistics, academic tutoring on Preply is a popular choice.
Students appreciate the diversity of subjects offered and the quality of tutors who are often experienced educators themselves.
We appreciate the versatility of Preply's academic tutors. The platform does a great job of catering to a wide range of academic needs, from basic arithmetic to college-level physics.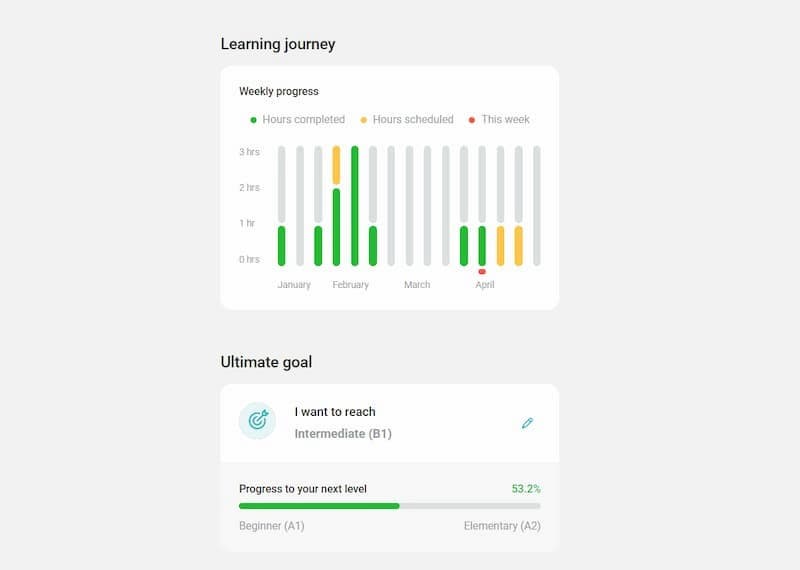 Test Prep
Standardized test preparation is another area where Preply shines. Whether you're preparing for the SAT, ACT, GRE, or language proficiency tests like IELTS or TOEFL, Preply has the right tutor specializing in any area.
Users value the targeted instruction and strategies shared by tutors, helping them to improve scores and reduce test anxiety.
We're impressed with the specificity of test prep on Preply. Tutors don't just know the subject matter; they understand the structure of these exams and can provide students with effective test-taking strategies.
Hobby Learning
From guitar lessons to graphic design, Preply allows users to pursue their passions and hobbies under the guidance of skilled tutors.
Users love the opportunity to learn new skills from experienced hobbyists and professionals in a structured and personalized manner.
We're fans of the diverse hobby learning options on Preply. It showcases the platform's commitment to lifelong learning in all its forms.
So, whether you need a few language lessons, or you are preparing for an exam, or picking up a new hobby, Preply's popular tutoring options offer quality and diversity to suit your learning needs.
| | |
| --- | --- |
| Tutoring Subject | Features |
| Language Learning (e.g., English, French, Spanish) | Specialized and structured lessons for beginners to advanced learners. Native speakers and lesson plans are available. |
| Mathematics | From basic arithmetic to advanced calculus, purchase lessons tailored to different educational levels. |
| Science (e.g., Physics, Chemistry) | It is ideal for school support and advanced study. Tutors experienced in different science disciplines. |
| Humanities (e.g., History, Literature) | Explore cultures, epochs, authors, and more with well-versed tutors and get lesson summaries. |
| Computer Science | Multiple lessons for learning coding, algorithms, data structures, and more from experienced professionals. |
| Music | Music theory, instrument lessons, lesson plans, and more are offered by trained musicians. |
| Art | Learn techniques, art history, or simply explore your creativity with qualified art tutors. |
Student Feedback and Reputation on the Web
For many prospective users, reviews from previous clients serve as a valuable tool in assessing the reliability and effectiveness of a service. Let's take a look at the feedback from Preply users and the platform's overall reputation.
Support Staff
From my research and personal experience, Preply's support staff stands out as courteous, responsive, and helpful. They are available 24/7, ensuring that any issues or inquiries are addressed promptly. The team shows a consistent commitment to resolving any problems and enhancing the user experience.
Client Reviews
Preply enjoys a positive reputation among its user base. Let's explore some reviews from various platforms:
Trustpilot: Preply has a rating of 4.4 out of 5 stars based on over 2000 reviews, with many users praising the platform's user-friendly interface, diverse tutor selection, and responsive customer service.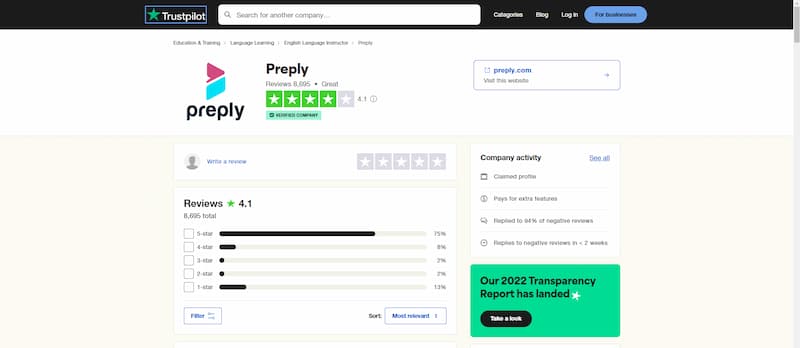 Reddit: Discussion threads about Preply on Reddit are generally positive. Users frequently comment on the high quality of tutors, the flexibility of scheduling lessons, and the ease to purchase lessons.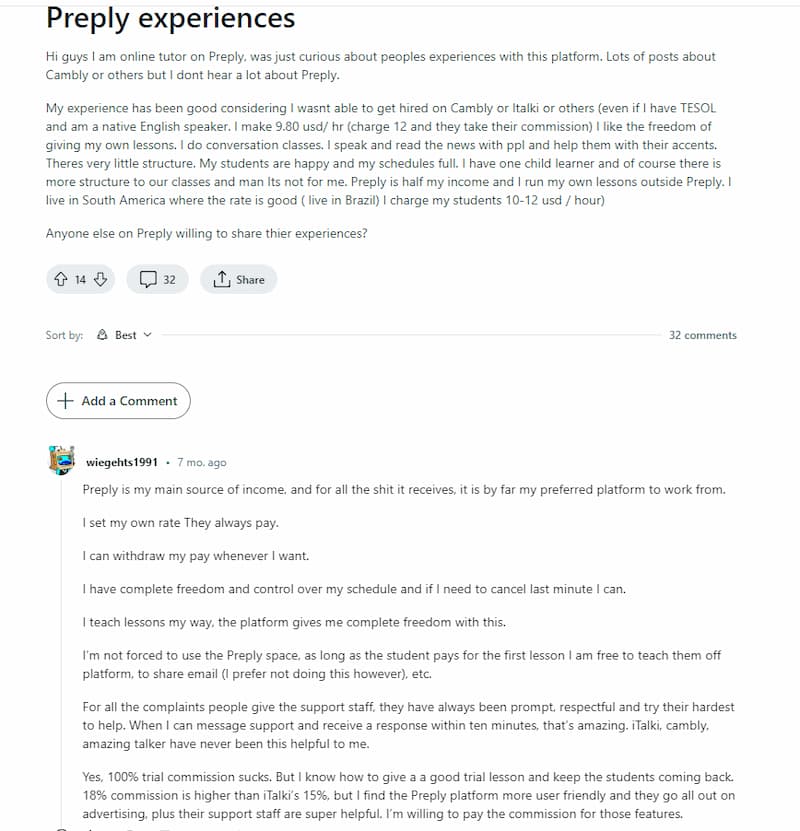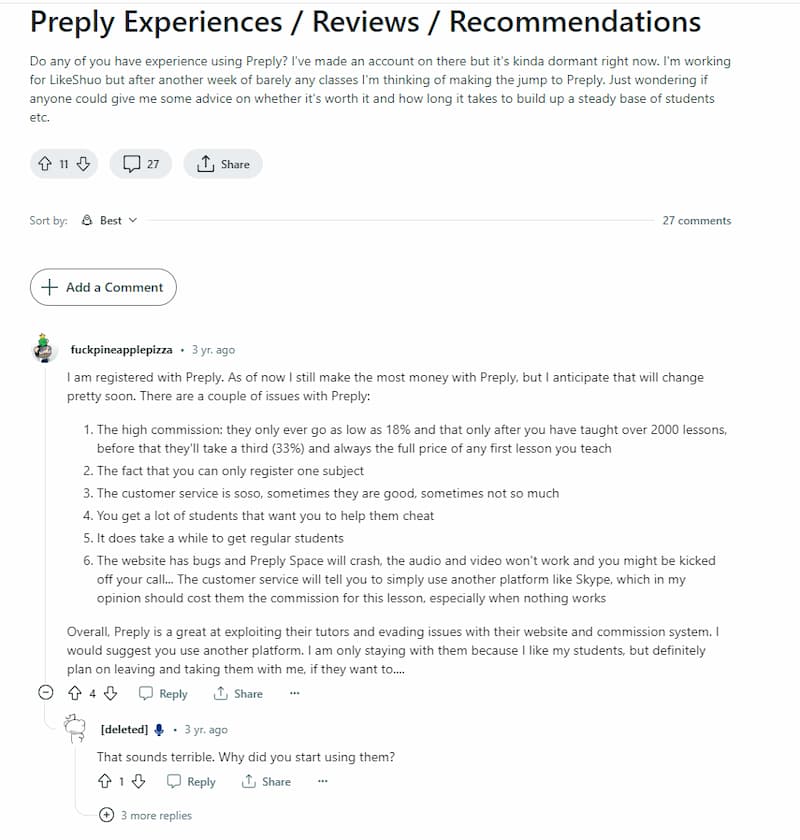 Sitejabber: On Sitejabber, Preply holds a strong rating of 4.1 stars. Users particularly appreciate the wide range of tutors and subjects, as well as the platform's user-friendly design.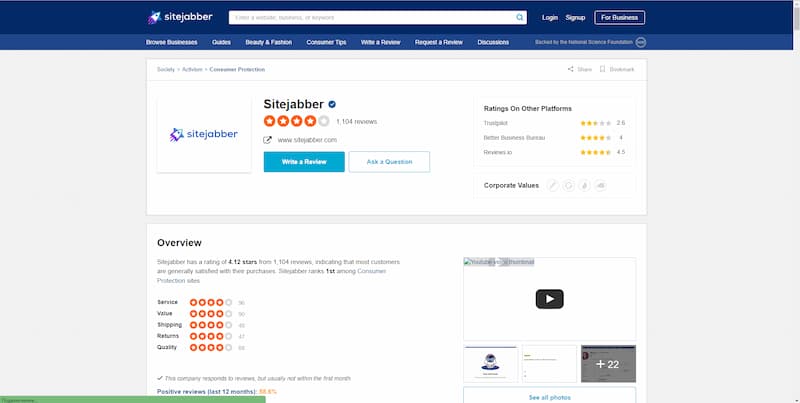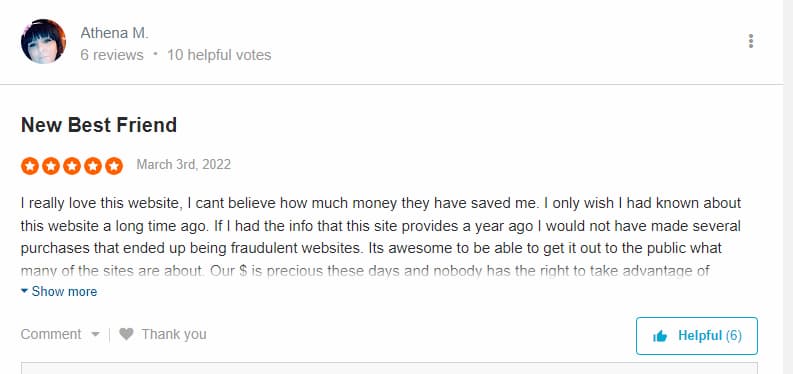 Google reviews: The Preply team boasts a high rating of 4.6 stars on Google reviews. Reviewers regularly highlight the platform's excellent customer service and the high caliber of tutors.
From these reviews, it's evident that Preply is held in high regard by its users. The platform's strong reputation is a testament to its commitment to quality and customer satisfaction, making it a reliable choice for your tutoring needs.
Pros
Extensive selection of tutors.
Wide range of subjects.
Flexible scheduling.
User-friendly interface.
Responsive customer service.
Introduction videos from tutors.
Cons
Inconsistent pricing.
Commission rates.
No in-person tutoring option.
Trial lessons aren't free.
No group classes.
FAQ
Is Preply legit for students?
Yes, Preply is a legitimate platform offering a broad selection of tutors for various subjects, and it's highly rated by students.
How does Preply work for students?
Students on Preply find a tutor, purchase single lessons, then engage in one-on-one online tutoring sessions at their preferred schedule.
How much does Preply cost?
Prices on Preply vary widely, ranging from $1 to $100 per hour, depending on the tutor's expertise, experience, and subject matter.
What is the disadvantage of Preply?
Some potential downsides of Preply include variable pricing, no free trial lessons, and the lack of in-person or group tutoring options.
Is Preply good for learning French?
Yes, Preply is an excellent platform for learning French, with a wide range of French tutors, including native speakers.
Is Preply good for learning Spanish?
Yes, Preply is highly effective for learning Spanish, offering a rich selection of Spanish language tutors, including native speakers. Just browse tutors and check their teaching experience. Check our list of the best Spanish learning websites to use when driving.
Are there trial lessons available?
Yes, the Preply platform does offer trial lessons, but it's not a free trial lesson. The price for a trial lesson is usually lower than the tutor's regular rate, giving students an opportunity to experience the tutor's teaching style before committing to regular sessions.
Is Preply a scam?
No, Preply is not a scam. It's a legitimate online platform that connects language learners and other students with different tutors across a variety of subjects. The platform has a strong reputation with high Preply tutoring reviews and positive ratings from users, further demonstrating its legitimacy and reliability. Preply scams nobody. But there are a few good Preply alternatives that can be found online.
Is Preply a safe website for language learners?
Yes, Preply is a safe website. The platform uses secure protocols to protect user data and transactions. Moreover, it follows privacy laws and regulations to ensure the confidentiality of user information. Preply teacher reviews and ratings across other platforms also attest to its safety and legitimacy.
Is Preply safe for making online payments?
Yes, Preply is safe for making online payments. The platform uses advanced encryption technology to protect your financial information during transactions. It accepts multiple secure payment options, including credit/debit cards and PayPal. It's committed to providing a secure environment for its users to conduct transactions.
How many hours should I study to learn a new language?
According to the Foreign Service Institute of the U.S. Department of State, it takes approximately 480 teaching hours to achieve basic fluency in Group 1 languages (like French, Spanish, and Dutch) and up to 2,200 hours for Group 4 languages (like Chinese, Japanese, and Arabic) when learning with structured methods.
How to book lessons?
To book future lessons on Preply, simply find a tutor, select a date and time from their calendar, purchase the lesson (it could be a trial lesson), and attend the lesson via Preply Space (Preply classroom), the platform's video chat.