Overall Comparison of Preply and Cambly
When learning how to speak English, students must always have access to the best online resources and materials. Many study websites promise to optimize students' learning experience and teach them valuable lessons. But they fail to live up to expectations.
Two online platforms offer students access to detailed content – Preply and Cambly. When you look at what these study websites offer, there's no doubt that they offer you the best way to learn a language. But many students struggle with deciding between both platforms. If you fall into this category, you're at the right place. This piece will review impressive details on Preply vs Cambly.
| | | |
| --- | --- | --- |
| Platform | Preply | Cambly |
| Price | Average of $20 – $70/hour | At least $100 (yearly plan) |
| Nature of Tutors | Native speakers | Native and non-native speakers |
| Class format | Formal | Informal |
| Subscription Plan | Hourly | Daily, Weekly or Montlhy |
If you're torn between learning with Memrise or MosaLingua, our side-by-side comparison of Memrise with MosaLingua will help you make an informed decision.
Key Features of Both Platforms
So, which is better Preply or Cambly? To settle this debate, we'll review the key features of these online platforms. By doing this, we'll learn what each platform excels at and how they compare against each other.
Preply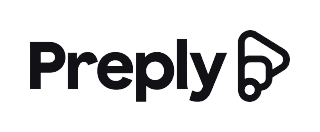 Customized learning
Easy to find a great tutor
Wide price range
Exchange personal contact information with your tutor
No certification requirements to become a tutor on this platform.
If you are interested in becoming an English native speaker and are looking for the best tutor to take you on the best courses to aid your development, Preply is an ideal learning platform to help you out. This website is also a great place for advanced learners who are only looking to improve their knowledge of certain areas of English.
Preply stands out from many online learning platforms because it emphasizes customized learning. Therefore, every student has the chance to choose whatever they wish to learn. This tutoring service takes language learning to another level.
One of the most exciting things about this platform is how relatively easy it is to get a tutor for yourself. The platform is easy to navigate, and even new students will have no problem identifying expert English tutors. Different tutors have registered on the website, and students can choose between the available alternatives.
What's more? You'll come across tutors with a wide range of price ranges. The website also allows you to search for tutors who are experts in specific English language areas.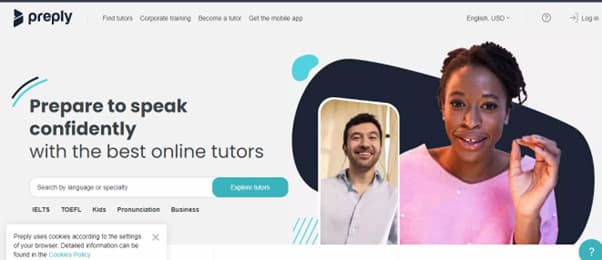 There's no doubt that Preply puts plenty of effort into creating a system that matches every student with the type of tutor they need. If you're the type of person who has set goals for themselves, you'll find this structure quite useful. On this learning platform, tutors set their own rate. All you have to do is find one within your range. Rates may vary from $20 per hour to $70 per hour.
To decide on the best tutor for yourself, you can go through profiles, search according to your language, the tutor's availability, price, and so on. You'll also get the chance to check the feedback from older students. If you're not fully convinced, there's an option to book a trial with the tutor. You can learn more about the tutor during this trial through personal questions.
This way, you'll be able to find out if he or she fits your needs. If you're satisfied with the person, you can work with the person to create a lesson plan on how you'll progress with your knowledge of how to speak English properly. You can let the tutor know your weaknesses and work with them closely, according to a schedule that suits you.
Preply aims to help students by offering personalized, one-on-one contact with expert tutors. You'll find numerous certified tutors on the platform. However, you need to note that there are no certification requirements to become a tutor on this platform.
Preply: Why Is It Better Than Cambly?
When comparing Preply versus Cambly, you have to understand that there are certain ways that the former stands out. To start with, it's worth noting that Preply offers learners a structured environment while Cambly sticks to its premise of informal learning.
Some may argue that Cambly has resources and materials to help students learn in a classroom environment. However, it's nothing compared to what you get with Preply.
Preply is a study platform that is open to native speakers of different skill levels. If you're a beginner, you may fare better by choosing a tutor who speaks your mother tongue. They will have a clearer understanding of what you're going through and the areas you'll need to focus on.
However, intermediate and advanced speakers may need to pick a native speaker because they'll have a better knowledge of idioms and pronunciation. Most Preply tutors are certified.
Therefore, you can rest assured about the quality of the service you're getting from them. But you'll still need to look for tutors who sign up on the platform without verifying their certifications.
The education experience on Preply is as personalized as you can get anywhere. You'll be paying a tutor to take you on important lessons. This website only serves as a marketplace and medium to aid the interaction between tutor and student. You'll get to study with the tutor until you've decided that you have learned more than enough or till you decide to continue your learning with someone else.
As a result, you'll always have the choice to learn according to what suits you. An interesting thing to note is that you don't have to pay for the lesson if you have issues with your internet connection.
On Preply, the only way to lose money is when you cancel a class within four hours before the start of the lesson. By failing to cancel or postpone your class within a sufficient time range, you'll be forced to pay for the class. This study platform requires lesser commitment from students because it only requires you to pay per hour.
Furthermore, Preply allows you to exchange personal contact information like Whatsapp, Facebook, Telegram, or Instagram details with your tutor after your first class. This information can ensure that both of you can organize your classes effectively.
Exchanging contact information is prohibited on Cambly. You may get banned for it. In general, there are fewer restrictions placed on Preply tutors. This makes it easier to share resources between teachers and students. This study platform is a great choice if you're interested in independent study materials.
Outschool.com is a popular platform for homeschooling and supplemental learning. Read Outschool.com reviews to understand why it's loved by both parents and students.
Cambly

Plenty of material
No formal or structured lessons
Video chat with fluent speakers
A great section for business English
It is prohibited to exchange personal details with your tutor.
Cambly is a different type of learning platform. While it's a language learning platform like Preply, it's designed for kids, teens, and adults. There's plenty of material to keep you immersed for many days. This platform is a great choice if you're not looking for formal or structured lessons.
Cambly adopts a different method to teach you how to become a great speaker. This learning platform will be allowed to video chat with fluent speakers and practice their language speaking skills through regular conversations.
Despite being a casual tutoring service, Camnly has gained much popularity for its effectiveness. Instead of sticking to the popular classroom setup, Cambly takes things a step further. This platform is a more flexible alternative because it allows students to practice how to speak English through live chats with native speakers.
By doing this, you'll learn proper pronunciation and nuances of the language first-hand.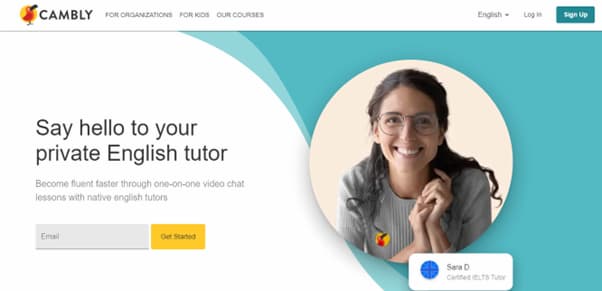 Because of how this learning platform is structured, you can use it for virtually anything. In the past, users have used it to practice becoming native English speakers, study for TOEFL or IELTS, or casually brush up their skills for a vacation. Instead of bombarding students with information, this platform aims to educate through personal contact and real conversations.
Through constant practice, you'll be able to grasp many important concepts and speak just like a native. However, you'll still find some useful learning materials on the website. What's even better is that these resources are targeted at specific needs.
Cambly provides users with lessons on specific conversation topics, such as family, hobbies, food, etc. There's also a section for business English. This platform is designed for informal learning, but there's also adequate content for intermediate and advanced learners.
These topics focus on niches such as fitness, technology, pop culture, etc. Cambly is popular because it's a more relaxed way to learn how to speak English. It's a flexible study platform, and you can decide almost everything.
The price plans on Cambly are designed to allow users to pay according to how much they use the platform. You can choose to learn for two, three, or five days a week. Finally, you'll decide if you want to spend 15, 30, or 60 minutes daily.
Cambly: Why Is It Better Than Preply?
It can be tough when deciding whether to choose either Cambly vs Preply. Now, let's look at where Cambly stands out.
The first thing to note about Cambly is that it offers players better flexibility. This even extends to the pricing plan for lessons. On Cambly, the learning experience is subscription-based. If you learn how to maximize your subscription and experience, you'll be making the platform lose money.
The only way for the platform to make money off you is when you fail to exhaust your time during your classes, and there's only a slim chance of this happening. Most people would readily use up all their time and spend it brushing up their skills.
You must subscribe for many months to get the best out of this platform. Learning a language is a fairly lengthy process. Therefore, you may need more than a few weeks of constant practice. Cambly helps you put your money where your mouth is.
However, there are no breaks for this service. Because it's subscription-based, it's impossible to cancel or skip classes. You won't get a refund for such actions.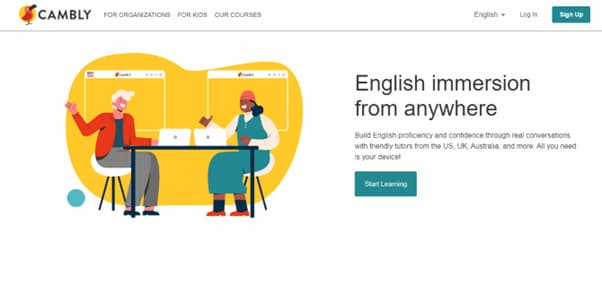 Many people fall in love with Cambly because of how convenient it is to use. If you want to spend an hour engaging someone in the English Language, it's the place to be. All you have to do is navigate to the platform to get started. You can use it in a taxi, at a cafe, at a restaurant, or from the convenience of your home.
Also, if your tutor isn't available, you can immediately opt for someone else. You may have to make a few random calls to some tutors before you get the right pick, but it will be worth your time.
On the other hand, Preply requires that you fix your classes beforehand. You won't be allowed to switch to a new tutor without ending the contract with the former.
Pricing Comparison
The next thing to do when try to compare Preply and Cambly is the price at which you'll hire tutors on both study platforms. This will be a big factor in helping those who wish to become native speakers settle on a final choice.
When using Preply, you'll be charged per hour for hiring a tutor. Depending on the rate charged by the tutor, you could pay between $20 – $70 for a session. However, prepare your mind to pay even higher if you're interested in learning from the best on the platform. An interesting thing to note about Preply is how it matches students with tutors that suit their needs.
On the other hand, Cambly is a study platform that allows users to choose a pricing plan that suits their budget. The pricing plan will depend on the duration and frequency of engagement you'll have with your tutor.
The platform requires a one-time payment to give you full access to the course catalog and tutor community. You'll find top-rated tutors here that will aid your learning journey. There's no fixed rate for hiring tutors on Cambly.
When you compare the pricing of both online platforms, it's clear that there is no real difference – especially if you will be using the platform for an extended period. The amount of money you pay depends on the quality of your tutor. You can opt for a quarterly renewal option at around $100 per month.
Quality of Learning
So, what's the quality of learning you're bound to get on Preply and Cambly? When considering what they offer, you'll be surprised at the similarities between both platforms.
Preply is an online learning platform that matches tutors with learners based on certain key parameters. Students can use this platform to search for tutors by considering certain key factors, such as their level of qualification or availability.
Preply requires that all students identify suitable tutors and engage them. This platform also requires that all tutors verify their qualifications before they are given access to its marketplace. As a result, you can rest assured that you're in safe hands.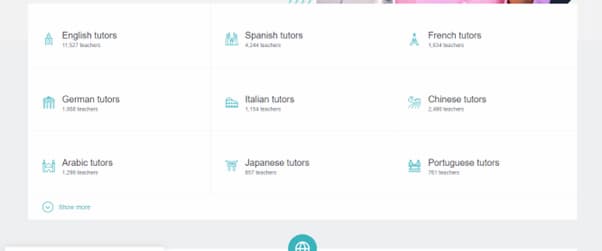 Cambly is a website that's designed for informal learning. This online study platform is perfect for use by individuals and organizations. Students learn by engaging native speakers in conversation.
One thing that stands out about how Cambly runs its business is that it allows tutors to come on the platform without necessary verification.  This means that you'll find tutors here that may not be the best qualified to teach you.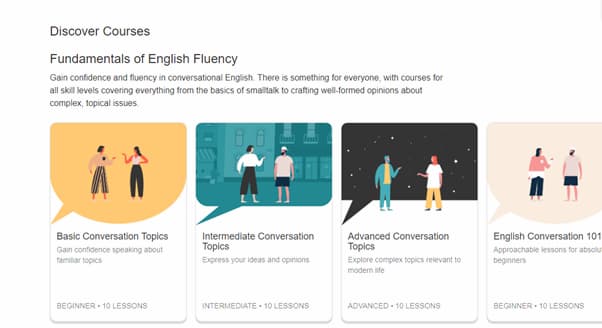 While you'll find many tutors committed to helping you improve your spoken English, you must look for bad eggs. When using Cambly, there's no guarantee of learning from the same tutor every time.
Many students change teachers regularly, and their learning will fail to get into any particular rhythm. However, there are learning resources and materials for intermediate and advanced learners.
Overall, we can say that both platforms offer value for money. However, you need to be wary about your choice of tutor.
Main Disadvantages of the Platforms
We've spent a long time looking at what both platforms do well. Now, let's consider their demerits too.
Cons of Preply
Preply is an online study platform that focuses only on providing structured lessons to advanced learners. While there's a ton of information on the website, beginners may struggle to understand certain key concepts.
Preply maintains a strictly formal system. This means that all lessons are taught in a classroom setting. If you are the type of person who likes to loosen up while learning, this may be a challenge for you. There'll be little room for random conversations.
Preply places restrictions on the tutors that can sign up on the platform. Sadly, you need to have verified certfications to be a tutor on this platform.
Cons of Cambly
Cambly fails to does not place any serious restrictions on the tutors that can sign up on it. As a result, you may come across tutors that are less qualified.
As a tutor, you may earn lesser using Cambly. Due to the informal structure of this learning platform, the rates of tutors are considerably lower. You'll find tutors who earn as low as $10/hour here.
When using Cambly, there's a lesser chance of coming across a learning structure that's personalized to suit you. At best, you'll find a tutor who'll connect with you and you can have meaningful conversations.
Cambly vs. Preply For Teachers
If an English native interested in becoming a tutor, you may consider either of both platforms.They offer you the chance to earn a reasonable amount of money from teach others how to properly speak English.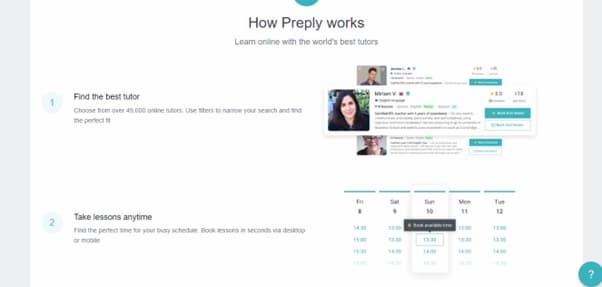 For English tutors, Preply is an platform that's easy to join and pays premium rates for your services. However, you would need to submit necessary qualifications to prove that you're capable of handling.
When working on Preply, you'll be hired on different contracts. After setting your rate, you'll be hired by students and have to schedule meetings with them.
Tutors on Cambly have easier access to the learning platform. Native and non-native speakers can sign up in a few easy steps. What's more? There are no educational requirements to complete the registration process.
When using Cambly, there's a lesser chance of continuity with your students and you may have to teach someone new everyday. Also, Cambly versus Preply for Spanish is more effective than you'd expect to find anywhere.
FAQs
Which is better Preply or Cambly?
When deciding which is better between Preply Spanish versus Cambly, it can be quite difficult to settle on a final choice. Both of them excel in different areas. While Preply is designed for a personalized and structured experience, Cambly is for lovers of informal learning.
Is Preply worth it for tutors?
Preply is a great idea for tutors who want to teach people to speak like natives while earning premium rates for their services.
Which is cheaper Preply or Cambly?
Both platforms; Cambly or Preply, are great choices, when looking for an online study platform that offers you quality education at affordable rates. Due to Cambly's informal nature, you can book sessions at a cheaper price, but you'll have to subscribe for a particular duration. Preply allows you to pay according to how you use the platform.