The endless features of online tutoring programs have made the choices pretty difficult for users. Some have outdated courses but lower prices, while others have fresh contents that come at higher costs.
So, in this review about Wyzant vs Varsity Tutors, we are going to break down every basic and advanced feature that might concern teachers and learners.
In the online tutoring world, only a few names seem to be ruling the market. Wyzant and Varsity Tutors are the two major choices of students and teachers. Well, each platform has some pros and cons, so choosing the right one can be pretty difficult.
Varsity Tutors vs Wyzant will help you decide whether and who you should go with. You cannot make this decision based on online reviews only.
The breakdown of all the features is the critical factor that is going to influence your decision-making process in big ways.
The math online tutoring platforms seem to be following the famous saying:
"You can't teach people everything they need to know. The best you can do is position them where they can find what they need to know when they need to know it." – Seymour Papert, MIT mathematician, educator, and computer scientist.
The main difference between Varsity Tutors and Wyzant is that the goal of both platforms is to help the students with the learning process with the help of online teachers, but the functionality is different, and there are some differences in the features too.
From the quality of the teacher to pricing, here is how Wyzant vs Varsity Tutors comparison goes.
Key Features of Platforms for Learners
Both platforms have some similar and different options. Knowing in detail the key features will help the learners to make the right decision. Let's find out the major differences between Varsity Tutors and Wyzant.
Wyzant vs Varsity Tutors has to be chosen based on the availability of their features that help the tutors to provide quality services to learners. In looking at these features, it is pretty clear that both platforms have some similarities and differences as well.
Varsity Tutors are more favorable if you are in search of quality information about an instructor who can help you to learn a language. While on the other hand, Wyzant is the better option for students who are looking for teachers with expertise in Algebra, History, Science, and many more common subjects.
So, let's have a look at Wyzant or Varsity Tutors comparison before starting with the features.
Wyzant

Video Chat;
Whiteboard;
Text Editor;
Code Editor.
Wyzant is more like a marketplace where the students can connect with professional tutors of their desired subjects. Wyzant does not offer tutoring services but helps the students and teachers by providing them with a platform to connect.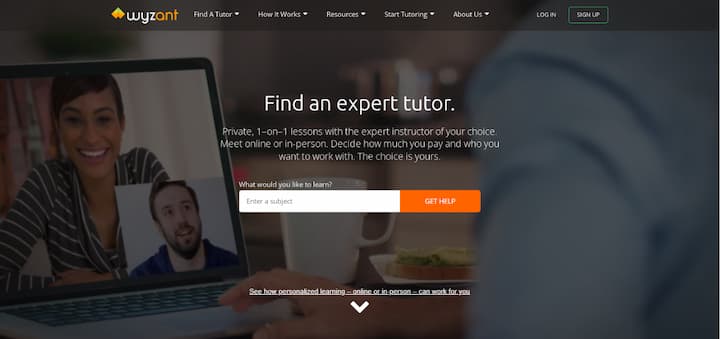 Although the platform might feel tutor-oriented, students will also enjoy the same level of ease and amazing experience while working with instructors on Wyzant.
The smooth experience and features support effective learning so that teachers can offer a better learning experience, whether it is about Algebra or English language class.
Here are some of the salient features of Wyzant for students:
Video Chat
Students can arrange video chats with the instructors for effective learning. The video quality is quite impressive, with sharp and clear audio.
Students can ask questions and communicate with teachers more effectively.
Also read: Teacher and Tutor Difference
Whiteboard
Students can easily share files with the teachers and the instructors can also use this function to draw and teach complex equations and graphs.
Text Editor
Editing and getting remarks on the submitted essays and other materials is quite easy with this feature. Real-time processing makes learning quite fun.
Code Editor
When it comes to coding and programming, students can benefit from a live code editor for a better understanding of the concepts.
Varsity Tutors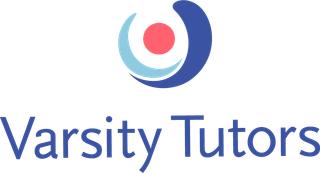 Better Score Guarantee;
 Receive Video Lectures;
Flexible Schedule;
Record Lessons and Lectures.
Unlike Wyzant, Varsity Tutors is more like a tutoring service where the platform is responsible for providing tutoring services with the help of professional teachers.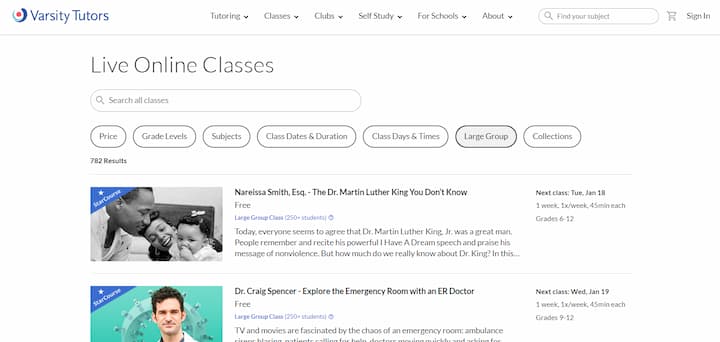 For private and group classes, Varsity Tutors has some amazing features that attract millions of students to this platform. Students can benefit from 40,000 plus different experts that can help with 3,000 plus subjects from different fields of academic and professional life.
There are a lot of Varsity Tutors reviews that you can benefit from for the selection of the right platform, and we have made things even more understandable for you.
Here are some unique features of Varsity Tutors for students:
Better Score Guarantee
Students can claim a full refund if they don't get a better score but don't forget there are some terms and conditions too. But, this is a big claim for serious students.
 Receive Video Lectures
Students can use Varsity Tutors on laptops or smartphones and can access the video lectures provided by the teacher. Collaboration and sharing of files are quite easier.
Flexible Schedule
With mutual understanding, teachers and students can agree on suitable tutoring hours. The flexibility of time allows more independent learning for the students.
Record Lessons and Lectures
Students can record the live lectures too. These features allow the students to get 24/7 access to the delivered lectures.
Tutoring Pricing Comparison
As we talk about choosing Varsity Tutors vs Wyzant, the pricing matters a lot. It does not matter how good is a platform, if the pricing is not affordable, students might be reluctant to join such a platform.
Now, let's compare the pricing for both platforms, and let's see which tutoring site is cheaper and has better packages for the students.
Wyzant
Finding the rates per hour for different teachers is easier as the help section has advertised these details. Professional instructors have also advertised their per-hour rate for tutoring on their profiles.
Usually, teachers are allowed by Wyzant to start the pricing from $10/hour but the average cost of learning at Wyzant ranges from $35 to $65 per hour. The average cost of learning at Wyzant is given below: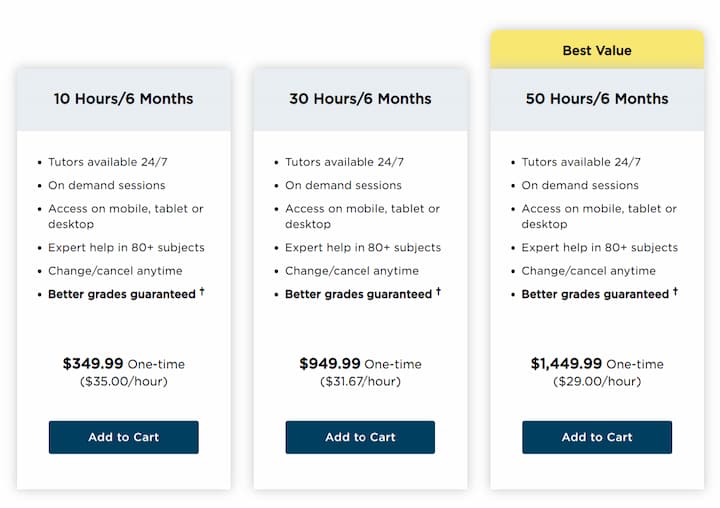 Test Prep cost: $35-$65 per hour;
Elementary/Middle cost: $32 per hour;
High School cost: $55 per hour;
College tutoring cost: $59 per hour.
Varsity Tutors
Being one of the best tutoring platforms available in the market, the rates might be a little bit more expensive than the competitors. Like Varsity Tutors, there might be other platforms too, but you may not get the desired quality.
For clear and detailed pricing for every specific subject by the instructors, you might have to contact the platform CS or you can request the packages for the instructors.
Here we have simplified the pricing of Varsity Tutors for you: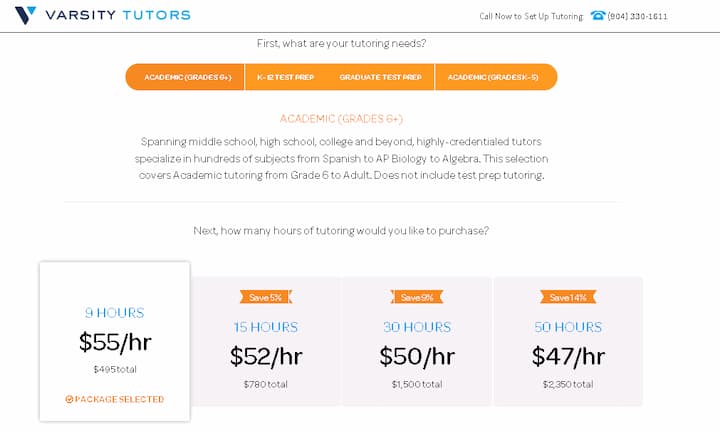 12 hours: $95/hour (total $1,140);
24 hours: $80/hour (total $1,920);
36 hours: $75/hour (total $2,700);
48 hours: $73/hour (total $3,504).
There is also a cost-effective solution for the students as they can form their small groups to share the tutoring costs. The use of our discount code can make things more interesting for you.
Quality of Tutors
Both platforms have instructors with professional certifications from prestigious institutes and years of experience in their relevant fields. Experiences and professionalism are quite big factors in choosing the right platform for your academic tutoring.
Wyzant has graduates from Harvard, Yale, and Princeton whereas Varsity Tutors have MIT and Stanford Certified professors as well as Ph.D. holders.
Wyzant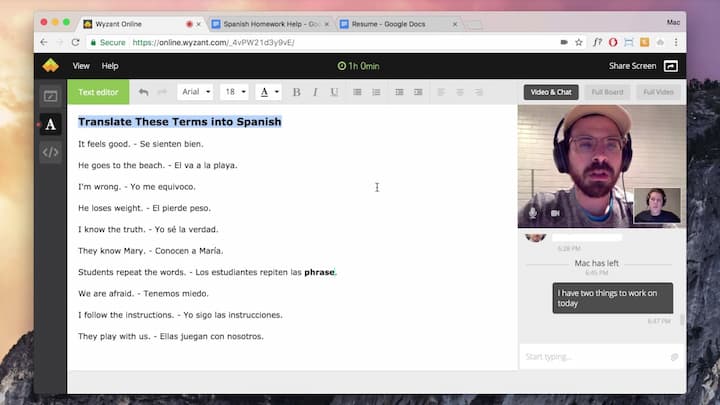 This platform offers full flexibility to the students regarding the choice of tutors. All the rates and costs of the tutoring are mentioned on the tutor's profile so students can make the right choice based on their requirements.
Students can browse the huge database of the world's top instructors that are offering services on Wyzant. Depending upon the mutual understanding, students can go with one-to-one tutoring or can join a group of students.
Varsity Tutors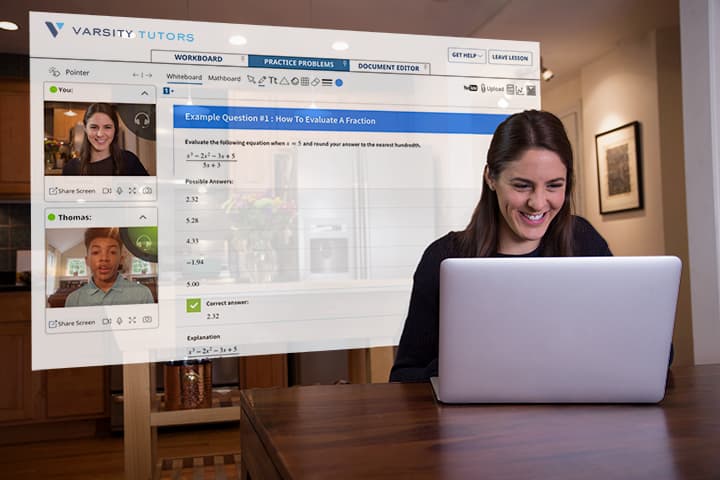 Connecting with instructors is quite different from Varsity Tutors. Students who are not sure about their tutoring needs can rely on the professional services of the education consultants of Varsity Tutors.
The consultant will closely work with you to understand your needs and requirements and then come up with the most suitable instructor as per your requirements.
Whether you choose Wyzant or Varsity Tutors, the way you connect with the tutors is different.
Main Disadvantages of the Platforms
Nothing is perfect and you can expect some downsides in the case of these platforms too. There are some bad experiences by the previous users and the parents who have mentioned some cons of both platforms on different platforms.
Although these platforms seem perfect, there is always room for improvement. There is a saying about the downside of technology.
"It's not a faith in technology. It's faith in people."
– Steve Jobs, Co-founder of Apple.
So, in this section, we are going to have a look at the possible disadvantages of both platforms that you need to keep in mind before making the selection for Varsity Tutors or Wyzant.
Wyzant
On most of the review sites, Wyzant received a positive rating but there are some issues too that must be considered for choosing the best online tutoring service. Picking your desired tutors is easy but there is a service fee that is charged by the users.
Wyzant charges a 9% service fee and you may not have to experience this service fee while working with Varsity Tutors.
Here are some main disadvantages of the platform:
A 9% service fee is charged by students;
The users have to make the selection of the tutor after their research;
Customer support could be better;
Students have to sort out issues with instructors without the company's assistance.
Varsity Tutors
As the company is responsible for providing tutoring services to the students, the company takes care of issues faced by the students seriously.
Students won't find anything seriously wrong with this platform but here are some concerns presented by students who joined Varsity Tutors for online professional tutoring:
The prices at VarsityTutors.com are a little bit higher than the competitors;
The company has the option to assign you the tutor as per your requirements;
Finding the pricing and cost of the tutoring is not that easy;
You cannot choose the tutor on your own.
Overall Comparison Table
Now, let's sum up all the details that we have collected during this review in the form of a table so you can make the right choice with the selection of the right platform for a better connection with your instructors.
| | | |
| --- | --- | --- |
| Factor | Wyzant | Varsity Tutors |
| Overall rating | 4.3 | 4.0 |
| Career opportunities | 3.9 | 3.8 |
| Average Salaries | $29 per hour | $14 per hour |
| Service fees for students | 9% | No |
| Commission of platform | Flat 25% | Fixed salaries |
Varsity Tutors vs Wyzant for Tutors
When we talk about Varsity Tutors vs Wyzant for teachers, things can be quite different.
If one platform is favorable for students, it does not always mean that instructors are also going to get some experience on that platform.
So, this section is going to cover details about Varsity Tutors vs Wyzant as a tutor.
Varsity Tutors
Although there is not amazing job compensation or benefits yet work/life balance is pretty good while working with Varsity Tutors. You can compare Varsity Tutors with other platforms before making a choice.
The average salary of tutors at Varsity Tutors ranges from $4 to $16 per hour after the deduction of the service fee by the company.
The actual salary of the reading tutors at Varsity Tutors depends upon many factors including the experience of the instructors and the hours spent on the platform.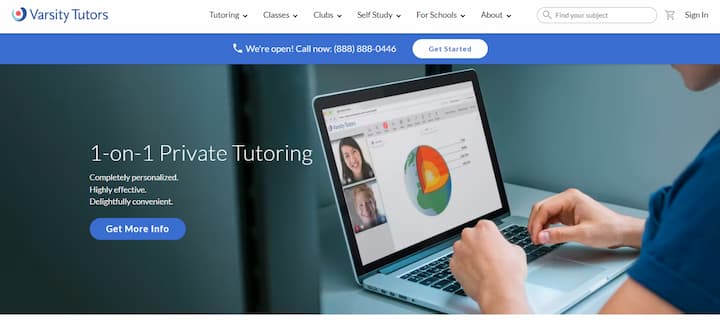 The Varsity Tutors team can also set flexible working hours or can work as full-time writing tutors. So, $16 is the average pay per hour for an experienced tutor at Varsity Tutors. Tutors have to register with the company by providing all their personal and professional details.
When it comes to average salary, tutors get paid quickly, but the salary is lower than market rates and other platforms in the same market. The company is known for independent contracts with no raise in salary.
Wyzant
As compared to Varsity Tutors, the average pay is higher in the case of Wyzant. The company charges a flat 25% of the income of the instructors.
Instructors can set their rates according to their experience as the platform is only providing the marketplace for the instructors.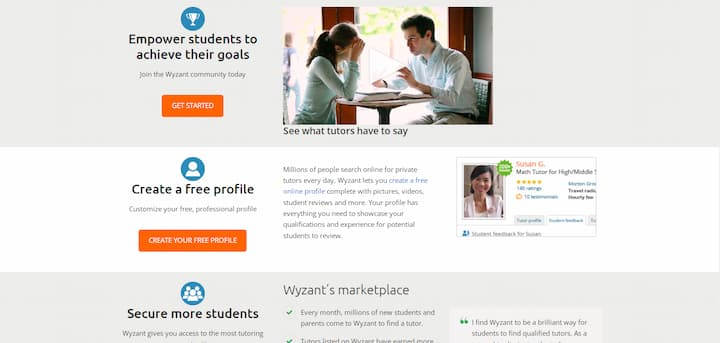 The huge clientele of the platform makes it easier for instructors to find students from the desired fields.
Tutors cannot refuse background checks, so every tutor on this platform is fully verified regarding personal and professional information provided to the platform for online tutoring.