"Try to learn something about everything; and everything about something." — Thomas Huxley
We all know that the average student's life is filled with tests, assignments, and several exams created to test their adeptness and intelligence. As parents or teachers, it is your duty to pay attention to these kids and help them learn and prepare effectively for these tests and exams.
There are so many platforms that claim to provide the appropriate and necessary materials needed to help students perform well in their tests. However, for this review, I will be extensively discussing Test Prep Online vs Testing Mom.
As a parent or teacher who is particular about the academic improvement of their kids, you must have heard about these two companies. These platforms provide some of the best kid prep courses.
There have been a lot of debates on which is better Test Prep Online or Testing Mom, and we will be highlighting all the comparisons between them in the paragraphs below.
Prepping for exams can be stressful, but having the right study materials can help. Explore our ExamEdge reviews for an understanding of the platform's resources, effectiveness, and user experiences.
Before we fully launch into the main text, let's highlight the main difference between these companies:
Testing Mom is mainly for prekindergarten to 8th-grade kids, while TestPrep-online offers services to a wider audience.
Testing Mom provides 100,000 practice questions, while TestPrep-Online provides 5000.
With TestPrep, you can buy a family subscription and operate three accounts on it. This can not be said for Testing Mom
Overall Comparison Table
"Develop a passion for learning. If you do, you will never cease to grow." — Anthony J. D'Angelo
Before we fully discuss our Testing Mom or Test Prep Online courses and packages, this is a table to quickly illustrate the services and prices available offered by each of these platforms:
Platform
What to Expect
Price
TestPrep-Online
●       Family membership plan

●       5000 practice questions

●       100 printed materials

●       100 practice pack

●       12-month access

●       It starts at $129
Testing Mom
●       100 free questions

●       30+ skill development programs

●       Printed materials for over 30 tests

●       Live videos

●       Top 1st — $18.99 per month

●       Ace the Test — $39 per month

●       VIP — $169 per month
Key Features of Platforms for Kids
TestPrep-Online has a family membership plan that uses three accounts in one payment plan.
We found this very thoughtful for a kid prep course, especially for parents with more than one kid.
They can easily create accounts for their kids and have them study for different tests while using different resources and study plans.
We found it thoughtful that Testing Mom included a free trial package for parents looking to test the platform before purchasing.
This is one of the important metrics we watch out for, and we're glad Testing Mom has made this available.
They offer 100 free questions to help you decide whether or not you want to remain on the site.
Instant access to site support is one of the best features that any of these platforms can have. You won't always enjoy smooth sailing all the time. You must choose a site where email and phone support are available in case you have any issues.
Thankfully, Test-prep online and Testing Mom offer these contact addresses on their website, and from our review, we can testify to how quick these responses are.
When it comes to exam preparation, the quality of your study guides matters. Check out our Mometrix study guides review to learn about the quality, depth, and usability of their materials.
Test Prep Online versus Testing Mom is doing great when it comes to practice questions and packs.
Testing Mom boasts of a pack containing over 100,000 questions for their subscribers to use. They have a directory from reputable centers like ELA Common Core, NNAT, and CogAT.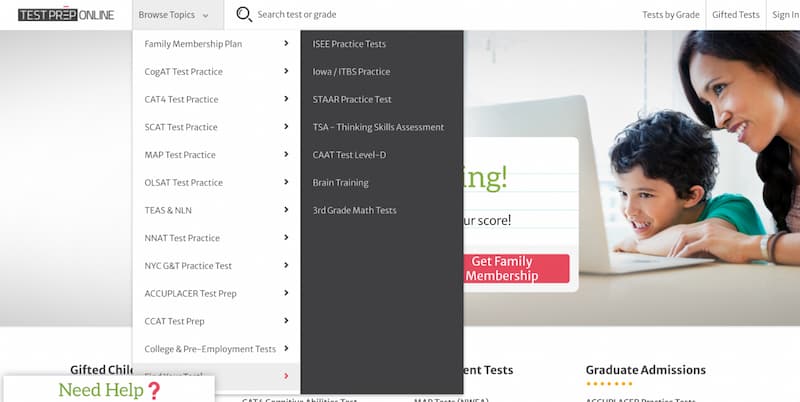 TestPrep-Online: Why is it Better Than Testing Mom?
Since 1992, TestPrep-Online has existed to prepare students for all types of examinations. From entrance exams to assessment tests, gifted programs, and graduate assessments.
According to their website, TestPrep has assisted over 67,000 students in achieving their dreams and acing their tests.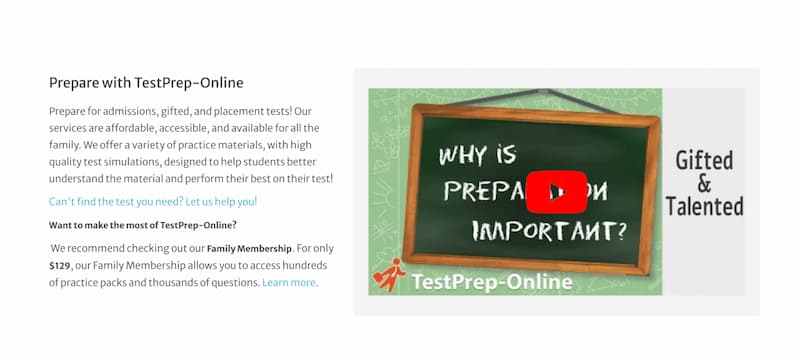 When you visit the site, you will find that TestPrep-Online offers study plans and resources that include:
Gifted Children Tests;
School Entrance Exams;
Assessment Tests.
To use any TestPrep kid prep courses, you need access to their online family membership. Subscription to this will give you access to lots of practice materials, question practice tests, instructional videos, study guides, and score reports.
We noticed that with the family membership plan, parents or teachers could create up to three separate accounts on the same subscription. These three accounts can each be customized and individualized according to the user's needs and schedule.
This plan will give you access to 5000+ practice questions, detailed explanations, tips, 100 additional practice materials, and up-to-date score reports.
During our review, this membership plan is one of the features we appreciated the most because you can get the family membership and practice for different exams simultaneously instead of getting multiple sub packs.
Choosing the right test preparation tool can be tricky. For insights into TestHQ's services and offerings, dive into our detailed TestHQ.com reviews.
Testing Mom: Why is it Better Than TestPrep-Online?
This is another platform that offers some of the best kid prep courses for kids from Pre-K to 8th Grade.
They have been featured on reputable websites like New York Post, Forbes, The New York Times, PBS, and RedBook. This goes a long way to show just how impressive their service is.
Moving on with our review, we checked out some of the other metrics we use in our report. Testing Mom has a SCORE system that increases your child's chances of acing the rest and coming out the best.
This system includes lots of drills, several simulation tests, interactive games, and many more essential materials.
Testing Mom offers kid prep courses for tests like:
AABL;
Bracken School Readiness Assessment;
California Gifted and Talented Education;
CCAT.
According to their website, they have helped over 650,000 kids ace their tests using their proven system and have reviews to show for it.
What we appreciated the most about Testing Mom is how you get over 100 free questions and 40 premium skill development programs to help your child. These resources are free, but they value up to about $500.
Those who pay a monthly/yearly subscription are given a more comprehensive guide that offers more practice questions of over 100,000, printable materials, interactive games, private school admissions, skill-enhancement programs, and so on.
Pricing Comparison
Now that we have looked into what both companies offer in terms of courses, let's move on to other important metrics. Pricing is one of the major features that parents look at when choosing the best prep kid course for their ward.
Although we all know that education and learning are priceless, parents must stay within their financial range to ensure continuity and consistency.
Let's take a look at the analytics behind the prices and membership of Testing Mom vs Test Prep Online:
TestPrep-Online

Over 5500 practice questions, including gifted tests, admissions tests, and even placement tests.
Over 100 additional customized practice packs and comprehensive test materials.
On-demand account updates.
12-month access and license.
Exclusive online preparation.
Three separate accounts.
TestPrep-Online has a family membership of about $129. This membership grants the buyer access to three accounts.
These accounts can be used for different purposes, while users have the liberty to customize each one to their different personal tastes and needs.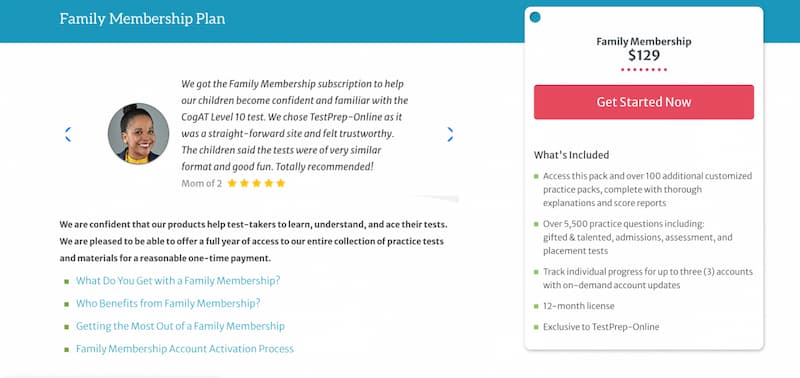 Testing Mom

30+ tests for the most popular gifted exams, private school admissions, 50 state tests, and more for pre-K through high school.
35 interactive skill enhancement programs for reading, math, social studies, STEM, coding, and more.
119,200+ interactive practice questions and printable copies for 30+ tests.
Exclusive bonuses, discounts, and support.
Live class option is also available.
Your monthly membership price at Testing Mom starts at $8.25. We already mentioned earlier that if you want a free trial before making a subscription, you can create an account and get 100 free questions.
However, if you want to pay for a subscription, the payment starts at $8.25. This comes with a free 2-day LEGO camp for STEM learners.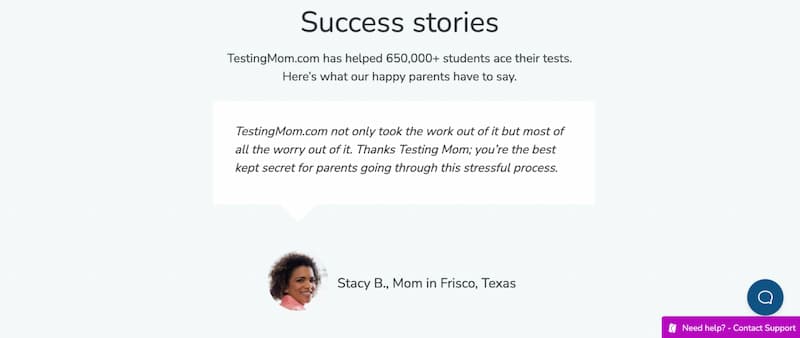 There are three different membership plans on this platform. These are:


Top 1st Fast Track;


Ace the Test;


The Top 1st Fast Track.


This is the basic membership, where you can pay $18.99  per month or $240 per year.
Ace the Test
This is the next-level subscription after the fast track, and it goes for $39 per month. This is for parents who prefer group coaching for their kids.
This program ensures that your child will break into the top 1% of their class. In this plan, you will enjoy:
Live interactive training session for parents with Karen Quinn.
Everything included in the top 1st fast-track membership
Over 100,000 practice questions, online games, and printed copies.
Monthly live classes and sessions
Interactive games and exercises
VIP (Very Involved Parents) Membership
This plan costs $169 monthly but can be billed at $2,098 yearly. This includes everything in the Ace the Test membership and every Testing Mom tool and activity.
Payment for this plan will provide you with:
Private email support;
100,000+ practice questions for the most popular tests;
Super VIP group calls with parents and Karen Quinn, the CEO. You can speak to her concerning any personal issue;
Live SCORE system and prep analytics;
Dedicated FAQ and phone support.
Quality of Learning and Value for Money
"Learning is a treasure that will follow its owner everywhere." — Chinese proverb
Before you make payment and financially invest in Test Prep Online or Testing Mom by site, it's understandable that you want to know if you will be getting value for your money.
Will your child get the quality you hope for? Or will they not? In the following paragraphs, we will discuss what your payments will get you on either of these sites.
TestPrep-Online
With the paid family member plan, you will first be granted immediate access to TestPrep's inventory. This grants you the liberty to perform any activity on the app with three different accounts. You get over 5000 practice questions, each with detailed explanations.
These breakdowns are necessary to help kids learn how to arrive at the same conclusions easily.

Your subscription will also get you 20 instructional videos, which is essential since kids are mostly visual learners.
These videos are extremely high-quality, and tutors are professionals who know how to dispense knowledge in a kid-friendly manner. Parents will also get score reports at the end of every test.
Testing Mom
Testing Mom offers not less than 100,000 practice questions that you can stack against the test and use for effective preparations. Since this site is accredited, they have access to some valuable past questions from these reputable test centers.
With these questions, your kid can go over problem areas and learn to solve them, so when the child comes across a similar problem or questions during the actual exam, the child is not at a loss. Just by signing up, you can access up to 100 free questions.

If you would rather practice through the app, download TestQuest for easy accessibility.
This platform also provides online practice quizzes and tests that members can access, regardless of their payment package.
Main Disadvantages of the Platform
For everything that has an advantage, there is always a disadvantage. It's the same for Test Prep Online and Testing Mom.
They have many advantages, but this review will not be complete without their drawbacks:
TestPrep-Online
There is no extensive membership plan. You only have limited packages.
They do not offer free packages, unlike Testing Mom.
Their website is not user-friendly.
Testing Mom
Automatic withdrawals after initial subscriptions. The platform may not send you a mail to notify you of payments, which might come at an inconvenient time, especially when you have no intention of renewing.
The resources are comprehensive and require too much time and effort.
Some of the questions are easy: and the materials are repetitive.
Verdict
At the end of this Testing Mom versus Test Prep Online review, we hope you can make a suitable and convenient decision, not only for your kid but for you as well.
While they are both affordable, only Testing Mom offers a variety of packages that you can choose from. However, they are both great platforms and will offer the best prep courses for your kids.