Often, it is a tense moment when your kid is about to take the Gifted Talent and CogAT test. Not because your child is not gifted, but because of the tension it brings.
Your kid can lose confidence during the process, although they are brilliant, making them learn will not get an acceptable score for admission.
We have reviewed various services and found the best tutoring programs online. This time we review a program that helps your kid prepare for the test that other parents use and get results. TestingMom.com is the only Pre-K to the 8th-grade program that has been accredited.
In our review, we consider different aspects that make TestingMom preferable for your kid or not. Here are a few:
Prices: What are the package prices at TestingMom? We will explore different packages and see how much each costs. Are they affordable, and are they worth the price?
Quality: We will consider if the program provides value for your time and money. Is it something that can help your kid, and what are TestingMom reviews about the program's quality?
Mobile App and website usability: Today, it is convenient to have a program you can carry anywhere you go. It allows the flexibility of the study position and eliminates boredom. We will look if TestingMom.com has a mobile App and whether their website is easy to use and access.
Customer service/support: Understand your service provider's support system. We shall review whether the program has a supportive team and their availability to clients.
Guarantees: Are there guarantees offered, and in what instances?
Testing Mom Overview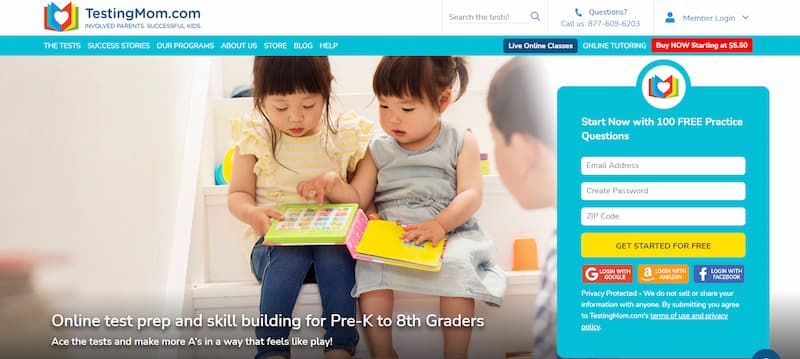 What is TestingMom.com?
This is a program that provides services to parents with children from Pre-K to grade 8. It helps them in preparing for the prep test in the NYC Gifted and Talented Program. The program includes a fully equipped IQ kit that kids use in preparing for their tests. It is fun, and children have fun using it.
The content available on the TestingMom IQ kit is a compilation of questions from private and public schools, different cities, and districts to ensure your kid is properly prepared.
There are thousands of questions available so that your child can never lack questions to practice with throughout. Test Prep-Online review was started to help students achieve their academic goals. We provide free study guides, practice tests and videos for various standardized exams like the SAT, ACT, PSAT/NMSQT, AP Exams and more. We offer a top-rated app with over 50,000 reviews.
How Does TestingMom Works?
You have to become a member for you to access the available materials on TestingMom. If you have several children, they can be covered by one membership. No fee is needed for registration.
Once you have registered and are done paying for the package you want, your children can wait no longer. Start practicing immediately.
Questions are printable, and the games are fun to keep your child engaged. If there is something unclear, you can contact them for support through email. The team responds within 24 hours of contact.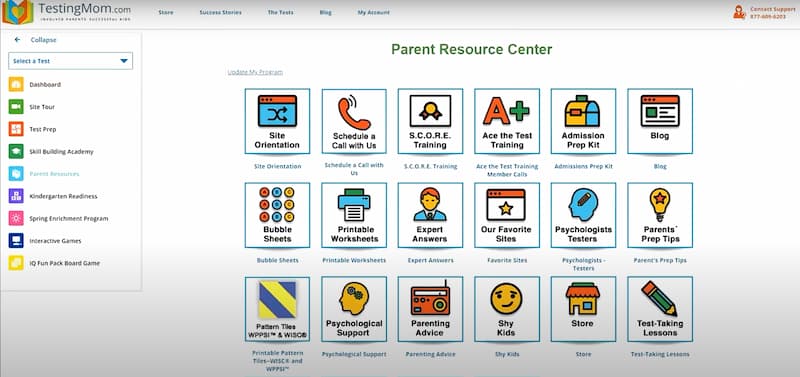 Is Testing Mom Worth it?
The reviews of TestingMom from different parents are incredible. Parents have shown so much satisfaction from using this program.
From what we see, most of them are happy that their children could put extra effort into their own because the kit is not boring.
Kids that have used the IQ test prep kit also perform well during the actual test. After doing the actual test, most kids say they feel like they were doing the practicing questions because they feel similar.
So, if you wonder, is TestingMom worth it? Yes, it is.
Are TestingMom Test Prep Courses Effective?
Absolutely! Not only do these courses prepare children for their tests, but they also guide parents on what is required. Some parents do not know about the tests until when their children are required to do them.
Due to the lack of materials, they cannot prepare their children, which works to their disadvantage. The courses are resourceful and effective.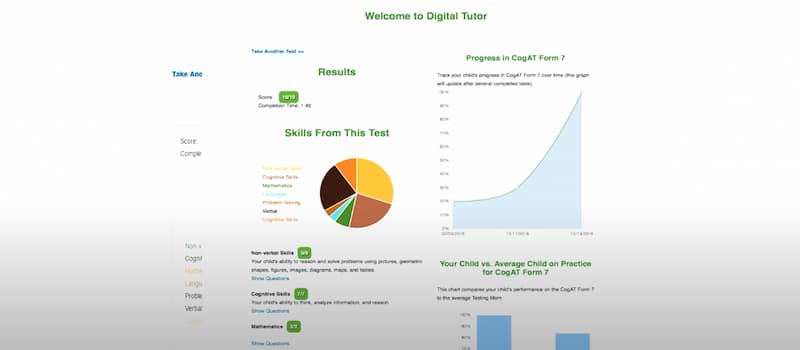 Is TestingMom Safe or a Scam?
Since the courses in this program have been accredited, it is safe to use. We have not seen any TestingMom scam, neither ourselves nor in the TestingMom.com reviews.
Payment methods for the program are safe, and you are not required to give your pin when paying.
The only controversy that has occurred is the automatic subscriptions, which some clients find unfair.
However, the website provides information about recurrent subscriptions if you fail to unsubscribe, considering a fair warning.
Story of TestingMom
The story of TestingMom has been greatly inspired by its founders from their children's experience taking the NYC Gifted Talent tests.
One of the founders, Karen's son, could not make it to the cut-off point but instead scored at the lowest percentile. It meant he could not be enrolled in a regular school.
The other founder, Michael McCurdy's daughter, was required to take the test, but Michael had no idea what it entailed.
The two became dedicated to helping other kids and parents with similar experiences. In 2010, the two connected through the work each shared with the public.
They worked together to create TestingMom later, which has helped parents and children to date.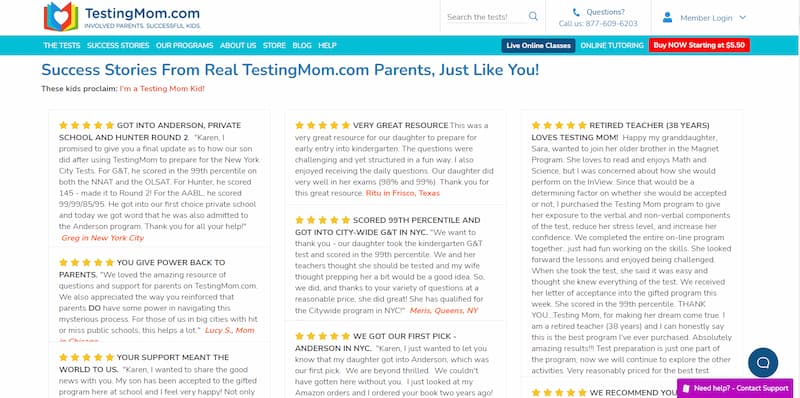 Services at Testing Mom
After registering with TestingMom, you get hundreds of free prep test questions from the available directory.
Alternatively, you can purchase a premium package for online classes and learning pods. The services include:
AABL Tests: it is created for kids between ages 4 to 6.
It contains 100 questions that assess your kid in different areas. Skill assessment includes:
Early literacy;
Verbal and quantitative reasoning;
Mathematics skills (for the best math learning, we can suggest reading our HelloThinkster reviews and checking out their services).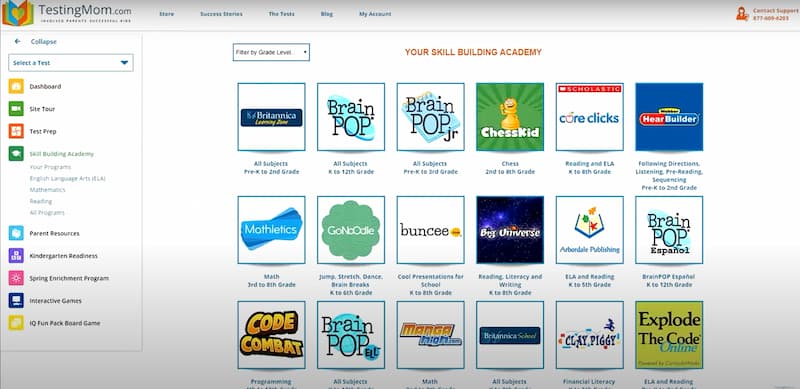 BSRA Test: it prepares children from K-Prep to grade 2 for their tests.
It tests various understanding abilities of your kid, such as:
Colors;
Letters;
Shapes;
Numbers;
Sizes and other comparisons.
Gate test: made for children in grades 3-11.
It assesses the children's performances, and some of the things contained in this assessment are:
If you ever wanted your kid to learn programming or coding, you should check the UCode review on our website, and they are a top service for these kinds of lessons.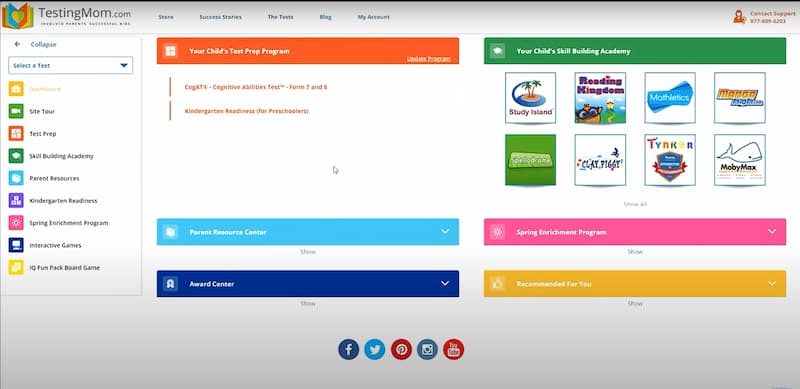 Pricing of the Courses
The courses at TestingMom depend on the program you want your kid to practice. A premium membership registration goes from $9.99.
Courses start from $19.20, and you can purchase a $1000 package to gain full access to skill-building programs that are more than 30.
Additionally, you can visit the TestingMom store to explore different products designed for helping your kid with practice.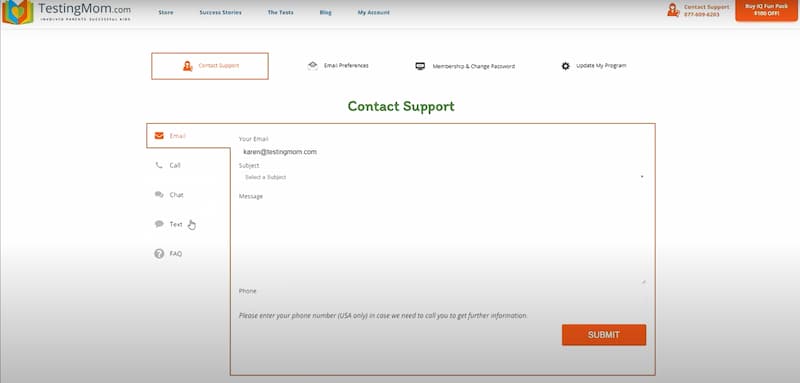 In terms of pricing, TestingMom is almost incomparable. But the quality could be better in some cases. That's what we found when comparing Testing Mom vs Test Prep Online on our blog. Check it out if you want to learn more.
Quality of the Courses
The quality of services provided by TestingMom is of high standards. Parents whose children have used the TestingMom IQ pack review it as something helpful in their preparation.
Questions are thorough and only take a few minutes so that your kid can concentrate without losing interest.
Depending on your child's age and grade, you can always find a suitable package for them. Since tests are from different cities and districts, you can barely miss one you are interested in from the tests directory.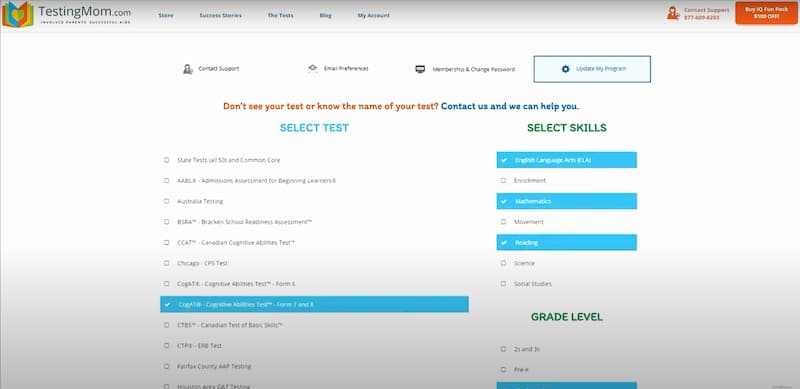 Tutors on TestingMom are invaluable. They understand kids and help them get ready without instilling panic in them. Instead, they help them explore their abilities with confidence and a friendly approach.
For top K-8 or SHSAT test prep, check ArgoPrep reviews, where you can find happy parents who took courses for their kids.
Customer Service
Do you have a question about the tests provided? You can email customer service your inquiries, and they will reply to you within 24 hours. If you are a social media fan, you can reach them through LinkedIn, Pinterest, Facebook, or Twitter.
There is also an active chat feature on the website where you can reach them. When using this feature, you have to wait for a few hours to get a live agent to chat with you.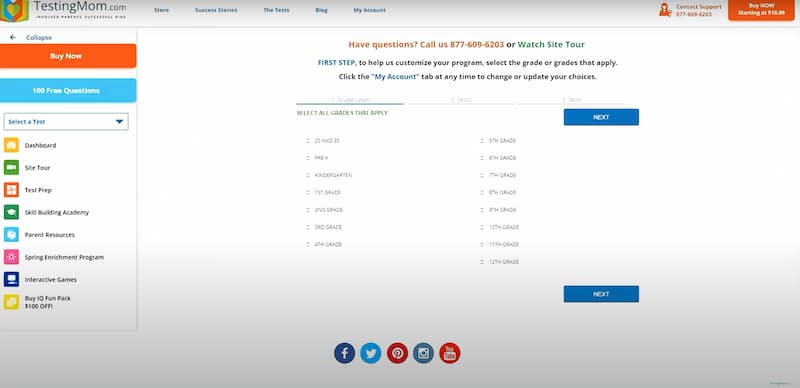 You can also book a call consultation on your most convenient day to speak with one team member. The team is friendly and handles inquiries and complaints professionally. If you are stuck somewhere, they explain to you carefully how to get around the problem.
If you are unhappy about something, the team is always open to listening to your complaints and seeing how they can improve your experience. The desire to make each customer get 5-star satisfaction in this team is impressive.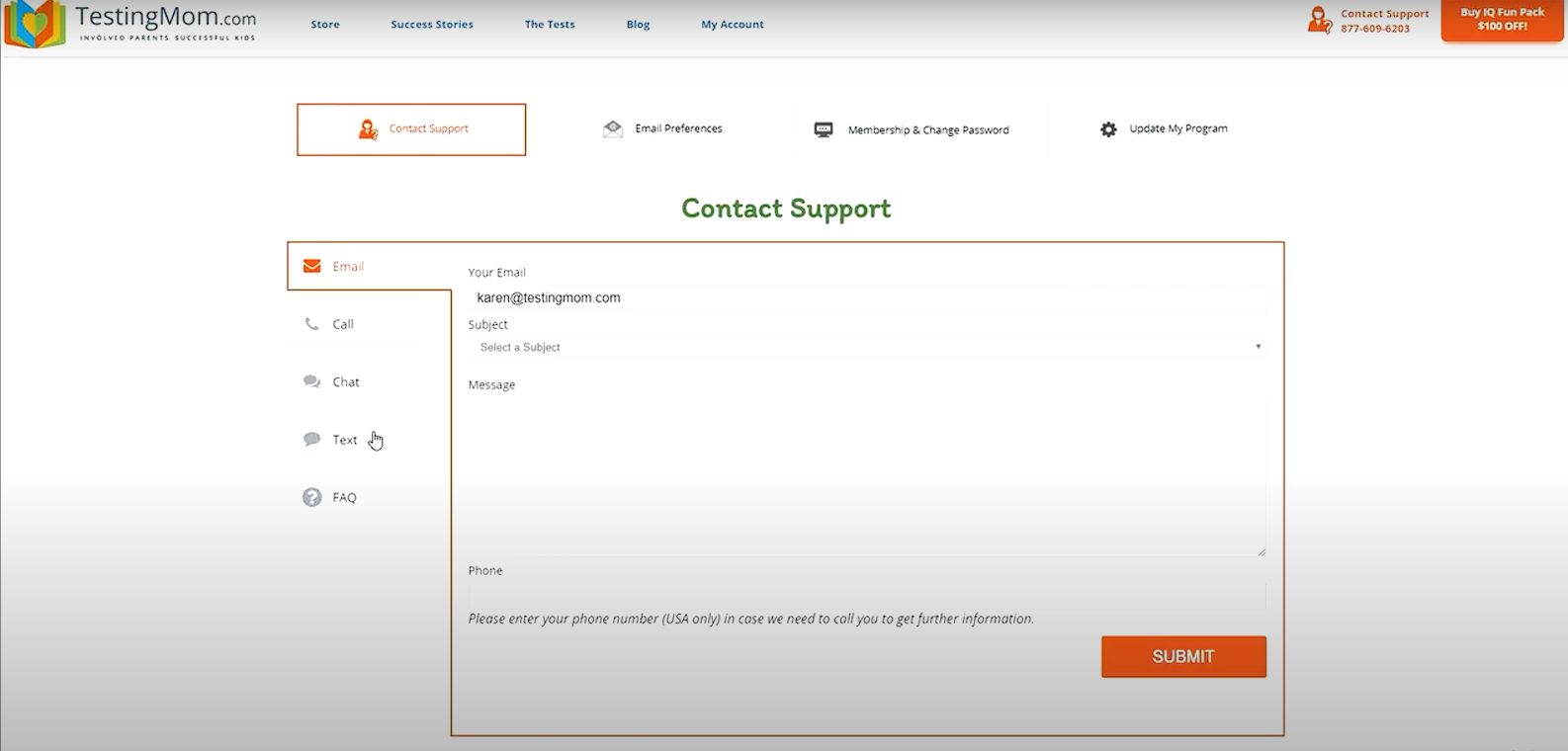 Website and Mobile App Usability
TestingMom has an iOS-compatible mobile App that your kid can use on a mobile device. This feature is helpful because you can install it on an iPad instead of planning to get that expensive computer or sharing yours when you have lots of work to do.
The Testing Mom App is easy to use, which allows your kid to be self-driven since they don't need a lot of assistance.
As an alternative, you can check Vedantu reviews by parents on our website to find that they have decent coding classes for your kid.
The website is also easy to access if you prefer your children to use the desktop version. So, once you log in for them, they can continue practicing without so much hassle.
Although some reviews of TestingMom show a few clients having issues using the website and the App, the support team has been swift to assist in a better experience.
Pros
The courses are affordable, with an option for a free membership.
The program is accredited making it reliable for parents and their children.
It is accessible to all children.
To minimize your children's screen time books are available too.
The program has proven results.
Improves the score for the low-scoring kids.
Cons
Automatic billings can be incomplete upon unsubscription when you are not keen.
The practicals are not extensive.
Some TestingMom.com reviews show a lack of tutors' consistency.
A lot of teachers changing for a course takes place.
The resources can be overwhelming to search for the material you are interested in at first.
Some questions seem repetitive.
The site has many pop-up offers once you are done purchasing a package causing many distractions.