View a short overview of Learner on our Youtube:
The digital age has brought a wide variety of educational opportunities, including online tutoring websites providing help in virtually any desired academic subject.
With such a plethora of available tutors online, it can become difficult for the user to find the best tutoring websites online and which service offers the top program.
At EduReviewer, we analyze and assess these services from a neutral standpoint to give potential users a clear picture of their options.
This thorough review of Learner math tutoring services will do just that – giving you an understanding of all the site's features, services, pros, and cons.
Math is a commonly challenging school subject for many students. Learner seeks to ease this challenge in their approach to tutoring.
In this detailed review, we'll evaluate and outline your Learner's tutoring process, user guarantees, instructor selection, legitimacy, services, prices, quality, website usability, and customer support.
Every tutoring service has differences. Find out in our reviews MyGuru review and reviews of the Classroom Door.
Learner Online Tutoring Overview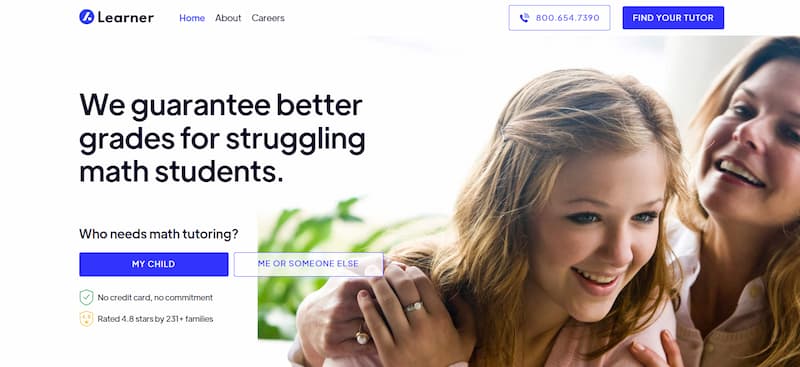 What is Learner?
Learner.com is one of the best online math tutoring services designed for students on all points in the math spectrum.
This includes kids who need to boost their grades to excelling scholars who hope for advancement and further math-related opportunities (such as prestigious college acceptance or scholarship awards).
There are a few features that make Learner's tutoring stand out. Their instructors are chosen through a rigorous vetting process to ensure high quality.
Then they are matched with clients based not only on their goals and challenges but also on the student's learning styles and personalities.
Finally, your first tutoring session with Learner is always free, giving you a chance to test out the fit before committing.
How does Learner work?
Learner tutoring walks users through a specific process of steps to fully benefit from their services.
1) Website questionnaire;
To get started, the student (or their parent or guardian) completes a detailed questionnaire on Learner's website.
This is to get a full context of the student's math level, current struggles, personality, learning style, extracurricular activities, and hobbies.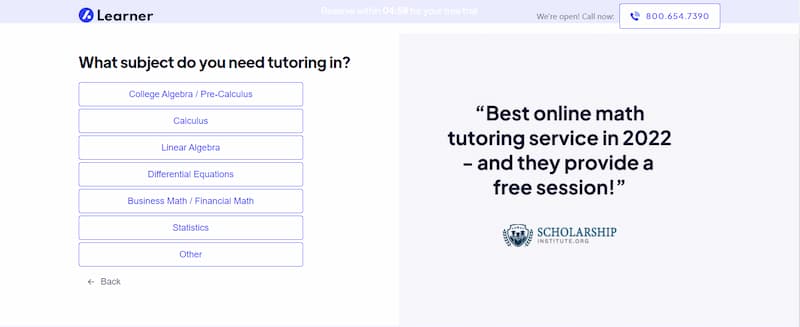 2) Call an Academic Coach;
After completing the survey, you'll schedule a call with Learner's Academic Coach.
This call is usually around 30 minutes and helps the staff get an even clearer picture of the student's needs, goals, strengths, and weaknesses to personalize the tutoring process.
3) Tutor match;
One of the Learner's distinguishing features is the time and attention that goes into selecting an online math tutor that is the right match for the student.
This takes into account not just the student's academic goals but also their motivation and style. They make the tutoring process as customized as possible.
Some online tutoring websites blindly assign someone without getting to know the student. Others allow the student or parent to decide upon the math tutor for themselves from a vast selection without much guidance.
Learner.com takes the pressure off students or parents overwhelmed by that decision but still ensures plenty of thought and attention is put into making the assignment themselves.
4) The first session is free;
Learner places a lot of focus on meeting students where they are and moving at their pace to get to where they want to be.
They use an innovative platform that allows the instructor and the student to have a face-to-face conversation while working together on math problems through their virtual "whiteboard" capability.
Sessions are always recorded and can be accessed and rewatched after the fact. And the first session with Learner is always 100% free.

5) Continuous feedback.
After each session, the tutor sends a progress report to both the student and any involved parents or guardians.
This report details the ground gained during the lesson and areas of learning that still need improvement. This continuous feedback keeps everyone in the loop on the child's progress.
Does Learner have any guarantees?
Learner offers a 100% risk-free satisfaction guarantee. This allows you to try out their services and your assigned tutor before committing to any payment.
So you can ensure the program and tutor selection are a proper fit before moving forward.
Are Learner math tutors as effective as they say?
Learner's website boasts "The world's best math tutors." The question is: do they live up to this claim, and are they as effective as they say they are?
Each expert maths tutor comes from a prestigious university and background. Learner.com has a rigorous vetting process, only choosing to work with the best tutors online and in their field.
As representatives of Learner.com, they maintain high standards of professionalism.
Learner.com also ensures their math mentors have a proven track record of successfully tutoring in an online classroom.
This is a different environment and needs additional expertise compared to solely in-person tutoring. They are well-versed in the necessary technology for the online tutoring process.
In addition, Learner's well-qualified tutors possess superior people skills to help students internalize the math lessons they teach. They are passionate about the subject and making a difference in the educational journeys of those they work with.
They are expert listeners, recognize when a student is confused, and are flexible and patient enough to explain complex concepts in multiple ways to increase understanding.
Finally, the math tutors at Learner are engaging, enthusiastic, and motivating. They strive to connect with the students and encourage their energy and independence to eventually turn their mentees into self-starters. Learner seeks out the type of people who lead by example in their dedication to lifelong learning.
A child's education isn't just about getting good grades or landing a job. It's about how it shapes their mind to prepare for learning for the rest of their life.

Several online reviews have been written about Learner from parents of kids who used the service.
A few key points these reviews mention to describe the math instructors include:
The world's best math tutors (they agreed with the claim on Learner's website).
Highly interested in serving students of all grade levels and math abilities.
Focused on customizing their approach to each student and their unique needs.
It took time to understand the student and their specific challenges and then meet them, carefully to work at their pace.
Nurturing and understanding, yet disciplined enough to hold the student accountable.
Helped the student to stay engaged and actively participate in sessions.
Cared about and listened to the student, helping them meet their academic performance goals.
Worked together on problems with the student to increase understanding instead of just telling them how it works.
Down-to-earth, relatable, and explained concepts clearly.
Patient with the student (in a way the parent could not be).
Focused on taking baby steps to build confidence and get little wins that build to bigger successes.
Able to explain problems in multiple ways to fill the student's gaps in understanding.
Balanced addressing the student's math homework and quizzes for the day or week and going back and filling in knowledge gaps.

Is Learner safe? Is Learner a scam?
As far as we can tell, Learner is safe – with no evidence whatsoever of it being a scam. Their 100% risk-free guarantee allows users to get comfortable with the idea before they ever have to pay a single cent.
They do not ask for credit card information until you are ready to pay for services. And there is no contract to tie you down, allowing you to end your use of the service at any time.
The Story Behind Learner.com
The Learner was founded to help students do well in their math classes at school and appreciate math, expand their minds' capacity to understand it, apply it to their world, and take that new capacity with them into their future careers and lives.
Driven to impact the world, Learner is a remote, global company with a firm belief that high skill and intelligence exist in every location of the world. Their teams of knowledgeable, experienced professionals collaborate, with the community and the tutoring industry to produce optimal results.

Learner maintains high internal transparency, giving people all the information and inputs they need to make the right decision. This is one of the beliefs that motivate their 100% risk-free guarantee – so customers can have complete confidence in their decision to go with Learner's online math tutoring services.
They take full responsibility for their actions and continually and proactively strive to improve – as individuals and collectively as a company – to benefit those they work with.
Above all, Learner respects their clients, their math coaches, and their staff. They always look first to the data and customer feedback to improve efficiency and effectiveness in their processes and identify new growth opportunities. Every decision is made with long-term goals in mind.
Online Tutoring Services at Learner
In all the services they provide, Learner personalizes the learning experience for the user. They make the platform and services easy to use and understand.
They keep the environment safe and maintain trust among each client, online tutor, and teacher, never blaming any other party for anything lacking.
Learner's goal is to keep their tutoring process meaningful, shifting the student's perspectives on education.
Their world-class math coaches keep the sessions goal-oriented and focused on the needs and desires of the student – aligning goals for the student, parent, tutor, teacher, and the company to achieve the best learning outcomes.
They're in it for the long haul, dedicated to building relationships with clients that last over time, following up, and always leading them to their next steps.

1-on-1 tutoring and group class options
Learner provides options to suit every style of learning. Their team of experienced tutors currently offers 1-on-1 tutoring that gives personal attention to the needs of each student.
They will soon be adding group classes to their options for those who prefer a collaborative approach to learning.
An expert math tutor matching
As mentioned previously, the Learner pays careful attention to detail in finding the right match of mentor to the mentee to get the most out of their tutoring experience and thrive in their math learning journey.
Among their team of qualified tutors, let's meet a few of them: Alan, Chelsea, and Stephanie.
Learner's first expert math tutor, Alan, has a bachelor's degree in mathematics and a Ph.D. in Economics from Rutgers University.
He also has 8 years of experience tutoring people of all ages, from first graders to middle school students to high school students (and even some college graduates).
He's taught a wide variety of math subjects and focuses on helping students internalize new concepts instead of merely memorizing formulas.
Alan's priority is always to instill in students the confidence to solve any math problems before moving on to the how of particular types of problems.
He believes it's essential to get to know the student as a person first before diving into the thick of the tutoring lessons.
An experienced tutor of 16 years, Chelsea has bachelor's and master's degrees in Mathematics from Wesleyan College and Mercer University. She's worked with a wide range of both clients and math subjects.
Chelsea is a true believer in the power of making a child's learning fun through engaging activities. She takes a creative approach to teaching new concepts and encourages students to come with an open mind.
A graduate of Princeton University, Stephanie has been tutoring teenage (and some adult) math students for 17 years. She has experience in various math subjects and several other academic subjects, giving her a well-rounded approach to teaching.
She also helps scholars build skills instrumental to academic success, such as organization, note-taking, studying, test prep, and breaking up big tasks into small chunks.
Stephanie is all about getting on the student's level and relating with them in a down-to-earth way. She wants to work together to understand problems and solutions rather than talk throughout the process.
She's open to explaining concepts in multiple ways to help students understand how that makes sense to their unique brains works. She truly tailors the teaching style to the individual student.
Test Prep
Learner.com will soon be adding test prep to its online math tutoring services.
This means, in addition to the typical math worksheets and math practice, the online tutors will help students prepare for school tests and essential standardized tests, such as the PSAT, SAT, and ACT. Performing well on these tests will set the student up for success as they receive higher education.
An interactive learning platform
You'll schedule regular sessions with your tutor when using Learner's online tutoring service. The platform used for these sessions is easy to use – a type of "digital classroom," allowing the student and tutor to collaborate on problems together while talking face-to-face through video chat.

Progress reports after every lesson
The Learner's math help extends past the tutoring session itself. Their platform allows for easy recording of lessons so the student can review them later.
Following each session, the tutor will also send a progress report to show the student's development and engagement. This keeps the tutor, the student, and the parents all on the same page in monitoring improvement.
If you are looking for the best English tutors, check our list of the top English tutoring companies online on our blog.
Learner Prices
How much do Learner tutors cost? There are no specific prices given upfront as Learner prices vary depending on many factors, including the number of sessions you plan to complete, the tutor chosen, and your tutoring goals.
They offer multi-session packages for purchase. You can schedule a free consultation with them to get an idea of their pricing packages and offerings. The pricing starts from $55 per hour, but the price can go up to $95, depending on the tutor you work with.

And, of course, the first tutoring session is 100% free. You do not need to provide any credit card info or sign anything for the first session, giving you peace of mind the service is suitable for your child should you choose to move forward.
You can find the same thing with a free trial by reading our Thinkster review, where it is also easy to start learning, but their pricing system is more open. There you can find options starting at $60 a month.
Quality of Learner Online Math Tutoring
As previously mentioned, Learner's instructors all come from prestigious universities and have several years of experience tutoring math.
All of them highly value the importance of internalizing new concepts instead of simply memorizing the step-by-step instructions given by the teacher. It's about learning these concepts for life, not just passing the test.
Given this information, we conclude that Learner's tutors are indeed well qualified to perform their job to each student's (and parent's and teacher's) satisfaction.

Do you need help with English learning? Check the best website to learn English on our list.
In parent reviews of Learner online math tutoring services, both parents and students were happy with the outcomes they saw due to Learner's tutoring.
All of them reported that the student not only received better grades on math homework problems and tests.
They also gained greater confidence in their abilities to solve those problems. Their tutors helped them become engaged in their learning, and their stress regarding math class was reduced.
Many parents said students gained a sense of pride in their progress and were often excited to continue tutoring sessions longer than initially planned.
Customer Service

Customer service is an integral part of any company's team to ensure the customers get the support they need. Learner.com is very hands-on, involved, and helpful throughout every step of the process of matching and tutoring sessions.
The support staff is very polite, and considerate, and listens well to the client's concerns, working to address them satisfactorily.
They do not have a live chat feature on their website, which could be convenient for users.
However, they do have a contact page that allows the user to send a message to the support staff with questions or concerns. They promise to respond within 24 hours.
Learner.com Website Usability
Learner's website is relatively straightforward and user-friendly. The navigation tools and menu options are clear and easy to understand. The pages load quickly, and it is handy to use.
Their website consists of a few pages, while at Wyzant, there are many different landing pages, where you can find everything you need, from a detailed FAQ and success stories to tutors divided by location and subject. So, don't forget to check out the Wyzant.com reviews on our website.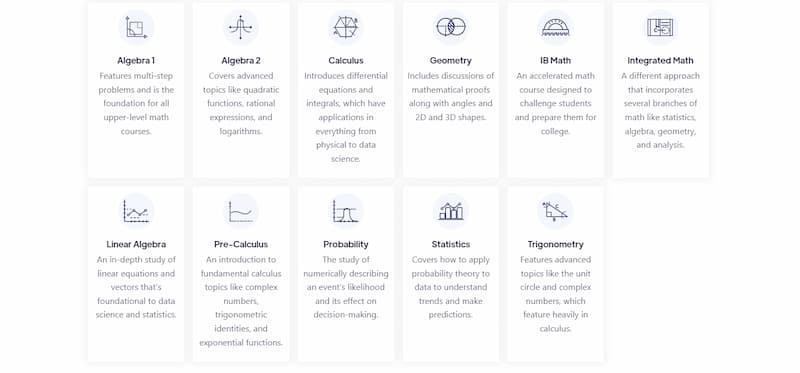 It's also worth mentioning again Learner's innovative platform for tutoring sessions. This keeps the student and tutor engaged in the learning process.
The platform works seamlessly across all devices, which can be highly convenient, especially in families with various devices to complete work and schoolwork.
Pros
Well-vetted experienced tutors.
Detailed tutor matching process to give the student the best fit.
Customized experience for the students unique needs and goals.
An innovative learning platform that works across multiple devices.
Continuous feedback keeps the tutor-student-parents on the same page.
100% risk-free satisfaction guarantee – first session free.
Cons
There are no specific prices given upfront.
The website offers no live chat feature.
Group classes are not yet available.
Tutors are assigned – the student does not choose the tutor for themselves.
Their team of tutors is still growing and math is the only subject taught currently.
It does not offer a quick fix. It requires effort and time for the student to internalize math problem-solving processes not just memorize formulas and answers.
Learner.com does not have a mobile app.