Introduction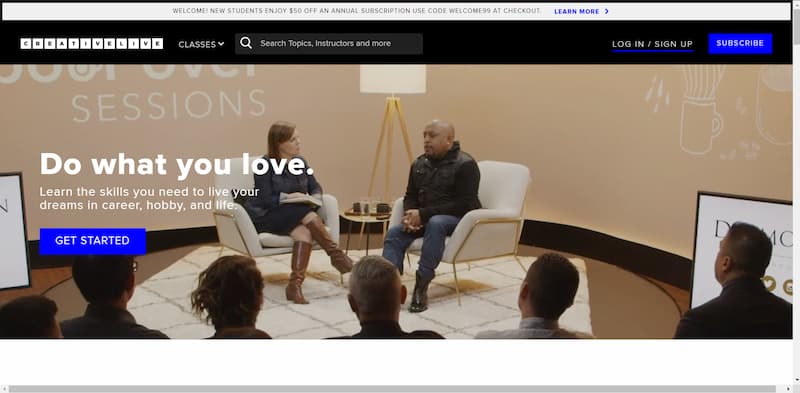 Online lessons are currently one of the best and most convenient ways to learn new skills. You get access to lectures by renowned experts who're excellent at sharing their knowledge for an affordable price.
You also can communicate with other students and people enrolled in the same course as you, which can lead to incredible networking opportunities. And the best part is that you have the freedom to go through the lessons on your own time.
When people take online classes, they usually decide to learn more about business, digital design, photography, marketing, and anything else they can turn into a side hustle.
Most people who are interested in online lessons have a goal to boost their income.
That's why these types of classes work so well. The tutors are industry experts who know what it takes to succeed in their field and provide students with useful and practical knowledge.
Although online learning has some clear benefits, finding the right tutoring service for you can be quite challenging. Countless companies offer online lessons, but not all of them are good. Some of these websites are not even legit and want to scam people out of their money.
That's why we deeply analyze online tutoring services and provide our readers with important information on each company based on their service quality, prices, and other factors.
We always take time to learn the service inside and out before writing a review.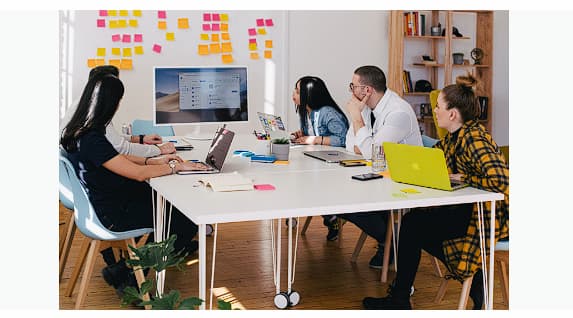 Our goal is to help users find the best tutoring service for their needs and avoid companies that are not legit.
Today, we will show you what we learned about CreativeLive after analyzing their service. If you are interested in the comparison of this platform with similar companies, check out Creative Live and Skillshare, MasterClass and CreativeLive, and the most recent one CreativeLive and Lynda articles.
Creative Live Overview
There are some things that you can't learn in school. Although you can gain a lot of technical and practical tips and useful knowledge in college, you won't have a chance to unleash your creative side.
Thankfully, you can now enroll in online courses specifically created for innovators, visionaries, and people who feel the need to express their creativity.

CreativeLive is an online education platform that provides a wide range of courses for learners all over the world.
With its high-quality content and experienced instructors, it offers something for everyone who is looking to develop new skills or further their knowledge in areas such as photography, design, business, music, and crafts.
In this article, we'll take a deeper dive into CreativeLive – from its platform features, pricing options, and advantages and drawbacks to user experiences, so you can decide if signing up for their courses is the right move for you.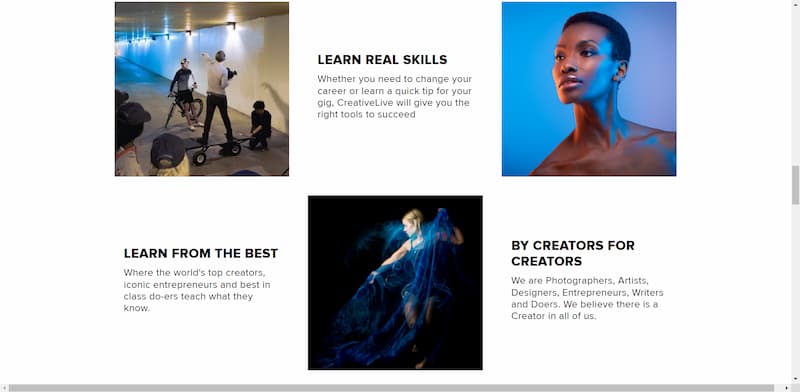 High Quality
CreativLive offers dozens of courses including the best-known high-end classes on the market. Mindvalley Media operates this site and offers many popular online courses and services including the largest network for the online school.
Creative Live aims to make learning easy via videos. You can learn quickly once you register and you can choose from tons of video courses.
What is a Creative Live Online Learning Platform?
CreativeLive serves as one of the largest education platforms on the internet designed specifically for creative people. You can find more than 2000 classes on the platform, with over 650 experts teaching the courses.

Before writing our Creative Live review, we had already heard good things about this company. However, we still wanted to learn exactly how it works.
You can browse through their many courses before you even become a member to see if there's anything that interests you. There are also some completely free side courses that you can take to become more familiar with the platform.
One of the main things users mention they like about this service in their CreativeLive reviews is the list of tutors.
You can find world-renowned photographers, best-selling authors, and Grammy winners among the tutors.
You can learn valuable lessons from people like Jasmine Star, Mel Robbins, Daymond John, Sheri Riley, Tim Ferriss, and more.
Is CreativeLive worth it?
You may be wondering, are CreativeLive classes good? With more than 2000 classes, you're bound to find many great courses that you'll enjoy.
You can find CreativeLive class reviews by users to help determine which ones to enroll in.
People often ask if CreativeLive is legit or if CreativeLive is a scam. This company is legit and has been operating since 2010, with more than 10 million students on the platform.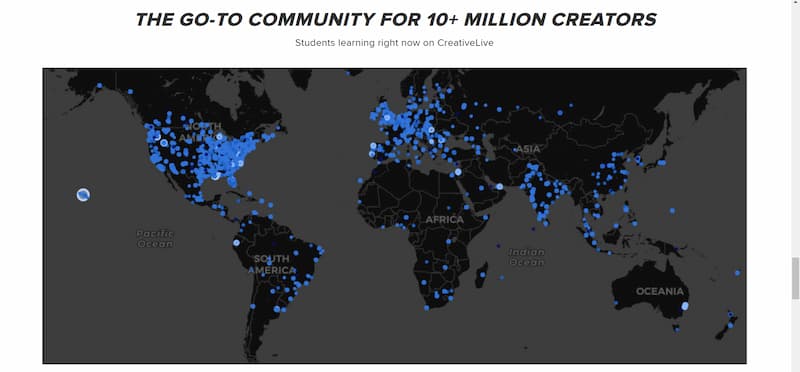 On top of that, many experts and renowned tutors are associated with this company. And as a big plus, there are many positive CreativeLive.com reviews about this company.
If you are looking for the best English tutor, you should check our page of top tutors for English learning.
Who Is CreativeLive For?
CreativeLive is an ideal educational platform for a wide range of learners, from hobbyists to professionals seeking to enhance their skills, expand their knowledge, or explore new creative avenues.
With its diverse course offerings, CreativeLive is particularly well-suited for photographers, graphic designers, musicians, entrepreneurs, and craft enthusiasts looking to learn from industry experts.
The platform is also an excellent choice for those who prefer a flexible learning experience, as it offers both on-demand courses and the live streaming of classes to accommodate different learning styles and schedules.
In addition to serving as a valuable resource for individual learners, the perfect CreativeLive course can be a helpful tool for businesses and organizations looking to provide employee training and professional development opportunities.
The platform's courses cover essential skills in areas such as marketing, finance, leadership, and the creative industries, disciplines that can contribute to the overall success of a business.
However, it's important to note that a CreativeLive course may not be the perfect fit for those seeking formal accreditation or certification, as the platform's courses do not offer these credentials.
Story of CreativeLive.com
Craig Swanson and Chase Jarvis first started toying with the idea of doing workshops to help people develop their creative skills in 2009.
They essentially wanted to create a new approach to education that would be interesting to creatives across the globe.

They created their first successful class in December 2009. Once they realized they had an audience, they immediately started plotting their next steps.
They founded CreativeLive in 2010 and set up an office in house production studios in Seattle. In 2013, they opened up a studio in San Francisco.
Each year, they have shattered records and developed better and more popular classes. They currently have over 10 million students who have watched over two billion minutes of content.
Services of CreativeLive
CreativeLive.com reviews often include positive comments on the versatility of courses available on the website.
With 1,500 classes dedicated to helping people develop their creative skills, you can truly find a course that looks like it was created specifically for the creative person in you.
You can find courses in several different categories, like:
Photography: Ranging from beginner to advanced levels, courses cover topics like portrait, landscape, wedding, and commercial photography.
Design: Courses on graphic design, web design, user experience (UX), and more cater to various design disciplines.
Business: Learn essential skills in entrepreneurship, marketing, finance, and leadership to boost your career or start your own business.
Music & Audio: Explore music production, audio engineering, songwriting, and music business courses.
Craft & Maker: Develop your creative side with courses on painting, drawing, sewing, knitting, and other crafts.
You can find subcategories in each of these categories to help you find the right course. While writing our CreativeLive photography class review, we noticed that you could learn about numerous types of photography.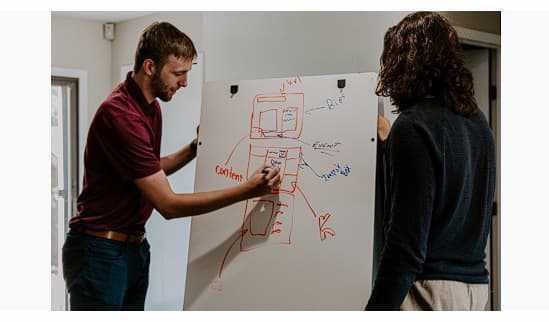 Students have a chance to boost their skills in iPhone photography, wedding photography, portrait photography, commercial photography, outdoor photography classes, and more.
If you want to boost your creative and practical skills to save money and increase your income, you should enroll in a Money & Life category class.
Learning formats
On-demand courses: Access pre-recorded lessons and materials anytime, allowing you to learn at your own pace.
Live classes: Join live-streamed classes to interact with instructors and fellow students in real time.
Mobile app access: Learn on the go with the CreativeLive mobile app for iOS and Android devices.
You can learn about management, finance, social media, online business, entrepreneurship, podcasting, writing, marketing, and much more than one course.
Students note in their online creative writing course reviews that many classes in this category are excellent.
The best course in the entire category is "How to Break the Habit of Self-Doubt and Build Real Confidence" by Mel Robbins.
This is also the best class in this category, according to our most popular CreativeLive course class review.
While writing our Creative Live course review, we were interested in the Craft & the Maker classes category.
It included several creative classes taught there that we did not find on other online learning platforms.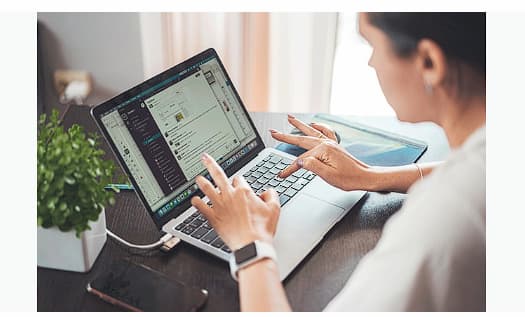 These classes included stamp making, cake decorating, quilting, knitting, sewing, pattern design, and fabric crafts.
You can master your coloring, drawing, illustration, photography, business branding, and other similar skills by enrolling in Art & Design classes.
Here, you can also learn more about web design, logo design, and user interface design.
Finally, you can learn about songwriting, sound mixing, audio engineering, and recording in the Music & Audio courses.
Course instructors and quality
Industry professionals: Learn from experts, including Pulitzer Prize-winning photographers, Grammy-nominated musicians, and successful entrepreneurs.

Engaging content: Courses feature a combination of video lectures, demonstrations, and hands-on exercises to enhance the learning experience.
Real-world examples: Instructors use case studies and practical examples to teach relevant skills and techniques.
A lot of great classes are also available at MasterClass. Check our review of the best courses at MasterClass and see which course might suit you best.
How to Open a CreativeLive Account?
Opening a CreativeLive account is a simple and straightforward process that allows you to access the platform's vast array of educational content. To get started, follow these steps:
Visit the CreativeLive website at www.creativelive.com.
To register, navigate to the top-right corner of the homepage and click on the "Sign Up" button.
From there, you can either sign up with your Facebook or Google account or create a new account using your email address. If you select email registration, provide your first and last name, along with your email address and password.
Click on the "Create Account" button to complete the registration process.
Once your account is created, you can start browsing the available courses, free content, and live streams. You can also update your profile, add a profile picture, and customize your account settings to tailor your CreativeLive experience.
By creating a CreativeLive account, you'll gain access to the platform's free content, and you'll be able to purchase individual courses or subscribe to the CreativeLive Pass for unlimited access to the entire course catalog.
Pricing of the Classes
CreativeLive offers a flexible pricing structure to cater to the diverse needs of its users.
The platform provides several options, including individual course purchases, course bundles, and a monthly subscription plan called the Creator Pass.
The cost of individual courses, course bundles, and the Creator Pass varies depending on the content, duration, and complexity of the courses.
Individual Course Pricing

Individual courses on the CreativeLive platform can range in price from $20 to $300, depending on factors such as the course's length, complexity, and instructor.
While some shorter, introductory courses may be available at lower price points, more in-depth and comprehensive courses taught by renowned experts may cost more.
However, it is essential to note that CreativeLive frequently offers promotions and discounts, which can significantly reduce the cost of individual courses.
Course Bundles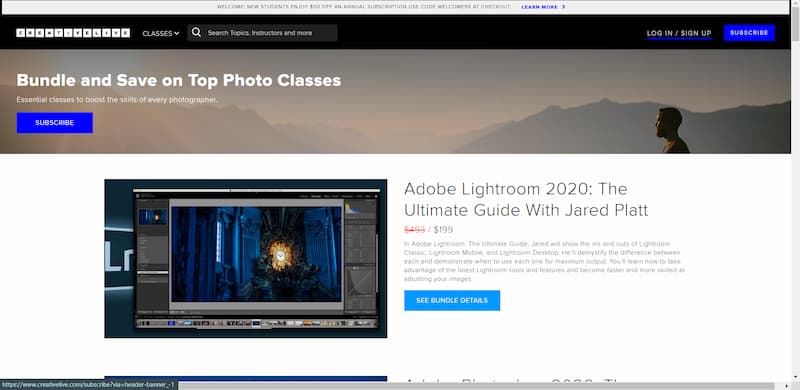 CreativeLive also offers course bundles, which are collections of related courses that can be purchased together at a discounted price.
These bundles typically provide better value for money, as they allow users to access multiple courses at a lower cost compared to purchasing them individually.
Prices for course bundles vary depending on the number and types of courses included.
Creator Pass
The Creator Pass is CreativeLive's subscription plan, which provides unlimited access to the online learning platform and its extensive course catalog for a fixed fee.
The Creator Pass is available at $39 per month or $149 per year, making it an attractive option for users who plan to take multiple courses throughout the year.
However, some exclusive courses may not be accessible with the Creator Pass and might require separate purchases.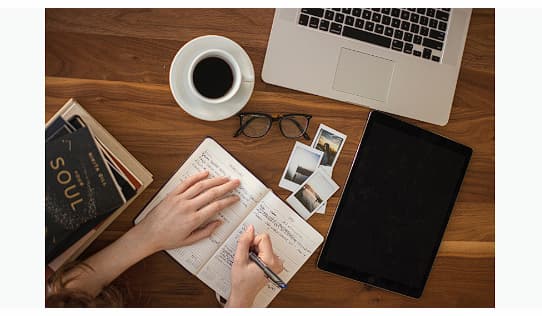 When it comes to the prices of the classes, you have two options. You can buy lifetime access to certain courses or pay for membership.
The prices of courses typically range from $15 to $200, while the monthly membership (known as the creator pass) will set you back $29 per month.
While writing our CreativeLive creator pass review, we were pleasantly surprised that this membership gives you access to all 1,500 classes.
You also can get an annual pass, which costs $149 per year. This option gives you access to all creative live classes for less than $13 per month.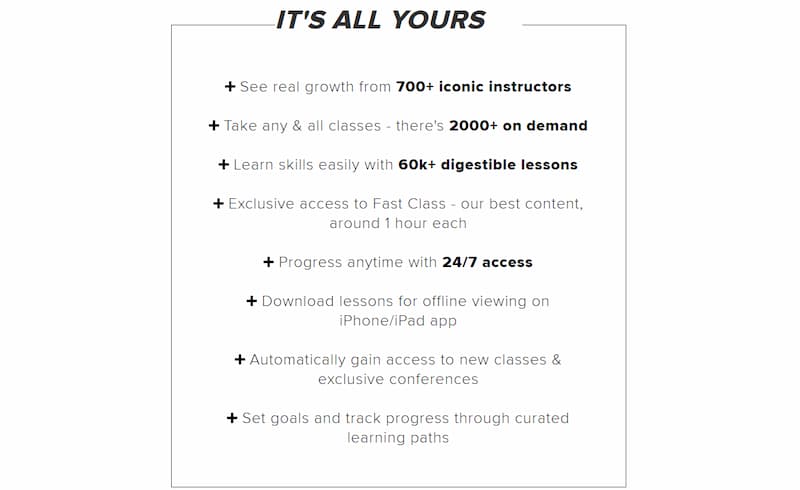 If you are trying to find a personal tutor for your learning needs, checkreviews of Varsity Tutors, these guys hire top tutors, so you can start practicing online.
Quality of the CreativeLive Classes
You already know that this company offers a lot of different CreativeLive free live classes.
But are CreativeLive free classes good? There are bound to be some misses when you have so many different free live online classes on your platform.
We're not saying that all classes on this website are good, but our review of CreativeLive led us to conclude that around 80% of all the courses that you can find on this platform are outstanding!
They are taught by industry leaders and experts who know how to share their knowledge with others.
If your kid has trouble with math learning, check online math tutoring reviews on our website. You might find a service to help you and your kid with math learning.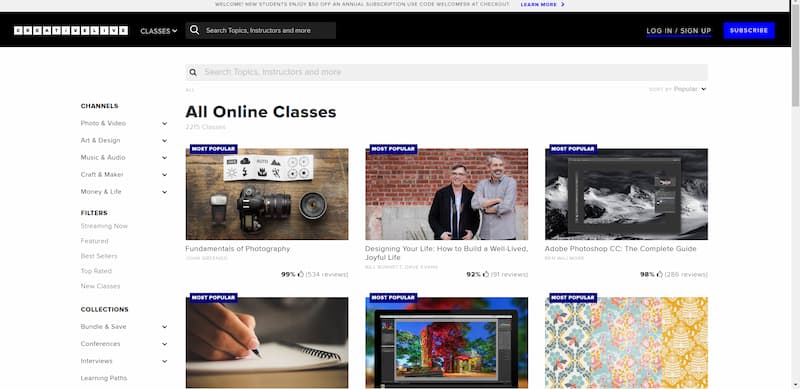 CreativeLive has some of the best instructors in the business. Their course content is always up-to-date and relevant, meaning you can trust that you're getting high-quality courses and education.
What's more, the interactive learning experience and the fact that purchased courses are available to you for life make CreativeLive an ideal learning platform both for creative professionals and those looking to learn new skills.
Customer Service
While the service that CreativeLive offers is amazing, its biggest downside is its customer service.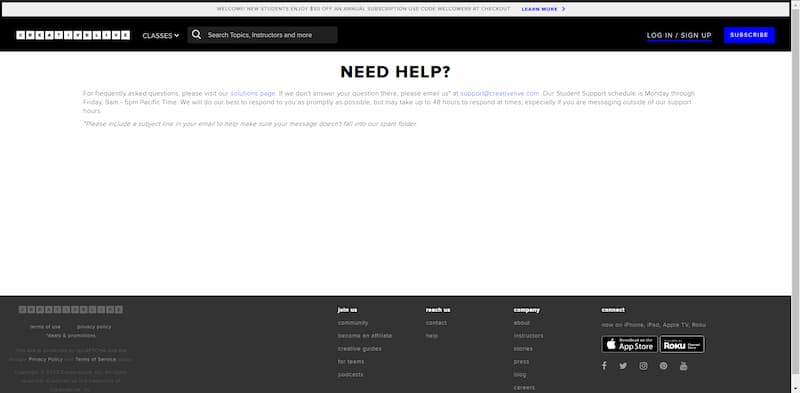 You can find many different Creative Live reviews online that mention at least one problem they had with customer service.
They're not particularly responsive and are often unable to solve students' problems. But there is a cast knowledge base that should be able to answer most questions.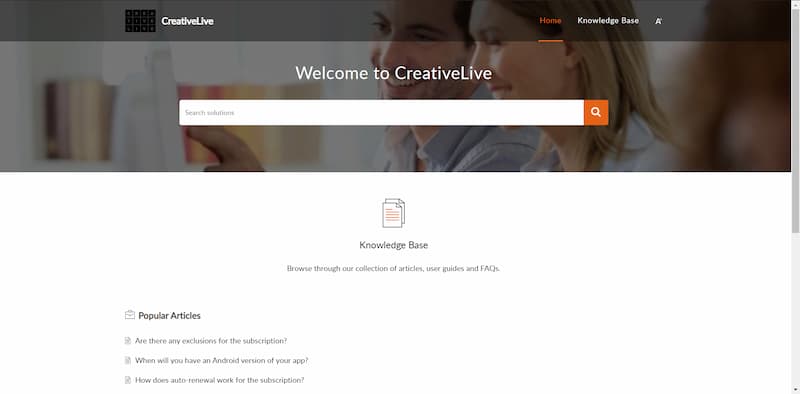 Although you probably won't experience any problems while using this service, you should still know that you won't be able to count on customer service to provide quality assistance.
CreativeLive Reviews and Testimonials from Users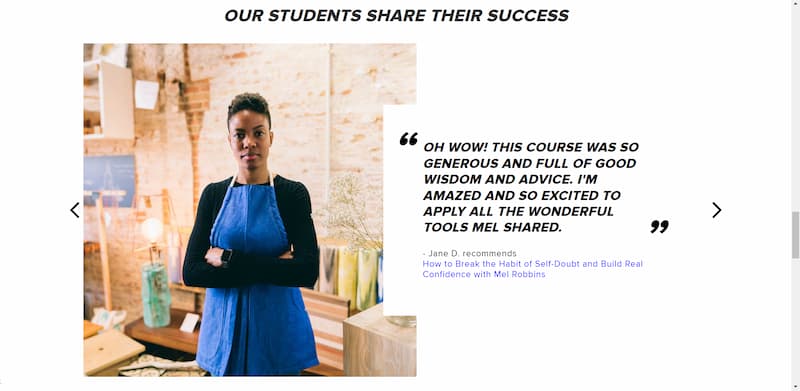 Many users praise the quality of CreativeLive's courses class materials and instructors, stating that they have gained valuable skills and knowledge.
Users appreciate the flexibility of the platform, allowing them to learn at their own pace and on their own schedule.
The community aspect of CreativeLive is also well-received, with users enjoying the ability to take new courses and connect with fellow learners and instructors.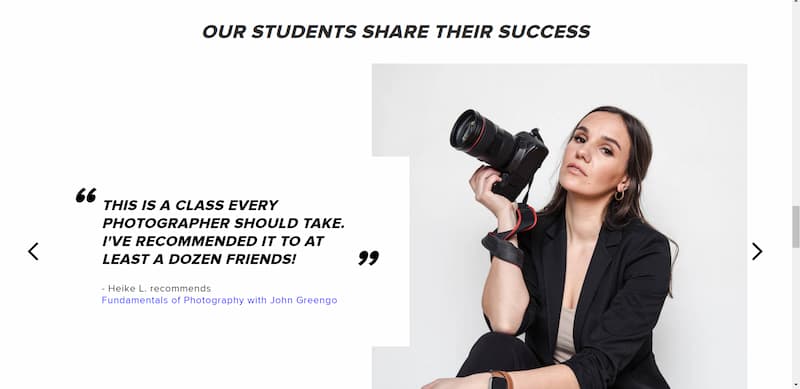 On the other hand, some users express disappointment in the limited course offerings in certain categories.
Others mention the lack of formal accreditation as a drawback, as it may not hold the same weight as certified courses in professional settings.
However, these concerns are often outweighed by the positive experiences users have with CreativeLive's content and professional instructors themselves.
Recommendations for Getting the Most Out of CreativeLive
To make the most of your CreativeLive experience, set clear learning goals before you begin.
Knowing what you want to achieve will help you select the right courses and stay focused on your objectives.
Take advantage of the free content available on the platform, including free courses and free live classes and streams, to explore different topics and find the courses that best suit your needs.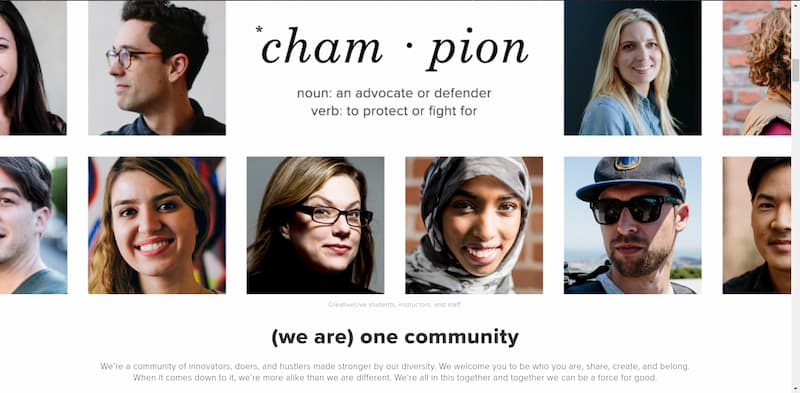 Engage with the CreativeLive community by participating in course discussions, asking questions, and sharing your work.
Connecting with fellow learners and instructors can enhance your learning experience and provide valuable feedback on your progress.
If you find yourself using the platform regularly and benefiting from its content, consider investing in the CreativeLive Pass to gain unlimited access to all courses, exclusive content, and additional discounts.
Website and Mobile App Usability
While writing our review for CreativeLive, we carefully analyzed their website. You can easily navigate the website, and its functionality is great.

The classes are divided into simple categories that will allow you to find a course aligned with your interests in a matter of minutes.
You don't have to be on your laptop or desktop to enjoy CreativeLive courses.
You can learn on the go by using their iPhone and iPad apps. It's worth noting that you will get a free lesson of your choice every day you use the iOS app.
On DataCamp Subscriptions
Click on this code for Datacamp and save a huge 50% on Datacamp Subscription. Take action now! End Date: 06 – 5 / 2023. 275 people are using. Only 35 remain.
Professional Instructors
Crafting a fertile landscape for learning is paramount to stimulating students and fostering the full bloom of their talents. This commitment is mirrored in their dependability, demonstrated by their prolific provision of top-tier educational products.
The team is a tapestry of professionalism, their arms wide open to the vibrant student community.
This educational haven is more than a school—it's a firm believer in the potential nestled within each student.
It is in their expert guidance and finely honed skills that students find the courage to unfurl their passions, to cultivate growth, and ultimately, to let their unique expression take flight.
Final Words
CreativeLive offers a diverse range of high-quality free courses in various other creative arts and fields, making it an attractive choice for those looking to expand their skills and knowledge.
While the courses can be pricey, the platform offers value for money through expert instruction, engaging content, and lifetime access to course materials.
Despite some limitations, CreativeLive is a worthwhile investment for those seeking to advance their creative careers or pursue a new hobby through online education.

Before committing to a course or subscription, explore the free content available on CreativeLive to determine if the platform's offerings align with your learning goals and preferences.
By setting clear objectives, engaging with the community, and choosing the right courses, you can maximize the value you gain from CreativeLive's courses and enhance your personal and professional development.
This may add many benefits to your current or future career path.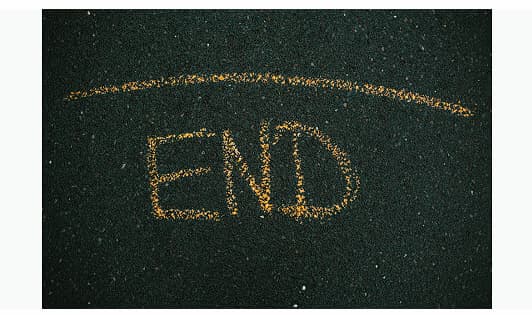 Pros
You can gain free access to any class that is streaming live.
You can use CreativeLive on your computer, smartphone, and tablet.
All of the courses are filmed in-house, meaning they have the same high level of quality.
The tutors are experts in their respective fields and offer valuable knowledge to students.
CreativeLive can help you learn both creative and business skills that you can use to start a company.
The company offers a 7-day refund policy on the creator pass and a 30-day refund on individual classes.
Cons
Their customer service often isn't very helpful or responsive.
CreativeLive doesn't provide any accreditation or certificates.
The classes usually don't include a lot of downloadable materials.
Certain courses contain more than half an hour-long modules that are hard to digest.
Individual courses can be expensive, which is bad news for students interested in just one class.
There aren't many courses in app development and programming, which are also considered creative skills.
Conclusion
CreativeLive, like a vibrant digital marketplace for the creatively inclined, is a beacon for those thirsty for knowledge.
Serving a buffet of online courses spanning the vibrant spectrum of photography, music, art, and entrepreneurship, it's more than just a learning platform—it's a catalyst for personal transformation.
Its intriguing blend of live-streamed content and wisdom-infused sessions from industry maestros offers a nurturing haven for growth.
No matter if you're just dipping your toes into the world of creativity or a seasoned professional honing your craft, CreativeLive warmly invites you into a world where learning, creation, and inspiration dance in harmony.