Intro
Students, usually business school aspirants, will have to get their verbal, analytical, and mathematics skills tested by the Graduate Management Admission Test (GMAT).
This standardized test is typically considered to be relatively tough when compared to other qualification examinations as only 6% of the participants score 720 and above. Getting the right guidance can greatly increase your chance of being among the select few who ace the GMAT.
We have a detailed VarsityTutors.com review on our blog, but we do not cover GMAT or GRE tutoring there. While this VarsityTutors GMAT review aims at showing the benefits and possible fallbacks for relying on the company to help you prepare for the prestigious test.
Besides the break which lasts for only about 8 minutes, the GMAT experience is a 3-and-a-half-hour period where you get tested on your higher-order reasoning.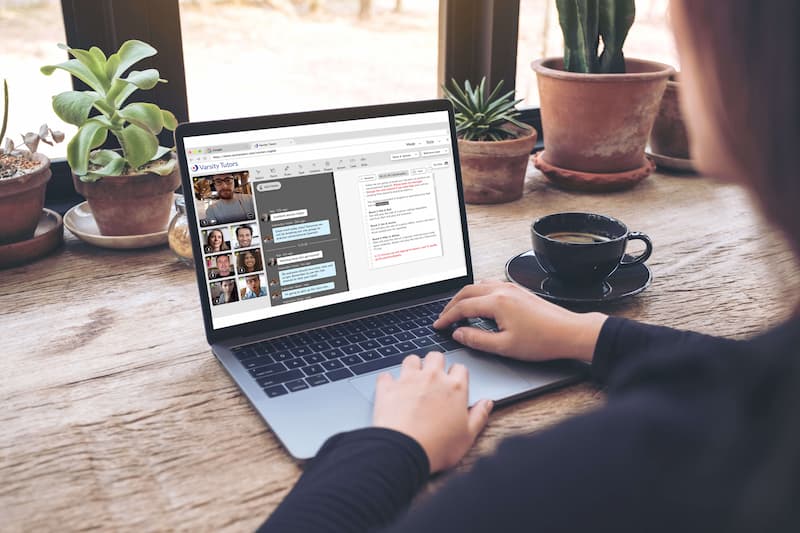 The level of intelligence needed to pass this examination is required to succeed in business hence you have to be adequately prepared to have a chance at getting an impressive score. That's where the services offered by Varsity Tutors can be of help to you.
The GMAT is made up of four parts;
Analytical reasoning;
Integrated reasoning;
Quantitative reasoning;
Verbal reasoning.
They are always presented in that order. The GMAT is scored on a scale of 200-800. The best possible score is 800, but most top-tier organizations realistically place 720 as a mark of potential for excellence.
You can adequately prepare to be in that circle by taking practice tests to know your level of preparedness.
As far as studying goes, you can decide to prepare at your own pace with materials or get guidance from instructors.
The company boasts of an intensive vetting process for tutors which testifies to the qualification and competence of their instructors.
They offer impressive learning tools that include a personalized study plan that allows you to monitor your progress and be better prepared.
From this VarsityTutors.com GMAT review, you've got a more in-depth journey through the usefulness of the platform in preparing for your GMAT.
Varsity Tutors GMAT Prep Overview
We evaluated the platform based on some relevant factors to get an in-depth look at the reliability of their service. The quality of their tutoring is remarkable given that the instructor is an expert at improving students' scores through extensive GMAT prep.

Depending on your timeline and preference for studying, our tutors can design personalized study plans to help you prepare for the advanced-level test.
You can enjoy one of Varsity Tutors' featured packages that give students the proficiency to use smarter methods to score higher on the GMAT. These packages include live online group classes, 1-on-1 tutoring, and a combination of online classes and private tutorials.
Compared to other tutoring platforms, their prices are fair. The varsity tutors' website is easy to navigate and the same goes for their mobile apps for studying on the go.
We found that their service packages are inclusive of several benefits like self-study resources and consultations.
The VarsityTutors GMAT reviews online are mostly encouraging and show that customer satisfaction is a priority for the company.
Besides, the platform maintains the privacy of its clients so you don't have to worry about your personal information getting out because you hired their tutors.
You're also guaranteed to get a high score from utilizing their services for your GMAT prep or you'll get your money back.
To further understand the aspects of this VarsityTutors review, we'll go in-depth on the above-mentioned characteristics.
GMAT Prep Services
You can customize your GMAT review plan with the help of the practice tests on the platform. These tests do a good job of revealing the topics that you need more studying to do on and those you've mastered.
You can get into the business school of your choice by selecting one of the featured packages on the website.
For starters, their small group classes have multiple schedules so anyone can select a convenient one. These classes add up to 20 hours and consist of only 6-9 students per class to allow the tutors to give personalized help and attention.
You'll be dealing with tutors and instructors who are experienced with the GMAT and what it takes to get a higher score than most people. These experts will provide you with directions while designing the study materials and schedules to meet your specific needs.
They have a tutor matching system that first gets pros to consult with you to figure out your learning style, goals, and educational background.
There's an algorithm that takes everything learned about yourself in the consultation process and selects the most suitable tutor for helping to achieve your dream score. Once that's done, you'll be scheduled to have your live lectures with your assigned tutor.
We found that their GMAT course syllabus is extensive. Also, the package comes with self-study resources like flashcards, diagnostic tests, practice tests, and study guides.
If you feel like you'd do better with private tutoring then you should enroll in a 1-on-1 class with a GMAT professional on Varsity Tutors.
This featured package also gives you complete access to their extensive study materials as well as tutoring that last up to a year.
Furthermore, it allows you to create the most convenient and effective schedule. The package comes with study materials, tests, flashcards, and access to the mobile app for studying anywhere.
The algorithm picks out the best tutor for you and it's up to you to decide the duration of sessions you want to pay for (12, 24, and 36 hours), as their rates vary.
GMAT Class + 1-on-1 Tutoring Bundle:
VarsityTutors.com GMAT reviews show that this bundle is the most popular choice among customers. If you're striving to get a higher score than most, then you'll benefit greatly from engaging in live classes as well as 1-on-1 tutoring to improve the quality of your study time.
Not only can you rely on your group instructor to provide a comprehensive overview of the upcoming test, but your tutor will solve specific questions with you and improve your understanding of topics relevant to your area of focus.
By doing so, you know what to expect regarding the complexity of the GMAT questions. The tutors and instructors are qualified to explain strategies for handling trickier questions in the test alongside time management, test pacing, quantitative techniques, and critical reasoning strategies.
Regardless of whether you prefer self-paced studying or being guided in a group setting, you'll benefit greatly from the GMAT tutoring packages offered on VarsityTutors.com
Now the question is which should you choose, Target Test Prep vs Magoosh GMAT?
Pricing of the GMAT Tutoring
The costs of their featured packages are not all the same given that they differ in services offered. Overall, VarsityTutors.com offers affordable prices based on the fact that the GMAT experts are highly qualified and the lectures (live classes, 1-on-1 tutoring, or both) are personalized according to your learning style and schedule.
As far as GMAT tutoring goes, you should be wary of companies that promise extraordinarily cheap prices.
At $29.95 per hour or a total of $599, you can for the live online GMAT classes that add up to 20 hours of instruction. The online classes extend up to 5 weeks and are handled by vetted professionals.
The Varsity Tutors GMAT 1-on-1 tutoring sessions cost a subscription fee of $102 per hour if you're selecting a plan with a 12-hour duration or less. Such short-spanned private tutorials are great for getting help on specific topics.
However, if you're planning to master a section, you'll be better off subscribing for a 24-hour long session which costs about $96 per hour or a total of $2,304.
You can take more time to analyze the loopholes in your level of preparedness for all three levels of the practice by paying for 36 hours of private tutoring which costs $3,240 at the rate of $90 per hour.
The GMAT Class + 1-on-1 Tutoring Bundle combines 10 hours of private tutoring and 5 weeks of live online class for a total of $1,599.
The website offers several options for making payments including PayPal and Venmo. You can also pay with your card as long as it's either an American Express, Mastercard, JCB, Discover, or Visa Card.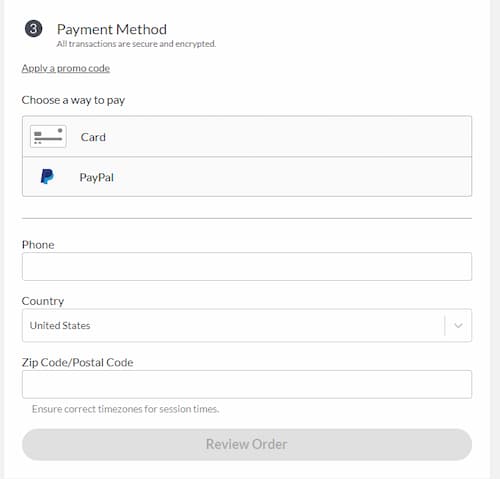 Your payment information is kept private and secure on the platform so you can be relaxed when using any of the accepted payment methods.
Varsity Tutors' Quality
You'll first get help from a consultant on the platform who'll help you figure out the best learning tool and study plan suited for your unique needs. We have a list of the best GRE prep courses here if you are interested in one.
The instructor and tutors are also available to help you achieve your goal through intensive study sessions and lectures that are combined with diagnostic, practice, and analytical tests.
Only 10% of people who apply for the position of instructor on VarsityTutors get through their vetting process.
The tutors are competent and qualified to help all kinds of students learn techniques and tricks for tackling complex questions while paying attention to time, pace and accuracy. The platform guarantees that you'll score higher than your previous GMAT score or get your money back.
What distinguishes Varsity Tutors from other platforms is their affordable featured packages that entail several benefits including dealing with expert tutors in both 1-on-1 and group situations.
Depending on your preference, tutoring can be more beneficial than a self-paced course since you have guidance from qualified professionals.
Does VarsityTutors GMAT Prep Worth It?
The study and tutoring plans that are offered by Varsity Tutors are top-notch and worth every penny. Compared to similar platforms, their customer satisfaction level is impressive and their prices are fair.
Regardless of your budget and unique needs, you can be sure that you'll gain several benefits from the live online classes and private tutorials alongside their extensive study materials and practice tests.
Their GMAT prep services can help any student get a higher score than most since they're both highly effective and customized to the needs of the individual.
If you are still not sure about the Varsity Tutors and their GMAT prep, check our one-to-one comparison with the most experienced company Princeton Review here.
Student Feedback and Reputation
According to the Varsity Tutors GMAT reviews on the internet, the support staff of the company is responsive and helpful in resolving issues that come up.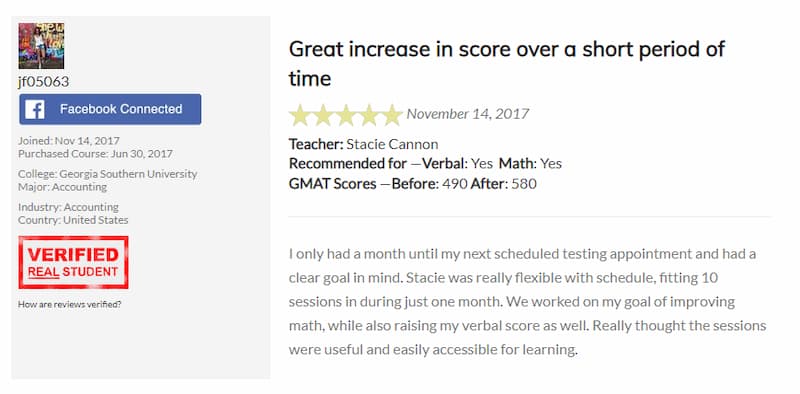 Many reviews on their tutors show that they're professionals with the ability to help students highlight and resolve their weaknesses while improving their strengths.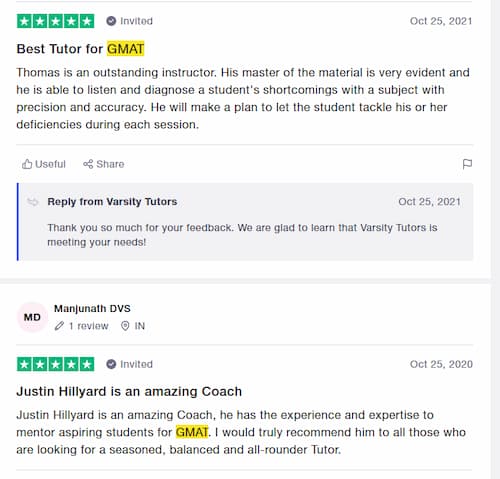 Pros
Fair-priced service.
Professional and considerate tutors.
Customized learning tools and plans.
Money-back guarantee on subscriptions.
Cons
Complaints of some tutors not meeting expectations.