Intro
Since the introduction of mobile applications software to the global market, they have made things easier as there's a mobile app for almost everything. The Elsa Speak App is the ideal platform for American people looking to boost their fluency in speaking English correctly.
Although, English words and phrases could be difficult to pronounce if users are not native English speakers. With enough practice and determination, you'll master them expertly on this platform.
This ELSA app has established itself as a leading platform where several people learn how to enhance their accents. There are lessons on this platform modified with artificial intelligence to meet the specific needs of its users.
Besides that, it has a free version for native English speakers in need of Spanish lessons. Check our list of the best apps to learn Spanish while driving here.
As a result of that, there are several positive reviews from several users in this ELSA Speak review.
In this ELSA Speak app review, we would use the following criteria to evaluate this platform:
Quality
Features
Pricing
Website usability
Value for money
Students' feedback
Money-back guarantee
Privacy, and so on.
If you are looking for even more great classes, check a platforms called HelloTalk reviews and Mosanligua vs Duolingo. Are HelloTalk reviews and Mosanligua vs Duolingo so good? Yes, they are. See more in our review.
What is ELSA Speak App?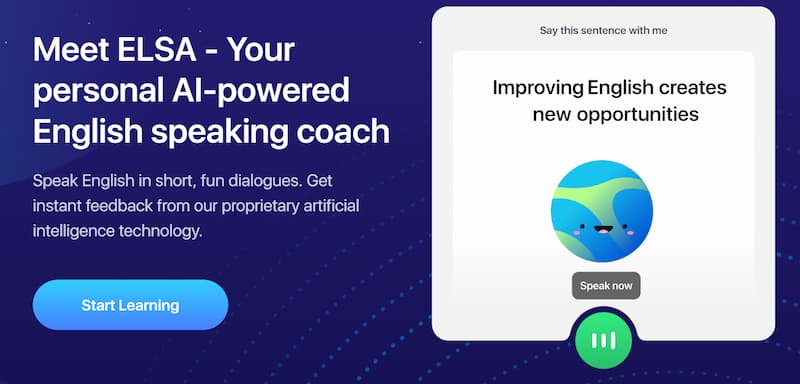 ELSA stands for English Language Speech Assistant. It is a platform that helps in improving English word stress and studying a neutral American accent.
This platform is meant for people looking to learn the basics of the English language, like grammar and vocabulary. Instead, it is a tool guaranteed to assist you in improving your listening and diction.
Beginners will find using this platform more engaging as every practice exercise and video is in English. Using this outlet is quite easy, and the first thing you'll need to do is to provide your required information to confirm your identity via email.
After registration, you will be given the option to choose between starting a practice with a course or taking an instant placement assessment. However, taking a test is the better choice as the platform would know the difficulty level that suits your skills.
This outlet's placement tests are usually simple and pertain to pronouncing a few phrases, so your level can be analyzed. After taking the test, you will be able to start your lessons.
ELSA Speak App App Features
The following are the features that come with this pronunciation app:
Courses Curriculum
Courses Topics
Practice Exercises
Pronunciation Assessment
Dictionary
Live Instructor
Monitor Your Regular Goals
Several Courses to Suit Your Learning Needs
1. Courses Curriculum
This platform provides students with 23 courses that are based on various sounds and sound classifications. Every course has videos coached by an indigenous speaker. These instructors teach students the right ways to shape their mouths and tongues to pronounce the sounds in the right way.
If you are looking for professional online tutors where you can learn privately, check our list of top tutoring companies that can help you with that.
Afterward, students can practice popular words that are pronounced using the sound. Although you might not find the lesson videos very interesting, you will find them helpful in the long run.
2. Courses Topics
The next feature in this outlet's review is its course topics. Many students find this feature very interesting, as ELSA Speak constantly adds new topics for students to practice several language skills.
For instance, this platform has several courses that help students practice popular International English Language Testing System topics.
Besides that, students can learn fun skills such as popular idioms and tongue twisters. There are several topics on this platform that students can learn, like travel or business.
3. Practice Exercises
The next feature of this outlet's review is its practice exercise. This platform provides its students varieties of exercises to practice, which include pronunciation, video conversation, word stress, intonation, conversation, and listening.
The majority of these practices utilize the listening-and-reciting procedure and get an instant response, so students would know if the words are well pronounced. Every individual looking to develop their accents would find this feature helpful, particularly the listening and intonation practices.
4. Pronunciation Assessment
The next feature of this outlet's review is its pronunciation assessment. This platform has a unique International English Language Testing System pronunciation score analyst that creates scores according to the quality of each student's pronunciation level.
Many students find this feature helpful as it provides a clear picture of their current level. The score analyst examines a wide variety of factors while students practice the given words, and they include the following: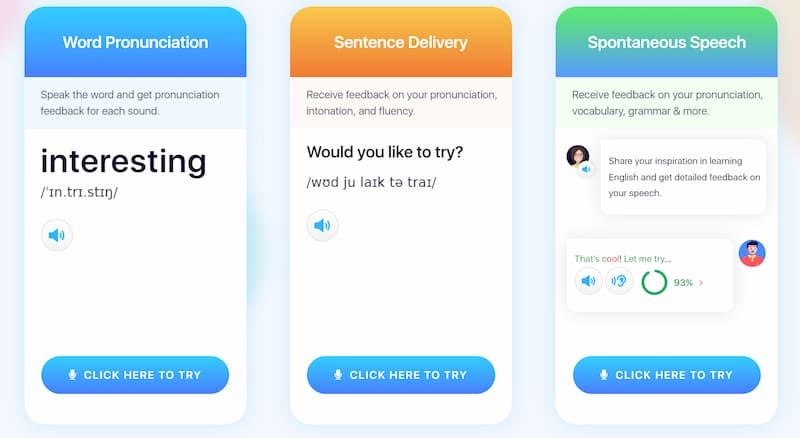 Accent
Language flow
Phrase structure
Chosen vocabulary
Word stress determinant
Transition of Topics
Each of the listed factors is utilized in testing the fluency of the platform users in the long run. To use these components, you are required to click on the record button, speak as you would, and press submit. Afterward, you will receive appropriate feedback based on pronunciation.
The major motive of this feature is to concentrate on the subjective quality of the user's accent. Even if you score a low mark in the beginning, you need not panic, as that's the essence of using this platform.
Thorough and constant exercises on this app, as well as utilizing the tips, will produce outstanding results. In the sense that users tend to score higher the more they practice.
5. Dictionary
The next feature of this outlet's review is its dictionary. Many users find this feature very helpful as it allows students to pronounce a phrase and check their scores. Besides that, it enables users to scan images and convert them into text.
Whenever phrases are recited in English, this feature shows the actual phrases in the local languages of users, so they will know their meanings.
Aside from that, this feature shows the scores of students in percentage. For instance, if you pronounce "listening", ELSA would examine your accent and provide feedback on how well the word was pronounced.
6. Live Instructor
The next feature of this outlet's review is its live instructor. The live instructor feature allows users to have access to counselling from experts and earn a prime level of understanding through each step. ELSA users find this one-on-one lesson very helpful as it improves their confidence and corrects their errors.
On the other hand, individuals who function better in group lessons can have access to all 3 tiers available on the platform. They are:
Beginners' group lessons
Intermediate group lessons
Advanced group lessons
Each of these class levels is instructed by a top instructor and costs the same amount. To make the topics simple for users to understand, lessons are usually as long as 25 minutes.
However, every class level has a fixed schedule so users need to consider this before choosing a class. The majority of this outlet's live coaches are either from Canada or the United States, but all have an American accent.
7. Monitor Your Regular Goal
The next feature of this review is its goal monitor. This feature is a smart tech that ensures that students meet their daily goals even though they cheat.
On the ELSA Speak App bottom-right corner, there's a fire icon that indicates the number of minutes completed by a student and what's left.
8. Several Courses to Suit Your Learning Needs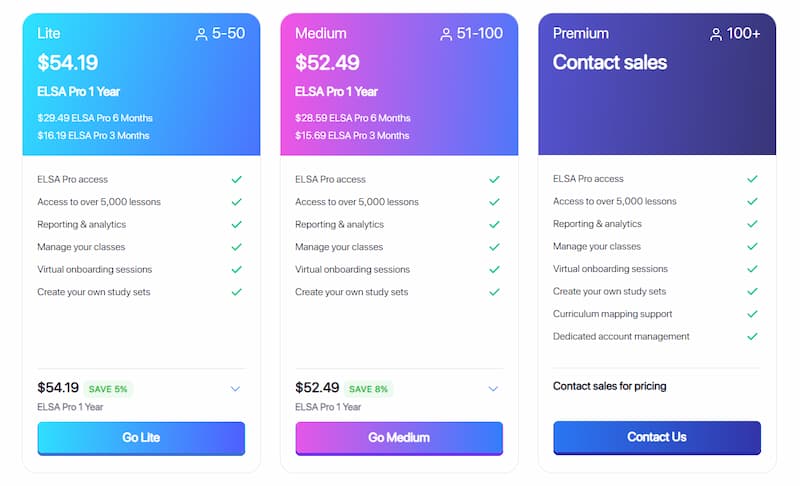 The next feature of this review is its course variations. The courses on the ELSA Speak App are categorized into three parts to make it easy for its users to learn.
To improve fluency in its users, ESLA lessons are split into the following categories:
Speaking Courses
Certificate Course
Pronunciation Courses
1.    Speaking Courses
This class category has common and fun themes guaranteed to improve your pronunciation skills. Some of them include family, entertainment, everyday English, travel, beauty, and so on.
2.    Certificate Course
This course category has International English Language Testing System Band preparations, beginner version, elementary editions, and several editions up to the advanced editions.
Each of these editions will make your pronunciation skills better, and they comprise the Oxford Business Certificates.
3.    Pronunciation Courses
This category covers vital consonants, easy picking skills, difficult consonant sounds, difficult English sounds, open vowels, as well as short and long sounds. These lessons are programmed in a particular order, so users can't unlock them randomly. Each of them comprises 35 lessons to provide students with detailed practice.
In addition, individuals with different levels of understanding will find the ELSA Speak App helpful, as its components accommodate students of all levels.
As a result of that, this outlet is a lot different from other similar platforms due to its impressive components.
ELSA App Pricing
This platform provides its users with a limited free version. It has several subscriptions for its pro version, and they are
Lite
The ELSA Speak cost for the Lite plan is $54.19 annually, $29.49 for 6 months, and $16.19 for 3 months. This subscription plan can be used by 5 to 50 people. On this plan, users have access to virtual onboarding sessions, +5,000 classes, manage their classes, etc.
Medium
The ELSA Speak cost for the Medium plan is $52.49 annually, $28.59 for 6 months, and $15.69 for 3 months. On this plan, users can access +5000 classes, virtual onboarding sessions, modify their study sets, etc. It can be used by 51-100 people.
Premium
You will need to visit the company's website to make inquiries about the Premium plan. On this plan, users have access to +5,000 classes, dedicated account management, curriculum mapping assistance, and so on. This subscription plan can be used by +100 users.
Although there are several platforms where you can learn languages fluently online, none of them emphasize pronunciation. The following illustration shows the comparison of ELSA's pricing with other similar platforms:
| | |
| --- | --- |
| Online Language App | Pricing |
| ELSA Speak App | Cheap pricing rate |
| EnglishClass101 | Cheap pricing rate, but not as cheap as the ELSA Speak price |
| Glossika | More expensive pricing rate than the ELSA cost |
| Pimsleur | Expensive pricing rate |
ELSA Speak App Free Version
This platform provides its users with a 7-day free trial in its Pro version. Although it is completely free, students can access every feature on the platform.
ELSA Speak App App Discount
This outlet gives discounts to its registered clients constantly. After signing up for free, an ELSA Speak promo code for the Pro subscription will be emailed to you.
Besides that, there are also discounts available for specific holidays like Black Friday.
ELSA Speak App App Free Languages
This platform provides students with a free version that requires no payment but they can only have access to a few features.
Besides that, the free feature does not include any of the Pro version tools like this platform's speaking analyst.
Privacy Policy

All information provided by users on this platform is well protected from third parties. Therefore, users are assured of complete privacy whenever they use this outlet.
Quality Check
At this outlet, you are guaranteed to be taught by native speakers who will use their level of fluency to improve yours.
Therefore, after taking ELSA lessons, your pronunciation fluency is assured. You would see an improvement in your accent by 90% and your confidence in speaking in English will rise to 95%.
In terms of quality, this outlet is a lot different from other online practice outlets because it is strictly about improving pronunciation. The outlet is built mainly for Native English speakers aiming to learn Spanish, and foreigners in the United States aiming to understand English better.
How is ELSA Better Than Other Apps?
| | |
| --- | --- |
| Language App | Quality |
| ELSA Speak App | The best app for mastering pronunciation correctly |
| iTalki | Does not specify pronunciation practice like ELSA |
| Cambly | Pronunciation learning is not a major on this platform |
| Memrise | Does not particularly improve pronunciation like the ELSA Speak App |
| Duolingo | Users' pronunciation quality is not guaranteed to be as high as 90% after using this outlet |
Value for Money
Many Americans wonder if the ELSA Speak App is worth its rate pricing, the good news is, it's worth every penny you spend.
This is because your fluency will improve impressively after taking the lessons at this outlet. What you get for the money paid is a top-notch learning procedure that involves several practice exercises and one on one live coaching.
Every native English speaker looking to learn Spanish will find the experience of using this outlet valuable, as their accent will be a lot better.
The same can be said about Americans aiming to develop their English words and phrases pronunciations. In the long run, taking ELSA Speak App courses is guaranteed to help your career.
Student Feedback and Reputation Review
According to the reviews of several students, the outlet's support service is polite, attentive, and helpful. Besides that, reviews from different students indicate that using this outlet improved their accents over time.
However, they had to take multiple classes and practice different exercises to attain advanced fluency.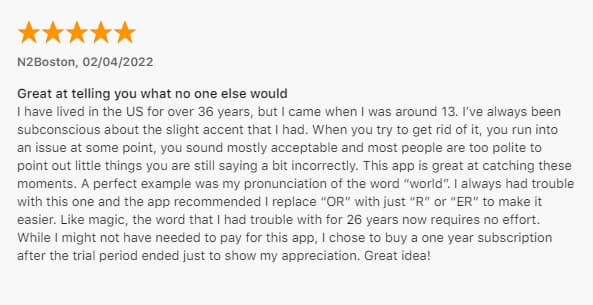 As seen in more users' feedback, the free version of the ELSA app is very limited. To get the best out of it, you will need to purchase the paid version, which is not entirely cheap. Its paid version provides users access to numerous impressive features that would help speed up the learning process.
Besides that, the outlet is strict in the sense that it detects little things that are not well pronounced. This is good in the sense that it would help you enhance your accent without neglecting slight errors.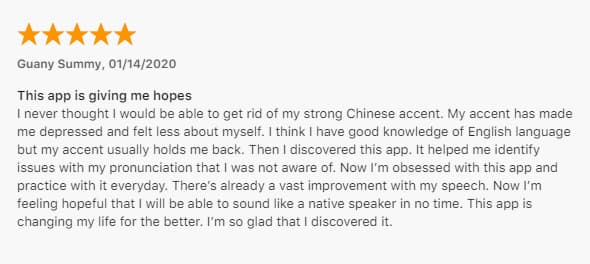 Pros
It has a free version.
The outlet is easy to use and very helpful.
The outlet's paid version is not too expensive.
This outlet is the best practice platform for individuals looking to boost their English accents.
Lengthy classes and numerous exercises to help students assimilate and enhance their pronunciation skills faster.
Cons
The ELSA Speak App free version has limited features.
According to some reviews, the outlet has some technical problems as some users complain about its operations.
The platform is strict with pronunciations as it takes note of accents to the lowest details of users' tone.
FAQ
Is ELSA Speak Speak a Free App?
No, it is not a free platform. However, it does have a free version which does not have access to all of its impressive features.
How Much is The ELSA Speak Speak App?
Although it has a free version, it costs $11•99 a month, $25•99 for 3 months, and $74•99 annually.
What is ELSA Speak Speak App?
ELSA stands for English Language Speech Assistant and is mainly a language learning platform for individuals aiming to enhance their English accents.
Asides from learning English words and phrases pronunciation correctly, it is the ideal outlet for native English speakers looking to learn other languages like Spanish.
Also, check our list of the best English tutoring websites where you can hire personal tutors.
How Can I Use ELSA Speak Speak App?
This online learning platform has a friendly interface that allows its users to utilize its components easily. To use this outlet, firstly, you will be asked to select your local language to customize your online learning experience. Afterward, this platform would ask for your motive for practicing the English language. It does this to choose topics based on your aims and interests.
Is The ELSA Speak Speak App Legit?
Yes, the ELSA speak app is a legitimate online practice platform with over 40 million downloads.
Is My Information Safe On ELSA?
This outlet maintains a privacy policy with its users, so it doesn't share the information on its users with third parties. Therefore, your data safety is assured whenever you use the ELSA Speak App.