Introduction
Learning a new language can be challenging yet useful. You will manage to chase international job positions, hang out with people around the world, meet a new culture, etc. Going to language schools can be expensive and most people can't afford the necessary time for classes.
Fortunately, there is a language app that can help you. Its name is the iTalki app!
We have a separate italki review about their website platform, you can also check it out here and read this comparison between italki and LanguaTalk. While in this iTalki app review, you will find all the necessary information about features, quality, prices, guarantees, etc.
In short terms, this is a relatively modern app that comes with some amazing features that simplify the language learning procedure to the fullest.
Students will get the chance to connect and interact with skilled language teachers that are located around the globe. The safety of the app is extremely high and there are many out-of-charge features available to students.
The purpose of this iTalki app review is to share all the relevant data and help readers decide on their own whether this app meets their expectations. Because of that, let's go!
Also, before we start we want you to check our Hello Talk reviews.
The iTalki Classroom: Short Overview of the App
Let's start from the very beginning. For those that do not know, iTalki is one of the most popular language-learning platforms where people can interact with professional teachers. Currently, the iTalki community is massive.
According to our research, only on the Play Store, there are more than 1 million downloads! That only confirms that this app features quality that many people appreciate!
However, there is something we have to highlight! the iTalki app itself does not offer any writing or verbal lessons.
After you download the app, in exchange, you will get the opportunity to connect with teachers that offer their services there. In one place, you will find a bunch of different lessons that can be excellent for language improvement.
If we start highlighting all the languages you can learn, this article would last forever. While we are reading this article, more than 150 languages are available, and some of them are
Spanish
Mandarin
Greek
English (the biggest number of teachers; check our list of the base sites to learn Enlgish)
French, etc.
The Registration Procedure on iTalki App
The review would be incomplete if we do not explain the registration procedure. First and foremost, you need to find the iTalki app on Play or App store (it is available for both operating systems) and download it.
The first step is to sign up for the app. There are 5 ways to do that. One option is to create an account. After you click the SIGN UP button, a new window will pop up with 2 options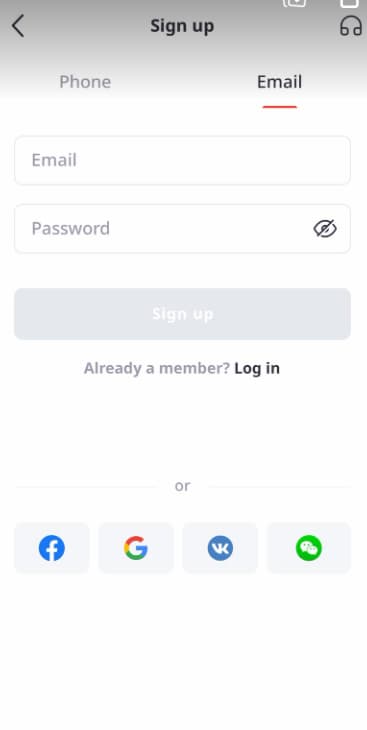 Both options are legit. If you decide to register with a mobile phone, an SMS verification code will be delivered to you. After that, you will just need to enter it, and that's it!
On the other hand, if you decide to register with an email, you will get a verification code there. Ensure that you enter the active email and number.
Apart from those two options, learning languages can start with 4 other options. You can access lessons and practice languages directly with four different apps – Facebook, Google Account, VK, and WeChat. Not many apps give you an option like that!
Things become easier after that. The next task is to pick your target language and see who the professional teachers are. You will get redirected to a new page where information about professional mentors you can hire is present. Select the person that seems like the most suitable one for your needs and enjoy.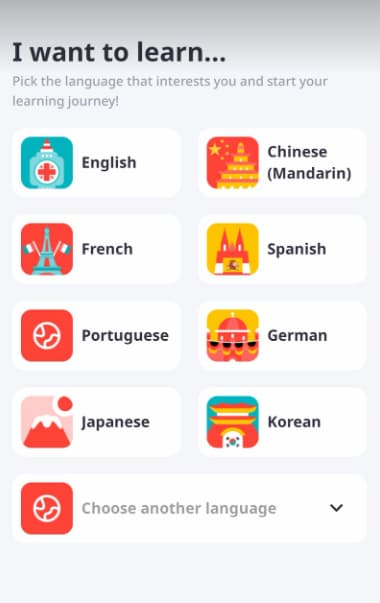 But, does everything depend on instinct? Not at all!
You will get a couple of trial lessons to see whether someone deserves your attention or not. The app understands the requirements that the customers have. Learning languages and lessons of that type is a responsible duty and they want to ensure a perfect match!
Review of Mentors: Are They Experts?
The language learners do not have to worry at all! First and foremost, there is a good reason why this app has many positive comments. The mentors are divided into two different categories – professional teachers and community tutors.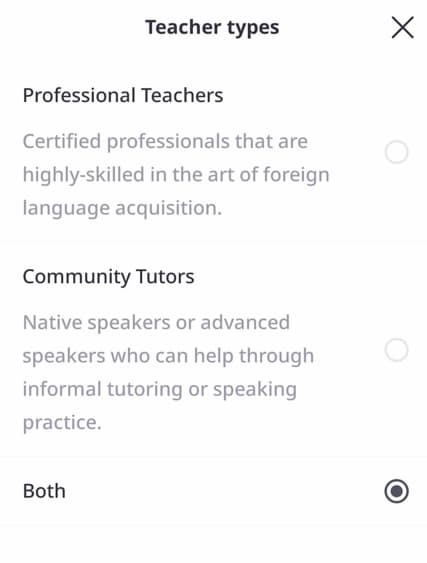 So, what's the difference? Be sure that members of all categories are mostly native speakers that can help you improve your writing and speaking skills. But, the way the entire process functions is a bit different.
The so-called pro teachers have a degree and some sort of resources that confirm their expertise. That means they are either certified mentors, have a degree, or are working as professors in elementary or high school or at university.
Things with community tutors are not quite the same. These are individuals that have advanced knowledge of the most popular languages. Check our list of the best tutoring websites here.
According to our research, most of them are either natives or live in the countries where the targeted language is native. We advise you to review the background of each individual to make better conclusions.
Review of Instant Lessons
As we stated above, there are two teacher categories. Both are amazing and can help you practice your target language. If you want to get the assistance of natives, you can even review only the offerings they have.
But, what if you need the lessons urgently? Well, there is something for you that most apps won't allow you – instant lessons!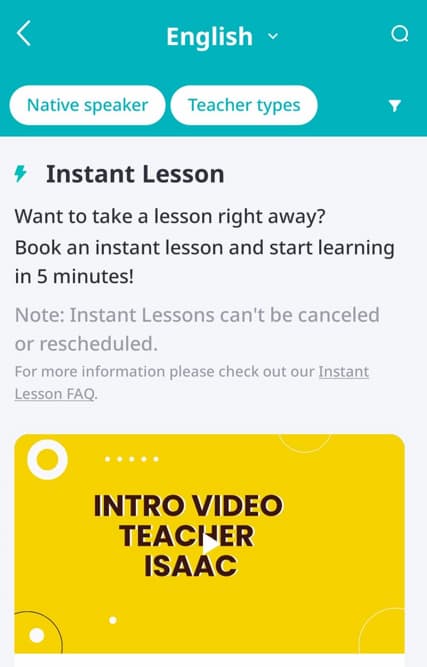 This review would not be complete without mentioning this feature. But, have in mind that not many mentors are available for the service of this type. You may not find the ones with the best possible grades.
Just like in the previous case, you can also choose between professional teachers and community tutors. After we reviewed this service, we noticed that the second category of tutors is more present there.
Review of iTalki App Price
We are 100% sure that many of you would like to know what the iTalki price is. However, there is no precise answer to that. The only thing we can say is that the iTalki app cost for downloading is $0. On the other hand, every teacher determines the price on his own based on his expertise and level of knowledge. There are multiple factors that are put into consideration.
First and foremost, as you could guess, native speakers are a bit more expensive. We have noticed that trial lessons are usually 5 dollars. But, that's not always the case. In some cases, it may cost between 8 and 20 dollars. It depends on what you exactly get. In some cases, you may get 3 lessons while in other options, you may get 5 of them.
Apart from that, the time length of each class also impacts the price. To make things clear, we suggest you check out the image below.
Keep in mind that most language learning apps offer fixed time lengths, which may not be suitable for everyone.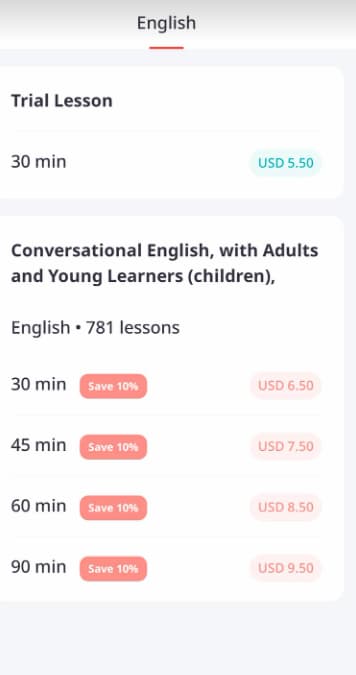 We haven't found any iTalki promo code. However, there is a way to save money.
Despite the fact you can choose between different time lengths of lessons, you can book a package of conversation practice lessons like in the image below. Doesn't that seem cool?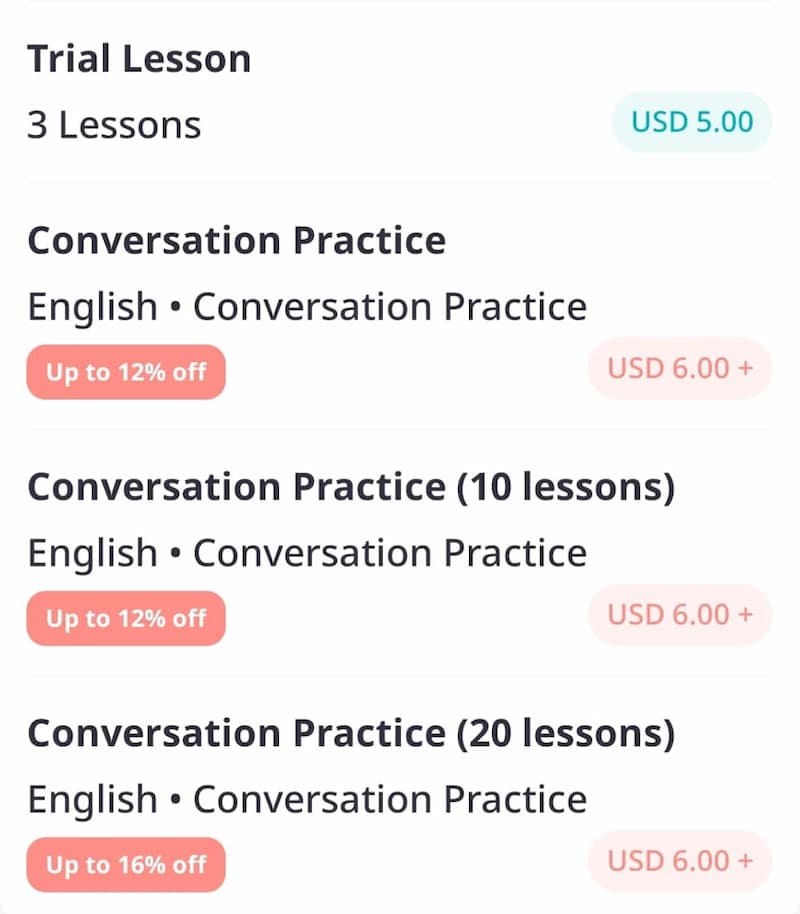 What Are the Payment Options?
The international language learning applications always offer more than just one payment option. They know that not everywhere the same payment provider is available.
Fortunately for international students, there are four ways in which they can make the transactions. We invite you to check the image below.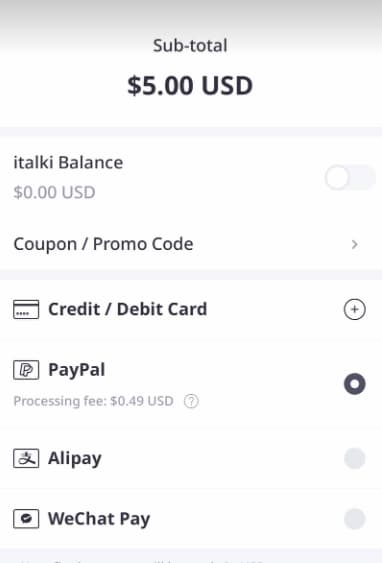 As you see, the most flexible and productive options are credit/debit cards and PayPal (e-wallet).
Apart from that, you can complete the process with 2 less popular options such as Alipay and WeChat Pay. Be sure that the deposits you make will instantly be approved. That means you will only have to wait for the lessons to start and start this journey!
Review of Quality: Are Lessons Okay?
A review of quality is something we would like to talk about the most. Based on comments we see about lessons from the previous customers, most of them are positive. However, if you want to hear our personal opinion and professional review of the lessons, then we will have to expand the explanation.
We have to admit lessons are more than just okay. However, there is something we need to highlight to everyone! Our way of functioning is to check out the practice of each teacher. The conclusion we have is that more expensive does not mean better.
The personality of the tutor directly depends on how satisfied you will be in the end. It may happen that some of them are experienced, but monotonous.
On the other hand, in some cases, you may feel like chatting with a friend while really improving your writing and conversational skills.
The formats you can find are almost identical. Some professors simply want to highlight every possible mistake that you make immediately.
On the other hand, there are individuals that would wait for the end of the class and let you know what you have to improve. Some mentors like to start the class 5 minutes earlier to make a good introduction. In our opinion, that is a great thing!
But, How to Recognize True Experts?
Things are way easier than you could probably imagine. When you enter the profile of a tutor, you will see more details about him. All of them have the duty to record a video about themselves. There you can make some conclusions.
After that, you should check out statistics like in the image below.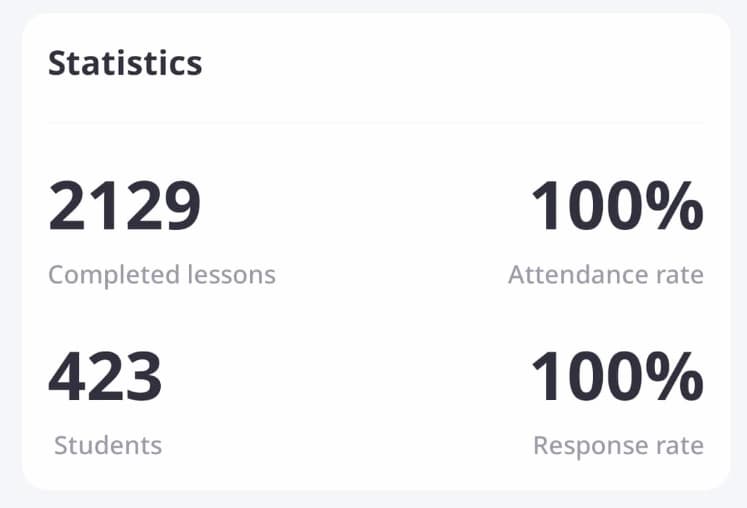 In the end, below the profile, you can see the feedback of all the previous students. There you can find out more about the resources the mentor is using for lessons, what you can get in exchange for the money that you invest, etc. Be a detective, and explore certain things on your own.
Unfortunately, this platform does not provide any guarantees which may be the only drawback of the app!
Comparison with iTalki Direct Competitors
You are probably not familiar with platforms of this type a lot. We do not want to say that this is the only option you have.
Because of that, we would like to compare iTalki with some other alternatives that may grab your attention. It is up to you to decide which one is the best for your needs.
| | | |
| --- | --- | --- |
| | | Beselang |
| The way Preply functions is almost identical to iTalki. It is also a language platform where all the mentors are free to determine alone the prices and curriculum. However, it seems that the iTalki app comes with more advanced features and has better navigation. The only advantage of Preply over the platform we analyze is that there are guarantees for trial lessons. If students are unsatisfied, the app will automatically connect them with a new mentor for free | The format of this platform is completely different. Here, mentors do not have the freedom to design the curriculum on their own. There are strict rules that Lingoda determines, and all the "employees" need to follow them. Unfortunately, there are no individual classes that automatically make iTalki better! Apart from that, there are just 4 languages. As stated, on iTalki, you can find a lot of them! | The only advantage of Beselang is the price it offers. Whichever package or mentor you choose, you pay a one-time fee that gives you unlimited access to lessons. However, the only language you can learn here is Spanish. For everything else, iTalki is a much better option. |
Value for Money on the iTalki App
The experience you will get at iTalki truly depends on the mentor that you get matched with. According to our research, the quality you will get in an exchange for money pays off in most cases. iTalki can't directly impact who you will pick, but they strive to reach the high level of transparency available for the students.
Via Skype, Zoom, or some other communication channel, you will get guidelines that will help you improve your knowledge. This app has a good reputation, which means that your chances to improve your career are also growing. People like to see when people finished courses or attended classes via this app. Many entrepreneurs will consider that as a bonus.
Review of iTalki Reputation
When you are buying a new laptop, we guess you are reading ratings. Well, there is no reason not to use the same method when chasing language applications. We would like to highlight the grades that previous and current students left on the most popular rating platforms
Google Play (4.1 out of 5)
Apple Store (4.7 out of 5)
TrustPilot (4.7 out of 5)
We suggest you go through the feedback on your own. But, if you feel lazy to do that, we are here to help. Most of the comments we found are positive, and, in the image below, we would like to share the most significant ones.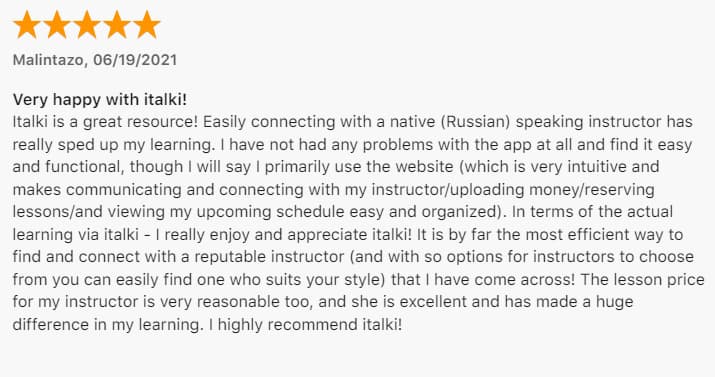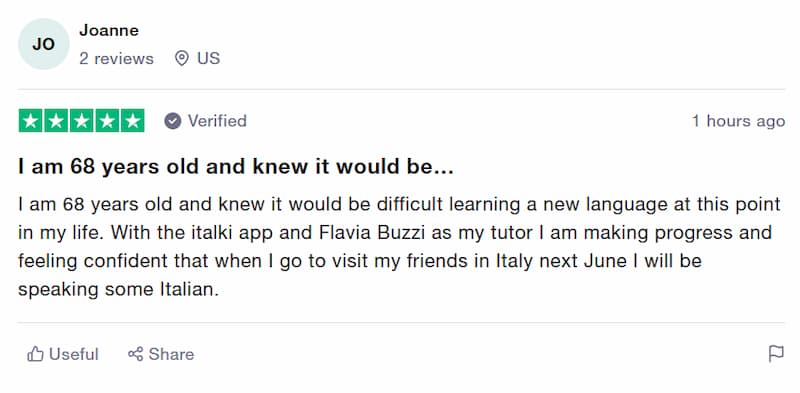 Based on comments, we can all agree that you truly get value for the money you invest. You will get valuable lessons that will truly help you improve your knowledge.
Apart from that, we have made our own research to check out whether iTalki has been involved in some type of scandal so far. There is nothing that could ruin their reputation. We were especially focused on the safety of the platform.
Keep in mind you are sharing some sensitive data there. The website is using encrypted technology to protect all the data of the students.
Pros
A big number of language learning opportunities.
Easy-to-navigate app.
Affordable options for people that deal with lack of money.
Opportunity for instant beginning.
Various payment methods available in all parts of the world.
Polite and skilled mentors.
Cons
No guarantees.
No free trial.