Learning a new language has never been easier, especially in this era where meetings and conversations are held over the internet. This communication trend is why the mushrooming of popular tutoring websites and other new online educational services.
One of the online platforms that are popular among language learners is italki. We came across italki.com through language learning blogs and YouTube channels search.
The process of learning a new language is way beyond grammar, spelling, pronunciation, and memorizing vocabulary. Language lovers are now more inclined to online teacher-led video lessons as compared to in-person learning.
We decided to review italki to help our readers understand the platform's strategy to connect language learners and teachers. You can consider our peer review of italki.com mainly because our team of expert reviewers took part in various 1-on-1 language lessons on the platform.
You should also check our comparison between italki vs Cambly, the winner is not that obvious. But when did the same thing between italki vs Amazing Talker it was obvious that italki is waaaay better than the opponent. Tthe last time when the Hellotalk went on one-to-one against italki, we were not that sure again.
This italki review should help you get up to speed on what you are likely to find on the platform. We have covered all the aspects of online language learning services.
In this assessment, we share in detail our discoveries when we explored all the features available to language lovers for use.
In this assessment, we leave no stones unturned. We explore all aspects of online platforms that facilitate language learning.
The criteria we use to evaluate language learning online services consider Prices, Quality, Value for Money, Mobile App, Website Usability, Customer Service, Support, and Guarantees.
This review is ideal for people who love traveling the world and learning foreign languages differently. If you are looking for a platform that lets you select a language tutor based on your goals and interests, then italki is the best option for you. Here you pay for your language lesson as per your budget.
italki.com Overview

Does italki guarantee that they have good teachers? Does italki help at all?
According to the testimonials we came across on italki, the site has more than ten years of service. The site has prepared some learners for language immersion or to keep their languages fresh.
The platform focuses solely on connecting human beings. We also found a large pool and a variety of teachers, so the number of language instructors is the least we could worry about when using the site.
The positive vibes from the platform are enough to guarantee that the teachers are good. Seeing numerous positive italki reviews and a score of 4.8 on Trustpilot shows that the site is legit and ensures good tutors.
It is a slightly better rating than, for example, Preply has. You can find more information in our comparison of italki vs Preply.
A college semester of language study will take an average of 48 hours for a student to reach language proficiency, but this is different on this site because you only require 19 hours.
Italki helps bridge the distance between the learner and the language teacher, making it easy to start a one-on-one conversation regardless of where you are located in the world.
Students, professionals, and travelers can now improve their accents and fix a few mistakes and cultural subtleties in their target languages.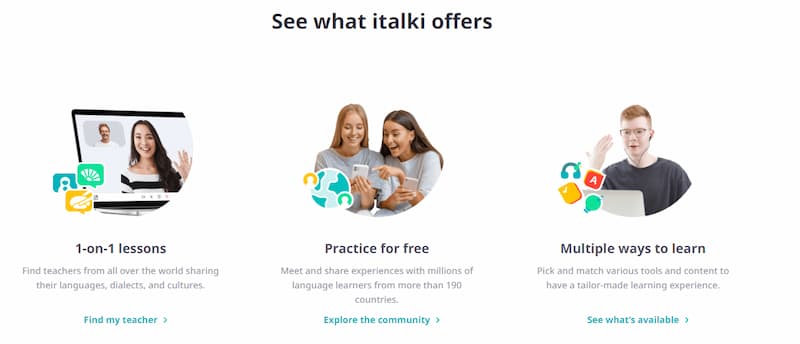 Is italki safe?
The platform has some minor privacy issues, and any italki negative review gets resolved soon as it emerges. Unlike other sites, teachers here use their authentic images as profile pictures. The site relies on reasonable faith efforts to confirm that all teachers are professionals.
The General Data Protection Regulation (GDPR) ensures that personal information is shared and transactions remain safe and secure. Most of the italki reviews are positive, so there is no need to worry much.
Also, read our recent comparison between LagnuaTalk and italki if you're interested.
italki Services
italki is known for facilitating the connection, scheduling, and payment of online learning sessions.
The main service that the platform does is to link over five million native speakers or language lovers with more than 10,000 native speakers who wish to learn from each other. For this reason, the site attracts hundreds to thousands of students, professionals, and travelers from all over the world.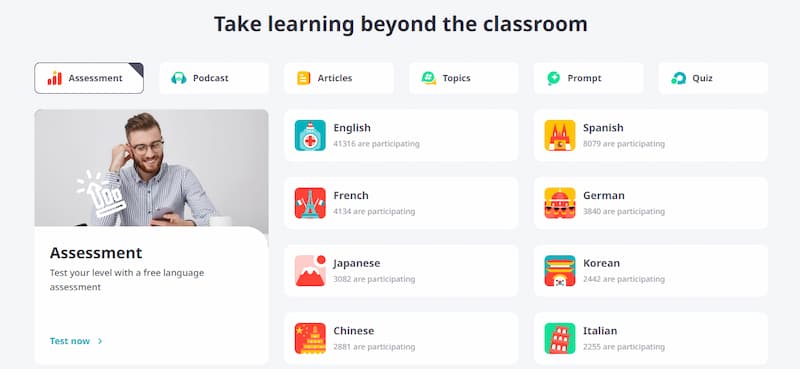 There are hundreds of language options on the italki platform, and the list continues to grow substantially with time. Whatever language you are looking to learn, you will most definitely find it on this platform.
We noticed that there are tons of languages, dialects, and regional language variations. For explorers, you will be surprised to find some obscure and rare languages on this site.
We also found that the most popular languages on this platform are English, Arabic, Japanese, Swedish, Ukrainian, Spanish, French, Chinese, German, Italian, Korean, Portuguese, and Hindi.
Besides the target language, most teachers or tutors offering online learning services speak an extra language, mostly English.
The demand for English tutors is huge on this platform, especially when one is interested in a particular language dialect. And the demand for the best English learning websites among people who want to learn a new language is huge.
italki guarantees that you will find an online teacher that meets all your English learning requirements, needs, and objectives.
When we were handling this italki English review, there were more than 4200 teachers for this language.
These tutors come from seven popular countries or regions such as the United States, the United Kingdom, Canada, Australia, South Africa, Ireland, and New Zealand.
Under the Arabic language, you can find dialects and language variations such as Levantine, Egyptian, Gulf, MSA, Maghrebi, and others. Our italki Arabic review shows that more than 200 teachers are available for this language.
An hour of learning Arabic on italki, under the guidance of a teacher or tutor, has an average cost of $10. The tutors offering this service come from Egypt and the Syrian Arab Republic.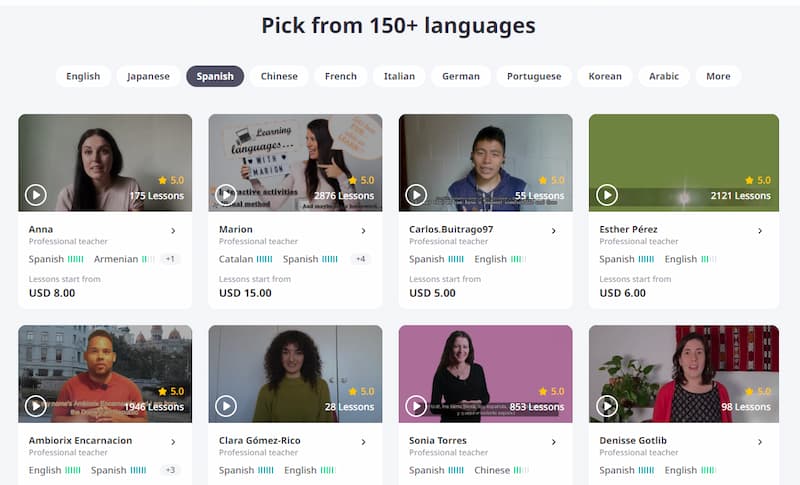 At the time we were doing an italki Spanish review assessment, there were more than 1700 teachers available. For a 60-minute lesson, a professional Spanish teacher might charge you a nominal rate of between $14 and $16, while the cost of a community tutor ranges from $14 to $16. The instructors come from seven countries:  Spain, Venezuela, Mexico, Colombia, Argentina, Peru, and Chile.
At the time we were doing an italki French analysis, there were more than 800 teachers. A 45-minute French lesson on this platform will cost you $18, on average. The French instructors are located in either France, Belgium, or Canada.
At the time we were conducting an italki German review, there were more than 500 teachers available. An hour of German class with a professional teacher can cost you $20, on average. The teachers are natives of Germany and Austria.
Our italki Italian review shows that the platform has more than 500 teachers. To learn this language on this platform for an hour requires that you clear an average cost of $15. All the Italian educators' features on this platform are native speakers of Italy.
Under the Chinese language, you get to learn Mandarin, Cantonese, Hakka, Shanghainese, Taiwanese, and other Chinese dialects.
At the time we were doing an italki Chinese review, there were more than 800 teachers. The teacher or tutors are native speakers from China and Taiwan.
From our italki Korean review, we found that there were more than 200 teachers available. An hour of Korean lessons can cost you up to $16. The teachers come from the Korean republic.
When we were conducting our italki Portuguese review, more than 300 teachers were available on the platform. For a 60-minute Portuguese lesson, you will have to service an average cost of $13. Most of the teachers and tutors come from Brazil and Portugal.
At the time we were doing our italki Japanese review, there were more than 500 teachers available. A 60-minute language lesson in the Japanese language will cost you $15. The teachers are native speakers from Japan.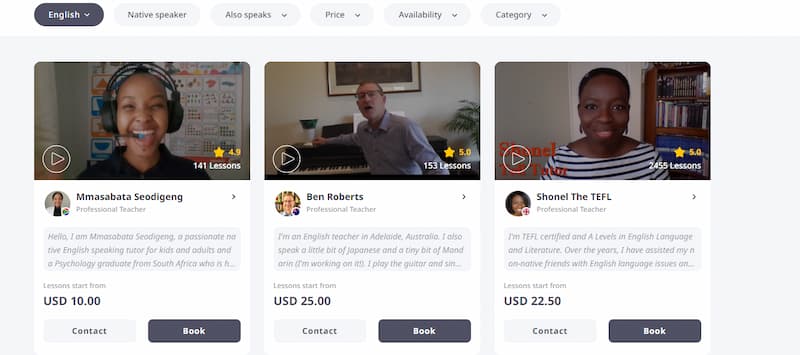 During our italki Hindi review, we found 90 teachers available, and all of them are located in India. It will cost you between $8 and $16 for a 60-minute lesson with a professional teacher or tutor.
When we were doing our italki Swedish review, the number of teachers available on the platform was more than 30. Most of the teachers and tutors are native speakers of Sweden.
Italki has made tremendous efforts to add more filters that specify specific dialects and particular regional variations when it comes to learning a new language. Dialects and regional accents matter.
Some of the languages we found on this platform were new to us – we had never heard of them before.
You will find better options on this site than those posted on online advertisement boards or in newspapers. Besides connecting you with a native speaker, italki facilitates your payment and scheduling system.
The language lessons fall under five categories:
General
Business
Test Preparation
Kids
Conversation practice

The length of one-on-one classes language lessons on italki can vary from 30 minutes to 2 hours, which highly depends on the availability of the teacher and the amount of content that needs to be covered in class.
If we go by our italki review, we notice that the teachers or tutors offer, on average, 45-minute, 60-minute, or 90-minute classes.
We also discovered that some languages have fewer educators. This situation will improve with time as more native speakers continue to join the platform. The best thing about this site is that the major languages have great representation.
If you are looking for a top math learning website, please check our list of the top math tutoring programs available to everyone online.
Teachers at italki
In our reviews of italki, we found two types of teachers that you are likely to find on the platform: professional instructors and community tutors.
Professional teachers are highly skilled in the target language, displaying their degrees in education and applied linguistics, certificates in teaching a particular language, or professional teaching experience in language institutions, schools, or universities.
As for the community tutors, these are usually native or advanced speakers who offer speaking practice or informal tutoring. These language lovers are persons who are looking for part-time jobs to earn extra money or trade language skills and cultures.
On italki, community tutors can easily upgrade to professional teachers after earning a teaching certificate.
Informal tutors are language lovers that are eager to help others learn their language for something in return. The good thing about them is that they can patiently listen to you as you speak and correct your mistakes in real-time.
Even without a certificate, or classroom experience, they make better teachers to students who can't stomach rigid and fixed language structures and programs.
Lucky for you, the platform allows students to consult both professional and community educators. Our teacher findings showed that the community tutors are affordable, and their teachings are less structured.
According to some of the comments that we came across, community teachers from this platform can be better than experts when developing overall speaking skills.
The choice of the type of teacher to consult comes down to your preference and personal needs.
Students that need a casual conversation to practice can take advantage of the italki 'language partners' feature to find a native speaker and learn from each other. This feature is a means to meet new friends and should not be thought of as an avenue to finding free teachers.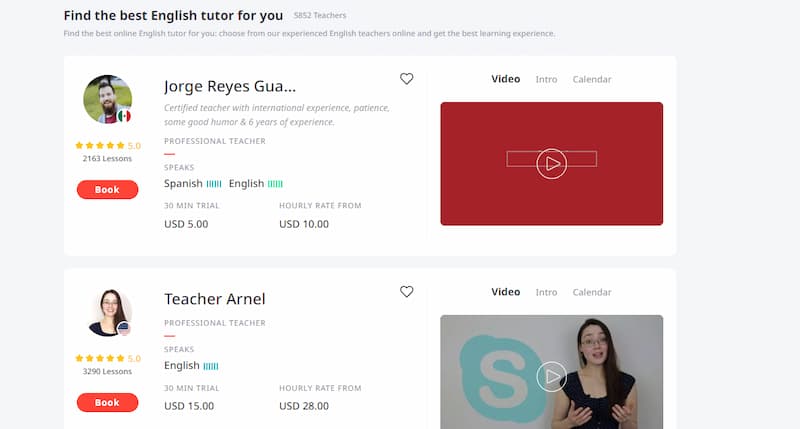 According to some popular reviews of italki, finding the right teacher requires that you go through an in-depth process of searching and filtering. When choosing the right tutor, there are some factors that you need to consider.
Here are the filters available to you on italki:
Select the Languages the teachers speak;
Choose the Location of the teacher;
Select the type of teacher (professional teacher or community tutor);
Determine the age of the teacher;
Select the skills of the tutor;
Determine the price;
Find the number of lessons taught;
Check for service rating;
Determine the schedule of availability.
Italki allows potential students to preview what teachers are offering and the teaching experiences they have. All the information you may need about the educators can be found on their profiles.
When choosing a teacher, the most helpful thing to do is read through the customer reviews. The information you get from the testimonials should give you an idea of whether the tutor is good for you.
You should also check the quality of the video introduction, the number of returning clients, response, and attendance rates. As much as they all have different personalities and learning styles, there is a need to distinguish between the good and the bad.
The best way to understand the nature of the tutors in the platform is to take advantage of the italki trial system, a quick 30-minute language learning session.

The process of learning a new language involves creating a connection between people.
We confirmed that the site uses actual people and not apps that emphasize repetition and memorization of sentence structures, vocabulary, or proper spelling. The strategy of learning a new language in italki relies purely on real and meaningful conversations.
Italki has facilitated language learners and native and fluent speakers with an ideal environment for initiating 1-on-1 conversations.
This has worked well for individuals or groups that do not wish to travel to China, Spain, France, Japan, Germany, Italy, Ukraine, Portugal, Korea, or Europe to learn the main languages, dialects, and endangered, or vulnerable languages available to such countries.
italki Pricing
How much does italki cost? The teacher sets the cost per lesson on italki. The italki prices vary based on the demand for the target language and educators.
Language tutors coming from economically developed countries charge more, while the rest will put a low price on their services to attract more learners. The cost per hour for the normal rate ranges from $4 to $80, while the trial rate starts from $1 per hour.
Since italki encourages pricing competition, you will find a huge price variation. Teachers signing up to offer language learning services are the ones who determine their pricing strategies.
While we were looking for a tutor for our italki review, we came across some unbelievably inexpensive sessions. Since educators come from worldwide, you will come across extremely high or very low prices.
Teachers signing up from developing countries are known to offer incredibly cheap and affordable lessons.  In some cases, high and low prices may mean nothing.
The italki cost of each language learning teacher varies significantly. The availability of lessons with starting italki price rates of as low as $1 per hour shows that you can get affordable offers from the site.  The site is way much cheaper than in-person lessons.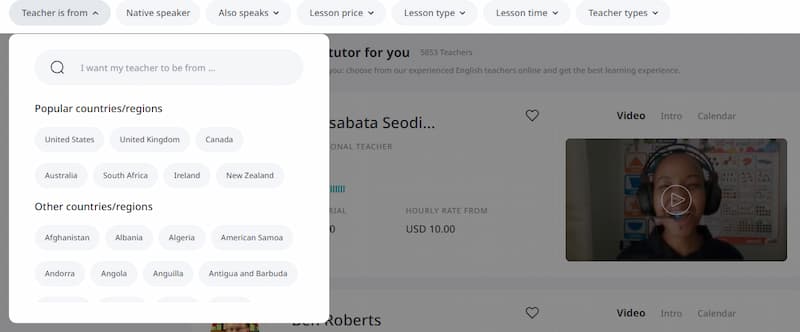 Italki uses the credit currency system to facilitate secure financial transactions. In our review, we had first to buy credits to make payments.
The site credits are in USD currency with a minimum amount of 10 credits. Classes can be purchased using credits or directly from the teacher, which comes with a processing fee. The virtual currency can only be used within the platform and has no value outside the site.
During this talki.com review, we found that you can purchase your credits through credit card, internet banking, and bank transfer options such as:
PayPal;
Skrill;
China Union pay;
Allpay;
CashU;
Webmoney.
The best strategy that has worked well for students is using trial lessons to evaluate many tutors until you find the right person to help you reach your goals.
You can choose to only use full-price or normal lesson price rates with the best teacher in this plan. When choosing a tutor, it is important to carefully go through their profile descriptions, watch their introduction videos, and read reviews from other learners.
So, how much does italki take? In our italki language lessons review discovered that the trial lesson feature is only available if the teacher enables it.
The actual price of this option depends on many factors, including the number of reviews, country of origin, and teacher's overall experience. You can get free lessons if you are good with referrals. The italki referral system offers a US $20 credit for every $40 spent by your referrals.
italki Quality
The quality of your experience on this platform is determined by the relationship between you and your instructor. Italki does not offer educational services.
Japanese teachers and other tutors worldwide rely on positive reviews for future business and maintain their italki accounts, so you should expect top-notch services from them.

The teachers come from all over the world. Since they are accustomed to various cultural norms, the italki teacher policy is responsible for regulating the quality of services by the teachers.
The tutors are also expected to adopt universally accepted standards.
After completing your language lessons, italki gives you the option to verify your English level by taking an Oxford Online Placement Test (OOPT) in British and American English. This assessment gives you a score based on the Common European Framework of Reference for Languages (CEFR).
Are their language experts effective and qualified enough?
Italki has a mixture of amazing and atrocious teachers, and at some point, during the review, we doubted the experience and qualifications of the candidates.
In this platform, the price does not necessarily mean quality. There are effective and qualified language experts, and some make up their experience and qualifications to get more work.
Guarantees and Return Policies
Going by reviews on the italki return policy, you can only get your credit back from a teacher when you decline to proceed with a course. All authorized payments in italki are treated as final, so no refunds will be given after making a credit purchase.
Once you have purchased the site's credit currency, the site will not accept your cashback request.  Also, unused credits will expire if not used for more than 12 months.
italki.com Mobile App and Website Usability
In the pursuit of facilitating the connection between professional or community tutors and language learners, italki provides the required tools through its Italki Classroom, which works on most browsers.
As we explored the site, we noticed that the website is designed and optimized for popular third-party software such as Skype, Zoom, WeChat, FaceTime, and Google Hangouts.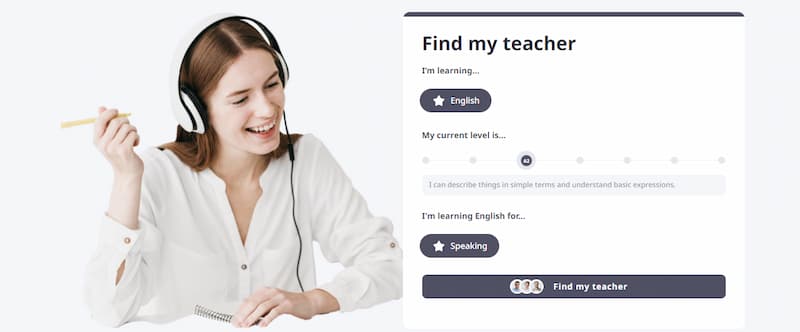 Language learners use the notebook feature to practice their writing skills and share what they have learned with the Italki community.
The best thing about this learning feature is that other community members can view your entry and provide helpful comments and corrections that you can use to improve your writing skills. The public notes you write are similar to status updates on social media.
Italki's discussion forum is another best alternative to learning a new language. It offers an opportunity to engage with fellow language learners from around the globe.
Whenever you have an interesting topic that you wish to talk about, you can use this avenue to start discussions. You can post anything from requesting a practice partner to looking for help in a particular language.
Reviews for the italki community show that the community feature has worked best for language learners who may not afford private lessons but still want time with a native speaker to learn a target language.
This option may not be free because most members expected you to reciprocate by teaching them your native language. Students use this section of the site to engage in language discussions and conversations.
The italki website is handy and easy to use. Its interface is clean and not crowded, which makes it difficult for language learners to navigate flawlessly. The search facility makes the site easy to navigate and use.
The platform has a chat feature that facilities direct communication between you and the teacher. You may choose to hold your conversation within the platform or use a better communication tool.
The virtual classroom allows you to do the following:
Accept or reject lessons;
Schedule lessons;
Customize the price;
Share your screen with the tutor;
Connect to VoIP software.
Language lovers who wish to learn on the go can take advantage of the italki app. We made our own italki app review. Using their application software, you can initiate video chats or call your instructors from anywhere.
You are no longer limited to taking your classes from the comfort of your office or home setting. This application is available for both Android and iPhone users.

Through the italki app, you can perform basic functions such as searching for teachers, scheduling lessons, managing your profile, paying for lessons, initiating conversations, and taking online lessons.
It is more convenient than traveling from one town or country to another for more affordable language lessons.
You can also use it to learn Spanish while driving. But if you are not sure that you want to go with italki, we've got a complete list of apps that you can use to learn Spanish in the car.
Pros
The site has a huge community of learners and teachers.
Students have the option to choose a teacher.
The language lessons are extremely affordable.
The expansion of language filters includes dialects and regional variety.
The site offers free lesson trials.
You can use the platform to learn from and network with people from around the world.
The site has plenty of valuable language learning features.
Some teachers allow Instant booking.
The site manages a convenient booking system.
Cons
There is a lack of pricing regulation.
Different time zones make it difficult to synchronize times with teachers.
Not all teachers on italki are native speakers.
The italki community feature is only available on the mobile app.
Credit purchases attract processing or service fees.
No refunds after making a credit purchase.
Classes are scheduled individually.
FAQ About italki.com
What is italki.com?
Italki is a leading global online language-learning venue that focuses on providing language learners with access to a massive database of independent teachers and practice partners.
The platform allows teachers and students to directly use its connection, payment, or business services to interact and meet their language learning goals.
How does italki work?
Starting your italki class should be less involving and should take a few minutes to initiate the process. All you need to start your practice is to book a private lesson or class or chat with an educator.
The best thing about choosing a teacher is that you can evaluate them based on their educational qualifications, consumer reviews, availability, and price.
Steps you need to follow:
Choose the language you wish to learn;
Choose your teacher or practice partner;
Book for a private lesson, group class, or chat;
Select a time slot that works best for you and your tutor;
Join the live video conference session.
The sign-up process for online language learning services is designed to be simple. If you are using italki, once you pick the language to learn, the next steps you need to take rely on your budget, negotiation skills, and personal preference.
To work, you need to have a reliable computer, access to a stable internet connection, and VoIP (Voice over Internet Protocol) software. According to a review of italki, the hardest thing about starting this platform is identifying the right teacher for your linguistic journey.
What are the italki points?
Italki offers community features for discussions and more interactions. Getting involved in the italki community by giving good advice and helping other members will earn you some points.
These site rewards show your involvement or contribution to the community and interest in learning a new language. Reviews on italki.com suggest that the points are a good indicator of how active you are on the site.
italki and Lingoda, which is better?
You can find more information about these two with the differences, pros, and cons in our article where we compare italki vs Lingoda.
Why is italki so cheap?
Italki's strategy for determining the cost of online language learning services relies on pricing competition. The hourly rates are low, and they start at $4 per hour.
You can get what you want at a price much lower than your budget making the platform a cheaper destination. Furthermore, we have come across profiles that offer discounts.
Italki offers three trial lessons of 30 minutes each when you sign up. These offers are designed for language learners who wish to evaluate different types of teachers for decision-making.
Normally one would rely on trial and error, which is costly when you consistently fail to find the right teacher for your learning goals. Popular italki.com reviews show that lesson trials attract much lower and better rates.
You can also choose to enroll in the Language Challenge to accelerate and boost your skills. This italki feature lets you join, learn, and win more credits in the end. The more credits you get, the less you need to go back into your pockets to pay for your lessons.
Which one is better italki or VIPKid?
When comparing these platforms, we would say that italki is better in terms of usability, quality of tutors, and value for money. But VIPKid might be a better option for teachers initially, as italki has a few strict requirements for the tutors they allow to work.