Overall Comparison: LanguaTalk vs italki
| | | |
| --- | --- | --- |
| | italki | LanguaTalk |
| Pricing | $10+ per 1:1 lesson (cheaper in a group lesson) | $11 per lesson |
| Group lessons available | Yes | No |
| Choice of tutor | Wide | Average |
| Trial lesson | Reduced price | Free |
| App | Yes | No |
| Cancellation policy | No refunds | Refunds available within 24 hours of booking |
Language learning is a popular pastime but for many, it's more than just a hobby: it's needed for all sorts of interactions and can help people to progress in their careers.
You can choose many different ways of learning a language but lots of people find they make more progress with in-person interaction, whether face-to-face or online. When choosing a website to find a language tutor, user want to know that they're getting the best there is.
Two similar platforms are LanguaTalk and Italki. We already have detailed reviews of both sites so in this article, we'll discuss Italki vs LanguaTalk comparing the two.
The main differences between Italki and LanguaTalk are:
LanguaTalk is more selective with its tutors, which means they tend to have more experience.
There are more tutors that you can choose on Italki.
LanguaTalk has personalized support.
Italki offers shorter lessons.
If you're here just to find out which one is best, our vote goes to Italki – but you can find out why by reading more.
LanguaTalk or Italki: Key Features
Whether as a learner, you want to take language courses to become fluent or just to learn a few words and phrases, language learning courses offered by italki and LanguaTalk can really help you.
If you're learning a language, it's always great to have access to native speakers as this is great for progress – and both of these platforms facilitate this.
Deciding whether to use LanguaTalk or Italki can be a challenge. After all, they're both really great language learning websites.
In this comparison, we'll discuss them both in terms of their pricing, the learning quality and their disadvantages. Perhaps one has a great desktop site, but the app isn't so great. Let's find out.
Pricing Differences
If you're wondering about whether Italki or LanguaTalk is cheaper, there's not much in it. At Italki, teachers set their own lesson prices. Typically, they will offer their first lesson at a lower cost to attract new students.
The prices of these vary from $3 for a trial lesson in Arabic, Portuguese, or Italian, to $6 for a trial lesson in German.
After that, the lowest price a teacher will charge is $10 per lesson with a professional teacher, or $5 with a community tutor.
Tutors also set their own rates at LanguaTalk, on the other hand, they also offer a free 30-minute trial lesson. Their prices are slightly more expensive, and you'll pay at least $11 for a lesson up to around $40.
Quality of Learning
Italki and LanguaTalk both offer similar in terms the learning opportunities and they both display their prices openly when you search for a tutor.
At italki, you can join a group class or find a 1:1 teacher. For a group class, there are between 2-6 learners in a group. This provides a different experience as learners can interact with fellow students as well as their teacher.
This is also cheaper than individual lessons. LanguaTalk only offers individual lessons.  These are 55 minutes long and are done over Skype or Zoom.
Many language learners are interested in language learning apps. Italki also has an app that's available on Google Play and the App Store so learners can access their lessons wherever they go. LanguaTalk doesn't have an app, which might be disappointing for some learners.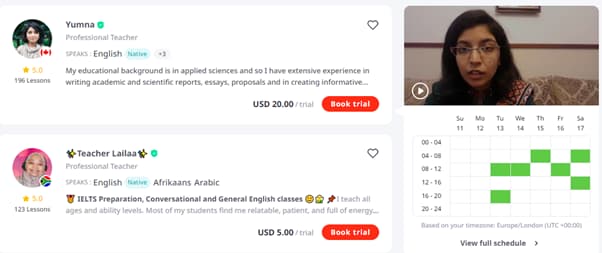 What Are the Main Disadvantages of LanguaTalk and Italki?
Apps are a popular language learning tool and so it's disappointing that LanguaTalk hasn't branched out to create one yet. LanguaTalk also doesn't have a group class option, which means it's not as accessible to those on a low budget.
One downside of italki, however, is that it doesn't offer refunds, unlike LanguaTalk, which has a cancellation policy. Another thing is that italki accepts more teachers and isn't as picky, so you might not get a standard quality as you would with LanguaTalk.
Italki: How Is It Better Than LanguaTalk?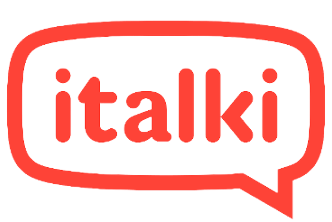 Wide range of tutors.
Around 100 languages to choose from.
The lessons are pretty cheap.
Italki has a wide range of tutors and a wider selection to choose from. What's more, it offers tutoring in around 100 languages, so you really are spoiled for choice! All of this is all user-generated courses too, and italki is simply the facilitator. This is good for learners because they can find a tutor whose style they like and buy more lessons.

You can also opt for a group class at italki, which reduces the cost even further and gives you more opportunities to meet and converse with other similar learners from all around the world. Italki has an app too.
When looking at independent customer reviews, italki is rated consistently higher than LanguaTalk. This is down to many factors, including the convenient booking system, the huge number of tutors available, and the affordability of the lessons, particularly when the teachers and languages are based in countries that are less economically developed.
LanguaTalk: How Is It Better Than Italki?

Thorough process of approving teachers.
Handy app and platform for learning.
Save money when booking more classes.
LanguaTalk has higher standards of teaching compared to italki and other similar platforms. The company only accepts 10% of applicants onto their books as tutors.
As such, the tutors are more professional, more experienced, and more expensive compared to italki. Experienced teachers will make use of more language learning tools and so progress is usually quicker.

In terms of pricing, though you'll pay more here, your first trial lesson is completely free.
The platform is really easy to use, and the website is intuitive too. Finally, their customer support service isn't outsourced. This means they help all students in-house every day.
When looking at independent customer reviews of LanguaTalk, their clients rate the site highly for how helpful the platform is and the fact that the course prices decrease if you book multiple classes.
They also rate it for its authentic learning resources and for the experienced and qualified tutors.