Resumeble.com Overview
In the job market today, your resume or CV is your best representation, allowing you to show your personality and achievements to potential employers.
Before the employer takes the time to meet you and set up an interview, they will need to read your resume. They need to know what you are bringing to the table.
Therefore, a good resume or CV makes all the difference. The truth is that today thousands of applicants send applications to each job opening.
Most of these applications do not reach the HR desk because of the software used to look for specific keywords in each cover letter and CV. This is why graduates must find tips and people to help them write good resumes.
Sometimes, it is wise to choose an excellent resume writing service like Resumeble to write your resume for you. These writers will help your potential employer understand how their skills and qualifications will help grow their business and profit margins.
It will also ensure that you get face time with your employer. With an acceptable resume, they will be interested in finding out more about you.
This way, you will get the opportunity to show them your skills and expertise. It will be an excellent chance for you to get that job you have been wanting.
The most challenging part of writing a good resume is finding a service with qualified and experienced writers. As a graduate looking for work, you probably need more money to spend looking for these services.
You also need more time moving from one company to another and looking for exemplary service.
That is why we have been trying hard to do all the top resume writing services reviews for you. We give you all the information you need to make an informed choice on the best service for your needs.

So, why should you trust our Resumeble review?
We take time to hire these services and look at the resumes they provide us analyzing them according to the hiring paradigm used by most companies today.
We have been in this industry for years and understand what features a good curriculum vitae should have.
Our reviews are unbiased because we are not in business partnerships with any services reviewed — the same with Resumeble reviews.
Our selection criteria for the services we select are pretty simple. We review the services becoming popular daily to help your readers make intelligent choices and gain value for their money.
Before we continue, we understand that you are not mandated to use the services we review.
However, here are some features you should look for when hiring resume-writing services like Resumeble.com:
Choose a service that allows you to have an initial consultation;
Compare the prices of other services before you settle for one;
Check out their customer reviews;
Ask for samples and go through them thoroughly;
See if their customer care services are responsive and helpful.
Check our Monster review before picking any service. Yet, how reliable are they? Is it legal to use them, and do they help get things done affordably?
Resumeble.com Story
When you type "resume writing services," you will get hundreds of services that all say they offer the best services. You will also get pages that have Resumeble reviews. You will see what every job hunter needs to know at these sites.
You will see the different guarantees and services they offer and the assurances for customer satisfaction. The company provides affordable services, no hidden charges, and promises privacy to all its customers.

You will also enjoy how easy it is to navigate through their website. In the upper section are the pricing and samples of CV or resumes that they write.
There is also a contact number. The ordering buttons lead you to the page where you create your account and see the prices for each process. Everything you see on the page is dedicated to guiding customers to the perfect job.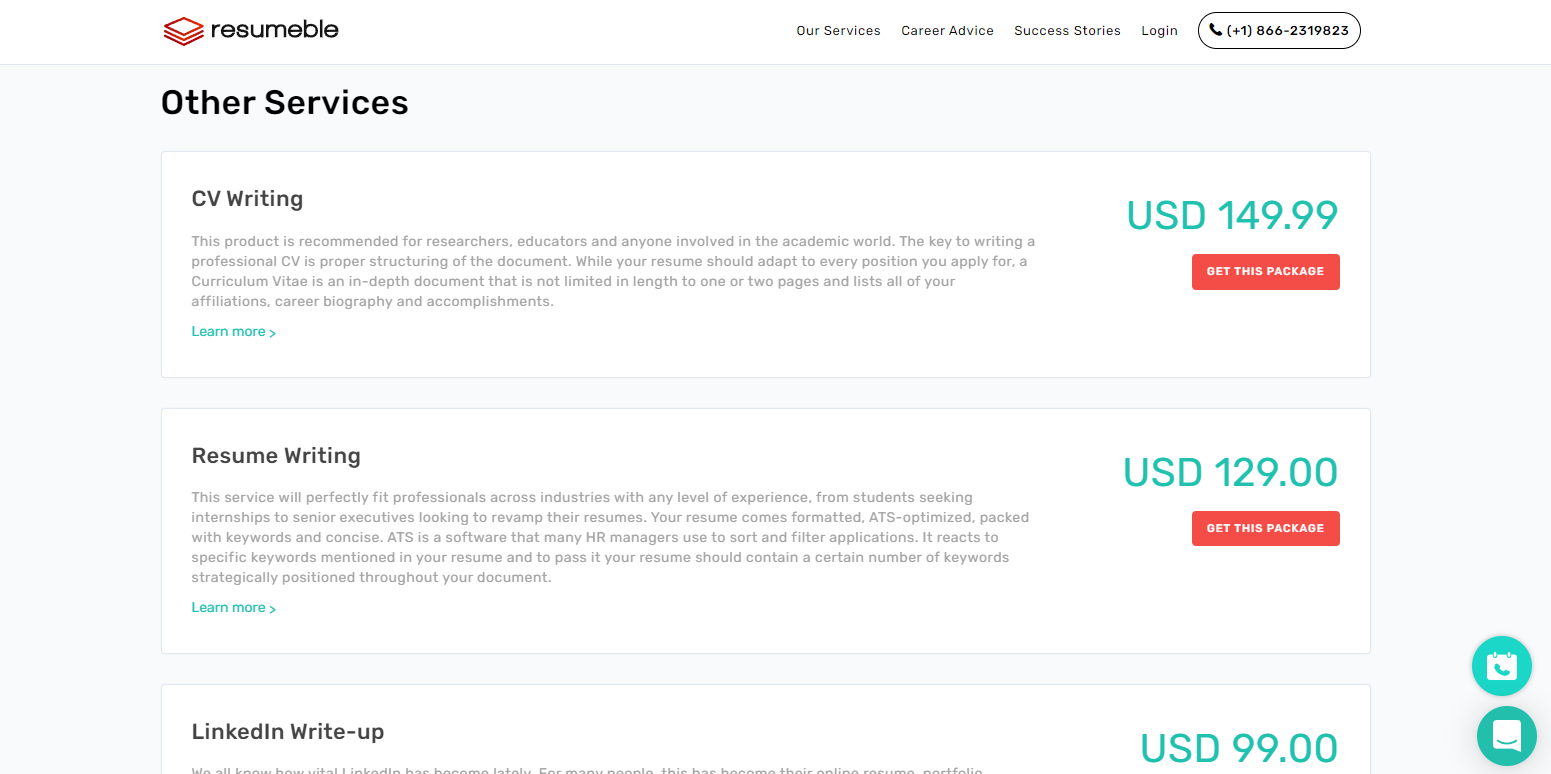 Even though it is not directly mentioned on the Resumeble website that they have federal resume writers, you should know they do. Check our federal resume writing services reviews and find it in the fourth place.
Resumeble Pricing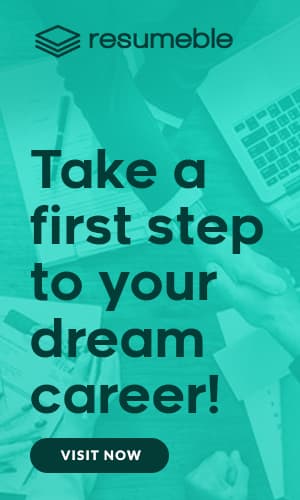 Of course, each client who comes to this company has different needs and expectations.
That is why they have dedicated their services to providing various packages that depend on their budget and requirements.
During our detailed Resumeble review, we discovered that depending on your needs, you would get the maximum value for each package.
The entry-level package is the cheapest at $159 and gives you a professional resume writer, up to three revisions, and the best format, depending on your industry.
Resumeble has been featured as the affordable resume service in our best cheap resume writers list with such prices.
The most expensive package is the premium one that will cost you $299.99. Here, you get a professional writer, unlimited revisions, a free cover letter, a suitable format for different industries, a 30-day interview guarantee, free follow-up and thank you letters, and a LinkedIn profile review.
While our team reviews Resumeble, we always check for discounts and promo codes. As with most services, you will also get discounts here.
There are always coupon codes that the company gives to new and existing customers. These can shave up to 20% off the price off for you.
You also need to know that the prices will be slightly higher if the deadline is tight. However, if you are guaranteed an interview in 30 days, this price is well worth it.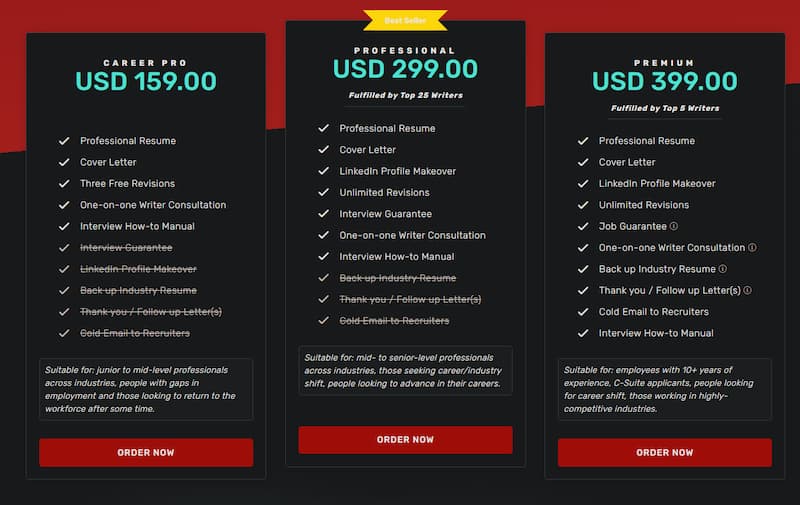 If you have enough time to craft a resume on your own, read the Resume.io review on our website, it is an excellent platform for resume building.
Resumeble.com Payment
Resumeble's slogan is that a person needs to invest in their career. Therefore, if you wish to do so, you only need to select an account you want to use when paying. You can use either your debit, credit card, or PayPal account.
The same payment methods are available at another excellent resume writing service called ResumeWritingLab. Check Resume Writing Lab reviews to compare them with Resumeble's prices and quality. Both of these companies are worth your time.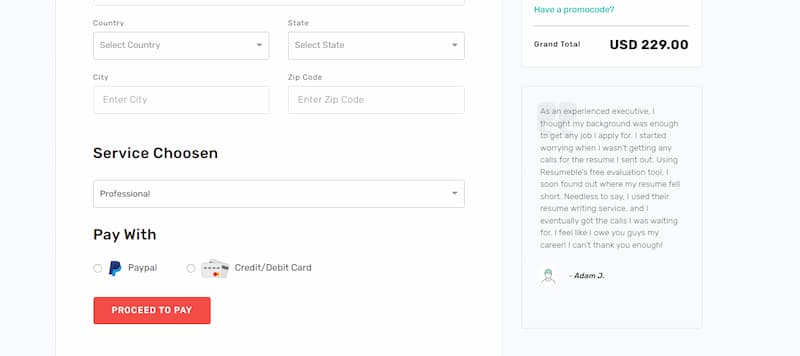 This company uses the HTTPS security protocol to ensure the safety and confidentiality of customer data. Therefore with them, you can rest easy knowing that your account is safe.
If you are uncomfortable putting down your account details here, you can use PayPal, the safest online payment method. As of now, there are no records of hacking issues at Resumeble.com.
Resumeble Writers Quality
When ordering your document with Resumeble.com, all you want is to be sure you will get a great resume that is deeply researched and contains relevant details.
Resumeble's resume writers work tirelessly to ensure they deliver exceptional resumes for all clients who order.
The writers have long-term experience developing resumes, using various helpful templates to ensure the final draft has a sophisticated look.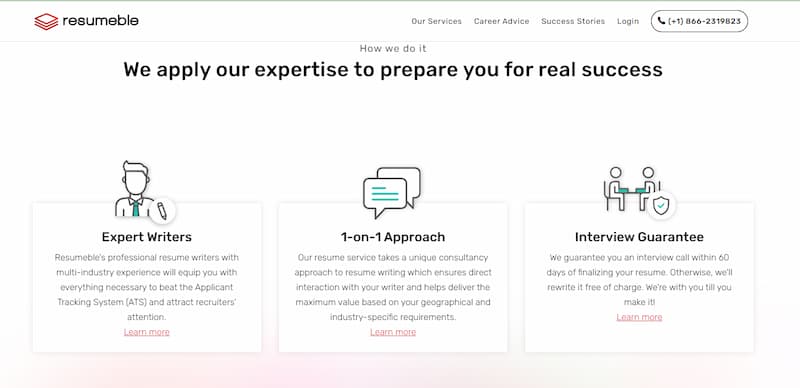 Before ordering, customers can access previous work from several writers for you to gauge their ability to write resumes.
With before samples, it will be easy for you to trust the person you expect to work on your resume and be sure that you will get what you pay for with all your credentials in place.
Additionally, the writers have several years of experience doing the same job, which gives you the confidence that they will deliver a great piece and be ATS compliant.
Resumeble.com also prides itself on honoring deadlines regardless of how fixed they seem.

So, when you place your order and share your submission dates, please be sure that the Resumeble team will deliver, and the document will be ready for you to use.
Resumeble Customer Service
When we review Resumeble, we know that the company has a team of friendly and professional experts who are always ready to assist you.
There is a phone number at o the main home page that you can call during working hours on business days. It gets easy to place your order with the number or even ask for clarification on issues you are unsure about.

Although the company does not work on weekends, there is always room for adjustments if a client requires assistance of any kind, including revisions on previous work.
Additionally, if you cannot reach us by phone or don't like doing voice calls, you can write to us using the email address at the bottom of the page.
This makes contacting Resumeble quite flexible regardless of the time difference between clients and writers' zones.

Resumeble.com Website Usability
Whether you are tech-savvy or have yet to experience technology, the site still accommodates you. The top menu makes navigating the website easy as it directs you to places at ease.
The site colors are also friendly and will not strain your eyes as you try to peruse through it comfortably. It has a light blue background, and most text is white.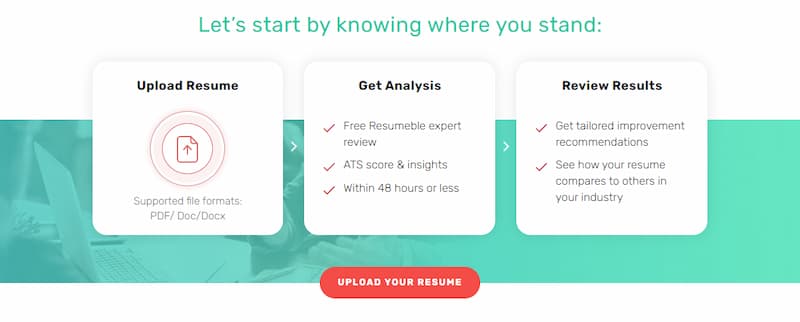 Information with emphasis is highlighted in black and has a white background. The fonts are professional, ensuring users can read through them without further challenges. CareersBooster is another excellent service with similar interface navigation. Just check and see the difference.
Pros
Super easy to navigate.
Writers are highly experienced.
Easy to create an account.
Guarantee top-notch resumes.
Reliable communication network.
Competent resume production.
Cons
A customer has to pay before they even see part of the work they have ordered for.
The entry price is not affordable for everyone.
Sometimes a writer may not be online when you need to talk to them, and you may have to wait for hours.
There is no refund policy. The company only assures you that they will rewrite the resume again free of charge.
Anonymous orders are not allowed on this website.
The revisions may take more time. One has to submit the job application, and they end up losing good job opportunities.