To save you time, we made a short video on Youtube with an Admissionado overview. Check below:
If you seek college entrance success or are planning to obtain a Masters's or MBA, you may benefit from the services offered at Admissionado. We have done a complete analysis of what this company offers and will provide you with all details right here.
During our complete Admissionado review, we looked at important aspects that you will want to consider if you are a student that wants a high success rate of college admission.
So, who are the best law school consultants? We took the time to review the pricing options and what services you will get when you hire professional consultants from this company during our site assessment. Reviewing the site, we looked at feedback from prior users to determine the satisfaction rate.
You will find you will get high-quality services from experts in the education field, and most professionals here have earned degrees from some prestigious institutions in the US.
With our Admissionado.com review, you will discover all services offered as well as any guarantees that are offered by the site. We have considered user comments and compared what is offered to other consulting companies.
Get the competitive advantage with our best grad school admissions consulting guidance and tips.Get the competitive advantage with our best grad school admissions consulting guidance and tips.
Check out how you can benefit from professional services and increase your admission chances!
Admissionado Overview
As a college or high school student, you may be planning to further your education, which is where this company will come into play.
What is Admissionado?
It is a professional consulting company that provides the tools and resources to help you achieve high success rates when applying to colleges and universities.
The main focus of this company is to help students complete applications and write compelling admission essays to help increase their chances of acceptance.
While the company cannot guarantee acceptance by all, it has an excellent success rate and has been rated as one of the best consulting services.
You will find this service beneficial and well worth the cost by offering constant communication with your mentor and great customer service.
The company is reliable and respected and, over the years, has gained the trust of thousands of students who have successfully been accepted to their college of choice or who have gained entrance to a Master's program.
Story of Admissionado
In 2007, Admissionado was founded and it was a small company created by Jon Frank and Raj Patil. As classmates at Brown University, the duo reconnected after many years.
They recognized the need for an admission consulting program to offer students a better chance at success as they start their journey to higher education.
Today, Admissionado has more than 100 staff members dedicated to offering students top consulting and counseling services.
You can find many positive Admissionado reviews that provide feedback from former clients who have been extremely happy with the services offered by this professional company dedicated to your personal success.

Services Offered
No matter what educational level you are currently at or what level you are aspiring to achieve, the services at Admissionado can help. This company offers MBA and Master's admissions consulting, mentorship, and consulting for college-level students.
For College admissions, the services at Admissionado can be quite beneficial. In Admissionado reviews, we noticed someone calls them one of the best college consultants online. We agree with such statements and featured them in our list of top consultants.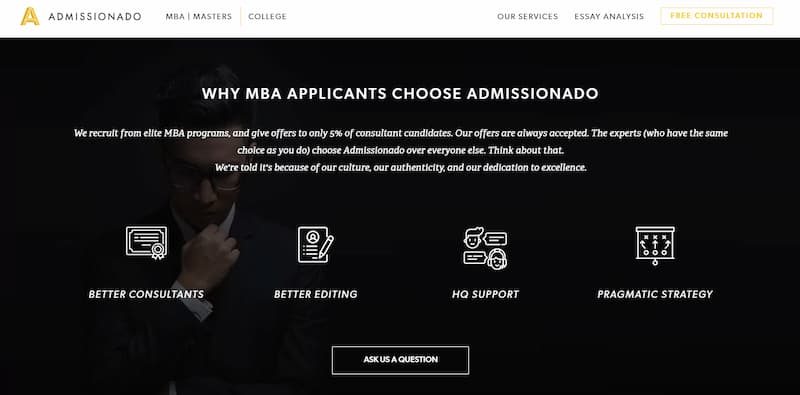 Anyways, by offering the most talented consultants in the industry, you can hire an expert to help you achieve success and gain acceptance to your schools of choice.
With college packages offered, you will receive professional support and help throughout every application process. This includes:
Application Diagnostics;
Essay Support;
HQ Support;
Professional Feedback.
There are two options for college students. One is for Seniors and Juniors who need help with college selections and applications. The other is for students in grades 9-11 who need one-on-one college counseling.
There is another great option for college admission; check the PrepScholar college admissions review, and find out that they also provide admissions consulting services, which we can surely recommend.
The MBA and Master's services are tailored for those already enrolled in college and looking to further their education. MBA admissions consultants at Admissionado will improve your chances of acceptance, and based on past Admissionado.com reviews, there is a 98% success rate.
Like college services, there are three MBA/Master's service options. These include the Silver, Gold, and Platinum Packages. These will provide an expert who can guide you through your application process to ensure you have the best chances of being accepted into a Masters's or MBA program. If you don't know the best online GMAT prep course, then we have you covered, check our list and find the top one.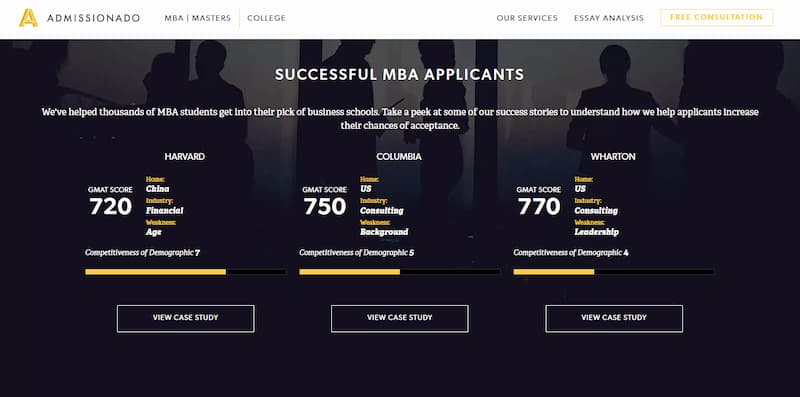 Admissionado Pricing
A concern students have is the cost of services. We have completed an Admissionado price package assessment and will provide you with all the details.
You can choose packages based on whether you are entering college or want to obtain a Masters's or MBA.
There are two types of packages for students in grades 9-12.
The mentorship packages start at $1,650. This provides you with college counseling in hourly blocks. You can choose to add additional hours for an increased cost, or there is an annual membership option that starts at $4,620 for one year.

The application packages include the Silver, Gold, and Platinum packages, offered to those who are rising or current Seniors. Here, you get assistance with school selection, applications, essays, and more, and the prices start at $3,440.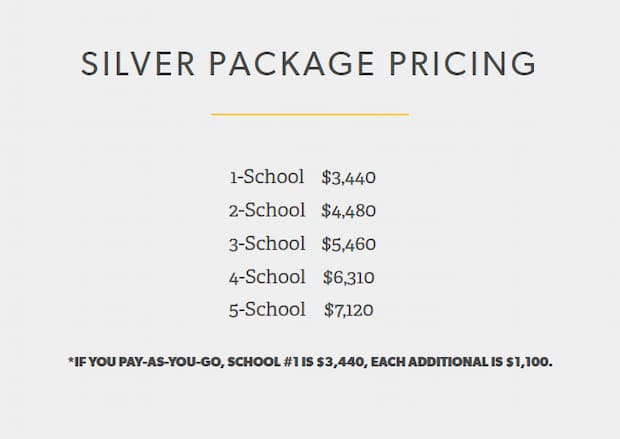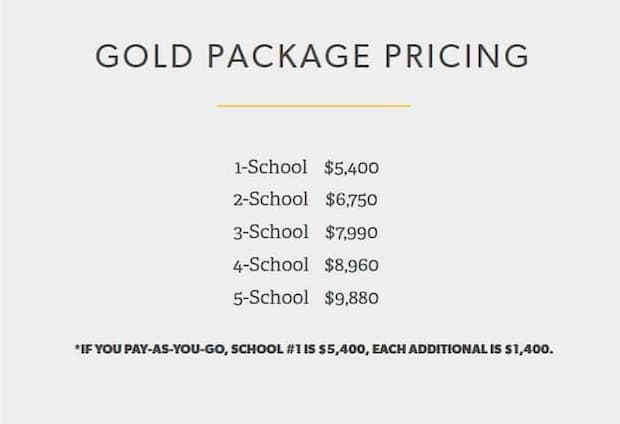 Three packages that start at $3,250, $5,750, or $8,650 for one school are offered.
As we found in the Stacy Blackman Consulting review, an excellent MBA Admission consultancy, they have higher prices than Admissionado in some cases. Is Stacy Blackman Consulting worth it? Check the reviews from her customers.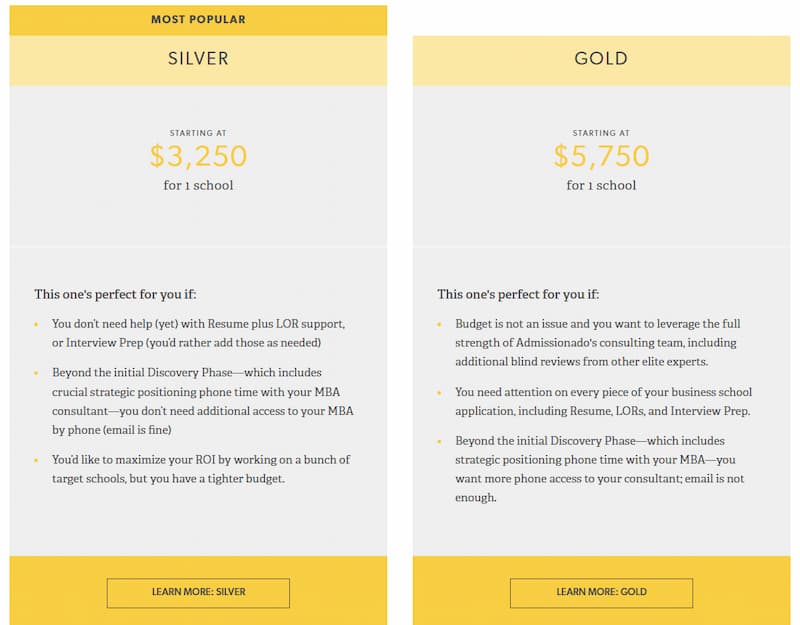 The Silver Package is the lower-priced option which is excellent for those that do not need help with resumes or interview prep.
A Gold or Platinum package offers comprehensive services and covers applications, resumes, interview prep, essay assistance, and more if you need complete consulting services.
We also have MBA admission consultants reviews that you should check to find the best company for MBA admissions.
Quality of Consulting: Admissionado Reviews and Ratings
While the cost of packages can be steep, all services offered at Admissionado are professional. You will always get help from qualified mentors who have obtained graduate degrees from some of the best colleges in the country.
The quality of services is amazing, and past customers have provided feedback on the great counseling and guidance offered.
Admissionado's success rate is high as the consulting staff is highly qualified and has earned degrees from MIT, Harvard, Stanford, and many other universities.
They have gone through the application and admissions process and know exactly what it takes to get into the best schools and programs.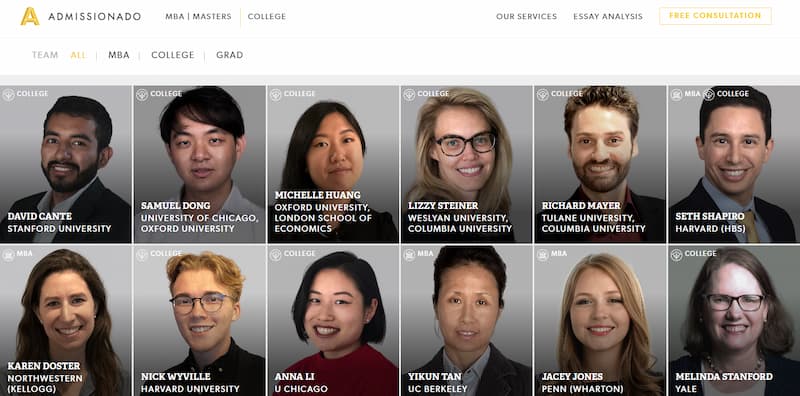 Customer Service and Support Options
Based on the many positive reviews and ratings left by former customers, you can expect top-notch customer service at all times from Admissionado.
The team of professional support agents has personal connections with every client and makes sure to provide support that is fast, friendly, and very efficient.
Clients will have email access to the support team and their mentor at all times and a phone number for assistance when needed.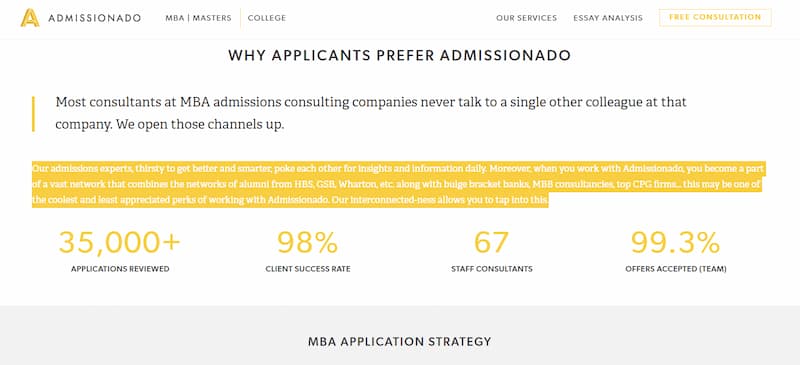 Mobile App and Website Usability
Admissionado does not offer a mobile app, though you can access your mentor and all provided resources and tools using the web-based platform that can be accessed on any mobile device.

The website itself is designed for fast and simple navigation. You will not find any ads or clutter. All tabs are marked so you can get the exact information you need. The clean design and user-friendly interface make for great usability.
Pros
Services are provided only by experts and professionals.
All the staff members are very informative.
Free consultations are offered.
Essay analysis services included.
Additional resources are offered, including School Guides and Books.
98% acceptance rate after using services offered.
Cons
Full packages can be expensive.
As for graduate programs, only MBA assistance is offered.
No discounts are offered.
Fee for every school being applied to.
No guarantee policy in place.
No live chat is offered for support services.