Established in 1996, The MBA Exchange is a highly respected and well-established MBA admissions consulting firm. Its team includes former admissions committee directors from elite business schools and seasoned professionals with extensive experience.

The firm's approach to MBA admissions consulting is similar to that of Admissionado, focusing on a holistic, methodological, and professional approach with proven results.

In addition to traditional MBA programs, The MBA Exchange also offers specialized consulting services for MBA-adjacent degrees such as Executive MBA, deferred MBA programs, MPP/MPA, dual degree programs, Master of Finance, and other master's or PhD programs.

As a prestige brand with a long history, The MBA Exchange is known for its experienced consultants who bring a wealth of knowledge to their work.
Intro
If you're considering applying for an MBA, it makes sense to get help and support from a specialist. MBAExchange is just that – a specialist consultancy firm with deep knowledge about all things MBA-related.
We've written a comprehensive analysis and review of MBAExchange and its different services, which you'll find detailed in this article.
Here at EduReviewer, we're experienced in reviewing admission consultancy firms. We've already compiled lists of the best college consultants, grad school consultants, law school consultants, and, of course, the best MBA consultants.
What's more, we've also produced lists of the best GMAT test and GRE prep courses, so we're well-versed in what to look for when we write our reviews. Need to improve your LSAT score? Our best law school admission consulting service will help you get into a top law school.
While writing our MBAExchange.com review, we considered all the important factors that prospective MBA students need to know. We looked at the services offered, pricing, and online reputation too.
What is MBAExchange?
MBAExchange was established in 1996 and as such, has dealt with a lot of admissions cycles.
Though things are not the same as they were in the 1990s, this consultancy firm still has the same core values and fundamental goals and that is to support prospective students through the MBA application process to convince admissions teams that they're the right people for the class.
Are you wondering which is better: the Princeton Review vs Manhattan Prep GMAT? Compare now.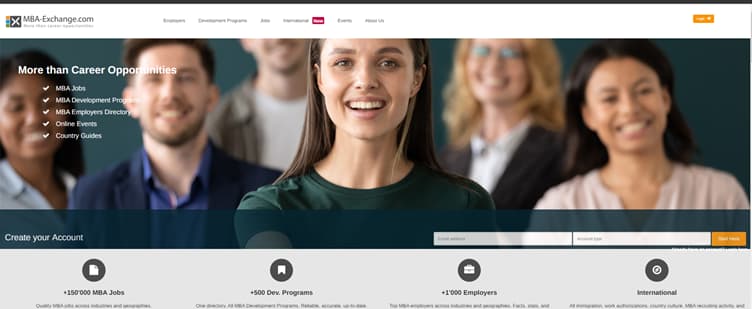 Although there is more competition nowadays, MBAExchange prides itself on doing more and having a USP. They offer many unique elements to their services besides the usual MBA application offering.
This includes video essay coaching, team-based discussion preparation, support with background verification, and the very important but often overlooked job of auditing social media.
This company does what it says it will but in a way that isn't overly showy compared to other companies. They built relationships with clients that are based on trust to get the job done well. Do you want to get into college? Check out our guide, Admit Advantage reviews.
They provide a range of services. These include:
Student analysis so people understand their unique characteristics and strengths.
Guidance and coaching with a consultant.
Support and implementation of the application, including refinements and reviews.
Preparation for interviews.
Waitlist support if this is needed.
Bespoke support for specifics like video conference preparation, question prep and video essays.
GMAT examination prep
Counseling services for test anxiety.
Support with post-admittance background verification.
Ding analysis for rejected applicants.
Pricing
One of the first things prospective applicants want to know is how much does MBA exchange cost. Unlike other consultancy firms, MBAExchange isn't transparent about its prices online. However, we did some research to find out their prices.
There are three levels of service – silver, gold, and platinum. For one school, you will pay between $3,450 and $8,950. For two schools, the fee is between $4,370 and $10,190.
For three schools, it's $5,020 to $11,240. They also offer other services like a $265 30-minute consult for the CounterCheck background verification service, hourly support at $375, and GMAT/GRE hourly tutoring at $250.
It's also an option to have a free consultation. This does involve a rather lengthy six-step web form but they do try to keep it light-hearted and entertaining. From the questions on this form, we can gather a few ideas for pricing.
On the question about how much support you're looking for, there are three choices: a lot of help with a lot of schools (budget $10,000-$15,000), a lot of help with a handful of schools (budget $5,000-$10,000), and an option for those who don't know.
You can check BeMo Consulting review or A-List review and learn more about their fees. These companies are legit and safe. Check them out!
From writing this MBA Exchange review, we get the impression that this is a high-end firm that works with only the best prospective MBA applicants and those that are willing to pay for a high-end supportive experience.
Quality of Consulting Provided
The MBA Exchange was a pioneer of the admissions consulting sphere. With more than 25 years in the industry, they clearly know the drill. That's not to say they haven't kept up to date, though. Their consultancy team is full of experts with a broad range of skills.
It's made up of former admissions officers as well as successful MBA graduates from the top schools in the United States, including Stanford GSB, HBS, Wharton, CBS, MIT Sloan, Northwestern Kellogg, INSEAD, NYU Stern, Chicago Booth, Berkeley Haas, Michigan Ross, Dartmouth Tuck, Cornell Johnson, Duke Fuqua, LBS, and more.
The team of consultants also goes through regular internal training and development so that they can keep up to speed with any changes in the application system.
As well as having a wealth of experience in MBA admissions, the consultants also have experience in the real world of business. Between them, they've amassed a large cumulative knowledge from more than 5,000 previous applications.

What's more the team all have varied cultural, functional, and industrial backgrounds. There are people on the team from all over the world and who've worked in entrepreneurship, engineering, management consulting, investment banking, and everything in between. This means that this firm has greater breadth and depth than its competitors.
The consultants also respond quickly to queries and questions.
With such a long-standing reputation, The MBA Exchange won't just accept anyone. They are a little selective in whose applications they help to support.
If you're a serious applicant, they'll do you well but if you need a little too much handholding then this firm might not be right for you. Students applying for an M7 MBA, a Top 15, or a business-adjacent program (like MFin, MPP, JD/MBA, EMBA, etc. who can afford it, should choose MBA Exchange.
Of course, as seasoned consultants, their services are in great demand. This means they do charge a high price, which as we've said, they don't publish on their website.
Though the company offers no guarantees, they will offer a free evaluation.
Let's see how the MBA Exchange compares to similar platforms:
Admissionado
Stacy Blackman
The MBA Exchange
Prices
$3,440 (lowest price)
$6,900 (all-in MBA admissions consulting service)
$3,450 (lowest price)
Quality
Top-level quality from experts
Comprises of a complete team of former admissions officers from all top MBA programs.
Team consists of admissions experts from all over the U.S. with different
specialisms and experiences. Well-established company.
Content
Personalized approach, excellent customer support
Dedicated consultant with a further review by the AdCom team. Unlimited time with the
primary consultant. "Hourly first" option.
Free consultation and evaluation are available. Unique services, including
counselling services for test anxiety and ding support. They also offer GRE/GMAT exam prep.
Value for Money
It's difficult to judge value for money when a company is not very open about its pricing. However, judging by the consultation request form, you can expect to pay upwards of $3,450 for an MBA package.
Are the course and tuition worth this? Probably. The MBA Exchange is open to re-investing money back into the company in the form of professional development and training for the consultants.
What's more, with three decades of applications under its belt, the company has amassed extensive knowledge of the process, making them unrivaled.
Clients also get matched with their consultants based on their goals and personality as well as their school-specific knowledge so that they can work together for the same aims.
Fun fact: The MBA Exchange is famous for getting folks without college degrees into M7 schools!
When compared to other companies, it certainly seems as though MBA Exchange offers great value for money and lots of unique elements to their packages.
Being solely focused on MBAs and linked courses means that with this firm, you get access to experts in the niche NBA market.
Verdict: Is It Good?
Though we would like to see more independent MBAExchange.com reviews by clients on review sites, for anyone asking if MBAExchange.com is legit, we can safely say that yes, it is. We have good knowledge of this company and their consultants and, as such, can recommend them to anyone who wants to apply for an MBA course.
In terms of quality, our research to write the MBA Exchange review has proven that you really are getting the best out there. It would be nice if their prices were more transparent online so that potential customers can compare like for like.
We do think that this is a marketing strategy, however, as their prices are one of the highest for this type of service.
Finally, their own website is awash with testimonials but it would be preferred if there were more MBA Exchange Ratings and student feedback elsewhere online than is currently present. That said, we don't think this should put you off choosing this company.
Student Feedback and Online Reputation
There are many MBA Exchange reviews and testimonials on their own website. It was difficult to find reviews on public platforms, however. We did find one review website that had 47 MBA Exchange ratings that averaged 4.02/5.
The company posts frequently on its Facebook page but it seems that this receives little engagement. They do have 2.1k likes and followers and they do seem to be posting relevant content, however.
Unlike other sites, the lack of positive reviews isn't particularly concerning because there also aren't any negative reviews to be found either.
When you consider that people only tend to review things when they're really disappointed or really happy with a service. This could be a sign that people feel that it's mediocre. It would be unfair to consider this, however, without confirmation.
It would be nice to see customer The MBA Exchange reviews on the likes of GMAT Club, Trustpilot, and Reddit.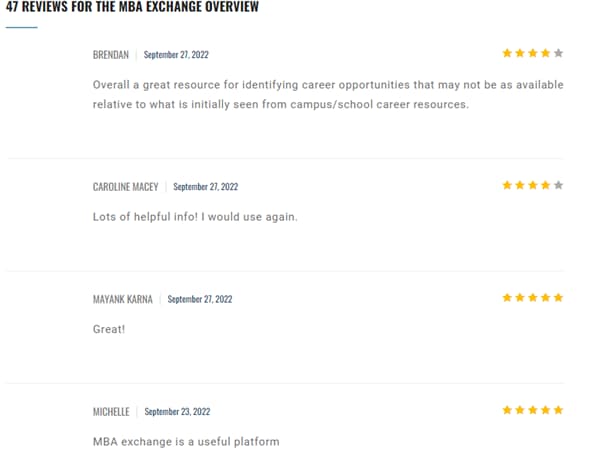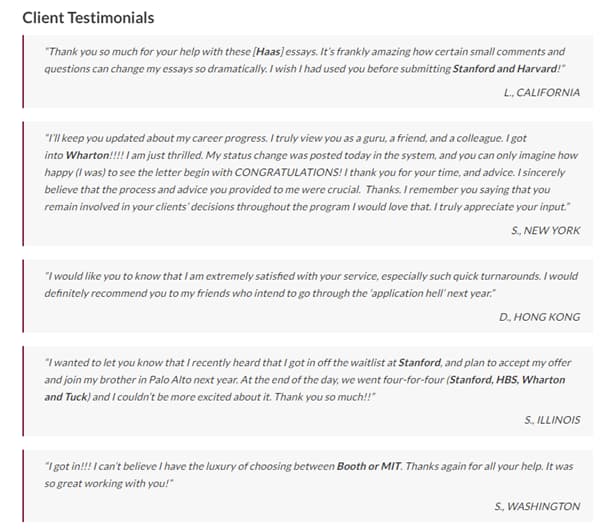 Pros
MBA Exchange only employs experts in this field of study, and they have all been involved in admissions committees.
They have a strong reputation for a company that has existed for three decades.
The consultants are passionate about what they do.
The company has a unique approach in how they match its clients to its consultants via a comprehensive initial assessment.
They have a career coaching aspect to their services.
They offer unique items like social media audits, background verification support, team-based discussion preparation, and video essay coaching.
Cons
Comprehensive packages are expensive – they don't cater to every budget.
They don't offer refunds.
They're very businesslike and aren't as friendly as some other consultants.
There are no reviews on Trustpilot, Reddit, or GMAT Club, for example.
They aren't transparent about their prices on the website.
There's a lot of information to fill in for the free consultation.
There isn't a guarantee policy.
There are no 'likes' and comments on their social media posts, which suggests engagement is low.