According to Poets and Quants stats, over 50 thousand students apply for MBA in the top 10 American schools each year. But only about 10 percent of the applicants get enrolled. That's where MBA admission consultants come into play.
Finding the best MBA consultants online can be a very daunting task. In fact, you need to learn many things regarding ratings and reviews about any MBA admission consulting, such as price, quality, mobile, and web application usability, customer support, guarantees, etcetera. It allows you to take a holistic approach to select the right MBA admission consultant.
If you are searching for a consultant, you must have already read some Stacy Blackman consulting reviews. If you're still unsure if it's the right option for you or not, consider reading this article till the end. Come and read our MBA exchange review to find out what is the best choice for you. You might find our Stacy Blackman consulting review helpful as it covers all the factors that you need to know. Let's dive into it.
Stacy Blackman Consulting Overview
From this point onwards, we'll talk about everything you want to know about Stacy Blackman consulting. Consider reading this Stacy Blackman consulting review carefully. It will help you to put your energy and time in the right direction. BeMo Academic Consulting is a full-service academic consulting service, check our BeMo Academic Consulting review for additional info.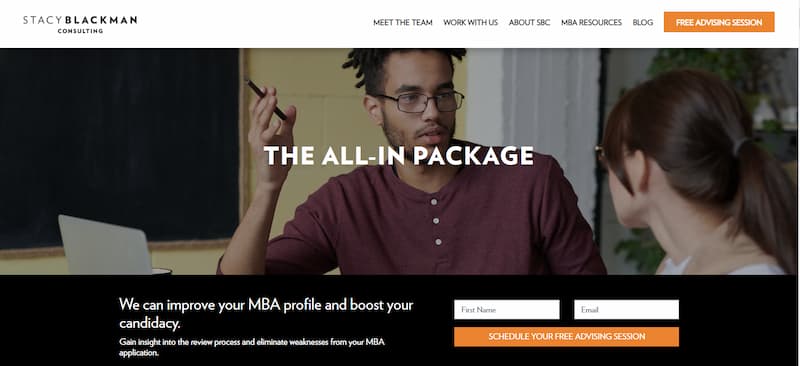 What is Stacy Blackman Consulting?
Stacy Blackman Consulting is one of the most popular MBA admission consulting organizations. It helps the students aiming to get admission to MBA school. It covers pretty much everything from the admission planning stage to the application submission. The services Stacy Blackman Consulting offers include the following:
Admission Test Preparation;
Editing Services;
Interview Preparation;
Flight Test (Optional).
The flight test is one of the unique services that the company offers. It allows you to get feedback and review from one of the former MBA admission committee members. Stacy Blackman Consulting students have been achieving remarkable admission rates in top business schools since 2001.
The MBA consultant team of Stacy Blackman Consulting is highly experienced. Seventy-five percent of them are either former MBA admission officers or MBA graduates from the best seven MBA programs. Read our Admission Sight review to know the secrets of successful admission.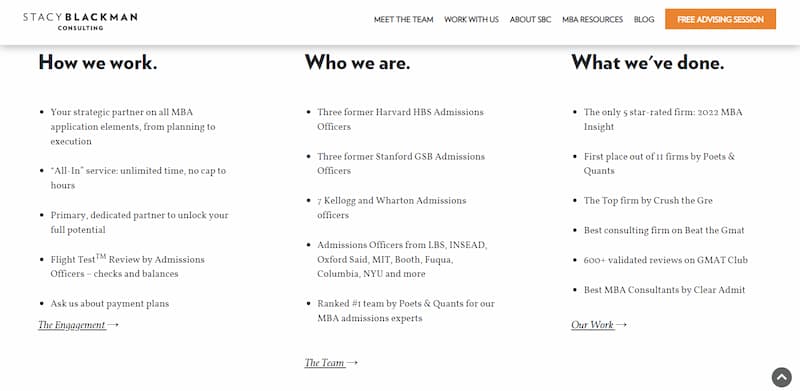 How Does Stacy Blackman Consulting work?
According to Stacy Blackman consulting reviews from former customers, the company directly works with dedicated consultants to ensure exceptional results.
Stacy Blackman Consulting starts the process by pairing the clients meticulously with the consultant. The pairing is done according to the client and the consultant's histories, goals, and needs for the perfect match. Some of the consultants excel with engineers and non-traditional doe clients; other consultants have a sweet spot. Stacy Blackman Consultingconsiders that the consultants' perspectives and backgrounds vary just like the clients.
The company makes sure that each client is paired with a consultant who feels excited to work with the client and believes in his/her candidacy. Additionally, Stacy Blackman Consulting also allows the clients to review each consultant's educational background and bio to feel 100 percent comfortable. The company doesn't charge clients any fee and also doesn't begin the engagement process until they have been paired.
Does Stacy Blackman Help to Achieve a Better Score?
As mentioned, Stacy Blackman works directly with dedicated consultants to ensure exceptional results. For about two decades, clients of Stacy Blackman Consulting have been receiving an impressively high rate of admissions and also scholarships in the best business institutes around the globe.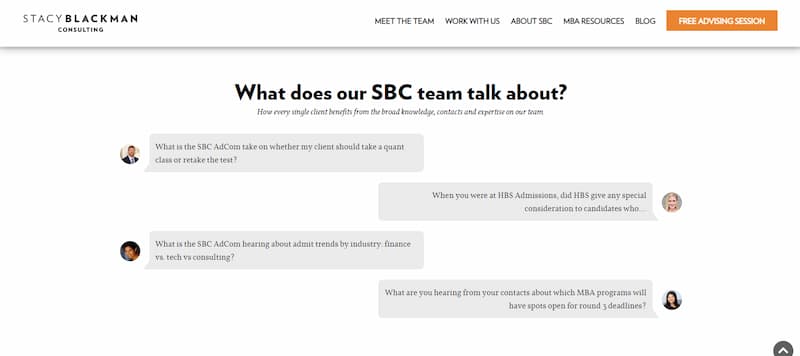 Is Stacy Blackman Consulting Really Worth the Hype?
With about two decades of service, Stacy Blackman Consulting is helping its clients to get admissions and scholarships. According to former MBA Admission Officers' Stacy Blackman consulting review and rating, it's the best firm out there. The company's top-ranked admission consultants and its unique pairing procedure allow Stacy Blackman Consulting to stand out from the crowd. It comes with no surprise why it echoes all over the internet in the Stacy Blackman consulting reviews from the clients.
Is Stacy Blackman Consulting Safe?
If you have ever heard something about the Stacy Blackman consulting scam, you must have been misinformed. It's one of the most reliable and top-ranking MBA admission consulting firms that you can trust. As we have already mentioned, the company doesn't charge you the fee until you're paired with the consultant of your choice.

Story of Stacy Blackman
When you dig deep, each person has a unique story. The same is the case with Stacy Blackman, who is now a successful entrepreneur with about two decades of robust and professional experience. She sold her first company in 1999, named WebWisher.com, which is now a publicly traded company.
Stacy got her BS in Economics degree from the University of Pennsylvania, Wharton School. She earned her MBA degree from the Northwestern University Kellogg Graduate School of Management.

Stacy started working at Prudential Capital Group, private equity in San Francisco, right after graduating. After launching and selling Webwisher.com, she eventually launched Stacy Blackman Consulting. Now it has become a leading MBA admission consulting organization worldwide. Get all the information you are looking for in a concise and accurate way in AdmitAdvantage reviews.
Services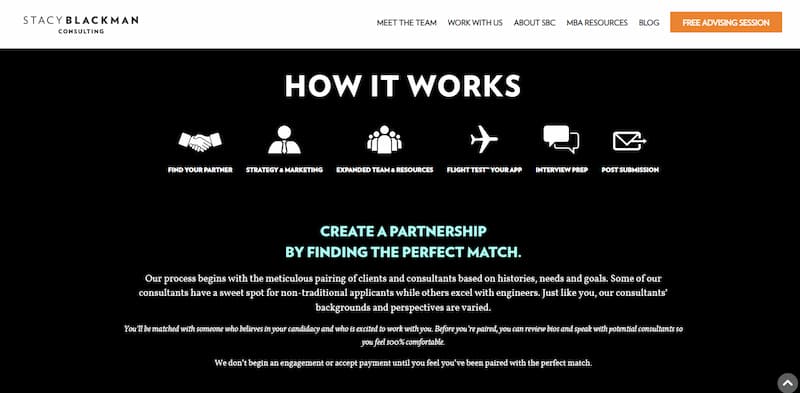 Stacy Blackman Consulting offers the following services that you can opt for according to your unique needs.
All-in Package: It contains everything that you want to get into a business school. SBC offers guidelines and instructions for each step.
Hourly Services: According to Stacy Blackman consulting hourly reviews from the old customers, the hourly services serve the people who want limited consulting services.
Test Preparation: Students who only want to prepare for the test can partner up with SBC's GRE and GMAT experts to increase their scores. Check our list of the best GMAT online prep courses. It will help you find a top prep service to rely on.
The SBC Flight Test: The flight test service allows the applications to determine how their application performs under different scrutiny types. The company sends the application to a former admissions committee officer for feedback and review.
For College Seniors: College seniors who want to optimize their admission chances can opt for this service to improve their application strategy. Stacy Blackman is one of the best at this; check the college admissions consultants reviews online, where she has also been featured.
Editing Services: Students who want to refine their written materials can choose SBC's editing services to polish their work.
MBA Interview Preparation: To enhance and improve virtual and live presentations and interviews, SBC's MBA interview preparation can be very effective.
MBA Process Plan Ahead: Students who want to strengthen their candidacy can join the MBA application process plan with SBC in advance.
Stacy Blackman Consulting Cost
All-in Package
Stacy Blackman Consulting's All-in package is the most comprehensive one, which you can get for up to six different schools. If you check our Admissionado review, you can find that they have relatively lower prices for these services. Below is the Stacy Blackman all-in price list.
One School: $4,850 ($4,850 per School);
Two Schools: $6,850 ($3,425 per School);
Three Schools: $8,700 ($2,900 per School);
Four Schools: $10,300 ($2,575 per School);
Five Schools: $11,800 ($2,360 per School);
Six Schools: $13,200 ($2,200 per School).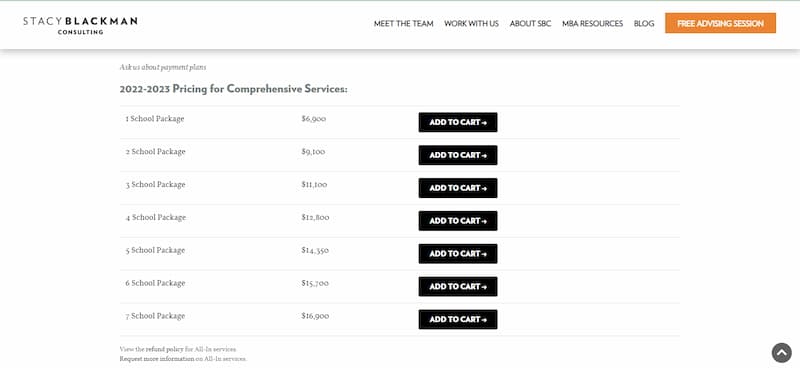 Hourly Services
The basic hourly rate of Stacy Blackman Consulting is $365 per hour. But you can find discounted packages as well as listed below:
1 hour: $365 per hour (minimum 2 hours);
5 hours: $358 per hour ($1,789 in total);
10 hours: $343 per hour ($3,431 in total);
15 hours: $325 per hour ($4,873 in total).
Test Preparation
The basic rate of test preparation is also offered on an hourly basis. Here's the list of Stacy Blackman prices for test preparation packages that you can choose:
1 hour: $275 per hour (minimum 5 hours);
5 hours: $275 per hour ($1,375 in total);
10 hours: $250 per hour ($2,500 in total);
20 hours: $230 per hour ($4,600 in total);
30 hours: $210 per hour ($6,300 in total).
The SBC Flight Test
If you go for the All-in package, you'll automatically get the flight test.
If you want to get only the SBC Flight Test, it will cost you $825.
For College Seniors
The College Seniors program costs you the same as hourly services.
Editing Services
The is a vast range of Editing Service packages that Stacy Blackman Consulting offers. Here's StacyBlackman's cost for the basic one.
0 to 500 Words for Normal 3 Business Days: $170;
0 to 500 Words for Urgent 1 Business Day: $210;
1 Page Resume for Normal 3 Business Days: $230;
1 Page Resume for Urgent 1 Business Day: $275.
Stacy Blackman MBA Consulting: MBA Interview Preparation
Here's a list of different MBA interview preparation packages.
All-in Interview Preparation: $1,050;
Video Interview or Video Essay Preparation: $575;
Group Interview Preparation: $625.
MBA Process Plan Ahead
The MBA Process Plan Ahead service costs $1,695 in total.
Stacy Blackman Quality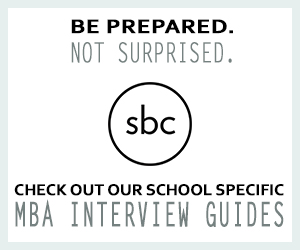 According to the expert's Stacy Blackman consulting review, it's the only organization that offers a complete team of former admission officers. Its consultants are from the elite and the top European MBA programs and each M7 program.
The track record of Stacy Blackman Consulting MBA scholarships and admissions to the best and top-ranked MBA programs such as Stanford GSB and Harvard HBS is undoubtedly impressive. It's the quality of consulting the SBC provides that brings such exceptional results.
Customer Service
You can contact Stacy Blackman Consulting anytime you want through the following information:
Moreover, you can also request a free analysis from the official website. According to former customers and Stacy Blackman reviews, their customer service is pretty responsive and provides information regarding all queries.

Website / Application Usability
Stacy Blackman Consulting does not offer any mobile application at the moment.
On the other hand, SBC's website is fast, responsive to all devices, and user-friendly. You will not find any trouble while using it.
Pros
Offers comprehensive services.
Multiple services to meet your needs.
Different pricing methods.
Offers strategy guides.
Responsive and user-friendly website.
The innovative and effective pairing process.
Cons
It might not be affordable for everyone.
No live customer support service.
Does not offer a mobile application.
You might face some stressful calls.
Client follow-ups are not always ideal.
Some consultants offer very brief guidelines.