Intro
Students often struggle to pick the right college and make plans for their future. That fact should not surprise us. Lack of experience and confidence often make us suspicious. Looking for the best grad school admissions consultants to help you achieve your academic and professional goals? Our expert team of consultants has years of experience and a proven track record of success.
Fortunately for students, there are college consulting companies like AdmissionSight that can make the entire process easier. The question is – does this company deserve your attention?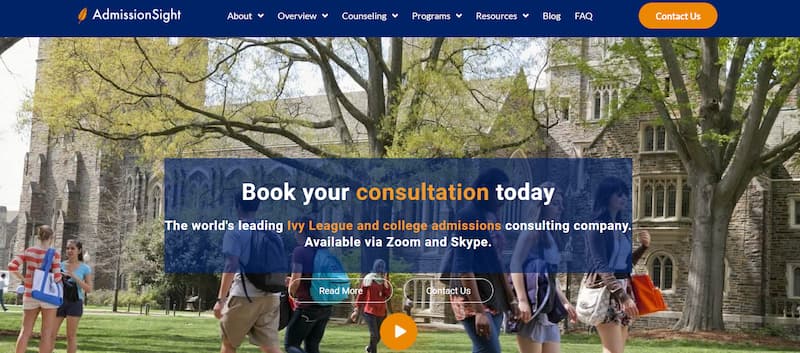 Admission Sight certainly is one of the consulting companies that will make the entire process easier. But, that doesn't mean everything around it is perfect.
In fact, every writing service like this has certain pros and cons. In this review, you will find out more about the quality of their services, how the entire process looks, how much money you will have to spend, etc. Try using Admit Expert reviews – our experts' insight helps you decide which school is best for you.
After reading our analysis, you will easily determine whether their assistance is necessary or not. Because of that, let's start!
Admission Sight Main Features
Before we move to the main point, it would be good to say a few things about AdmissionSight com. The name of this company was Ivy League, and they announced the name change last year. They did that for a simple reason.
The company looked for a name that would clearly explain what they do. They get involved and offer assistance for all the necessary admission processes from colleges and graduations to international admissions. Thanks to their long experience in this field (they have existed for around 10 years), they are dedicated to helping youngsters and their parents find the best possible solutions.
Their portfolio and success rate are truly impressive. According to our research, their success rate is around 75%.
However, the more impressive thing is that they collaborate with students that now attend some of the most prestigious colleges in the world. That includes MIT, Harvard, Stanford, Berkeley, UPenn, and others.
To make things clearer, the company divides its portfolio of services into several different categories. They are
Essay Editing
Interview Preparation
Extracurricular Planning
Common Application
Summer Programs
Academic Guidance
Two Ways to Collaborate with AdmissionSight
Writing AdmissionSIght com review without mentioning the way people can collaborate with employees would be unfair. The organization, in our opinion, is adequate for customers of all ages. Get tips, tricks and advice before you start college with CollegeAdvisor review.
All the students have the option to hire the company in two different ways – a standard pathway or a private consulting program.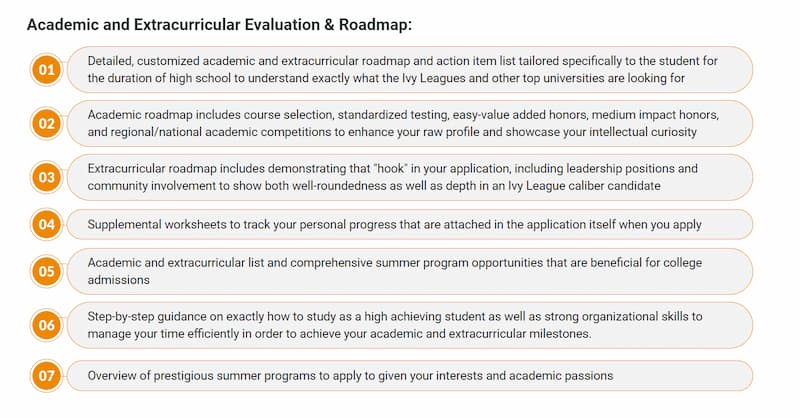 If you decide on a standard offer, you will get a 2-hour evaluation of the academic and extracurricular profile. You, as a student, will get the chance to boost your raw profile and gain the necessary experience.
But, the process does not stop there. You will also collaborate with employees where you can get a wide range of training options.
For example, you can participate in an 8-week science research program, get help with summer program applications or enjoy SAT/AP tutoring.
On the other hand, the private consulting program is a bit different. Students will get the chance to directly engage with the founder of AdmissionSight Eric Eng. Mister Eng will guide the students on the entire college admission process. The classes are organized by Zoom or by phone.
However, communication will also be established via email because Mr. Eric Eng, the professional consultant, will edit the essays and papers. When you read all of this, it doesn't need to surprise us why Admission SIght ratings are top-notch.
Process with Juniors vs. Process with Seniors
Something we do like about AdmissionSight is the fact they adapt their classes to the needs of their customers. That's why the process for juniors and seniors is not identical.
Juniors still do not have an idea of how their future will look. Because of that, the employees start the entire process with mapping. That way, they want to make some form of strategy.
Apart from that, for the money juniors invest, they will get in-depth editing of the essays as well as help for any sort of AP or SAT tutoring or olympiad training.
It is worth mentioning that juniors that decide on this move on time show better performances during college admissions processes.
On the other hand, students that go to senior years start the process differently. They already have some life experience that lets the employees start with college applications immediately.
That includes work with a couple of paper types, such as:
Supplemental materials
Recommendation letters
Supplemental essays
Personal Statements
Common application reviews, etc.
Is AdmissionSight.com for Everyone?
Just like the owner of this company likes to say – the services of this company are for everyone! There are only two requirements that you have to respect – motivation and hard work.
We will talk about the communication channels later, but the advanced technology ensures that all students can enjoy the benefits of AdmissionSight.
According to the information we found, the students that hired them are located in different parts of the world, including China, Hong Kong, South Korea, India, the United Kingdom, etc.
Pricing at AdmissionSight
We have to admit that the biggest disadvantage is about pricing. Generally speaking, there is no precise answer on how much the services this company offers costs. The only way to find out that is to contact the owner of the company directly.
Unfortunately, we haven't noticed that other companies of this type have the same practice. The customers deserve to know how much money they need to spend and there is no reason to hide something like that.
But, if you still want to find out what amount of money you should divide for the service, then do that by contacting mister Eric Eng directly by email at ericen[email protected]. Ask all the questions that are unanswered!
However, something we have to notice based on AdmissionSight com reviews is that services are not extremely cheap. Generally speaking, the reviews that came from the students that live in the USA are not pretty negative.
But, have in mind that this is a company that collaborates with international students. Because of that, people from other parts of the world may consider it a bit expensive.
Unfortunately, we can't be 100% sure because these pieces of information are NOT TRANSPARENT.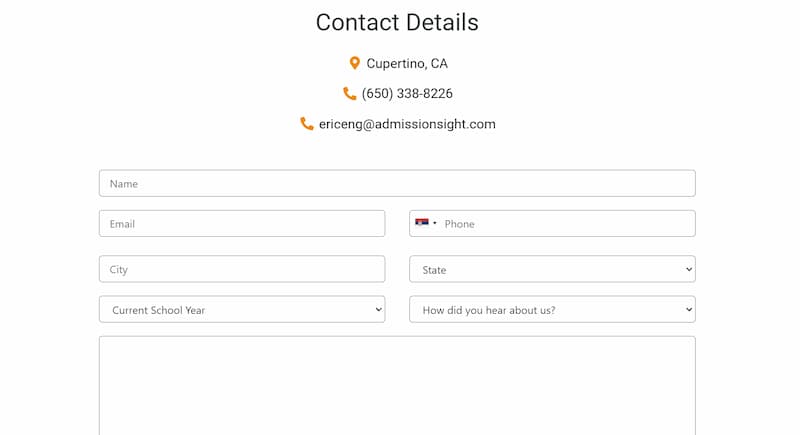 But, there is one more thing that we can say about pricing. The entire process starts, as stated above, with the initial consultation. Apart from the mentioned email.
You can also reach the consulting company by contact form directly on a website or make a call at 650 338-8226. Whichever communication channel you decide on, the initial contact is 100% free. There you can share more information about the service that you need, which program you want to attend, and what goals you have.
Based on the information that you provide, you will get the price and more details about the further steps.
If we disclude the bad side mentioned in the paragraphs above, everything we just said confirms that the answer to "is Admission com is legit" is "yes" with no expectations!
Who Are the Workers? Do They Provide Quality?
Something we love about this consulting company is transparency about employees. On the "About Us" page of the website, people can see who the employees of the company are.
The CEO Eric ENG is the most experienced individual on that list. He graduated with a BA from Princeton University, which only confirms his expertise.
Apart from that, he was also a National AP Scholar, USA National Chemistry Olympiad, and National Merit Scholar in his teenage days (during high school).
Logically, he is not working alone! He is surrounded by amazing people and true professionals.
Some of the senior consultants on this list are:
Matt (responsible for SAT writing and reading, AP US History, and AP English language)
Leon (went to Harvard, experienced with transfer admissions, graduate school admissions, and college admissions)
Amber (went to Stanford, has the Intel Foundation Young Scientist Award, guides students on any kind of scientific research programs)
Ota (just like Eric, went to Princeton University and possesses true experience with admission processes. He helps students with all SAT tests, strategies, and college applications)
Derek (the head research scientist within the company)
The reason why we highlighted these five 5 employees and the CEO is simple. Many of you regularly ask, "is AdmissionSight.com legit?" Well, it turns out that the best answer to that question can be given from the list above.
All the employees have passed through all the processes that are waiting for you, and they have an amazing success rate (as mentioned, around 75%).
But, here comes another thing that our team of experts was trying to find out. We do not know whether these are the only ones that work for the company. If these are all the workers, that means you won't easily manage to schedule a meeting and ask for the service.
On the other hand, if they are not the only ones, who are the other employees? Why are they not represented on the website and do they possess the necessary quality that will satisfy your needs? Once again – the problem with the lack of transparency on the website is something we have noticed!
Their Blog Is Okay
The legacy of Admission Sight can be recognized via their blog. We totally recommend you check it out before even making the initial call. There, you can find out a wide range of topics covered.
For example, you will find out more about different prestigious universities like UChicago, Harvard, etc.; what are the SAT or GPA requirements; which expectations particular universities have, etc.
On the other hand, we also need to say that we have expected a bit more from their blog. Informing people about requirements and acceptance rates is totally fine.
But, most professionals often offer some knowledge for free. They do not do that because they are generous; it allows them to show at least one part of the knowledge they possess.
Student Feedback and Reputation
After long-lasting research, we couldn't find that this consulting company has gotten involved in any scandals. Speaking about Admission Sight reviews on Yelp, based on 6 feedback, they have 5 stars. But, have in mind that some other writing services have the same rates based on many more reviews!

If you would want to find out more about the experiences the previous customer had, you may want to check out some of the comments we highlighted below.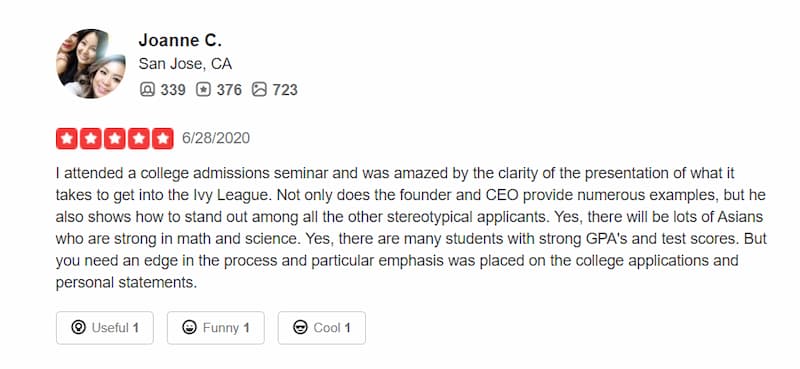 Apart from that, we have to highlight the testimonials visible on the homepage of the website. There, you can truly see that their students were people from all over the world. Their success stories will probably inspire you to click the "contact us" button.
In the end, their success rate confirms their expertise. As mentioned, the success rate is 75%.
However, something we didn't mention is that the mentioned fact only refers to the top 10 universities from the Ivy League. If you expand that list to the top 30, the success rate turns 98%! Cool, isn't it? But looks suspisios.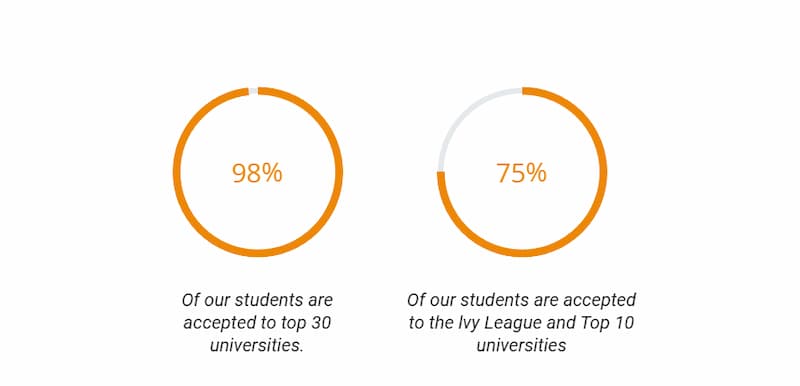 Statistics Are a Bit Strange
Based on our research, we have to give our opinion. Generally speaking, the success rate of 98% for the top 30 universities is amazing! But, something we, as people that are long in this industry, would like to ask is why that percentage falls down by 23% when we put into consideration only the top 10 universities.
Of course, the criteria for those universities are way tougher, but can that be an excuse? We do not want to neglect the success rate they have because 75% is also great, but we believe it can be higher! Besides, how many people are involved in those statistics? Are there many of them? These are facts that are missing!
Also, we do not have more information about the universities that are not in the top 30 of the list. Is the success rate also that high? The company should not neglect the importance of that data because not all students plan to attend the most prestigious universities.
Pros
Experienced and educated employees (all the workers that students will collaborate with have passed through the application processes).
A variety of programs (students can pick the most appropriate service and program for their needs).
Services for everyone (AdmissionSight.com accepts international students. The communication is established via different online communication tools).
The initial consultation is free.
High success rate (75% for top 10 Ivy League universities, and 98% for top 30 Ivy League universities).
Good reputation and positive reviews from the previous customers.
Cons
Lack of transparency about pricing (there are no complaints about fees, but we can't guarantee it won't be expensive).
Lack of transparency about remaining employees and whether they exist or not.
Lack of information about the success rate for universities that are below the top 30 on the list.
No discounts (at least, this is the piece of information we currently have).
The guarantee policy does not exist (but, if we put into consideration their success rate, this should not worry you too much).
Live chat is missing (but email, Zoom, Skype, and phone are excellent alternatives).