The quality of life, satisfaction, and happiness essentially depend on whether we are doing a job that suits us. That is why the choice of school, faculty, and future profession should be approached thoughtfully and thoroughly. Vocational guidance provides help and support in such decisions.
After graduating from high school, most young people are still unsure about their future career choices. Not only is the question of whether to choose what I love or what is currently promising and offers the most excellent chances for employment, but often a young person asks himself what I want or what works best for me. CollegeAdvisor.com review is a good place to start when looking for college reviews
The College Admission Counseling – Comprehensive Program is intended for young people faced with the choice of high school the choice of college, and people who have acquired formal education but want to make new decisions related to their profession and career.
Professionals employed at PrincetonReview provide expert assessment and advice in choosing and making the right decision. Their role is primarily to encourage you to think and give you initial guidance, showing much more about schools and colleges in the USA.
The article you're about to read focuses on the company's admission services, and you can always read our detailed review on Princeton Review to check additional tools and services.
College Admissions Services
First, the Princeton Review college consulting review raises an important question: trying to help you find what it takes to enroll in a reputable US college or university. The college admission team invested their comprehensive experience to assemble a complete set of tools that should assist students in finding best-fit schools. Moreover, you will learn how to write a strong essay, submit an outstanding application, and more.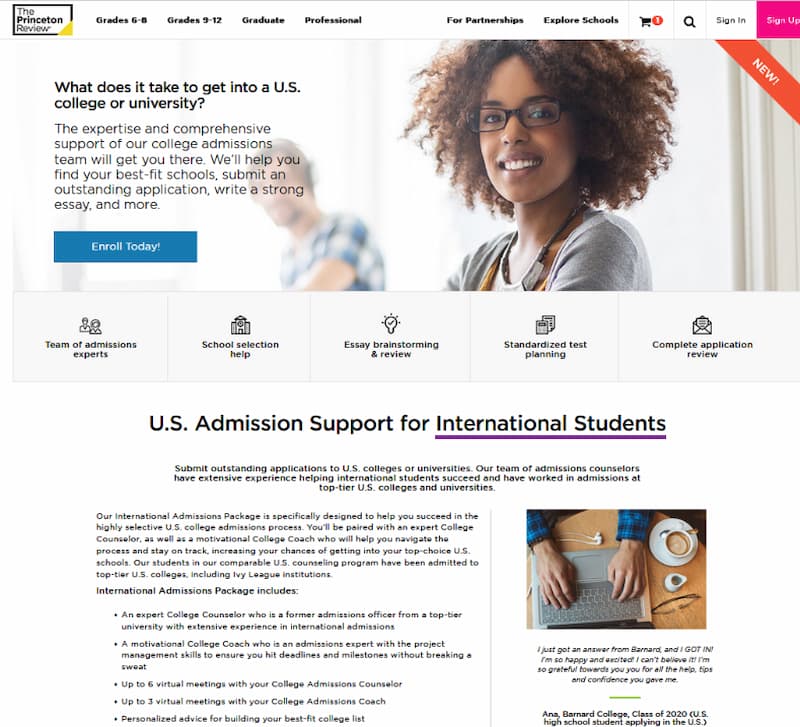 It would be best to look for the U.S. Admission Support service to achieve this goal. According to many Princeton Review admissions reviews, this is more than a helpful tool where you get a personalized approach. Students who had a chance to participate also stated they had no prior experience but learned a lot during a couple of months of the program. So, let me take you through the basics.
After enrolling, you will get an expert College Counselor guiding you and a motivational College Coach. Together, they lead students and help them stay on the right track when choosing the top-tier US colleges, including Ivy League schools. When it comes to the top College Counselor's services, you can expect them to find the best-fit school based on pre-defined qualities.
Accordingly, they closely examine professors and academics, campus culture, quality of life, and the size and location of your prospective college. Additional research includes financial and ROI (return on investment) as essential categories. Interested students will also learn more about any possible access to experimental learning. We say a-list education is worth your time. Read our review of A-List Education for more info.
When narrowing the selection, the College Counselor crafts a personalized admission strategy targeting a specific school. I see this as a primary advantage of PrincetonReview since generic applications will lead you nowhere. The counselor additionally prepares an appropriate presentation to make a student stand out from the crowd. You will get tailored exams and classes that represent your strengths in the best possible way. The last step would be to choose which offer of admission and the financial package you should accept.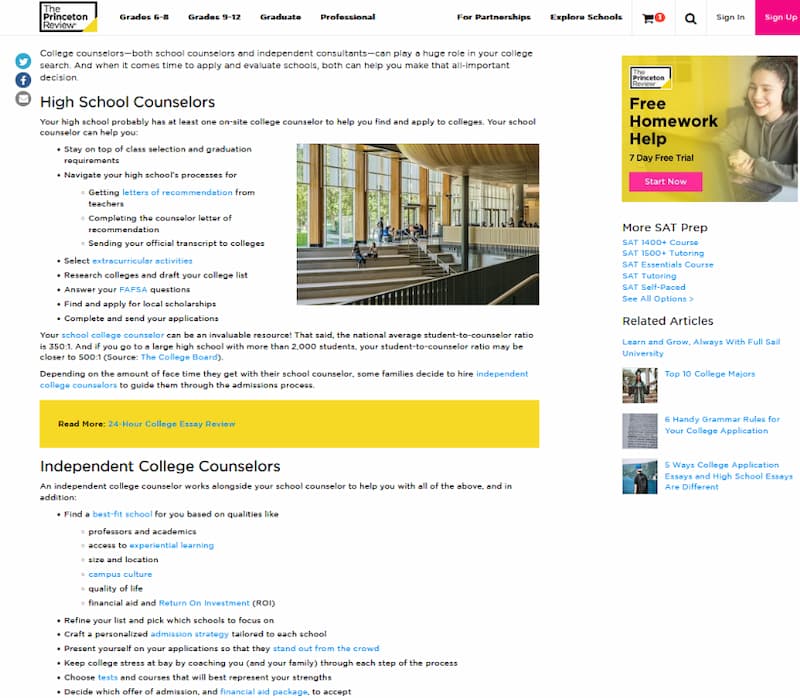 Now, I will briefly explain what to expect and how this admission service works. Essentially, we talk about a 1-on-1 service where you get a maximum of six virtual meetings with a chosen College Admissions Counselor. The package includes up to three virtual sessions with the College Admission coach and a maximum of three rounds of detailed feedback they give on your statement. Another two rounds of detailed feedback on your supplemented essays are part of the deal and stretch to a maximum of ten schools.
Since the space is limited, you should schedule a free consultation and see the best time to receive personalized advice for creating the list of the most suitable schools and colleges. This stage ends with a final review of your application form for the top-choice school based on all criteria I discussed earlier.
After submitting the application form, counselors promise support for guidance on referrals or waiting lists. Final college selection is the last part of this package. Things go fast thanks to the interactive admissions dashboard. You can use it for deadline management, messaging, and unlimited support from the College Coach.
Next to that, I find the Explore Schools tool immensely useful. Prospective students can effectively find a major using the search bar or browsing by category. For example, if you consider a Legal Profession and Studies major, click the corresponding link to open a category. PrincetonReview will help you explore colleges using multiple inputs, and you'll get access to featured schools matching your interests and looking for the same types of students.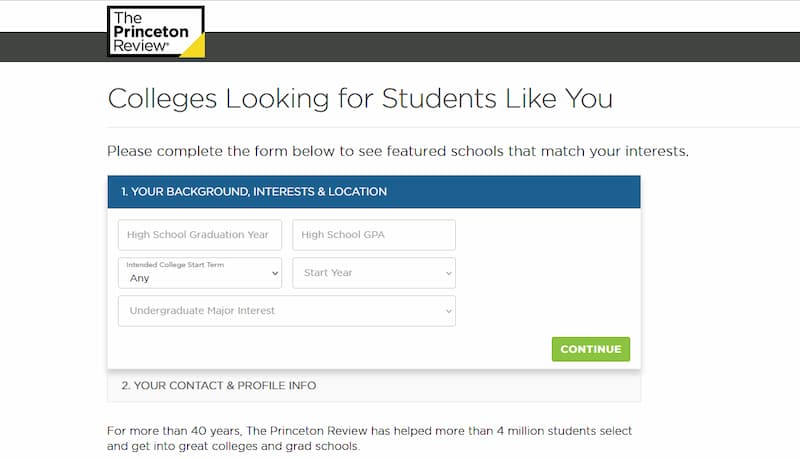 Additional tools include Top Schools for Game Design, where you can choose between the top 50 USA programs and The Best 387 Colleges. The latter is PrincetonReview's trademarked tool, where more than 154,000 students helped their peers by rating professors, the campus social scene, and more. The 30th edition of the Best 387 Colleges can help you consider career services and financial aid. Let's not forget they also check real students' impressions about the food.
I know that every dollar counts, so I suggest you look at the Best Value Colleges and check the latest ranking list. You will see the 200 best-value schools sorted by costs, academics, debt, financial aid, and graduation rates. What's more important is that the list includes alumni career and salary data.
Accordingly, you can browse private and public schools in categories such as Top 20 Best Alumni Networks, Top 20 Best Schools for Internships, Top 20 Best Career Placement, and more. It is possible to see featured schools and save any for further consideration. Also, if you make decisions based on evidence instead of reading only, it would be helpful to watch a short video hosted by Rob Franek, The Princeton Review's Editor-in-Chief, discussing this important subject.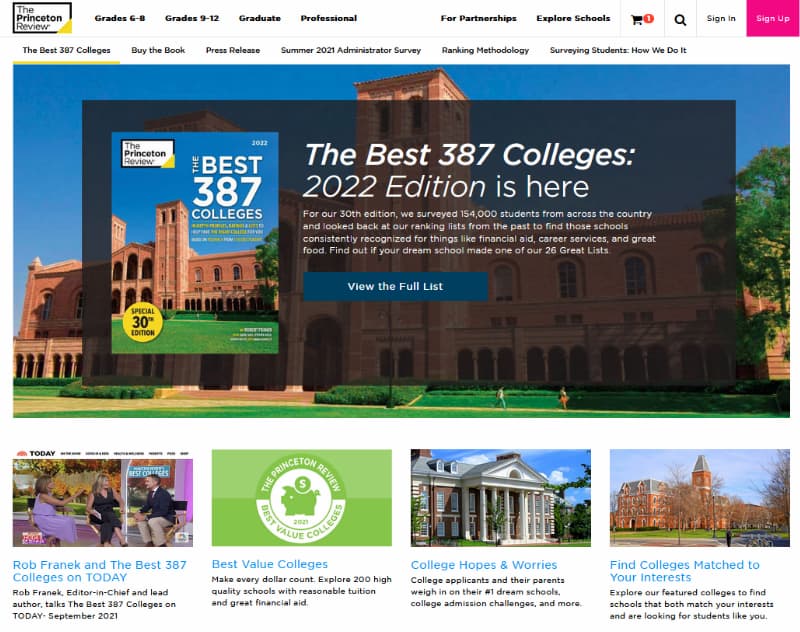 Like that wasn't enough, I also found the latest College Hopes & Worries Survey Report useful for the PrincetonReview admission review. More than 14,000 college applicants and parents participated in this survey about dream schools and gladly shared their findings. You will see the most challenging part of the college admission process next to the most significant college worries and costs.
Of course, students have their hopes and are looking for the main benefit of a college degree so that you can read the relevant survey results. Since "Going Green" is another essential part of the plan, you will see how many students consider a college's environmental commitment before making a final decision.
Finally, the Princeton Review offers college counseling reviews for athletic scholarships and recruiting. The service provider cooperates with NCSA (Next College Student Athlete) as the official recruiting partner. If your dream was to play college sports, they would help you create a free profile to search 1000+ roster openings, match with scholarship opportunities, and connect with college coaches.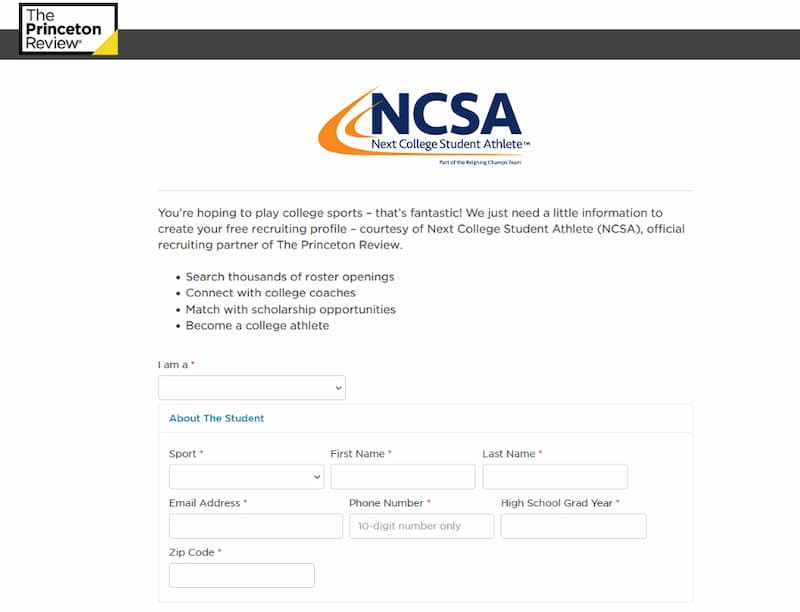 Maybe this has no visible or direct connection with the topic of this article, but the blog is more than helpful. Students can browse a handpicked collection of trending college admission articles to discover how the service works and why they need a counselor in the first place.
Also, I suggest you read more about extracurriculars' effect on your college application and how to choose a dream, safety, and target schools.
Pricing of Services and Comparison
The College Admission Counseling – Comprehensive Program costs $5,999. You can lower the rate by applying a Promo Code if any. Note that you need to create an account before checking out. Tell the site more about yourself – are you a student, parent, working professional, educator, or an admissions officer to make it happen.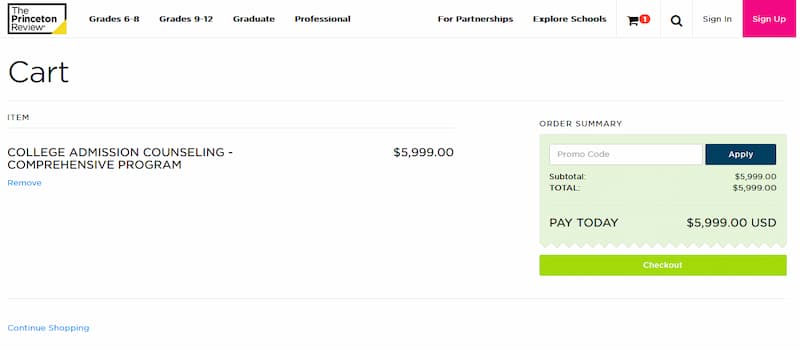 The system will lead you further to the page where you need to indicate your first and last name, email address, and phone number before choosing a secure password. Another way to register is by connecting your existing Facebook account. It is also possible to sign in later and finish the shopping.
When talking about accepted payment methods, I found ACH unique compared to the competitors in this niche. Processors such as Visa, MasterCard, American Express, and Discover are topping the commonly accepted list. The site relies on the latest SSL encryption protocol to keep your information safe, while McAfee scans and monitors all activities 24/7.
While closing this part of the PrincetonReview admissions review, I wanted to show you more about this service and hope this handy comparison table could do the job:
Brand
Service
Price
What's Included
Discount
Admissionado

College Counseling Package
$1,620
Hourly blocks of college counseling
15% with the Promo Code "Edureviewer22"
College Counseling Package Extra Hours
$4,320 for the annual membership
Junior Deluxe Package
$2,295
School selection advice, essays, application help, and more to Juniors and Seniors
Masters/MBA Consulting Junior Deluxe
$2,185
Masters/MBA Consulting Deluxe Package for one school
$4,595
Cover applications, interview prep, applications, essay assistance, and other related consulting services
PrepScholar College Admissions

Complete Admissions

Package

$6,895
Holistic status review, school selection and interview strategy, application and essay service, financial aid negotiation, final school decision
N/A
A-List
Private Tutoring
$150 to $300 per hour
Thirty hours of guidance, personalized application timeline, complete application management, college list recommendations, brainstorming and edits of personal statements, supplemental essays development for an unlimited number of schools
N/A
PrincetonReview
College Admission Counseling – Comprehensive Program
$5,999
Six meetings with the Expert College Counselor,

Two sessions with the motivational College Coach,

Personalized advice, three rounds of detailed statement feedback, application form final review, post-application support, interactive admissions dashboard

$250 off with the Promo Code SAVE250
Main Features of Princeton Review and Quality
The service has a 96% happiness score, according to proven Princeton Review admission reviews. The figure is based on 4.8 out of 5-star high school students' ratings. To be more precise, they leave feedback after each meeting.
The list of acceptances includes big names of Harvard, MIT, Stanford, Yale, Dartmouth, and Cornell. You will also find NYU, Columbia, University of Michigan, Berkley, UCLA, Chapel Hill, Emory College, and Boston College.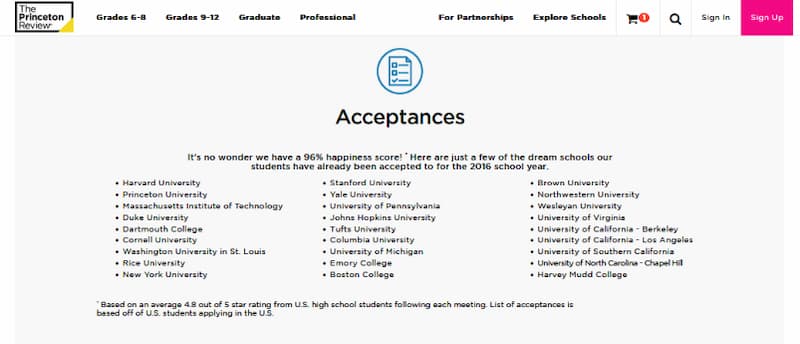 While The Princeton Review Guarantee covers multiple areas of the provider and its services, I couldn't find any guarantee related to the admission service. That's why I read real-people Princeton Review college counseling reviews and discovered only words of praise.
For example, Ana, who managed to enroll at Barnard College in 2020, praised the tips and confidence that counselors provided her. Eric had no previous knowledge about the application process and learned enough to enter Virginia Tech.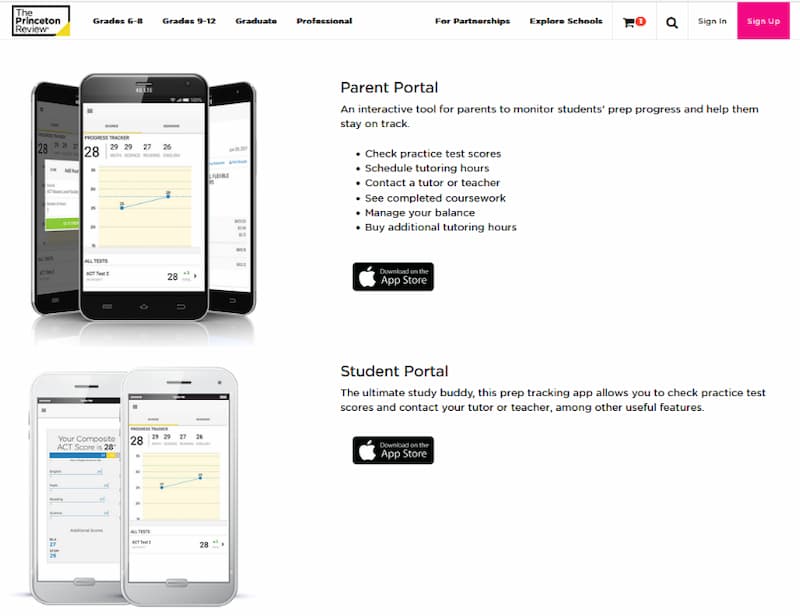 The downloadable app is another exciting feature and equally targets students equipped with Android iOS-powered handheld devices. Therefore, you can study on the go and use the Student Portal to check test scores or to contact your counselor.
On the other hand, the Parent Portal is an interactive tool where parents can do their part of the role and monitor their student's progress. Among other options, parents can contact tutors, manage your balance, or purchase additional hours, if and when needed.
Pros
Thanks to the effective combination of expert college counseling and motivational college coaching, Princeton Review offers an innovative approach to the topic.
Virtual meetings, detailed feedback, and post-application support.
Happiness score of 96% and acceptances to major colleges based on an average 4.8 out of 5-star US high school students' rating.
The interactive admissions dashboard for deadline management, messaging, and unlimited admission support.
Downloadable app to track your progress, pay for the service, etc.
Cons
No dedicated guarantee for the College Admission Counseling – Comprehensive Program.
Pricier than the competition.
Even though the company accepts various payment methods, PayPal is still out of bounds.
Conclusion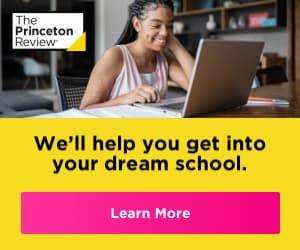 Considering all the pros and cons, the College Admission Counseling – Comprehensive Program is recommended for students who want more. By that, I mean acceptance to Ivy League universities that open new perspectives in your life. There is a series of advanced tools you're unlikely to find elsewhere that support the company's main claim and the unprecedented acceptance rate.
Princeton Review is a good and legit company with services reviewed by real people that you can read and make a final decision. Support via the mobile-friendly dashboard or phone, email, and live chat.
The service is worth your time and efforts. It turns out that services were looking rather expensive but eventually paid out.
According to the Princeton Review college consulting reviews, the service helped them learn the basics of the application process. Thanks to motivational coaching, many of them increased their confidence and started college with an advantage.