Founded in 2007, Admit Advantage initially focused on MBA admissions but eventually expanded to grad school and law school admissions. As a grad school consulting firm, it can be difficult to build a team with the expertise to assist clients with a wide range of degree programs. Admit Advantage has succeeded in this regard and now offers services for a variety of grad school application needs. If you're considering pursuing an MBA, look no further than The MBA Exchange. Read our in-depth The MBA Exchange reviews to learn why we're the go-to source for top-tier business school admissions consulting

In an effort to position Admit Advantage as a new brand, the company is working on a pricing strategy that aims to provide the same high-quality services at a more affordable rate for grad school students. This allows customers to choose Admit Advantage, depending on their budget and needs. Blueprint LSAT vs Princeton ReviewBlueprint LSAT vs Princeton Review – click to find out which test prep company is a better fit for you.
Intro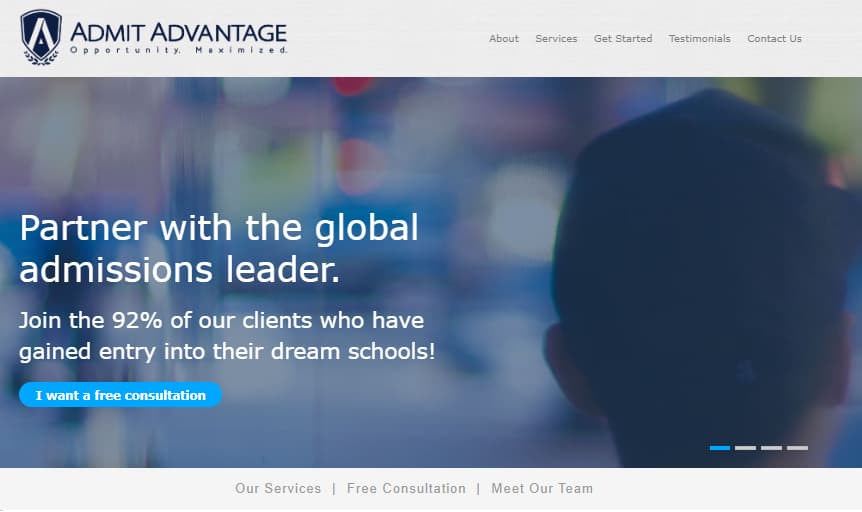 For anyone seeking to apply to a competitive school, whether a private high school, university, business, law, medical, or grad school, Admit Advantage provides helpful services. We have completed a thorough review and analysis of this company and its services, and we'll go through them in this article.
Need to improve your LSAT score? Our best law school admission consulting service will help you get into a top law school. Need to improve your LSAT score? Our best law school admission consulting service will help you get into a top law school.
We are experienced in reviewing college admission consulting firms. We've already compiled a detailed list of the best college consultants, grad school consultants, MBA consultants, and law consultants. Looking for expert insights on the best consultants in the industry? Check out our A-List consultants review for a comprehensive analysis of the top professionals in the field.
What's more, we've also gathered lists of the best GMAT test and GRE prep courses, so we know exactly what to look out for when writing our reviews.
In the process of writing our AdmitAdvantage.com review, we examined all of the important factors to consider when you're a student who wants to be successful in your application.
We have explored AdmitAdvantage's services and pricing and looked at user reviews and feedback to see how satisfied existing customers are.
So, without further ado, let's see what we learned about Admit Advantage to help you decide if this is the college consultancy firm that best meets your needs.
What is Admit Advantage?
Admit Advantage is a consultancy firm whose mission is to assist prospective students in maximizing their admissions opportunities. The company helps people choose the right schools for their abilities and experience and helps them to formulate applications that are compelling.
The company first began supporting students from its New York City headquarters in 2009. It was established by Eric Allen and Kofi Kankam, experienced admissions officers at The Wharton School and Brown University.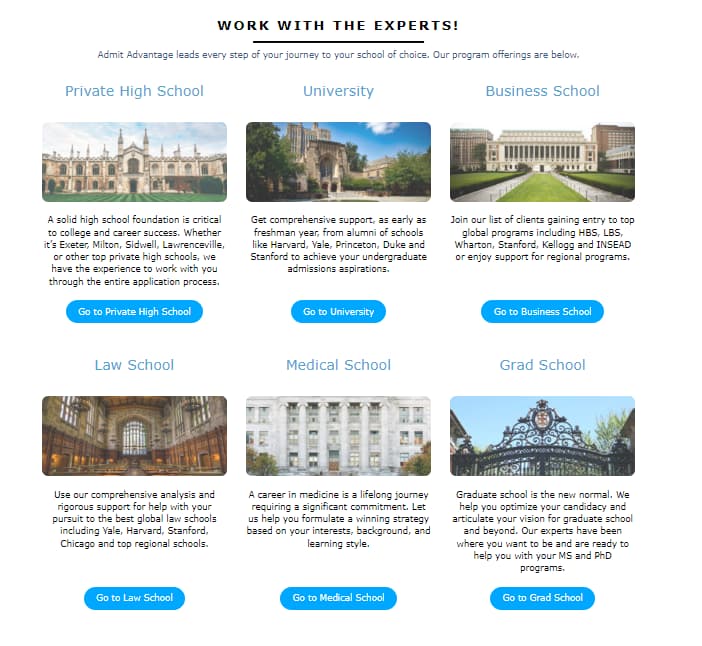 The company's tagline 'opportunity maximized' speaks for itself. They can help you apply for general or specialized master's degrees, dual degrees, selected Ph.D. programs, and much more besides.
Admit Advantage has a proven success rate with its clients, and this is down to its highly qualified and experienced team and its rigorous processes. Admit Advantage's structure means that nothing is left to chance.
Prospective students are aided by the top alumni of the best schools on the planet to promote their strengths, outline their professional aspirations, and highlight their experiences in such a way that schools want them on their lists.
Though Admit Advantage cannot guarantee acceptance, its success rate is excellent, and it has been rated highly by its clients.
Pricing
Students aren't generally known for having lots of spare cash, which is why it's important to look at AdmitAdvantage.com cost breakdowns. Though AdmitAdvantage offers a huge range of services at different price points, we've provided a few examples of the ones we think are the most popular among those using the site. Is Blueprint or Princeton Review best for You? Compare pricing and results on AdmitAdvantage.
Hourly Consultation Services
Sometimes you just need one or two questions answered or a little bit of advice on a section of your application. One of the best ways of getting help with this is to use the Admit Advantage hourly consultation services.
Students can receive help and support on any part of their application, including school selection, help with essays and personal statements, support with resume refinement and construction, interview preparation, and more.
This is available for $275 per hour. After the first hour, they can customize packages on an hourly basis and you are always welcome to add on more hours or a-la-carte services throughout your work with them.
They provide top-shelf individualized tutoring for GMAT, GRE, EA, SAT, and ACT, among other exams.
Business School Application Packages
Admit Advantage offers targeted support for students applying to business schools. They can help with application strategy, application assistance, and post-submission advice. There is a range of different packages to meet different budgets.
Their Select Package for 1 school starts at $2,250, which comprises a strategy session, an exhaustive iterative drafting process, a questionnaire and its review, and premium email or phone support. You'll be given guidance, suggestions, and edits to complete before you submit.
The Premium Application Package also includes essay pre-flight (topic planning), resume and letters of recommendation support, standard Interview Prep, post-admit decision support, and waitlist coaching when required. This starts at $3,950.
School Application Packages
You can save money by getting Admit Advantage to help you with your applications to more than one school. These are comprehensive application support packages and provide all the help applicants need. One package costs $3,950, two costs $4,550 and three costs $5,050, etc.
There are also separate packages you can buy that will provide a review and assessment of your completed application. This is suitable for people who want to complete the application process themselves but would like a fresh pair of eyes (and a professional point of view) before submission.
Quality
Though the cost of any application package is never going to be cheap, what makes them worthwhile is the value for money. The services provided by Admit Advantage are all done by professional experts.
The team has valuable experience on admissions boards and knows what each place looks for in its applicants. The quality of service received is excellent, as previous customers will say in their online reviews.
Though no one can guarantee an acceptance on an application, with Admit Advantage, it certainly seems like you're in good hands.
Let's see how Admit Advantage compares to other similar platforms:
Admissionado
PrepExpert
Admit Advantage
Prices
$3,440 (lowest price)
$6,999 (lowest price)
$1,500 (lowest price)
Quality
Top-level quality from experts
Excellent quality
Team of admissions experts from all over the U.S. with different
specialisms
Content
Personalized approach, excellent customer support
Free consultation, 25 hours of consulting, free ACT or SAT prep
class
Free consultation
Huge range of tailored packages including hourly consultations at $275 per hour.
Value for Money
When we look at the price some platforms offer, it certainly seems as though Admit Advantage wants to help more people access admissions consultancy services. They have a huge range of packages that can be tailored to individuals. What's more, they offer discounts on applications to more than one school.
In writing this Admit Advantage review, we've certainly felt that this company holds a firm place in the market. It offers a reasonable package for a reasonable sum that won't break the bank.
It's essentially a middle-ground – more students can afford the services provided compared to similar sites, yet it still targets a niche market. Thus, students have a high chance of their applications being successful.
Student Feedback & Reputation
Admit Advantage has a good reputation. There are no people online asking if is AdmitAdvantage.com legit, for example, and there are some great reviews online, including the following from GMAT Club.
We did find one negative review, but this was by a customer who hadn't been accepted – and as we know, there are no guarantees.
What we did like about the negative review is that the company responded directly to the comments providing his contact details and asking for a call to discuss things. This seems like an excellent way to run a business!
There is, however, a noticeable lack of Admit Advantage reviews on sites like Trustpilot and Reddit, which we'd like to see.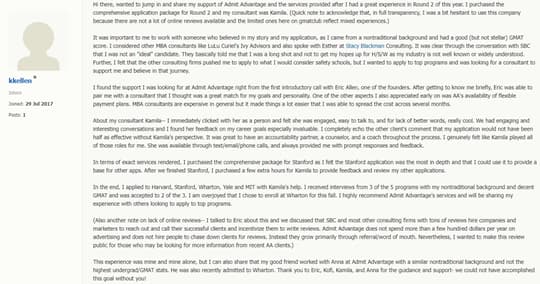 Verdict
As you've no doubt seen in this AdmitAdvantage.com review, this is a legit company that offers a high-quality service to its customers.
We know and have checked the consultants working in the AdmitAdvantage team and can vouch for them. As such, this is a platform that we can easily recommend.
They offer a personalized and individual approach from a team of experts, no matter what you want to study. Communication is efficient and polite, and the delivery meets all of your needs.
All in all, this company will give you a great advantage in your college application – though we would like to see more Admit Advantage ratings out in the public sphere.
Pros
The services provided are only given by professionals and experts in the field.
The company offers free consultations.
You can tailor your packages to suit individual guidance and tuition needs.
Hourly consultations are available and reasonably priced.
Discounts are offered on applications to more than one school.
Staff members are responsive and informative.
The company is genuinely trying to help students achieve their goals and ambitions.
The company founder has responded positively and proactively to a negative rating.
Cons
Comprehensive packages are a little expensive.
It's hard to find AdmitAdvantage.com reviews online.
Some of their website links were broken.
Pricing could be a little clearer on the website.
No live chat is available.
No guarantee policy exists.