Intro
Students interested in learning to code will find that Codecademy is one of the most effective educational resources available.
Students at Codecademy can study everything from fundamental programming and game development ideas to expert programming approaches; nevertheless, the quality of Codecademy's individual courses may vary, as is the case with many other online learning platforms.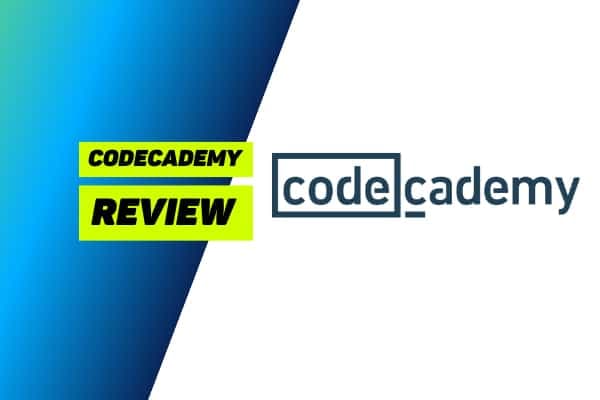 In this review, I'll talk about the most common characteristics of the Pro version. In addition, I will discuss several tools that will assist you in maintaining your determination to study as you continue your educational journey.
I taught myself the fundamentals of coding using various free online courses and tutorials. At the time, there weren't any interactive lessons; instead, there were fundamental how-tos you could try out independently.
Whether you're a student or professional, finding the best remote learning platform can greatly enhance your educational experience.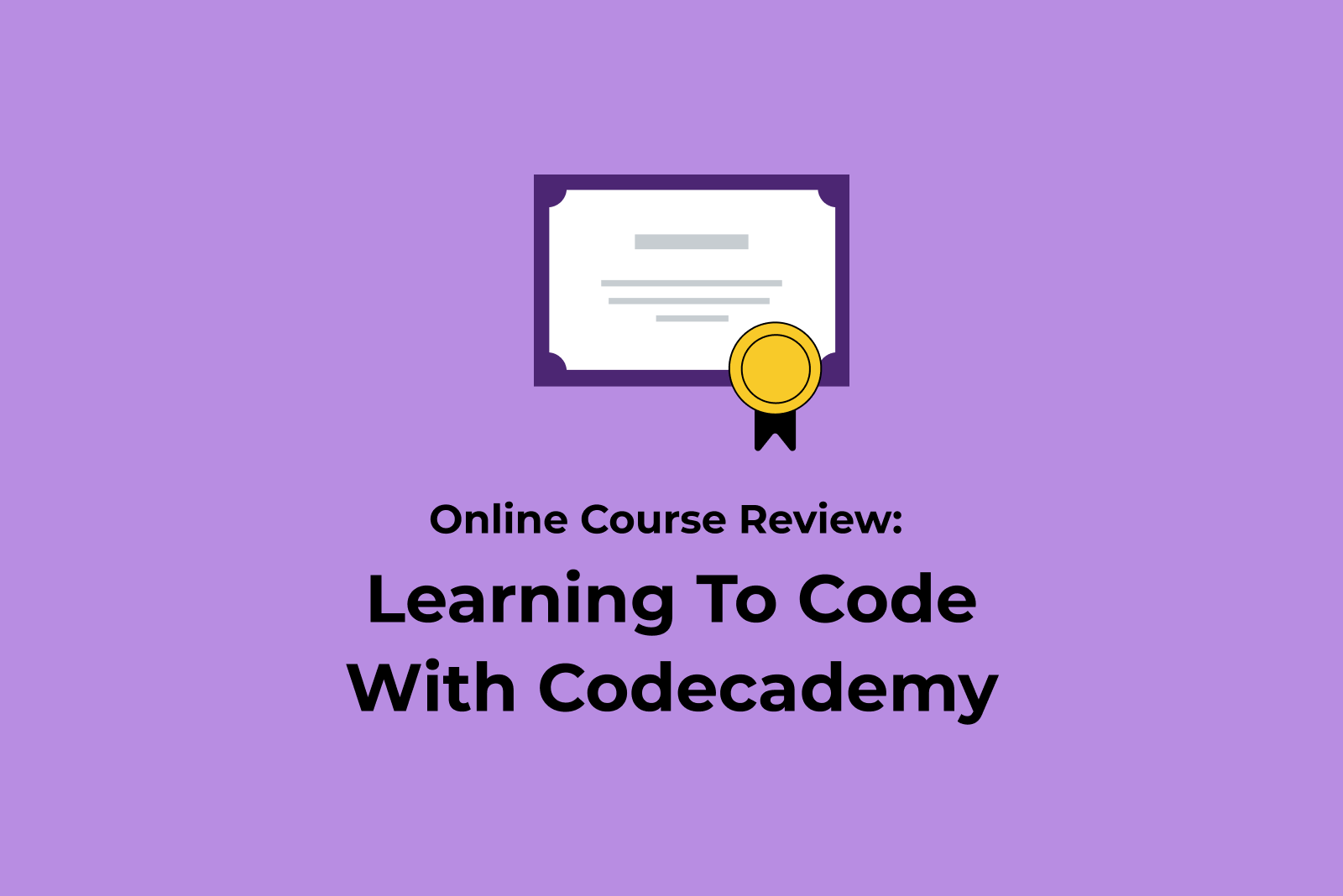 Codecademy is only one of the many resources available to people interested in learning code and in developing computer programmes build websites today.
Nevertheless, whether or not a Codecademy certificate is suitable for novices, whether or not it is financially worthwhile, and what the advantages of learning to code with a Codecademy certificate on account are.
Stay tuned in the following Codecademy Pro review, which should answer all these questions.
Codecademy.com Review
A web-based educational site called Codecademy specializes in courses that teach students how to code and give them practical experience with various programming languages.
It provides training in 20 different subject areas and 15 programming languages.
The platform offers three alternative plans: the Basic free plan, the premium Plus, and the Pro plans, which both include a free trial and add additional functionality. It provides pathways and courses to equip you with the necessary skills for employment.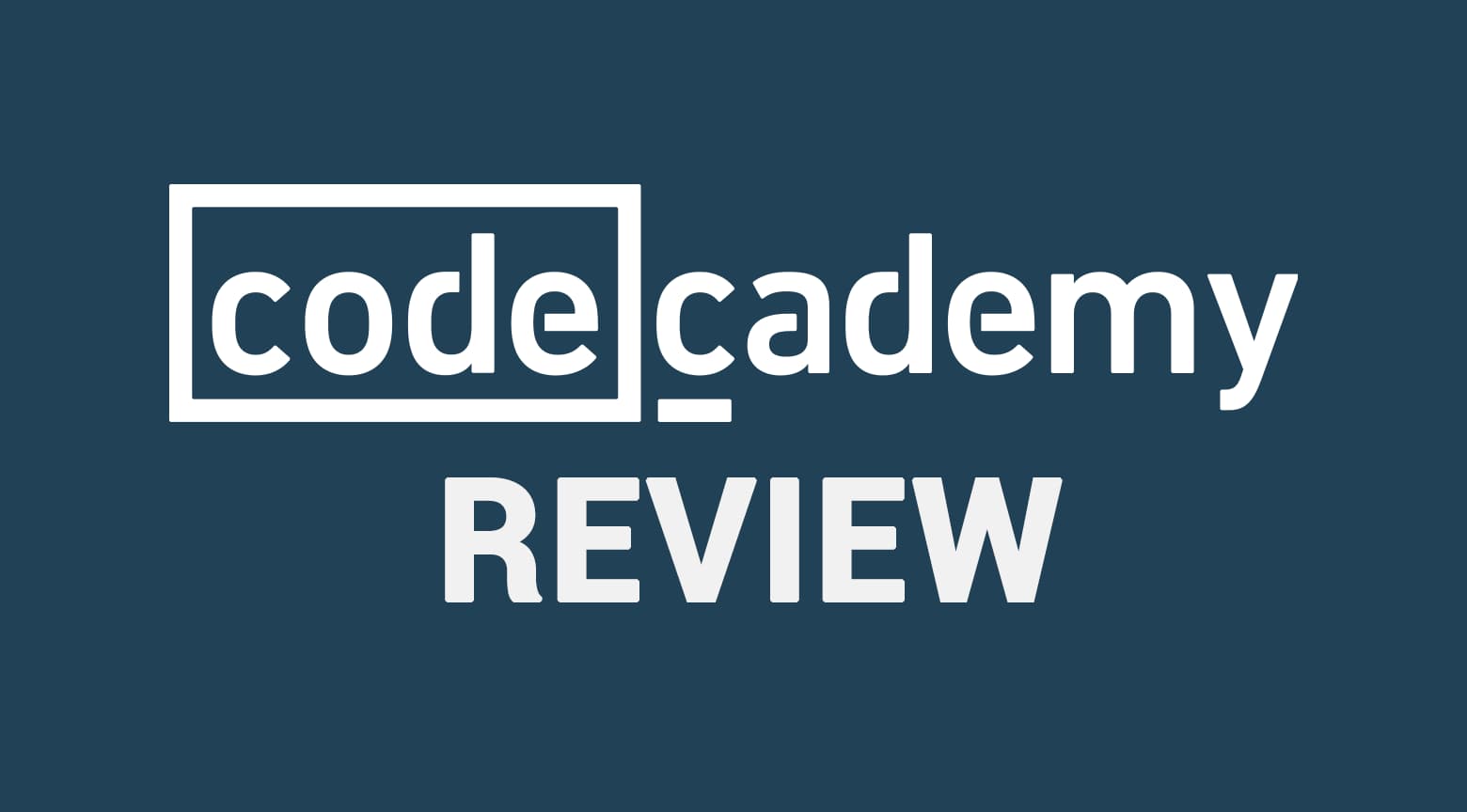 There is a vibrant beginner friendly and helpful community where you can ask queries, solve problems, get advice immediate feedback professional developers, and attend online meetings that you may stream live or view afterwards.
You can test out Codecademy's basic plan for free or one of its free trials from a paid plan to get going.
Edureka and Coursera are both popular online learning platforms, but which one is right for you? Compare Edureka vs Coursera to help make your decision.
Popular Career Path Codecademy Classes
The codecademy does offer little like degrees and specializations, but bundles a few in a career path.
The course includes programming challenges, workspace, project portfolios and interviews. These careers are quite wide based on code and academic experience: But if the firm's employer is serious about it may vary slightly.
Codecademy careers aren 't a difficult thing to cheat on – the best is in your portfolio. Can you list the accreditations of coding schools? I don' t. Although Codecademy provides certificates for the completion of its Professional courses, Codecademy itself is unable to provide an accredited course.
Codecademy Features that Stand Out from Other Courses
Codecademy may be the ideal place to learn to code. Codecademy is a website that provides tutorials in 14 different programming languages, including HTML/CSS, Python, JavaScript, and more.
In addition to the various languages, it covers ten other disciplines relevant to computer science, such as web design and development, data science, and more.
Many courses are aimed at complete beginners and novices and may be taken at your own pace, allowing you to study whenever is most convenient.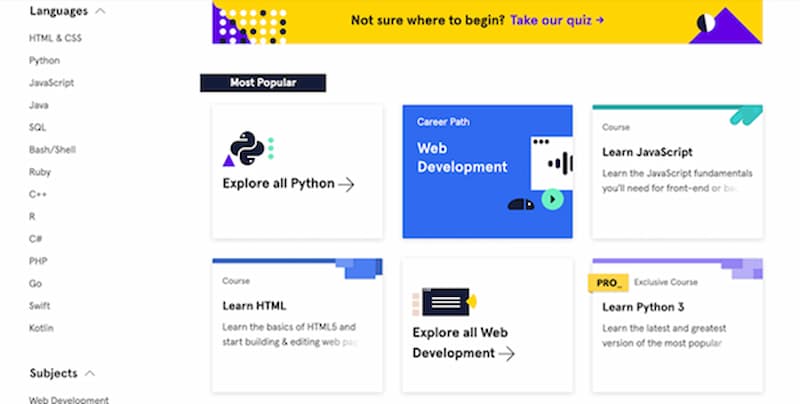 Who Will Find This Platform Helpful?
If you are starting and need to know what course might be best for you, the Sorting Quiz is a great place to start.
he questionnaire will lead you over a series of queries to help you determine which profession, languages, and academic programmes are the best fit for you.

Pro Features
When you upgrade to Pro, you gain access to particular functions that will enable you to advance your education.
Accessibility to unique programmes, interactive practice and assessment, Occupational Paths, interview preparation, and profile projects, among other things, are all available to you. These features can assist you in getting the job of what you want.
The additional features and tools you can access as a Codecademy Pro member are described below.
Looking for a comprehensive and honest Skillshare.com review of machine learning here? Our reviews provide insights into the online learning platform that's courses, pricing peer support, and user experience.
Skills and Career Paths
The purpose of career and other skill paths and routes is to guide you through everything that you require to know to learn a specific skill or begin a particular skill path or job or skill path.
Curriculum teachers have arranged the content for career paths and skill paths into plans that make it simple to understand what should be learned and in what order.
Even if you have yet to gain prior in coding skills or expertise, Career Paths can assist you in getting there if you're seeking a career in data science and or computer science or in data science and computer science, or, or the development of websites.
They recently unveiled three additional web and mobile development job paths, including Front-End Engineer, Back-End Engineer, and Full-Stack Engineer, as well as an updated and better Data Scientist career path.
Certificates for Completion
You'll get a certificate once you finish a Pro course. To highlight your abilities or be ready for immediate feedback during your job hunt, you can publish it on your résumé own portfolio or LinkedIn page.
Certifications for Professionals
After passing all of the tests in the career path, you'll receive a Professional Certification from Codecademy, which you may use to demonstrate to employers that you have the necessary abilities for the position. All career paths involve exams that test your knowledge of programming principles and functions.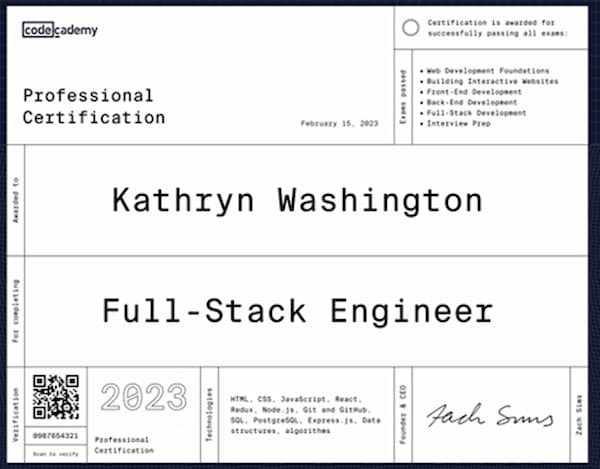 You'll put what you're learning into practice as you work on suggested projects throughout the course. After finishing, you can advance your knowledge with the help of Challenging Projects.
Less guidance is provided during a challenging project, but more room for experimentation exists. As you progress through the lessons, you'll see suggested Challenge Projects appear on your main screen.
Regardless of your professional route, you'll be responsible for creating your Portfolio Projects. The Portfolio Projects section of the Codecademy courses prepares you to work independently on original projects. These works can help you get started in your career quest.
Teachable is a platform that allows anyone to create and sell online courses. Read Teachable reviews to learn about its features, pricing, and user experience.
Passing the Interview
There is an in-built interview prep practice for those pursuing careers in Web Development. Prepare for technical examinations by learning interview skills and working through sample algorithms own code and data structures.
Clear the Technical Interviews with Java, Pass the Technical Interview with JavaScript, and Pass the Technical Interview with Python are just a few interview preparation modules and Skill Paths available exclusively to Codecademy's Pro members.
Code Tasks are also available and are genuine evaluations from top IT firms. Code Challenges provide you with authentic materials to study and point out what you need to review when you feel the need to do so.
Quizzes
Put your skills to the test as you go through a training program. Regular quizzes are a great way to test your understanding and retention of the subject you're studying.
Practice
If you have a Pro subscription, you may put what you're learning into practice with the many exercises that populate the user interface. You can use these to test your knowledge and prepare for upcoming exams. Additional tests, fill-in-the-code drills, and other practice tasks are included.
Cheatsheets
Although Cheatsheets are unavailable unless you upgrade to Codecademy Pro, I wanted to ensure you knew about them.
Learning to code relies less on rote machine than learning to code, learning to code well, and more on grasping fundamental concepts. A cheat sheet can free your mind to concentrate on the code foundations underlying ideas rather than the syntax and other command line side details.
Career Counseling
Many of our students have gone on to build fruitful careers in technology, and we're always looking for innovative ways to help you do the same.
That's why they're forming partnerships with niche employment boards so that you may start searching for open positions on Codecademy itself.
How Much Does the Codecademy Course Cost?
The cost breakdown for Codecademy courses is listed on the site's sidebar to the left. It's great that prices are listed up front, as they can be hidden on other online course sites.

Subscriptions are required to use the courses. The beginning plan of the Codecademy Pro price is completely free however, and it includes access to captivating and interactive lessons, engaging lectures and regular practice activities.
Those interested in learning a new skill can do so through the Plus plan's programmes, career change pathways, and projects.
In contrast, those interested in advancing their careers can do so through the Pro plan's interview prep, practice and other job-focused features.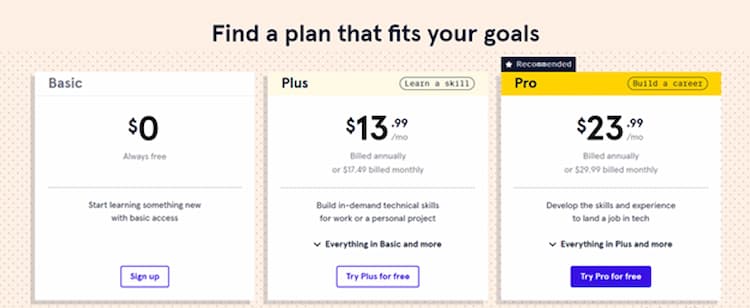 Compared to the former monthly subscription or annual subscription of purchases, buying an annual subscription to the Plus or Pro plan every year will result in significant cost savings for the user. Monthly payments will continue to be available.
We've put together a comprehensive TutorialsPoint review to help you understand its offerings, usability, and effectiveness in delivering educational content.
Free Trial on Codecademy
If you aren't prepared to commit financially to either the Plus or Pro plan for an extended period, then you may benefit from the free trial that both plans offer for an initial period of one week.
This trial is available for both plans. Even if you decide within the initial seven days that you are not interested in continuing to use the service, if you fail to cancel your subscription before the end of the first week of the free trial, you will be liable to payment starting on the eighteenth day.
This is the case even if you cancel your subscription before the end of the initial seven days.
Your subscription to Codecademy Plus or Pro can be cancelled at any time, regardless of the duration of your membership.
Want to learn to code? Join our FREE Coding Camp!
How does it work in Java? NOW ONLINE.
Latest Codecademy Coupon Found
Validate personnel selections.
Payment Options
You must give a legitimate PayPal account, credit card, debit card, or prepaid card to acquire a trial. After seven days of the trial, money will be deducted from your account.
Codecademy Pro Intensive Review
A few factors must be remembered while discussing codecademy forums intensive the cost why Codecademy forums is worth it. First, this course is for those who want to start learning to write code, from scratch. The programme is expensive; it costs $19 per month or $240 per year.
Finally, Codecademy Pro gives all, codecademy account free users access to premium, all, codecademy account free account members only content, features and other, codecademy pro intensi, codecademy pro intensive account,nt members only content not offered in the codecademy site's free edition.
Codecademy Pro might be worthwhile if you're a person who desires to learn how to programme but has yet to gain previous expertise.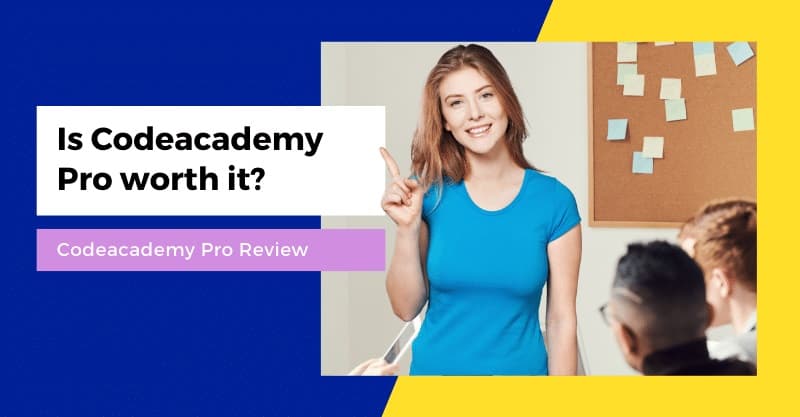 The reason is that Codecademy offers that a Pro account will give you access to a wealth of excellent tools, including exclusive material, which will significantly speed up your machine learning too.
How Much Does Codecademy Pro Cost?
Additionally, because Codecademy Pro costs money for the service, you'll be much more driven to persevere and finish the free courses. (as opposed to the completely free full version, where you have no stake in success).
Online Courses Quality
New York is home to the global headquarters of Codecademy, which was created in 2011 by Zach Sims and Ryan Bubinski.
More than a hundred people work for the organization, and by the beginning of 2020, it has added support for 14 additional programming languages.
You'll get peer support and much help expanding your business on this platform from a brilliant group of programmers professional developers and software developers. The end goal is to make knowledge accessible to everyone in the entire globe.
They aimed to develop a novel, interactive method of education that would be interesting, adaptable, and available to as many people as needed.
Codecademy's mission is to help people of all ages and backgrounds learn to code so that they can build websites that may improve their lives and the world at large.
You Need to Learn to Think Like a Programmer
The ability other students to become programmers and developers is not limited to learning the syntax of programming personality the programming language that the code is created in. There must be a way of working on your problem with your own code, without someone telling you how it works!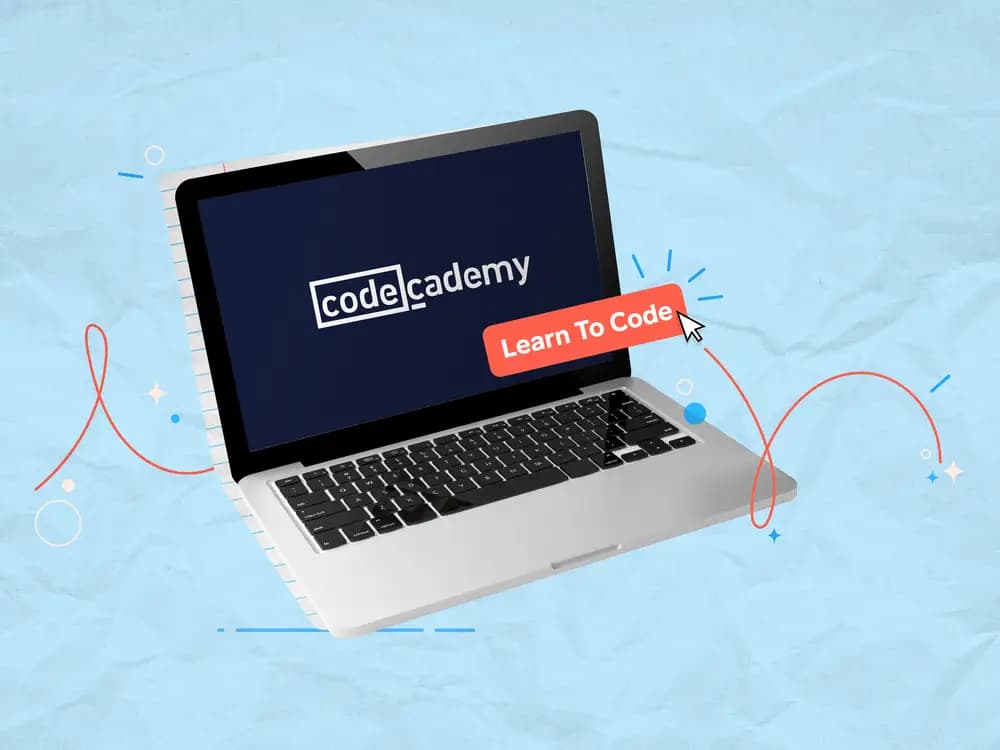 While knowing technical detail about code is incredibly helpful, it can be difficult to use it in actual real-world scenarios. There are a number of places that need practice.
How is Codecademy Better than Other Platforms?
A variety of free courses and codecademy alternatives resources are available to those interested in studying the fundamentals of computer programming.
Among the earliest dedicated online platforms for teaching people to code, Codecademy has been operating since 2011.
Codecademy's breadth of course offerings in numerous programming languages and related areas is one of its primary strengths. While courses on platforms like Udemy and Linux Foundation may provide some of the same information, they may provide a different interactivity level than Codecademy.
Second, Codecademy charges a monthly fee to access its courses through a subscription model. Udemy courses, on the other hand, bases its business on selling courses separately. What you spend and what you learn are two separate factors. Consider a Codecademy subscription to take many courses or study quickly.
Codecademy is preferable for a more organized method with predefined lessons and due dates.
Competitors to Codecademy
If you're looking for alternatives to Codecademy, you can go right with Coursera, edX, or Udemy.
However, they also take much more extensive views. While the others continue to study CS, they also take courses in various related and other subjects.
| | | | | |
| --- | --- | --- | --- | --- |
|   | Codecademy | Coursera | edX | Udemy |
| Classes | 1,800+ | 7,000+ | 3,000+ | 185,000+ |
| Students | 45 million | 82 million | 110 million | 40 million |
| Cost | $39/month | $39/month | $50 to $300 | $12 to $200 |
Value for Money
If you aspire to enhance your programming skills and explore more languages, investing in a Codecademy Pro account is truly worthwhile. Not only do they offer a comprehensive curriculum that establishes a solid foundation in computer science, but many have found value in their courses and given positive reviews. Remember, a journey towards better learning is always a wise investment.
Additional benefits of the monthly subscription will include access to projects developed by professionals in the field and individual mentoring sessions with those professionals.
Codecademy Pro is a significant investment in learning to code quickly and in both learning to write code well and learning to learn to code more thoroughly.
Is it Worth the Price?
From my experience, Codecademy is well worth the cost and is the most incredible online learning platform around for enthusiasts and professionals serious about learning a language from the ground up. It may have a less engaging instructor or the most valuable degree.
Despite this, it offers a straightforward and user-friendly interface that makes it possible to start programming in minutes.
Even better, all of Codecademy's most popular courses are completely free. Even though you won't be awarded an educational certificate for completing the free meetings, you can get a head start on developing projects and putting together a portfolio. Remember that you can be alone for a while if you get stuck.
What Do You Get for the Money Paid?
When you join up for a Pro subscription, you have access to exclusive features tailored to help you advance to the next phase in machine learning.
You will have the opportunity to use a variety of unique resources, including courses, interactive practice and assessment, Career Paths, interview preparation, and profile projects, all of which are geared toward helping you secure the job of what you want.
Not only are the majority of Codecademy's pricey "Pro" courses worthwhile, but the website also makes it possible to access the service's most popular lessons without paying a dime.
Today, you do not need to pay for anything with Python, JavaScript, or HTML. You have that option.
How Valuable Is It?
One of the most effective online learning environments for languages used in coding, layout, and software development is Codecademy.
Students may create dynamic lesson plans for individual courses, map out career routes, and develop coding profiles using Codecademy.
Is it Beneficial for Getting Ready for a Test?
If you want to learn to code or hone your existing coding skills, Codecademy is an excellent choice. Its courses and career pathways are excellent for building a resume that will help you get your foot in the door.
The Most Popular Courses on Codecademy
I've highlighted the top 5 courses at the Codecademy reviews and codecademy reviews since they'll give you a fair idea of what other students find interesting.
Learn JavaScript
This course will teach you the essentials of JavaScript for front-end web development and back-end web and mobile development both.
The 14 lessons that cover the fundamentals of the language provide the foundation for using JavaScript in any setting. Over 1.6k people have taken the course, which will take thirty hours to finish.
Learn HTML
This course teaches the fundamentals of HTML5 so that you may begin building and altering websites. Four lessons cover the basic HTML fundamentals. You will need nine hours to complete the course, which almost 4k people have taken.
Learn Python 3
This course teaches you Python, the newest and most widely used programming language and syntax, which may be used for projects such as: data visualization, research, websites, and software development.
Eleven interactive lessons were created to cover the various subjects. The course will take 25 hours to finish and has been taken by 45k people.
Web Development
It is a professional path that can help you become a junior web designer by teaching you front-end and back-end techniques, giving you the skills to create interactive websites, and allowing you to engage with other internet developers. You have thirty weeks to complete beginners finish the 11-lesson path; upon completing it, you will receive a certification.
Data Science
A career choice that prepares you to work with the data science, as an analyst, information scientist, or in other capacities. You have 35 weeks to complete the twenty-six lesson path, and upon successful completion, you will receive a certificate.
I appreciate that Codecademy Pro is worth it and provides free courses for several programming languages in addition to the more well-known ones. After each course, Codecademy offers tests and quizzes to ensure I grasped the material.
I also appreciate that the course videos feature subtitles in several languages. I appreciate that Codecademy offers and codecademy reviews real-world assignments to evaluate my skills.
This is what other clients also say: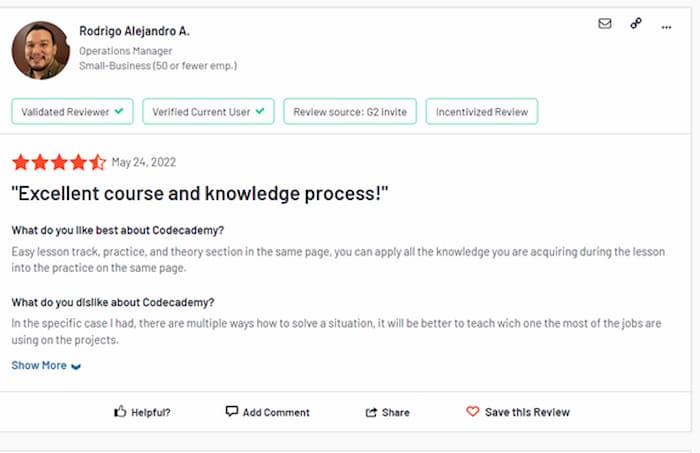 Student Feedback & Reputation
Codecademy Pro Student Price is affordable. It has gained a reputation in tech with positive responses and feedback. In Codecademy case, their have facebook group for support.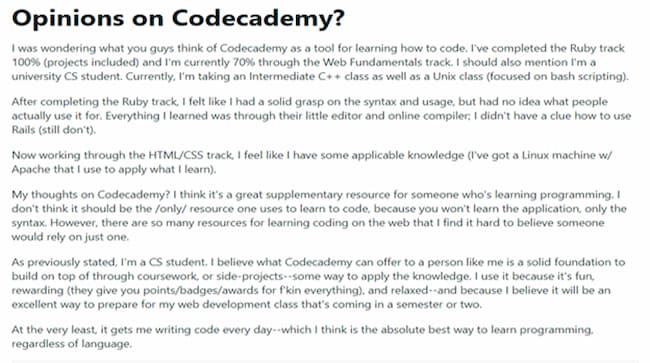 Pros
Excellent environment for getting started with programming.
Programming on the front end and the back end receives a lot of attention.
Growth opportunities consist of career routes and professional subscriptions.
Cons
Entirely under one's direction.
FAQ
Is Codecademy really worth it?
CodeCadamy. codecademy Pro intensive be redesigned by 2020? Codecademy Pro gives you more experience in different programming languages. The courses of codecademy pros are challenging but comprehensive and offer students a comprehensive learning experience.
Do employers accept Codecademy?
Prospective employers can recognize a Codecademy certification for their ability to learn a programming language. This is contact codecademy certification is no longer valid.
Is Codecademy worth putting on a resume?
Codecademy certificates are useful. This program also gives certificates to those who complete some of the best-known courses: Frontend Engineer.
Does Codecademy really work?
The free online courses at Codecademy are also easy to learn and keep you motivated. More details about free courses love codecademy can be accessed at Top online course providers. the Codecademy free courses helps to learn how to create software quickly with a free guideline to assist with any problem. Thats all because codecademy legit.
Is a Codecademy certificate worth it?
Contrary to certificates from other e-learning settings, major IT firms recognise codecademy certificates and acknowledge those from Codecademy instructors. The educational options offered by codecademy worth the Codecademy instructors and the various codecademy offers courses courses also contribute to its success. The various codecademy courses courses' wide range of ability levels makes it relatively easy to switch careers.
 Is Codecademy an excellent place to start?
Mastering contemporary web design and mobile game development skills through Codecademy free introductory course will help you find employment. When you sign up for their Codecademy Pro subscription, they also provide career path programmes to assist you in securing your ideal tech job.
 Is Codecademy an excellent way to learn?
If you're beginning your coding education, Codecademy is a beginner friendly for understanding computer programming and its functions. Additionally, it's a fantastic free approach to determine whether coding would appeal to you as a prospective career path before diving in headfirst.