If you look for a video version of this review, please check a short Youtube clip below:
There are numerous online tutoring services available. They all position themselves as the best in the industry. As a potential client, the choice can be confusing for you to make. That is why we are here for you. We work hard to give you the best reviews so you make an informed choice.
In this Wyzant review, we compare the service with others by looking at customer opinions to make an unbiased decision.
When choosing the best tutoring websites, you must consider the technical support, the availability and professionalism of the staff, and the costs of what is offered.
Wyzant tutoring reviews will tell you that the company promotes itself as a platform for independent coaches in pursuit of getting a bigger audience. This article reviews Wyzant tutoring services.
Wyzant Story
What is Wyzant? Founded in 2005, Wyzant is one of the websites for English language learners and an online community that allows students and parents to hire and find tutors from all over the world.
The professionals are experts in numerous fields and offer their assistance in preparing for a test or an exam. The company's headquarters are in Chicago, IL.

The web resource serves as a platform where students in need can find someone who can help them. The company assures that nobody will be robbed; if a hired teacher is not qualified enough, a student can apply for a refund.
They claim to offer over 1 million lessons and have an A+ rating at the Better Business Bureau, according to a Wyzant tutoring review. The online reputation of this venture seems to be positive.
Wyzant Pricing
Creating a Wyzant account is completely free. How does Wyzant work? All you need to do is to fill in the form with relevant information. Their website states that there are no hidden payments whatsoever.
While registering, you don't need to indicate your credit card or an e-wallet. However, you should provide this information before you can access your first class. You are free to choose between several payment options, including PayPal, credit, and debit cards, among others.
You can hire the best online math tutor at one of these companies.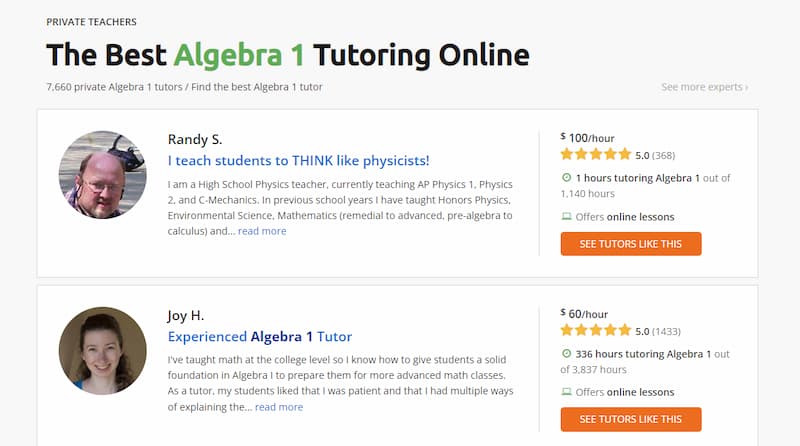 You are also free to either pay in advance or 'as you go'. Notably, you can save up to 15% of the money if you opt for a pre-purchase package. The company retains up to 40% of the total payments, though a private teacher has the possibility to earn more over time.
If a trainee is completely unsatisfied with the result, the first class that takes up to an hour is fully refundable.
Check our pricing comparison between Wyzant vs Varsity Tutors before signing up for either of the services.
Wyzant Payment Options
Wyzant offers a type of loyalty program, meaning that the longer a teacher works, the more they earn. For instance, during the first 20 hours, the fee is 40%, then it is 35% within the next 30 hours.
During the period between 51 and 200 hours, a teacher is charged 30% of the overall price, between 200-400 hours it is 25%, and after the 400th hour, the fee is 20%.
If you refer a student to the service, the company says you will get 100%; however, they still take about 9%. Those hours are also not counted toward your overall progress.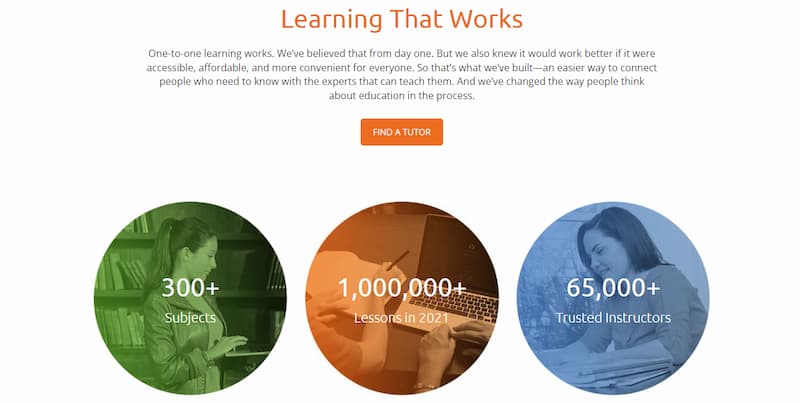 Wyzant.com Quality
The quality of services given by the company can be doubted as the system of verifying tutors' qualifications lacks credibility.
For instance, nothing stops a candidate from getting correct answers from the Internet while completing the application test.
Sometimes it happens that a decent teacher fails an exam in a discipline they are proficient in, while others can pass the test with ease because they cheat.
Thus, there may be a risk of an unqualified professional offering their services, the quality of which is bound to be poor.
Some Wyzant tutor reviews tend to question: is Wyzant legit? Some people have been using the word scam recklessly by claiming something like Wyzant offers scam services.
So, is Wyzant legitimate? However, there is no evidence to prove the point. Just search for some other tutoring services like Preply.com. For example, check Preply student reviews and see all the pros and cons to compare these companies.
Wyzant Customer Help
Wyzant tutoring complaints state that most students want their private tutors to help them cheat in their exams and assignments.
Some of them even decide to book a class only an hour before an assignment is due. When a tutor raises such complaints to the company's representatives, the issue is solved quickly.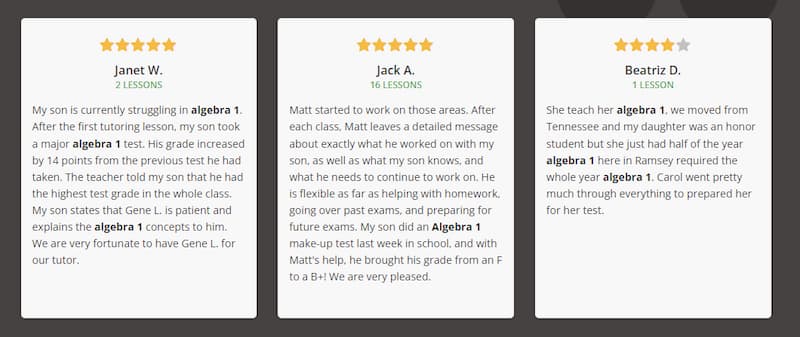 In the Wyzant.com review, a client states that customer care services are offered on time, and the representatives are always willing to find a just solution.
The same high-quality support is provided by Varsity Tutoring. Don't believe us? Read Varsity Tutors' customer reviews and see yourself.
Wyzant.com Website Usability
During the Wyzant review, we noticed that the usability of the website could easily be named unmatched. It is easy to use and straightforward. Evidently, a user-friendly interface is an important precondition to the number of clients.
However, if a user forgets their password, they may experience trouble with resetting it.

Well, the Wyzant design has changed a lot since 2006. The final redesign was back at the end of 2017.
They changed their logo to an ant in 2016, and it looks much better. The website also works perfectly with no errors or bugs.
Pros
The website is easy to use.
Great for young professionals.
Loyalty program.
Get a refund if you are unsatisfied with the first class.
Outstanding customer support.
Save money by pre-purchasing.
Great company for tutors to work at.
Cons
They will charge your credit card as soon as you key in the details.
Relatively big fees at the beginning of your career.
A forgotten password may be hard to recover.
Risk of receiving poor quality services.
Classes given to a referred student do not count in the overall record.