When you are at a crossroads and unsure which one among all of those online tutoring programs meets your demand, check EduReviewer. Here, you get an honest and detailed review of popular platforms. And that means your worry about wasting money is eradicated.
One of the ways we use to determine the value of a platform is pricing – but there is more. When we review learning English websites, we also check payment platforms. One of the major issues with online learning is dealing with unreliable payment vendors, ensuring only the trusted vendors are reviewed.
Various lessons abound online today, from math and language teaching to resume and essay writing services. While math may be a challenging course for many, the availability of online platforms has eased the problem.
When you have decided to learn online, you should also consider a tutor. Ensure they have the qualifications and experience in the field they teach. You must also ensure that they have an encouraging attitude, are within reach, and are open to criticism.
You may be wondering why you should take online courses, and there are many reasons to convince you. The main of those reasons is the convenience and flexibility that it offers you.
Compared to traditional physical courses, online courses are much less expensive on your part, and you also have access to various programs. You should not doubt online courses include a comfortable learning environment, avoiding commuting, and improving technical skills.
Thinkster Overview

What is HelloThinkster? Thinkster Math online is called by many the best online math tutoring website. It uses artificial intelligence (AI) coupled with minimal human interaction to create personalized learning programs for grades K-8. It also has provisions for persons taking international tests such as SAT, PSAT, and ACT.
The platform uses technology to grade kids through the worksheet and track how answers are answered, making it possible to fully understand the child's knowledge in the study and formulate ways to help.
How does HelloThinkster work?
Thinkster makes use of a detailed and personalized approach to training kids. The platform uses the following steps to help students perform better than their peers.
Skills assessment;
The first thing Thinkster aims to do is understand the child's strengths and weaknesses. So, a simple skills assessment of the child is done first.
Detailed diagnostic report;
As a guardian or parent, the next step is that you are sent the skills assessment test report within a few hours. It will contain detailed diagnostic information on how your child fears the assessment they took. The report will give you, among other things, insights and help you understand where your child needs help.
Session or call with an academic adviser;
The next stage is where a call or webinar is scheduled with an academic adviser. You may need to fill out a questionnaire, but among other things, you will be able to ask questions and understand what you tend to gain in using Thinkster.
Meet the math tutor;
After agreeing with the advisor, the correct maths tutor is paired with your child. This tutor will be dedicated to your child's academic success. They also double as your partner in monitoring your child's progress.
Personalized study plan.
After your child must have begun studying with the tutor, you will also be able to discuss your questions with the instructor and agree on a personalized study plan. You will also have access to custom-curated math worksheets tailored to your child's learning needs by your dedicated tutor.

Does HelloThinkster have good tutors? Does it help at all?
Thinkster claims to have numerous tutors in various subdisciplines in the math field. And their claim can be justified. While it is not clear if a tutor is assigned more than a student at a time, what is true is that Thinkster decides child-tutor pairing.
For top math tutors, you should check out a new Learner platform. Please find more details about this striving math tutoring service in our Learner.com review.
So, it is fair to say that Thinkster guarantees good tutors. That is because an assessment test is taken to understand the child's pain point, but regular feedback from the tutor is sent to the parent to showcase the child's progress.
And that means the parent can surely say the type of tutor has been assigned.
Are HelloThinkster online lessons as practical as they say?
The effectiveness of any independent online platform such as Thinkster depends on several factors: teacher competency, internet connection, pricing, and many others.
One of the most important benefits of using Thinkster is its transparency. Dedicated Hello Thinkster math tutors are assigned to each child to aid learning. Regular feedback is sent to the parents to evaluate the learning curve and track the students' progress academically.
Is Hellothinkster safe? Is Thinkster a scam?
Thinkster is an online tutoring company with a physical presence in the United States and India. It is interested in helping students excel in their math classes.
When the question of scam is raised, Thinkster cannot be found wanting. Having served customers in both US and India for many years, it is safe to say that Thinkster is no scam.
Does Hellothinkster have the best online tutors out there?
It is difficult, if not impossible, to satisfy many parents and students for years without qualified tutors who know how to deliver. And with recognition from various top-leading organizations such as Apple, NBC, Forbes, The New York Times, and many others, they must be doing some things right.
So, while it is difficult to say for sure if the best tutors can only be found at Thinkster, you can be sure that exceptional math tutors are at Thinkster. When you consider that tutors have to wait in line and hope to get picked based on their preference and the available student, you can be sure that there will be competition there, and a lot of the tutors will roll their sleeves to up their games.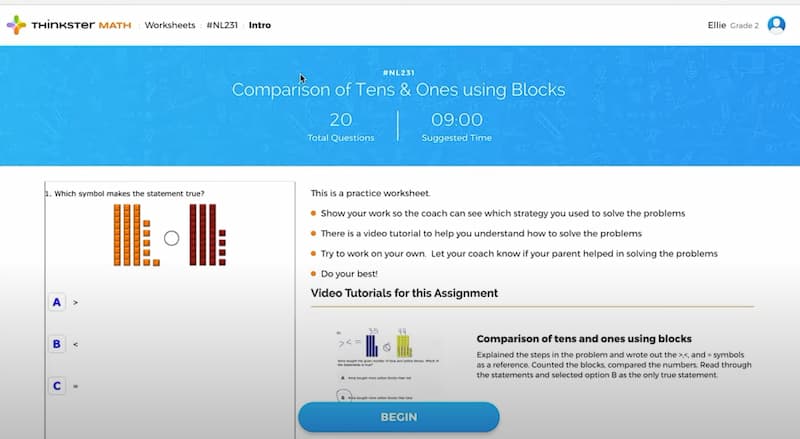 Comparing Thinkster Math with WonderlandMath.live, we think the former is way better. See our Wonderland Math review to compare these two companies yourself.
Story of the Thinkster
Thinkster aims to improve student's math skills, logical thinking, and confidence. And they rely on their unique math tutoring style to drive the point home.
The company also leverages human interaction and artificial intelligence to create personalized learning programs that meet demand. The technology tracks the student's learning curve and gives parents regular feedback.

Thinkster aims to differentiate itself from traditional teaching. They rely on helping students understand the reasons behind every single move. They do this to spark curiosity so students and tutors can agree on why things are the way they are.
The company promises to instill in learners a burning desire to learn by anchoring math problems to real-life situations. They want their students to understand that math is not just numbers but a language that can be learned easily.
Services at HelloThinkster.com
Some of the services Thinkster renders are the following;
Kindergarten: the lesson in this category includes counting objects and numbers and simple addition and subtraction. Kids are also introduced to spatial thinking, 2D and 3D shapes.
Grade 1: kids in this category are taught addition and subtraction using word problems and other strategies such as telling time, counting money, connecting shapes, and many others.
Grade 2: lessons here involve multistep word problems, multiplication, estimating lengths in standard units, and understanding time and money. Kids are also taught how to draw 2D and 3D shapes.
Grade 3: grade 3 kids are taught lessons that involve multiplication, division, and multistep word problems using various operations and fractions. They also have to be able to identify 2D shapes by sides and angles.
Grade 4: here, the application of models to multiplication and division problems, equivalent fractions, and decimals are made.
Grade 5: kids in grade 5 have to derive patterns and do addition, subtraction, multiplication, and division fractions. They also have to work with decimals and will be introduced to coordinate places and volume.
Grade 6: it is here that the understanding of negative numbers, algebraic expressions, and one-step solving equations are introduced. This curriculum includes inequalities, ratios, percentages, nets, and surface area calculations.
Grade 7: In grade 7, kids are expected to solve multistep real-life word problems with rational numbers, linear expressions, ratios, and proportions. Probability models are also introduced here.
Grade 8: students in grade will be expected to solve linear equations, simultaneous linear equations, work with slopes, functions, Pythagorean theorem, and others.
Hello Thinkster Math and homeschooling also take classes in various tests such as SAT, PSAT, and ACT.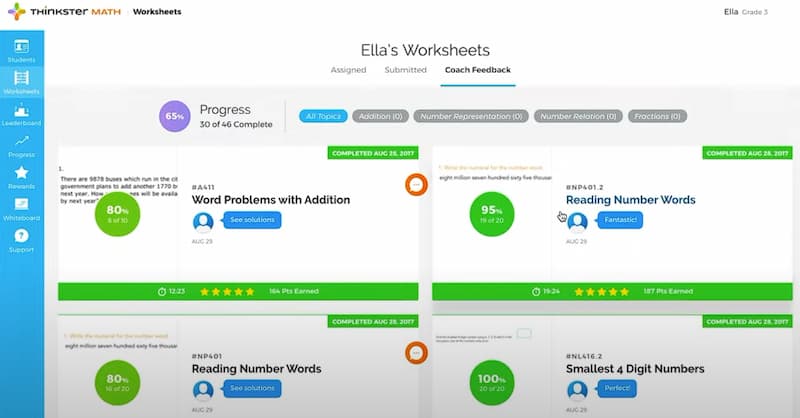 Interestingly, there is also an opportunity for high school tutoring in algebra, calculus, statistics, trigonometry, and geometry.
How much is Thinkster Math? Please find the details in our Thinkster Math review on pricing below.
Thinkster Math Cost
How much does Thinkster Math cost? Thinkster Math has three tutors-led programs; Silver, Gold, and Platinum. All three programs have a certified teacher creating a learning plan and monitoring the child's learning progress daily. And unlimited access to the worksheets is also made available.
The silver program allows two parent-teacher phone calls every month, but there are no one-on-one whiteboard tutoring sessions. Students in K-5 are billed $75/month, while grades 6-8 are charged $97/month.

The Gold and Platinum programs have whiteboard tutoring sessions. The Gold plan includes 1 hour per month parent-tutor call with 30 minutes every week, while Platinum comes with 2 hours per month (30 minutes every week).
The Gold program charge $116/month for kids in K-5, while the grade 6-8 are $169/month. The Platinum program charges $157/month for K-5, and the grades 6-8 are $237/month.
Quality of the Lessons
The Hello Thinkster Math reviews show that the tutors are exceptional and clearly understand the subject matter.
Many tutors are experienced professionals with expertise in tracking kindergarten and college students.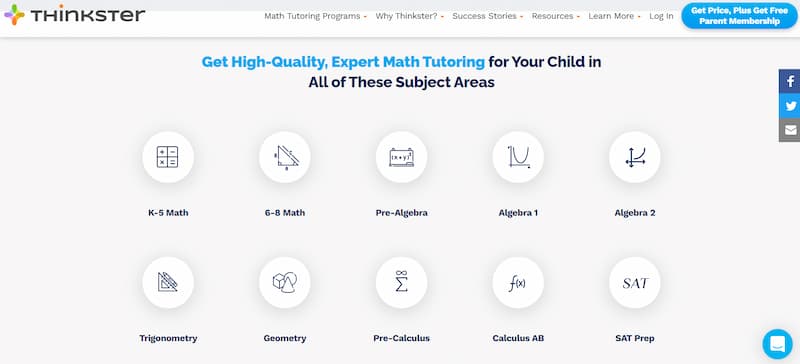 Customer Service
Customer service at Thinkster is top-notch. There have been minimal issues around customer service with Thinkster. While there is no live and instant messaging with their customer service representative, they have a physical presence in the US and India.
Also, you can drop a message for them through their website, and they will send a confirmation mail.
Website & Mobile App Usability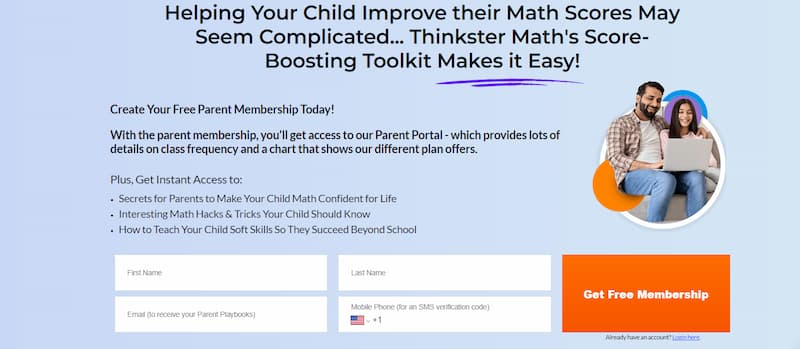 HelloThinkster.com is a website that answers all the questions you might have about the program. It is carefully designed to usher visitors straight to the offer – watch the video and start your free trial.
The mobile app is also designed with simplicity, and core features are not hard to find. Parents have a dedicated mobile application that they can use to track their children's progress.
Pros
Flexibility.
Medals and badges.
Timely feedback and personalization.
Convenient for both children and parents.
Highly engaging and boost the logical thinking of the child.
Cons
No live courses.
It might be a bit expensive.
No interaction with other children.
No live chat with a customer service representative.
The interface on the screen could be larger and more colorful.
Contact information is not readily available – no contact number or email address on the website.