Contrary to the popular belief, help with Math is not only sought after by engineering, accounting, or financial studies learners!
The practice shows that basic and complex mathematical help is also required by students majoring in Psychology, Sociology, Engineering, Physics, and many other subjects like Statistics or Architecture.
It is a reason why online services like PlainMath are essential when immediate help becomes necessary or a problem becomes too challenging to solve.
As a team of skilled professionals, we came across the Plainmath service in the past and have heard only positive Plainmath reviews online.
Now it is high time to start with our personal analysis and explore the pros and cons of the service. We shall explore the range of services, the time it takes to solve tasks, and the general objectives.
Our PlainMath review will focus on such aspects as quality of assistance, additional features, affordability, website design, customer service, guarantees, and the general quality of service.
Since we are dealing with calculation, geometry, algebra, and statistics, these aspects will be addressed as well from a professional angle.
It will help you learn how this service works and see whether it is an optimal solution for your needs as you learn what is the best homework help website for calculations and subjects like post-graduate Algebra among other things.
But if you need cheaper online tutoring, choose Trans Tutors review, QuizPlus review or Learner reviews. Read more about their tutors there.
PlainMath Overview
As the company's website claims, it strives for collecting all Math questions and answers in one place. And you can do it right away by finding an answer based on specific subjects and keywords.
Of course, you can post a new question, which can be done either by clicking upon the green "Ask Question" button or posting a question below the search bar.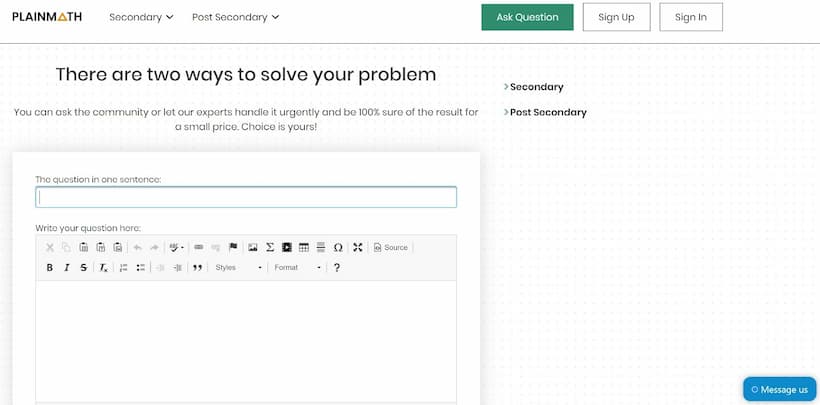 According to the service, you can ask the community or let their experts provide paid assistance at a small price.
The choice is always yours, depending on what guarantees you would like to have as a struggling learner! For this Plain Math review, we have tested both options to learn about the pros and cons of each.
1.1 What is PlainMath Service?
It is a service where you can post your Math-related problem and have it solved in some time either by the friendly community of fellow students free of charge or by the experts of the company.
1.2 How Does It Work?
You just post your question (or a Math problem) online with one sentence and then provide detailed instructions or an example of your equation or a template of what must be solved. Alternatively, you can look up existing problems and answers!
1.3 Is PlainMath Trustworthy? Is PlainMath a Scam?
Checking the Terms of Use page, you'll find that PlainMath is owned by Boosta Inc OÜ, legal entity established under the law of Estonia, registered address — Väike-Paala tn 2 Lasnamäe linnaosa, Tallinn Harju maakond 11415, Estonia. We've checked the credentials and confirmed them to be correct. They are a legit company that is absolutely safe to use.
Story Of The PlainMath
Taking a quick look at the company's background, we have learned that it has been around since 2013 and received numerous positive testimonials from students coming from different academic fields.
PlainMath has been created by Ramandeep Singh who strives for providing students with a free and accessible means of solving various mathematical problems.
As a graduate in Finance and Financial Management, it is not surprising that Mr. Singh decided to share his knowledge and focus on all sides of Math, which is reflected in a plethora of different subjects and free help. It is the true spirit of a friendly community that provides information based on various topics.
In a certain sense, PlainMath is a special encyclopedia that deals with all things Math.
During the PlainMath review, our team has been surprised to find even those mathematical problems and solutions related to space engineering tasks or high school subjects that many students will remember since their own high school times.
The primary goal of the website is to help students find solutions and learn how to solve things without stress or time factors.
Without a doubt, it is always easier to learn when there are helpful examples. Since these can be accessed free of charge, it is not so common these days and places PlainMath in a special niche.
Services
There are two types of math homework services available at PlainMath. The first of them will relate to the students' community, which means that you can pick a category and post your question.
A good feature that we have noticed is that it has an email notification when and if your question has been answered.
Basically, when some other user takes a look at your problem and finds a solution, you will be notified right away. You cannot always tell how fast the answer will be found as we have seen a couple of questions that have been left with no answer for days.
It is quite normal since we are dealing with free services where students like you will offer help the way they can.
Usually, the answer comes in around a day. We posted 5 questions to test the speed. The fastest answer from the community for a relatively easy question was received in 1.5 hours. The last answer we got took 27 hours.
Alternatively, you may approach skilled experts that will guarantee correct and detailed answers with an explanation that will satisfy your college professor. It can be done as fast as three hours. The benefits of such a solution are affordability and dealing with a person who has verified experience in your specific field.
Exploring various Plain Math reviews on Sitejabber and Reddit, we have tested this feature and learned that they can deal with most academic levels and will help you to implement that statistical data in your Sociology assignment.
It is especially important if you need something urgent or do not want to risk minor mistakes for an important exam.
Having tested this feature, we've encountered no issues. Our problem was solved correctly with all the required explanations in 2 hours.
Pricing
The company keeps its prices at moderate levels, which are affordable for most college students or those who need to solve their mathematical calculations with an expert's help.
As you might be wondering about how much does PlainMath cost, the trick here is that the price will always depend on your needs.
The estimation that they have is honest and transparent. You will see the price right after sharing your problem with the experts. After all, when you require immediate assistance, it is only natural to pay for that to achieve success.
As for the payment options, they include PayPal.
The average price can be somewhere between $5 and $7.
Still, one of the best aspects of the company is its free side, which stands for services that are offered by the community.
Thousands of students are visiting this website from all over the world, which is why you might encounter tasks from various countries with instructions in more than one language.
It is quite interesting as you see a true culture of helping and solving tasks as the calculations and genuine willingness to help erase the language barriers. The fact that there are free answers to the Math questions is worth it alone!
Quality
This is where this service truly stands out as they have a plethora of different categories that include Statistics, Algebra, Geometry, Equations, High School Math, secondary and post-secondary level estimation, Trigonometry, Quantum Studies, and more.
As our experts looked through the different subjects available, the majority of free solutions have been quite good.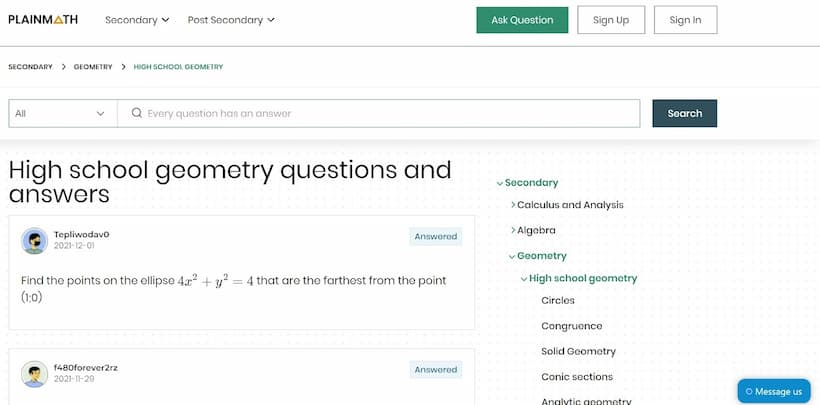 Deciding on how good is Plainmath, the only problem that we have noticed is that some of the answers lacked an explanation or details.
While they are correct, it might not always help students seeking ways to learn why a certain answer is correct.
Speaking of the Plainmath prices and paid help by the experts, it was done timely and the quality has been excellent with all five tasks that we have shared to determine the final quality.
What makes this service unique is adherence to formatting and the addition of comments by the experts. Even their free section of the website provides good explanations that are shared on the website, based on category.
Customer Service
As for the company's customer service, they are polite and helpful. What makes them different is their knowledge of the website and the subjects that you may be dealing with.
They are not pushy in any way and will patiently wait for your final decision as you vary between their free and paid services.
They also offer help with the payment process and will show you how to place your question in the free section if you are not sure how to do it.
Even though the system is logical, some learners may not know what part of their task to show and how instructions must be shared for the best results.
As we tested the system, the support agent told us that it is necessary to specify what kind of Math tasks we require if it is not listed in the categories section.
Thankfully, the list of subjects available on the website is extensive and provides a brief explanation. It has been helpful in terms of finding where to post our Math problems as we composed our PlainMath.net review.
You might want to widen your search in your quest for quality math tutoring. There's a scope of options out there, and our compilation of the best tutor apps can assist you in discovering the platform that best suits your learning style and objectives.
Website / Mobile App & Usability Factor
The navigation through the website is easy and it only takes a minute to post your question by pasting it into the relevant fields. As for the mobile access, we did not encounter any native app but had no trouble accessing PlainMath via mobile devices.
Since the structure of the website is simple and logical, it is easy to find various subjects and see solutions. Customer support online button is a friendly addition that provides an almost immediate response.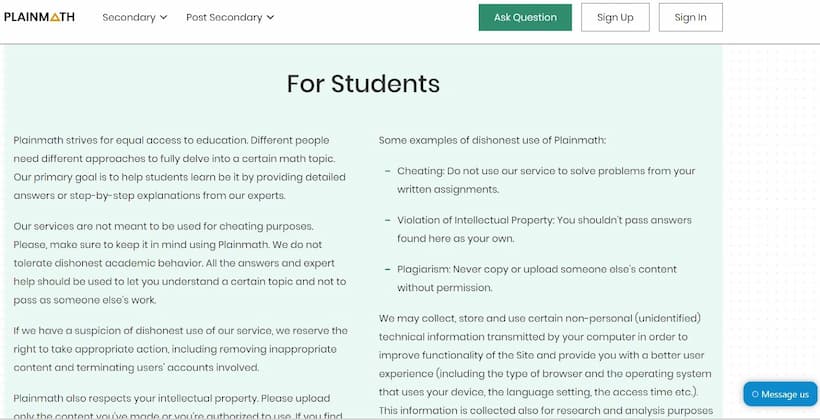 The terms of service and honor website sections show that the company stands for high values and does not tolerate cheating or plagiarism in any form.
There is also information for teachers and parents who are using the service quite often, according to PlainMath.net reviews online.
The website also provides registration info and the physical address, which is registered in the EU.
Before you finalize your tutoring choice, please look at our English Class 101 reviews. They offer detailed insights into its courses, teaching style, and overall value, which could help steer your decision toward a platform that fulfills your English learning goals.
Pros
Affordable prices.
Safe payment methods.
Friendly customer support.
Both free and paid services.
Excellent website navigation.
Email notification as soon as the answer is posted.
An extensive free database of Math questions and answers.
An excellent resource for students to learn about various Math subjects.
A wide range of extensive Math problems help services, including Algebra, Geometry, Statistics, and Probability.
Cons
Some answers may take time to be answered for free.
Free Math questions and answers lack details sometimes.
The quality of free answers may vary depending on the person.