Many scammers and untrustworthy websites are fishing for information and details, and we don't always know which ones are legit and safe.
While researching is one way to ensure that a website doesn't breach its user's security, peer reviews are another. These reviews have been written by professionals who have experienced the workings and processes of the website.
All of the best tutor sites are evaluated based on the quality of service they provide to the students, the amount they charge, and the accuracy of the subject.
Subjects such as finance, accounting, mathematics, business law, and business marketing are the most popular subjects people seek online help.
One of the main things to consider while choosing the best website for learning English to help you in your academics is their hiring tutors.
One must check the tutors' profiles (if available on the website) to ensure quality and accurate information on the subject. You can look for reviews of the website's service from trusted sources and compare them with a few more reviews.
Before settling for a particular academic service provider, you might want to consider doing basic research on your own and comparing at least four to five websites in terms of service-provided reviews and the cost of the service.
Nowadays, people have so much going on in their lives. While it is tough to balance different aspects of our lives, it is even harder for students, especially working students, to get the hang of everything in school. Students might not have enough time or budget for extra tutoring.
Taking lessons online on academic help websites is ideal in these scenarios as the cost of tutoring is very affordable, and the schedule is flexible as well.
Please, take a good look at what we have to say about these companies and their services. Are they one of the best TutaPoint reviews and MyGuru Tutoring review available?
TransTutots Overview

What is TransTutors.com?
TransTutors is an online academic service-providing portal. It aims to help undergraduate and graduate-level students with their confusion and queries and help them perform outstandingly in their academia.
They provide accounting, computer science, economics, engineering, finance, maths, science, and statistics.
Students are offered help in their assignments and can also request expert tutors per their preferences and requirements. Answers and solutions to confusing and tough questions are just a few clicks away at TransTutors.
It promises 100% plagiarism-free, quality work, and exciting subscription plans for its users.
How does TransTutors work?
TransTutors has a variety of subscription plans. Students can sign up for different subscription plans on TransTutors, from which they will have access to its bank of solutions and answers.
The solutions are categorized according to the courses they offer their service in, making it easier to find what you're looking for.
However, if they do not find what they're looking for, they can submit their queries and request answers from subject experts.
Students can expect to get their assignments a few days before their submission date so that they have time to review the assignments they get back from TransTutors.
They can also request changes or make alterations as required. All works submitted by them are 100% plagiarism-free.

Does Transtutors guarantee that they have good tutors?
TransTutors guarantees expert tutors and moderators. They have experts in particular fields on hand who will be assigned to the students to help them.
Tutors are graduates with at least a few years of experience in their respective subjects. The tutors on board are qualified, friendly, and knowledgeable.
They explain the answers in detail and do not hesitate to clear any confusions and doubts the students put forward.
Are TransTutors' online lessons as effective as they say?
Students can expect quality answers and quality tutoring. The answers provided by the tutors are accurate and meet the criteria demanded by the students.
Over the years, TransTutors has helped some students in many different colleges and universities with their assignments and confusion in their subjects.
It has helped many students secure perfect scores in their semesters with their excellent tutors and moderators.
Reviews from users claim TransTutors has helped them in their subjects a great deal and has helped them improve their knowledge on the subject.

Is TransTutors legit? Is TransTutors safe?
Doing this Transtutors tutor review, we can state that TransTutors ensures quality materials to their users in minimal time.
TransTutors reviews on the internet from seasoned users suggest it is a legit site and is safe to use. They value their users' information, and all the information they gather from their users is highly confidential.
Its users have expressed content with the service they have been provided. As every student is assigned an individual tutor, the tutor pays undivided attention to the student and solves their questions and queries without any distractions.
The students can put their queries forward without being hesitant as the tutors are very friendly, and they have a friendly approach to the concept of studying and learning.
Does TransTutors have the best online tutors out there?
TransTutors is one of the best academic help websites that offers the best online tutors available at a minimal charge. TransTutors has professionals who are experts in their field on board as tutors and moderators.
Reviews on TransTutors have shown that the tutors are experienced and knowledgeable in their subject and have delivered without fail.
Tutors and moderators involved with TransTutors are highly experienced professionals who have a detailed knowledge of their field and can pass on their knowledge to the students without issues.

Transtutors vs Chegg Comparison
Comparing Transtutors with Chegg, we would say that the first one is much better. If you are looking for the best assistance with your studying, then Transtutors is the best place for that. Their pricing, tutors, and platform are worth a try.
Story of TransTutors
TransTutors understands that students these days have a lot going on and need all the help they can with their studies. It saw the need to provide service to students struggling to balance their personal and work life and score well in their studies in the meantime.
Keeping this in mind, TransTutors offers expert help to students in various subjects, be it in assignments and reports, extra tutoring, or proofreading reports. It aims to provide the best online tutoring to students who are in dire need of it.
TransTutors help students score well without having to stress unnecessarily when they get stuck in a problem or have confusion they cannot resolve.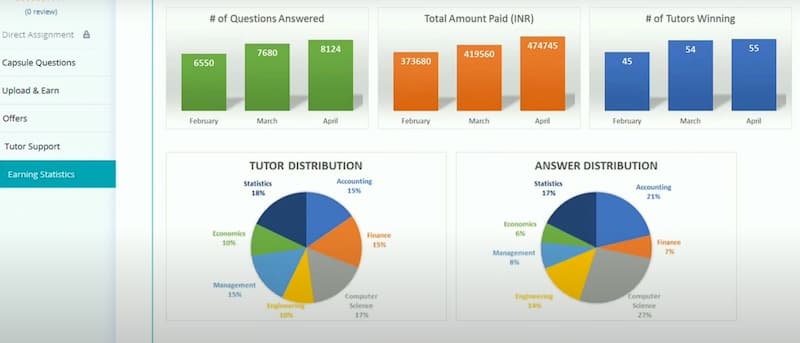 Services at TransTutors.com
There are many fields of study these days. While being an all-rounder sounds rather appealing and extraordinary, being an expert on a subject is better.
TransTutors offers its academic help services in these subjects: accounting, computer science, economics, engineering, finance, humanities, management, math, nursing, science, and statistics. For top math tutors, check the best math tutoring website list on our blog.
The topics covered by TransTutors in Accounting are Financial Accounting, Cost Management, Managerial Accounting, Advanced Accounting, and Auditing. The student gets introduced to the assigned tutor.
Tutors affiliated with the computer science field are experienced professionals in this field.
Topics covered by TransTutors in computer science are programming languages, data structures, automata or computations, networking, database management system, computer network security, operating system, computer graphics and multimedia applications, computer architecture, design and analysis of algorithms, information technology, computer science, and Linux environment.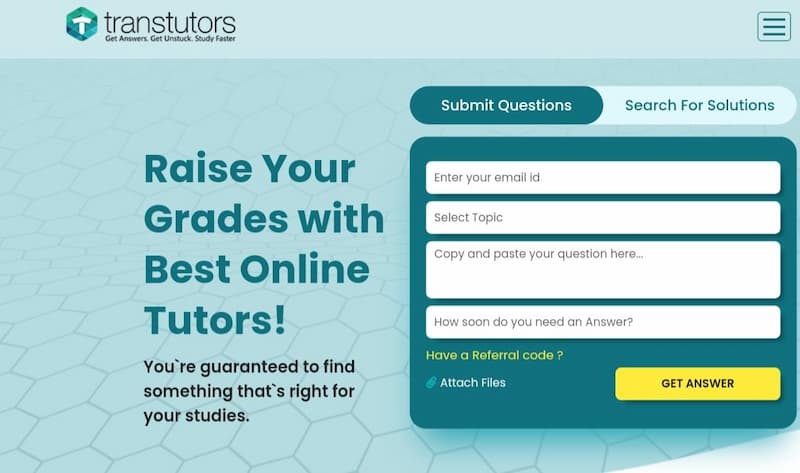 Economics is quite a vast subject with many details to look into.
In economics, TransTutors offer help in microeconomics, macroeconomics, and international economics.
Engineering, like any other subject, is comprehensive and consists of lots of information. Tutors and moderators who provide help in engineering are professionals in the field with many years of experience.
Help is offered in mechanical engineering, civil engineering, electrical engineering, and chemical engineering.
Finance, in itself, has many branches that need to be pondered upon. TransTutors has finance experts on board who make sure the students get quality material and tutoring in finance.
Subjects offered by TransTutors are corporate finance, investment, risk management, international finance management, etc.
Humanities is a very elaborate subject that requires plenty of experience and knowledge. TransTutors has tutors and moderators with over a decade of experience teaching in this field to ensure that the students get quality materials.
It offers its services in humanities in sociology, foreign language, psychology, essay writing, article writing, narrative writing, and descriptive writing. Proofreading for assignments and papers is also offered.
Management is a diverse subject with many branches that requires critical thinking and observation. TransTutors offers relevant and latest management materials in the following subjects: marketing management, supply chain management,/operations management.
Human resource management, business law and ethics, managing information technology, strategic management, and other topics.
Math is a quantitative subject that can be daunting to some. Tutors and moderators at TransTutors are here to make students realize that it is pretty fascinating and straightforward once you have it figured out.
Within the subject, TransTutors offers its services in algebra, pre-calculus, discrete mathematics, applied mathematics, calculus, linear algebra, geometry, trigonometry, and topology.

Tutors and moderators for Nursing are professionals who have completed at least their master's degree or have a Ph.D. from top universities across the globe. They have over ten years of experience in teaching nursing.
Science is considered quite a challenging subject by many. To tackle the problems and confusion students face in this subject, TransTutors has hired several experts in the field. They offer their services in the subjects of biology, chemistry, physics, and earth science.
While statistics are not a strong suit for many, tutors and moderators at TransTutors are experienced and knowledgeable in this subject, offering their services.
The available services are statistics, sampling theory, descriptive statistics, central tendency, ANOVA, hypothesis testing, regression, time series analysis, applied statistics, operational research, stochastic processes, etc.
For fantastic English tutors, you can give Cambly a try. This is an excellent platform with expert tutors for those who want to start learning English faster. Learn more in the Cambly.com reviews from the former clientele.
Pricing of the Lessons

TransTutors has two types of plans for its users. The first is a' 1 Day Pass' at $9.99. When the 1 Day Pass is activated, the user gets access to 600,000+ step-by-step textbook solutions. This plan expires automatically in 24 hours.
The other is the monthly plan at $19.99 a month. Users can cancel their subscription anytime without any extra cost and enjoy 100% cashback in their first month of subscription.
Quality of the Lessons
TransTutors boasts quality service with their qualified experts as tutors. Experienced tutors help students with their assignments. It ensures students get plagiarism-free, quality work every time. Its tutors make sure to create a friendly learning environment for their students.
The best high-quality lessons are provided by tutors at Wyzant. They hire professionals that specialize in particular subjects. Want to know more? Read Wyzant student reviews on our website.
Customer Service

TransTutors has a very effective and efficient support system. If a user needs any technical support, a support team is always on standby to help.
Users can get in touch by calling the number provided on the website or using live chat.
The designated team will make sure the user gets the help they require. The support team is friendly, patient, helpful, and supportive. They make sure to resolve any issues you come across.
Usability of TransTutors Website
TransTutors' website is easy to access with 24 hours availability. Their website is straightforward and easy to navigate.
The placement of information on the website is proper, which helps the user find what they're looking for with a brief scan across the page. All the basic information required is on the onboarding page and has easy access.
Pros
Plagiarism free work.
Affordable prices.
Experienced tutors and moderators.
The support team is always on standby.
Offers an earning platform as well.
Quality service.
Cons
Reports of delay in submission of assignments.
Users may have to wait for a while before being connected to a tutor.
Students cannot connect to tutors personally.
The procedure for selecting a plan is unclear.
Additional subscription fees are charged over time.
Limited subjects.