In this comprehensive review of SoFlo Tutors, you'll find out more about this one-on-one SAT/ACT tutoring company and learn if they are the right fit for your test prep needs.
We fully examined SoFlo's curriculum, structure, reviews, pricing,  and endeavored to provide an objective overview of their services, including important aspects like:
Quality of tutoring

Pricing and payment

Scheduling flexibility

Customer support

Website design and usability

User experience
In the realm of online tutoring, understanding the legitimacy and safety of platforms is crucial. You might find our investigation into whether is Tutors.com legit or useful, which thoroughly assesses its credibility, safety measures, and reputation in the online learning community.
SoFlo Tutors Overview
SoFlo Tutors founder Adam Shlomi went to Georgetown University, scored a 1570 on the SAT, and the other SoFlo teachers have a similar pedigree.
SoFlo exclusively hires tutors from top schools (such as Princeton and Georgetown) who scored in the top 1% on the SAT/ACT and have past teaching experience to provide one-on-one tutoring to students preparing for the SAT/ACT.
The application process is competitive with less than 5% of applicants receiving an offer after going through a competitive 3-round hiring process and then a 30-hour training program.
Considering Soflo Tutors for your learning journey? Check out our EnglishClass101 review. We take a close look at their course structure, learning tools, and overall effectiveness to help you make an informed decision.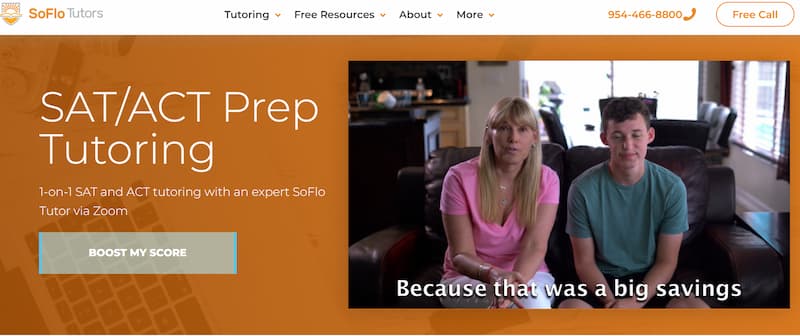 SoFlo's program takes advantage of being virtual with tutors meeting on Zoom and using a digital whiteboard and writing table to visualize their work.
Because SoFlo is online they can be more flexible with scheduling and fit into the hectic days of their students and hire from a bigger talent pool. Rather than work with the best tutors in the area, students are paired with the best tutors in the country.
The tutors at SoFlo use a three-step method: assessment, strategy, and practice. Students start with a free diagnostic test so that tutors can gather data to identify a student's strengths and weakness.
In the initial sessions, SoFlo teaches students core concepts and testing strategies, like learning grammar rules or how to pick between two good answers.
Once students have learned the fundamentals, they begin drilling real SAT or ACT tests from the past few years for homework. During lessons, tutors turn the mistakes from homework into learning opportunities.
SoFlo emphasizes student-tutor chemistry: If a student likes their tutor, they are more likely to pay attention, do their homework, and raise their scores.
Thus SoFlo thinks deeply about each student-tutor pairing with the managers of SoFlo pairing students by hand. SoFlo ensures that students continue with the same tutor for their duration of tutoring.
But if the student and tutor are not a good match, students are not charged for the session and are repaired with another tutor immediately.
SoFlo Tutors specializes in online learning and only offers limited in-person lessons at a higher price point. Many students opt to begin lessons virtually, and students are encouraged to try virtual tutoring before committing to an in-person option.
SoFlo Tutors is a strong option for online SAT/ACT prep with a proven system, quality tutors, and excellent reviews.
Is SoFloTutors.com safe? Is SoFlo Tutors a scam?
SoFlo Tutors is a reliable source for students looking for SAT or ACT help and they have expanded their services to college counseling and math tutoring.
SoFlo's website includes video testimonials from previous students and parents along with screenshots of score improvements, Google reviews, and emails from happy customers.
SoFlo also has 5.0 ratings on Google Maps listings and Thumbtack. They have worked with hundreds of students and maintained very high reviews.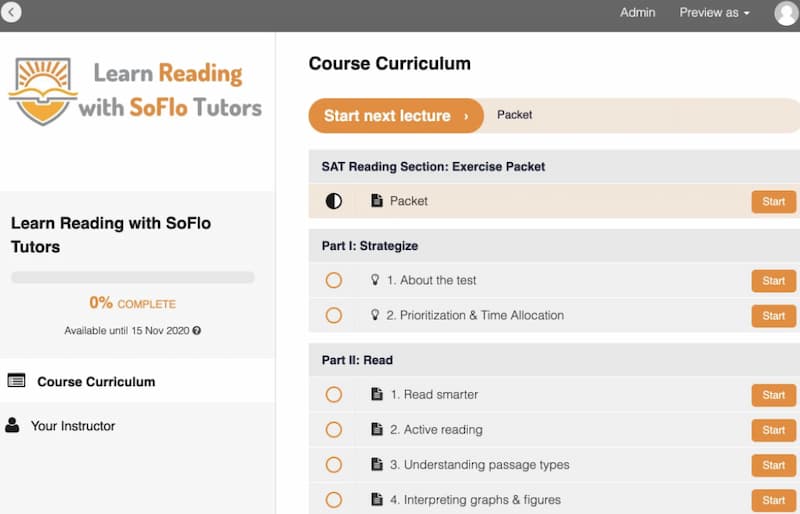 Additionally, interested students or parents can contact SoFlo for a free consultation. SoFlo promises students will only pay if they like the service, so if students do not like their first session, they are not charged.
Want to dive deeper into the world of language learning apps? Discover our take on the top English learning app for adults. We analyze their features, effectiveness, and user-friendliness, helping you choose the best app to accelerate your language journey.
The Story Behind SoFlo Tutors
Adam Shlomi founded SoFlo SAT Tutoring with 5 years of SAT/ACT tutoring experience, a Georgetown education, a 1570/1600 on the SAT, and a shattered ankle.
Adam had been living in Washington D.C., but after breaking his ankle while camping with friends in West Virgnia he was forced to return to South Florida for surgery and recovery because of his health care policy.
Adam was unable to put any pressure through his leg and his future was in doubt as doctors suggested he might never walk again.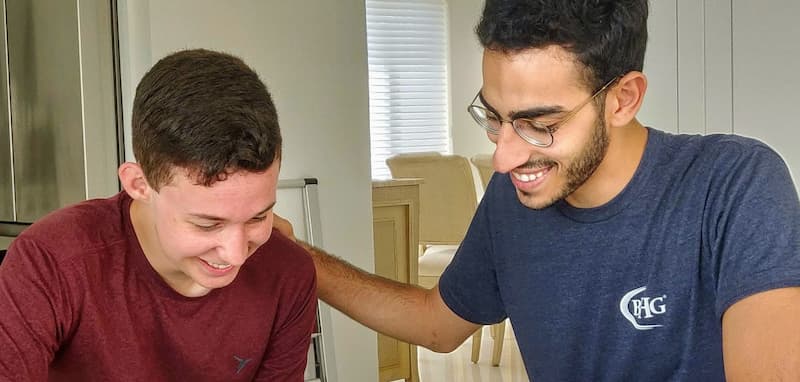 Despite the adversity, Adam committed to positive thinking and worked everyday to improve his physical health.
At the same time, he began to take SAT tutoring seriously, by building a website, establishing a legal company, and marketing to friends & family.
Adam previously worked at College Experts and then later for College Vine, and felt confident in his ability to improve SAT scores and connect with students.
Thus SoFlo SAT Tutoring was born. But SoFlo was a part time operation. During the day, Adam worked as a data analyst for a local bank, helping them automate credit models.
Eventually Adam's ankle began to heal and daily physical therapy became a necessity. The comfortable bank job wasn't able to fit into Adam's recovery schedule and he was forced to quit his job and focus his attention on strengthening his leg so that he would be able to walk again.
However, things happen for a reason and shortly after leaving the bank, word of Adam's exceptional SAT tutoring began to spread. Students raved to their friends and parents wrote shining reviews.
Adam soon had to hire and train tutors to handle the amount of students seeking him out for SAT prep.
Adam worked hard to search for incredibly talented tutors who were fun to work with and knew the SAT exceptionally well. From there he began to train them, imparting all the test tricks he has learned over the years.
In order to better train students he also started the SoFlo SAT Scholarship fund so that recent hires would be able to get experience working with real students. This program solved two problems as low income students were able to access SAT tutoring and tutors were able to hone their skills.
Now SoFlo Tutors has over 100 tutors and Adam works hard daily to ensure students improve and tutors are receiving exceptional training.
If you're considering Soflo Tutors for your learning journey, it might be worth exploring our top picks for the app to find tutors. It lists various reliable platforms that enhance your learning experience by matching you with the perfect tutor.
Tutoring Services
Students begin with a diagnostic test that allows tutors to identify student strengths and weaknesses, as well as observe how students approach individual questions.
After the diagnostic test and initial session, students meet one-one-one with a tutor for 2 hours a week to introduce SAT/ACT tricks, and teach the fundamentals of the test.
Students will typically be assigned 2-3 hours of homework each week in the form of real SAT/ACT exams from the past few years. During sessions, tutors will use the mistakes from homework as learning opportunities to boost their scores.
Tutors are paired with students by SoFlo's operations manager, and there is a strong emphasis on tutor-student fit. If a student feels like they aren't connecting with their tutor, they are able to request a new tutor the same day at no cost.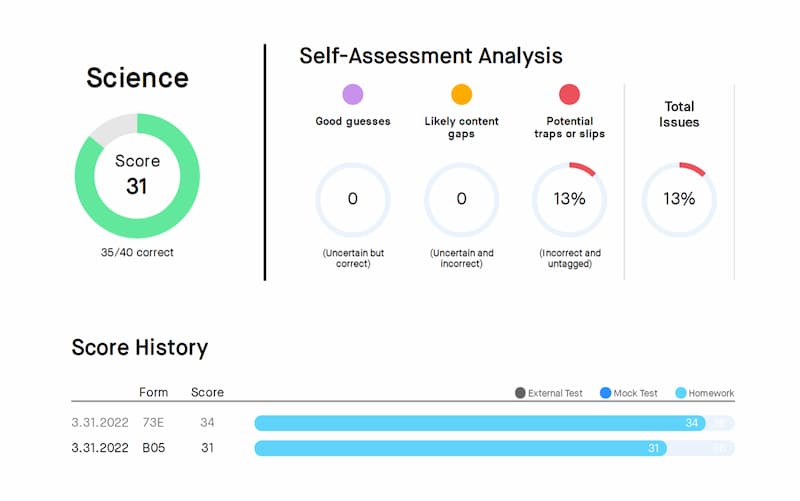 One-on-one personalization allows SoFlo to move at the pace of each student so students are not stuck reviewing problems they already know or tutors can take time ot make sure a student undertstands before moving to the next lesson.
One-on-one tutoring also creates an opportunity for the tutor to build a personal connection with the student. The bond between student and tutor is encouraged at SoFlo.
SoFlo believes, if a student likes the tutor, the student is more likely to pay attention, complete their homework, and raise their score.
Raising confidence is the best way to alleviate testing anxiety, so SoFlo also emphasizes positive-reinforcement and encouragement to bolster student confidence.
In contrast to group tutoring sessions, SoFlo's one-on-one Zoom model allows tutors to devote 100% of their attention to each student.
While Zoom group classes do not work for every student, the one-on-one model is generally more successful because students are less likely to be distracted.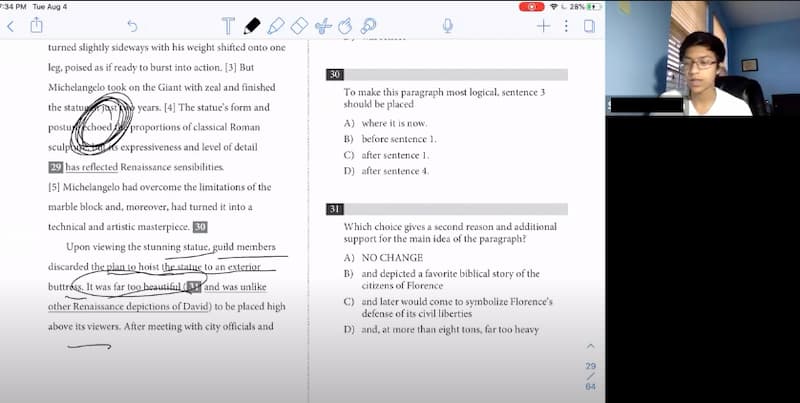 Tutors design a unique curriculum for each student which targets weaknesses and reinforces strengths.
Where many more traditional test-prep programs follow the same curriculum for every student, SoFlo's individualized approach allows for more efficient and targeted instruction.
A typical SoFlo student will meet weekly with their tutor for a two-hour session; however, all families are given the flexibility to schedule as many or as few hours as they wish. This no-contract model offers families flexibility and convenience in creating a plan for test-prep.
Families should be aware of SoFlo's cancellation policy. If a student cancels a meeting within 12 hours of the scheduled session, they will receive one warning. All subsequent cancellations within 12 hours of the scheduled session will be charged.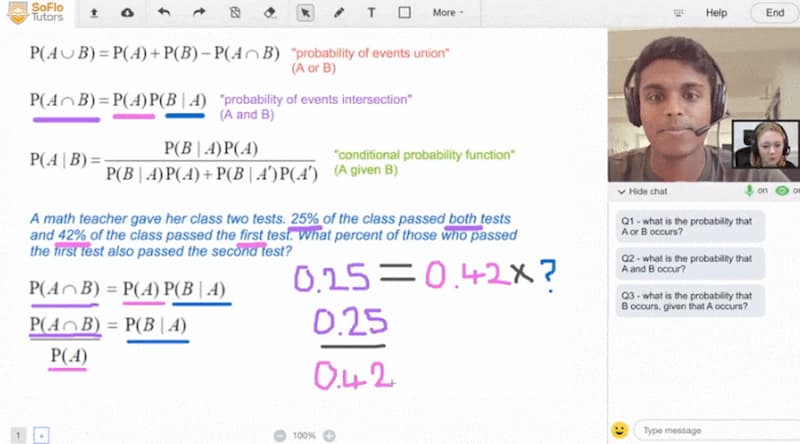 SoFlo Tutors is especially beneficial for students looking to begin test-prep well in advance of their test date. This allows students to consistently work with a tutor who will personalize lessons and study-plans to their specific needs.
Pricing of SoFlo Tutoring
SoFlo Tutors operates with a no-contract policy, meaning families are not charged for any hours they do not use. Core tutors charge $60 per hour with no additional fees for homework or registration.
Our review found that these core tutors scored in the 99th percentile of their own SAT/ACT and underwent SoFlo's 30-hour intensive training requirements.
Students also have the option to work with premium tutors, who charge $90 per hour. Premium tutors are the most experienced and in-demand tutors, and are often recommended for very high or low-scoring students.
These tutors have received consistently exceptional feedback and have a longer and more established track record of success with SoFlo tutors.
Parents will receive a weekly invoice reflecting the number of session hours their child used that week. Families can use the SoFlo Tutors billing portal software to track payments and invoices at their own convenience, and payments can be made online with credit or debit cards.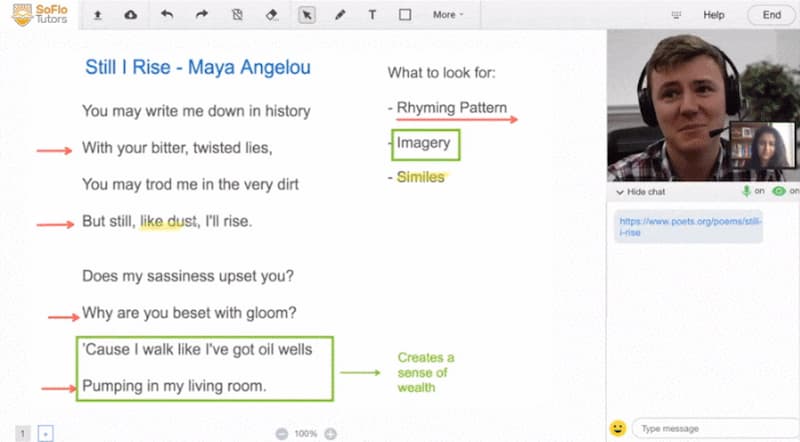 Our review has found that SoFlo Tutors also offers group scholarship courses for families who may not be able to afford individual lessons. Families can apply for these programs on SoFlo's website.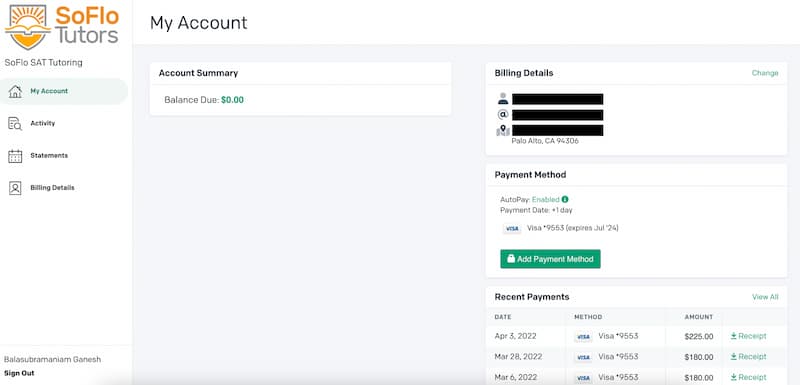 Tutors' Quality
SoFlo's guarantees quality satisfaction; families will only pay for a session if they feel it was worthwhile. Upon registering for tutoring, families will communicate directly with SoFlo's operations manager, who will match each student with a tutor.
SoFlo's current operations manager graduated from Barnard College, scored in the top 1% on the ACT, and worked for three years as the manager of NaTakallam Education Programs in New York City before transitioning to SoFlo.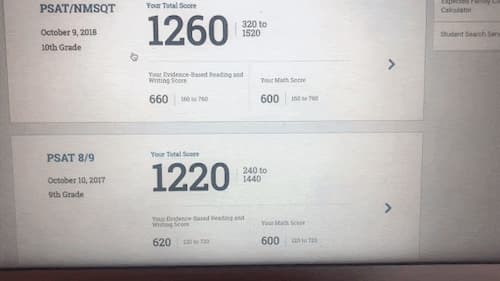 SoFlo's tutors are vetted through a competitive interview process and undergo a 30-hour training program to equip them to tutor students.
The SoFlo Tutors website provides the profiles of several featured tutors, listing the tutors' home colleges and SAT/ACT scores.
The SoFlo website guarantees that all of their tutors have scored in the 99th percentile on the SAT/ACT, are masters of college-entrance exams, and have a gift for connecting with students.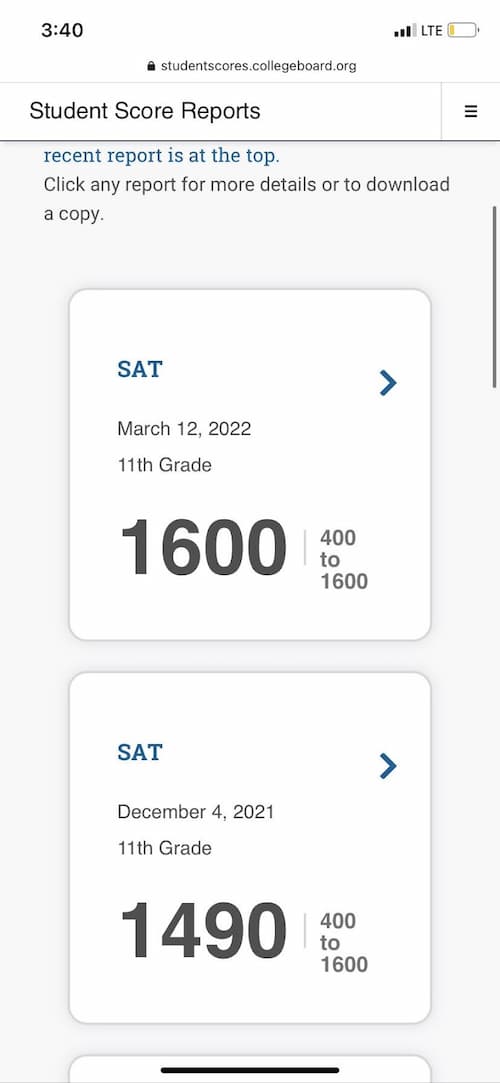 Customer Support
SoFlo's operations manager handles communication between students, parents, and tutors, and is responsible for answering any questions families may have.
If families have any issues with the quality of SoFlo's tutoring services, they may contact the operations manager with their concerns. Students not satisfied with their tutor may be repaired with a new tutor at no cost.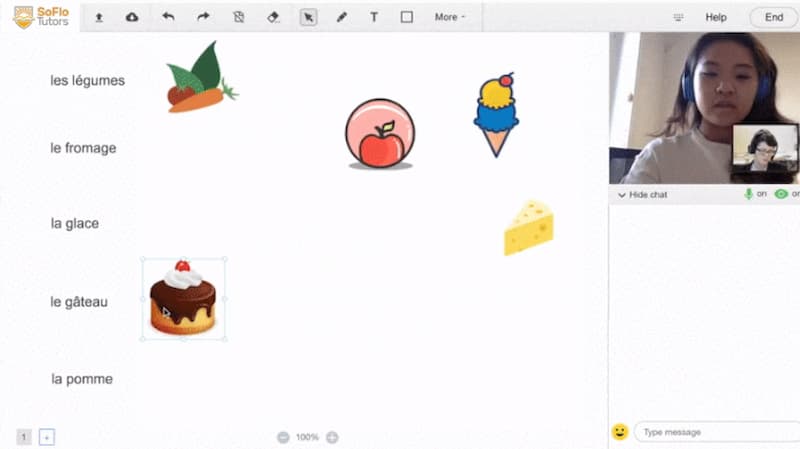 Families can also directly contact Adam Shlomi, the founder and CEO of SoFlo Tutors, by finding his contact information on the front page of the FAQ section of the SoFlo Tutors website.
Student Feedback
The SoFlo Tutors website provides families with student testimonials, reviews, and short interviews from previous students who saw significant point increases on their SAT/ACT.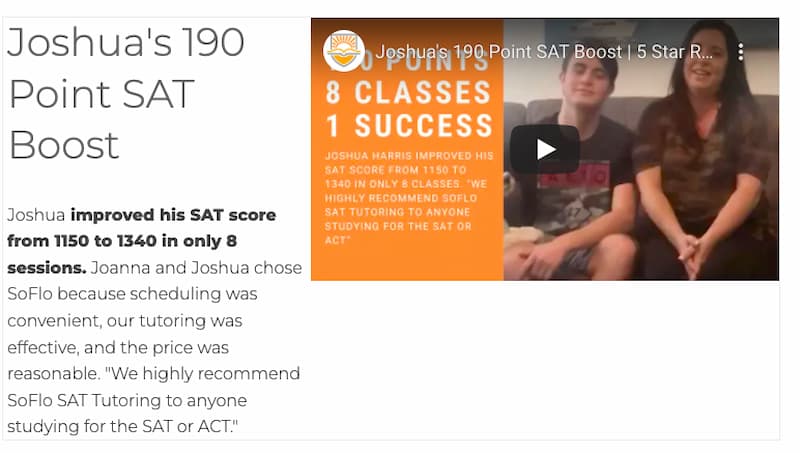 SoFlo has over 200 reviews across the internet and averages a 5.0 rating. Thumbtack recognized SoFlo as a "Top Pro" in 2021 for their strong reviews, prompt responses, and courteous service – a recognition earned by only the top 2% of companies on Thumbtack.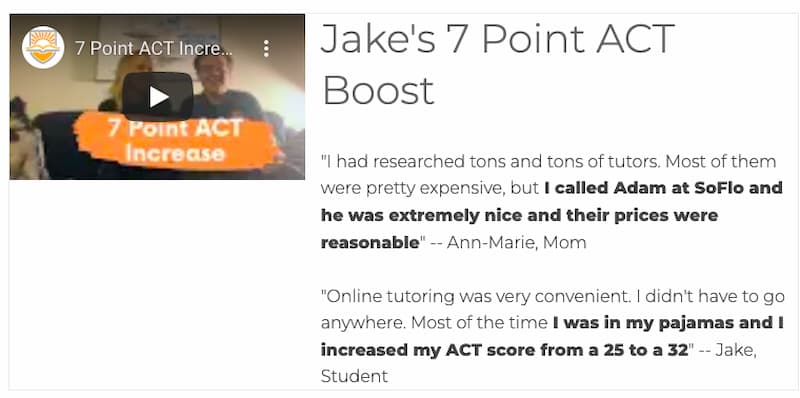 Website Usability
The SoFlo Tutors website is user friendly. The main page is headed with customer testimonials and a link to a form to sign up for a free consultation call.
Families can also find a summary of SoFlo's program and methods, as well as instructions to sign up for SoFlo's free online SAT course or scholarship program.
The FAQ section, which addresses frequently asked questions at SoFlo, can be found at the bottom of the main page.
In addition to the main page, the SoFlo Tutors website includes a menu with links to information about test prep and college admissions counseling, free resources, and the SoFlo team.
The "more" option on the menu directs users to the SoFlo Tutors blog site, the payment portal, and a collection of test-taking memes.
Our review found that the SoFlo website is easy to navigate but may be slightly time consuming to sift through when looking for specific information.
Pros
SoFlo Tutors uses Zoom, a digital whiteboard, and a writing tablet, which makes meeting for lessons convenient and easy.
Students gain access to SAT and ACT practice tests, including previous official exams. SoFlo has a large curriculum bank which is available to students at no charge.
Tutors are high-scoring students and recent graduates who attend top universities and have personal and recent experience with the SAT or ACT.
SoFlo Tutors is not contract-based, meaning students can stop receiving lessons at any time.
Parents can track invoices and payments in a billing portal software.
Cons
SoFlo does not have a mobile app that allows students to track their progress; instead, families receive email progress updates directly from their tutor.
Student-tutor chemistry is crucial for success and test-score progress so a student must like their tutor.
SoFlo's tutors are recent graduates and college students, not full-time professional tutors.
The pricing of $60/hour can be too high for some students.
SoFlo only offers limited in-person tutoring options.
Frequently Asked Questions
Is SoFlo legitimate?
Yes. Based on previous families' reviews, proof of improvement on SoFlo's website, and their money-back satisfaction guarantee, our peer review has found that SoFlo Tutors is a legitimate website.
What is the SoFlo tutoring method?
Tutors at SoFlo are trained to diagnose and explain exactly where students are making mistakes and how they can improve.
Not only do tutors help eliminate subject weaknesses by going over specific core concepts, but they also give insight into SAT/ACT test-taking strategies that will help students learn how to solve more challenging questions.
What are the differences between online and in-person test prep?
SoFlo's online model allows for flexibility and convenience in scheduling. Students are able to learn from the comfort of their own homes on their own schedules.
However, for students who don't benefit from online learning, SoFlo does offer a limited in-person tutoring option at a higher price.