Sometimes we all need some extra help when it comes to homework, and that is why many of us decide to turn to tutor services for help.
However, there are different online tutoring, such as personal coaching lessons, free online tutoring, or one-on-one learning services, and it is important to compare them before making the final decision.
To help you choose a great tutoring company, we have evaluated them considering their quality, available learning tools, pricing plans, website usability, and the number of subjects they offer.
Also, the clients' reviews help us evaluate the best website for math tutoring services, and here is one of such reviews on the popular tutoring service Tutor.com.
Every tutoring service has differences. Find out in our review HelloTalk.com reviews.
Tutor.com Overview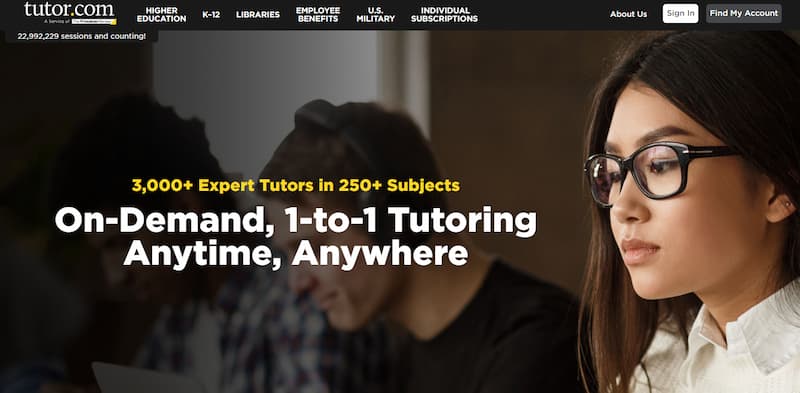 Using tutoring services is the best solution when you are struggling in school or improving your academic performance.
However, it can be tough to find a good one. That is why I decided to write a review on the one I have recently used to help other students decide. If you Google 'Tutor.com legitimate,' you will not find a lot of reviews on it.
Is Tutor.com legit?
Hence, it is hard to answer the question. Hopefully, my review will help you find out. I found Tutor.com at my worst times.
It seemed to be the best tutoring company out there – 24/7 online customer support, a professional team, thousands of experts, affordable prices, and customized programs.

I was a bit worried at the beginning as I have never used such services before. I mean NEVER. But, I decided to give it a try. Learn how it finally turned out to be.
What is Tutor.com?
So, as I have already mentioned, I was literally at the bottom when I found a Tutor.com review written by one girl saying that this service saved her life.
At that time, I just started working at a new company, and it was tough for me to balance a new job and college.

I wasn't good at managing both, so I started to cut classes, and soon I fell behind in some subjects. That's when I realized that I need to find someone to help me with studying as I wasn't able to deal with that amount of new information on my own.
What I liked about Tutor.com tutoring is its customized programs. They have different programs for families, teachers, colleges, and so on. Since I am a college student, I decided to go with their program for higher education.
So, is Tutor.com good?
It is 100% not amazing! It is good, average, I would say, but not the best. Discovering this website was not one of the best things that ever happened to me.
Is it good for you? Check out my general review below and see it yourself.

Tutor.com Cost
While many companies charge a flat rate for one-hour sessions, Tutor.com offers several flexible plans that you can choose from.
So, how much is Tutor.com?
Pay As You Go for $0.75 a minute.
1 hour/month for $39.99 per month.
2 hours/month for $79.99 per month.
3 hours/month for $114.99 per month.
The Tutor.com cost is pretty affordable. But, which one to choose? The good news is that you can try Tutor.com free trial to understand which one of those packages fits the best to your study style.
Keep in mind that you don't need to use your entire hour in one session – you can work with your tutor only for ten minutes, even if you choose the 1 hour/month plan. Thus, you can have a lot of learning sessions during the month.
Also, no matter which plans you choose, you can cancel or change them at any time. That's exactly what I did. At first, I was using the 'pay as you go' plan as I thought I didn't need that much help from my tutor, but I realized that I need more than that as I started working with her.
Thus, considering Tutor.com prices, I decided to upgrade my plan, and there was nothing complicated about it. You can find all the information about changing the plans in the Q&A section.
But if you need cheaper online tutoring, choose Preply. This service is less known, but the quality is top-notch. Is Preply legit and safe? Read more about their tutors in our Preply.com review.
Tutor.com Payment

So, that's all about Tutor.com rates, now about the payment.
Is Tutor.com a scam?
No, it is 100% legit. I have tried it myself, and believe me, and you don't have to worry about using your credit card there.
After choosing a plan, you will be asked to fill in your billing information, and you will be able to choose your credit card. This service accepts the following types of credit card payments: Visa, MasterCard, and American Express.
Keep in mind that your credit card must be issued by a bank located in Canada or the United States. Same with your address – to choose a plan, you need to fill in a U.S. or Canadian billing address.
Thus, if you are a high school student and don't have a credit card yet, it might be good to tell your parents that you fell behind in some classes. Please don't wait until it's too late like I did.
Every tutoring service has a different payment system, and more you can see on Wyzant.com, for example, and compare them. Is Wyzant a scam? Find out in our review.
Tutor.com Customer Service
If you still have some questions even after reading different Tutor.com reviews and checking their website, don't be afraid to get in touch with their customer support team.
I know that a lot of people avoid contacting customer support as they rarely help. And I have always been one of those people.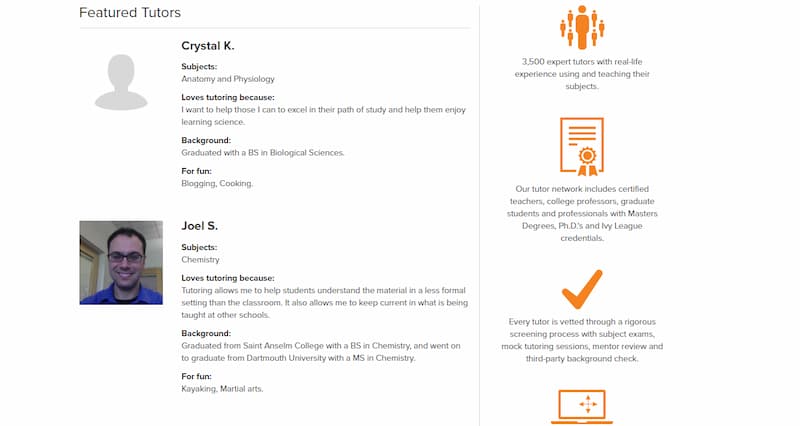 However, this time I didn't have any other choice. I had a problem during the payment process, so I decided to get in touch with them.
And you know what? A girl from the support team did not solve my problem, and she was so impolite and everything that I started to feel that I can't count on these guys.
Tutor.com Website Usability
Many people still judge a book by its cover, so it needs a brilliant website design. People asking 'is tutor com legit' should check out their website first and then the reviews of Tutor.com.
It looks very professional and modern. It is also easy to use. What I liked the most about it is that you will not find any ads there.
Hence, nothing will distract you from making the right decision. Everything looks very clear, so you don't even need to think about creating an account as you can find the 'sign in' button right on the main page.
Also, you can easily find information about the prices, different programs, or tutors. There is also a Q&A button if you have some questions.

Find the best English learning sites on our website.
Pros
They have very experienced tutors – teachers, doctors, and even professors.
Every tutor needs to pass different exams, tutoring sessions, and several background checks to work for them. Thus, you do not have to worry about their professionalism.
You can connect with your tutor at any time.
You can choose from various subjects – math, sciences, English, social studies, business, foreign languages, etc.
Their tutors can also help you with studying for the SAT, PSAT, ACT tests.
They have different customized programs. For instance, there is online tutoring and homework help for the U.S. military and their families.
Cons
Unfortunately, unused time will expire at the end of your billing circle.
Also, according to Tutor.com student reviews, those who are not from the U.S. or Canada cannot use this website.
For some students, it can be quite expensive.
Sometimes lesson sessions can be boring, but it depends on the tutor you get.
It lacks good learning tools.
You can not pay with PayPal here.