Short Introduction
Languages unlock the world and open the doors to possibilities, different cultures, and mindsets. But it's really hard to learn a new language, isn't it?
LiveXP Language Learning Platform aims to help people learn any language on any device from any place with the help of 1-on-1 lessons with tutors. That is what LiveXP offers to its users.
LiveXP is a modern and young online platform for teaching and learning languages worldwide. Its main offer is private language lessons with teachers available on the platform.
You can find professional, certified teachers, native speakers for conversational lessons, tutors who speak different languages, etc.
LiveXP can also be your place for teaching and receiving money for this.
Please, take a good look at what we have to say about these companies and their services TutaPoint review and QuizPlus reviews. Are they one of the best available?
Tutoring Features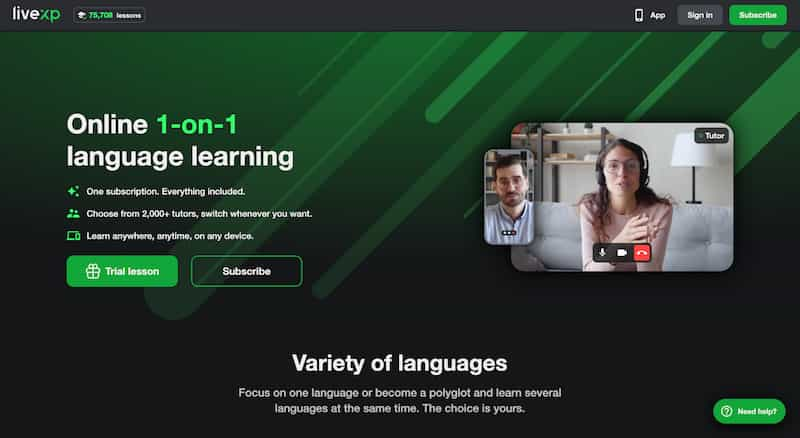 LiveXP stands for consistency in learning. That's why it has a subscription model. But before buying a subscription (let's speak about the prices below), you can have a trial lesson with any tutor.
It's quite easy to navigate on the website. There is a landing page for students where all needed information is gathered on what languages you can learn here and how the system works.
More than 35 languages are available for learning and teaching at LiveXP. You have quite a wide range of tutors: more than 2,000.
Filters can help you to find a teacher exactly for your needs and goals. You find the right one, book a trial lesson which is 30-min long and costs $3.50, conduct the lesson on the platform by joining the Lesson Room, and then you have a choice: whether to buy a subscription to continue learning or to have a trial lesson with another teacher or even not to do anything if you didn't like it.
By the way, LiveXP has its video call room that is called Lesson Room, where classes take place. Fifteen minutes before the lesson, the Room opens.
You can enter it and check your microphone and camera to avoid any issues. Also, it's not forbidden to use alternatives such as Zoom or Skype in case you face technical difficulties.
To speak about the subscriptions, LiveXP claims that everything is included in them. So, you subscribe not to a language and not to a tutor. You subscribe to the service.
You can learn as many languages as you want with as many tutors as you want without any additional payments. The subscription opens access to everything at LiveXP. You can change a tutor whenever you want.
LiveXP also has the Community Section, where users can ask questions about languages or study and receive answers from tutors. Additionally, there is a pretty good blog with articles about languages on different topics.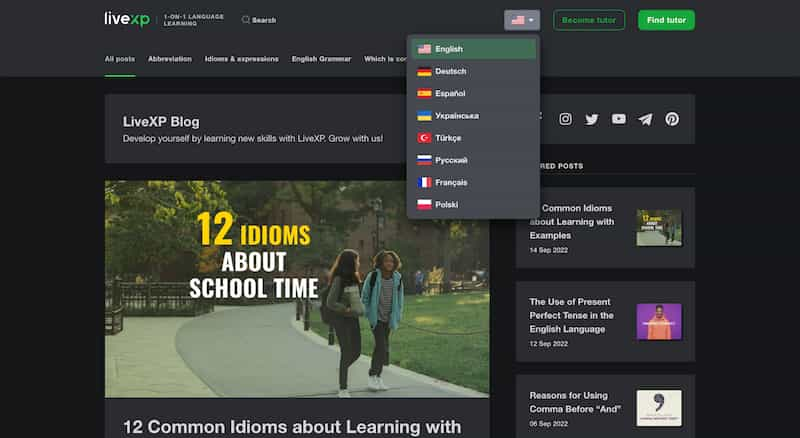 The blog is available in 8 languages: English (the biggest one), Spanish, German, French, Polish, Ukrainian, Ukrainian, and Turkish.
So, if you want to learn a language and succeed in it, check LiveXP. Is LiveXP worth it? The answer is — YES, it is.
Pricing at LiveXP.com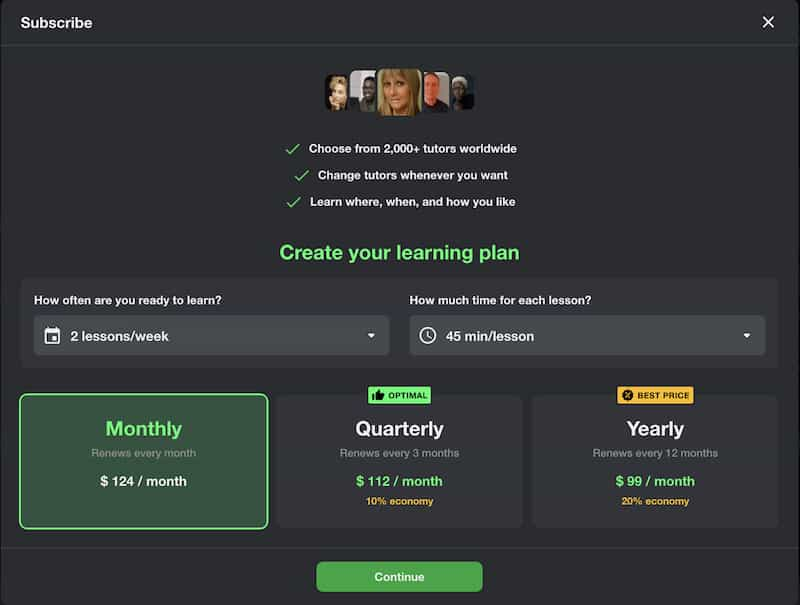 Pricing is one of the most important topics when choosing a platform for learning languages. As it was mentioned before, everyone has access to trial lessons. They cost $3.49 no matter what language and tutor you're interested in.
The price for the subscription depends on several factors: subscription plan (monthly, quarterly, yearly), number of lessons you want to have per week (from 1 to 5 lessons per week), and their duration (30, 45, and 60 minutes).
How much does LiveXP cost?
So, one of the most interesting questions is, "How much is a LiveXP subscription?". The minimum plan includes 1 lesson a week, 30-minute duration. The maximum plan includes 5 lessons per week, 60-minute duration. The minimum monthly subscription costs $42.
But if to buy a bigger plan, you'll pay less per month. So, quarterly and yearly plans are more attractive if you want to study consistently. The maximum subscription at LiveXP (5 lessons per week, 60 minutes duration) costs $413 in a monthly plan.
But you will spend $371 per month with a quarterly subscription and $330 per month with a yearly one.
The users can pay using their bank cards: Visa, Mastercard, American Express, and Discover. When doing it with the LiveXP app, the users can pay with ApplePay and GooglePay.
With the subscription, a student gets access to all languages and tutors at LiveXP. They have a lesson balance within their subscription. They can schedule lessons for any time or have an instant lesson here and now.
As it is a subscription model, a user's plan has a billing date when it will be automatically renewed. A user will be charged, and the lesson balance will be topped up. But this is how subscriptions work.
To compare with Cambly
When comparing prices for the subscription model on Cambly and LiveXP:

A monthly plan with 2 lessons per week and 30-min/lesson will cost $89 at Cambly.
The same plan will cost $86 at LiveXP: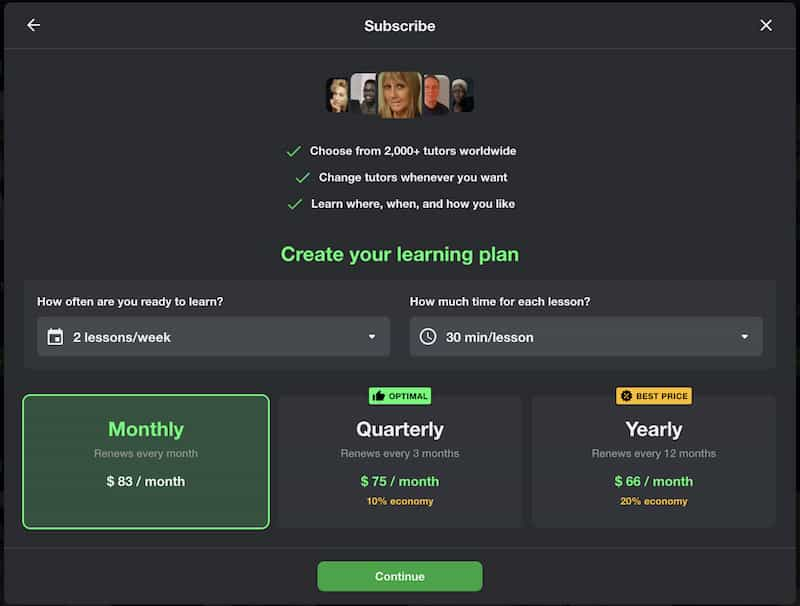 So, we can see that the prices are almost the same, and users will have an average cost of a LiveXP subscription.
On Preply, for example, you can't check subscription prices if you didn't have a trial lesson, which is not convenient.
How much do tutors earn?
As LiveXP is the platform for students to buy knowledge and teachers to sell this knowledge, we should talk about the tutors' part too.
Subscription plans determine the lesson price. Tutors can't set their own rates. Tutors' rates depend on a so-called tutor level.
So, the LiveXP FAQ says that tutors get $3.49 for a trial lesson. And if a student buys a subscription within 30 days after a trial lesson with the tutor, this teacher will get an extra $10.
Every teacher has their own levels, and they're calculated based on the previous lessons. Every successful lesson gives a tutor 1 score to the level. When tutors level up, their rate per lesson becomes higher. For one 60-minute lesson, a teacher can earn from $10 to $15, which depends on the level.
This earning system looks quite complicated.
Quality of Tutors and Tutoring Sessions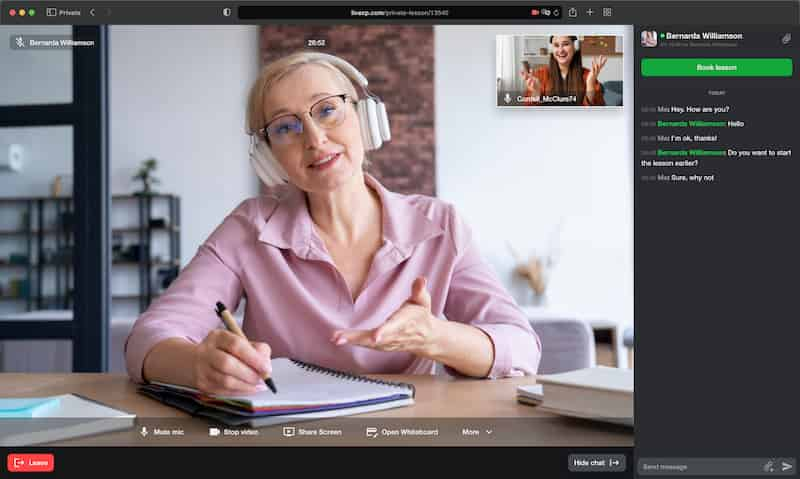 LiveXP has a wide range of tutors. But not everyone is a certified teacher. Students will discover native speakers, professional teachers (both native speakers and not), tutors for conversational classes, and so on. Users can see tutors' certificates and diplomas in tutors' profiles.
Unfortunately, you can book a lesson with an irresponsible tutor who will not show up for a lesson. And fortunately, at the same time, you'll get a refund after addressing the Support Team.
So, LiveXP doesn't control its tutors and can't guarantee that your lesson will take place on the first attempt.
But it seems, if a student chooses a teacher who has had lessons before, not a new one, everything will be good. A lot of teachers at LiveXP have 5 stars marks and positive feedback.
Student Feedback and Reputation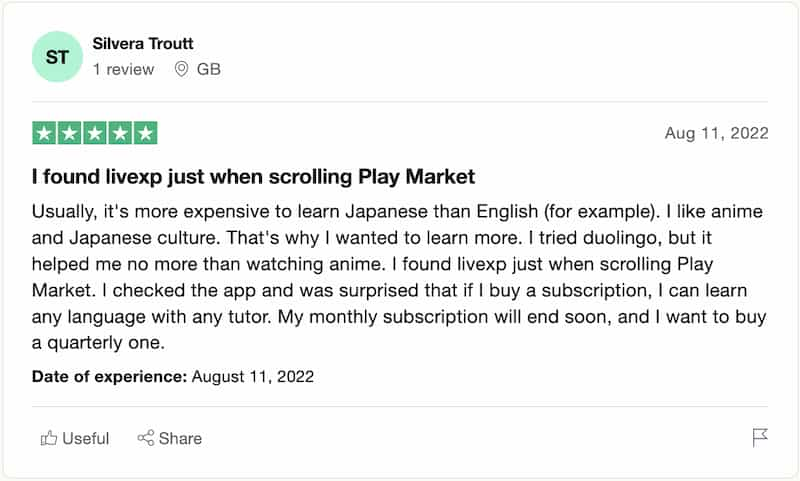 According to LiveXP reviews left on Trustpilot, Play Marker, and Apple Store, most of the users are satisfied with the lessons and tutors' "quality."
LiveXP Support Team is marked as a polite, helpful, and careful team who solves any issues and problems.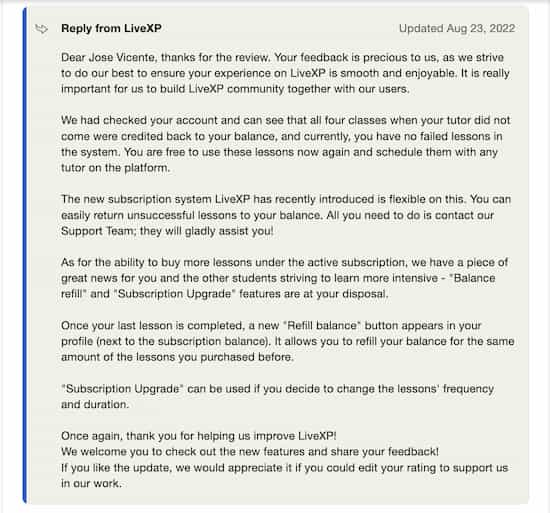 But, of course, at the same time, there are 1-star reviews from not-satisfied users.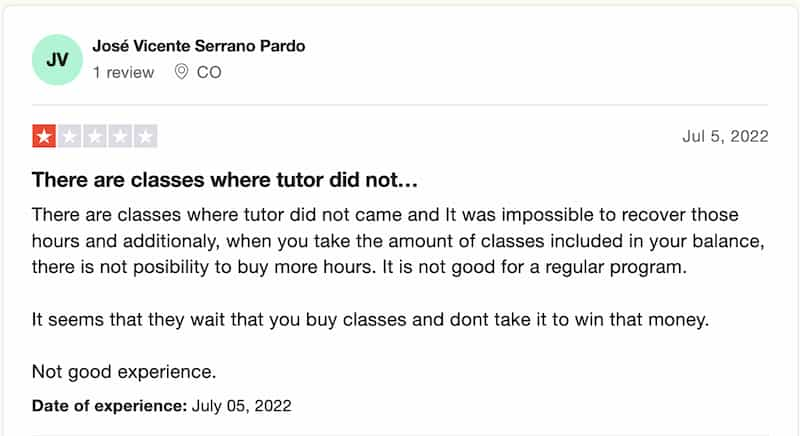 Website and Mobile App Usability
LiveXP platform has both Android and IOS applications. If to compare them with each other, it's noticeable that the IOS app has more features than the Android one. Users, both students and teachers, can join lessons on their smartphones using an app that is quite comfortable.
The apps are easy to use, as they're shortened versions of the website. The applications are available in 14 languages, as well as the website. The users receive all notifications, reminders about the lessons, and messages in the app.
Pros
A 30-min trial lesson is cheap - $3.49.
Students can have one trial lesson with any tutor on the platform.
Easy and comfortable purchase flow as users choose their subscription plan, number of lessons, and duration.
With a subscription, users can access any language and learn several languages within the same subscription.
Students can change a tutor at any time and cancel their subscriptions at any time.
Users can refill their lesson balance before the next billing date.
Notifications and reminders in the app will help you not to miss a lesson.
Users can have lessons on their smartphones.
Choosing tutors according to your learning goals.
Additional resources for learning: Community and Blog.
Cons
You need to create an account to check the prices for subscriptions.
Not all the tutors are certified to teach, and the platform does not properly check them.
Users can reschedule the lesson by themselves no more than 3 times and only by the end of the lesson.
It may not find a teacher if you apply many filters.
Users are charged on the next rebill date without a reminder or notification.