Short Introduction
Languages unlock the world and open the doors to possibilities, different cultures, and mindsets. But it's really hard to learn a new language, isn't it?
LiveXP Language Learning Platform aims to help people learn any language on any device from any place with the help of 1-on-1 lessons with tutors. That is what this company offers to its users.
LiveXP.com is a modern and young online platform for teaching and learning languages worldwide. Its main offer is private language lessons with teachers available on the platform.
You can find professional, certified teachers, native speakers for conversational lessons, tutors who speak different languages, etc. Live XP can also be your place for teaching and receiving money for this.
Please, take a good look at what we have to say about these companies and their services TutaPoint review and QuizPlus reviews. Are they one of the best available?
Tutoring Features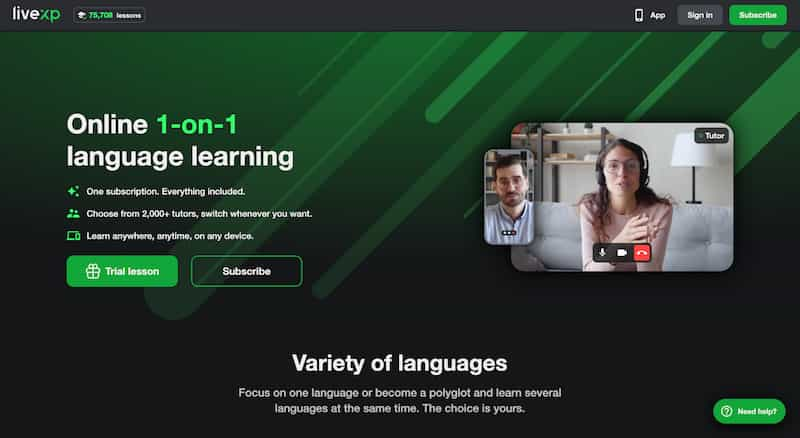 LiveXP strives for uniformity in learning, which is why it insists on a subscription model. Before committing to a subscription, however, you're required to sit for a trial lesson with a tutor, an additional step before accessing the services.
Navigation on the website can be tedious. There's a student landing page where all the information is clustered together, making it harder to discern between what languages you can learn and how the system operates.
An overwhelming number of languages (more than 35) are on offer for learning and teaching at LiveXP. This results in an excessive pool of over 2,000 tutors to sift through.
The use of filters to narrow down your search for a tutor might feel daunting. The process involves finding the right one, booking a 30-minute trial lesson that costs $3.50, conducting the lesson on the platform in the Lesson Room, and then deciding if you want to purchase a subscription, try another tutor, or discontinue if you find the experience dissatisfactory.
LiveXP enforces the use of its own video call room known as the Lesson Room, where classes are held. The Room opens only fifteen minutes before the lesson, potentially causing rushed preparation. While other platforms like Zoom or Skype can be used as an alternative, this adds an extra layer of complexity in case of technical difficulties.
In terms of subscriptions, LiveXP asserts that they are all-encompassing. Instead of subscribing to a language or a tutor, you're subscribing to the service, which can feel overly broad. It allows you to learn multiple languages with as many tutors as you want, but this lack of specification might lead to an overwhelming amount of content.
LiveXP also features a Community Section, which can cause distractions as users ask questions about languages or studies, and tutors respond. They also host a blog filled with language-related articles on various topics, which may add to the information overload.
As you navigate your Livexp review, you may wonder about other tutoring platforms. We've scrutinized the best apps for private tutors to deliver a comprehensive list that will guide your choice, ensuring you have access to the optimal resources for learning.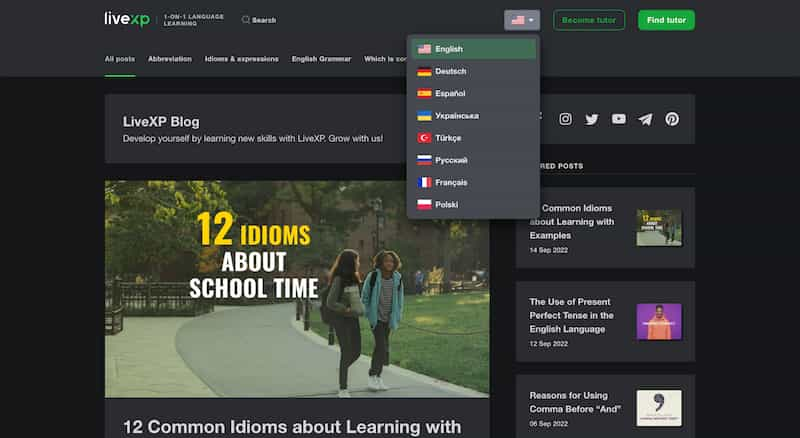 The blog is available in 8 languages: English (the biggest one), Spanish, German, French, Polish, Ukrainian, Ukrainian, and Turkish.
So, if you want to learn a language and succeed in it, check LiveXP. Is LiveXP worth it? The answer is —NO, it does not. There are many other great platforms like Preply, Varsity Tutors and Wyzant among others.
Pricing at LiveXP.com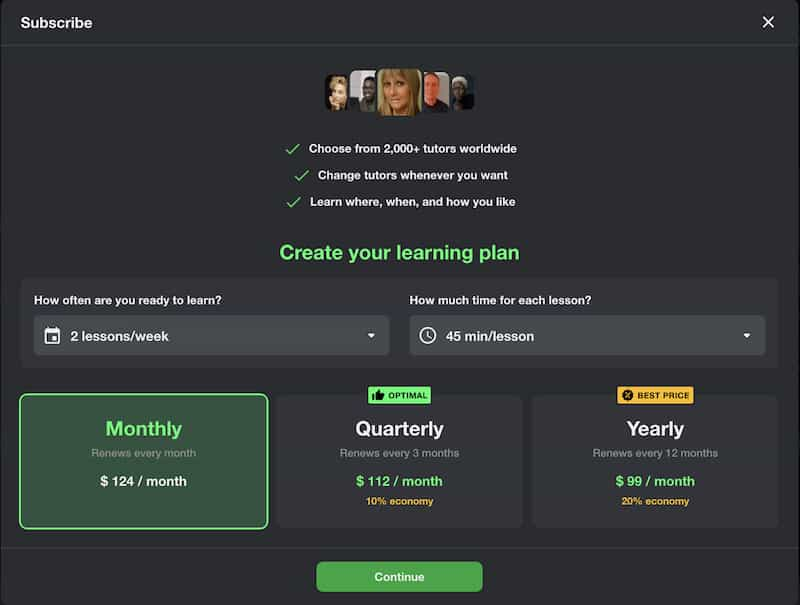 Pricing is one of the most important topics when choosing a platform for learning languages. As it was mentioned before, everyone has access to trial lessons. They cost $3.49 no matter what language and tutor you're interested in.
The price for the subscription depends on several factors: subscription plan (monthly, quarterly, yearly), number of lessons you want to have per week (from 1 to 5 lessons per week), and their duration (30, 45, and 60 minutes).
Learning Spanish can be an enriching experience, especially when it's conversation-focused. For tools that promote this approach, explore our recommendations for the best Spanish apps for conversations.
How Much Does LiveXP Cost?
One of the more contentious aspects of LiveXP is the cost of its subscription. The most basic plan allows for a mere 1 lesson per week of 30-minute duration. The most extensive plan comprises 5 lessons per week, with each lesson lasting 60 minutes. The bare minimum monthly subscription is set at $42.
However, purchasing a larger plan does not necessarily guarantee better value as you'll end up paying less per month. Quarterly and yearly plans may appear more appealing if you're looking for consistent study but the costs can pile up. The highest tier subscription at LiveXP (5 lessons per week, 60 minutes each) costs a staggering $413 on a monthly plan.
The costs do reduce marginally with a quarterly subscription to $371 per month and to $330 per month with a yearly subscription, but this involves a longer-term financial commitment.
Payment methods are restricted to select bank cards: Visa, Mastercard, American Express, and Discover. For those using the LiveXP app, ApplePay and GooglePay are the only options available.
With the subscription, a student gets access to all languages and tutors at LiveXP, which can be overwhelming to navigate. They are granted a lesson balance within their subscription, leading to the potential pressure of scheduling lessons for any time or impulsively opting for an instant lesson.
Given that this is a subscription model, a user's plan has a billing date when it will be automatically renewed, catching the user off guard. This means the user will be charged and the lesson balance will be automatically replenished, whether they are ready or not. But this is the usual caveat of subscription services.
Quick Comparison with Cambly
When comparing prices for the subscription model on Cambly and LiveXP:

A monthly plan with 2 lessons per week and 30-min/lesson will cost $89 at Cambly.
The same plan will cost $86 at LiveXP: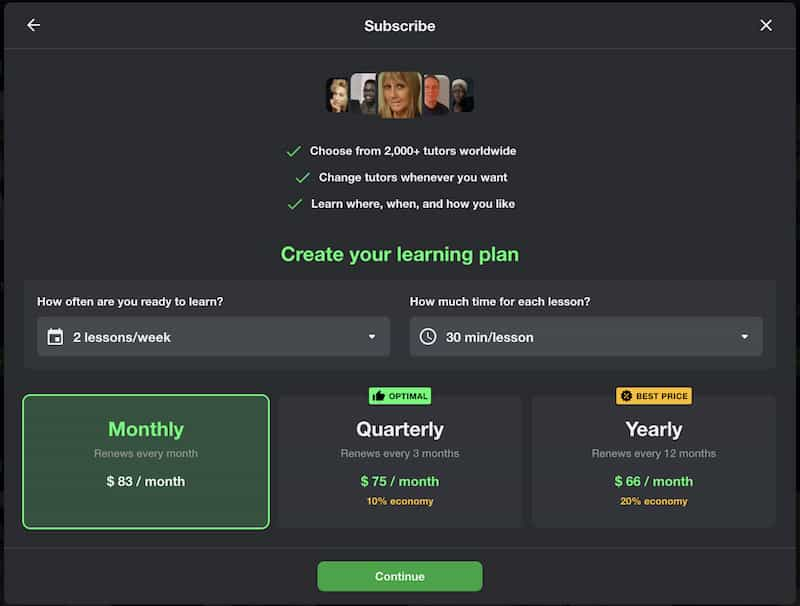 So, we can see that the prices are almost the same, and users will have an average cost of a LiveXP subscription.
On Preply, for example, you can't check subscription prices if you didn't have a trial lesson, which is not convenient.
How Much Do Tutors Earn?
LiveXP functions as a marketplace where students purchase knowledge and tutors sell it, but the system might not be as beneficial for tutors as it initially appears.
The subscription plans at LiveXP strictly dictate the lesson prices, leaving tutors with no autonomy to set their own rates. The tutors' earnings are subject to a so-called tutor level, which can be restrictive.
As per the LiveXP FAQ, tutors receive a meager $3.49 for a trial lesson. If a student decides to purchase a subscription within 30 days following a trial lesson with a tutor, the tutor receives a bonus of only $10.
Each tutor has their own level, determined based on previous lessons. Every successful lesson contributes only a single point to the tutor's level. When tutors level up, their per lesson rate increases, but it remains within a narrow range. For a full hour-long lesson, a tutor can earn only between $10 to $15, dependent on their level.
This payment system, far from being rewarding, seems overly complex and may not incentivize tutors sufficiently.
Quality of Tutors and Tutoring Sessions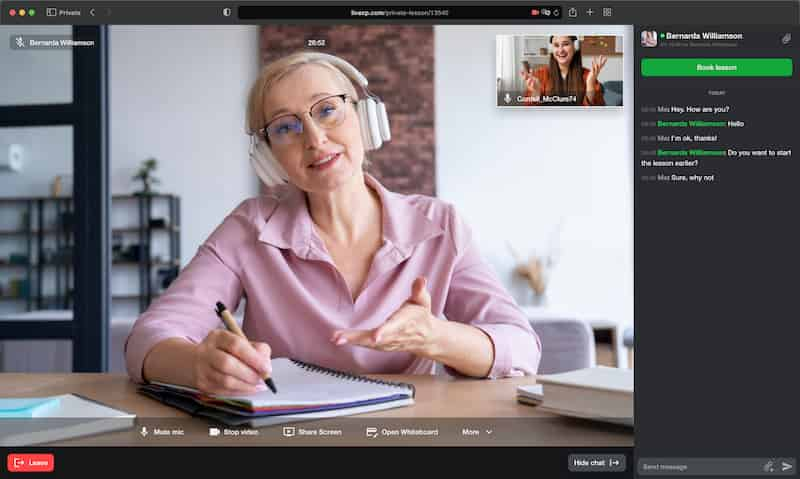 While LiveXP boasts an extensive array of tutors, not all are certified professionals, leading to varying levels of quality. Students may encounter a mix of native speakers, professional teachers (both native and non-native), conversational class tutors, and more. Although users can view tutors' certificates and diplomas in their profiles, this doesn't necessarily equate to effective teaching.
Regrettably, there is a risk of booking a lesson with an unreliable tutor who may not show up. Even though you may receive a refund after contacting the Support Team, it's an inconvenient process to go through.
The fact that LiveXP doesn't regulate its tutors raises questions about the platform's reliability and doesn't assure that your scheduled lesson will happen as planned.
While it seems that selecting a tutor who has previously conducted lessons, as opposed to a new one, might be safer, this strategy doesn't entirely eliminate potential issues. Even though many teachers at LiveXP have 5-star ratings and positive feedback, it's clear that the platform has room for inconsistency in terms of tutor reliability and quality.
Are you looking for an in-depth analysis of online English learning platforms? Take advantage of our English Class 101 review. It deepens into the program's features, course quality, and overall effectiveness, arming you with all the necessary information.
Student Feedback and Reputation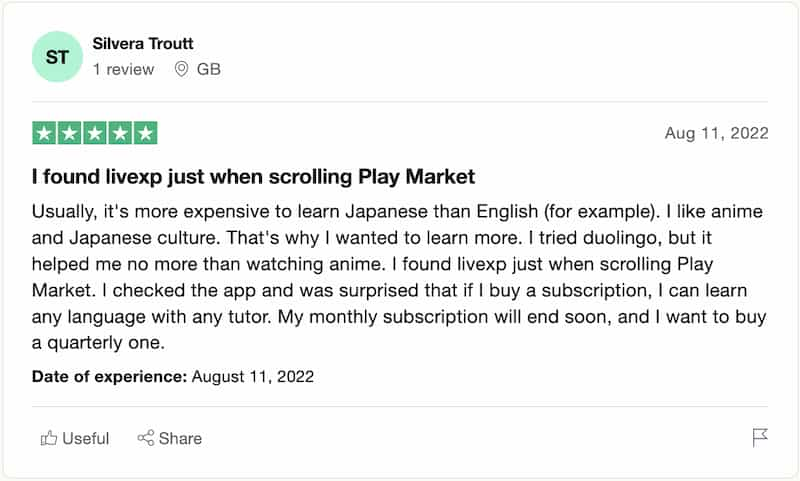 Despite LiveXP's promotional assertions of user satisfaction based on reviews left on Trustpilot, Play Market, and the Apple Store, the word "quality" used to describe the lessons and tutors is put into questionable quotation marks.
Though the LiveXP Support Team is touted as polite, helpful, and attentive, it's unsettling that users frequently encounter issues needing their intervention.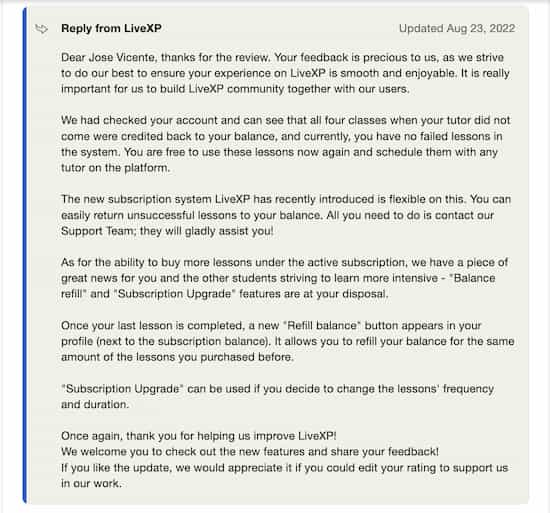 The platform is not immune to criticism, as indicated by the presence of 1-star reviews from disgruntled users. The existence of these low ratings suggests that not all experiences on LiveXP are satisfactory, casting doubt on the universally positive image the platform attempts to portray.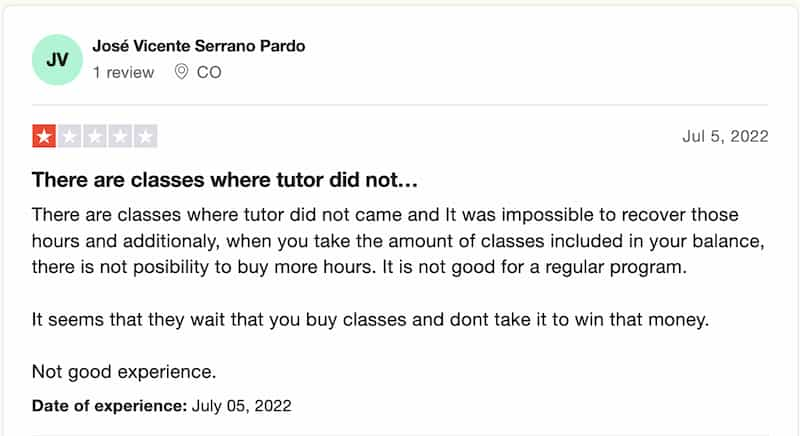 Website and Mobile App Usability
Despite LiveXP platform offering both Android and iOS applications, a comparison between the two reveals an uneven distribution of features, with the iOS app being unfairly advantaged. This discrepancy leaves Android users with a less feature-rich experience.
Although it's touted that both students and teachers can conveniently join lessons on their smartphones using the app, this might present issues for those who prefer a larger screen for learning or teaching.
The apps, while purportedly user-friendly, are simply condensed versions of the website. This can potentially result in a compromised user experience due to reduced functionality.
LiveXP provides applications and website access in 14 languages, which may confuse some users with unnecessary translations. Users are inundated with all notifications, reminders about lessons, and messages through the app, which can lead to an overwhelming amount of information to manage.
In light of exploring LiveXP, considering alternative tutoring options might be beneficial. Despite LiveXP's efforts to portray its advantages, our balanced review of Tutor.com suggests the platform offers a more comprehensive approach to teaching methods, tutor quality, and overall learning experience.
Pros
The 30-min trial lesson isn't free, costing $3.49.
Students are restricted to only one trial lesson per tutor on the platform.
The purchase flow can be confusing as users must select their subscription plan, number of lessons, and duration.
With a subscription, users might find it challenging to focus due to access to multiple languages within the same subscription.
Students may lack consistency in their learning as they can change tutors and cancel subscriptions at will.
Refilling lesson balances before the next billing date can lead to undue pressure on users.
The app's notifications and reminders might clutter users' devices and become intrusive.
Having lessons on smartphones may compromise the learning experience due to smaller screen sizes.
Selecting tutors based on learning goals might be subjective and lead to inconsistent learning experiences.
The additional learning resources: Community and Blog might not be adequately curated or personalized for individual learning needs.
Cons
Users are forced to create an account just to view subscription prices.
The platform fails to ensure all tutors have the appropriate certification for teaching.
The ability to reschedule lessons is limited to three times, and only possible before the lesson ends.
Applying too many filters might result in not finding any available tutors.
Users are subject to unexpected charges on the next rebill date due to lack of reminders or notifications.