The life of a student can be pretty busy. It seems like the list of things you need to complete keeps growing, and studying and completing homework is getting harder. Fortunately, there's QuizPlus, the largest database of questions and answers on various academic topics.
In addition, the site offers math homework help. If this sounds interesting, but you aren't sure whether it's for you or not, rely on our QuizPlus review.
We take all the essentials into account when evaluating services like QuizPlus. We consider quality, features, prices, website usability, value for money, students' feedback, and various guarantees. You'll learn everything you need in this Quiz Plus review, so let's dive in.
What Is QuizPlus?
QuizPlus is the most extensive database with thousands of academic questions and answers that helps students to study better and be more effective. The site also provides one of the best homework help. As a student, you can get assistance from the community of learners. You'll get the answer right away when you ask a question, even if the question is tricky.
The platform works straightforwardly:
Visit the website
Explore what the site offers, from quizzes, topics, questions, etc.
Subscribe
Start studying
Ask questions and get answers instantly
QuizPlus has many excellent features. Once you start using it, you'll take your studying experience to new levels. You won't waste time finding the answers you need; you'll get them immediately. The service is easy to use, affordable and will make your life easier. You will learn smarter and faster.
Please, take a good look at what we have to say about these companies and their services TransTutors review and Learner tutors reviews . Are they one of the best available?
QuizPlus Features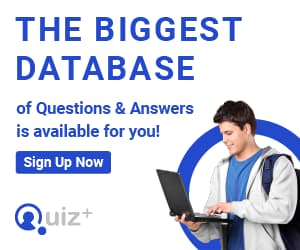 QuizPlus is a feature-rich platform. Every student who is struggling when studying will find this database super helpful. If you think you are spending too much time searching for answers or need hours to complete the homework, QuizPlus could be an excellent option. You will study faster and smarter.
You can find various quizzes on the site, and new ones are added monthly. The same goes for flashcards, one of the most popular features on the platform. You can use flashcards to test your knowledge. What's more, you can create your deck of flashcards.
When you subscribe, you get five premium questions to ask tutors. Whenever you refer QuizPlus to your friends or someone you know, the provider rewards you with points you can use to unlock a deck or quiz.
If you want to help the community, you can use the Upload study material feature. As a user, you can upload the material so that other users can access it. When you do this, QuizPlus will reward you with points you can spend on quizzes or decks.
When you want to search for a question and get the answer, you can:
You can click on the hamburger icon in the top-left corner of the screen and click on Discover topics
Or, you can type the questions in the search box at the top of every page
Pricing
For every student interested in this studying platform, pricing is one of the most important things. Many are wondering is QuizPlus free. When you log in, you are on a free plan. If you want to unlock quizzes and get the most out of the database, you will have to start a new plan.
QuizPlus has several subscription plans, and the price varies:
Newbie – $15 per month, billed monthly, 9 nee quizzes
Intermediate – $11 per month, $33 billed quarterly, 27 new quizzes
Geek – $7.5 per month, $90 billed yearly, 108 new quizzes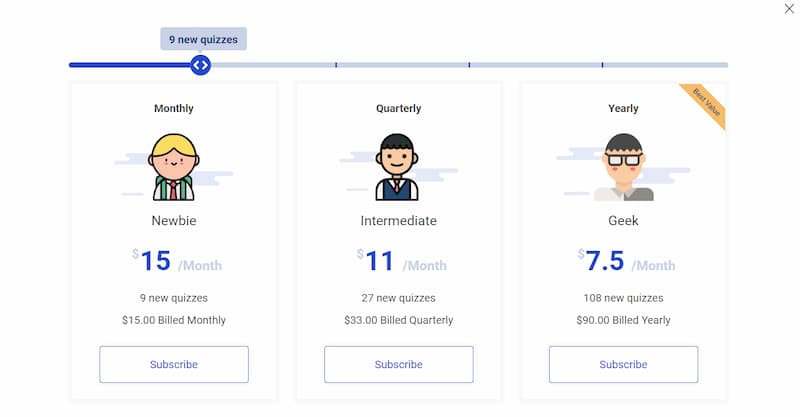 Once you choose the plan that suits you, click Subscribe.
Next, choose the payment method. The options are:
PayPal
GPay
Credit cards – Visa, MasterCard, Maestro, American Express
Once you select the option that works for you, enter the details, enter the QuizPlus coupon if you have any, and click Confirm payment.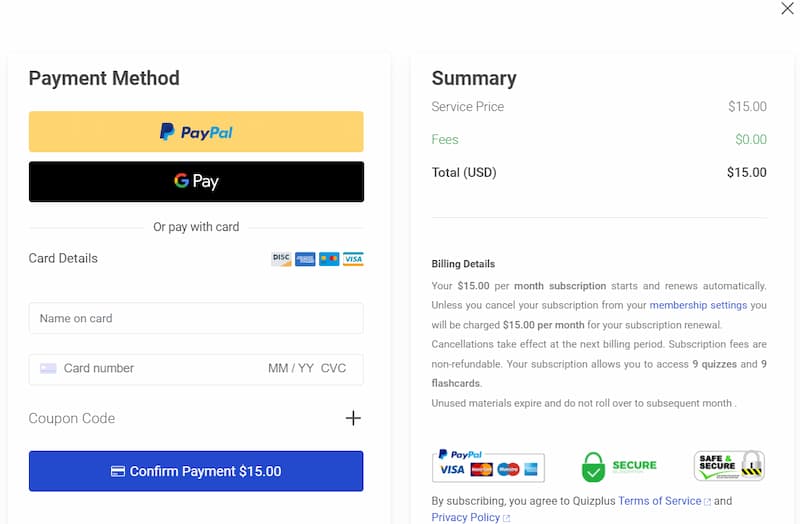 Keep in mind that subscription fees are non-refundable.
If you are wondering how to cancel your QuizPlus subscription, follow the steps below:
Go to the platform and log in using your credentials
On the right, find the "I want to" menu and click on it
When the drop-down menu opens, click on "Cancel subscription".
Quality
The QuizPlus quality is on a high level. The platform covers 10 million questions in over 25 fields. The idea is to study smarter and faster by finding the answers to questions in seconds.
In addition, the platform offers flashcards and quizzes that allow students to test their knowledge and prepare for exams quickly and effortlessly.
The service provider is focused on the security and safety of students. It keeps all the private data and info safe and protected. Privacy is taken seriously. In addition, payments made on the site are also safe and secure.
There's no money-back guarantee. Once you pay for a subscription, the fees are non-refundable.
The platform differs from similar service providers because it covers over 25 fields and provides millions of answers. In addition, it offers affordable monthly subscription plans, while others charge per question or hour.
| | | | |
| --- | --- | --- | --- |
| Provider | Price | Charging | Content |
| QuizPlus | Starting from $15 | Monthly, quarterly, yearly | 25 fields, millions of questions and answers |
| Chegg | Starting from $14.99 | Monthly | Q&A, grammar checker, plagiarism checker, math solver, etc. |
| Plain Math review | $3 to $7 | Per question | Math questions and answers |
| Princeton Review | Starting from $39.99 | Per hour | Academic tutoring |
Value for Money
You could be wondering are the prices listed above worth it. It depends. If you don't feel motivated to study, or you lose a lot of time trying to find answers for exams or homework, QuizPlus can be a great option. It will put things into motion and will help you learn much faster. You won't spend hours searching for solutions because they are just a few clicks away.
When you choose one of the subscription plans, you instantly get access to millions of questions and answers, flashcards, quizzes, and more. Unfortunately, the content you can access with a free plan is limited.
So, choosing one of three options is definitely worth it. If you select the Intermediate or Geek plan, you will pay quarterly or yearly, but you will save a lot of money in the long run.
If you are wondering is QuizPlus legit, the answer is yes. It is safe for the students and very easy to use. The site is neatly organized and user-friendly. The provider does offer value for money.
Student Feedback and Reputation
When you visit the QuizPlus site, you will see the FAQ section at the bottom of the page. It's a decent base of frequently asked questions with provided answers, guides, and explanations on how to do something on the site.
However, it would be great if the company added more content to the section, especially about guarantees.
If you don't find the answer you are looking for, you will have to contact customer support. There's a live chat option. Just click on the chat window in the bottom-right. The response time is pretty quick, and the agents are friendly, professional, and ready to answer questions and help.
If the query you have isn't urgent, there's another option to contact support, and that's via email. The address is [email protected].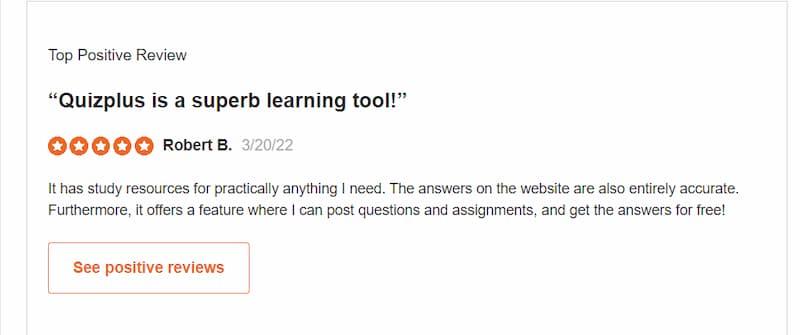 Many QuizPlus reviews show customer satisfaction. Students said they are learning faster and easier, and many are impressed with how they can give back to the community of teachers, educators, and other fellow students. Below is another one of the Quiz+ reviews.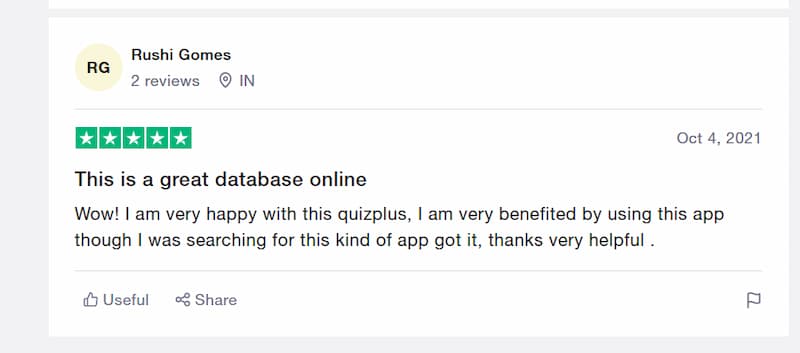 Pros
Quizplus has a free trial for 2 Days.
There are three available subscription plans.
The website is user-friendly and easy to navigate.
The database covers 25 fields and provides millions of questions and answers.
When choosing Intermediate or Geek plans, you can save money in the long run.
Customer service can be reached via email and live chat. The representatives are friendly and professional.
When you refer QuizPlus to others or use the Upload study material feature to give back to the community, the platform rewards you with points you can spend on quizzes and flashcards.
Cons
The platform does not offer a money-back guarantee.
The FAQ section could be improved.
Conclusion
Here, in this Quiz+ review, you can find all the essentials about the provider, including its services, subscription plans, prices, and more. Is Quiz Plus legit? If you have been wondering, now you know it is, and if you like how it works and what it provides, you can become a part of it.

Generally, the provider is great; as the college homework help provider, it motivates the students and helps them achieve their goals faster and easier.