There are thousands of options available offline and online for academic help. Though the numbers are more, if you look closely, the numbers of reliable & capable academic support resources are very few.
Therefore, obtaining quality support at a competitive price in this 21st century has become a pressing matter for students. Making an informed decision while seeking academic help from experts is essential.
Hence, we've covered every necessary detail in this TutorBin learning review to ensure that you decide where to go without getting biased.
Need some help with your homework? Check out our PrincetonReview homework help reviews. We cover everything from tutor quality, and subject coverage, to pricing, offering you a full picture of what this platform can offer.
Is Tutorbin Worth It to Seek Academic Assistance?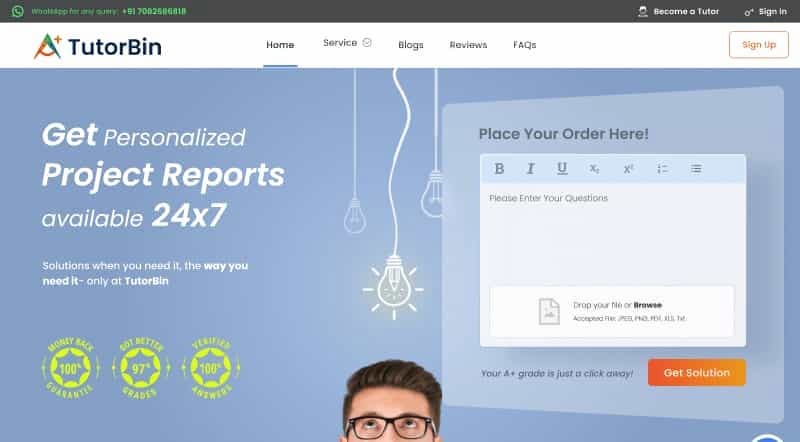 TutorBin is a student-oriented platform that aims to offer personalized academic help to students for filling their knowledge gap and providing education beyond barriers. Through this platform, students can fulfill their academic requirements by seeking expert help.
It lends a helping hand to students in gaining knowledge and managing time productively to achieve academic success.
Moreover, it also supports tutors to upskill, earn a stable income, and boost their careers.
World-class experts, high-quality unplagiarized task delivery, on-time submission, and 24/7 service support are some of the best features that you couldn't ignore in TutorBin reviews.
Their accessible dashboard and app make studying help more relaxing. All these features make students' academic help experience better.
Check Course Hero review on our website and find yourself a top platform with the best courses on various topics, from photography to writing.
TutorBin Story
Before we dig deeper into this TutorBin learning review, let us tell you the background story of TutorBin. You might not find it in other TutorBin reviews, but we have also focused on their story. It starts with a higher-study pursuing students realizing learning challenges in 2015.
The learning was exhaustive yet not as productive as expected due to teaching experts. The high demand for academic support was prominent among students as the learning system lacked comprehensiveness.
During your quest for perfecting your writing, you might have come across Grammarly. Our deep dive into the popular tool sheds light on its features, capabilities, and limitations. Discover more in our detailed Grammarly review.
This pressing concern became the seed from which the founder of TutorBin conceived the idea of establishing a platform for comprehensive, simple, yet individualistic learning.
On-demand precise tutoring and personalized help were introduced in the EdTech industry to create a positive environment for meaningful education.
Services that TutorBin Offers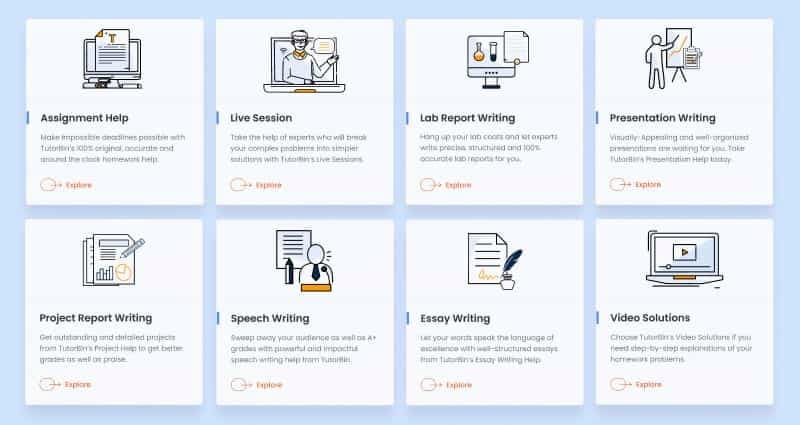 Assignment/Homework Help
The step-by-step solution offers explanations that simplify complexity, other than ensuring quality & accuracy. 24×7 service availability makes sure that students get on-time help, even at odd hours.
Live Session
The best option for learning is getting sessions directly from tutors. The detailed discussions on questions, the topic breakdown for concept clarity, and graphical explanations make TutorBin live sessions engaging yet extremely effective for students.
Lab Report
TutorBin lab report service is known among students of universities and advanced studies for its well-researched, error-free, and analytical writing.
The 24*7 availability of experts and complete confidentiality made TutorBin one of the best choices for academic help.
Project Report
TutorBin has project report experts for students with different academic backgrounds and levels.
The quality research, proper argument, and well-thought content with zero plagiarism make this service highly demanding among students.
Presentation Writing
Presentation in higher studies is essential. Though it's tough, TutorBin made it easy for students.
The presentations it offers are well-organized, non-plagiarized, well-thought, properly researched, informative, and visually appealing.  
In the world of academic help services, Papers Owl has made its mark. To get a clearer picture of what it offers, dive into our detailed reviews on Papers Owl, where we discuss its services, pros, cons, and user experiences.
Essay Writing
TutorBin has a strong base of writing experts for taking care of essays. Students prefer TutorBin with essay writing for thorough proofreading, multiple layers of editing, and several revisions.
Students get free citations and exclusive content with zero plagiarism when they opt for TutorBin.
Speech Writing
TutorBin eases the task of speech with their speech writing services. Their writing experts ensure that the speeches they offer are interpretative, coherent, information-rich, and engaging to grab the audience's attention.
Video Solutions
With the help of TutorBin video solutions, students can achieve high grades as they get concept clarity with examples, diverse practice tips, and tricks. Visuals, audio & text explanations also help them in learning.
Q/A Library
Unlimited access to the question-answer library is one of the plus points of opting for TutorBin for academics.
Students can take diverse subject support to achieve concept clarity and a thorough understanding of the problem-solving approach.
What Are the Benefits?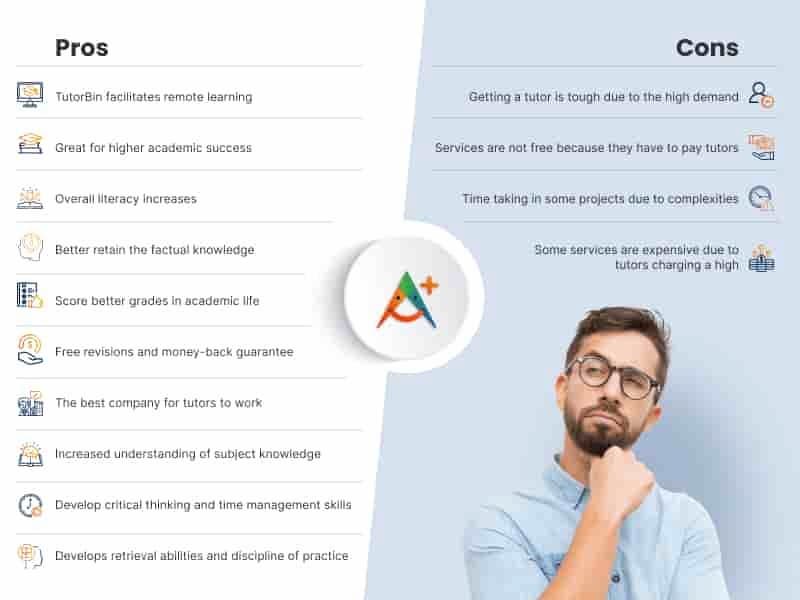 TutorBin has one striking difference. Unlike other websites, it does not charge for services necessary for writing and other assignments. TutorBin offers these services as additional perks whenever you opt for them.
They don't charge any extra fee for these services, and neither students have to ask for them. Undoubtedly, this reason puts TutorBin at an advantage over its competitors.
Proofreading service
Grammatical Checking
Plagiarism Checking
Citations
Upcoming Services: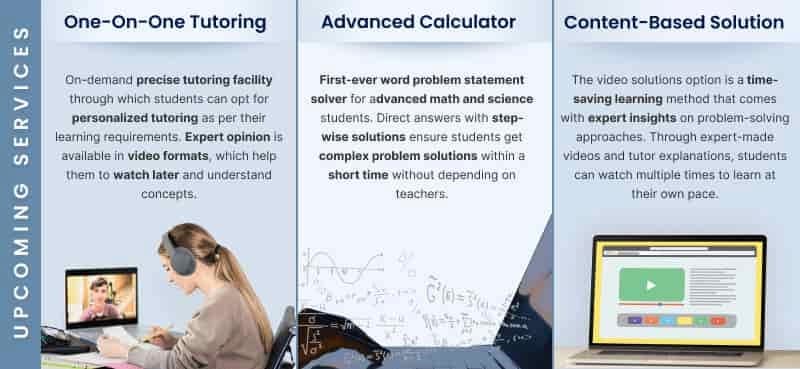 One-On-One Tutoring – On-demand precise tutoring facility through which students can opt for personalized tutoring as per their learning requirements. Expert opinion is available in video formats, which help them to watch later and understand concepts.
Content-Based Solution – The video solutions option is a time-saving learning method that comes with expert insights on problem-solving approaches. Through expert-made videos and tutor explanations, students can watch multiple times to learn at their own pace.
Advanced Calculator – First-ever word problem statement solver for advanced math and science students. Direct answers with step-wise solutions ensure students get complex problem solutions within a short time without depending on teachers.
Is TutorBin Legit?
In this digital age, at least to those who have experienced legit and scam sites offering academic help, the question is normal.
In this TutorBin learning review, we will also answer this question. Students who are thinking, "is TutorBin legit?" let us inform them that there are no legal prohibitions against professional help.
Moreover, the service offers assistance just like other professionals. Therefore, it's legit.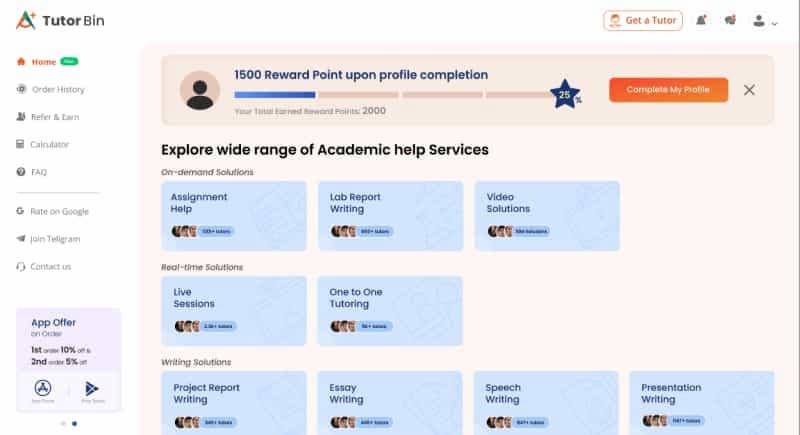 Moreover, TutorBin follows a strict confidential policy where they don't disclose personal information and services taken by them. That provides students with a sense of security.
If you're on the lookout for a comprehensive online math tutoring platform, ThinksterMath might pique your interest. For an in-depth understanding of what it brings to the table, explore our ThinksterMath review, which discusses its features, tutor quality, and more.
Indeed a smart strategy opted by this company to prevent misleading activities. It explains why students consider it a safe academic help site.
Is It In High Demand Among Students?
According to a recent NBN Digital Parenting Report survey, 75% of students use online homework help services.
Accordingly, TutorBin aims to improve students' academic life by delivering the best educational assistance. Here are the ultimate features which TutorBin offers to every student:
Expert Help On Diverse Subjects (500+) at TutorBin is truly a life-changer for students to enhance their subject knowledge and boost their academic grades.
Zero Plagiarism & 100% Accuracy is the policy of TutorBin. Each of their experts is committed to producing pre-original work with quality oriented.
Pocket Friendly Services are the focal reason that makes TutorBin the first choice of preference for students' homework help.
On-Time Submission of assignments is a high priority set by TutorBin for their tutor team to meet deadlines without compromising on quality.
Highly Ratings & Reliable Reviews makes TutorBin one of the leading homework help websites for students. A huge number of student reviews and rating of 4.63/5 is a proof why students choose it.
Guaranteed Confidentiality is the principle of TutorBin to keep the student's information private, and they never disclose any information at any cost.
Round-The-Clock Guidance From Experts at TutorBin will allow students to learn and seek any services in different time zones worldwide.
TutorBin Provides Good Customer Support in a quick, easy, personalized, and empathetic way to help students in their academic life.
Unlimited and Free Revises are making TutorBin more trustworthy in delivering quality-oriented solutions.
Money-Back Policy is a top feature of TutorBin that clearly shows their interest in offering high quality services than the payment you are charged.
TutorBin Service Pricing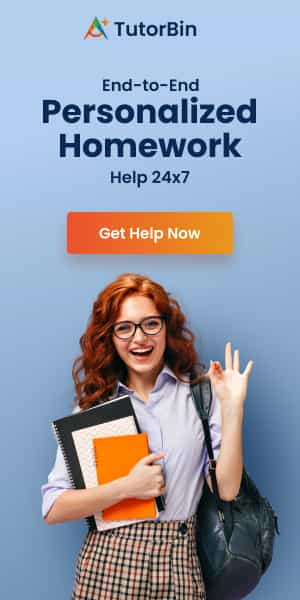 Before taking academic help from TutorBin, let's look at their pricing models and payment options.
The average cost of a TutorBin service varies depending on the complexity, tutor availability, and timeline. I found TutorBin service pricing quite affordable for students than their competitors.
If you seek help for homework help from TutorBin, the homework help price starts from $4. It doesn't mean that they don't focus on qualities. The pricing often increases with the tutor's experience and subject proficiency.
In addition, another thing that contributes to the average cost of a TutorBin is the higher rating. Tutors having higher ratings and good reviews often become more in demand by students.
The service rates are competitive, considering how quickly they provide students with high-quality academic help.
Surprisingly, TutorBin also has a refund policy, ensures that the organization deeply cares for students, and follows a money-back guarantee if students don't get satisfied.
Payment Options & Earning Methods
While doing this TutorBin review, we found that this company uses payment options like Stripe and all types of debit & credit cards. You don't have to do much. Just choose what suits you best, and you are ready to seek service from them.
Through their refer n earn scope, students will be able to get the scope of passive earning during their academic years.
In addition, TutorBin also has a Campus Ambassador program for students as well as tutors. It supports them to ease up their financial condition, which often gets upset due to high education costs.
The campus Ambassador training program of TutorBin is designed for both tutors and students. It not only helps to explore good earning opportunities but also motivates them to boost their career by upskilling and knowledge retention.
Student Feedback & Reputation
As we did several online research and came across the student's feedback, TutorBin is among the best online homework help service providers.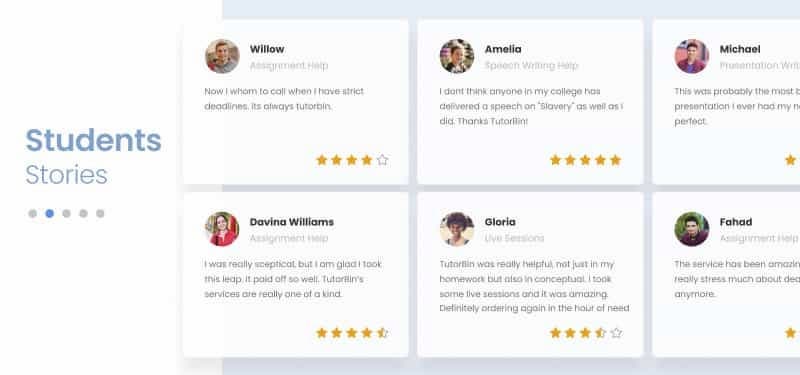 They have a 4.63 Rating on their platform and a 4.2 Rating on Trustpilot. 90% of their students are satisfied, and the company loves its prestige.
Website and Mobile App Usability
TutorBin Website 
We have seen the customer reviews and ratings on the website of TutorBin. It is the key reason we're reviewing this homework help website. They have a simple and easy-to-use user interface.
The website is designed considering the user experience. The images, fonts, and colors make it look better.
The loading speed is good, and users don't have to wait longer when they visit this site. It makes better visualization and also offers an excellent user experience.
The platform TutorBin uses AI to identify the personal geek for every assignment. An excellent feature of the site is its easy-to-digest content with an intuitive chat widget.
However, students can leave a message on the chat box regarding their concerns about the course. This will enable them to receive an immediate response from their customer service team.
Moreover, students can take advantage of the library section on their website, which provides access to over 1.5 lakh solutions.
TutorBin App

Throughout the TutorBin review, we catch them introducing the homework help app to break down the learning gaps and improve students' academic lives. The app has a user-friendly interface for both Android and iOS cellphones.
The coolest thing is that students don't need a laptop or desktop to access homework assistance; they can access it from mobile anywhere in the world even while traveling.
The TutorBin app also offers a nifty scanning option that students can use to scan questions for answers directly. It supports more than 500 subjects.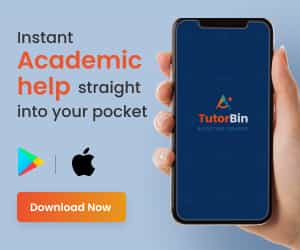 This lightweight TutorBin app is the preferred alternative for students to enhance their knowledge and personalize their learning experience.
In addition, the TutorBin app also improves engagement, makes online study material accessibility easy, and facilitates effective communication.
Moreover, the app helps college students complete their assignments, memorize topics, learn about subjects and improve their understanding of a subject.
Pros
TutorBin facilitates rote learning.
Great for higher academic success.
Overall literacy increases.
Better retain the factual knowledge.
Develop critical thinking and time management skills.
Develops retrieval abilities and discipline of practice.
Increased understanding of subject knowledge.
Score better grades in academic life.
Free revisions and money-back guarantee.
Cons
Getting a tutor is a time-consuming process.
Services are not free because they have to pay tutors.
Time taking in some projects due to complexities.
Some services are expensive due to tutors charging a high fee.