Check the short video of Lingoda review below:
We learned about Lingoda when the site appeared in our search for the best language-learning schools online. The positive reviews Lingoda got have earned them almost a 5-star rating on Trustpilot and Google.
What interested us most was its rising popularity among students, professionals, and travelers due to its lucrative language promotions.
Our peer Lingoda review offers honest and reliable opinions from our team of experts who have participated in numerous language classes online. Our criteria for evaluating language learning online services factors in elements such as Prices, Quality, Mobile App, Website Usability, Customer Service, or Support and Guarantees.
We signed up for the different language learning courses and took advantage of the start 7-day free trial to develop a trusted opinion on the services offered by Lingoda.com.
We enrolled our language reviewers in the English, English, Business, French, German and Spanish classes. They participated actively in private and group class conversations.
We acknowledge that most people are still on the lookout for affordable and efficient language-learning avenues. If you are not sure what to expect from Lingoda.com, we recommend that you go through our review and make the right decision in the end.
We have done the homework for you, so you no longer have to endure the burden and cost of learning the hard way through the experience.
This expert Lingoda review is ideal for individuals or teams who wish to learn a foreign language, regain their fluency and confidence or step up their learning. Lingoda might have few languages, but it does stand out from its competition.
Are you looking to improve your English, Spanish, German or French skills but do not know where to start? We have shared our experience in this Lingoda online review to help you learn more about them.
Is it the best website to find tutors online? Let's find out.
Lingoda Overview

Does Lingoda guarantee that they have good teachers? Does it help at all?
Lingoda does guarantee good and qualified native-speaking teachers with no exceptions. They only hire tutors with years of experience and use their training methods and standard to maintain the highest quality language teaching services.
Based on Lingoda reviews, most professionals and travelers who have used their services speak about developing confidence and fluency in their language of interest.
Is Lingoda safe? Is Lingoda a scam? 
Lingoda is accredited by the German government. The Berlin-based company is not a scam because the certificate you receive after going through all the classes is recognized globally and in major German institutions.
You can use your Lingoda certificate to enhance your CV and boost your career.

Just like its competition, Lingoda deals with concerns and complaints about refunds and cashback. Most of the negative reviews are due to misunderstandings of the terms and conditions.
During our Lingoda review, payment transactions made through the website were 100% secure.
Services at Lingoda.com
Is Lingoda the best website to learn English nowadays? Lingoda.com markets itself as the number one trusted online language school. It offers British English, Business English, German, French, and Spanish learning lessons in five courses.
You can choose to learn any of the five languages at your pace or participate in courses that come with lucrative offers.
Courses to explore:
Month-to-month;
Language Marathon™ (Quarter, Half or Full);
Language Sprint™ (Sprint or Super Sprint);
Linguaskill Cambridge Test.
English and Business English language
From our Lingoda review, we noticed that the English and Business English language learning service was available at any time of the day or week.
The Business English course (A1 to B2), which Lingoda recommends, is tailored for busy professionals looking to improve their English.
Language lovers looking to improve their English often opt for the General English course (A1 to C1).
German language
During our Lingoda german review, we noticed that this class accommodates different learners of different levels. This comprehensive class comes with additional interactive exercises.
Based on the Lingoda German reviews, we found that the German classes (A1 to C1) are tailored for language lovers looking to make new international friends and feel confident traveling the world.
French course
We had one of our expert reviews, the Lingoda French class, which is also available from A1 to C1 CEFR levels. In this class, 'Life abroad' and other useful topics were used to help the students practice and develop confidence in French.
Spanish language  
The availability of numerous Lingoda Spanish reviews shows that this language class is also popular in the world. This Lingonda language class also provides a learning experience starting from A1 to C1 CEFR levels.
Our Lingoda Spanish review shows that you will learn how to use the Spanish language in different contexts. The 'Life abroad' topic was featured in this class.
During the Lingoda A1 review, Spanish learning was not just about grammar and vocabulary. You immerse yourself in real-life topics.

Through the corporate language learning service, companies can gather teams in one language class. These are exclusive classes for organizations that offer foreign-language-based jobs.
The language units are divided into 1-hour long, live-session classes. You can either participate in private or group classes.
The language lessons cover a variety of engaging subjects and life topics. Your membership subscription limits you to the language you choose first.
The private class offers more teacher-to-student conversation, while group classes promote interaction between the students. The cool thing is you get to view your entire syllabus before you begin.
Lingoda Teachers
The Lingoda is one of the best online English tutoring companies, their teachers are friendly, encouraging, and quite engaging. They only speak solely in Spanish, German, or French and only change to English when there is a misunderstanding.
The instructors use different teaching styles, where slideshows and PDF learning materials are the most commonly used tools to explain the subjects or topics in great depth.
Lingoda Prices
The Lingoda prices for various online language learning services depend on a lot of factors. The price of each service plan increases with the number of classes you take per week.
Classes held privately are a bit costly compared to learning as a group.
How much does each language learning teacher cost?
According to our Lingoda review, group classes on this site will cost you a monthly subscription of $56, $138, $200, and $760 for taking one, three, five, and 20 classes a week, respectively.
As for private classes, then you will have to part with $138, $200, or $760 for taking three, five, or 20 classes in a week, respectively.

What features do you get?
You can choose to Maintain (4 classes), Improve (12 classes), Step Change (20 classes) or Immerse (80 classes) your language skills.
Each payment plan attracts a 7-day trial package of either three group classes or one private class each day.
Quality of Lingoda Services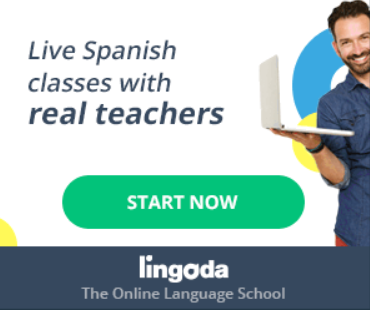 Lingoda uses an internationally recognized standard, the Common European Framework of Reference for Language (CEFR).
At the end of the courses, you will get a CEFR-aligned Lingoda certificate describing your learning progress from Beginner (A1) to Advanced (C1) language abilities.
You can also prove your learning progress by taking an online Linguaskill test from Cambridge.
Are their language experts effective and qualified enough?
Most reviews of Lingoda indicate that the site has certified, native-speaking teachers who are knowledgeable and experienced in teaching English, Spanish, German, or French.
Through a unique training method and standard, they can maintain their highest quality teaching reputation. The educators come from different countries, which is evident through their accents when they speak.
Guarantees and Return Policies
Lingoda has a cash-back policy in some of the courses. According to their terms and conditions, you have a 7-day money-back guarantee.
You can only get a refund if you can cancel the language course within seven days after purchasing your first month's subscription.

Mobile App and Website Usability
We had our team review Lingoda on different devices, from which we found that the site is user-friendly and optimized for mobile use. The interface is handy and easy to use, and no downloads are required to start your first class.
Unfortunately, they do not have a mobile app. So, if you are looking for a handy app to learn a language, check our Cambly review. These guys have a great mobile application.

Pros
The site offers live interaction and customized feedback.
Flexible and well-structured class schedules fit well with a busy lifestyle.
The 24/7 classes make it easy to learn during the day, night, and weekend.
Each of the different subscription plans comes with free trials.
The teachers speak the language with confidence and fluency.
The Language services are available for all skill levels.
The site provides content on a wide range of real-life and immersive topics.
You can always schedule your own group class.
The interface is simple and straightforward.
Cons
Your progress in a group class highly depends on other students.
Group classes have a limited amount of time for detailed conversations.
Different internet speeds may lead to disruption and awkward pauses, and silence.
Sometimes there is inconsistency in Skype or zoom performances.
Some of the content in the learning material may be unrelated to the lessons.
For each subscription, you are limited to one language.
The site has too much information, which can be confusing.
You have no control over selecting your teacher.
FAQ About Lingoda
What is Lingoda .com?
Lingoda is an online platform that offers German, English, French, and Spanish language learning services where students participate in private or small group classes.
How does Lingoda work? How to use Lingoda?
Getting started for your first class at Lingoda.com is easy. All you need is a computer, a stable internet connection, and a video conferencing tool, preferably Zoom or Skype, and Adobe Connect.
Here are the steps you need to take for your first class:
Select your level: Beginner (A1.1 to A2.2) or Intermediate (B1.1 to B2.3);
Confirm your time;
Book your first class;
Join the live session.
If you are not sure about your level, you can take the placement test. Once the lesson is over, you should get a class report and quick reviews.
Lingoda vs italki, which is better?
Find more information on our detailed analysis of these two platforms here. We also have a comparison of Lingoda and Cambly, you'd better check it out.
Why is Lingoda so cheap?
According to Lingoda reviews, it is easy to conclude that saving and earning opportunities make Lingoda's services quite affordable.
Their plans are considered to be 27% cheaper than offline courses. One of the cheapest companies for language learning is italki, and you can check the italki.com review to find out more about their pricing system.
Through Team Challenge™, you or your team can win prizes for just attending all the classes.
Lingoda's pool of awesome prizes includes:
A trip to London, Vienna, Paris, or Madrid;
Three, six, or 12-month language courses;
Private classes.
You can also claim between 50-100% cashback through the Language Sprint™ course for just attending 100% of the classes.
Our Lingoda marathon review found that the Language Marathon™ course can earn you up to €400 cashback if you manage to attend at least 90% of the classes.
Lastly, there are free hours of classes if you qualify for the Lingoda Language Scholarship Programme.