Introduction
No doubt, English is one of the most widely spoken languages anywhere in the world. The use and knowledge of English have evolved for hundreds of years, with different new elements being added to it. English combines elements of the Latin script alphabet along with English Braille.
We've had different variations of the English Language over the years, from Medieval English to Old English and finally Early Modern English.
However, each of them has combined to produce the language that we have today.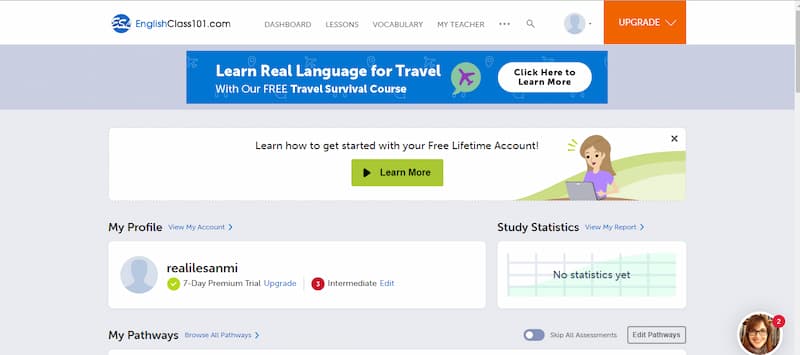 Despite the widespread popularity of the native English speaker, many people still struggle to have a good grasp of it. But with over 1.2 billion speakers of this language, it's essential that every student have good knowledge of it.
Now, that's where the real challenge is. Learning how to speak English properly is far from straightforward. While there are various options to try out online, not all of them live up to their promises and reputation.
Mastering the English language is a vital skill that opens doors to countless opportunities in today's globalized world. Whether for academic, professional, or personal purposes, many individuals seek to enhance their English language abilities.
In this quest for linguistic excellence, online platforms like English Class 101 have gained popularity as comprehensive language learning resources.
English Class 101 is One of the Most Reliable Online Learning Platforms
With its interactive approach, engaging content, and effective teaching methods, English Class 101 offers a compelling solution for language learners.
One of the standout features of English Class 101 is its interactive and engaging learning environment. The platform employs a variety of multimedia resources, including audio lessons, video tutorials, and interactive quizzes, to cater to diverse learning styles.

These resources create an immersive and dynamic learning experience, enabling students to engage with the language actively.
Moreover, English Class 101 encourages learners to practice their speaking and listening skills through dialogues and role-plays, fostering real-world application and communication proficiency.
Furthermore, English Class 101 provides a structured curriculum that covers various aspects of the English language. The lessons are organized according to different proficiency levels, allowing learners to progress at their own pace.
The platform offers lessons on grammar, vocabulary, pronunciation, and cultural nuances, providing a well-rounded approach to language acquisition.
Each lesson incorporates clear explanations, practical examples, and contextual usage, ensuring comprehensive understanding and practical application of the language.
Additionally, English Class 101 offers flexibility and convenience for language learners. The platform is accessible online, allowing students to learn anytime and anywhere, as long as they have an internet connection.
This flexibility accommodates busy schedules and diverse lifestyles, making it easier for individuals to incorporate language learning into their daily routines. Furthermore, English Class 101 offers a mobile app, enabling learners to continue their studies on-the-go, making the most of their time and maximizing their language learning potential.

In this EnglishClass101 review, we'll look at the essential details of this language learning software platform. To come up with this review, we've closely looked at quality, features, pricing, value for money, guarantee, etc.
Every tutoring service has differences. Find out in our review TheClassroomDoor reviews.
EnglishClass101 Review
EnglishClass101 is one of the online English learning platforms for students. This platform was designed to be an additional resource to support the formal learning of students.
This course is filled with different elements, such as the English in Use series. Each of them focuses on improving your overall knowledge of the English Language, including improving listening comprehension.
In simple terms, this online platform is made up of different learning modules – professional audio and video lessons. Each of these lessons is handled by a native speaker. This way, you can rest assured that you'll only be getting the best lessons.
The clips of each lesson and transcript of the courses are downloadable. This way, you'll always have access to their complete lesson access even when offline and can use them on different devices.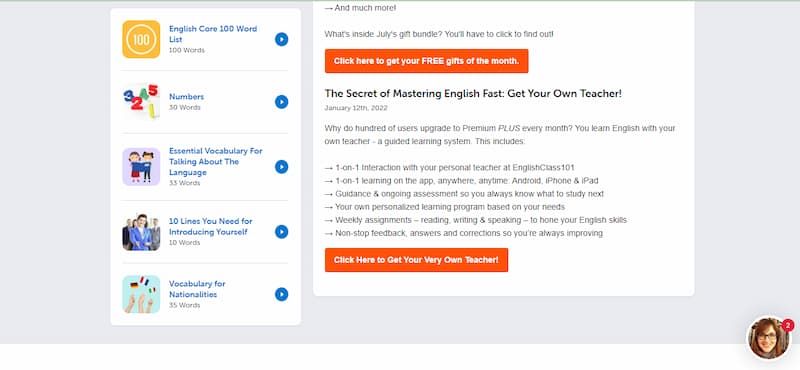 How Does It Work?
Now, it's essential to note that EnglishClass101 is an online learning platform that's developed by Innovative Language. Despite being a platform designed to teach students the use of English, the website is available in 34+ languages. This means that its contents are widely accessible to students in different parts of the world. This learning platform is accessible through the app and website.
Asides from its audio and video lessons, there are also practice quizzes and vocabulary flashcards to help you reinforce everything that you have learned.
What's more? There's an additional option where you'll get to work 1-on-1 with an English teacher. This personalized lesson may be exactly what you need to take your usage of English to the next level.
You'll have the option of a 1-on-1 teacher when you subscribe to the Premium package. This professional will create a unique lesson plan for you. This lesson will focus on your strengths and weaknesses. In addition, you'll have the liberty to message your teacher and ask language-related questions.
EnglishClass101 is free for the first seven days after you register on this platform. After signing up and subscribing to a learning plan, you'll get access to the library of lessons. Here, you'll find different videos and podcasts. You may also choose to learn in American English, British English or both.
All your lessons will be handled by a native speaker. Therefore, you have nothing to worry about regarding the quality of the lessons that you'll get.
EnglishClass101 Features
The following are the best features of EnglishClass101:
PDF Cheat Sheets
Mobile app
Three-minute lessons
Word and phrase lists
Interactive learning tools
A grammar bank
A searchable dictionary
Full transcripts and lesson notes
The next stage of this English Class 101 review is to look at the features of this learning platform. There are numerous interesting features that this platform offers to English students. Depending on your current skill level, you can use the lessons in this program to your benefit.
Different Study Levels
One of the most interesting things to note about this learning platform is that it has different study levels for students to choose from. The study levels indicate the level of proficiency of each individual. Students on this platform can study at the absolute beginners, beginner, beginner, intermediate, upper-intermediate, and advanced levels. The intermediate and upper-intermediate levels feature more lessons than others.
When you subscribe to the learning platform, you'll get access to live classes at all the learning levels. However, the lesson content will vary to a great extent. Students are also allowed to study in British English, American English, or both.
Several Learning Paths
EnglishClass101 is designed such that it allows people to learn through different pathways. You can easily choose a learning path that's suitable for your strengths and weakness. Students are allowed to choose a pre-planned path that will teach them how to become fluent English speakers.
However, there are other pathways that incorporate unique elements to pass the message across. Examples of learning paths that you'll find include; Speaking Perfect English at a Restaurant, British English Reading Comprehension, and All About American Culture and Society.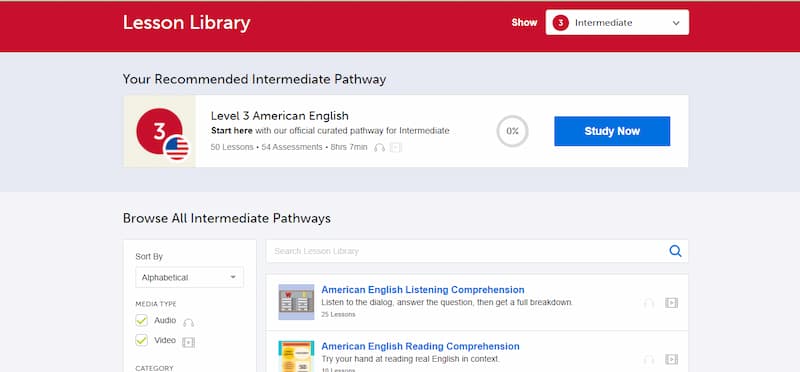 The real benefit of these learning paths is that they allow you to decide how exactly you want to learn English. The lesson library is filled with numerous important topics. It also allows users to do filter-based searches based on the video type, audio type, or skill level.
This learning platform allows you to focus on vocabulary, English conversations, reading and writing, grammar, and culture. Also, you can set your learning path based on the popularity of the lessons, alphabetical order, and the newest lessons.
If you want to hire a personal tutor for practising English reading, check our list of the best tutors for reading here.
Learning Dashboard
Another exciting thing about EnglishClass101 is that the learning platform gives every user access to a dashboard. This dashboard offers users access to all the features of the learning platform. It also allows you to check on the progress of your learning, change your expertise level and choose learning paths suitable to your strengths and weaknesses.
The dashboard is the main area of the EnglishClass101 learning platform. Here, you'll find information about the newest lessons that have been added to the platform, including information updates, new vocabulary words and phrase lists, etc.
Unlike other learning platforms focusing only on written content, EnglishClass101 offers students English lessons using videos and podcasts. Videos and podcasts offer students the chance to learn interactively. Both lessons operate in a similar manner. The lesson starts with a simple approach, where the tutor will begin by treating popular questions.
For instance, the teacher will practice asking, "How are you" and will teach you the appropriate reply to it. They would give you give multiple responses that will be applicable in real-life conversations.
At the end of each lesson, each student will get cheat sheets that will give them a recap of what they have recently learned. It will also add relevant cultural and societal information. Students may print this cheat sheet to review it later.
If you fail to understand something fully, transcripts are available to read. You can also scroll to the bottom of the page to read through the comment section. Students can use the comment section to ask questions about any part of the lesson that they are struggling with.
The professional team in charge of this learning platform is responsive and will attend to your inquiries quickly.
Word of The Day and Vocabulary Lists
To keep students motivated, this learning platform incorporates interactive tools to help you build your vocabulary pool. When you sign up for a free email service, this platform will they'll send you a new word every day. By doing this, you'll gradually build up your general knowledge of the English language.
They'll also provide several examples of how to apply the new word and use it correctly in sentences. This approach will help you build a good understanding of key vocabulary of the language without overloading yourself with complex concepts. This email service also allows students to check on previous "word of the day".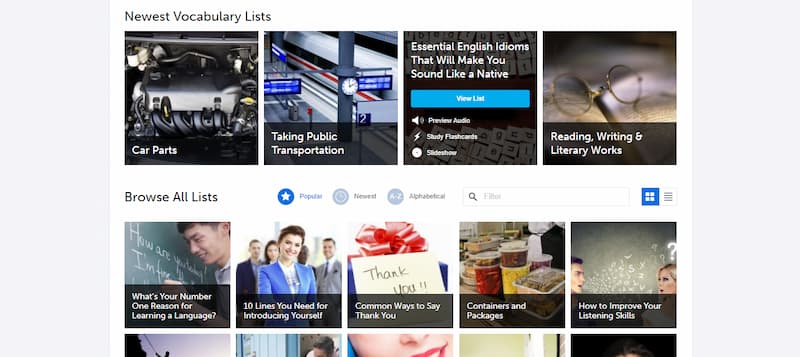 Also, the vocabulary and phrases list will ensure that you can quickly search for phrases and learn something unique each day. The vocabulary list allows students to pick english word for a topic idea and learn as many as 50 words in that category.
2000-Word List
The 2000-word section is what differentiates this learning platform from others out there. As its name suggests, this word list is filled with numerous individual words. It's a great resource and supplementary tool to help you learn some of the most common words in English vocabulary.
What's more? You can filter these words based on different categories, such as hobbies, transport, learning, etc. Before long, you'll have a better knowledge of new words in the English dictionary. In addition, you'll also come across several examples of how these words can be applied in sentences.
Who Will Enjoy Using This Platform?
If you are a beginner or intermediate learner of the English Language, you'll enjoy using this platform. Yes, there are lessons for advanced learners, but they don't compare to the numerous grammatical explanations and role-play videos that are available in the lower levels.
If you're above the B2 level in the CEFR scale, this learning platform may not be appropriate for you. But if you haven't got to this level, you'll enjoy a remarkable experience of learning on this platform.
Who Is This Learning Platform For?
This learning platform is also designed for those who are;
Motivated to learn the English language at their own pace.
Ready to dedicate some of their spare time to focus on English lessons.
Looking for simple and personalized learning structures to study the English Language.
Interested in becoming native English speakers with fluent accents and correct pronunciation.
Interested in quickly learning popular English phrases.
Pricing
Now, let's take a look at English Class 101 price. Without any doubt, EnglishClass101 is a reliable online learning platform to sharpen your knowledge of English Vocabulary. It offers students around the world the resources to learn about the language. Before signing up for this learning platform, you may wonder; how much is the English 101 class?
Well, it's important to note that some lessons on EnglishClass101 are completely free. However, it offers users three paid subscription plans – Basic, Premium, and Premium Plus plans. Each of these plans offers students something different in terms of access to content. Next, we'll take the EnglishClass 101 price, including what students are offered.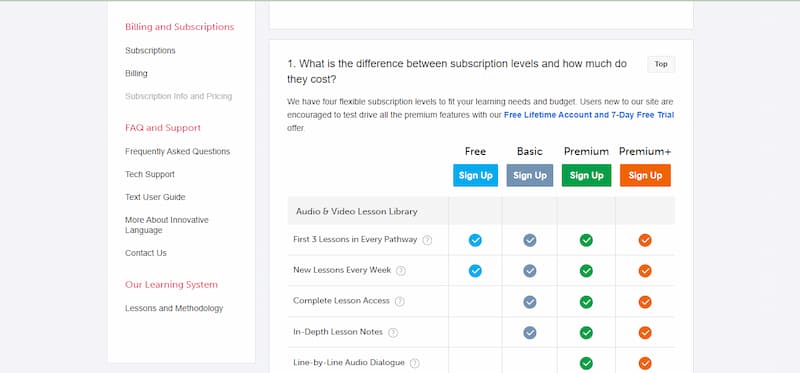 Basic Educational Plans
Basic Plan ($8/month)
You'll gain access to the following features under this paid plan;
Downloadable and printable lessons
Allows students access to a complete audio drive
Allows students to gain access to the courses through mobile, desktop and tablets.
Premium Plan ($25/month)
The Premium plan features all the benefits of the Basic Plan. In addition, you'll gain access to the following features under this paid subscription;
Repetition flashcards
Detailed word and phrase lists
Lesson quizzes
Audio transcripts
Additional content
Premium Plus Plan ($47/month)
The Premium Plus Plan contains all the features of the Basic and Premium plans. In addition, you'll gain access to;
Periodic assessments
Personalized learning pathways
One-on-one tutoring with a native instructor
Depending on when you sign up on this learning platform, you may find some generous discounts on EnglishClass101. When you navigate to the website, you'll see different bonuses and promotional offers on the platform. All you have to do is click on the offer of your choice to take advantage of it.
Quality
The next stage of this EnglishClass101.com review is to look at the quality of the learning that's offered on the platform. English 101 is a one-of-a-kind learning platform that offers students a fun and practical way to study the important aspects of the English Language.
You'll also get to learn from native speakers without having to pay heavy prices. What's more? There are English one-on-one tutors to take you through difficult concepts.
Furthermore, this learning platform stands out from others because it's constantly updated. About 3 – 5 new lessons are added every week. However, you need to note that the free version is relatively limited.
If you want free access to all the features of the learning platform, you would need to pay for at least the Basic subscription plan. EnglishClass101 relies on audio and video lessons. Therefore, it's an interactive way to learn English in a meaningful way.
EnglishClass101 vs Transparent Language Online
Transparent Language Online is another reliable online learning platform. However, it offers up to 100 different languages, and English is one of these alternatives. Students will pay up to $25 per month to gain access to this program.
The learning program on the platform includes games, learning materials for up to 25 native languages, and several learning pathways. There's also a speech recognition technology that helps users compare the quality of their pronunciation to that of native speakers.
EnglishClass101 vs Pimsleur
Pimsleur takes a different approach to most learning platforms. This platform promises to teach students fluency in 30 days. While this may seem like a bold claim, this learning platform takes steps to ensure its proficiency.
This online platform is designed for teaching Spanish speakers the rudiments of the English language. They utilize a learning approach that's similar to teaching young students how to speak English – listening practice and repetition. It costs about $15 per month to use this platform and there are hundreds of podcasts. Pimsleur allows you to have access to this learning content using internet access or download them for later use.
Value For Money
Unlike other unreliable EnglishClass101 reviews that only focus on what this learning platform does well, let's look at the value that this value platform will offer to students.
From all indications, English101 is a legit platform that has helped hundreds of students worldwide to master the English language. They offer real value for money, and all their lessons are effective. While there's a greater focus on intermediate classes, advanced learners will enjoy detailed lessons too.
This platform is easy to use, and the website is well designed. When you sign up on the EnglishClass101 platform, you'll get access to audio and video lessons, quizzes, flashcards, word lists, etc. This online platform is suitable for those interested in studying English at their own pace and looking for personalized structures that will support their learning pace.
Student Feedback
Now, it's time to look at some EnglishClass101 Premium reviews. You need to note that these English Class 101 reviews were gotten from reliable online sources.

What People Say?



Pros
Allows students to learn in both American and British English.
Online lessons contain modern content.
The learning platform supports on-the-go learning from anywhere in the world.
Large lesson library.
Numerous engaging content.
Cons
Students require a fair knowledge of English.
No huge amount of feedback.
Quick Verdict
Finally, we've come to the end of the EnglishClass101 review. It's quite clear that this learning platform is one of the most reliable online resources to help students have a good command of the English language.
You'll also gain access to the best one-on-one tutoring to help you master either American or British English. When you consider all the top features of this platform, it's easy to understand why it's a top choice for English language students.