If you want to learn Spanish, this Pimsleur review will go over everything you need to know about this program, like what you can expect to be learning and the level of effectiveness it offers. Also, before we start we want you to check our list of the best apps to learn Spanish while driving.
If you are someone who loves learning languages or just needs to learn Spanish for some reason, you may have heard of Pimsleur already. To help you decide whether this service is the right one for you or not, we have brought you this comprehensive review that will go over everything you need to know.
In our Pimsleur review, we've tried to be completely objective and have formed it after expert opinions and personal experiences.
Moreover, we use multi-faceted criteria to evaluate all the language apps we review. This includes taking into account the features, quality, user interface, prices, previous users' feedback, value for money, privacy, any guarantees offered, etc.
This means that you can remain assured that our Pimsleur method review is not biased in any way and you can base your decision on it.
Finally, Let's compare SpanishPod101 review and GrittySpanish reviews, mainly the review features they offer.
Introduction to Pimsleur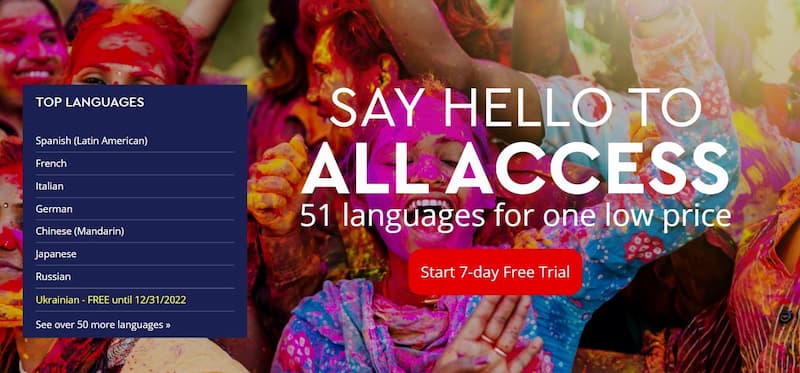 Pimsleur is a name that has been around for a very long time when it comes to learning languages. This is a popular platform for beginners who need a reliable way to learn a new language. The platform uses the Pimsleur method based on Dr. Pimsleur's research on memory.
The main element of this method is known as Spaced Repetition. Learners first listen to new words and phrases and are then asked to recall them at random intervals that increase over time. This is what makes this method different from many others.
And even though it may not be visual or as flashy as other platforms, it actually works very well.
With this basic introduction out of the way, let's get into our Pimsleur app review and see how it works and what it promises.
By the end, this Pimsleur Spanish review will give you all the knowledge you need in order to decide whether it's the right way for you to develop your Spanish skills or not.
Pimsleur Features
Spaced Repetition System
By far, the main element of this platform is the Spaced Repetition System. How does this work exactly?
Unlike other platforms where you hear and read certain words and phrases once and then are likely to forget them forever, Pimsleur ensures that you are asked to repeat a word or phrase that you've just heard at different intervals. These intervals increase with time which lets users remember the words and phrases.
Now it's important to note that the Spaced Repetition System is usually used to memorize things but in the Pimsleur Approach, it demands active participation.
We found this out when the platform asked us to say a certain word or phrase to a native speaker. This does two things. One, it doesn't let you become a passive listener, and two, it keeps you on your toes while taking a lesson because you never know when you'll be asked to respond to something to recall a word.
We found this to be very helpful indeed. We heard a word in Spanish and were asked to repeat it around 15 seconds later. Around 45 seconds later, this happened again and kept happening at slowly increasing intervals.
These intervals grew from mere seconds to days and weeks. This was very effective in our case as we kept having to remember what certain words and phrases meant and could then remember them perfectly after a few repetitions. This is how the Spaced Repetition System works and also why it is such a prominent aspect of every pimsleur.com review.
Audio-Based Lessons
In our Pimsleur quick and simple course review, we have to mention the fact that most of the lessons you'll get are audio-based. This may seem a little strange at first especially when other apps put so much focus on visual design.
However, we found the audio lessons to be very effective and helpful. One primary reason for this is how the tutor gets learners to imagine scenarios.
These become easy to visualize since you are not reading anything on the screen but rather listening to someone asking you to imagine a situation. Check our list of the best tutoring companies out there in this article.
We would recommend not to take these lessons when you are preoccupied with some other task though. This way, you'll be able to focus solely on listening and speaking and get the most out of your time.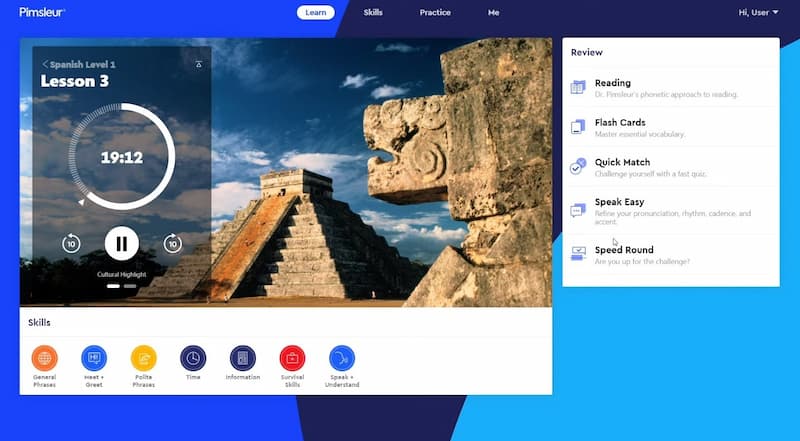 Another positive aspect of the audio lessons is that visually impaired people can also use the app normally. There are no words to read off of a screen or other graphics to focus on.
All you'll be doing is listening and speaking so you can learn even if you suffer from a visual impairment.
English Directions
There are some language apps like Rosetta Stone that believe in complete immersion in Spanish. This means that there are no English instructions or translations to help students along. While some find that helpful, we found that having an English-speaking moderator really added a lot to our lessons in Pimsleur.
Unlike other apps where we would get stuck at something and not know what it means or how to proceed, the moderator here would intervene and provide some translations to help us along. This becomes very convenient as the lessons keep moving along nicely and things become easier to understand and learn.
There are 5 Levels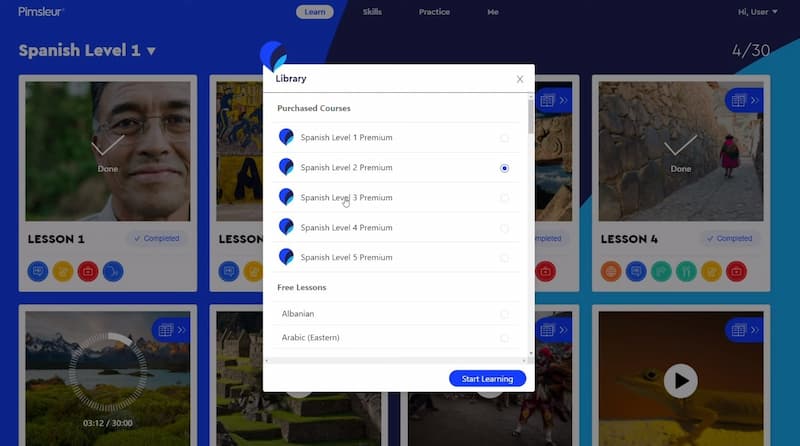 If you start learning Latin American Spanish on Pimsleur, you will have to get through 5 levels. Each level is a step up from the previous one in terms of vocabulary.
You learn new words at each level and also reinforce the ones you've already learned. This kind of tiered system makes it quite simple to follow along and is one of the highlights of our review of Pimsleur. Each of the 5 levels has 30 lessons and each lesson takes about 1 hour to complete.
One important to note is that if you want to learn Castilian Spanish, there is only one level for it here. If you want to travel to Spain, you can complete this level and then move over to Latin Spanish 2. There will be slight differences, of course, but you'll be able to get by easily.
Sleek Digital Apps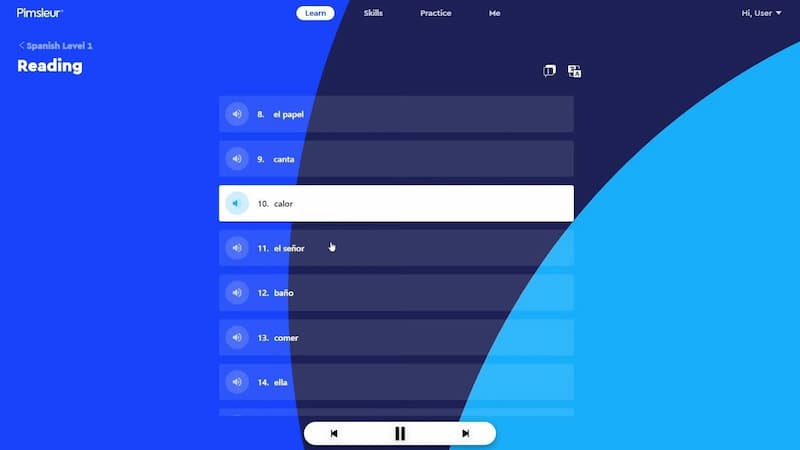 Whether you access the platform on your computer or via the dedicated mobile app, you'll love how sleek and modern it looks.
Everything is laid out in a very simple and logical manner so we never found it difficult to navigate and find what we were looking for. It works quickly, is highly responsive, and is to the point without looking boring.
Who is this Platform for?
This platform is for anyone who wants to learn a new language from scratch by putting in some real effort. It will take some time and can sometimes feel slow, but we found it to work well when we gave it the right time and effort.
If you are someone who suffers from visual impairment and you find it hard to focus on visual-based apps, this Pimsleur Approach language learning review might be able to convince you that it is the right language learning platform for your needs since it focuses so much on audio lessons.
Prices
Pricing plays a huge role in the choice of a language app, and this one is no different. There was a time when a Pimsleur course was extremely expensive but that's not the case anymore.
They've introduced a subscription model that makes it easy and convenient to access the lessons and cancel anytime.
The most basic plan you can get is the Audio Only one. This contains audio lessons only and costs $14.95 per month or $134.95 if you pay yearly.
Moving up a tier, you can get the Premium plan that contains audio content as well as some visual tools to give you the best of both worlds. This plan costs $19.95 per month or $149.95 per year.
If you want to learn more than one language, we would highly recommend paying just $1 per month extra to get the All Access plan. This gives you access to all 51 supported languages for $20.95 per month or $164.95 per year.
Any Pimsleur All Access review will tell you that this price is highly worth it unless you want to focus solely on one language.
We found the yearly plans to offer some great value if you are a slow learner or want to give it proper time. The app also provides a 7-day free trial so you can get a good taste of it before deciding which plan to pay for.
Regular promos are going on too so you should keep checking the website. For example, right now, you can learn Ukrainian completely for free.
Quality
To truly make an informed decision about whether this app is right for you or not, you need to read about the quality of lessons in this Pimsleur language program review. The good news is that you will be taught by native speakers.
The audio lessons are prerecorded and the people you'll speak to are natives so you'll be able to ensure that your pronunciation and usage of words are correct.
This is how it works in a nutshell:
You will hear some sentences in Spanish.
The moderator will explain what is happening in the conversation by stopping it.
Then they will start asking you questions so you can participate in the conversation.
Essentially, you will be taking part in guided conversations. As you progress, the English moderators will explain lesser and lesser and you'll use your increasing knowledge of Spanish to carry on the lessons.
There are also several drills you'll do after these audio lessons. These include flashcards, quizzes, and even some speed games.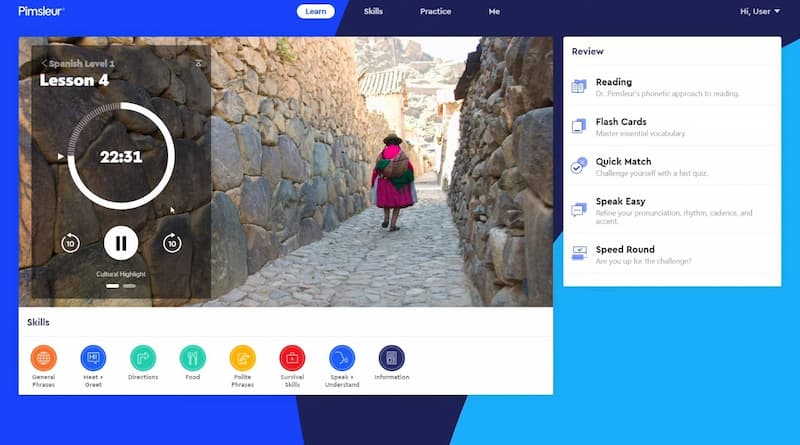 The app also promises that you'll learn to speak in just 30 days. While that may be an exaggeration, we found that we did learn quite a lot of words and phrases within a few days of starting the course.
The Pimsleur method is great for listening and repeating even though it didn't teach us much about reading and writing. The 7-day free trial allows you to test out the platform which should be enough for anyone to decide whether it is helping them or not.
As we wrote before, this platform is different than other visual-heavy apps. It relies heavily on the Pimsleur Method which is the primary aspect that makes it very different from other apps.
While other popular apps like Rosetta Stone and Mondly focus on offering a lot of visual content, especially games and activities, Pimsleur focuses on interactive repetition mostly via audio.
Check our detailed article on both Pimsleur and Rosetta Stone that explains all the differences and which app is better.
This lets users study anywhere and anytime they want. Whether they are going for a walk in the park or sitting at home, taking lessons with this app is very easy.
This is something you will find often in the Pimsleur language programs review you read online.
We also have an article where Pimsleur and Rocket Languages are compared with each other. And here is a little comparison of the various popular language apps in terms of how much they cost and what they offer:
| | | | | |
| --- | --- | --- | --- | --- |
| Language App | Prices | Play Store Rating | Content-Type | Levels of Study |
| Pimsleur | $14.95 – $20.95 per month | 4.4 | Mainly audio with some visuals | 5 |
| Rosetta Stone | $11.99 per month | 4.7 | Audio and video with challenges and games | 5 |
| Babbel | $13.95 per month | 4.6 | Audio and visual with real-world conversations | 7 |
| Rocket Languages | $259.90 one-time fee | 4.7 | Audio and visual with gamification | 3 |
| Mondly | $9.99 per month | 4.6 | Audio and visual with gamification | 3 |
Pimsleur is the most expensive app on this list but we think it's for good reason. The method is one of the most effective ways to start speaking a foreign language without spending months of playing games and doing activities.
It ensures that you learn new words and phrases, remember what they mean, and then pronounce them nearly perfectly in a matter of days.
Value for Money
So, we've talked about the Pimsleur language review but what about its value for money? Does it hold up in terms of what it offers for the price you'll pay? Depending on which plan you subscribe to, it offers different things.
The first tier is the Audio Only plan which gives you plenty for $14.95 per month. You get all the audio lessons as in the other plans as well as access to mobile and web apps.
The Premium plan adds bonus content in the form of flashcards and more visual-based elements for $19.95. You also get access to a driving mode in both tiers as well as compatibility with Amazon Echo devices.
The main difference when talking about Pimsleur Premium vs Regular is the addition of visual content in the former though.
Moving on to the All Access tier, you get all of the Premium features but also access to all 51 supported languages.
You can also share the Premium and All Access plans with 3 household members so getting the All Access one for just a dollar more each month might be worth it if you have someone in your family who wants to learn another language.
So, you get a lot for what you pay and we think the value for money provided here is very good indeed, especially with the All Access plan since you can learn multiple languages for just $20.95 per month. And when you consider that the plan can be shared with others, it becomes even better!
Spending this money will act as an investment in your studies or your career as learning a language can open many doors for you. If you want to move to a Spanish-speaking country and you can speak at a high level, you can boost your career much more than if you don't speak it.
The same goes for higher studies. Enrolling yourself in a Spanish program will likely mean that you pay lower fees and experience much more of the local culture while in university.
So, when you start thinking of it like that, spending as low as $14.95 is worth it.
Student Feedback and Reputation
No Pimsleur unlimited review can be completed with reviews from actual students of the program. These reviews are mixed, however. This can be broken down into two parts.
When it comes to the actual program and what it teaches, students are quite happy overall. They mention how easy it is to learn Spanish or another language with the app and praise the instructors.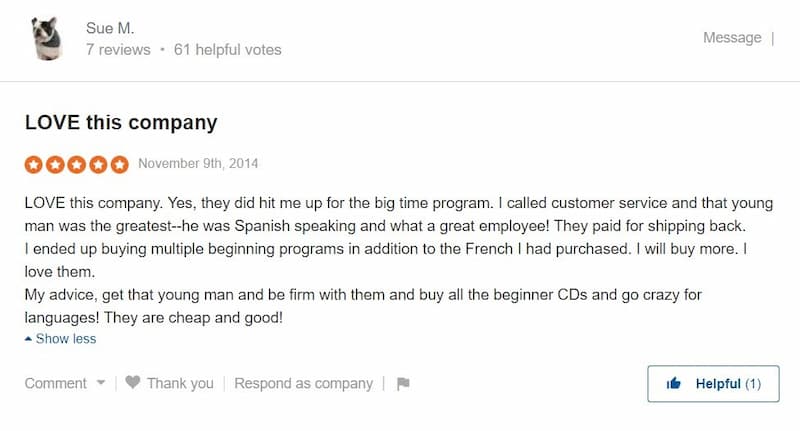 However, where student reviews seem to fall apart is when it comes to customer service. Customers complain about not receiving refunds that were promised to them and that seems to be the biggest complaint about the whole service.
If the company can improve its customer service, we are pretty confident that it can become one of the favorite apps of its kind for students all over the world.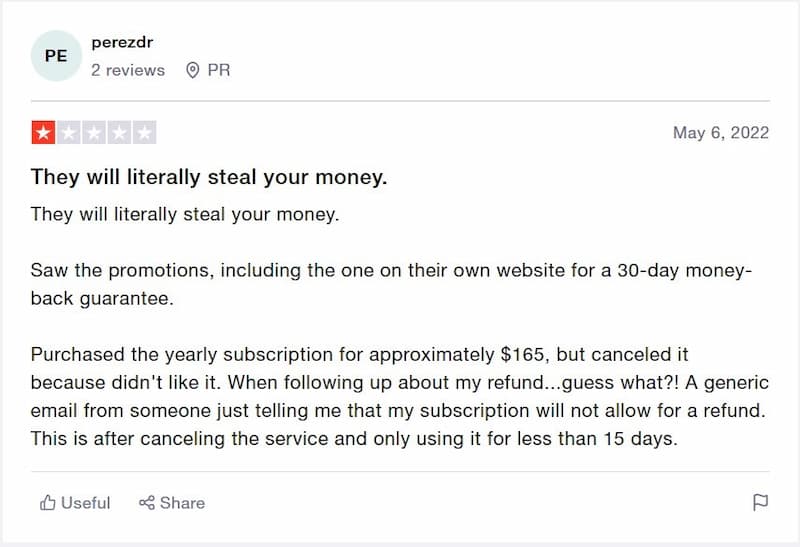 Overall, the reputation of the website is good when it comes to the teaching program itself. Students are happy with what they learn and how quickly they can start speaking a new language. The instructors are also praised for being helpful and knowledgeable.
However, customer service can use some work if Pimsleur wants to dominate the world of language apps.
Pros
Excellent use of the Spaced Repetition System that ensures students remember the words and phrases they are listening to. This is made even better because the Pimsleur Method requires you to become an active participant rather than just a passive listener.
The audio lessons make it possible to learn whenever and wherever you are. You could be learning while walking or jogging in the park.
The subscription model makes it quite affordable as you can cancel as soon as you are done learning.
The overall user experience is very good and the digital platform itself is very high-quality.
The All Access plan offers very good value for money if you want to learn more than one language.
Cons
Some of the lessons can feel a little boring and long, especially in the Audio Only plan.
The language used in the Spanish program is very formal.
There are no writing tasks and very few reading tasks so you're mostly focusing on listening and speaking.
No voice recognition within the apps to let you know if you're speaking the words correctly or not.