Gritty Spanish Overview
There are over 500 million Spanish speakers in the world. This makes Spanish one of the most spoken languages in the world. Some schools now offer Spanish to students. Our team of experts researched and collected resources from a Spanish audio-based learning platform called Gritty Spanish.
This Gritty Spanish review provides you with the best information. We have come up with a stable system that we use to evaluate online learning apps. The criteria we consider include
Quality: we ensure that the services provided are top-notch. Each recording should be unambiguous.
Features: we considered features that make a platform unique, such as the availability of extras. Content and materials, among others, are taken into consideration.
Website Usability (interface): users should be able to navigate the platform without difficulty.
Value for money: the content should ensure that students are getting the best value for their money. This means that a noticeable improvement should be made upon completion of a certain course.
Students' feedback reveals our students' direct perception of the platform. If the feedback is positive, that means students have been satisfied.
Guarantee: the platform should ensure privacy. The money-back guarantee should be available as well.
What is Gritty Spanish?
The whole idea of Gritty Spanish is to help you learn Spanish with ease. The platform will teach you words and phrases to start with and move on to comprehension. The company makes learning Spanish more fun.
Finding a reliable tutoring app can enhance your learning experience significantly. Our guide on the best apps to find tutors can help you choose the one that fits your needs best.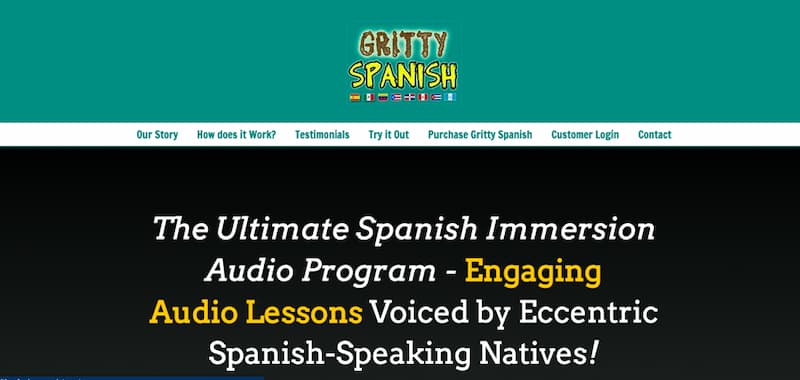 This immersion audio program has conversations recorded by native Spanish speakers. Improving your speaking and comprehension skills is the main aim of Gritty Spanish. This helps your pronunciation and equips you with popular expressions used for daily conversations.
How does it work?
Gritty Spanish is an audio program, meaning all the courses are conversations. Each unit or course has conversations to which students have to listen to. The courses are categorized for beginners, intermediate and advanced learners. A transcription is available for you to follow up with.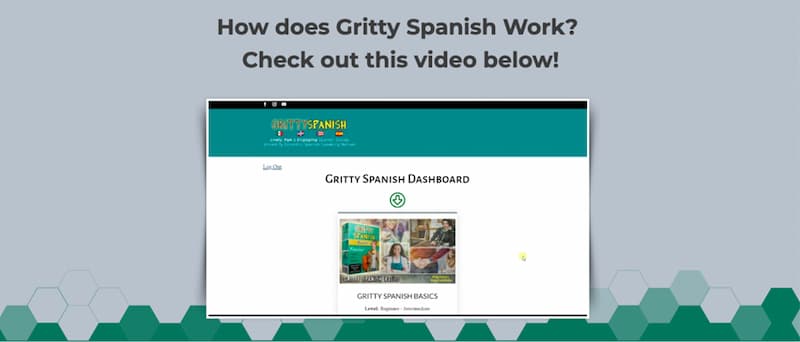 Typically, this is different from other companies that offer free tutoring. The difference is the quality and value since all the conversations are from real life and daily situations.
Native Spanish speakers record the conversations, so there is no adulteration. Every vocabulary and pronunciation is natural.
The platform has the simple goal of helping students to be able to understand Spanish for real-life conversations.
What to Expect
The platform boasts a decent interface. It is straightforward to navigate. The quality of recordings is excellent, and the transcription is also exact and correct. There are different accents available. This is to ensure that you are well-equipped for real-life Spanish.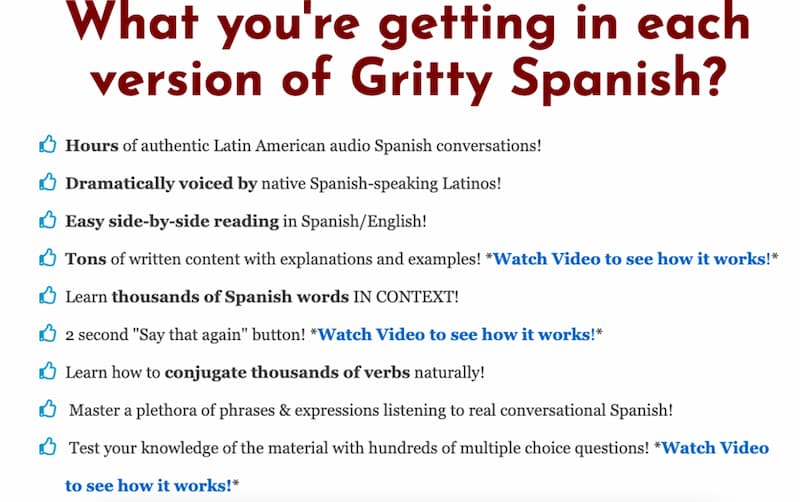 Students have a course that comprises 31 – 36 audio lessons. These lessons consist of recordings from native speakers with different accents, Spanish – English transcripts, and elaborate descriptions of some language ideas.
You get to consume the course content at your own pace. This makes you more comfortable and ready to learn.
Gritty Spanish Features
Our team took it upon themselves to visit Gritty Spanish and explore the platform firsthand. The platform is quite cool, and we tried out some features to ensure that this review of Gritty Spanish is authentic and worthwhile.
Some of the features we noticed include:
You have the luxury of trying out live samples before purchasing the course. There are some live samples you can try. This simply introduces you to the quality of the company.
You can try samples for intermediate, beginners, and advanced prospective learners. The live samples are descriptive, engaging, and instructive.
The quality of the audio files is excellent and clear enough. Every dialogue is spoken correctly and cleanly. The slang and accents are taken into consideration as well. The background sound makes the audio experience more real and more engaging.
If the audio is set in a train station, you will hear train breaks and everything that will take your mind to the train station. If you opt for the OG gritty Spanish, you will have 31 audio files, whereas Parte II has 36.
The files come with:
A PDF transcript
Audio version without background noise
Slowed down version of audio
You can easily click on a PDF to access it. The PDFs are interactive, and words are highlighted. Gritty Spanish lessons on the Parte II course allow you to click on weird words and idioms, and you will be taken to a meaning. The meanings of these words are spelled out in clear terms to foster your understanding.
Not only is Spanish realistic, but there are different accents. Companies like this do not rely on speech recognition technology. They ensure that everything is natural and real.
You get accents like Latin American, Spanish accents, and so on. This offers you more insight into the Spanish that is spoken daily. In the original series, students get access to a PDF that allows them access to all languages and nationalities.
With a Gritty Spanish Coupon or Gritty Spanish promo code, you can get a Gritty Spanish discount when purchasing a course. Generally, the course comes with a PDF for 50 positive quotes. This is to serve as a sort of motivation. Each audio quote is separate and spans a variety of Spanish used in the world.
Who is this for?
The platform is designed to help students on different levels learn Spanish easily. So, it is proper to say that this platform is for everyone. Beginners, intermediate and advanced options are available.
If you are a beginner, you will be provided with the needed foundation to equip you to learn faster.
If you already have rudimentary knowledge, you will get some polishing to advance you.
If you are already good, you will get to absorb different accents and expand your overall knowledge.
How to pick the right package
The platform offers different packages; the gritty Spanish cost lists are flexible. It is budget-friendly. Each package has something unique to offer. It all depends on what you want at the end of the day.
If you are a beginner, you can start with cheaper packages just to test the waters. You can purchase the Parte II and other expensive packages as you progress.
Pricing
All the courses available on the platform have a flat fee. When you buy a course or a combo, you will have access to audio lessons, language explanations, and transcripts.
| | | |
| --- | --- | --- |
| Course | Perfect for who | Price |
| Gritty Spanish Beginnings | Perfect for beginners to intermediate | $44.99 |
| Parte II | Intermediate to advance | $54.99 |
| Gritty Spanish Original | Intermediate to advance | $49.99 |
| Gritty Spanish Original (censored) | Intermediate to advance | $39.99 |
There are bonus features you can try out. The free trial comprises 12 audio lessons with transcripts included. If you do not want to get the lifetime subscription packages, you can opt for a PDF transcript, but this is without the recordings.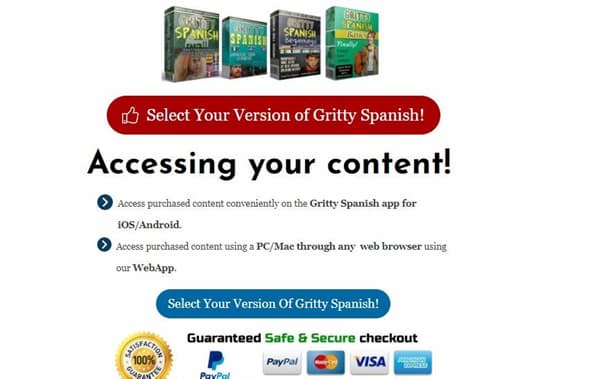 The platform provides numerous payments to ensure that there is no hiccup when it comes to purchasing the packages.
You can use any of the following to make your payment:
MasterCard
AmazonPay
PayPal
Visa
American Express
If you have a Gritty Spanish code, you can use it to get a discount on your purchase. This might be a certain percentage taken off from the actual cost of the package you are opting for.
Quality
The quality of the audio content is next level. Each recording is realistic and engaging. The accents are natural. The audio is laid on a background, so if you choose audio that is set in a subway, you will hear train sounds and so on.
Actual Spanish speakers record these audio lessons. The diverse pool of voice actors ensures that every accent is adequately covered. You can move at your own pace since the package is unlimited after you purchase it. We only noticed that there is no structure or evaluation available, but the thoroughness makes up for that.
The Gritty Spanish app differs from most applications because it provides a humorous and engaging experience. The themes for the lessons are quite funny if you look at them.
Some of the scenarios include:
Hot Dog stand;
Yankee Stadium concert;
Chat with bartender;
Club security.
Some of the scenarios are explicit. There are different scenarios, but all of them are hinged on real-life conversations.
The strongest suit is the availability of many accents. Unlike other platforms, cultural-specific points are there to help you. The PDF resources also allow you to learn the meaning of weird words and idioms.
Students also get the flexibility to learn at their own pace. This allows them to build motivation. The lack of structure is not a con as such, and it technically is a pro. This platform does not focus on grammar, but if you want to learn conversational Spanish, this is the best tutoring platform for you.
Course
Prices
Contents
Quality
Gritty Spanish
$39.99 – $54.99
Audio (transcript available as well) + PDFs
Perfect for learning conversational Spanish
Pimsleur
$300 Premium
Reading lessons

300 digital flashcards

For quick and easy Spanish
Mosalingua
$4.99/Month

$59.99/Year

Flashcards

Dialogues

For beginners
Hellotalk
$119.99/Year
Audio Dialogues

Chats

Social learning
Mondly
$9.99/Month

$47.99/Year

Real conversations

Books

Movies

Music

Castilian Spanish
Value for Money
The coolest thing about this platform is how engaging it is. The conversations are interactive and very realistic. The conversations are not only based on typical situations, but also recorded by native speakers. Many slangs and accents influence the learner directly.
There is no actual course structure or content, but the program provides you with:
Spanish and English transcript in tandem
Expressions used frequently and slang vocabulary
Instructions on how to conjugate verbs
Vocabulary and grammar explanations
Tests to evaluate your skill
Numerous accents
The course offers you exposure to learning diverse accents and vocabulary. It also fosters the development of reading, listening, and comprehension skills.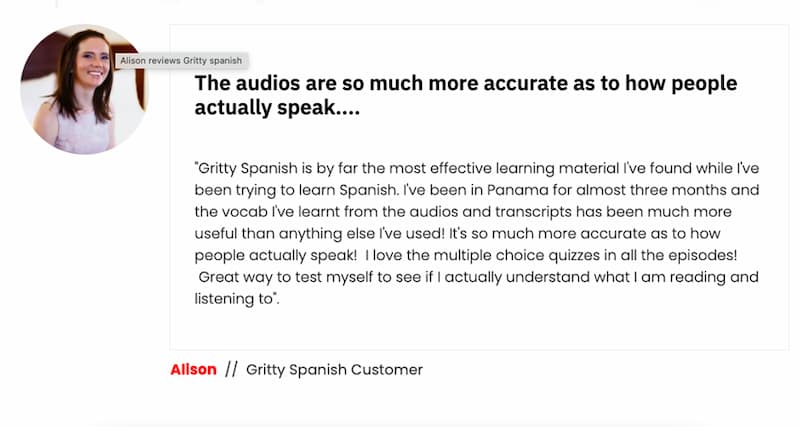 Apart from the audio files, you get transcripts to match everything. A PDF is also included to help you practice. This PDF has words and idioms highlighted.
If you encounter any word that seems difficult to understand, click on it, and you will be provided with a vivid explanation. You also have the liberty to control the speed of the videos.
There are quizzes at the end of each unit to help you understand the degree of your understanding.
Gritty Spanish is the ideal platform for people who want to gain practical Spanish skills. You would not learn much grammar, but the videos will polish your Spanish to a decent level.
The course is worth the money. Compared to other platforms, it is cheap yet as adequate and top-notch as possible.
Student Feedback and Reputation
Gritty Spanish reviews have shown how well the platform has planted its root in the language learning industry.
Students have given stellar ratings to the course on platforms like Reddit, TrustPilot, Sitejabber, etc. This shows that the platform has done well in creating a positive reputation and name for itself.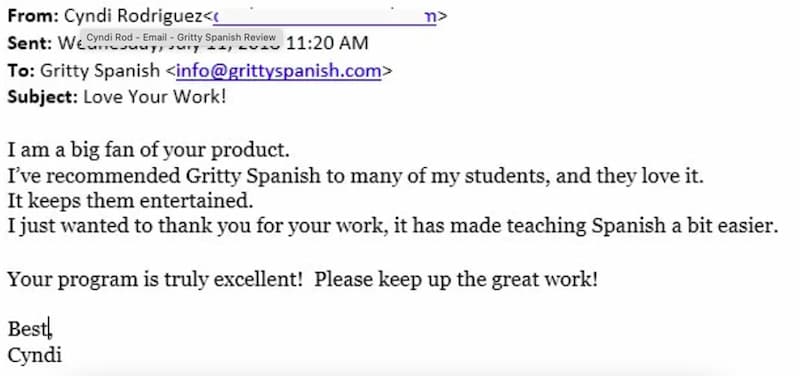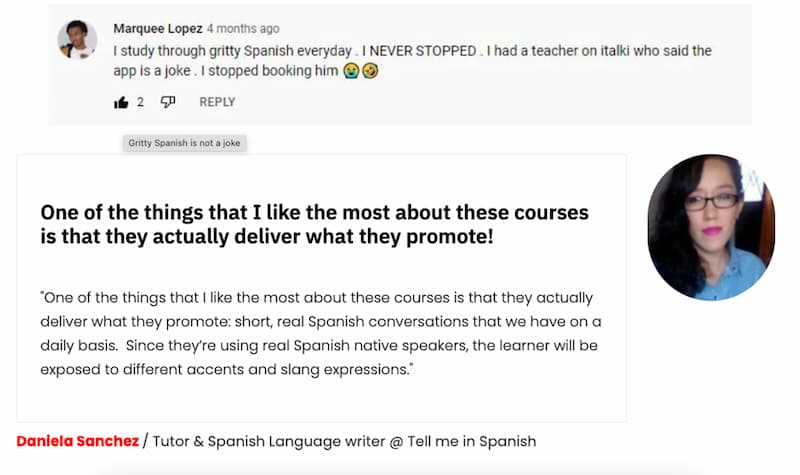 Students from all around the world opt for this platform. Digital Trends mention Gritty Spanish as one of the finest Spanish-learning platforms. It was also mentioned in a New York University blog post titled 'The importance of learning languages.
The platform has also gained recognition from a blog post on Columbia University. This shows how far the platform has extended its services.
Pros
Different Latin American accents will be introduced to and learned by Spanish language students.
The files provide links to vocabulary and grammar explanations in addition to the discussion.
There are small quizzes that can help you determine how much you have learned.
Practical Spanish conversations from different Spanish-speaking regions.
Each video includes a transcription in Spanish and English side by side.
Helps in improving listening/comprehension/reading skills.
The transcription file will note the accents utilized.
You can add the speed of the videos if you wish.
Available on mobile devices.
High-quality audio files.
A flexible learning tool.
PDF files are available.
Self-paced learning.
Free samples.
Cons
The lack of structure will prevent you from actually evaluating your learning process.
Since there is no room for grammar it is not ideal for absolute beginners.
No room for grammar.