Quick Verdict
According to our Spanishpod 1010 review, the website is good enough for beginner and intermediate Spanish learners. You will also find the platform helpful if you plan to travel to any of the Spanish-speaking regions. Students can learn at their pace on smartphones or computers without breaking the bank. Plus, you can always use their 7-day free trial to judge whether the platform is for you or not.
SpanishPod101 Overview
Did you know that Spanish is the 4th most popular language in the world? About 4.5 million people attempt to learn the language every year, and there are currently 534 million speakers. Because of this staggering number, there are several Spanish language apps, most of which don't deliver on the promise to teach Spanish.
SpanishPod101 is advertised as an efficient and fun way to learn Spanish. In this SpanishPod101 review, we will evaluate if the claim is true or not. Some of the criteria we will use to evaluate the online language learning app include quality, features, prices, website usability, value for money, and student feedback.
If you are considering learning Spanish with SpanishPod101, read our SpanishPod101 reviews to know if it is for you.
What is Spanishpod101?
SpanishPod101 is an online Spanish language podcast for Spanish learners. The subscription program offers an extensive library of audio and video Spanish lessons for beginners and advanced learners.
Besides its podcast features, the platform features tools like an English-Spanish dictionary, customizable flashcards, and more to teach Latin-American Spanish, Iberian Spanish, and Mexican Spanish.
The application works on a subscription model. As a result, there are differences in offerings based on the model you subscribe to. However, all their content is accessible through the web browser or mobile application.
Spanishpod101 uses a dynamic pathway to group lessons into categories based on level of fluency. We will talk more about pathways later. Some of their videos teach cultural learning, while others focus only on vocabulary and grammar. Also, there is a strong emphasis on listening and responding.
The platform makes it clear from the beginning that there are different Spanish dialects. As a result, students can choose which they want to major in as they progress through the course. The process of signing up is also easy, and there are various subscription plans for everyone.
How Does It Work? 
New students only need to enter their email addresses to open an account with Spanishpod101. Needless to say, you must have an account before you can enroll in any of the classes.
After submitting your email address, you will receive an email asking you to verify your account. At the point of verification, Spanishpod101 will ask if you want to receive emails about word of the day and other promotional materials from them. Our honest advice – don't say yes.
Although well-meaning, Spanishpod101 sends too many spam emails. So much that it ultimately becomes a problem for most users. But since they asked for permission and you agreed, we guess they are not at fault.
Is Spanishpod101 a scam? No, it is not. Spanishpod101 grants new members access to a one-time offer for just $1. It includes 60 exclusive lessons, 30 days of premium access, one free product download, and a 7-day fluency fast course.
The goal of this offer is to help new learners fast-track their lessons. Note that the one-time offer will show on your screen once and immediately after confirming your email address. You can close the page and proceed to your dashboard if you are not interested.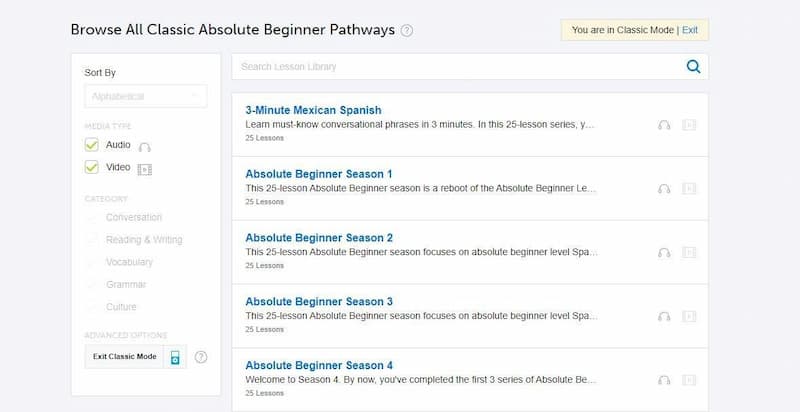 SpanishPod101 uses a pathway to facilitate curated learning. On the dashboard, new members must select their Spanish level. The levels range between absolute beginner, beginner, intermediate, upper-intermediate, and advanced.
After selecting your experience level, members can enjoy a 7-day free trial that grants access to the platform's entire lesson library and premium tools. Alternatively, you can make payments and enjoy a 10% discount on any subscription plan.
Some of the best features on Spanishpod101 include pathways, grammar lessons, cultural lessons, downloadable lessons, and the ability to slow down and speed up lectures. Depending on your subscription, you will also have access to interactive dialogues and flashcards.
But if you need cheaper online tutoring, choose Gritty Spanish reviews. Read more about their tutors there.
Spanishpod101 Features
One of the things that stood out in our Spanishpod101.com reviews is the website's clear pathway that shows the student their lessons. You can sort through lectures using the most popular, recent, and alphabetically. The lesson categories include conversation, reading and writing, vocabulary, grammar, and culture. Also, there are videos and audio for each class.
If you need help with practising reading skills, check our list of the best reading tutors.
The pathway is like a mini dashboard that allows you to peep at what the entire level entails. The modules are listed in no particular order, and you can check the number of associated lessons under each module. For example, there are 25 lessons under the 3-minute Mexican Spanish course.
We consider the pathway a win for Spanishpod101. The reason is that it provides a neat order flow. The absolute beginner level consists of over 45 pathways. It also removes the clumsiness that most language platforms are known for since it is organized, and you won't spend much time locating a lesson of choice. Apart from this, you can choose what you want to learn.
Spanishpod101 offers audio and video lessons so that students can hear and see how the words are pronounced. The lesson simulates real-life conversations, and the teachers pronounce words and phrases slowly to aid comprehension. During the video lessons, the words are displayed on the screen and pronounced.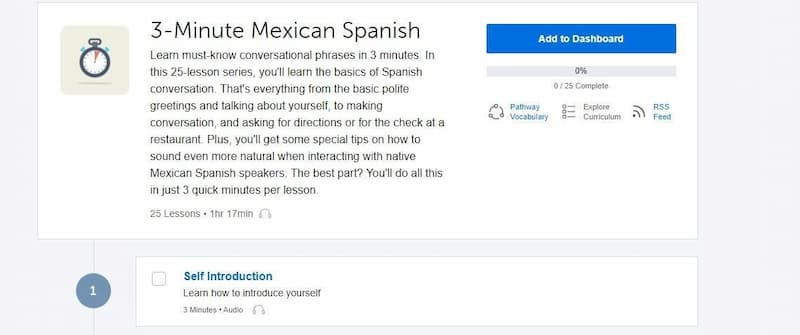 Another thing we found interesting with the pathway is that students can mark completed lessons so they can track their progress. For example, when you select the 3-minute Mexican Spanish, which is the first lesson for an absolute beginner, the lesson dashboard shows 0% completeness. It also indicates 0/25 complete since there are 25 lessons in the module.
When you finish each class, you can check the box on the left to indicate completion. This action will reflect under the completeness column. Therefore, students can leave the page and come back to continue without losing track of their progress level.
On the lesson page, students will find sections for dialogue, vocabulary, lesson notes, lesson transcript, and comments. Spanishpod101 allows students to add notes to lectures, share, and download audio and video classes.
The dialogue is like a two-way conversation between the student and the teacher. It shows a list of words in Spanish and their English translation. While you learn, you can increase or decrease the playback speed to ensure comprehension. This slowdown and speed-up feature are beneficial for people that are in-between levels and need to slow down their speed up to 75% of their original speed.
Conversely, you can use the speed-up function to move quickly through lessons. Plus, there is an option to add the words to the flashcard decks, word bank, and slideshow.
The vocabulary section is designed to help students learn new words that will help their interaction. Spanishpod101 offers free vocabulary lists, word bank, flashcards, word of the day, Spanish dictionary, 100 and 2000 most common words, and Spanish key phrases.
Flashcards: flashcards are designed to test and improve memory through practised information retrieval. The two-sided cards have a prompt on one side and information about the prompt on the other side. Flashcards use the spaced-repetition system to aid memorization. When students finish a lesson, they can choose the vocabulary they want to add to the deck and do so. This way, the system can prompt them occasionally to ensure they remember adjectives, nouns, verbs, etc.
Vocabulary list: Spanishpod101 has an extensive vocabulary list of common things. They include jewelry, car parts, weekend activities, public transportation, etc. Like its other sections, the vocabulary list uses a pathway that allows students to browse all lists by the most popular, newest, and alphabetically. When you click on any list, you can view it by slideshow, audio, or even study them.
Word of the day: the word of the day is a simple feature that aims to teach students just one word in a day and a total of 365 words a year. When you sign up for Spanishpod101, the system asks permission to send the word directly to your email address.
Spanish dictionary: The Spanish dictionary is like every other dictionary. However, it is solely for learning Spanish. You can search for words in English or Spanish and listen to their pronunciation.
100 and 2000 most common words: the most common word list is a list of the commonest Spanish words. Apart from the system words, students can add their preferred section. They can also search in English or Spanish from a category of words. The platform also uses the same idea for its Spanish key phrase list.
Word bank: The word bank is a student's vocabulary storehouse. This section is dedicated to helping students keep track of words they don't want to forget.
Spanishpod101 has a mobile app for android, iPhone, iPad, and Kindle Fire. The application makes learning easy, as you don't need to stay glued to your laptop screen every time you want to study.
Spanishpod101 has various impressive features that aid retention and memorization. Apart from this, the dashboard is not complicated and congested. Instead, it is easy to move between sections easily. At the end of each lesson, students can download worksheets and lesson transcripts for offline study. Plus, there are PDF versions on the website for offline use.
Who Will Find This Platform Helpful? 
Although Spanishpod101 is useful for learning Spanish, it won't work the same for everyone. Most of the lessons target survival Spanish. As a result, you will find it helpful if you are on a trip and need to ask for help or make simple purchases.
Travellers, culture enthusiasts, beginners, and intermediate learners will benefit from this platform. If you are already very fluent in Spanish, you can use the platform to refresh your knowledge. However, you will not necessarily learn something new.
How to Pick the Right Tutor?
Unlike learning platforms like Udemy, Spanishpod101 does not use a rating system to judge its tutors. As a result, it is not possible to evaluate a teacher or even know who presents a course.
In fact, when students leave a reply at the end of the lessons, a team member replies. However, there is an option to choose your teacher – which is only available on the premium plus subscription.
This premium plus plan allows 1-on-1 interaction with a personal teacher and learning on the app, anywhere and anytime. It also covers guidance, ongoing assessment, and access to a personalized learning program based on needs. The programs include weekly assignments, badges for completed assignments, and non-stop feedback and corrections.
There is no way to pick the best tutors on Spanishpod101 unless you have a premium plus membership.
However, Spanishpod101 is responsible for all its content. Put differently. There is no third-party content on the platforms. Therefore, you can be sure of uniform quality across all these contents.
Pricing
How much does Spanishpod101 cost? The answer is in three levels:
Basic subscription: $4/month
Premium Subscription: $10/month
Premium plus Subscription: $23/month.
Students can customize their payment duration to cover up to 24 months. This way, they can enjoy a discount on bulk purchases.

The payment options available on the website include Visa and MasterCard credit card payments and PayPal. Therefore, you cannot make payments through bank transfers.
There are also promo and coupon codes that are available for new members. For example, the coupon code HALFPRICE allows an instant 50% off on various languages.
Quality
Is Spanishpod101 good? Spanishpod101 has a simple and interactive interface. Its pathway feature takes the game out of the hand of most competition since it gives it an impressive order flow. Students can navigate and find lessons with ease and perform associated actions without much help.
Apart from this, the platform uses audio and video to teach students. There is an option to slow down or speed up the recording so that students can keep up with the lecture. Furthermore, you can download lessons and transcripts for offline use.
Spanishpod101 has a dedicated application that makes it easy to learn Spanish on the go. The app is handy, and can sync your account with the desktop version. Not only this, but the app has most of the features of a website. They include lesson notes, audio, video, dialogues, and a vocabulary list. Unlike the website, the app is streamlined and easy to use.
On the downside, it is not possible to take practice quizzes on the application.
It is not uncommon for students to enroll in a course only to discover it is not for them. Spanishpod101 offers a 60-day money-back guarantee for all payments. Since there is an initial 7-day free trial, there is a significantly lower chance of expressing displeasure after payment.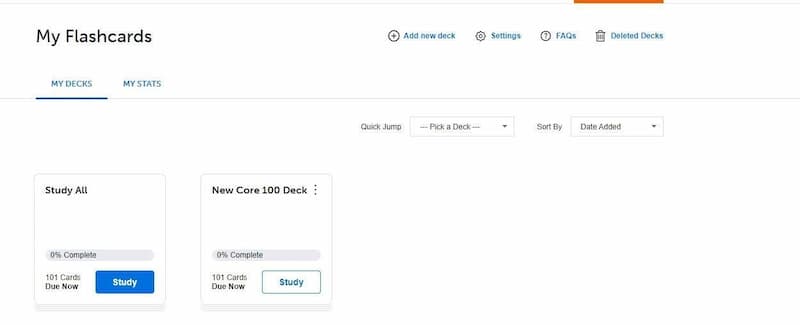 Spanishpod101 offers quality classes and lessons. As we mentioned earlier, they don't publish third-party content. Put differently, only the Spanishpod101 team publishes content and engages students.
As a result, there is consistency in the quality of lessons on the website. The quality of the audio and video lessons are also good, and there are lots of materials that will keep you busy for a while. Depending on your subscription, you can even schedule a 1-to-1 class with a tutor.
Comparison 
| | | |
| --- | --- | --- |
| | Prices | Free Feature |
| Spanishpod101 | $4/month | 7 days free trial |
| Rosetta Stone | $11/3 months | None |
| Cambly | $89/month | 15 minutes |
| FluentU | $19.99/ month | 14 days |
Spanishpod101 vs Fluentu: Spanishpod101 is cheaper and has a longer refund window.
Spanishpod101 vs Rosetta Stone: Spanishpod101 allows a monthly subscription, while Rosetta stone only supports paying for three months at once.
Spanishpod101 vs Cambly: Cambly only allows new students to test their services for 15 minutes, which is small compared to Spanishpod101's 15 days.
Value for Money
Is Spanishpod 101 a scam? Spanishpod101 gives every new member access to its material for just $1. But since most people prefer the free trial, they often decline the one-time offer. The 7-day free trial grants access to all materials, including the ones exclusive to the premium plus subscription.
The basic subscription costs only $4 a month. Students that subscribe to this plan have complete audio archive access and android, iPhone, and iPad access. Apart from this, they can download and print lesson notes.
Students under the premium subscribers have access to the basic sub and a few other features. They include a line-by-line audio transcript, exclusive iTunes feed, bonus lesson content, interactive lesson quizzes, and a personalized word bank. Not only this, but they can create their flashcards and use the core 2000-word list and audio.
The premium plus subscription plan grants access to everything students under the premium subscription enjoy. However, it takes it further and allows a personalized learning program, 1-on-1 instruction, and professional assessment.
If you are wondering if it is worth the price, the answer is yes. With just $4/month, you can learn Spanish and move from being a non-speaker to the basic or intermediate level.
Spanishpod101 does not offer a certificate that will help your career. However, if you are in a position that requires the need to speak Spanish, then you will find it helpful. For example, you can work as a translator or a tour guide.
It is also helpful if you are getting ready for a Spanish test. You can enroll as a beginner that needs to learn Spanish or as an intermediate speaker to brush up your vocabulary in preparation for the test.
Student Feedback and Reputation
Here is what a Reddit user has to say:
Spanishpod101 is not free. However, they have a deal that allows access to their premium content for just $1. I took the deal, and it worked out awesome. With my $1, I was able to download their entire course through iTunes, all worth 11Gb. So, I have everything even after my premium status ends. I am pleased with the services.
Some points worth noting:
They have lessons based on levels, but you can get something from every lesson regardless of your level.
They have realistic examples of conversations and interactions. They also explain regional and general idioms and provide examples of differences between words.
Each episode has a conversation that you can slow down or speed up. They translate after each person's line and give extra context. Apart from this, they provide a specific vocabulary for each lesson and break that down too.
Transcripts are available in both languages
They have a grammar and vocabulary section at the end, plus a final review.
There are practice exercises, and each episode is typically 10-15 minutes.
Pros
Extensive lessons that cover vocabulary, slang, dialects, and various regional expressions.
Organized pathways that allow you to start and finish without confusion.
The ability to save progress by checking the box so that you can continue where you left.
Flashcards aids memorization.
Budget-friendly prices that come with a 60-day return guarantee and a 7-day free trial period.
Uses videos and audio to teach lessons that increase as you advance.
A mobile application allows you to use Spanishpod101 anywhere.
Downloadable lessons and transcripts for offline use.
Includes numerous Spanish dialects.
There is a YouTube account for deeper learning.
Cons
It is not enough to make a perfect Spanish speaker, as it is tailored towards beginner and intermediate speakers.
Spanishpod101 sends too many spam emails, which is not necessarily their fault since they asked for permission at the signup.
The mobile application does not have all the same features as the website.
Some intermediate learners don't like how they use too much English and not enough Spanish.