FluentU Overview
Turning exciting YouTube videos into an excellent language learning experience, FluentU embraces the new world of opportunities leaving outdated teaching techniques far behind. You can learn Spanish, English, German, French, Japanese, and other languages using inspiring talks, music videos, news, and move trailers from a PC, smartphone, or tablet.
The platform targets newbies and people with established foreign language skills and interests, offering them matched video lessons made by diverse real-life people and presented in many different situations.
When preparing the FluentU.com review, we did our best to compare it with other language learning apps and platforms currently available. Our expertise included several essential criteria for evaluating online language learning sites. First, we tried all features and compared if those advertised on the website matched built-in and accessible options.
Then, we rated their quality and the level of user-friendliness. Even though one may say design is not a critical point, our students find it relevant since not all have the same devices and technical knowledge. The interface seems tightly related to the website usability, eventually leading to a higher value-for-money rating.
Finally, we checked registered users' feedback about pricing and guarantees, if any. With that in mind, you can find all the essential details after reading this FluentU review.
Short Introduction
The successful FluentU story started with an idea to transform language learning by replacing traditional English language learning tools with more engaging content.
Therefore, they exchanged textbooks for authentic videos to create a unique language learning service powered by a robust, feature-rich system. Registered members can create a needs and assessment-based structure that implements videos and learning at their own pace.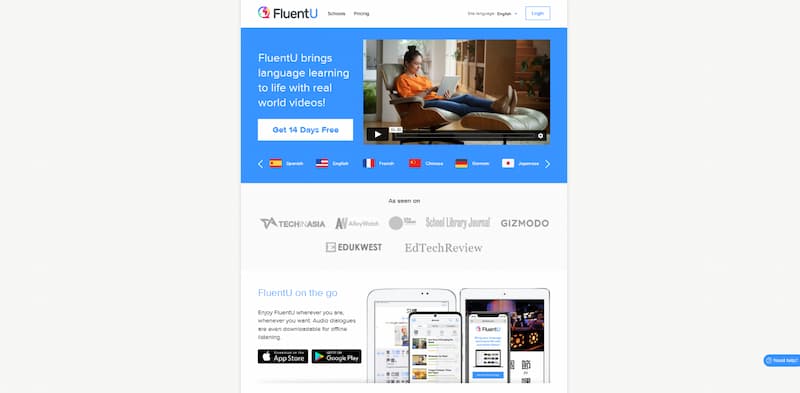 FluentU relies on YouTube videos with the instant-play mode and interactive captions to deliver affordable online resources for English-speaking students and teachers looking for a self-paced Spanish-learning system.
Moreover, foreigners in the United States are warmly welcomed to try English language lessons and integrate faster into a thriving community.
FluentU Features
FluentU is a feature and content-rich platform with an outstanding option that differs from competitors – once you enroll, FluentU will give you access to all features, which means they don't have basic or premium users since all are regarded equally.
Since this is a paid service, registration is an absolute must. Luckily, we talk about a straightforward procedure you can complete by taking the next few steps:
First, click the "Free Trial" link to initiate the registration procedure.
Then, set your target language. For example, we wanted to check all Spanish-related options.
Prospective customers now choose between annual or monthly plans.
The system leads you to the new account screen, so enter your email and choose an unbreachable password.
New customers can opt for additional learning tips and offers from FluentU, so tick the corresponding box if this sounds acceptable.
Finally, choose the most suitable payment method among several offered to start the trial period.
The system is 100% risk-free, so you can cancel the trial anytime and avoid unnecessary charges if unsatisfied with what is offered. We will explain this procedure in the next chapter, so keep reading to learn all the details.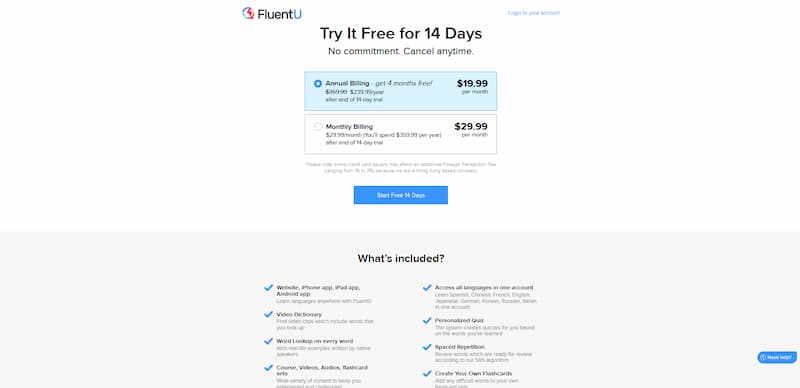 Schools get a 90-day free trial, during which all students receive a unique login and access to all activities. For example, teachers can set goals and monitor progress during that period. To complete the procedure, a school admin must complete a Google Form with basic information. You'll need a Class Code to create a new account as a student.
The form requires school details (country and city), type (college, university, high school, foreign language school, private instructor, tutor, home school, library, or something else), name, and the number of users (teachers + students). Finally, the requester must provide personal records before submitting the form.
If you are looking for the best list of online tutors, we have it here.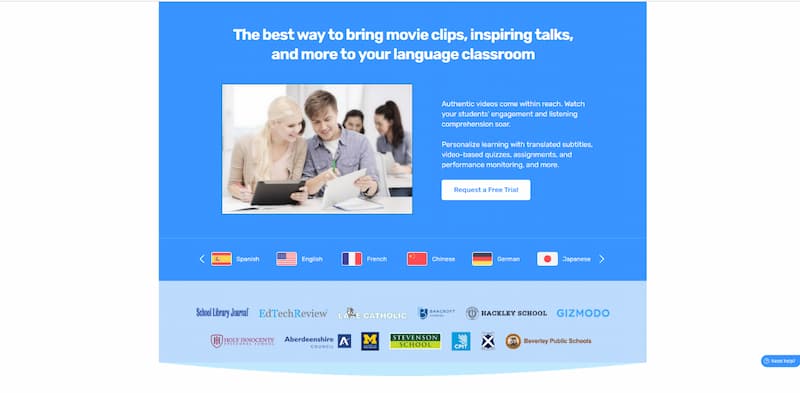 The FluentU Schools mode features:
Simplified management of phrasal verbs, collocations, and expressions.
Additional usage tips.
Professionally written example sentences and translations backed with audio.
Display of words used in other videos.
Specific vocabulary lists management.
Context-specific definitions by professional editors.
The FluentU service allows all customers to define their account types and enjoy corresponding options and features:
| | |
| --- | --- |
| Account Type | Features |
| Regular | The primary account is for individuals using FluentU at their own pace. |
| Teacher | The account for teachers that can create, manage and track students' performances and progress. You will also get a set of assessment tools to increase productivity. |
| Student | Accounts that link students with teachers. |
After completing registration, clients can enter the dashboard and benefit from all included components. Membership presumes access to all languages with a single account so that you can take lessons in the following languages:
Spanish
English
French
Chinese
German
Japanese
Ukrainian
Italian
Korea
Portuguese
Arabic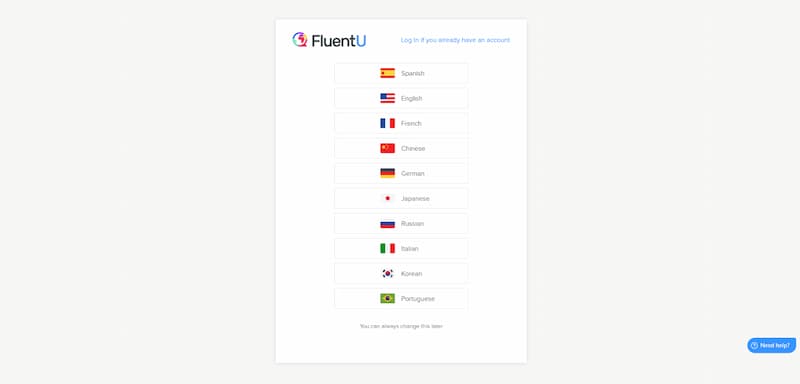 FluentU is more than a flexible site tailored to all your needs. Registered members can choose the most suitable videos based on their needs and start watching them at their own pace. Many FluentU reviews suggest newbies focus on one video at a time. Accordingly, they can watch it over until they are familiar with each word's pronunciation and vocabulary.
Also, you will find how those words fit into a real-life sentence. Other students take an approach focusing on vocabulary before diving into comprehension.
In any case, FluentU offers a "Newbie Videos" section as a first-hand tool to get a better impression of the site's functionality. Moreover, you can always change the current language level, change a language, and still keep track of the progress of all languages learned on the platform.
FluentU has collected a handpicked collection of engaging, timely, and content-rich videos to help students in this challenging process. We can sort the entire content based on the following criteria:
Difficulty Level
Topics
Media
Beginner 1
Arts and Entertainment
Movies
Beginner 2
Business
Trailers
Intermediate 1
Culture
Business Videos
Intermediate 2
Everyday Life
Commercials
Advanced 1
Fashion & Style
Advanced 2
Food & Cuisine
Health and Lifestyle
Humor
Kids
Politics and Society
Science and Tech
Travels
Please note that not all language courses cover all difficulty levels. Still, every course on the platform at least has beginner levels.
Regular members, teachers, and students can always access the dashboard to start a built-in feature. For example, hovering over a word displays its translation in the selected language, while clicking opens a new window with detailed information.
Even though it's impossible to download a video and comply with YouTube's terms and conditions, you can still download each video's PDF transcript. By doing that, students have a chance to study offline using transcripts or audio with translation. Mobile devices accept downloadable audio and flashcards.
| | |
| --- | --- |
| Option | Functionality |
| Video Dictionary | The videos are related to the words they are looking for. |
| Word Lookup | On every word, you will receive real-life examples provided by native speakers. |
| Personalized Quiz | FluentU will deliver a tailored quiz that users can take and check the words they learned until a specific point. |
| Spaced Repetition | The robust SRS (Spaced Repetition Software) algorithm allows you to analyze review-ready words. |
| Flashcards | You can emphasize difficult or hard-to-understand words and add them to personalized flashcard sets. |
In addition to the innovative language learning service, the company provides Educator Blogs and Learner Blogs for free. If interested, you can learn, for example, "How to Practice Writing for the TOEFL Test" and read an 8-step guide.
As a prospective educator, you'd want to discover TPRS Books' benefits for creating excellent lessons or learn more about innovative teaching ideas to enrich your classroom.
As a Ukrainian learner, the Language and Culture Blog has hidden gems like 1000s of words to learn, The Top 12 sources for learning Ukrainian (with audio), and much more. A popular e-book, "The Complete Guide to Foreign Language Immersion," is another freebie you can get by entering your email when offered.
Regarding the FluentU app review, we used Android smartphones and tablets, iPhones, and iPad to test the application. Depending on your mobile device, go to the Google Play Store or the App Store to download the application.
Applications are free of charge and bring the typical set of options. Furthermore, you can create a new account (regular, teacher, or student), enjoy the free trial mode, select the most suitable payment method, and pay for specific services according to your needs.
| | | | | | |
| --- | --- | --- | --- | --- | --- |
| Operating System | Version | Released | Updated | Downloads | In-app purchases |
| Android | 5.0 and up | 2018 | 2022 | 500.000+ | Yes |
| iOS | 11.0 or later | 2018 | 2022 | N/A | Yes |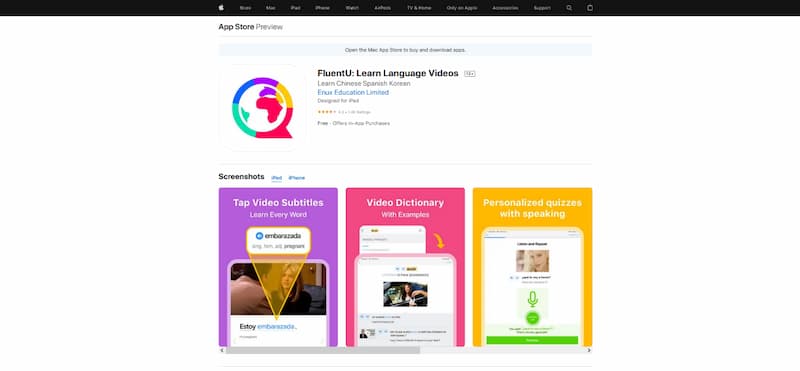 We liked the developers' team's proactiveness and willingness to listen to their customer's needs and feedback. They have an exceptional response time and are ready to update the app based on the reviews of FluentU.
Also, developers provide tools that beginners find handy when using the app for the first time.
Pricing
All new users can benefit from the free trial mode. Presuming you never had a FluentU account, you can register, pick a plan from several offered, and start learning. The trial period is 14 days, during which you have access to all features, just like paid membership. If you opted for a School account, the trial period extends to 90 days.
Still, trialists need to provide payment method details to sign up.
On the other hand, the system won't charge you anything unless you keep the subscription. In other words, to cancel the trial and leave the site without any charges, cancel it at least the day before the trial period ends.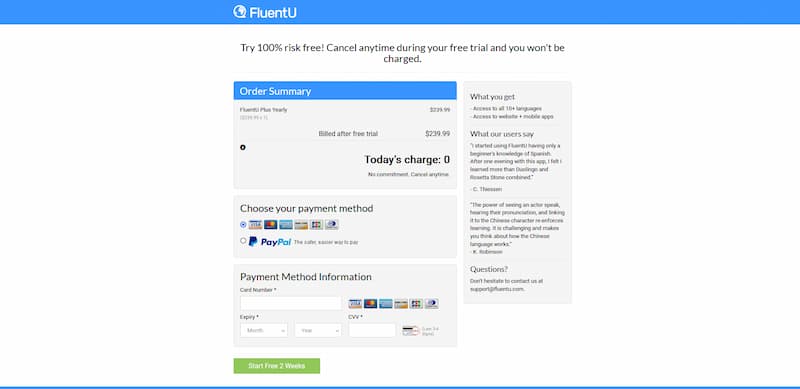 Clients who feel FluentU can satisfy their language learning needs can pick between the two payment options. First, you can choose the Annual Billing subscription, which costs $19.99 per month but provides four months free. Accordingly, instead of $359.99, your yearly balance ends with $239.99.
If you prefer monthly billing, the system charges $29.99 every month, so the final balance stays at $359.99. Both options presume the 14-day free trial. Moreover, the FluentU app for Android and iOS offers the same billing plans.
| | | | | |
| --- | --- | --- | --- | --- |
| Billing Options | Monthly Price | Final Price | 14-Day Free Trial | Billing-Free Time |
| Annual Billing | $19.99 | $239.99 | Yes | Four months |
| Monthly Billing | $29.99 | $359.99 | Yes | N/A |
Schools and other educational institutions can opt for the Academic Plus plan and try it free for up to 90 days. The program presumes a minimum of 10 users (teachers, students, or both), where the client pays $29.90 per user. The fee decreases with the increase in the number of users, so you'll pay $13.20 per user in the case of 50 teachers and students.
Moreover, the Academic Plan includes the following unlimited options:
Video Watching.
Audio Listening.
Learning Mode.
Flashcards Sets.
Courses.
PDF Printouts.
The system accepts PayPal, Visa, American Express, Discover, JCB, and MasterCard, presuming payment in US Dollars. Also, accredited educational institutions can pay via purchase order. All payments are processed by Stripe, meaning that the global financial transactions leader will never disclose your sensitive information to an unauthorized third party.
Finally, please note that the company is registered in Hong Kong, making some credit card issuers apply an extra charge. In the Foreign Transaction Fee case, you'll have to pay 1% to 3% on top of the mentioned options. Also, we couldn't locate any place for putting a promo code.
Quality
As a self-learner, you will stick to the set of built-in options. On the other hand, students who enroll in a teacher-guided class will have an extended set of tools to enrich and facilitate their language learning experience.
In both cases, sending an email query to the customer support team or reading an extensive FAQ section that covers all issues by providing video guides and screenshots is possible.
Specific FluentU Spanish reviews focused on the iOS app only and compared it to other language learning platforms as more flexible and efficient. The program can help you learn and further develop your overall comprehension and extend your vocabulary.
Also, they find it better suited to people with a fundamental understanding of Spanish and basic familiarity with its grammar. Therefore, FluentU achieves the best results with students later in the language learning process.
Platform
Subscription Price
Free Trial
Guarantee
SpanishPod101
Basic: $4 per month

Premium: $10 per month

Premium Plus: $23 per month

7 days
60-day 100% money back
Babbel
1 month: $13.95/month

3 months: $9.95/month

6 months: $8.45/month

12 months: $6.95/month

No
20 days' money back
Pimsleur
Premium Subscription: $19.95/month

Audio subscription: $14.95/month

Free Lesson

7-day trial

N/A
italki
Starting from $5 per hour per teacher
No
N/A
FluentU
Annual Billing: $19.99/month ($239.99/year)

Monthly Billing: $29.99/month ($359.99/year)

Academic Plus: $29.99/user (a minimum of 10 users, discounts for more students)

14 days

(90 days for schools)

N/A
Unfortunately, we couldn't find any guarantee here, except for the promise of keeping your records far from unauthorized persons.
Value for Money
While some FluentU reviews find the introductory price a bit higher than the competitor language learning platforms, others consider it appropriate for the quality and innovativeness you get here.
Some were even hesitant about the price and the fact that a person does everything here. Then, after a trial period, many decided to give a paid option a try. No matter if you opt for the monthly billing or annual plan, you'll get the same set of tools:
Original videos.
Subtitled and translated interactive captions.
In-context definitions and example sentences.
Downloadable mobile app for Android, iOS, iPhone, and iPad.
Quizzes and Flashcards.
Downloadable PDF transcripts of all lessons.
Access to all languages on the platform.
We find the last point the most significant advantage of FluentU. Students who want to learn Spanish or residents who wish to improve their English skills will get unrestricted access to both modules, an option you're unlikely to find elsewhere.
Also, check our list of the top apps for Spanish learning for drivers.
All other platforms charge per language, meaning you'll have to pay twice or more to learn more than a single language simultaneously. So, we think this is the best answer to the question, "is FluentU good for learning and enhancing my language skills?".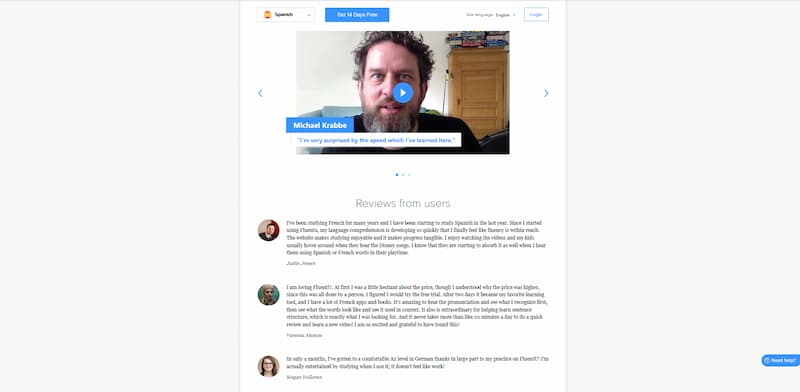 Operating since 2013, FluentU has managed to acquire a considerable customer base and establish itself as a reputable company in the language learning business. They expanded the business to the mobile market and serve Android and iOS since 2018, which additionally helped them position the market as an innovative and customer-centred platform.
After testing FluentU for a set of essential criteria (quality, features, prices, interface, value for money ratio, feedback, and more), we find it recommended to students who want to learn a foreign language using more than just plain textbooks.
Additionally, the video lesson-based approach helps you enrich your knowledge and sharpen your English skills.

Regarding FluentU's usability for further education and tests, students who used it as a primary tool were quite happy with the results. For example, a German language student has successfully passed from A2 to B1 after two weeks using FluentU.
Accordingly, it is possible to use this platform to prepare for an exam. The recommendation especially relates to the School account, where teachers can organize a larger group of students willing to progress in their educational careers. We think it best reflects a series of questions contemplating how good is FluentU in solving needs that surpass a simple language learning system.
Student Feedback & Reputation
Most students find the Quiz Sections successful for integrating spaced vocabulary learning. Combined with their fast and-paced environment, quizzes also keep your mind busy and improve your cognitive skills. Regarding pronunciation and actors' speech, students find it more than a handy tool to learn how to speak correctly.
Creating a trustworthy FluentU review requires researching the platform's reputation on different sites where real people and verified users discuss it. For example, Reddit users had mixed but generally positive feelings. For example, a commenter found FluentU expensive compared to Yabla, a competitor site that offers downloadable videos.
Arguably, potential customers with limited Internet plans find it hard to re-load videos as it consumes data presenting the same content again. Also, the video learning mode suits more people with at least a basic language understanding.
Therefore, we can recommend FluentU to exchange students or bilinguals who'd like to speak both languages as mother tongues. The other Reddit user was a verified FluentU member who suggested the platform to A2 or B1 users, admitting that a beginner still has a lot to read and speak before diving any more profound.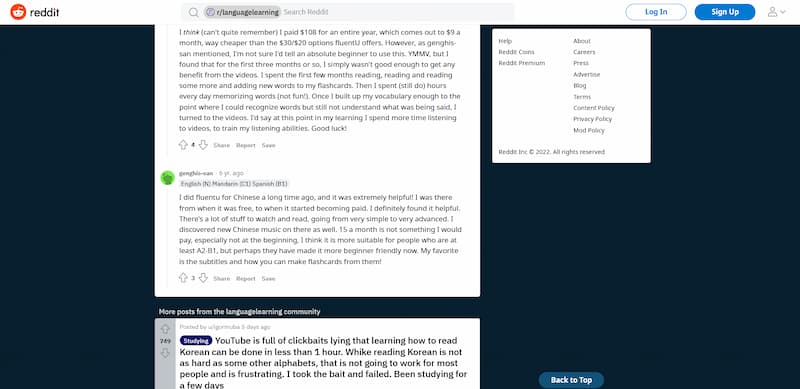 We found even more favorable opinions on Quora, where FluentU reviews mainly considered Chinese language learners. People were delighted with the "multilevel online video classroom" and a chance to find educational, informative, and exciting teaching videos. Students find options for starting, stopping, and reviewing useful, just like dialogues following the speaker written in Chinese and Pinyin characters.
When they reviewed the platform, there was still a seven-day trial and prices higher than current, which is another sign that someone here listens to the audience and delivers tailored plans to satisfy their needs and concerns.
For the record, Sitejabber currently has no FluentU reviews, so you can check the platform, try it, and eventually help prospective customers decide whether to enroll or pass it by.
Pros
An innovative and unique approach to the language learning process.
Access to all courses at a single price.
Downloadable applications for Android smartphones and tablets, iPhones, and iPads.
Real-people FluentU reviews and positive feedback on platforms including Reddit, Quora, and Google as the most reputable.
Discounts for students who opt for the annual billing plan.
They have tailored payment plans for schools where more users mean lower prices without compromising the quality of the platform and availability of materials and features.
Cons
Videos are streaming-only. You can't download any video since it violates the YouTube Terms of Service.
Subtitles and translations fail to display when watching videos on tablets and smartphones in landscape mode.
Vague money-loss and guarantees policy.
Communication through emails only.