Quick Verdict
Rocket Languages has a good overall rating based on our Rocket Languages reviews. The website is easy to use as it includes pathways that allow you to locate courses and track your progress with ease.
The order of lessons is also logical, and the platform is ideal if you desire a lot of practice. Plus, beginners and advanced speakers can enrol in any of the 14 languages.
The Rocket Languages cost for all three levels is justifiable since students can enjoy lifetime access to the contents. Regardless, the company still runs promotions that allow discounts on payments. The Rocket Languages travelogues are worth it and all lessons are fully downloadable.

Rocket Language Overview
Learning a new language is a cool thing to do at this age. Besides the certification, it comes in handy during travels and tours. Who knows, you could visit a new country that would require you to speak to locals.
Despite the fun of learning, enrolling in an online language class is not an easy task. The reason is that there are several language learning sites, programs, and apps. So much that only one out of ten may prove useful.
Rocket Language is an online learning company. They started operation in 2004 and have evolved into a popular language-learning platform in their 18 years of operation.
Rocket language was founded by Jason Oxenham and Mark Ling after their frustration with various kinds of software programs in an attempt to learn French.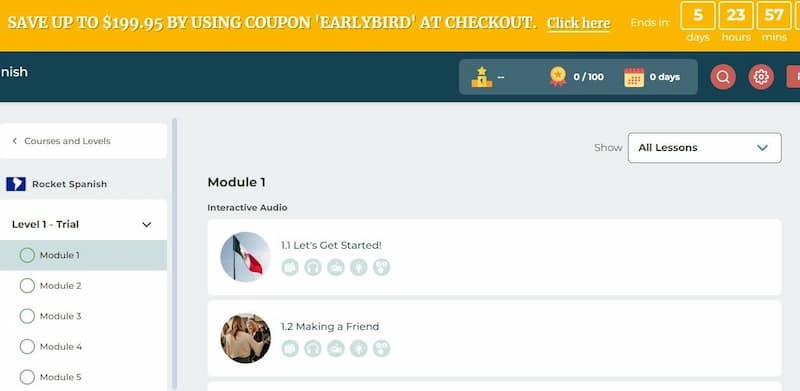 In this article, we will do the exact thing Jason did to all those software programs, classes, and textbooks. Our Rocket languages review will evaluate the company's services to know if it is different from the bunch.
Our criteria for evaluation include quality, features, prices, website, usability, value for money, and student feedback. How good is the Rocket Language learning app? Find out more in our Rocket Languages software review.
What is Rocket Language?
Rocket Languages is a digital platform that promises to teach new languages in a fun and interactive way. The company uses audio and video lessons and several exercises to teach students. Since they commenced operations 18 years ago, Rocket Languages has recorded over 2 million members.
Rocket Languages offers 14 languages students can choose from. They include Latin American Spanish, French, Italian, German, Japanese, Chinese, and Korean. You can also learn Ukrainian, Egyptian Arabic, Hindi, Brazilian Portuguese, American sign language, and English.
We will focus exclusively on their Spanish course to provide a more streamlined review. Our Rocket Languages Spanish review will evaluate the course offerings we can generalize to various other languages offered on the platform.
How Does It Work?
One impressive out-of-the-bat feature we noticed in this Rocket Languages software review comes up immediately after choosing the language you want to learn. A comprehensive page tries to convince readers why they should learn the selected language.
We feel this is a crucial point to note because it is not uncommon for people to choose a language out of boredom. In such cases, they will abandon their study altogether with time.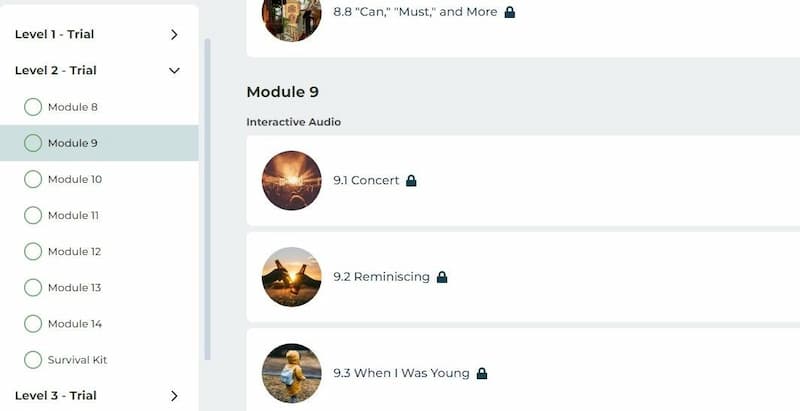 Rocket Languages tries to pique the interest of potential enrollers on their first contact. They state the course offerings beforehand and tell the students what to expect.
For example, the fact that the course comes with 24/7 lifetime access, podcast-style interactive audio lessons, a flexible course structure, and up to 600 study hours.
The website even attached a 4-minute explanation video to the page that describes all a student should know. No matter how you look at it, this act goes a long way to show their determination to help students succeed.
All you need to sign up for Rocket Languages is your name and email address. Then, you can set your password and proceed to your dashboard. Like most online language apps, your session starts with a free trial.
However, students can save up to $199.95 using the 'EARLYBIRD' coupon at checkout. Note that the coupon is only available for a few days before the offer expiry.
The Spanish course is divided into 4 levels, each with 8 modules except the Travelogue, which has 6 chapters. Each module has over 12 chapters, and the chapters have sections for interactive audio and language & culture sections.
At the end of each level, students have access to 10 survival kit sections on things they need to know about everyday living.
The travelogue level is designed exclusively for people that want to travel to Spanish-speaking countries. For example, students will learn how to make plans, go through customs, check-in, converse with the room service, and more.
Rocket Languages lessons start with an interactive video. The videos are lessons of 15 – 40 minutes, tracks students can stream or download for offline access. Since the lessons adopt a conversational style, students are prompted to speak out loud during the lectures.
There is even an option to slow down or speed up the pace of the audio. This way, beginners can catch up with the speaker, and intermediate listeners can increase their learning pace.
After listening to the interactive audio and reading subtitles, students can try more hands-on conversations by assuming a role. You can play as a personality, and the system will act as the other person. Then, both parties can engage in a conversation.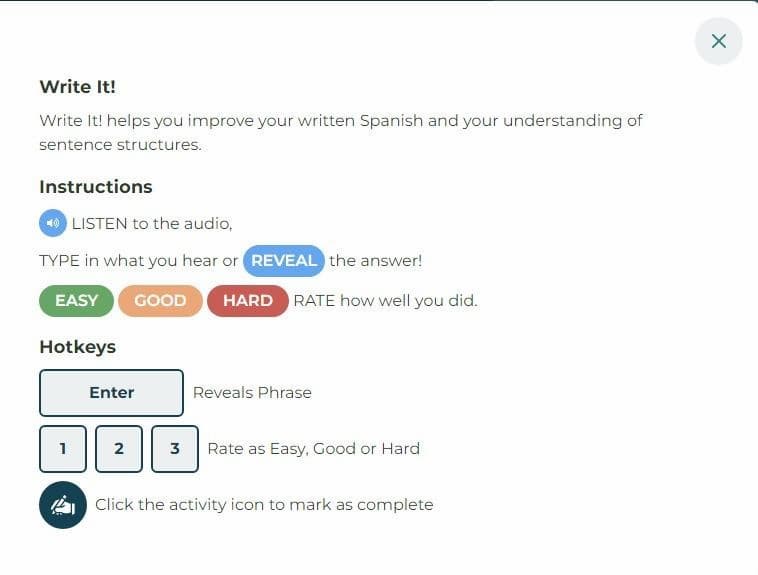 This is the overall structure of most Spanish lessons on Rocket Languages: Interactive audio lessons – play it conversations – lesson vocabulary – flashcards – hear it, say it – write it – know it – quiz – notes.
Rocket Languages Features
Some of the best features of Rocket Languages include interactive audio, text, dialogues, and flashcards. Let us evaluate them more in detail below.
Rocket Languages interactive audio serves as guided conversations. As you get more into Spanish, the English moderator will perform less action and leave you in charge.
Rocket Languages provides a conversation transcript underneath each audio lesson that students can follow along with, even as they listen and interact with the speaker. At the end of the lesson, you can reply to the conversation or assume a role-play to practice more.
Rocket Languages uses an interactive voice recognition technology powered by google that grades the student's pronunciation on a scale of 1-100.
Therefore, you can track your pronunciation advancements. Although voice recognition software is not perfect and cannot substitute for a conversation with a person, it is better than not having anything.
The interactive audio is one of the clear highlights of the application, as it places a huge emphasis on conversational practices. Instead of throwing a bunch of words in your face, the system prompts listeners only after the native speaker has spoken.
Apart from this, the words and phrases are always in the context of an actual conversation.
Rocket Languages encourages active participation to simulate a real-life experience. For example, you would converse under pressure, and the system is flexible enough to allow you to assume different characteristics.
The transcript that displays the audio is also useful for visual learners who want to read the conversation and listen simultaneously.
Language and Culture Lessons
Rocket Languages does not only focus on words and phrases. Instead, there is an emphasis on the culture that speaks the language. The best way to learn to speak Spanish is to understand how it works.
Therefore, the system gives a glimpse into Latin-American culture. For example, the first language and culture lessons show students the Spanish alphabet. With this, they can form and read words by memorizing the sound of each letter. It also compares letters with different sounds and permits pronunciation practice.
A flashcard is a card that contains information on both sides. One side bears a prompt, while the other an answer to the prompt. Most learning applications use flashcards to aid memorization.
For example, it could have a Spanish word on one side and an English interpretation on the other. But since the system will only reveal one side of the card, you must guess the Spanish interpretation.
Rocket Languages uses flashcards as a low-stress way of reinforcing learning. Students can add up to 50 words or phrases to the flashcard section at the end of every lecture.
The system uses the spaced repetition system to remind listeners of the words included in the deck. Then, it rates using the easy, good, and hard indexes to evaluate how well they know the phrase.
At the end of the lecture, an option allows students to hear and repeat words. This feature will improve the understanding of spoken Spanish. All a student needs to do is listen to audio, record themselves saying it, and play it. Then, there is an option to rate how well they understood what was said.
Apart from hearing and saying words, Rocket Languages allow students to write down those words. This feature targets improving the understanding of sentence structure and follows the same principle.
It starts with listening to audio and typing what you hear. Then, you can reveal the answer and check how well you performed.
The last step is practicing the Know It tasks. This feature reinforced a student's ability to translate English into Spanish.
To do this, you first need to read a word or phrase and record yourself saying it in Spanish. Then, you can reveal the answer to test how well you did.
Students can attempt to Hear It and Say It, Write It, and Know It in practice tests a total of 39 times each during each lecture. That makes a total of 117 practices in a single lecture.
At the end of each class, students must take a 5-question quiz that reflects the covered topic. There is also an option to add a note to the lesson, so you can track crucial information you don't want to forget.
Rocket Languages uses a unique leaderboard ranking to show the points students have earned. The dashboard also reflects their streak status.
Put differently, everything you do during the course earns points. The cumulative points will push a student up the leaderboard and make it easy to compare their performance to other learners.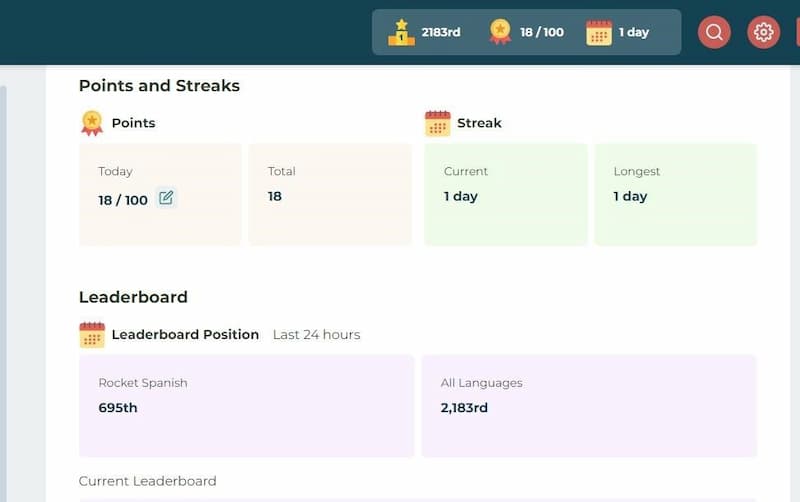 The system uses graphs and analytics to show the leaderboard. Students can also search for leaders specific to their language or all languages. Plus, you can extend the range of searches to cover a day, week, or all time.
We particularly like the leaderboard feature, as it inspires commitment and motivation. Not all language applications have it. And trust us, we have reviewed several. So, yes. It is a feature worth mentioning.
Rocket Languages uses various benchmarks to track a student's Spanish ability. It is a series of 100 Hear It, Say It, and Write It questions to assess overall improvement.
Most language learning websites have dedicated customer support. However, Rocket Languages have a Spanish forum for its Spanish students – the same applies to other languages. Students can ask tricky questions in forums where students and tutors can help out.
Apart from this, they can browse topics or start a new conversation.
Multi-Device Compatibility
Rocket Languages have a mobile app that is compatible with iOS and Android devices. Apart from this, you can also access the website on a desktop.
The website design allows synchronization between devices, so students can listen to lessons conveniently from anywhere.
Who Will Find This Platform Helpful?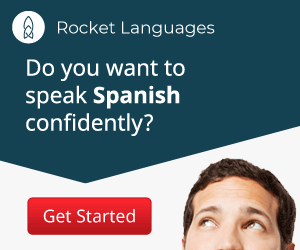 Beginners and intermediate Spanish speakers can use Rocket Languages. You can enroll if you want to travel to a Spanish-speaking country for vacation or take a Spanish test or exam.
As we mentioned, the Spanish course on Rocket Languages does not only teach words and phrases. Instead, it offers insight into the language and culture.
As a result, the learning is more comprehensive and immersive. Anyone that wants to learn how to speak, write, and communicate in any of the 14 languages offered by Rocket Languages can enroll.
How to Pick the Right Tutor? 
There is sadly no way to pick the 'right' tutor on Rocket Languages. But this is not necessarily a disadvantage if you think about it. Online learning apps that allow you to choose tutors have a rating system.
In other words, students can leave a rating on the tutor's profile that reflects their performance. However, most sites that use this system do so because they publish third-party content on their website.
Third-party contents are courses by tutors who are not part of the official company team. The downside of publishing such content is that it is often difficult to control the quality.
As a result, language websites that allow third-party courses receive a lot of negative reviews about the inconsistency of course content. Though courses on platforms like Udemy are good. Check our list of the best language courses on Udemy here.
The Rocket Languages team is responsible for all the content on the website. Because of this, it is possible to verify the quality of all the courses published on the platform.
In other words, students don't need to rack their brains trying to find the best tutors. Why? Because they are all the same.
Pricing
Rocket Languages' prices vary between one-time payments and 6-month payment plans. You can also pay the levels separately or combine them into one.
Level 1: Beginner to intermediate costs $149.95
Levels 1&2: Beginner to advanced costs $299.90
Levels 1, 2 & 3: Beginner to advanced costs $449.85
As expected, the benefits of each subscription plan differ. Rocket Languages accept payments through direct debit into their bank account, PayPal, and Credit and Debit cards. The company does not accept checks or money orders and phone orders anymore.
Students can find the company's bank account and PayPal details on their website. However, the only way to confirm a direct debit deposit is to inform the company through an email.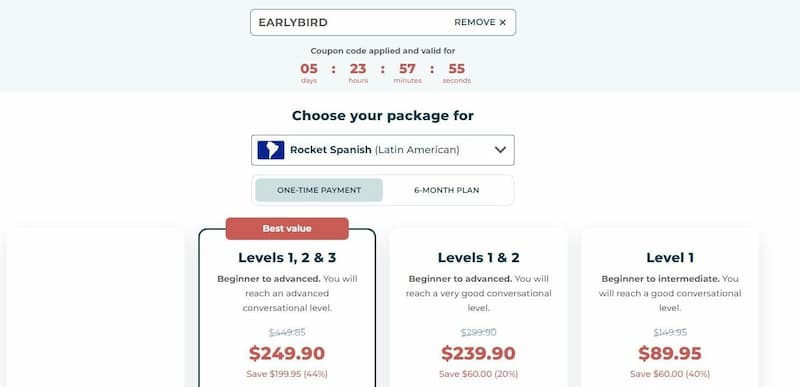 Rocket Languages offer various promo, discounts, and Rocket Languages coupon to further ease the stress on payment. For example, there is currently a 44% discount on the levels 1, 2 & 3 payment plans.
Students can also enjoy a 20% discount on levels 1 & 2 and a 40% discount on level 1. Apart from this, the EARLYBIRD coupon will save up to $199.95 at checkout.
Quality
Is Rocket Languages good?
Rocket Languages uses voice recognition technology to teach students. The Google Web Speech API compares your responses to pre-recorded answers to provide feedback.
For out-of-the-classroom conversations, students can check the help center or frequently asked questions for popular queries and their replies. Apart from this, you can send the support a direct email.
The forum is one of the best features of Rocket Languages. Even if there is no support to attend to you there and then, students can ask questions and respond in the forum.
The forum is easy to use and allows fellow students to help out. You can start a new conversation if you want, or search by category to join a discussion.
Rocket Languages offers a 60-day money-back guarantee on every purchase and discounts using the Rocket Languages promo code.
Don't forget that there is a free trial that grants 24/7 lifetime access to selected lessons. Although the functionalities are limited compared to the paid version, it gives a glimpse into what to expect after paying.
Comparisons
Rocket Languages vs. Rosetta Stone 
Rosetta Stone offers 25 languages, while Rocket Languages only has 14. Regardless, the courses on Rocket Languages are more in-depth. The navigation is easier to use, and the former prioritizes culture and grammar. In this RocketLanguages vs RosettaStone article, you can find even more differences.
Rocket Languages vs. Pimsleur
Rocket Languages use Google's Web Speech API to help students master pronunciations. On the other hand, Pimsleur only offers a modern interface with visuals and graphics.
Want to know more about the differences between these two brands? Check our complete Rocket Languages vs Pimsleur one-to-one comparison.
Rocket Languages vs. Babbel 
Rocket Languages has a better teaching framework compared to Babbel. Their Spanish lesson is also more comprehensive, and the grammar instructions are deeper. Learn more in our detailed Rocket Languages vs. Babbel comparison.
Value for Money
Rocket Languages provides culture and audio lessons, flashcards, and pronunciation practices to teach languages. There is also a forum that encourages interaction within the community and a mobile application for learning anywhere.
Apart from this, students can pay for all three levels at once without bothering about recurring payments and enjoy lifetime access to content. In other words, you can leave it for a year or more, and your membership will not expire.
Rocket Languages is available in 14 languages, including the well-known and less popular languages. The lessons also start slowly and gradually build up momentum. Students have access to audio lessons and begin by listening to podcasts.
The podcasts range from 15 to 40 minutes for a single class, and there are several lessons in a single module. Now, a single module is just one of eight that exist in a level, which is also one of three.
When the podcast plays, the learning board displays its English subtitles so that the students can read as they listen. There are also sections for vocabulary, dialogues, flashcards, practice, and quizzes. Voice recognition software allows learners to record their speech to track pronunciation.
The difficulty increases as you move through each level. Not only this, but new lessons build on old ones. Therefore, you can reinforce old lessons even as you learn new ones. The students can repeat the lessons as long as they want. More importantly, learners can track their progress from their dashboard.
The leaderboard shows students their ranking for the day, week, and month. They can also use it to track their performance to compare their progress with how other learners are doing. And, they can use the 'streaks' to motivate themselves to come back for more.
Rocket Languages allow students to take the module test at the end of each module. If you can complete all the module tests, the website will award you a certificate of completion. The certificate shows you have completed the entire course.
On the downside, you can't attach it to your job application or resume. Although the certificate is not useful in an official environment, it is a cool way to show off your achievement.
Rocket Languages certificate sends a message that you can achieve anything you put your heart to. It also shows that you are disciplined and goal-oriented. All of these and more can have a significant effect on your employer.
Apart from this, the course is useful if you want to work as a tour guide or translator.
Some of the features you will enjoy after paying, depending on the plan, include:
Up to 348 hours of lesson time
Up to 10,004 voice recognition phrases and 87 audio lessons
Up to 87 language lessons and 87 culture lessons
Up to 87 practice conversations and 3 survival kits
Lifetime access and a 60-day money-back guarantee.
Also, don't forget to read our article about the best apps for learning Spanish while driving, where Rocket Languages is also featured.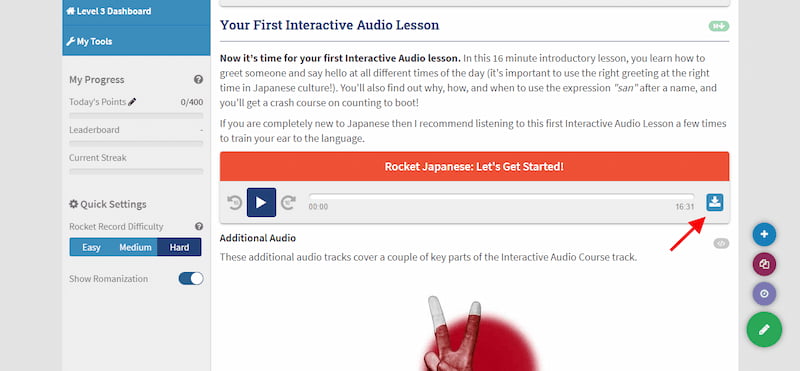 Student Feedback and Reputation
Let us see what people are saying about Rocket Languages:
Narla – Trustpilot 
"I sat down for my 'Rocket Spanish session this morning, and I am excited about the progress I am making. I've been trying to learn Spanish for many years, and Rocket Languages is so far the best thing I've found. I purchased the course on Black Friday and also started the trial of 'Rocket French' so I can communicate with my friend. We are already having a sweet conversation, and he says my pronunciation is perfect due to copying from a native speaker." 

Matt T – Trustpilot 
"A decent, slightly different way of teaching language from what I've seen before. However, they did not interestingly launch into very conjugation. Sometimes, they teach an odd choice of noun. But generally, it is working. I will wait till a Black Friday sale or something to buy." 

Pros
Interactive audio lessons that simulate real-world conversation.
Lifetime access allows maximum learning flexibility.
Prioritizes culture and language as much as words and phrases.
Google-powered speech recognition software.
Flashcards, practice questions, and quizzes.
Downloadable content and multi-device compatibility.
Discussion forum and a progress tracker.
Cons
Voice recognition software bug.
Lessons can feel repetitive after a while.
Length lessons.