"A different language is a different vision of life." — Federico Fellini
These days, people love to travel to various countries, creating vlogs and other interesting content for others to watch and hold on to the hope of theirs someday.
However, doing this needs much preparation, and I'm not just referring to the monetary aspect.
Of course, money is an important factor; other deciding factors can help you have an amazing experience. One of which is language.
In light of this, I'll be reviewing two amazing sites – Babbel vs Rocket Languages – where you can learn the basics of different languages in line with how to speak and write them. Both are popular language learning platforms that are good at what they do.
Below is how you can differentiate both and know the values they add to willing participants.
Are you curious about these platforms? Read on for more!
Key Features of Platforms
"To effectively communicate, we must realize that we are all different in the way we perceive the world and use this understanding as a guide to our communication with others." — Anthony Robbins
Their impressive performances indicate that people hired at Babel vs Rocket languages as top online tutors are qualified. Even though Rocket Languages vs Babbel have a common goal, it is important to note that they have different approaches to implementing them.
This is why we will be reviewing the individual features that make each learning platform a better choice so that you can choose to brush up on your language skills.
When using these sites, there are striking features that stand them out amongst a host of others. Are you ready? Come with me! Let's get right in!
Effective Learning Methods: Babbel and Rocket Languages offer effective learning methods ranging from interactive audio to visual lessons for interested parties.
Fun and Engaging Learning Process: Both platforms offer interactive learning techniques to keep users interested in the lessons and sign up for the courses available.
Easy Navigation: You can easily access and use these platforms no matter the course you would like to take.
Free Classes: Students can take some free classes on both platforms, although this is not without its limitations.
When discussing Babbel vs Rocket Languages, it's also worth checking out my recommendations for conversational Spanish apps. These can supplement your learning and make mastering the language even more enjoyable.
Rocket Languages: Why Is It Better Than Babbel?
Rocket Languages is divided into two types of lessons for more effective learning. The first type of lesson is focused on interactive audio, while the second is on language and culture. Think about that for a minute! The interactive audio lessons are spearheaded by a moderator in English who outlines your preferred language step-by-step.
The explanation slowly begins with the lesson's aim and a little background story as to why learning it is important, all of which sets the right atmosphere for the next line of discussion. There are more than 10 languages available to learn here.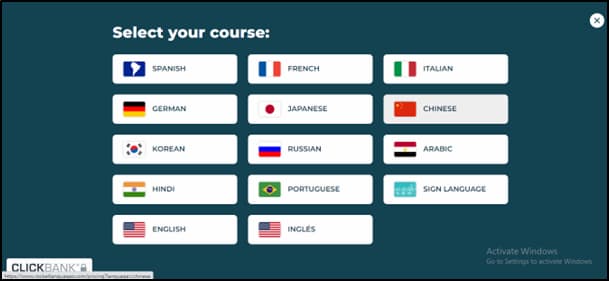 The next part is where you listen to the native speakers communicate. After a few sentences, the moderator stops the audio to explain what you have just heard, provide the grammar explanations and indications, offer some tips to help you grasp the knowledge, and may proceed to ask for your engagement by asking you to be a part of the conversation by speaking yourself.
Meanwhile, you can classify the interactive audio lessons as guided conversations to help practice your speaking and listening skills.
After completing this part, you can proceed to the relevant language and culture lessons. This other part of the lesson is likened to an interactive textbook. It works by reading a short paragraph explaining a particular grammar rule or cultural insight, providing some examples that help you understand what you should do, and moving on to another.
In a nutshell, this other part of the lesson is brief but back-to-back lessons that help you gain a deeper comprehension of the cultural issues and grammar rules of the language you wish to learn.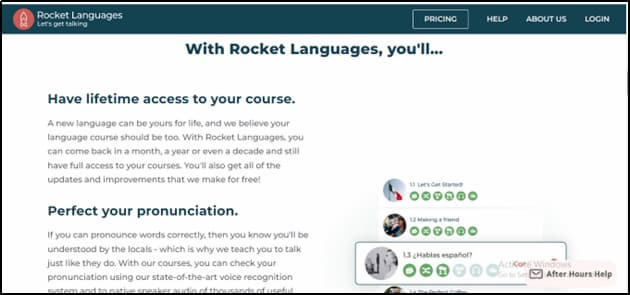 To conclude each lesson – audio and language -, you get to review what you have learned by writing several short reinforcement tests. These reinforcement exercises come in various methods, like speaking drills, quizzes, flashcards, and writing drills, to mention but a few.
The duration of a complete lesson, in addition to the provided drills, takes about an hour to complete everything.
Babbel: Why Is It Better Than Rocket Languages?
Since we have known all there is to know about the services Rocket languages offer; it is time to check out Babbel. Fourteen languages are available for learning on this platform: Portuguese (Brazilian), Turkish, German, French, Italian, English, Spanish, Dutch, Danish, Indonesian, Swedish, Polish, Russian, and Norwegian.
These languages are split into subjects and specific courses so that you can choose the learning path that suits you best, but you can always change things if you don't like them. It is important to note that the Babbel subscription helps you access all the courses for the language you are learning.
Since Babbel has over 60,000 lessons across a wide variety of topics, a couple of questions are asked to create your learning profile before you begin on this language learning platform. This way, you can easily find the content you wish and navigate easily on its user-friendly site.
The core lessons on Babbel are short, with a timeframe of about ten to fifteen minutes, which goes very fast. The reason for these fast-paced lessons is that each lesson they offer has many quick-hit interactive drills and exercises.
Hence, students listen to new words and phrases while repeating them for the first two minutes.
Then, there is a quick switch to a digital flashcard drill, which goes on for a couple of minutes before proceeding to the short grammar reading lesson.

Afterward, follow-up exercises like reconstructing phrases with the aid of your keyboard, a fill-in-the-blank exercise, and a mock conversation. Sure, these lessons are superfast, but you can trust that this hybrid approach to learning a new language is engaging and fun.
Babbel offers many language learning tools, interactive drills, and visual aids to help students and learners. This is something a visual learner will appreciate, so you can choose this learning platform if you are one of them.
Pricing Comparison
Rocket Languages and Babbel have different price ranges for their generated courses, making one more affordable.
Hence, reviewing their prices is quite important to help you determine whether you will choose Babbel or Rocket Languages to help you learn the new language you desire.
Rocket Languages
The prices on Rocket Languages differ because they offer different language learning programs, some of which are more popular than others. Therefore, it provides a one-time payment plan which ranges from $99.95 to $449.85.
These price ranges depend on the language you want to learn, the number of levels you wish to buy, and the language's popularity.
When opting for this language learning app, you will notice that it almost always runs some type of special promotion or deal, so you can at least expect to receive a discount of about 10% to 40%.
So, if you prefer this platform, check for the available coupon codes to get these rate reductions.
Popular languages like Rocket Spanish or French cost $149.95 for one level, $299.90 for two levels, and $449.85 for all three levels in the one-time payment plan.
For the 6-month plan, you get to pay a total of $450 which amounts to $75 per month for this duration if you prefer to pay in installments.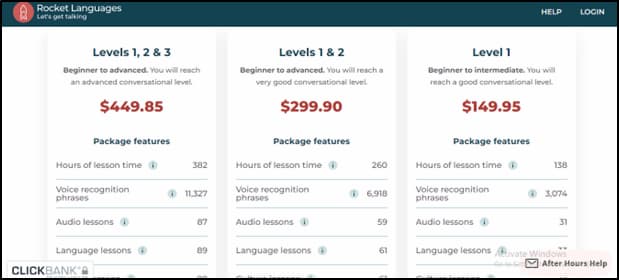 Courses like Rocket Russian and Korean, which are less popular, cost $149.95 for the whole course. You also get to pay installments of $27 per month over a six-month period.
For Rocket English and Sign Language (ASL) courses, $99.95 is charged for the whole course. You can also pay $20 every month for six months.
It is possible to sign up for a free trial here. They have a money-back guarantee option, which comes with a 60-day timeframe. So, you can patiently wait for a full refund if you order for their courses and change your mind later.
Also, note that Rocket Language membership is a lifetime as long as you abide by their terms of use.
For a different perspective, we have an insightful comparison of Mondly and Babbel on my site. This could help you discover more learning resources beyond the Babbel vs Rocket Languages debate.
Babbel
With Babbel, registration is free, and the first lesson in every course you register for is offered for a free trial. This means that you get an opportunity to try out thirty to eighty free lessons, depending on the language you select.
They give students or learners this option because they want you to engage the product to see how their lessons are structured and view their course topics and other learning aspects before signing up for a subscription plan.
It means that you have to choose the subscription that suits your budget best if you want to get complete access to courses on Babbel.
Babbel sometimes offers special deals and discounts on their subscription plans. In fact, it is currently offering 20%, 40%, and 50% discounts on the three, six, and twelve-month plans.
You get to consider four options when opting for Babbel's subscription plans.
One month for $13.95
Three months for $29.85
Six months for $50.70
Twelve months for $83.40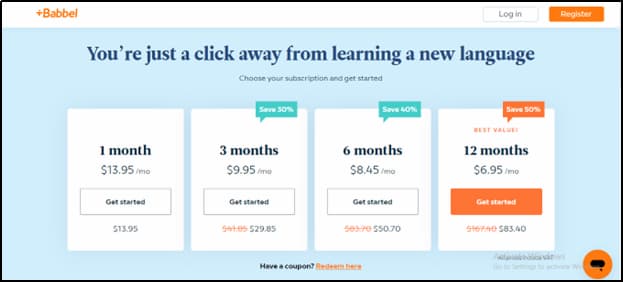 In addition to these cheap rates for high-value lessons, and occasional discounts, Babbel ensures that all your transactions are processed over an SSL-encrypted connection to protect your interest.
Also, they offer a 20-day money-back guarantee period, which requires just writing to customer support to get a full refund for your money if the need arises.
Quality of Learning and Value for Money
"Time is more value than money. You can get more money but not, but you cannot get more time." — Jim Rohn
Both Babbel and Rocket Language offer quality services in terms of their user-generated courses and more to learners.
However, it is important to note that they do so via diverse methods unique to both learning platforms.
So, whether you choose Rocket Languages or Babbel, here are some of the values you will get for your money.
Rocket Languages

Effective Audio Lessons;
Flexible Structure;
Culture and Grammar Emphasis;
Learning is fun and engaging.
There are multiple advantages of opting for this learning platform. Do you want to know what they are? Read on to discover them!
Effective Audio Lessons
This is one of the highlights of their courses. Rather than just listening to or reading various words and phrases and then repeating them, these audio lessons help you to use vocabulary and respond to native speakers in the context of the present conversations.
This way, you are actively involved in the conversation. In my opinion, this is a powerful way of getting students to recall and use the language as you would in real-life situations.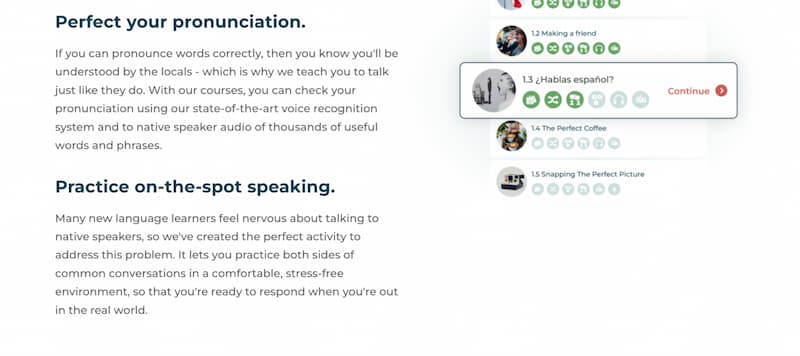 Flexible Structure
The majority of the lessons here are audio-based, so it gives leeway to complete these lessons in whatever location, be it when cooking, taking a walk, or when commuting. This reduces the period of burying your face into your computer or phone after doing much of it at school or work.
The nice implementation of the study scenery makes learning new languages fun and interesting.
Culture and Grammar Emphasis
Rocket Language programs emphasize the importance of cultural insights and grammar in learning new languages. They take it to a different level than other popular language learning apps like Babbel.
The nice part is that they are creative about implementing this via the moderator pointing out different grammar and explaining them verbally during the interactive audio lessons.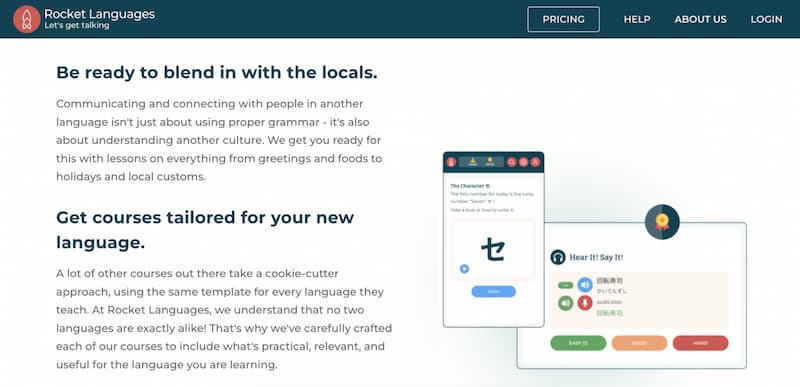 Besides this, there is also the availability of language and culture lessons that are split into short and compact parts with about three to six sentences. For further engagement and interest, there are many breakpoints with examples and pictures to keep things interesting.
So, this lesson is a mixture of interactive exercises and a scaled-down digital textbook.
Learning is Fun and Engaging
The fact that Rocket Language tries to make its platform a fun learning community by gamifying the language learning experience is what I enjoy most about it. There are forums for associating with other users for competitions and whatever discussion.
Points are earned for the completion of drills and lessons, and it is possible to review the leaderboard to keep track of your streaks and compare performances against other users from the dashboard.
Rocket Language also offers certification tests based on the globally accepted CEFR framework, where you receive a printable certificate of achievement on scoring at least 80%. The certificate may not seem like much, but its intention is what matters.
Rewards and points are provided at every milestone to celebrate your achievement, which is one way to boost the morale of students, which is one reason I like this platform.
To further support your language learning, my list of the best Spanish learning app for adults can provide additional resources to complement your exploration of Babbel vs Rocket Languages.
Babbel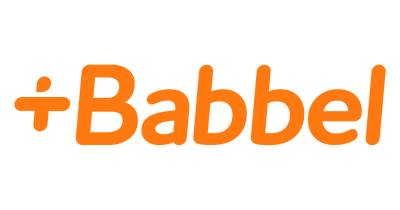 Convenient for Visual Learners;
Fast-paced Lessons;
Smooth Digital Space;
Live Classes;
Handy App.
On the other hand, Babel has a similar goal but the app offers a different approach to how it gives value to the money spent on the courses available.

Let's check out Babbel's selling points in this review of Babbel vs Rocket Languages for teachers search.
Convenient for Visual Learners
The distinguishing factor of Babbel's app compared to others like Rocket Language is that it is more favorable for visual learners. The program here contains many visuals, including graphics, texts, and images that you can learn with. This spices things up to make learning more fun and interesting.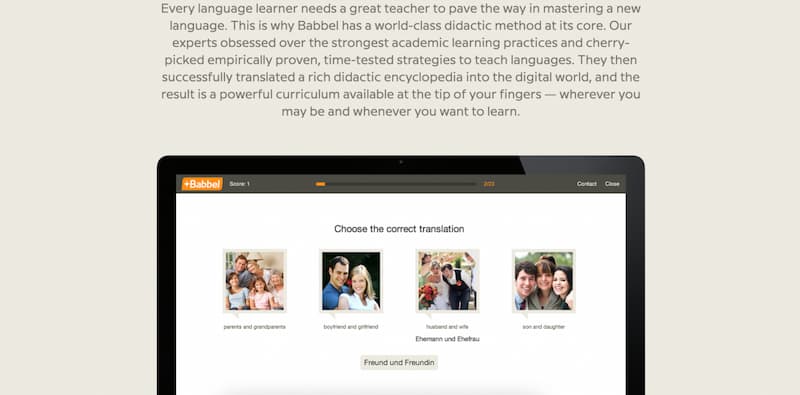 Fast-paced Lessons
Another feature of this platform is that their lessons are shorter and move incredibly fast. It is great for working professionals, students, busy parents, and other people busy with daily activities.
This way, they complete daily lessons in no time compared to others like Rocket Languages which expect you to spare an hour or more daily to complete lessons. Here, twenty to thirty minutes maximum is all you need to have a productive and progressive language class.
Smooth Digital Space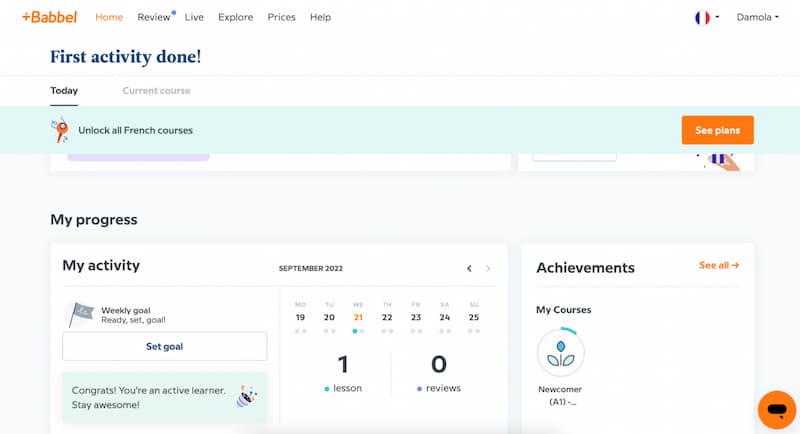 If you are a visual person drawn to the aesthetics of things, then it is best to opt for Babbel. Its digital platform and mobile app are sleek and have a modern and cool feel.
It functions well, is effective, easy to navigate, fast, and cool. In all, it is a sexy app for those concerned about its aesthetic aspects.
Live Class
Babbel offers live classes, but just so you know, these classes are not included in the basic subscription of the packages available. You need to pay extra if you want to use them.
However, upgrading to the live class option allows one to participate in hundreds of small group live classes each week across all languages and learning levels. These small groups have a maximum of six students per class and last for about an hour while covering various topics.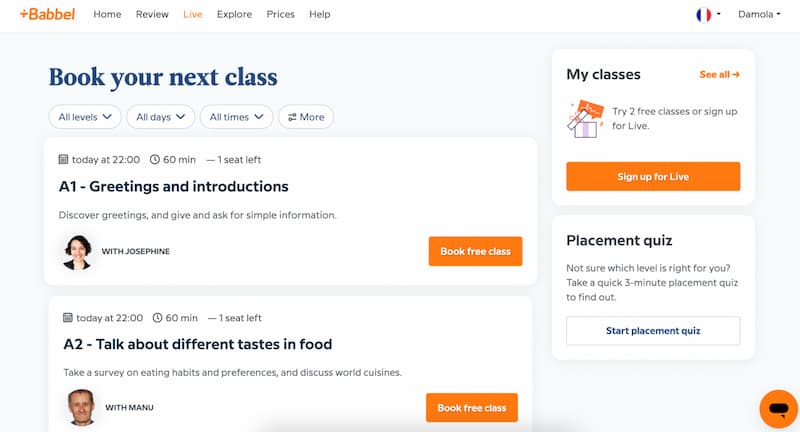 For instance, if Korean is your target language, the class topics might cover the foods and scenery in South Korea, the holidays available, and vacation spots like Jeju Island and others.
It begins from the smallest to the most important topics about the language you register for, and you get to learn the language deeply via these vast topics.
Also, these classes serve as a way to dig deeper into particular topics and communicate with your peers while learning from experienced instructors. There are many courses to cover, so you can choose the days and times that work for you.
Main Disadvantages of the Platform
Even the best language learning apps have downsides, and these are no exceptions.
Let's look into some of the downsides for Babbel and Rocket Languages.
Rocket Languages
Digital Platform isn't Sleek: Compared to Babbel, Rocket Languages don't have a sleek digital platform that is very modernized and cool for the user's experience.
Fewer Images: If you are a visual learner, Rocket Languages doesn't deliver. This is because it deals more with auditory learners.
Long Duration for Classes: The classes here take up to an hour to complete, unlike Babbel, which takes about 20 to 30 minutes.
Babbel
There is not much emphasis on listening skills as in Rocket Languages. This is because they are more of a visual-based learning platform.
Babbel is unsuitable for advanced learners or those seeking to achieve language mastery. It just provides a basic idea of the language that interests you.
You have no choice but to be glued to your computer or mobile screen when learning on this platform. Therefore, office workers or students who have been glued to their screens all day return to it again.
Overall Comparison Table
This section highlights the summary of the detailed overall information provided. Which do you think is better, Babbel or Rocket Languages?
If you still don't know the answer to this question at this point, you'll find all the answers you need here. The table below provides all of this briefly.
 
Pros
Cons
Price
Rocket Languages
●       Enhances conversational speaking skills.

●       Comprehensive and deep lessons.

●       Great use of Google's speech recognition technology.

●       Reinforcement exercises for retentive learning.

●    Less graphics available.

●    The learning platform isn't modern or cool enough.

From $20 to $75 per month, depending on the language.
Babbel
●       Quick Lessons.

●       Frequent Review sessions.

●       Many English directions and translations.

●       Fun and diverse lessons.

●    Little emphasis on speaking skills.

●    Less suitable for advanced learners.

From $13.95 per month.
FAQs
Is Rocket Languages Better than Babbel?
After reviewing Rocket Languages vs Babbel, I believe that Rocket Languages offer better language courses and learning opportunities than Babbel, in my experience. The difference in scale is not much, making the decision difficult and not objective. Both language companies offer varying approaches to teaching, but Rocket Languages is more effective for advanced learning.
Is Rocket Languages cheaper than Babbel?
Both Rocket Languages and Babbel offer trials for free to test the water before committing fully, and money-back guarantees with a full refund in case you change your mind. Cost-wise, Babbel is the most advantageous. They are the more affordable option, except if you are interested in the lifetime access that Rocket Languages offers.
Can You Become Fluent with Rocket Languages?
It is important to note that while learning at Rocket Languages provides a solid foundation for language skills; you won't become fluent with it alone. The course available here is meant to help improve your communication skills, including writing, speaking, listening, and reading.