Intro
With the advent of new technology, people are increasingly switching to language learning apps. One of the most popular languages is Spanish, as it is spoken by more than 500 million people.
For many language learners, it is very important to find the answer to the question: is Babbel a good way to learn Spanish? We will provide you with many reasons why it is in this article. Also, check out our article on the best apps to learn Spanish while driving.
According to our review, Babbel claims to be the world's first and most well-liked language app.
It was founded in 2007 when smartphones were just beginning to enter the mass market. Since then, it has become a must-have for every modern language learner and is an all-time front-runner in the market.
We'll conduct an in-depth Babbel for Spanish review in this article to determine the reason for such tremendous success.
Our experts relied on the following criteria in their analysis:
How well has this educational program been implemented?
What features and functions does Babbel have?
How affordable is Babbel for users to learn Spanish?
How good the interface is and how user-friendly the website is.
Whether the Babbel app is valuable enough for its price.
What students say about it.
What guarantees are given to users? For example, whether there are money refunds and data protection safeguards.
Every tutoring service has differences. Find out in our review GrittySpanish review.
What is Babbel?
Today, users who decide to learn a new language on the Internet can choose from several services: some of them follow the principle "quantity turns to quality" and provide collections of texts for translation.
Others are more kind to their students and use a well-developed methodological framework with interactive lessons and analysis of results.
Babbel is one of the most popular educational apps that gradually gets the user up to speed by offering classes in more than 10 languages, including Spanish, with media material, live dialogues, and advanced technological tools.
In case you might be asking yourself which option from language learning apps to choose for your step-by-step studying of Spanish, Babbel is one of the ways to learn the basics of glossary and grammar in a fun and encouraging way.
Check our Babbel comparisons with Rocket Languages and Memrise.
The methodological basis of the resource is based on the use of interactive tools and effective technologies that engage all types of memory for a faster and more effective studying process.
The teaching methodology used by Babbel can be found in the trial version of the application. What does this mean for you?
As the review shows, after completing a short registration and choosing Spanish language content, you will easily translate simple words that usually begin communication on the street, understand the difference between different persons and try to fill in the gaps in the dialogues.
Pictures are actively used to engage additional types of memory, and better memorize expressions. The main highlight of the Babbel site is the ability to connect the speech recognition function to check the correct pronunciation. To use it, the user must connect to a microphone.
Babbel Features
In spite of the fact that Babbel provides quality content, the interface, in general, is still somehow out-of-date. Writing, reading, listening as well as communication are the skills that Babbel teaches. It also aims to provide knowledge about modern language usage.
Using this app, you can be confident that native speakers will have no trouble understanding what you are studying.
Babbel encourages the brain to develop concepts by actively and passively introducing new material. This gives the user confidence that they are creating complete sentences, which immediately leads to a fluent conversation in the language.
As the review shows, most Babbel listeners seem like newbies who are just starting to learn a new language. Beginners start with simple sentences like "What's your name" and move on to more active conversations, creating complex sentences.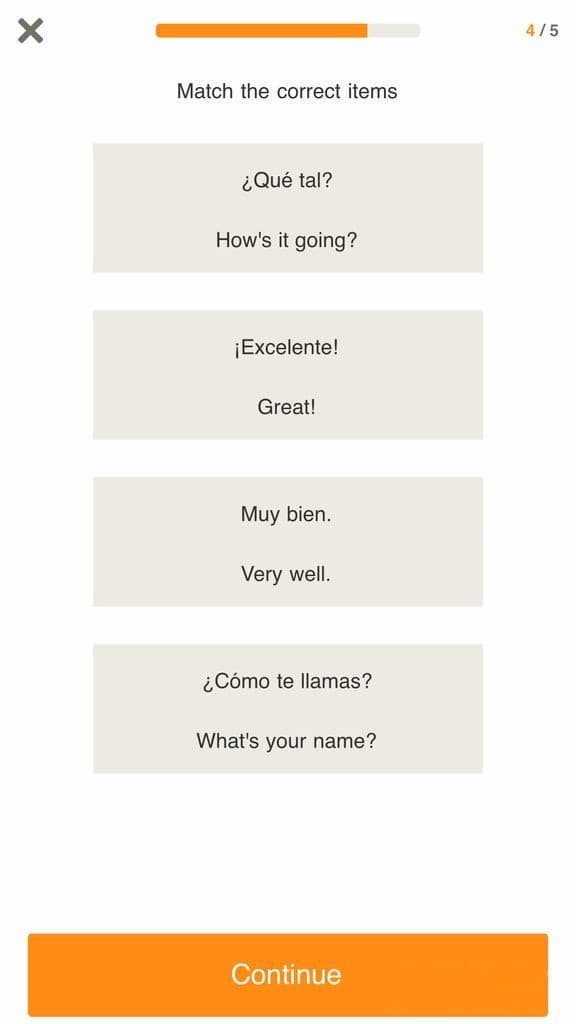 In general, those who desire to expand their vocabulary and strengthen their sentence structure may find this software to be extremely helpful.
By the way, you can access the greatest, most interesting teachers available with Babbel Live, which provides incredibly inexpensive online language lessons as part of a more premium membership tier to the Babbel app. Check our detailed review of Babbel's app here.
In addition to imparting their own in-depth expertise to every student interaction, tutors also make things fascinating and enjoyable. If you are looking for professional tutors for hire, check our article with the list of top instructors.
You don't have to worry about choosing a mentor and read a lot of reviews because all Babbel teachers are competent, always aware of the changes in teaching methods and innovations in the language, have extensive work experience, etc. Share your goals with them, and they will definitely help you achieve them in the time frame you need.
The Structure of Babbel Spanish Lessons
The course structure on Babbel is fairly organized. Every course has lessons, so following the outline of those lessons is key. You wouldn't be able to skip forward to the following lesson if you didn't understand and pass the prior one.
Thus, one cannot move on to the next lesson if the last lesson is not learned and clear.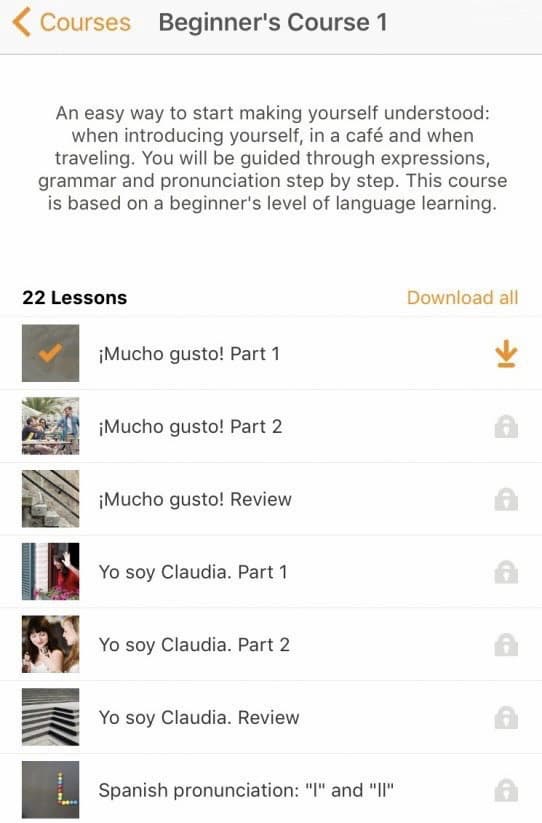 The main goals of the Babbel app are to assist you in expanding your overall knowledge and enhancing your grammar and sentence structure.
According to Babbel reviews for Spanish students, it also wants to help you improve your speaking skills compared to similar voice apps like Duolingo and Busuu. Check our Babbel vs Mosalingua comparison here.
Babbel Spanish Pricing
As you answer the test questions, you will not notice the green progress bar coming to an end, marking your successful completion of the lesson. The results are shown in the chart, showing the total number of questions and the statistics of your answers.
You know for sure that you'll speak like a true Spaniard in a couple of months and are ready to go into battle, but the website will ask you for payment when you get to the next level.
And the Good news? The monthly price goes down if you buy usage several months in advance.
The price of a month's training is around $9 for a subscription for 3 months, with a better offer of buying a 6-month package for $6. Spanish with Babbel can be even cheaper if you look for an annual subscription that only costs $5.25 per month.
Buying the course will give you access to vocabulary and grammar lessons that will enrich your vocabulary with 4,000 words and introduce you to the culture of Spain.

You can use a credit card, such as a Visa, Mastercard, Discover, or American Express, to make purchases through this language learning website. Debit cards may also be accepted in some cases, depending on the bank's policies.
On the other hand, you can choose PayPal because this is the option that is accepted around the world.
Additionally, the Babbel subscription may be purchased via the Google Play or Apple App stores. Nevertheless, be careful that other costs and terms can be applied in certain situations.
We are aware that there are a lot of Babbel discount coupons available online on various platforms.
But wait, let us tell you something nice: you have the opportunity to get your discount directly from the merchant rather than wasting time trying dozens of expired promo codes that might not work. Consider it a small bonus for being such a loyal buyer.
Babbel is also a leader when you consider its price compared to other similar tools. At the same time, if you realize that this studying tool is not working as you hoped, you can be sure that they have a clean and easy money back guarantee.
To receive a full refund, you have a 20-day money back guarantee and should write to customer service within this period of time.
Babbel Quality
The Babbel Method stands out for its focus on student engagement and achievement. Both lessons are developed taking into account the latest achievements of language pedagogy. In addition, Babbel lessons are often adapted to the student's native language.
Thus, they take advantage of a range of methodologies. Their blended studying format is very effective. In the intensive course, students receive an effective education through e-learning and online lessons.
All in all, the user interface looks like Rosetta Stone, as the application teaches you a lot by using a combination of cards, filling in gaps, and multiple choice formats.
However, the biggest question arises: which platform (Rosetta Stone, Pimsleur, or Babbel) to choose and which is the best option for you? Below are some reviews of aspects that will definitely help you make a better decision.
 
Rosetta Stone
Pimsleur
Babbel
Price
– A membership for three months costs $36 ($11.99 per month).

– A membership for twelve months costs $96 ($7.99 per month).

– All Access subscription is $20.95 per month.

– Pimsleur Premium subscription is $19.95 per month.

– One month costs $12.95

– Quarterly (billed every three months) – $26.85 (or $8.95 per month).

– Every six months – $33.90 (or $5.65 per month).

– Annually (billed every 12 months) – $63 (or $5.25 per month).

Quality
Students that wish to learn a language from the beginning and become fluent in it can use Rosetta Stone.
After many years, Pimsleur is still a useful and extremely efficient instrument for language acquisition. It is a timeless classic. One of the few techniques with a strong research foundation and demonstrable effects.
Babbel is the best solution for acquiring a foreign language. It is a complete studying system that combines effective methods with the latest technology. You will be talking to Babbel in no time.
Customer support
The Rosetta Stone team takes care of its customers in the best possible way with features such as chat, live video, and more.
Rosetta Stone and Pimsleur both offer phone and email contact options for customer care. A 24-hour phone line is provided by Pimsleur. They may be found on both desktop and mobile device apps.
The Babbel crew is incredibly welcoming and offers excellent service. According to the review, Babbel is one of the best-selling language studying apps with over 10 million subscribers.
Lesson Length

 

 

45-60 Minutes

45-60 Minutes

 

10-15 Minutes
Value of Babbel for its Money
Is Babbel good for learning Spanish, and is it worth the money? Definitely yes! It is the smartest way to learn the most popular language in Latin America. It is a complete studying system that combines effective methods with the latest technology.
It is affordable, too, as it offers a software-based approach to studying. It is particularly useful for people who want to learn new vocabulary and improve sentence structure.
In our Babbel Spanish course review, we'd like to draw attention to one significant distinction between Babbel and other apps: you may move between levels if you're too advanced, intermediate, or a beginner.
Unfortunately, not all applications support this functionality.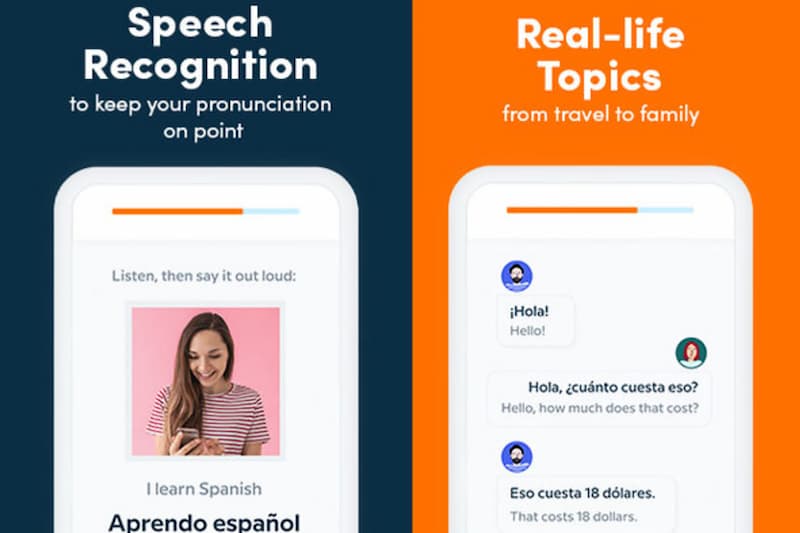 As we read in reviews on Babbel Spanish, each lesson will be adapted according to the language chosen by the student. The short lessons in the Babbel Spanish course are attractive and deal with everyday matters: ordering food, going to the shop, choosing clothes, public transport, family, nutrition, working experience, sport, etc.
Be prepared to repeat what you have learned and mastered in Spanish by doing various types of tasks, for instance:
Choose the correct translation;
Finish the dialogue with the appropriate words;
Place the words in the correct order;
Listen to and write down the words, etc.
The app shares basic phrases and words you may regularly use in everyday life and at work. At first, they will be simple, but then they evolve into more complex sentences.
Babbel is ideal for beginners, more liked and appreciated by students at lower and intermediate levels than at advanced, although for the latter category, there are also useful tasks to improve all their skills: grammar, vocabulary, speaking, reading, writing skills, etc.
Spanish can be useful for business and career, and Babbel can help you achieve this. By now, you should know languages other than English because, for example, trade and economic relations with Latin American countries are growing steadily, and the weight and place of these countries in the global economy are constantly increasing.
Furthermore, Spanish is the official language of the United Nations, the European Union, the African Union, and the Organization of American States. This means that it is fully used in the world's political space. That's why knowing Spanish will give you more career prospects in the future.
Student Feedback & Babbel Reputation
Providing quality service is one of the most important competitive advantages. A person's impression of the service can influence their perception of the entire company.
A bad reputation spreads much faster than a good one, so if you offer poor service to one person, you risk losing many customers. Nevertheless, it doesn't concern Babbel.
The Babbel team is very friendly and provides excellent customer support. There is no doubt that it is polite, considerate, and easy to access. You can email at any time and get an answer relatively quickly.
There is also a frequently asked questions section, and we advise you not to ignore it, as you can find answers to many of your questions there very quickly. It is one of the high-selling language-studying apps with more than 10 million subscribers.
Moreover, according to the Trustpilot review, Babbel is the best company, based on over 18,000 comments.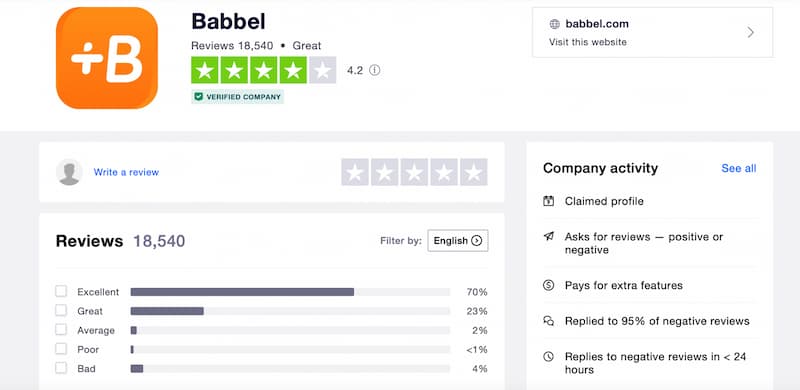 It is a serious aid to your goal of mastering a new language, as it gives you useful vocabulary for everyday communication. You can speak a new language in a few hours with this tool.
As evidenced by the reviews of Babbel Spanish from previous clients, it is the most powerful tool to help you achieve your language studying goals and has good recognition among students.
Here's why: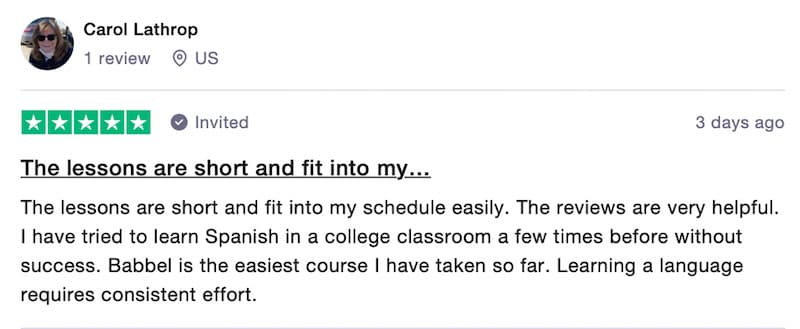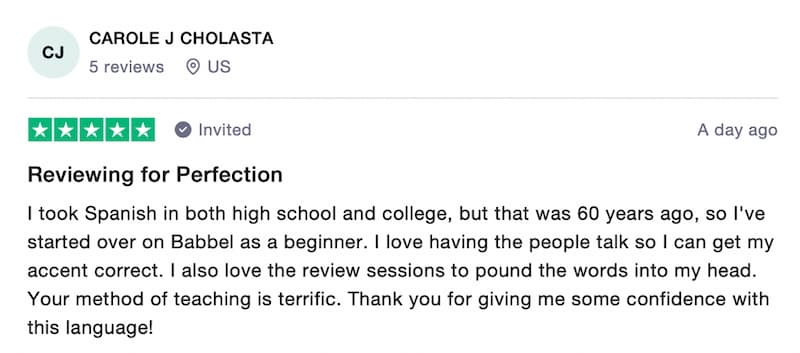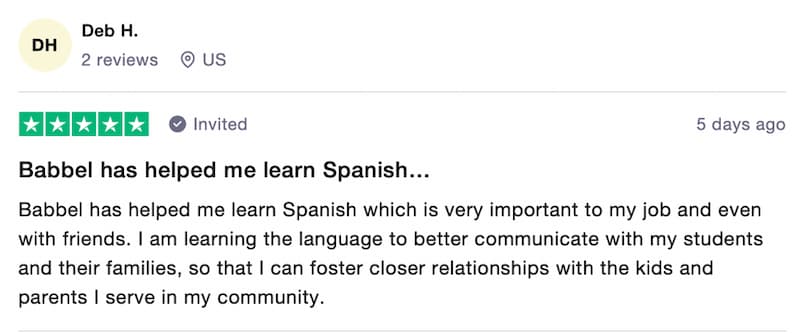 The Sitejabber website review has only 4 comments about the Babbel platform, but none about studying Spanish specifically. 3 of them are not very positive because of the fees and the poor interface.
However, the positive review points out that the price for the lessons is worth it.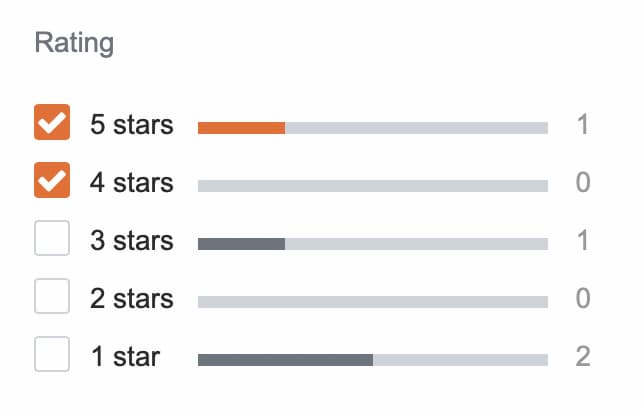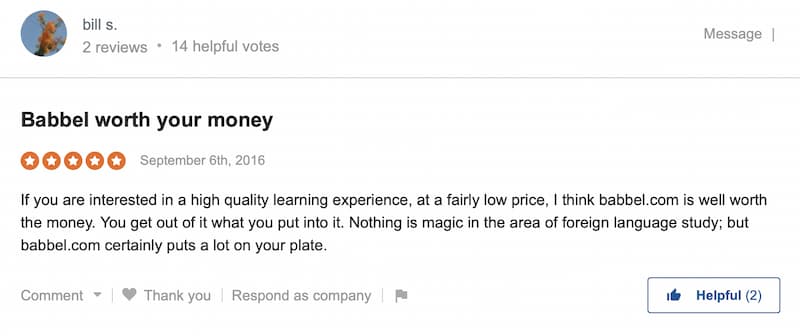 There are various comments on the Reddit website, but everyone notes in the reviews of Babbel Spanish that it helped them in mastering their knowledge.
Babbel gives a good grammar base, expands vocabulary, and trains speaking skills.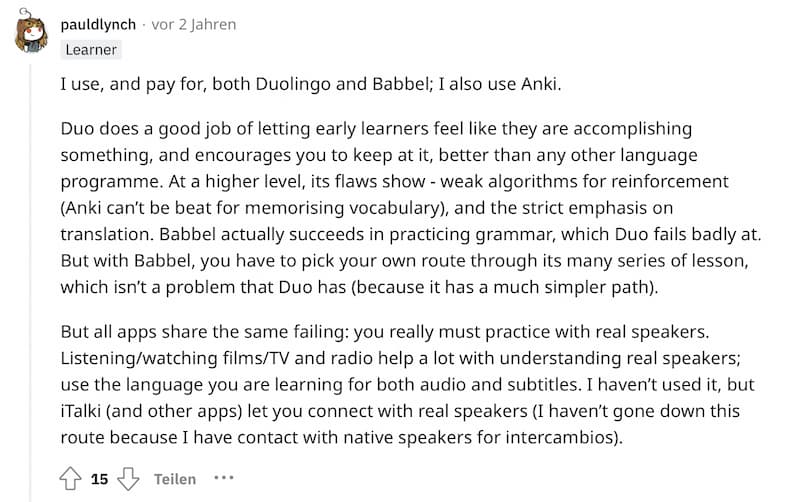 Pros
An effective and comprehensive system of education. Babbel's content helps new learners dig deeper into languages by going beyond conventional vocabulary lists.
Content is created by Babbel using its own developments in the field of language learning and scientific knowledge. Babbel is the only well-known online learning platform that exclusively produces and manages its own material in-house, unlike Duolingo.
Babbel offers online language training using an application. You can use your PC, tablet, or smartphone to access it if you simply have an Internet connection.
The study of languages is split into topics, each of which is further subdivided into training programs that focus on a different aspect of linguistic structure. For example, the Spanish Program consists of a 31-course vocabulary unit that teaches basic words for everyday use, from greetings to body parts.
Overview function that suggests supplementary exercises. Users can solve them to practice what they have learned. The questionnaire format allows beginners, intermediate and advanced students to complete written exercises, reading exercises that involve a response, or standard processing using a widget or card.
Babbel strives for conceptual exploration. They teach beginners the logic of specific use of words. Lectures are designed to explain Spanish grammar rules.
The classes you take can be adjusted to your convenience. The app allows you to customize your choice according to the language you understand.
The lectures have information about the correct pronunciation of some combinations of letters, set expressions, natural grammatical rules, etc.
1 lesson lasts 10-15 minutes. This makes it as productive and efficient as possible.
Cons
Since they don't offer a lot of diversity, intermediate exercises might occasionally appear onerous.
To access more lessons, you need to register and pay for a subscription for 1, 3, 6, or 12 months. The free version has only a few lessons to evaluate the application and the effectiveness of the training.
Сommon interface. Some will find this study and practice on the Babbel platform tedious and too simple, but it is an effective way that involves all types of memory.
Less popular languages contain less content.