At present, it is quite hard for job seekers to find decent employment without a great resume and cover letter. This is where online resume writing services come in.
One of the reasons behind this is that the competition in the job market is high.
No matter how good your career summary is if your current resume does not look good, hiring managers are unlikely to invite you to interviews.
So, if you've been sending the same resume to many companies and no hiring manager has got back to you, there may be a problem with your CV.
At this point, you might ask, "What should I do then? I have a Master's degree and 5 years of experience. Why don't they call me?" And the answer would be, "Find someone to help you if you don't have a clue how you can improve your resume on your own."
Please, take a good look at what we have to say about this company and its services. Is it one of the best JobStars reviews available?
Overview
Today, when there are lots of websites and services, finding a good resume writing company can be hard.
Many agencies try to fraud people, thus making 'easy money.'
As a rule of thumb, you should check with Better Business Bureau whether a resume review company is trustworthy and reliable.
Most of them are, but there will always be one or two that are trying to commit fraud of some kind.

Find the Best Resume Writer
Finding a legit resume writing company might be somewhat challenging for an untrained eye.
As a blog writer, I once decided to find a resume company out of curiosity. That's why we are now sharing this information with you.
We have ordered dozens of resumes at different sites. We have recently reviewed one of their new services called Career.io, check it out here if interested.
The worst resume service companies took our money and stopped responding to our messages and calls.
We got very poor service from other companies, too; the cover letter rewrites they sent us were awful.
To be honest, scam websites are so well-designed that you might fail to determine whether you should trust them or not.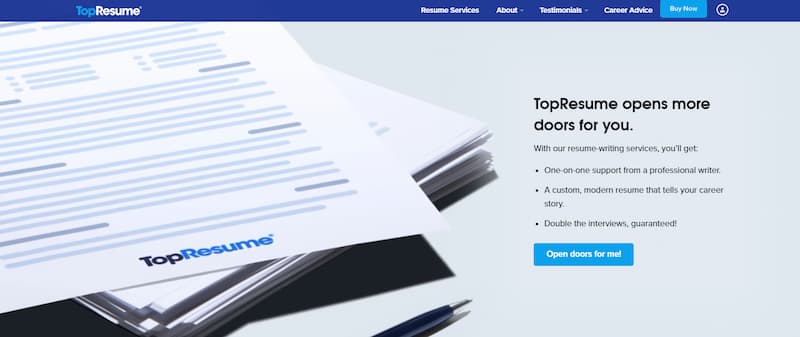 They can look exactly like the real thing, which is quite scary.
The good news is that most sites that look professional and trustworthy are legit.
TopResume.com has a fancy-looking UI, and the quality of the resume services they offer is simply on another level. This is one of many reviews you might find on the web.


So, what is TopResume, and how do its resume reviews work? Let's find out in this TopResume review!
TopResume Cost: Get a Premium Cover Letter for a Great Price
At first glance, it may seem that it's not worth paying over a hundred dollars for only a couple of pages of the written text on your resume.
You may start wondering whether TopResume's writing service is a scam.
However, let us stop you right there. Every good thing has its price. It is normal to pay for quality and give your money to somebody you can trust.
Prices
How much TopResume costs? As some negative reviews point out, it is not one of the cheapest resume-writing services, but it is still worthwhile. It will cost you from $149 to $349 depending on your career level.
There are some TopResume reviews that mention the costs.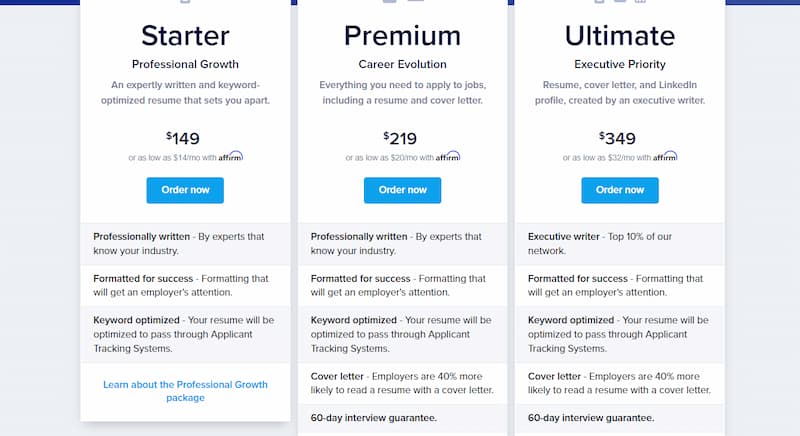 For instance, Apple gets criticized every year for overpriced gadgets, yet this is the first company to reach a 1 trillion USD market share.
Its phones are top-notch despite all the negative feedback they receive.
The situation is somewhat similar to job seekers buying a cover letter from a reliable service provider like TopResume.
This company offers three packages with different pricing options. One of these at least is bound to meet your needs.
Instead of submitting the same resume to hiring managers with no results, use TopResume to boost your chances of success.


When you have used this company's service, you will be more likely to be noticed and land that dream job you have been after.
Some would say it is worth every cent since the service it offers is of such high quality.
TopResume Package Prices: Transform Your Own Resume for Reasonable Rates
Prices for resume packages at TopResume vary. Check the bullet points below for a quick comparison.
For the Professional Growth package (only resume writing), you'll have to pay $179.
The Career Evolution package (resume, cover letter, and interview guarantee) costs $219.
The Executive Priority package (executive resume, cover letter, interview guarantee, and LinkedIn makeover) will cost you $349.
Of course, $179 for a resume may be too expensive for some. However, you should not forget about the TopResume discount program.
Discount
A special TopResume discount can be provided to loyal customers. It can also be activated with the help of the TopResume promo code.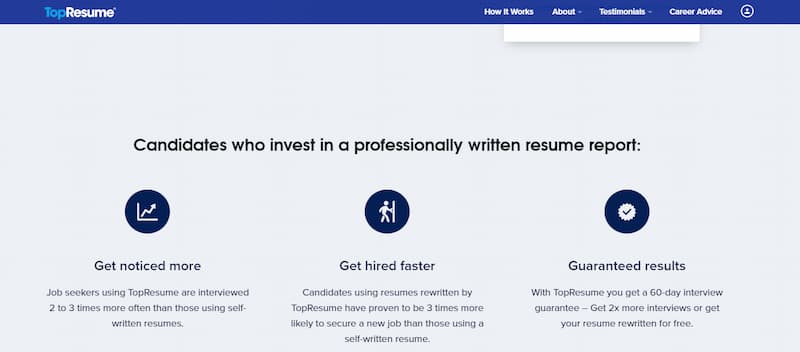 You can get this discount without having to enter a lot of personal details or fill in forms.
Whatever your career summary is, you can benefit from even the cheapest resume package. An experienced executive writer looks at your previous resume and improves it, with a free review available if necessary.
This can help you get that new job you've been after.
The Executive Priority package is recommended for people who are serious about landing an excellent job.
LinkedIn Profile
With the LinkedIn makeover, your LinkedIn profile gets a full review to make it stand out more.
The LinkedIn rewrite includes keyword optimization and a focus on your skills and achievements. This should help employers match your resume to their job descriptions better.
Yet, when doing this Top Resume review, we found that there are many customers that first contact this resume company through its free resume review tool.
And here is one TopResume.com review from Camren shared on our website about how good the initial review is.
Accepted Payment Methods
However, the only thing to do with payments that might be inconvenient is that TopResume only accepts credit or debit cards. PayPal can't be used.
This is strange, considering you need to have signed up with a debit or credit card company to use PayPal in the first place.
Additionally, if you order a CV with TopResume, you will have the support that ensures the desired results for your own resume.

From the initial critique and first draft right through to your final, professional resume, TopResume is with you every step of the way.
Unfortunately, we could not find if they have nurse resume services available. But there is one case study shared on their website about how they helped a cashier transition to a practical nurse.
So, they can probably help medical workers with their resume writing too.
Resume Quality
As stated on the official website, the quality of the delivered resume is outstanding.
Once you choose a suitable resume writer, you will always be in touch with them.
After you discuss everything with your professional resume writer, they will provide you with the first draft for your approval.


Then, depending on the type of work you order, you will have to wait up to one week for the job to be finished.
Some of TopResume's negative reviews say that the wait shouldn't be this long, especially since it's a paid resume service.
This may be inconvenient for people who have deadlines coming up, such as university students with essays due soon.
It's also not ideal if you're job hunting and want to apply for a job with a good resume and cover letter in the next few days.
So, what you need to do at this point is to be patient and understanding. This is because hundreds or even thousands of clients are ordering their resume rewrites and papers at the same time.

TopResume Free Resume-Checking Tool
If you are unsure whether your resume is written well, you can always try utilizing TopResume's own resume-checking tool for free!
If you use their free resume review, you can expect results in two business days.
The results of the free resume review service will help you decide whether you need professional assistance or not. Bear in mind that prices for this extra resume help are pretty high.

TopResume Resume Writing Service
If you need help with your resume, use TopResume's main writing service. You'll be put in contact with one of the site's professional writers.
Should the writer fail to fulfill your requirements on the first try, you are eligible for two free revisions. Sometimes, a writer may misunderstand you.
It's understandable if this happens because we're all human beings. If you request a free rewrite, you provide feedback, and the writer will do a resume rewrite.
The fact that you only have two free resume revisions might seem like a problem.


However, given their writers' quality of services and professionalism, you are unlikely to need even one modification to your resume.
As mentioned earlier, you will collaborate with the writer closely to finish the order as per your requirements.
It will be free of grammatical errors and will be an improvement on your original resume.
The new resume should improve your job search and make you stand out to hiring managers.
The number of positive online reviews for TopResume.com is great. That being said, some people do not like the company's resume writing service.


In keeping with this, TopResume is constantly looking for ways to improve its resume service. It's trying its best to satisfy all clients, no matter what their career level is.
Customer Service
Their support agents promise to respond within 24 hours if you email them, but that happens much faster (we tried that 4 times).
In the worst-case scenario, it may take close to 24 hours for them to answer your email, but that is rarely the case.
However, reaching them via phone is impossible if you try to do so after business hours, which may cause frustration.


There is no money-back guarantee for the resume service.
On the other hand, the company claims that its resume writer services are outstanding.
Once you make a payment, it cannot be undone. They insist that you will be satisfied with the professionally written resume or cover letter they provide.
Therefore, you shouldn't want to get a refund at all.
So, does TopResume work? Yes, the agents we contacted in person were actual human beings.
They know how to be friendly, understanding, and helpful. It was a great pleasure to experience such sort of assistance.


One more service that has such excellent customer service support is CraftResumes.com.
Is CraftResumes a good service? You can find more details in our review. Here we can say that both services are professional and well-designed.
Website Usability
The color palette of the website makes you feel serious about what they are doing at first glance. It is pleasant to look at.
All those fancy-looking animations contribute to the unforgettable user experience.
The interface is clear and understandable.
Everything you would like to learn about the resume company is within your hand's reach.


If some questions arise, you can always use the pop-up help window to navigate the website.
Once you see the website, your eye will most likely love it.
Everything looks good, there's no clutter, and it's easy to find whatever it is you are looking for.
The site and all its pages are very user-friendly.
Moreover, the resource structure is relatively easy to use, so we don't think anyone will have a tough time navigating web pages.
TopResume vs Zipjob
When you compare TopResume vs. Zipjob resume services, it is tough to pick one.

In our detailed reviews, we found that Zipjob is slightly better for resume writing than TopResume.
You might ask how. Well, Zipjob has lower prices on their resume packages while providing quality at the same rate.
So, value for money is better at Zipjob.
Pros
High quality. The company has a team of more than 1200 professional resume writers. Whatever your needs, you are sure to receive outstanding services. If you pay for an executive package, for example, you're guaranteed to receive an executive-level resume free from grammatical errors.
Outstanding reputation. The number of positive comments in TopResume reviews is very high. Read reviews and see what makes this resume writing company stand out. See what previous customers have to say and why they've rated the company so well.
Free resume checker. This free review tool for checking your resume is quite uncommon, though it's useful. Have your document checked to see if it needs further work.
Convenient payment plans. TopResume.com offers users three different packages. Each one has various resume services, and their costs vary because of this. The top resume package offers a full LinkedIn profile makeover. Each one should improve your resume and help you get a new job.
Outstanding user experience. Both the site's main and secondary pages are well-designed and easy on the eye. You should not have any problems using the site and finding your way around.
Quick customer support team. At TopResume.com, clients always come first. This is why the support team's response time is pretty quick. The team will try their best to answer any questions you may have and sort out any problems.
No need to pay all at once. There is a yearly resume service subscription through Affirm that allows you to split the payment into 12 parts. This is a convenient option for people who do not have the full amount of money to pay for the service right now.
Cons
Quite expensive. Something that may discourage you from purchasing a high-quality TopResume.com resume is the cost. This is mentioned in some negative reviews. Still, if you are really struggling, the price might seem reasonable to you.
Only two free revisions. You may find it hard to say everything you want in the first draft of your resume. People who have lots of requirements may find that two resume revisions aren't enough.
Up to one week of waiting for the order. If you use this resume writing service, remember you may have to wait as many as seven days for your resume. Bear this in mind when making the order. If you need your final draft quickly, you should perhaps find a different service instead.
Not 24/7 live support. The TopResume support staff work during regular business hours only. It can get inconvenient for those who live in different time zones. You should not have any issues contacting the staff and getting things resolved during their working hours.
No PayPal support. This one is kind of hard to understand since, in 2023, just about everyone supports PayPal. Not TopResume.com, though. If you want a resume rewrite, you'll have to pay with your bank card. This should not be a problem for many users, though some still prefer PayPal to bank cards.
No money-back guarantee. According to some bad reviews on TopResume, the lack of a money-back guarantee is a major disadvantage for the resume writing company. Since the company has lots of positive reviews, chances are that you will not need a refund for using its services anyway.